2016 Coral UK Open NetZone
March 04 2016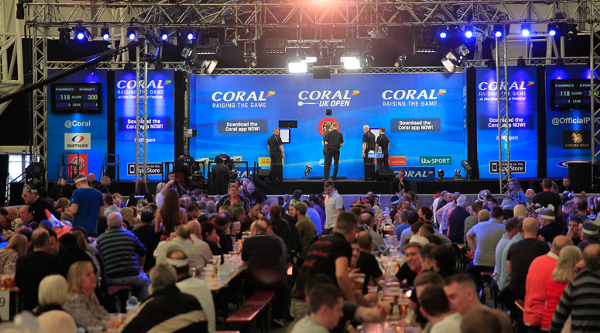 THE 2016 Coral UK Open will be held from March 4-6 at the Butlins Minehead Resort in Somerset, live on ITV4.
The £300,000 tournament features 128 players, with 96 professional qualifiers - following six £60,000 Qualifiers - joined by 32 Rileys Amateur Qualifiers who won through knockouts held in Rileys Sports Bars.
Play in the early rounds is held across eight stages simultaneously, with the Skyline Pavilion hosting the Main Stage, Stage Two in Reds Bar and Boards Three-Eight based in Centre Stage at the Butlins Minehead Resort.
As the tournament progresses, play becomes focused on the Main Stage, which hosts all of Sunday's action in the quarter-finals, semi-finals and final.
The unique format sees a free draw made for the third round onwards, with the draw taking place on stage at the conclusion of each round's matches.
CLICK HERE FOR LATEST RESULTS FROM FRIDAY'S PLAY
Live Scores
Official live scoring is available from the Main Stage and Stage Two at the PDC Live Scores Website -
http://live.dartsdata.com
.
2016 Coral UK Open
Friday March 4
Afternoon Session
First Round
Wes Newton 6-4 Mark Cox
Ronny Huybrechts 6-3 Mark Rice
Alex Roy 6-1 Dennis Smith
Jermaine Wattimena 6-5 Andy Smith
Andy Boulton 6-4 Lee Grimshaw
William O'Connor 6-1 Mark Jodrill
Magnus Caris 6-5 Jason Mold
Nathan Aspinall 6-4 Mick McGowan
Kevin Dowling 6-2 Dick van Dijk
Jonathan Worsley 6-1 Curtis Turner
Arron Monk 6-3 Stewart Rattray
Barry Lynn 6-4 Dean Stewart
Ben Green Bye (Jason Hogg eliminated)
Dirk van Duijvenbode 6-3 Michael McFall
Harry Ward 6-3 Alan Tabern
Paul Hogan 6-3 Daniel Day
Mark Barilli 6-1 Darren Layden
Jonny Clayton 6-2 Ian McFarlane
Ryan De Vreede 6-3 Nathan Derry
Darren Webster 6-0 Lee Morris
Mark Frost 6-0 Andy Brown
Joe Murnan 6-2 Paul Whitworth
Andrew Davidson 6-5 Jan Dekker
Steve Maish 6-5 Jason Heaver
Mark Wilson Bye (Les Delderfield eliminated)
Dean Winstanley 6-5 John Scott
Paul Milford 6-1 Chris Jones
Scott Marsh 6-1 Steven Rose
Gary Stone 6-5 Johnny Haines
Rob Cross 6-3 Ken MacNeil
Ryan Harrington 6-1 Glen McGrandle
Josh Payne 6-2 Dave Parletti
Second Round
Jeffrey de Graaf 6-5 William O'Connor
Lee Evans 6-2 Rowby-John Rodriguez
Arron Monk 6-4 Robert Thornton
Dean Winstanley 6-4 Kevin Painter
Matt Clark 6-5 Mike De Decker
Joey Ten Berge 6-5 Mark Dudbridge
Brendan Dolan 6-3 Scott Marsh
Ryan Harrington 6-4 Darron Brown
Jamie Caven 6-2 Gary Stone
Mark Frost 6-4 Mark Barilli
Robbie Green 6-3 Yordi Meeuwisse
Ronny Huybrechts 6-4 Jay Foreman
Andy Jenkins 6-5 Wayne Jones
Steve Maish 6-4 Paul Milford
Josh Payne 6-1 Harry Ward
Darren Webster 6-2 Scott Dale
Richie Corner 6-5 Berry van Peer
Alex Roy 6-5 Jeffrey de Zwaan
Barry Lynn 6-4 Brett Claydon
Andrew Davidson 6-4 Cristo Reyes
Matthew Edgar 6-4 Mark Wilson
David Pallett 6-1 Jason Marriott
James Wilson 6-3 Jonny Clayton
Rob Cross 6-4 Wes Newton
Joe Murnan 6-4 Ritchie Edhouse
Dirk van Duijvenbode 6-4 Peter Hudson
Jermaine Wattimena 6-1 Kevin Dowling
Magnus Caris 6-3 Ben Green
Andy Boulton 6-2 Jonathan Worsley
Ryan De Vreede 6-5 Andrew Gilding
Tony Newell 6-1 Paul Hogan
Stuart Kellett 6-5 Nathan Aspinall
Third Round
Adrian Lewis 9-1 Tony Newell
Phil Taylor 9-5 Arron Monk
Gary Anderson 9-7 Dave Chisnall
Michael van Gerwen 9-2 Ryan Harrington
Alan Norris 9-7 Jermaine Wattimena
Simon Whitlock 9-6 Ian White
Mark Webster 9-3 Matthew Edgar
Peter Wright 9-5 Steve Beaton
Joe Cullen 9-1 Mark Frost
James Wilson 9-3 Rene Eidams
Stuart Kellett 9-7 Joey Ten Berge
Ricky Evans 9-5 Andy Boulton
Ryan De Vreede 9-5 Josh Payne
Dirk van Duijvenbode 9-5 Robbie Green
Raymond van Barneveld 9-8 David Pallett
Jelle Klaasen 9-6 Matt Clark
Vincent van der Voort 9-3 Dean Winstanley
Rob Cross 9-8 Jeffrey de Graaf
Jamie Caven 9-7 Lee Evans
Terry Jenkins 9-7 Ronny Huybrechts
Darren Webster 9-5 Andrew Davidson
Mensur Suljovic 9-2 James Wade
Kim Huybrechts 9-1 Steve Maish
Stephen Bunting 9-8 Jamie Lewis
Justin Pipe 9-6 Alex Roy
Joe Murnan 9-8 Gerwyn Price
Kyle Anderson 9-2 Andy Hamilton
Barry Lynn 9-6 Brendan Dolan
Benito van de Pas 9-7 Mervyn King
Michael Smith 9-8 Daryl Gurney
John Henderson 9-4 Magnus Caris
Andy Jenkins 9-5 Richie Corner
Fourth Round
Benito van de Pas 9-3 Simon Whitlock
Peter Wright 9-5 Terry Jenkins
Michael van Gerwen 9-5 Rob Cross - Michael van Gerwen hits nine-dart finish
Phil Taylor 9-3 Raymond van Barneveld
Stephen Bunting 9-6 Jamie Caven
Vincent van der Voort 9-2 Andy Jenkins
Adrian Lewis 9-6 John Henderson
Barry Lynn 9-3 Gary Anderson
Joe Cullen 9-6 Alan Norris
Mark Webster 9-4 Dirk van Duijvenbode
Stuart Kellett 9-5 Michael Smith
Jelle Klaasen 9-8 Joe Murnan
Kim Huybrechts 9-3 Justin Pipe
Kyle Anderson 9-2 James Wilson
Darren Webster 9-8 Ricky Evans
Mensur Suljovic 9-8 Ryan De Vreede
Fifth Round
Joe Cullen 9-7 Stephen Bunting
Phil Taylor 9-7 Vincent van der Voort
Jelle Klaasen 9-7 Adrian Lewis
Michael van Gerwen 9-2 Kim Huybrechts
Mark Webster 9-5 Mensur Suljovic
Barry Lynn 9-5 Stuart Kellett
Peter Wright 9-5 Darren Webster
Kyle Anderson 9-2 Benito van de Pas
Sunday March 6
Afternoon Session (12.45pm)
Quarter-Finals
Jelle Klaasen v Kyle Anderson
Peter Wright v Joe Cullen
Michael van Gerwen v Barry Lynn
Phil Taylor v Mark Webster
Best of 19 legs
Evening Session (7pm)
Semi-Finals
Best of 19 legs
Final
Best of 21 legs
Session Schedule
Friday March 4
Afternoon Session (11.45am-5pm)
First Round
Professionals 65-96 from UK Open Order of Merit & 32 Rileys Qualifiers
Second Round
First Round winners & professionals 33-64 from UK Open Order of Merit
Played on eight stages
Evening Session (7pm-11pm)
Third Round
Second Round Winners & professionals 1-32 from UK Open Order of Merit
Played on eight stages
Saturday March 5
Afternoon Session (12.30pm-5pm)
Fourth Round
Played on four stages
Evening Session (7pm-11pm)
Fifth Round
Main Stage & Stage Two
Sunday March 6
Afternoon Session (12.45pm-5pm)
Quarter-Finals
Main Stage
Evening Session (7pm-11pm)
Semi-Finals
Final
Main Stage
Format
First Round - Best of 11 legs
Second Round - Best of 11 legs
Third Round - Best of 17 legs
Fourth Round - Best of 17 legs
Fifth Round - Best of 17 legs
Quarter-Finals - Best of 19 legs
Semi-Finals - Best of 19 legs
Final - Best of 21 legs
Prize Fund
Winner £60,000
Runner-Up £30,000
Semi-Finalists £17,000
Quarter-Finalists £10,000
Fifth Round Losers £5,000
Fourth Round Losers £3,000
Third Round Losers £1,500
Total £300,000