Betway Premier League Rotterdam Preview
March 15 2017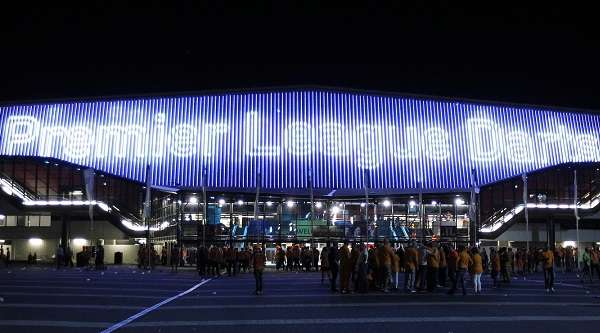 DUTCH stars Michael van Gerwen, Raymond van Barneveld and Jelle Klaasen are bracing themselves for an emotional reception when the Betway Premier League returns to Rotterdam Ahoy on Thursday.

Following the incredible success of last year's sell-out first visit of the Premier League to the Netherlands, another 10,000-strong crowd will see the seventh league night of this season.

The five matches will include the huge clash between reigning Premier League champion Michael van Gerwen and 16-time World Champion Phil Taylor, as the great rivals meet on the big stage for the first time in six months.

Van Gerwen is the only unbeaten player as the tournament heads to Rotterdam, and is determined to continue his push to retain the title with another win over the six-time Premier League winner.

"It will be really special and I'm really looking forward to it," said Van Gerwen. "It's massive in Holland, and I'll have goosebumps and also enjoy myself.

"I put more pressure on myself because I want to perform for my home crowd and I don't want to let them down. You always try a little bit extra but we'll see what happens.

"I'm just going to try and play as well as possible, like I have done all year, and I want to keep that consistency going. I played quite well last week and I'm feeling good."

Five-time World Champion Van Barneveld enjoyed arguably the greatest reception of his career in last year's visit to Rotterdam as he milked the adulation of a sell-out crowd.

The 49-year-old plays Gary Anderson on Thursday, and is eager to reward the orange-clad Dutch supporters with a key victory in his bid to avoid elimination.

"It was incredible in Rotterdam last year and I've been thinking about it a lot recently," said Van Barneveld. "I could never have expected it to be like it was last year and it's going to be even better this year.

"I'll be playing in my orange shirt, and if I start thinking about it I get emotional! Gary's a tough competitor but I'll enjoy it this week and I'm more relaxed now.

"I've said to myself that I won't put pressure on myself any more, just enjoy the crowds, enjoy that I'm a popular player and to try and make myself proud.

"Of course I'm not happy if I lose, but I want to think in a positive way; I'm a five-time World Champion and still in the top eight in the world after 33 years."

Anderson had been cheered on by 10,000 Scottish fans in Glasgow last week but will be on the opposite side of the support in Rotterdam.

"I've done a lot in my life but I'll take that reception I got last week to my grave," reflected Anderson. "Once you walk out there and hear them, it's absolutely amazing and terrifying at the same time - it's hard to explain.

"I think it will be the same this week - I don't speak Dutch so I'll think they're all cheering for me - it might help! It's Barney and Michael's home town so it will be like being in Scotland, in reverse!

"I've got a good record against Raymond but he's in the same position as I was last week, not wanting to lose in front of his home crowd. He's playing well so we'll see what happens."

Klaasen, meanwhile, is making his Rotterdam debut after returning to the Premier League in 2017, and plays James Wade in a key fixture for his own hopes of remaining in the competition after Judgement Night as he continues to battle against a tendonitis problem in his wrist.

"It's the biggest crowd I've played in front of and it's going to be awesome," said Klaasen. "I heard from Raymond that it was his best experience ever last year and even Michael was a little bit nervous.

"I just want to enjoy it. The Premier League this far isn't how I imagined it would be but I feel good and it's nice to play in Holland.

"It's not about the crowd though, it's all about how my wrist will feel during the game. I had two more anti-inflammatory injections in my wrist this week, and if it's not better in the next two months I need surgery.

"It's all about how long I can play without the pain; normally about five or six legs into the game I feel it hurting even more and then my level drops.

"I've heard all the comments that I can't close out games, but it's not about that it's just that my wrist is getting tired. I hope I can have a good day and get to seven legs."

Another huge clash at the bottom of the table sees Belgium's Kim Huybrechts play Adrian Lewis, while league leader Peter Wright meets Dave Chisnall, with the UK Open champion eager to get back on the Rotterdam stage.

"It was an amazing night in Rotterdam last year," said Wright. "I was waiting to come on when Barney had his walk-on and what he got from the crowd was fantastic, and I had a tear in my eye for him about how proud he must be.

"I'm looking forward to going back there, and it will be different this time playing against Chizzy without having the crowd against me! Dave played fantastic a couple of weeks ago when he had two wins, and he'll be dangerous."

He added: "Being top at the moment doesn't really matter, all that matters is that you're in the top four when it comes to the end of the season."

A small number of restricted view tickets for Thursday's Premier League at Rotterdam Ahoy are still available from www.ticketmaster.nl. The event will be broadcast live on Sky Sports from 7pm UK time on Thursday.

Betway Premier League
Night Seven - Thursday March 16
Rotterdam Ahoy
James Wade v Jelle Klaasen
Peter Wright v Dave Chisnall
Raymond van Barneveld v Gary Anderson
Kim Huybrechts v Adrian Lewis
Phil Taylor v Michael van Gerwen
Tickets: www.ticketmaster.nl

Betway Odds
Tournament Winner – After Night Six
1/2 Michael van Gerwen
9/2 Gary Anderson
6/1 Peter Wright
16/1 Phil Taylor
33/1 Adrian Lewis, Raymond van Barneveld
40/1 James Wade
66/1 Dave Chisnall
500/1 Jelle Klaasen, Kim Huybrechts

Night Seven Match Odds
Evens James Wade
7/2 Draw
2/1 Jelle Klaasen

8/13 Peter Wright
4/1 Draw
100/30 Dave Chisnall

3/1 Raymond van Barneveld
4/1 Draw
4/6 Gary Anderson

9/4 Kim Huybrechts
7/2 Draw
10/11 Adrian Lewis

5/1 Phil Taylor
9/2 Draw
2/5 Michael van Gerwen

Odds correct at time of writing and courtesy of www.betway.com. Odds subject to fluctuation.