Super Anderson Is World Champion!
January 04 2015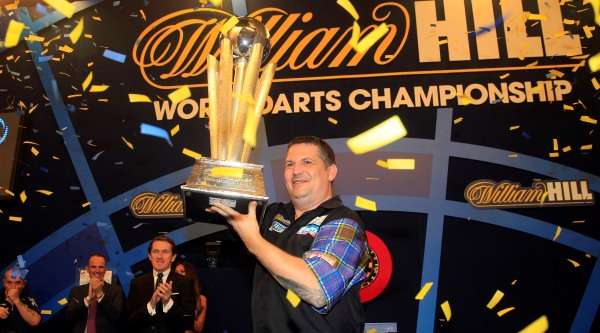 SUPER ANDERSON CLAIMS WILLIAM HILL WORLD CHAMPIONSHIP TITLE WITH 13-SET DEFEAT OF TAYLOR

GARY ANDERSON enjoyed the greatest moment of his career as he was crowned as the William Hill World Darts Champion with a glorious 7-6 win over the legendary Phil Taylor in a thrilling final at London's Alexandra Palace on Sunday night.

The Scottish star, a runner-up in the 2011 World Championship, produced a performance filled with quality, guts and 19 maximum 180s as he claimed the prestigious Sid Waddell Trophy, £250,000 in prize money and darts' greatest prize.

Stoke legend Taylor had been seeking an incredible 17th World Championship title and hit back from 3-1 behind to lead 4-3 as he strung together nine legs out of ten in a three-set burst.

Anderson, though, punished him for missed doubles as he won the next three sets to take a 6-4 lead, only for a game of outstanding quality to take another turn as Taylor missed double 12 for a nine-dart finish as he hit back to take the game into a deciding 13th set.

The Scot found one final burst of energy as he took the opening two legs of the final set, and opened the third with his 19th maximum of the game before sealing victory on double 12.

"Me and Phil have had some battles over last five or six years, he's won a lot of them but I'll take my win now!" said Anderson as he lifted the giant trophy.

"Phil is the best, he always will be the best - even 100 years from now - so that makes winning this against him that bit more special. I think it's going to take a while to sink in.

"When Phil got back and won those two sets to make it 6-6 I thought the game was gone - Phil's been there 16 times and knows how to win it from there, but I came out strong in the last and managed to take it in the end."

Anderson - who had been given the advantage of throw despite losing the pre-game bull-off to Taylor - claimed a tight first set in a deciding leg, following up a 120 finish in the opener with a 121 checkout on the bull to draw first blood.

The Scot also led 2-0 in the second before Taylor, inspired by an 11-darter to break, edged set two in a deciding leg as he levelled the contest.

Anderson, though, found another gear as he took the third set 3-1 - despite a 127 finish from Taylor - before taking the fourth set against the throw as the Stoke great was punished for a string of missed doubles.

Another 11-dart leg from Taylor saw him kick-start his challenge as he claimed the fifth set without reply, before extending his winning run of legs to six as he squared the game at three sets apiece.

Anderson hit back with scores of 177 and 180 as he took the seventh set's opener, but Taylor levelled before landing a maximum to break and move 2-1 up, and a 70 finish in leg gave him a third successive set as he moved ahead for the first time at 4-3.

Taylor came from a leg down to lead 2-1 in the eighth set, but Anderson levelled with the aid of two 180s in the fourth before punishing his opponent for three misses at double 12 in the decider to post double eight to level the contest again.

The ninth set began in dramatic fashion as Anderson saw a possible 180 wiped out when his third dart knocked the previous two out of the bed, and Taylor pounced to lead 2-0.

However, Anderson punished missed doubles from Taylor in leg three and then levelled with an 11-darter before finishing 64 in the decider to regain the lead at 5-4.

The Scot then came from a leg down to take three legs in a row - including teeing up a possible nine-darter with back-to-back 180s - as he took the tenth set against the throw 3-1 to move a set away from glory.

Taylor stormed through the 11th set to reduce the gap to 6-5, missing double 12 for a nine-dart finish along the way, and also led 2-1 in the next before edging a dramatic deciding leg to take the game into a final set.

Anderson kicked off the deciding set with a 72 finish, broke Taylor's throw in leg two after three further misses at double 16 from the Stoke star before landing his 19th maximum and double 12 to seal an amazing triumph.

Taylor uncharacteristically missed 55 darts at doubles during the game, and admitted: "It was doubles that cost me a couple of sets.

"I could have pushed ahead a little bit after getting back to 2-2 but he took advantage of it. The misses at double eight and double 16 really cost me - they were awful tonight to be honest.

"When I got it back to 6-6 I had him. I got my energy levels up as well and I thought I was on for it, but credit to Gary because he beat me up in the last set and did a job on me.

"He dealt with it well and played great in that last set. He's a cracking player and he deserved it."

The 32 maximum 180s in the final took the total for the tournament to a new record of 625 following the 71 matches which have taken place over 14 days of play at London's Alexandra Palace.

In addition to the £1.25 million prize money paid out, the nine-dart finish landed by Adrian Lewis earned him a £10,000 bonus, as well as a £9,000 charity donation from sponsors William Hill to both the PDC's official charity, Haven House Children's Hospice, and Parkinson's UK, who are supported by Sky Sports presenter Dave Clark.

On The Wire - Episode 14, Sunday January 4
Dan Dawson with Rod Harrington
Featuring a review of the final including an exclusive interview with new champion Gary Anderson, a tournament review with Rod Harrington and a special new award!



GET INVOLVED
Join in the conversation online during the William hill World Darts Championship with the PDC's Social Media channels:
www.twitter.com/OfficialPDC
- using the tournament hashtag
#WHDarts
www.facebook.com/OfficialPDC
www.youtube.com/OfficialPDC
WATCH LIVE
Coverage of the William Hill World Darts Championship will be live through the following broadcasters
Sky Sports Darts - UK & Ireland
RTL7 - Netherlands
Sport1 - Germany
OSN - Middle East & North Africa
Fox Sports - Australia
Sky New Zealand
Fox Sports - Italy
Viasat - Scandinavia, Bulgaria & the Baltic States
Sport TV - Czech Republic, Slovakia & Hungary
PLUS every session is live through
LIVEPDC.TV
for International Pass Subscribers (outside of UK, Ireland & Holland), with highlights available for all subscribers worldwide on a 24-hour delay.
EVENT PROGRAMME
The William World Darts Championship programme is available from sellers in the Fans Village at Alexandra Palace, costing £5.
The programme will also be available to
purchase online through Programme Master at this link
.
WILLIAM HILL WORLD DARTS CHAMPIONSHIP
Sunday January 4
Final
Gary Anderson 7-6 Phil Taylor
Best of 13 sets

Match Stats
| | | |
| --- | --- | --- |
| Gary Anderson | 7-6 | Phil Taylor |
| 67 | 100+ | 69 |
| 30 | 140+ | 38 |
| 1 | 170+ | 4 |
| 19 | 180 | 13 |
| 97.68 | Average | 100.69 |
| 121 | High Finish | 141 |
| 8 | Breaks of Throw | 9 |
| 26/66 - 39.39% | Checkout % | 27/82 - 32.93% |
MATCH INFORMATION
GARY ANDERSON 7-6 PHIL TAYLOR
(3-2, 2-3, 3-1, 3-1, 0-3, 0-3, 1-3, 3-2, 3-2, 3-1, 0-3, 2-3, 3-0)
FIRST SET 3-2
1-0 - Taylor won the bull backstage but gave Anderson the darts. scores well but Anderson takes out a "Shanghai" 120 to hold.
1-1 - A first 180 of the match from Taylor helps him take out 81 to level.
2-1 - A first 180 for Anderson now and he hits double 16 to lead.
2-2 - 50 finish from Taylor, who misses double 16 but hits double eight with his last dart.
3-2 - 177 from Taylor, Anderson answers with a 180 to leave 121, and he takes it out on the bull for the set!
SECOND SET 2-3
1-0 - A 180 from Anderson, who then takes out 76 on a double eight with his first dart for a break.
2-0 - Another 180 from Anderson, who is flying now! Taylor misses the bull for 90 and Anderson takes out 68 on double four.
2-1 - 180 and 140 from Taylor, and with Anderson not on a finish Taylor takes out tops.
2-2 - 11-dart leg from Taylor against the darts for a break - hitting 140, 180 & 165 before a double eight.
2-3 - Taylor completes the comeback to win the set, with another 180 to start. He misses three for the set but Anderson misses one to pinch it allowing Taylor to hit double ten at the third attempt.
THIRD SET 3-1
1-0 - A fifth 180 for Anderson, who misses a shot at double but Taylor also misses a couple and the Scotsman can hold.
1-1 - Taylor starts 180, then with Anderson struggling pulls out a brilliant 127 finish to level the set.
2-1 - Anderson pulls ahead and he's able to take out 76 to go ahead.
3-1 - A break of throw for Anderson with a 180 and a 51 finish, all sets on throw so far.
FOURTH SET 3-1
1-0 - Amazing leg, Taylor misses nine darts at double! Anderson also misses going for two double 18s for 72, but he's able to come back at take out double 18 for a break.
2-0 - A 180 from Anderson and this time there's no messing around on doubles as he takes out double 20.
2-1 - Three tons for Taylor and he finally takes out double eight after missing a hatful around that area so far.
3-1 - Anderson completes a break of the throw in that set with a 72 finish - using just one dart again at tops which he's hitting at will tonight so far.
FIFTH SET 0-3
0-1 - Good Taylor break to start the set, he hits two 140s and checks out 64 on double eight to take it.
0-2 - Taylor warming up now, three tons and an 84 finish give him an 11-darter to double his lead.
0-3 - A 180 from Taylor helps get him ahead, Anderson misses a dart at tops and Taylor responds by hitting his finish to break right back in style.
SIXTH SET 0-3
0-1 - That's four legs on the spin for Taylor with four ton-plus scores and a double 4 to finish.
0-2 - Three more tons and Taylor takes another leg against the darts. He's still having some trouble hitting double 16 but he gets there eventually.
0-3 - Six unanswered legs for Taylor now as he levels the match - another comfortable leg as he takes out tops with Anderson behind.
SEVENTH SET 1-3
1-0 - A 177 and 180 for Anderson pull him clear and despite not being able to take out 10 he can hit double one next time around to stop the rot.
1-1 - Two 140s for Taylor and that's enough to get him down to a double 16 with ease.
1-2 - A perfectly-timed 180 for Taylor, but he misses more doubles and Anderson has a shot at tops, but he misses and Taylor can take out double eight to finally win it in a break.
1-3 - Good scoring from Anderson but he can only leave 156 and Taylor leaves himself 70, which he gets a shot at and makes no mistake to make it three sets in a row.
EIGHTH SET 3-2
1-0 - What a response from Anderson, who hits a 180 and then, with 80 left, hits tops, has a bounce out from tops and then hits it again for the leg!
1-1 - Taylor responds with an 86 outshot to level.
1-2 - Superb 141 finish from Taylor sends the crowd mad with Anderson on a finish but left stranded.
2-2 - All square in the set, the next leg will be huge! Anderson hits two 180s and is afforded plenty of time to finish it off.
3-2 - Could be a huge leg that as Anderson takes it! 180 leaves 85 for Anderson, Taylor hits 177 to leave 24. Anderson misses bull, Taylor misses three at double 12 and Anderson cleans up 25 to level the match again!
NINTH SET 3-2
0-1 - Incredible start to the leg as Anderson hits two treble 20s but the third darts knocks them all out and he scores zero! Taylor rubs salt into the wounds by hitting a 180 and winning the leg on double 16.
0-2 - Anderson hits a 180, but his mind's still not cleared and he hits big 18 going for big 1 and double 1 busting his score, and Taylor again swoops with a 74 checkout.
1-2 - Anderson responds and gets to checkout his old friends tops after Taylor misses another two doubles.
2-2 - Huge leg from Anderson as he hits two 140s and takes out 84 for an 11-darter - that's a great response from the Scotsman after his bounce out problems.
3-2 - Taylor kicks in with a 177 but Anderson keeps pace and then takes out 64 with his first dart at double 8 to go back in front again.
TENTH SET 3-1
0-1 - Nice little 12 darter with the throw from Taylor to kick-off the next set.
1-1 - Back-to-back 180s for Anderson to sit on a nine-darter, he can't hit the seventh but hits double 18 for a 12 darter.
2-1 - Anderson now breaks the Taylor throw with a double 12 to finish.
3-1 - Taylor hits a 180, but Anderson responds with a 180 himself and then takes out 98 to clinch the set, and he's got the darts in the next for the match!
ELEVENTH SET 0-3
0-1 - Almost a nine-darter! Taylor htis back-to-back 180s, then hits treble 20 and 19 but just misses double 12 for his first World Championship nine-darter! He takes it out in 12 darts though.
0-2 - Double 16 gives Taylor an easy leg to double his lead, Anderson is only averaging 80 in this set as he struggles to get over the line.
0-3 - Double 16 again for the set and Taylor races through that against the darts to pile the pressure on.
TWELFTH SET 2-3
0-1 - Taylor hits two 140s and double 14 to take the opener.
1-1 - Anderson takes out 65 on the bull, leaving Taylor stranded on 46, Anderson needed that.
1-2 - Anderson misses one at tops and then Taylor takes out 48.
2-2 - Anderson levels! He hits a 180 to start, but misses three dobles and messes up double 16, but Taylor can't hit double 16 as he suffers a bounce out now!
2-3 - Taylor sends us into a deciding set! He misses two at double 16 but Anderson can't get 170 for the match and Taylor hits double eight.
THIRTEENTH SET 3-0
1-0 - Anderson with the darts in this set and he takes out 72 on tops as he needs it as well.
2-0 - A 180 to start for Anderson, and Taylor misses double 16 three more times, that's really hurt him tonight, and Anderson fires in double 18 to go one leg from the title.
1-0 - Another maximum for Anderson, and although he misses a punt at the bull for a 130, he returns to take out 25 on double 12 to win his first World Championship title!