bwin World Cup of Darts Day One
June 11 2015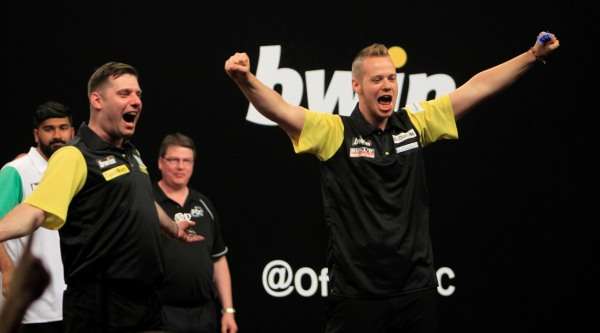 QUARTET OPEN BWIN WORLD CUP OF DARTS WITH WHITEWASHES

TWO-TIME winners England, host nation Germany, Spain and Japan kicked off the bwin World Cup of Darts with whitewash victories at the Eissporthalle in Germany on Thursday night.

The £250,000 event sees 32 nations competing across four days in Frankfurt, with all eight seeded nations who took part in Thursday's opening first round games claiming victory.

England's Phil Taylor and Adrian Lewis, the 2012 and 2013 World Cup winners, swept aside Denmark's Per Laursen and Per Skau with the minimum of fuss as they moved into the last 16.

Lewis landed a 180 and a 91 finish to settle any early nerves before Taylor completed a 14-darter in leg two to give England command, and the pair would give their opponents only two darts at a double before completing the win.

"That was a good win because they're two good players," said Taylor. "It wasn't our best performance but it's good to get that first game out of the way.

"Adrian's been practising really well and when we click it will be brilliant. He hit the right shots at the right time and it's a pleasure to play with him because we really want to win this title back."

England will now meet Japan in Saturday's second round, after Haruki Muramatsu and Morihiro Hashimoto claimed an impressive whitewash of their own as they ovecame rivals China 5-0.

Muramatsu hit the winning double in the opening two legs before Hashimoto took out 74, but that finish was bettered by an 86 bullseye finish from his team-mate before they sealed victory in leg five.

Germany's Jyhan Artut and Max Hopp thrilled the home crowd at the Eissporthalle by denying India's Nitin Kumar and Ashfaque Sayed a dart at a double in their comprehensive opening win.

Teenager Hopp was making his World Cup debut but played his part in a strong display from the hosts, and said: "I really enjoyed it today and even though it was my debut and I was a bit nervous I loved playing up there."

Germany now take on neighbours Austria after Mensur Suljovic and Rowby-John Rodriguez defeated the Czech Republic 5-2.

The Czech pairing of Michal Kocik and Pavel Jirkal made a solid start to win two of the opening three legs, but youngster Rodriguez hit double ten in the next two legs to move Austria ahead before Suljovic pinned double 14 and double 12 to seal the win.

2010 semi-finalists Spain were the night's fourth whitewash winners as they saw off Norway 5-0, with Antonio Alcinas partnered by impressive newcomer Cristo Reyes.

"I love the World Cup because I'm playing for Spain and it's very important for me, so it's good to get this win," said Alcinas, who has played for his country in all five stagings of the event. "We played quite well and I hope we can have a good weekend."

Spain will now play Belgium in an eagerly-awaited second round tie, after brothers Kim and Ronny Huybrechts - the 2013 finalists - defeated the Philippines 5-2.

Kim Huybrechts took out 129 as the brothers took the opening three legs before Lourence Ilagan and Gilbert Ulang took the fourth to get the Philippines off the mark, but the next went to Belgium before Ronny Huybrechts finished 139 to seal the win.

"I'm happy with the 5-1 win because, like Japan, their enthusiasm makes them dangerous and wins them legs," said younger brother Kim.

"For both of us together, this is our favourite tournament and this is the one we're going for this year, for ourselves, our family and our nation."

Australia and Gibraltar will also meet in the second round after they also enjoyed first round wins on Thursday.

Simon Whitlock and Paul Nicholson, the 2012 finalists, enjoyed a 5-1 win over Russia - despite Alexey Kadochnikov's 110 checkout - as they kicked off their bid to finally claim glory for Australia.

"The game was probably closer than the scoreline resembled, but they missed a few doubles and we played pretty well together I thought," said Whitlock.

"Paul and I really gel together and we're a good combination. We're good mates and it's easy to play with Paul - and we've got a lot more in the tank."

Gibraltar, meanwhile, enjoyed their first World Cup victory in five tournaments as they overcame Italy 5-2, with Marco Brentegani and Daniele Petri paying the price for missed doubles as they lost out to Dyson Parody and debutant Manuel Vilero.

The victory was especially sweet for Parody, who has competed for Gibraltar in every year of the tournament, as he leapt for joy after lanning the winning double in the game's final two legs.

The first round of the bwin World Cup of Darts concludes on Friday night, with reigning champions Netherlands beginning their title defence as Michael van Gerwen and Raymond van Barneveld take on American pair Darin Young and Larry Butler.

Scotland's Gary Anderson and Peter Wright face Singapore's Paul Lim and Harith Lim, while 2010 finalists Wales meet Hong Kong.

Canada play New Zealand, Sweden take on Hungary, the Republic of Ireland face Poland, Northern Ireland clash with Thailand and South Africa meet Finland in the night's other ties.

All games in the first round are the best of nine legs of 501 Doubles.

Live Television Coverage
Sky Sports - UK & Ireland
RTL7 - Netherlands
Sport1 - Germany
Fox Sports - Australia
Sky - New Zealand
Viasat - Scandinavia, Bulgaria & Baltic States
OSN - Middle East & North Africa
CCTV - China
Nova - Czech Republic & Slovakia
ESPN3 - America
www.LIVEPDC.TV
for International Pass Subscribers outside of UK, Ireland & Netherlands
2015 bwin World Cup of Darts
Thursday June 11 (8pm start local time, 7pm BST)
First Round
Spain (12) 5-0 Norway
Japan (16) 5-0 China
Austria (8) 5-2 Czech Republic
Gibraltar (13) 5-2 Italy
Belgium (5) 5-1 Philippines
England (1) 5-0 Denmark
Germany (9) 5-0 India
Australia (4) 5-1 Russia
MATCH INFORMATION
SPAIN v NORWAY
Antonio Alcinas & Cristo Reyes v Robert Wagner & Vegas Elvevoll
1-0 - Reyes makes an impressive start on his debut, scoring 140 and 123 with his first two visits before Alcinas lands double ten to win the opening leg.
2-0 - Wagner kicked off with a 140, but the Norwegian duo miss a total of four darts at doubles before Reyes lands double eight to break throw.
3-0 - Reyes misses tops for a 111 finish, but Alcinas takes out double ten to claim a third successive leg.
4-0 - A 180 from Reyes is followed by a maximum from Elvevoll, who later misses double 16 to allow Alcinas to take out double five for another break.
5-0 - The Spanish pair complete a whitewash win when Alcinas finishes double ten.
JAPAN v CHINA
Haruki Muramatsu & Morihiro Hashimoto v Jun Chen & Zuejie Huang
1-0 - Muramatsu takes out double five to win the opening leg for Japan.
2-0 - Hashimoto lands a 180 but both Japanese players miss doubles before Muramatsu posts double two.
3-0 - Hashimoto's 74 finish - with China waiting on 40 - sees them claim a third successive leg.
4-0 - Muramatsu takes out 86 on the bull to give Japan their fourth leg.
5-0 - Muramatsu throws a 177 to leave 38, allowing Muramatsu to complete victory on double 19.
AUSTRIA v CZECH REPUBLIC
Mensur Suljovic & Rowby-John Rodriguez v Pavel Jirkal & Michal Kocik
0-1 - Kocik lands double top to give the Czech debutants the opening leg.
1-1 - Kocik is unable to finish double 19, allowing Austria a let-off as Suljovic returns to land double 16 after Rodriguez had earlier missed the bed.
1-2 - Kocik takes out 82 on double top to edge the Czech Republic back ahead.
2-2 - Rodriguez finishes double ten to level for Austria.
3-2 - Double ten sees Rodriguez break throw for Austria to move them ahead.
4-2 - Suljovic lands double 14 to move Austria a leg away from the win.
5-2 - Rodriguez sets up 24 for Suljovic, who fires home double 12 to secure the win.
GIBRALTAR v ITALY
Dyson Parody & Manuel Vilerio v Marco Brentegani & Daniele Petri
0-1 - Both Parody and Vilerio miss darts at doubles to allow Brentegani to take the opening leg on double 16.
1-1 - Vilerio hits a 180 before Parody takes out 80 on tops to break back for Gibraltar.
2-1 - Parody finishes double ten to move Gibraltar ahead.
3-1 - Brentegani lands a 168 score but both Italians miss doubles to allow Vilerio in on double five.
3-2 - Brentegani takes out 96 on double nine to respond.
4-2 - The Italians are made to pay for four missed doubles to level the game as Parody lands double ten to move Gibraltar a leg away from the win.
5-2 - Vilerio is unable to land double 14 to finish 95, but Parody gleefully takes out double five to seal victory - Gibraltar's first ever in the World Cup of Darts.
BELGIUM v PHILIPPINES
Kim & Ronny Huybrechts v Lourence Ilagan & Gilbert Ulang
1-0 - Kim Huybrechts hits a 180, and when Ulang misses double ten the Premier League star returns to land double eight.
2-0 - Kim Huybrechts breaks throw with a showpiece 129 checkout, finishing with treble 19 and two double 18s.
3-0 - Elder brother Ronny Huybrechts makes his mark by finishing 80 on double ten.
3-1 - Kim Huybrechts lands his second maximum, but misses double 16 to finish 108 as Ulang posts double eight to get the Philippines off the mark.
4-1 - Ronny Huybrechts misses double 16 to finish 146, before Kim lands double four to move his country a leg away from round two.
5-1 - Kim Huybrechts opens with a 180 and Ulang lands a maximum of his own before Ronny Huybrechts takes out a superb 139 checkout to seal the victory.
ENGLAND v DENMARK
Phil Taylor & Adrian Lewis v Per Laursen & Per Skau
1-0 - Lewis makes a bright start for England, landing a 180 and then finishing 91 on tops to claim the opening leg.
2-0 - Laursen opens the leg with a 180, but Lewis sets up Taylor for double 16 as England double their lead.
3-0 - Lewis finishes double 16 to give England a third successive leg.
4-0 - Taylor takes out 56 on tops to move England to the brink of victory.
5-0 - Taylor leaves Lewis with 36, and he takes out double nine to seal a whitewash win to set up a second round meeting with Japan.
GERMANY v INDIA
Jyhan Artut & Max Hopp v Nitin Kumar & Ashfaque Sayed
1-0 - Double five sees Artut take the opening leg for the host nation.
2-0 - Artut misses double 12 for a 144 finish, but eventually seals the leg on double six.
3-0 - Hopp finishes tops to win the third leg for Germany.
4-0 - Double eight for Artut gives Germany another leg.
5-0 - Hopp misses three match darts, but Artut returns to pin double five.
AUSTRALIA v RUSSIA
Simon Whitlock & Paul Nicholson v Boris Koltsov & Alexey Kadochnikov
1-0 - Whitlock scores 140 and a 177 in the opening leg before Nicholson finishes double four to give the 2012 finalists the lead.
2-0 - Kadochnikov misses the bull to level for Russia, and Whitlock this time posts double four to give Australia a two-leg cushion.
3-0 - A third successive double four finish - from Whitlock - sees Australia move clear.
3-1 - Nicholson misses three darts at double 16, allowing Kadochnikov to finish 110 on double 16 to get Russia off the mark.
4-1 - Kadochnikov this time misses double 16, to complete a 64 combination, to allow Nicholson in to take out 60 on tops.
5-1 - Double ten for Nicholson seals victory for Australia.