bwin World Cup of Darts NetZone
June 09 2015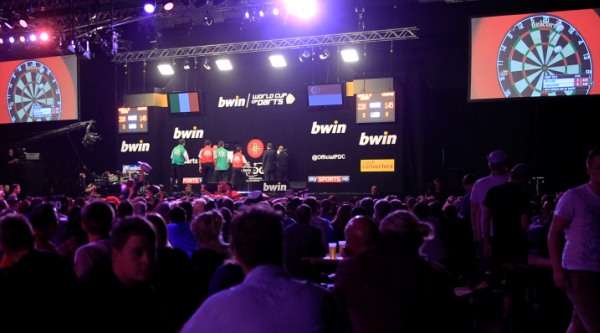 THE 2015 bwin World Cup of Darts will see 32 nations competing in two-player teams from June 11-14 at the Eissporthalle in Frankfurt, Germany.
The £250,000 tournament is the fifth staging of the PDC's World Cup of Darts, with the Netherlands defending the title which they won in 2014.
Ticket information is available at the PDC Europe website -
www.pdc-europe.tv
.
bwin World Cup of Darts
Live Television Coverage
Sky Sports - UK & Ireland
RTL7 - Netherlands
Sport1 - Germany
Fox Sports - Australia
Sky - New Zealand
Viasat - Scandinavia, Bulgaria & Baltic States
OSN - Middle East & North Africa
CCTV - China
Nova - Czech Republic & Slovakia
ESPN3 - America
www.LIVEPDC.TV
for International Pass Subscribers outside of UK, Ireland & Netherlands
Tournament Draw Bracket & First Round Draw
England (1) v Denmark
Japan (16) v China
Austria (8) v Czech Republic
Germany (9) v India
Belgium (5) v Philippines
Spain (12) v Norway
Australia (4) v Russia
Gibraltar (13) v Italy
Scotland (2) v Singapore
Sweden (15) v Hungary
Wales (7) v Hong Kong
Republic of Ireland (10) v Poland
Northern Ireland (6) v Thailand
Canada (11) v New Zealand
Netherlands (3) v United States of America
South Africa (14) v Finland
Schedule of Play
Thursday June 11 - Evening Session (20:00-00:00 local time)
First Round
Spain (12) 5-0 Norway
Japan (16) 5-0 China
Austria (8) 5-2 Czech Republic
Gibraltar (13) 5-2 Italy
Belgium (5) 5-1 Philippines
England (1) 5-0 Denmark
Germany (9) 5-0 India
Australia (4) 5-1 Russia
Friday June 12 - Evening Session (20:00-00:00 local time)
First Round
Canada (11) 4-5 New Zealand
Sweden (15) 2-5 Hungary
Wales (7) 3-5 Hong Kong
Republic of Ireland (10) 5-0 Poland
Northern Ireland (6) 5-2 Thailand
Scotland (2) 5-1 Singapore
Netherlands (3) 5-2 United States of America
South Africa (14) 5-4 Finland
Saturday June 13
Afternoon Session (14:00-18:00 local time)
Second Round
Belgium 2-0 Spain
Australia 2-0 Gibraltar
Northern Ireland 2-0 New Zealand
Hong Kong 2-1 Republic of Ireland
Evening Session (20:30-00:30 local time)
Second Round
Scotland 2-0 Hungary
Netherlands 2-0 South Africa
England 2-0 Japan
Austria v Germany
Sunday June 14
Afternoon Session (14:00-18:00 local time)
Quarter-Finals
Belgium v Australia
Scotland v Hong Kong
England v Germany
Northern Ireland v Netherlands
Evening Session (20:00-00:00 local time)
Semi-Finals
England/Germany v Belgium/Australia
Scotland/Hong Kong v Northern Ireland/Netherlands
Final
v
Teams
| | | |
| --- | --- | --- |
| Seeded Nations | | |
| England (1) | Phil Taylor | Adrian Lewis |
| Scotland (2) | Gary Anderson | Peter Wright |
| Netherlands (3) | Michael van Gerwen | Raymond van Barneveld |
| Australia (4) | Simon Whitlock | Paul Nicholson |
| Belgium (5) | Kim Huybrechts | Ronny Huybrechts |
| Northern Ireland (6) | Brendan Dolan | Mickey Mansell |
| Wales (7) | Mark Webster | Jamie Lewis |
| Austria (8) | Mensur Suljovic | Rowby-John Rodriguez |
| Germany (9) | Jyhan Artut | Max Hopp |
| Republic of Ireland (10) | Connie Finnan | William O'Connor |
| Canada (11) | John Part | Ken MacNeil |
| Spain (12) | Cristo Reyes | Antonio Alcinas |
| Gibraltar (13) | Dyson Parody | Manuel Vilerio |
| South Africa (14) | Devon Petersen | Graham Filby |
| Sweden (15) | Magnus Caris | Daniel Larsson |
| Japan (16) | Haruki Muramatsu | Morihiro Hashimoto |
| Unseeded Nations | | |
| China | Jun Chen | Xuejie Huang |
| Czech Republic | Michal Kocik | Pavel Jirkal |
| Denmark | Per Laursen | Per Skau |
| Finland | Kim Viljanen | Marko Kantele |
| Hong Kong | Scott MacKenzie | Ting Chi Royden Lam |
| Hungary | Nandor Bezzeg | Gabor Takacs |
| India | Ashfaque Sayed | Nitin Kumar |
| Italy | Daniele Petri | Marco Brentagani |
| New Zealand | Rob Szabo | Warren Parry |
| Norway | Robert Wagner | Vegar Elvevoll |
| Philippines | Lourence Ilagan | Gilbert Ulang |
| Poland | Tytus Kanik | Mariusz Paul |
| Russia | Boris Koltsov | Aleksei Kadochnikov |
| Singapore | Paul Lim | Harith Lim |
| Thailand | Thanawat Gaweenuntawong | Attapol Eupakaree |
| USA | Darin Young | Larry Butler |
NB: Teams are seeded based on the cumulative Main Order of Merit ranking of their two representatives (South Africa and Sweden are seeded based on their one ranked players' position), with Japan taking the 16th seed on account of Haruki Muramatsu's status as a Tour Card Holder.

The cut-off date for the event was following the Players Championship weekend in Crawley, unless dedicated qualifying tournaments were arranged separately (as in the case of the Scandinavian nations).

Format
First Round
Best of nine legs Doubles

Second Round, Quarter-Finals & Semi-Finals
The Second Round, Quarter-Finals & Semi-Finals will be played as two best of seven leg 501 Singles matches, with both nations nominating the order in which their players play. In the event of both nations winning one Singles match apiece, a best of seven leg 501 Doubles match will be played to decide the tie.

Final
The Final will be played as two best of seven leg 501 Singles matches, with both nations nominating the order in which their players play the first two matches, followed by a best of seven leg 501 Doubles match and then Reverse Singles matches. The first team to win three games is declared the winner.

Prize Fund
Winning Team: £25,000 per player
Runners-Up: £13,000 per player
Semi-Finalists: £7,500 per player
Quarter-Finalists: £5,000 per player
Round Two Losers: £3,500 per player
Round One Losers: £1,500 per player
Total Prize Fund: £250,000