Mighty Mike Marches On
February 20 2015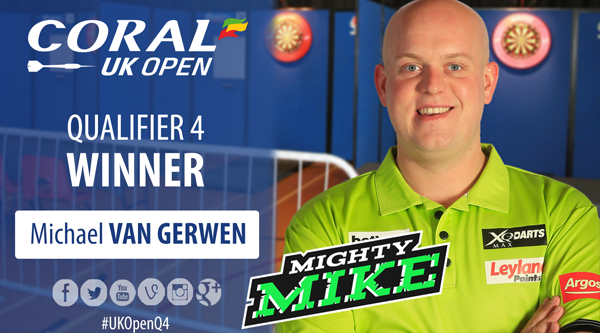 MICHAEL van Gerwen's incredible form continued as he defeated Jelle Klaasen to win his third Coral UK Open Qualifier of the year in Wigan on Friday.

Despite not reaching the peak of his powers on the day, van Gerwen continued his sensational record of reaching every Coral UK Open Qualifier final this year, before coming back from 5-2 down to beat Klaasen, who missed ten match darts to take only a second-ever PDC title.

The win also means that van Gerwen has now won his last 28 games on the PDC circuit and has won 39 games out of 40 since the 2015 William Hill World Darts Championship.

Van Gerwen's afternoon at the Robin Park Tennis Centre began with a 6-3 win over Nathan Aspinall before he then recovered from 3-0 down to see off Joe Cullen 6-4 in round three.

The Dutchman then sealed another two 6-4 wins against Kim Huybrechts and Mark Webster, before beating Michael Smith 6-5 in a dramatic deciding leg in the quarter-finals after Smith had missed two darts at double 20 to take the win.

Andrew Gilding, who had been in fine form and already taken the scalps of Raymond van Barneveld and Adrian Lewis on the day, was van Gerwen's semi-final opponent, but the 25-year-old made light work of Gilding, running out a comfortable 6-2 victor.

Klaasen had been in similarly impressive form and saw off a host of big names en route to his first PDC final appearance in just under two years.

The Cobra defeated Ian Lever, Alan Norris, Kevin Painter, Terry Jenkins and Jamie Caven to reach the semi-finals in Wigan before he then produced a fine display to beat Phil Taylor 6-2 and set up the final with the world number one.

And it would be Klaasen who would continue his form in the early exchanges of the final as he raced into a 3-0 lead, before van Gerwen responded with a brilliant 125 checkout and quickly pulled the game back to 3-2.

However, Mighty Mike could not maintain his form as Klaasen stepped on the gas and took the next two legs to move 5-2 in front and just one leg away from the win.

But Klaasen would falter at the final hurdle as he missed ten darts for the match and van Gerwen took the game into a decider before producing a brilliant 12-darter in the final leg to take yet another victory, along with the £10,000 winner's cheque.

Coral UK Open Qualifier Four
Friday February 20, Robin Park Tennis Centre, Wigan
Premilinary Round
Ryan de Vreede 6-2 Curtis Hammond
Matthew Edgar 6-5 Nathan Derry
Luke Woodhouse 6-3 Jason Wilson
Devon Petersen 6-2 Shaun Griffiths
First Round
Robert Thornton Bye
Colin Osborne 6-4 Dyson Parody
Roxy-James Rodriguez 6-4 Terry Temple
Steve Brown 6-2 Stephen McNally
Dave Chisnall Bye
Haruki Muramatsu 6-1 Mark Jones
Par Riihonen 6-5 Craig Pope
Tony Randell 6-5 Peter Evison
Vincent van der Voort Bye
Mensur Suljovic 6-4 Barrie Bates
Ryan Harrington 6-2 Martyn Turner
Kurt Parry 6-2 Robbie Green
Michael Smith Bye
Dennis Smith 6-5 Jamie Robinson
Jamie Guilfoyle 6-3 Arron Wike
Paul Rowley 6-0 Michael Blake
Mark Webster Bye
Steve West 6-3 James Thompson
Jason Hogg 6-2 Jyhan Artut
Ryan de Vreede 6-4 Ricky Sudale
James Wade Bye
Kirk Shepherd 6-2 Robbie Turner
Jim Walker 6-3 Steve Douglas
Stephen Carrett 6-5 Scott Dale
Michael van Gerwen Bye
Nathan Aspinall 6-5 Jack Hill
Joe Cullen 6-2 Dirk van Duijvenbode
Mark Walsh 6-2 Ross Smith
Kim Huybrechts Bye
Jamie Lewis 6-2 Kevin Bambrick
Mike Zuydwijk 6-3 Kevin Thomas
Ricky Evans 6-1 John Newland
Adrian Lewis Bye
Stephen Willard 6-3 Benito van de Pas
Andy Parsons 6-0 Brett Claydon
Wayne Jones 6-4 Pete Dyos
Ian White Bye
Antonio Alcinas 6-4 Mike Norton
Wayne Pepper 6-3 Ben Ward
Jan Dekker 6-3 Ron Meulenkamp
John Part Bye
Jon Jukes 6-2 Nigel Heydon
Joe Murnan 6-4 Vernon Sheppard
Matthew Edgar 6-0 Max Hopp
Peter Wright Bye
Mike de Decker 6-1 Martin Thomas
William O'Connor 6-3 Darren Johnson
John Henderson 6-4 Colin Lloyd
Brendan Dolan Bye
Mark Frost 6-1 Mark Flawn
Steve Smith 6-5 Dylan Duo
Jonathan Worsley 6-4 Paul Milford
Raymond van Barneveld Bye
Andrew Gilding 6-2 Rowby-John Rodriguez
Dean Stewart 6-1 Andrew Johnson
Mark Barilli 6-5 Gerwyn Price
Steve Beaton Bye
Prakash Jiwa 6-2 Peter Mitchell
Kyle Anderson 6-5 Mick Todd
Ian Moss 6-2 Rocco Maes
Paul Nicholson Bye
Keegan Brown 6-3 Tony Newell
Chris Dobey 6-4 Alex Roy
Daryl Gurney 6-2 Mark Hylton
Jamie Caven Bye
James Hubbard 6-4 Joey Ten Berge
Mark Dudbridge 6-5 Ewan Hyslop
John Crossley 6-0 Sean Ryan
Andy Hamilton Bye
James Richardson 6-3 John Walton
Cristo Reyes 6-5 Jason Lovett
Jamie Landon 6-2 Tony Oak
Simon Whitlock Bye
Jeff Batham 6-0 Colin Roelofs
Steve Hine 6-3 Rohit Rabadia
Jay Foreman 6-1 Krit Middleton
Ronny Huybrechts Bye
Jonny Clayton 6-0 James Kerwick
Matt Padgett 6-5 Darron Brown
Luke Woodhouse 6-3 Andy Jenkins
Kevin Painter Bye
David Ladley 6-5 Josh Payne
John Scott 6-3 Ryan Palmer
John Bowles 6-4 Steve Grubb
Jelle Klaasen Bye
Ian Lever 6-2 Michael Rosenauer
Alan Norris 6-0 Ryan Sullivan
Gary Stone 6-2 Robert Marijanovic
Dean Winstanley Bye
Eddie Dootson 6-2 Christian Kist
Terry Roach 6-2 Matt Clark
Stuart Kellett 6-1 Kevin Voornhout
Terry Jenkins Bye
Nick Fullwell 6-0 Coni Singh Nagi
Philip Borthwick 6-4 Ricky Williams
Stephen Gallimore 6-3 Stuart Stubbs
Wes Newton Bye
Gino Vos 6-0 Scott Pearson
Mickey Mansell 6-3 Sascha Stein
Andy Boulton 6-0 John Power
Phil Taylor Bye
Darren Webster 6-5 Geoff Whitworth
Jamie Bain 6-4 Michael Barnard
Johnny Haines 6-0 Dan Russell
Andy Smith Bye
Brian Woods 6-5 Joey Palfreyman
Garry Spedding 6-5 Steven Pearson
Devon Petersen 6-2 Lee Evans
Ronnie Baxter Bye
Matthew Dennant 6-5 David Pallett
Aden Kirk 6-2 BJ Fairhurst
Adam Hunt 6-3 Jason Marriott
Justin Pipe Bye
Jeffrey de Zwaan 6-5 Paul Amos
Jermaine Wattimena 6-0 Atif Hussain
Kevin Dowling 6-4 Tony Richardson
Stephen Bunting Bye
Mark Cox 6-2 Paul Redfern
Alan Tabern 6-0 Lee Moffat
Chris Aubrey 6-2 James Forster
Gary Anderson Bye
Jerry Hendriks 6-5 Mareno Michels
Kevin McDine 6-1 Ryan Hoggarth
James Wilson 6-1 Colin Fowler
Mervyn King Bye
Dimiri van den Bergh 6-1 Darren Weaver
Michael Burgoine 6-1 Paul Anthony
Adrian Gray 6-1 Tomas Seyler
Second Round
Robert Thornton 6-2 Colin Osborne
Steve Brown 6-4 Roxy-James Rodriguez
Dave Chisnall 6-1 Haruki Muramatsu
Par Riihonen 6-4 Tony Randell
Mensur Suljovic 6-2 Vincent van der Voort
Ryan Harrington 6-4 Kurt Parry
Michael Smith 6-5 Dennis Smith
Paul Rowley 6-3 Jamie Guilfoyle
Mark Webster 6-1 Steve West
Jason Hogg 6-1 Ryan de Vreede
James Wade 6-5 Kirk Shepherd
Jim Walker 6-3 Stephen Carrett
Michael van Gerwen 6-3 Nathan Aspinall
Joe Cullen 6-4 Mark Walsh
Kim Huybrechts 6-4 Jamie Lewis
Ricky Evans 6-4 Mike Zuydwijk
Adrian Lewis 6-1 Stephen Willard
Andy Parsons 6-3 Wayne Jones
Ian White 6-3 Antonio Alcinas
Jan Dekker 6-0 Wayne Pepper
John Part 6-2 Jon Jukes
Joe Murnan 6-1 Matthew Edgar
Peter Wright 6-4 Mike de Decker
John Henderson 6-5 William O'Connor
Mark Frost 6-5 Brendan Dolan
Jonathan Worsley 6-2 Steve Smith
Andrew Gilding 6-2 Raymond van Barneveld
Dean Stewart 6-4 Mark Barilli
Steve Beaton 6-0 Prakash Jiwa
Ian Moss 6-5 Kyle Anderson
Keegan Brown 6-4 Paul Nicholson
Chris Dobey 6-5 Daryl Gurney
Jamie Caven 6-0 James Hubbard
Mark Dudbridge 6-0 John Crossley
James Richardson 6-4 Andy Hamilton
Jamie Landon 6-4 Cristo Reyes
Simon Whitlock 6-1 Jeff Batham
Steve Hine 6-1 Jay Foreman
Ronny Huybrechts 6-2 Jonny Clayton
Matt Padgett 6-4 Luke Woodhouse
Kevin Painter 6-4 Dave Ladley
John Bowles 6-5 John Scott
Jelle Klaasen 6-3 Ian Lever
Alan Norris 6-1 Gary Stone
Dean Winstanley 6-2 Eddie Dootson
Stuart Kellett 6-4 Terry Roach
Terry Jenkins 6-3 Nick Fullwell
Stephen Gallimore 6-5 Philip Borthwick
Gino Vos 6-4 Wes Newton
Andy Boulton 6-2 Mickey Mansell
Phil Taylor 6-1 Darren Webster
Jamie Bain 6-4 Johnny Haines
Andy Smith 6-1 Brian Woods
Garry Spedding 6-4 Devon Petersen
Ronnie Baxter 6-3 Matthew Dennant
Adam Hunt 6-4 Aden Kirk
Justin Pipe 6-0 Jeffrey de Zwaan
Jermaine Wattimena 6-4 Kevin Dowling
Mark Cox 6-3 Stephen Bunting
Alan Tabern 6-3 Chris Aubrey
Gary Anderson 6-1 Jerry Hendriks
James Wilson 6-5 Kevin McDine
Mervyn King 6-4 Dimitri van den Bergh
Adrian Gray 6-2 Michael Burgoine
Third Round
Robert Thornton 6-0 Steve Brown
Dave Chisnall 6-3 Par Riihonen
Mensur Suljovic 6-2 Ryan Harrington
Michael Smith 6-4 Paul Rowley
Mark Webster 6-2 Jason Hogg
James Wade 6-2 Jim Walker
Michael van Gerwen 6-4 Joe Cullen
Kim Huybrechts 6-2 Ricky Evans
Adrian Lewis 6-3 Andy Parsons
Ian White 6-4 Jan Dekker
Joe Murnan 6-3 John Part
John Henderson 6-5 Peter Wright
Mark Frost 6-5 Jonathan Worsley
Andrew Gilding 6-5 Dean Stewart
Steve Beaton 6-5 Ian Moss
Chris Dobey 6-2 Keegan Brown
Jamie Caven 6-1 Mark Dudbridge
James Richardson 6-3 Jamie Landon
Steve Hine 6-3 Simon Whitlock
Matt Padgett 6-1 Ronny Huybrechts
Kevin Painter 6-4 John Bowles
Jelle Klaasen 6-3 Alan Norris
Stuart Kellett 6-2 Dean Winstanley
Terry Jenkins 6-1 Stephen Gallimore
Andy Boulton 6-4 Gino Vos
Phil Taylor 6-1 Jamie Bain
Andy Smith 6-0 Garry Spedding
Ronnie Baxter 6-4 Adam Hunt
Justin Pipe 6-3 Jermaine Wattimena
Alan Tabern 6-4 Mark Cox
Gary Anderson 6-4 James Wilson
Mervyn King 6-0 Adrian Gray
Losers: £250
Last 32
Robert Thornton 6-3 Dave Chisnall
Michael Smith 6-3 Mensur Suljovic
Mark Webster 6-4 James Wade
Michael van Gerwen 6-4 Kim Huybrechts
Adrian Lewis 6-2 Ian White
Joe Murnan 6-5 John Henderson
Andrew Gilding 6-3 Mark Frost
Steve Beaton 6-3 Chris Dobey
Jamie Caven 6-2 James Richardson
Steve Hine 6-5 Matt Padgett
Jelle Klaasen 6-0 Kevin Painter
Terry Jenkins 6-1 Stuart Kellett
Phil Taylor 6-3 Andy Boulton
Andy Smith 6-5 Ronnie Baxter
Alan Tabern 6-4 Justin Pipe
Gary Anderson 6-2 Mervyn King
Losers: £500
Last 16
Michael Smith 6-4 Robert Thornton
Michael van Gerwen 6-4 Mark Webster
Adrian Lewis 6-2 Joe Murnan
Andrew Gilding 6-1 Steve Beaton
Jamie Caven 6-1 Steve Hine
Jelle Klaasen 6-4 Terry Jenkins
Phil Taylor 6-1 Andy Smith
Gary Anderson 6-0 Alan Tabern
Losers: £1,000
Quarter-Finals
Michael van Gerwen 6-5 Michael Smith
Andrew Gilding 6-2 Adrian Lewis
Jelle Klaasen 6-2 Jamie Caven
Phil Taylor 6-2 Gary Anderson
Losers: £1,500
Semi-Finals
Michael van Gerwen 6-2 Andrew Gilding
Jelle Klaasen 6-2 Phil Taylor
Losers: £2,500
Final
Michael van Gerwen 6-5 Jelle Klaasen
Winner: £10,000
Runner-Up: £5,000
Coral UK Open Order of Merit
Following Qualifier Four
| | | |
| --- | --- | --- |
| 1 | van Gerwen, Michael | £35,000 |
| 2 | Lewis, Adrian | £15,500 |
| 3 | van der Voort, Vincent | £ 8,000 |
| 4 | Klaasen, Jelle | £ 7,000 |
| 5 | Wade, James | £ 6,750 |
| 6 | Smith, Michael | £ 6,000 |
| 7 | Dolan, Brendan | £ 5,000 |
| 8 | Webster, Mark | £ 4,750 |
| 9 | Gilding, Andrew | £ 4,000 |
| 10 | Thornton, Robert | £ 3,750 |
| 11 | Suljovic, Mensur | £ 3,500 |
| 12 | Henderson, John | £ 2,500 |
| 12 | Huybrechts, Kim | £ 2,500 |
| 12 | Taylor, Phil | £ 2,500 |
| 12 | Wright, Peter | £ 2,500 |
| 16 | Chisnall, Dave | £ 2,250 |
| 16 | Hamilton, Andy | £ 2,250 |
| 16 | Nicholson, Paul | £ 2,250 |
| 16 | Pipe, Justin | £ 2,250 |
| 20 | Caven, Jamie | £ 2,000 |
| 20 | Edgar, Matthew | £ 2,000 |
| 20 | Evans, Ricky | £ 2,000 |
| 20 | White, Ian | £ 2,000 |
| 24 | Winstanley, Dean | £ 1,750 |
| 25 | Anderson, Gary | £ 1,500 |
| 25 | Anderson, Kyle | £ 1,500 |
| 25 | Boulton, Andy | £ 1,500 |
| 25 | Bunting, Stephen | £ 1,500 |
| 25 | Cullen, Joe | £ 1,500 |
| 25 | Hopp, Max | £ 1,500 |
| 25 | Huybrechts, Ronny | £ 1,500 |
| 25 | King, Mervyn | £ 1,500 |
| 25 | O'Connor, William | £ 1,500 |
| 25 | Painter, Kevin | £ 1,500 |
| 25 | Smith, Andy | £ 1,500 |
| 25 | van Barneveld, Raymond | £ 1,500 |
| 25 | Woods, Brian | £ 1,500 |
| 38 | Baxter, Ronnie | £ 1,250 |
| 38 | Beaton, Steve | £ 1,250 |
| 38 | Frost, Mark | £ 1,250 |
| 38 | Harrington, Ryan | £ 1,250 |
| 38 | Norris, Alan | £ 1,250 |
| 38 | Smith, Dennis | £ 1,250 |
| 44 | Bowles, John | £ 1,000 |
| 44 | Dekker, Jan | £ 1,000 |
| 44 | Derry, Nathan | £ 1,000 |
| 44 | Foreman, Jay | £ 1,000 |
| 44 | Haines, Johnny | £ 1,000 |
| 44 | Hine, Steve | £ 1,000 |
| 44 | Jenkins, Terry | £ 1,000 |
| 44 | Johnson, Darren | £ 1,000 |
| 44 | Jones, Wayne | £ 1,000 |
| 44 | Murnan, Joe | £ 1,000 |
| 44 | Tabern, Alan | £ 1,000 |
| 55 | Bain, Jamie | £ 750 |
| 55 | Clayton, Jonny | £ 750 |
| 55 | Dobey, Chris | £ 750 |
| 55 | Fullwell, Nick | £ 750 |
| 55 | Stewart, Dean | £ 750 |
| 55 | Sudale, Ricky | £ 750 |
| 55 | Whitlock, Simon | £ 750 |
| 62 | Barilli, Mark | £ 500 |
| 62 | Brown, Keegan | £ 500 |
| 62 | Clark, Matt | £ 500 |
| 62 | Cox, Mark | £ 500 |
| 62 | Dale, Scott | £ 500 |
| 62 | De Decker, Mike | £ 500 |
| 62 | Dootson, Eddie | £ 500 |
| 62 | Dudbridge, Mark | £ 500 |
| 62 | Finnan, Connie | £ 500 |
| 62 | Hunt, Adam | £ 500 |
| 62 | Jenkins, Andy | £ 500 |
| 62 | Kellett, Stuart | £ 500 |
| 62 | Ladley, Dave | £ 500 |
| 62 | Marijanovic, Robert | £ 500 |
| 62 | McDine, Kevin | £ 500 |
| 62 | Moss, Ian | £ 500 |
| 62 | Padgett, Matt | £ 500 |
| 62 | Pallett, David | £ 500 |
| 62 | Part, John | £ 500 |
| 62 | Petersen, Devon | £ 500 |
| 62 | Price, Gerwyn | £ 500 |
| 62 | Richardson, James | £ 500 |
| 62 | Robinson, Jamie | £ 500 |
| 62 | Robinson, Mark | £ 500 |
| 62 | Temple, Terry | £ 500 |
| 62 | ten Berge, Joey | £ 500 |
| 62 | Turner, Martyn | £ 500 |
| 62 | van de Pas, Benito | £ 500 |
| 62 | van Duijvenbode, Dirk | £ 500 |
| 62 | Wattimena, Jermaine | £ 500 |
| 62 | Webster, Darren | £ 500 |
| 62 | Wilson, James | £ 500 |
| 94 | Alcinas, Antonio | £ 250 |
| 94 | Amos, Paul | £ 250 |
| 94 | Aspinall, Nathan | £ 250 |
| 94 | Bates, Barrie | £ 250 |
| 94 | Batham, Jeff | £ 250 |
| 94 | Bradley, Tony | £ 250 |
| 94 | Brown, Steve | £ 250 |
| 94 | Burgoine, Michael | £ 250 |
| 94 | Burkhill, Trevor | £ 250 |
| 94 | Claydon, Brett | £ 250 |
| 94 | de Zwaan, Jeffrey | £ 250 |
| 94 | Dennant, Matthew | £ 250 |
| 94 | Douglas, Steve | £ 250 |
| 94 | Evans, Lee | £ 250 |
| 94 | Fairhurst, BJ | £ 250 |
| 94 | Fowler, Colin | £ 250 |
| 94 | Gallimore, Stephem | £ 250 |
| 94 | Gray, Adrian | £ 250 |
| 94 | Green, Robbie | £ 250 |
| 94 | Grubb, Steve | £ 250 |
| 94 | Guilfoyle, Jamie | £ 250 |
| 94 | Gurney, Daryl | £ 250 |
| 94 | Hammond, Curtis | £ 250 |
| 94 | Hill, Jack | £ 250 |
| 94 | Hogg, Jason | £ 250 |
| 94 | Hylton, Mark | £ 250 |
| 94 | Landon, Jamie | £ 250 |
| 94 | Lewis, Jamie | £ 250 |
| 94 | Lovett, Jason | £ 250 |
| 94 | Milford, Paul | £ 250 |
| 94 | Newton, Wesley | £ 250 |
| 94 | Parody, Dyson | £ 250 |
| 94 | Parsons, Andy | £ 250 |
| 94 | Pepper, Wayne | £ 250 |
| 94 | Riihonen, Par | £ 250 |
| 94 | Roelofs, Colin | £ 250 |
| 94 | Rowley, Paul | £ 250 |
| 94 | Roy, Alex | £ 250 |
| 94 | Spedding, Garry | £ 250 |
| 94 | Todd, Mick | £ 250 |
| 94 | Turner, Robert | £ 250 |
| 94 | Van Den Bergh, Dimitri | £ 250 |
| 94 | Vos, Gino | £ 250 |
| 94 | Walker, Jim | £ 250 |
| 94 | Walsh, Mark | £ 250 |
| 94 | Ward, Ben | £ 250 |
| 94 | West, Steve | £ 250 |
| 94 | Williams, Ricky | £ 250 |
| 94 | Wilson, Jason | £ 250 |
| 94 | Worsley, Jonathan | £ 250 |
| 94 | Zyudwijk, Mike | £ 250 |