Smith Thankful For Pair's Support
March 10 2016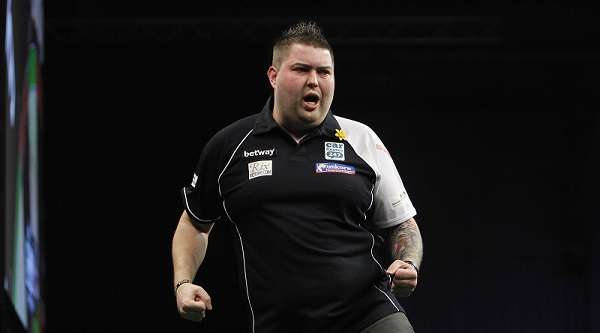 MICHAEL SMITH admits that Thursday's clash with Gary Anderson was the first fixture he looked for when the Betway Premier League schedule was announced in January, after praising the backing of the Scot and their manager Tommy Gilmour.

Smith will be facing World Champion Anderson for the first time on the big stage, with the Scottish ace having helped the development of the youngster under the guidance of Gilmour, the pair's manager.

While Smith had won a pair of PDC ranking events before being signed by Gilmour, the former World Youth Champion has since blossomed into a top-ten player, a three-time European Tour event winner and a debutant in the Premier League this year.

Smith has now praised the support of Gilmour and Anderson, who he is hoping to leapfrog in the Premier League by defeating in Nottingham on Thursday.

"When I first started, my mum and dad both had a couple of jobs just so that they could afford to send me around the UK to events, and I couldn't afford to go to abroad at that time," said Smith.

"When Tommy stepped in it was like a weight had been lifted off my shoulders and my parents' shoulders, and knowing that someone else believed in me as well as them was big.

"I've watched what Gary's done and the way he came back from his bad spell. He had a bad 18 months and then he played Michael van Gerwen in the 2014 World Championship, he was 3-1 up and everyone thought he'd won but he lost 4-3, and he promised that it was never going to happen again.

"He put the hard work in and went on a mad run during 2014 and it showed that it paid off when he became World Champion and then won the Premier League.

"He showed me that the hard work does pay off. I won my first title when I was about 19 and maybe I took it a bit for granted and thought I'd made it and then I disappeared for a year, and I did the same after I won my second title, but Tommy Gilmour and Gary kept me to the same routines and taught me the sacrifices that I have to make.

"Tommy speaks to me every day to make sure I'm doing the right things and staying focused and I'm really grateful for that."

Smith took victory against Anderson when the pair met in a European Tour event in 2014, but the pair have never met in a televised clash before Thursday's Motorpoint Arena showdown.

"I can't wait - I'm really looking forward to it," added Smith. "We've played in a European Tour event and a few times on the floor and I've been waiting for the last four years to get him on TV.

"This was the first fixture I looked for when they were announced and it's going to be good, athough because I've been waiting so long for this game I don't want to come out and blow my chance, but we'll both be up for it and we want to smash each other up on the board!

"We've been arguing about this game since the fixtures came out and saying that we'll beat each other 7-0, but there's no pressure on my now that I've got that win. I can relax and have fun up there and I can't wait to go up against him."