Lewis Powers To Wigan Title
February 05 2016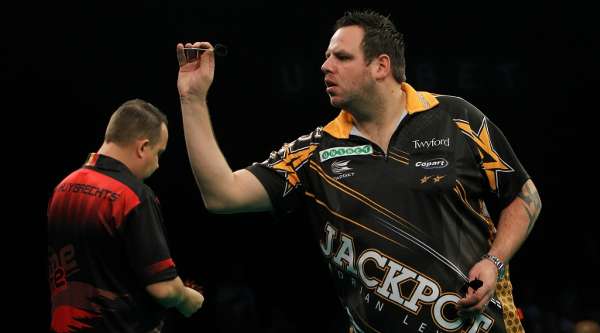 ADRIAN LEWIS took victory in the first PDC ProTour event of 2016 as he defeated Phil Taylor with a 110 average in Friday's final to win Coral UK Open Qualifier One at Robin Park Tennis Centre in Wigan, while Mark Dudbridge produced a brilliant nine-darter.
Lewis completed a day of impressive performances with a 6-2 success against his old friend, mentor and rival Taylor to scoop the £10,000 winner's cheque and land his first PDC ranking title for almost a year.
The two-time World Champion, who reached the World Championship final for a third time last month, followed up Thursday night's Betway Premier League win against Michael Smith with early back-to-back 6-1 triumphs over Joey Palfreyman and Ted Evetts.
He then inflicted a 6-0 defeat on Mervyn King before edging out 2016 World Championship quarter-finalist Alan Norris 6-5 to reach the quarter-finals.
There, he defeated Austrian youngster Rowby-John Rodriguez 6-1 and he followed that success up with another 6-1 victory, seeing off Peter Wright to reach the final.
The world number three averaged 110 and took out fantastic finishes of 122 and 132 in an excellent performance to seal glory.
Taylor claimed consecutive 6-1 wins against Spain's Antonio Alcinas, former World Championship finalist Kirk Shepherd and former Lakeside Champion Stephen Bunting to reach the last 16.
He then saw off Robert Thornton for the loss of just two legs before defeating David Pallett by the same 6-2 margin.
The 16-time World Champion then claimed a semi-final whitewash against Scotland's John Henderson to set up the decider with fellow Stoke great Lewis.
The first of six UK Open qualifying events saw 2005 World Championship finalist Dudbridge produce a flash of brilliance with a nine-dart finish as he defeated Andy Jenkins to reach the last 32, having already seen off world number six James Wade.
Other notable performances included Henderson's excellent run to the last four. The Scottish ace picked up early victories against Matthew Dennant and former Lakeside Champion Christian Kist before defeating Jeffrey de Zwaan and Jason Marriot to reach the quarter-finals.
He then defeated former World Youth Champion Smith 6-2 before losing out to Taylor.
Wright's route to the semi-finals included wins against Brendan Dolan, Terry Jenkins and fellow Premier League star Raymond van Barneveld, who the Scotsman edged 6-5 in the last eight.
Former World Youth Championship finalist Rodriguez earned victories against the likes of Kevin Painter and Dave Chisnall en route to the quarter-finals. Chisnall had defeated world number one Michael van Gerwen 6-4 in the last 32 stage.
Pallett repeated his recent World Championship triumph against Belgium's Kim Huybrechts during in a fabulous run to the quarter-finals, which also saw the 25-year-old defeat Ian White, while Smith, also 25, made a good job of putting Thursday's brace of defeats on his Premier League debut behind him with a run to the last eight.
Saturday will see the second of three UK Open Qualifiers this weekend, with each event holding a £60,000 prize fund.
Coral UK Open Qualifier One
Friday February 5, Robin Park Tennis Centre, Wigan
Preliminary Round
Joshua Richardson 6-1 John Court
Eddie Dootson 6-5 Chris Hill
Christian Kist 6-3 Bernd Roith

First Round
Michael van Gerwen Bye
Prakash Jiwa 6-2 Mark Oosterhuis
Scott Taylor 6-3 Stuart Kellett
Michael Barnard 6-4 Darren Johnson
Dave Chisnall Bye
Brett Claydon 6-2 Ray Campbell
Arron Monk 6-5 Nigel Heydon
Alan Tabern 6-2 Stephen McNally
Kevin Painter Bye
Sam Head 6-2 Harry Robinson
Ron Meulenkamp 6-5 James Young
Magnus Caris 6-3 Joshua Richardson
Jamie Caven Bye
Rowby-John Rodriguez 6-1 Derek Brand
Tomas Seyler 6-3 Ronny Huybrechts
Ryan Meikle 6-0 Ron Atwill
Andrew Gidling Bye
Alan Norris 6-5 Daryl Gurney
Mike Zuydwijk 6-1 Coni Singh Nagi
Jason Wilson 6-1 Dick van Dijk
Gerwyn Price Bye
Curtis Hammond 6-3 Garry Spedding
Ben Adams 6-3 Jamie Hingston
Nathan Derry 6-4 Eddie Dootson
Adrian Lewis Bye
Joey Palfreyman 6-2 Dimitri Van den Bergh
Ted Evetts 6-4 John Newland
Jim Walker 6-1 Mick Hasse
Mervyn King Bye
Joe Cullen 6-1 Jamie Robinson
Mark Walsh 6-2 Roxy-James Rodriguez
Jonny Clayton 6-4 Ronnie Baxter
Steve Beaton Bye
Simon Stevenson 6-5 Lee Evans
Adam Hunt 6-2 Vincent Kamphuis
Ben Davies 6-4 Ross Smith
Jamie Lewis Bye
Scott Dale 6-4 Aden Kirk
Gary Stone 6-3 Joey Ten Berge
Mick Todd 6-3 Rocco Maes
Raymond van Barneveld Bye
Jan Dekker 6-4 Darron Brown
Kyle Anderson 6-4 Andy Boulton
Andrew Johnson 6-4 Steve West
Andy Hamilton Bye
Mick McGowan 6-3 Kevin Dowling
Jyhan Artut 6-4 Adam Huckvale
James Richardson 6-1 Tony Richardson
Mark Webster Bye
Mark Frost 6-1 Sean Ryan
Michael Rasztovits 6-1 Karl Merchant
Nigel Daniels 6-3 Harry Ward
Terry Jenkins Bye
Par Riihonen 6-5 Ricky Williams
Michael Dawson 6-2 Pete Dyos
Keegan Brown 6-2 James Hajdar
Peter Wright Bye
Mareno Michels 6-3 Colin Osborne
Shaun Griffiths 6-3 Dennis Smith
Richard Corner 6-1 Callum Loose
Brendan Dolan Bye
Jonathan Worsley 6-4 Matt Clark
Stephen Willard 6-3 Matt Padgett
Johnny Haines 6-2 Jason Lovett
Jelle Klaasen Bye
Steven Smith 6-1 Andy Smith
Steve Hine 6-4 Steve Brown
Berry van Peer 6-3 Lee Whitworth
Robert Thornton Bye
Nick Fullwell 6-5 Ryan de Vreede
Devon Petersen 6-2 Max Hopp
Dirk van Duijvenbode 6-5 Wayne Jones
Stephen Bunting Bye
Darren Latham 6-0 Stuart Stubbs
Ashley Hykin 6-1 Sven Groen
John Part 6-1 Ben Ward
Phil Taylor Bye
Antonio Alcinas 6-4 Paul Carr
Kirk Shepherd 6-0 Tommy Legius
Chris Dobey 6-2 Mike de Decker
Benito van de Pas Bye
Ritchie Edhouse 6-1 BJ Fairhurst
Luke Woodhouse 6-3 Dylan Duo
Robert Marijanovic 6-0 Andrew Wood
Ian White Bye
Ricky Evans 6-1 James Hubbard
Craig Lewis 6-4 John Crossley
Barrie Bates 6-5 Ian Lever
Justin Pipe Bye
Mark Barilli 6-3 Leo Hendriks
Yordi Meeuwisse 6-0 Rhys Jackson
Terry Temple 6-2 Richie Howson
Kim Huybrechts Bye
David Pallett 6-3 Joe Murnan
Simon Preston 6-1 John Michael
Ryan Palmer 6-2 Jack Todd
John Henderson Bye
Matthew Dennant 6-2 Matthew Edgar
Ricky Sudale 6-0 Karsten Kornath
Christian Kist 6-3 Dave Ladley
Wes Newton Bye
Jay Foreman 6-1 Andy Parsons
Josh Payne 6-2 Justin Broton
Jeffrey de Zwaan 6-2 Michael Burgoine
James Wade Bye
Mark Dudbridge 6-3 Jerry Hendriks
Andy Jenkins 6-3 Jon Jukes
Mark Hylton 6-4 Nathan Aspinall
Dean Winstanley Bye
Jason Marriott 6-2 Paul Nicholson
John Bowles 6-4 Ryan Harrington
William O'Connor 6-2 Dave Johnstone
Vincent van der Voort Bye
Kevin Thomas 6-3 Rob Modra
Cristo Reyes 6-5 James Wilson
Ken MacNeil 6-5 Michel van der Horst
Michael Smith Bye
Paul Osmotherley 6-4 John Power
Jermaine Wattimena 6-1 Kurt Parry
Jeffrey de Graaf 6-5 Darren Webster
Mensur Suljovic Bye
Rene Eidams 6-3 Lee Palfreyman
Ryan Short 6-5 Robert Owen
Robbie Green 6-1 Keith Moore
Simon Whitlock Bye
Peter Hudson 6-3 Brian Woods
Tony Newell 6-1 Joshua Clements
Paul Milford 6-0 Martin Thomas


Second Round
Michael van Gerwen 6-1 Prakash Jiwa
Michael Barnard 6-5 Scott Taylor
Dave Chisnall 6-3 Brett Claydon
Arron Monk 6-5 Alan Tabern
Kevin Painter 6-3 Sam Head
Magnus Caris 6-4 Ron Meulenkamp
Rowby-John Rodriguez 6-3 Jamie Caven
Ryan Meikle 6-3 Tomas Seyler
Alan Norris 6-5 Andrew Gidling
Jason Wilson 6-2 Mike Zuydwijk
Gerwyn Price 6-4 Curtis Hammond
Nathan Derry 6-0 Ben Adams
Adrian Lewis 6-1 Joey Palfreyman
Ted Evetts 6-5 Jim Walker
Mervyn King 6-4 Joe Cullen
Jonny Clayton 6-1 Mark Walsh
Steve Beaton 6-4 Simon Stevenson
Ben Davies 6-3 Adam Hunt
Jamie Lewis 6-2 Scott Dale
Gary Stone 6-4 Mick Todd
Raymond van Barneveld 6-4 Jan Dekker
Andrew Johnson 6-5 Kyle Anderson
Andy Hamilton 6-5 Mick McGowan
James Richardson 6-3 Jyhan Artut
Mark Frost 6-2 Mark Webster
Michael Rasztovits 6-1 Nigel Daniels
Terry Jenkins 6-2 Par Riihonen
Keegan Brown 6-3 Michael Dawson
Peter Wright 6-3 Mareno Michels
Richard Corner 6-2 Shaun Griffiths
Brendan Dolan 6-2 Jonathan Worsley
Johnny Haines 6-1 Stephen Willard
Jelle Klaasen 6-3 Steven Smith
Steve Hine 6-1 Berry van Peer
Robert Thornton 6-4 Nick Fullwell
Dirk van Duijvenbode 6-2 Devon Petersen
Stephen Bunting 6-1 Darren Latham
Ashley Hykin 6-5 John Part
Phil Taylor 6-1 Antonio Alcinas
Kirk Shepherd 6-5 Chris Dobey
Ritchie Edhouse 6-5 Benito van de Pas
Robert Marijanovic 6-2 Luke Woodhouse
Ian White 6-3 Ricky Evans
Craig Lewis 6-3 Barrie Bates
Mark Barilli 6-1 Justin Pipe
Terry Temple 6-4 Yordi Meeuwisse
David Pallett 6-4 Kim Huybrechts
Ryan Palmer 6-4 Simon Preston
John Henderson 6-1 Matthew Dennant
Christian Kist 6-5 Ricky Sudale
Jay Foreman 6-1 Wes Newton
Jeffrey de Zwaan 6-2 Josh Payne
Mark Dudbridge 6-5 James Wade
Andy Jenkins 6-4 Mark Hylton
Jason Marriott 6-3 Dean Winstanley
William O'Connor 6-4 John Bowles
Kevin Thomas 6-0 Vincent van der Voort
Cristo Reyes 6-4 Ken MacNeil
Michael Smith 6-2 Paul Osmotherley
Jermaine Wattimena 6-3 Jeffrey de Graaf
Mensur Suljovic 6-0 Rene Eidams
Robbie Green 6-2 Ryan Short
Simon Whitlock 6-5 Peter Hudson
Tony Newell 6-2 Paul Milford


Third Round
Michael van Gerwen 6-3 Michael Barnard
Dave Chisnall 6-2 Arron Monk
Kevin Painter 6-5 Magnus Caris
Rowby-John Rodriguez 6-4 Ryan Meikle
Alan Norris 6-4 Jason Wilson
Gerwyn Price 6-3 Nathan Derry
Adrian Lewis 6-1 Ted Evetts
Mervyn King 6-3 Jonny Clayton
Steve Beaton 6-0 Ben Davies
Jamie Lewis 6-3 Gary Stone
Raymond van Barneveld 6-2 Andrew Johnson
Andy Hamilton 6-4 James Richardson
Mark Frost 6-2 Michael Rasztovits
Terry Jenkins 6-4 Keegan Brown
Peter Wright 6-2 Richard Corner
Brendan Dolan 6-5 Johnny Haines
Jelle Klaasen 6-3 Steve Hine
Robert Thornton 6-1 Dirk van Duijvenbode
Stephen Bunting 6-2 Ashley Hykin
Phil Taylor 6-1 Kirk Shepherd
Ritchie Edhouse 6-3 Robert Marijanovic
Ian White 6-1 Craig Lewis
Mark Barilli 6-0 Terry Temple
David Pallett 6-2 Ryan Palmer
John Henderson 6-3 Christian Kist
Jeffrey de Zwaan 6-4 Jay Foreman
Mark Dudbridge 6-2 Andy Jenkins - Mark Dudbridge hits a nine-dart finish
Jason Marriott 6-5 William O'Connor
Cristo Reyes 6-5 Kevin Thomas
Michael Smith 6-1 Jermaine Wattimena
Mensur Suljovic 6-4 Robbie Green
Simon Whitlock 6-1 Tony Newell

Last 32
Dave Chisnall 6-4 Michael van Gerwen
Rowby-John Rodriguez 6-2 Kevin Painter
Alan Norris 6-4 Gerwyn Price
Adrian Lewis 6-0 Mervyn King
Steve Beaton 6-4 Jamie Lewis
Raymond van Barneveld 6-4 Andy Hamilton
Terry Jenkins 6-3 Mark Frost
Peter Wright 6-2 Brendan Dolan
Robert Thornton 6-4 Jelle Klaasen
Phil Taylor 6-1 Stephen Bunting
Ian White 6-2 Ritchie Edhouse
David Pallett 6-4 Mark Barilli
John Henderson 6-3 Jeffrey de Zwaan
Jason Marriott 6-5 Mark Dudbridge
Michael Smith 6-2 Cristo Reyes
Mensur Suljovic 6-5 Simon Whitlock

Last 16
Rowby-John Rodriguez 6-3 Dave Chisnall
Adrian Lewis 6-5 Alan Norris
Raymond van Barneveld 6-5 Steve Beaton
Peter Wright 6-3 Terry Jenkins
Phil Taylor 6-2 Robert Thornton
David Pallett 6-2 Ian White
John Henderson 6-2 Jason Marriott
Michael Smith 6-1 Mensur Suljovic

Quarter-Finals
Adrian Lewis 6-1 Rowby-John Rodriguez
Peter Wright 6-5 Raymond van Barneveld
Phil Taylor 6-2 David Pallett
John Henderson 6-2 Michael Smith

Semi-Finals
Adrian Lewis 6-1 Peter Wright
Phil Taylor 6-0 John Henderson

Final
Adrian Lewis 6-2 Phil Taylor


Prize Money
Winner £10,000
Runner-Up £5,000
Semi-Finalists £2,500
Quarter-Finalists £2,000
Last 16 £1,500
Last 32 £750
Last 64 £250
Total £60,000