Bowles Aiming For Consistency
January 13 2016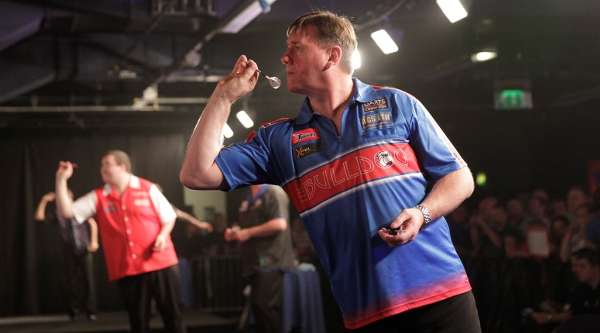 JOHN BOWLES is aiming to add consistency to his game after securing his Tour Card to continue on the PDC ProTour in 2016.

After holding a PDC Tour Card since 2012, the former rugby league ace had slipped out of the world's top 64 at the end of last year to leave himself amongst 400 players to enter Qualifying School.

Bowles, though, bounced back in style by winning through the field on the opening day in Wigan to secure his Tour Card, securing his spot amongst the sport's elite players on the PDC's £10 million circuit.

The Widnes-based star, 48, is aiming to produce more consistent displays this year to ensure that he pushes back up the PDC Order of Merit.

"I know I've got the game and I've proven that, but it's about doing it on a regular basis," he said. "I've got to be more consistent than I have been in the last two years.

"It's absolutely brilliant playing against the top players, because you know that you've got to bring your A-game, and if you don't it's pointless turning up.

"There's some special players, as we all know, and when you play those guys then if you're not on top of your game you may as well forget about it.

"I was really disappointed to lose my Tour Card, but with the way that the system works it keeps you on your toes and it's really good. If you don't win as much money as you did a couple of years ago you'll drop down the rankings.

"I'd done well in the 2013 World Championship, and when I lost in the qualifiers two years later that meant I dropped 14 places in the Order of Merit and I've not really recovered from that, which is why I ended up at Qualifying School.

"I've got everything in place now for me to kick on from here, though. I've built a darts room at home so that I can go and practice there and concentrate on what I need to do."

Bowles, nicknamed The Bulldog, added: "I've had four years and everything's been a learning curve.

"I think that towards the end of last year I was putting quite a bit of pressure on myself by thinking about what I needed to do rather than relaxing and playing my darts.

"As everyone will tell you, if you've got that kind of thing on your mind when you're defending money then it puts pressure on you and results in poor darts."

Bowles will now enjoy a three-day break before returning to Wigan on Sunday to compete in two European Tour UK Qualifiers, and has already set his sights on securing a spot in March's Coral UK Open TV Finals, with the six Qualifiers to be held next month.

"The next goal now is winning a place in the UK Open in Minehead in March," he said. "I love the UK Open - I made my name in the UK Open back in 2011 when I played as an amateur in Bolton and Dave Chisnall beat me in the last 16.

"I've not had a great deal of success since it's moved down to Minehead but it's a better venue and I'm looking forward to competing to try and get back there."