2016 Unibet Masters Day One
January 30 2016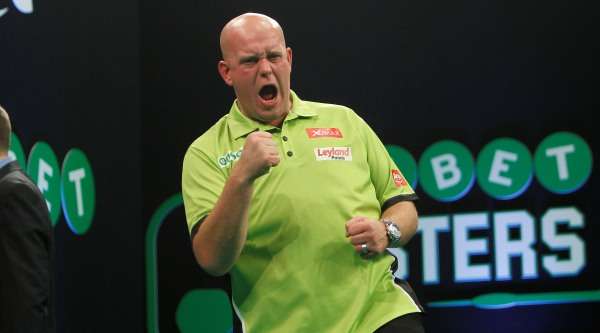 BRILLIANT VAN GERWEN POWERS PAST BUNTING AS ANDERSON CRASHES OUT OF UNIBET MASTERS

MICHAEL VAN GERWEN began his defence of the Unibet Masters title with a 10-1 annihilation of Stephen Bunting at ArenaMK on Saturday, as World Champion Gary Anderson was dumped out of the event by Vincent van der Voort.

World number one van Gerwen needed less than 18 minutes of playing time as he produced a 112.20 average and set up a possible nine-dart finish on three occasions, including a missed double 15 for a perfect leg in an astounding display.

Van Gerwen had also averaged 112 in last year's final, and is in confident mood as he challenges to retain the £60,000 title on Sunday, which will feature the quarter-finals, semi-finals and final in Milton Keynes.

"I felt absolutely fantastic on stage and my confidence was there," said van Gerwen. "I'm fresh and this is a fantastic start of the season, so I hope I can keep this going now.

"I was still disappointed with a couple of moments because you look to perfection, but overall I'm really happy and I will be ready for tomorrow.

"The nine-darter would have been nice but I still won the leg and winning the games is the most important thing. If I play my game I know I can beat anyone, but I just need to keep doing that."

Van Gerwen now meets former World Youth Champion Michael Smith in the quarter-finals, after the number eight seed overcame Raymond van Barneveld 10-7 on his Masters debut to claim his first-ever televised win over the Dutchman.

"It's my first win over Raymond on TV and I wanted to correct what happened at the World Championship because I thought I threw that game away," said Smith, who lost out in the quarter-finals at Alexandra Palace a month ago.

"Neither of us got going and I was thinking too much about trying to beat Raymond. I showed I can still battle, and now I can win ugly.

"I'm into another quarter-final now and I'll go up there on Sunday afternoon, have fun and hopefully play better than this."

World Champion Anderson, though, went out 10-7 to Vincent van der Voort as the Dutchman avenged his recent World Championship loss with a high-quality performance.

"It's a great victory for me," said van der Voort. "Gary embarrassed me in the World Championship - he smashed me 12-1 and that hurt me, big time - and now I've won one so it's good for me.

"I know Gary didn't play his best but you still have to beat the World Champion and that's a massive achievement."

Anderson praised the Dutchman's performance, saying: "Vincent played well. A few times when I needed to break him he kicked off legs with a 180 and that makes it quite hard to catch up.

"It's been three weeks [since I've played] but it feels like three months and it's hard but there's plenty of time this year and it's a long road ahead."

Van der Voort now meets Dave Chisnall in the quarter-finals, after the number ten seed came from 8-0 down with a stunning comeback to defeat Robert Thornton 10-9.

"Robert was playing well at the start and I missed a few doubles," said Chisnall. "I don't know what happened but I never gave in and I had nothing to lose.

"I thought I was going to lose because it's hard to come back from 8-0 down, but I took it leg by leg. He'd won eight legs in a row so there was no reason why I couldn't and he let me in.

"That's probably one of my best comebacks but I've got to improve on Sunday."

Thornton said: "I hardly missed a double in the first eight legs and I can't put my finger on what went wrong just yet.

"I was still focused but all of a sudden my darts started going into the ones and fives, and I was dropping short going for tops and missing double ten by miles."

Number three seed Adrian Lewis was also knocked out as Kim Huybrechts bounced back from his first round exit at the World Championship with a superb 10-4 victory which featured three ton-plus checkouts in a key spell in mid-match.

"I've been practising really hard on finishes between 60-110, those as massive in games and you really hurt opponents with them, and that's what I did today so I'm happy the practice worked out," said Huybrechts.

"I was obviously very disappointed to lose in the first round at the World Championship and I said things had to change. I've totally changed my life to be honest.

"I'm practising really hard, being healthy, working out and doing my best to be a professional, and I had no doubt that I'd win today. I'm going to work hard, do my best and see what happens."

Huybrechts now takes on 2014 Masters champion James Wade, who overcame Terry Jenkins 10-8 in a close contest.

"I made it hard work but I came through it," said Wade. "They are the hard games to win, when you're in the corner getting beaten up and I just about managed to punch my way out of the corner."

Phil Taylor, the inaugural Masters champion in 2013, averaged 102.03 in a superb start to his challenge for a second title in the event as he defeated Jelle Klaasen 10-6.

The Dutchman had won when they met in the World Championship recently, but never recovered from seeing a rejuvenated Taylor take a 6-0 lead early on.

"I started off brilliantly but then I went a bit nervous," said Taylor. "Jelle was coming back and pushing me, and I'm glad of the match practice - I was enjoying the game.

"I'm in it to win it, and I know by my practising that I can play properly and give the lads a proper game. I can go out with a little more confidence, and each time I play with these new darts I'm going to get a little more confident.

"I'm practising better than ever with the new darts and I'm enjoying it. The three weeks I've had have given me a little bit of time to re-evaluate - I had a tough year but I can relax now and enjoy my career, and that makes me dangerous."

Taylor's quarter-final opponent will be Peter Wright, who also averaged over 100 as he defeated Ian White 10-7.

"I've put a lot of hard work in since the World Championship and at the back end there I won the legs that I needed to win," said number five seed Wright.

"I've got to do better than this but my game's better than this in practice and my darts have been going great. I'm pretty happy but there's loads more to come."

The £200,000 event, televised live on ITV4, will conclude on Sunday with the quarter-finals in the afternoon session and the semi-finals and final in the evening session.

A limited number of tickets are available for both sessions and can be purchased at ArenaMK on the day.

Live Worldwide TV
ITV4 - UK
Setanta - Ireland
RTL7 - Netherlands
Sport1 - Germany
Play Sports - Belgium
Fox Sports - Australia
Sky - New Zealand
Nova - Czech Republic & Slovakia
Viasat - Denmark, Bulgaria & Baltic States
OSN - Middle East & North Africa
www.LIVEPDC.TV
for International Pass Subscribers
Join The Conversation
Join the conversation online through social media
Twitter - Follow
@OfficialPDC
and use the
#Unibet180
Hashtag
Facebook - Like the
PDC Facebook Page
Instagram - Follow
@OfficialPDC
Snapchat - Add OfficialPDC
2016 Unibet Masters
Saturday January 30
Afternoon Session (12.45pm-5pm)
First Round
Robert Thornton 9-10 Dave Chisnall
James Wade 10-8 Terry Jenkins
Peter Wright 10-7 Ian White
Michael Smith 10-7 Raymond van Barneveld
Evening Session (7pm-11pm)
First Round
Adrian Lewis 4-10 Kim Huybrechts
Phil Taylor 10-6 Jelle Klaasen
Gary Anderson 7-10 Vincent van der Voort
Michael van Gerwen 10-1 Stephen Bunting
All games are the best of 19 legs. No tie-break.
MATCH UPDATES
Robert Thornton v Dave Chisnall
Dave Chisnall produced an incredible fightback from 8-0 down to edge a thrilling Unibet Masters opener with Robert Thornton with a 10-9 triumph.
Thornton made an ideal start with a 14-dart finish, ending on tops, and then punished missed double from Chisnall in three successive legs by checking out 100, 78 and 80 as he took a 4-0 lead.
He then took out 122 to win the fifth - despite bursting his score on the same finish in the previous visit - punished further misses from Chisnall in leg six and took out 60 and 97 for an 8-0 advantage.
Chisnall finally got off the mark in leg nine, with his 15th dart at a double, before finishing 101 to continue his revival.
A pair of third-dart doubles - at tops and double ten - saw Chisnall pull back to 8-6 before Thornton steadied his nerves with double 12 to claim his first leg in seven and edge 9-6 up.
The pair traded 180s in the 16th leg before Chisnall punished a missed match dart from the Scot to land double 16 and stay in the hunt, and double six then saw the St Helens ace pull back to 9-8.
Chisnall's seventh 180 helped to set up double eight as he forced a decider, and when Thornton missed double top and ten to close out victory, the world number ten completed his amazing comeback by landing tops.
"Robert was playing well at the start and I missed a few doubles," said Chisnall. "I don't know what happened but I never gave in and I had nothing to lose.
"I thought I was going to lose because it's hard to come back from 8-0 down, but I took it leg by leg. He'd won eight legs in a row so there was no reason why I couldn't and he let me in.
"That's probably one of my best comebacks but I've got to improve on Sunday."
Thornton said: "I hardly missed a double in the first eight legs and I can't put my finger on what went wrong just yet.
"I was still focused but all of a sudden my darts started going into the ones and fives, and I was dropping short going for tops and missing double ten by miles.
"It might be lack of match practice, but when you're playing at this level that shouldn't matter when you're that far in front. I've not got too long to dwell on this because the Premier League starts on Thursday, and I won't make the same mistake again."
Fightback of the season already?!

We talk to @chizzychisnall after his 10-9 win over @thethorn180 #Unibet180 https://t.co/xwFLOoG0oo

— PDC Darts (@OfficialPDC) January 30, 2016
Match Stats
| | | |
| --- | --- | --- |
| Robert Thornton | 9-10 | Dave Chisnall |
| 26 | 100+ | 25 |
| 9 | 140+ | 9 |
| 0 | 170+ | 0 |
| 4 | 180 | 7 |
| 87.94 | Average | 90.33 |
| 122 | High Finish | 101 |
| 4 | Breaks of Throw | 5 |
| 9/18 - 50% | Checkout % | 10/32 - 31% |
James Wade v Terry Jenkins
Former Unibet Masters champion James Wade fended off the tough challenge of Terry Jenkins to progress to the quarter-finals with a 10-8 victory.
Although Jenkins took the opening leg, Wade won the next three - taking out 48, 56 and double four - to lead 3-1 only for the game to swing as the Ledbury ace hit back to level and then landed two 180s in a 12-darter to move 4-3 up.
Wade replied with a sublime 141 finish to level with a 12-darter of his own, and he took out 94 and 92 before a 120 checkout from Jenkins saw the game tied at six-all.
Wade won the next two with the aid of 180s, before Jenkins punished three misses by landing double 12 to pull back to 8-7.
Another 120 checkout saw Jenkins level, but Wade took the 17th to edge back in front before punishing seven misses from the nine-time major finalist - as he missed his chance to force a decider - by landing double ten to seal the win.
"I made it hard work but I came through it," said Wade. "I missed a few chances to finish him off a bit earlier and if you give him a chance he'll take it, and I'm glad I finished the game off when I did.
"They are the hard games to win, when you're in the corner getting beaten up and I just about managed to punch my way out of the corner. It's a win and I'm through to the next round, but if I play like that again I'll be in trouble."
Wade added: "I'd put so much into the World Championship and after that I was so disappointed, very upset as well. When it hurts that much you don't want to look at a dart or a dartboard, but now I have to face darts and get on with it."
"I made a massive massive mistake" - @jameswade180 comes through a bad spell and books a spot in day two in MK! https://t.co/sLXwXui1WC

— PDC Darts (@OfficialPDC) January 30, 2016
Match Stats
| | | |
| --- | --- | --- |
| James Wade | 10-8 | Terry Jenkins |
| 16 | 100+ | 29 |
| 14 | 140+ | 12 |
| 1 | 170+ | 0 |
| 6 | 180 | 4 |
| 91.41 | Average | 89.62 |
| 141 | High Finish | 120 |
| 5 | Breaks of Throw | 4 |
| 10/29 - 34% | Checkout % | 8/36 - 22% |
Peter Wright v Ian White
Peter Wright kicked off his Unibet Masters challenge with a 100.15 average as he defeated Ian White 10-7 in a fine first round tussle at ArenaMK.
The world number five took five of the game's final six legs as he swept into the last eight, despite White leading twice in a see-saw contest.
Although Wright kicked off with a 13-dart leg, White finished tops and double eight to edge the next two after missed doubles from his rival.
Wright, though, hit back with four successive legs to move 5-2 up, only to see White - aided by a 180, a 121 bull finish and an 83 checkout - level before the Stoke ace hit double ten to move back in front at 6-5.
Wright took out 70 to level in the next and tops to punish a missed bull from his rival as he regained the lead.
White levelled on double eight, but Wright edged leg 15 and then produced a key 110 checkout to move 9-7 up, before tops secured his quarter-final spot.
"I'm happy with the win but I didn't think it was a 100 average to be honest, said Wright. "I've put a lot of hard work in since the World Championship and at the back end there I won the legs that I needed to win.
"I've got to do better than this but my game's better than this in practice and my darts have been going great. I'm pretty happy but there's loads more to come."
Peter Wright into the next round with a good opening win in Milton Keynes!

Can @snakebitewright lift the trophy? https://t.co/P6AC1tXoRl

— PDC Darts (@OfficialPDC) January 30, 2016
Match Stats
| | | |
| --- | --- | --- |
| Peter Wright | 10-7 | Ian White |
| 22 | 100+ | 24 |
| 12 | 140+ | 8 |
| 0 | 170+ | 0 |
| 6 | 180 | 3 |
| 100.15 | Average | 96.89 |
| 110 | High Finish | 121 |
| 4 | Breaks of Throw | 3 |
| 10/21 - 48% | Checkout % | 7/14 - 50% |
Michael Smith v Raymond van Barneveld
Michael Smith marked his Unibet Masters debut with a first-ever televised win over Raymond van Barneveld as a 10-7 victory saw him move into the quarter-finals at ArenaMK.
The former World Youth Champion avenged his World Championship defeat to the Dutchman by finishing the stronger, taking six of the final eight legs after finding himself 5-4 down before turning the game around.
Smith kicked off the game with a 180 in a 13-darter, and after the first four legs were shared the youngster added another 13-dart finish and an 88 checkout to move 4-2 up.
Last year's runner-up Van Barneveld replied with a brilliant ten-darter and levelled before finishing a 14-dart leg to edge 5-4 up, only to see Smith respond with four successive legs as he took an 8-5 lead.
The St Helens ace then fired in two 180s in the 14th leg, only to be stunned by a superb 138 finish as van Barneveld hit back with a 12-darter.
Smith, though, added another maximum as an 11-darter restored his breathing space before following up double ten from his rival with a sixth maximum and tops to secure a quarter-final berth.
"I'm happy with the win but not with how I played, but I'll take the win," said Smith. "Raymond's 138 was outstanding but he was more patchy than I was and maybe I was trying too hard.
"It's my first win over Raymond on TV and I wanted to correct what happened at the World Championship because I thought I threw that game away. Neither of us got going and I was thinking too much about trying to beat Raymond.
"I showed I can still battle, and now I can win ugly. I'm into another quarter-final now and I'll go up there on Sunday afternoon, have fun and hopefully play better than this."
Match Stats
| | | |
| --- | --- | --- |
| Michael Smith | 10-7 | Raymond van Barneveld |
| 14 | 100+ | 24 |
| 11 | 140+ | 14 |
| 0 | 170+ | 0 |
| 6 | 180 | 2 |
| 90.93 | Average | 86.83 |
| 88 | High Finish | 138 |
| 3 | Breaks of Throw | 2 |
| 10/28 - 36% | Checkout % | 7/23 - 30% |

Adrian Lewis v Kim Huybrechts
Kim Huybrechts stormed past Adrian Lewis 10-4 with a superb display as he claimed his first-ever Unibet Masters victory to move through to Sunday's quarter-finals.

The Belgian ace had lost to Lewis in the first two years of the Masters, but after returning to the world's top 16 was in superb form to bounce back from the disappointment of last month's first round exit at the World Championship in style.

Lewis actually started the stronger, finishing double 18 and double ten to claim the opening two legs, only to see Huybrechts kick-start his challenge with an 11-darter as the pair traded 180s in leg three.

Huybrechts then won the next three legs to move 4-2 up, and after Lewis took the seventh, he finished 136, 116 and 105 to land ton-plus checkouts in three out of four as he move 8-3 up.

Lewis punished misses from Huybrechts to take the 12th, but the Belgian landed a 180 as he regained hs cushion before finishing 80 to complete the win.

"It's the Masters so it's the top 16 and you know you're up against a quality player," said Huybrechts. "Adrian didn't play as well as he can but I'm happy with the win

"I've been practising really hard on finishes between 60-110, those as massive in games and you really hurt opponents with them, and that's what I did today so I'm happy the practice worked out.

"I was obviously very disappointed to lose in the first round at the World Championship and I said things had to change. I've totally changed my life to be honest.

"I'm practising really hard, being healthy, working out and doing my best to be a professional, and I had no doubt that I'd win today. I'm going to work hard, do my best and see what happens."

Match Stats
| | | |
| --- | --- | --- |
| Adrian Lewis | 4-10 | Kim Huybrechts |
| 18 | 100+ | 16 |
| 8 | 140+ | 10 |
| 0 | 170+ | 1 |
| 1 | 180 | 3 |
| 90.53 | Average | 94.29 |
| 40 | High Finish | 136 |
| 2 | Breaks of Throw | 5 |
| 4/10 - 40% | Checkout % | 10/20 - 50% |
Phil Taylor v Jelle Klaasen
Phil Taylor made a winning start to his bid to win a second Unibet Masters title by holding off Jelle Klaasen's fightback from 6-0 down to claim a 10-6 win over the Dutchman.
Klaasen had taken victory when the pair met in the World Championship a month ago, but Taylor returned to the big stage in refreshed mood and armed with a new design of dart.
He made an immediate statement with a 180 in his opening visit to the oche, taking the first leg with a 14-darter and the next five to storm into a 6-0 lead.
Klaasen hit double ten to get off the mark in leg seven, but Taylor followed up double eight with a brilliant 87 bull finish for a 12-darter as he extended his lead to 8-1.
Klaasen, though, continued his revival with three successive 14-dart legs and double 18 as he pulled back to 8-5, but Taylor traded 14-darters with the Dutchman before hitting a 177 and a 90 checkout for a 12-darter to seal the win.
"I started off brilliantly but then I went a bit nervous," said Taylor. "Jelle was coming back and pushing me, and I'm glad of the match practice - I was enjoying the game.
"I'm in it to win it, and I know by my practising that I can play properly and give the lads a proper game. I can go out with a little more confidence, and each time I play with these new darts I'm going to get a little more confident.
"I'm practising better than ever with the new darts and I'm enjoying it. The three weeks I've had have given me a little bit of time to re-evaluate - I had a tough year but I can relax now and enjoy my career, and that makes me dangerous."
"It's a new Phil!" @PhilTaylor looks cool, calm and collected as he books a spot in the quarter finals#Unibet180https://t.co/Sq1lAAuL1D

— PDC Darts (@OfficialPDC) January 30, 2016
Match Stats
| | | |
| --- | --- | --- |
| Phil Taylor | 10-6 | Jelle Klaasen |
| 27 | 100+ | 14 |
| 13 | 140+ | 11 |
| 1 | 170+ | 1 |
| 2 | 180 | 3 |
| 102.03 | Average | 97.29 |
| 90 | High Finish | 60 |
| 4 | Breaks of Throw | 2 |
| 10/27 - 37% | Checkout % | 6/9 - 67% |
Gary Anderson v Vincent van der Voort
Vincent van der Voort stunned Gary Anderson by knocking the World Champion out of the Unibet Masters with a superb 10-7 win at ArenaMK on Saturday.
Anderson had seen off the Dutchman in straight sets on his way to glory at Alexandra Palace a month ago, but was unable to repeat the first in his first competitive game since lifting the Sid Waddell Trophy.
After sharing the opening four legs, the Dutchman took three in a row to pull clear, taking out 81 on the bull and a key 83 checkout for a 12-darter as he moved 5-2 up.
Anderson hit back to level and then took out 112 to square the game at six-all, but van der Voort secured a third-dart tops to regain the edge, hit a 180 in taking an 8-6 lead before finishing a superb 119 to move to the brink of victory.
Anderson replied with a 105 checkout and opened the next leg with 180 and 140, but van der Voort took out 62 to seal the win and set up a quarter-final with Dave Chisnall.
"It's a great victory for me," said van der Voort. "Gary embarrassed me in the World Championship - he smashed me 12-1 and that hurt me, big time - and now I've won one so it's good for me.
"I know Gary didn't play his best but you still have to beat the World Champion and that's a massive achievement."
Anderson praised the Dutchman's performance, saying: "Vincent played well. A few times when I needed to break him he kicked off legs with a 180 and that makes it quite hard to catch up.
"It's been three weeks [since I've played] but it feels like three months and it's hard but there's plenty of time this year and it's a long road ahead."
Match Stats
| | | |
| --- | --- | --- |
| Gary Anderson | 7-10 | Vincent van der Voort |
| 23 | 100+ | 13 |
| 10 | 140+ | 12 |
| 0 | 170+ | 0 |
| 4 | 180 | 8 |
| 98.18 | Average | 100.14 |
| 112 | High Finish | 119 |
| 2 | Breaks of Throw | 3 |
| 7/12 - 58% | Checkout % | 1021 - 48% |
Michael van Gerwen v Stephen Bunting
Michael van Gerwen kicked off his defence of the Unibet Masters title with a brilliant 10-1 demolition of Stephen Bunting, averaging 112.20 and setting up a possible nine-darter three times in a scintillating performance.
The Dutchman was ruthless in his 18-minute romp, missing double 15 to complete a perfect leg and sounding a warning to his rivals for the £60,000 title.
He hit two 180s in a 12-darter to kick off the game before opening leg two with scores of 180 and 174, and though a nine-dart chance went begging he took the leg in ten darts to double his lead.
An 11-darter followed before Bunting fired in a 180 and double eight to get off the mark - but van Gerwen took the next on double nine before missing double 15 for a nine-darter in leg six, opening with scores of 177 and 174 to leave 150.
Van Gerwen responded to missing the final double for a perfect leg by taking a 5-1 lead, before checking out 105 and 80 - for an 11-darter after opening leg eight with scores of 180 and 177 - before taking out 87, double ten and 88 to complete the rout.
"I felt absolutely fantastic on stage and my confidence was there," said van Gerwen. "I'm fresh and this is a fantastic start of the season, so I hope I can keep this going now.
"I was still disappointed with a couple of moments because you look to perfection, but overall I'm really happy and I will be ready for tomorrow.
"The nine-darter would have been nice but I still won the leg and winning the games is the most important thing. If I play my game I know I can beat anyone, but I just need to keep doing that."
"Tonight I was hungry to play again!"@mvg180 was in UNSTOPPABLE form tonight as he averages 112#Unibet180https://t.co/PRylT3qjxl

— PDC Darts (@OfficialPDC) January 30, 2016
Match Stats
| | | |
| --- | --- | --- |
| Michael van Gerwen | 10-1 | Stephen Bunting |
| 13 | 100+ | 12 |
| 5 | 140+ | 5 |
| 4 | 170+ | 0 |
| 6 | 180 | 3 |
| 112.20 | Average | 94.35 |
| 105 | High Finish | 16 |
| 4 | Breaks of Throw | 0 |
| 10/17 - 59% | Checkout % | 1/7 - 14% |