Qualifying School Countdown Underway
January 05 2017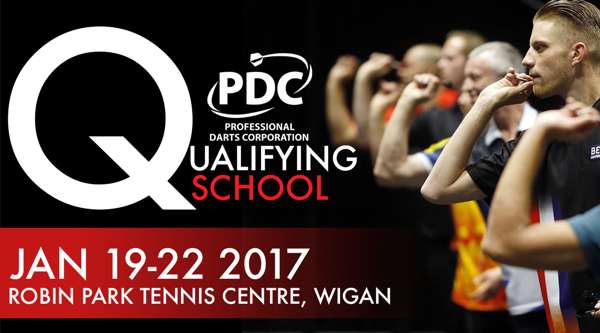 ONLY a fortnight remains until the 2017 PDC Qualifying School, which will see four days of action in Wigan as players bid to win a PDC Tour Card.
The PDC Qualifying School gives ANY darts player their chance to win a PDC Tour Card, with the event being held over four days from January 19-22 at Wigan's Robin Park Tennis Centre.
Each day's play, with all games over the best of nine legs, will see four players win a two-year Tour Card, with ranking points allocated to other players based on finishing positions.
Following the four days, 16 players will have won an automatic Tour Card, with further Tour Cards to be allocated to players based on final finishing positions in the Q School Order of Merit.
Ranking points are awarded as follows
9 Points - Last Eight defeat
5 Points - Last 16 defeat
3 Points - Last 32 defeat
2 Points - Last 64 defeat
1 Point - Last 128 defeat
The Q School Order of Merit will also be used during 2017 to allocate additional places, in ranking order, to top up Players Championship fields to 128 players should all Tour Card Holders not enter.
Entry Fee: £280 which includes £250 Qualifying School Entry and £30 DRA Sanction Fee.
Entry Deadline: Monday January 16 2017 (2pm)
How To Enter:
All entries must be made online using the PDC Online Entry System.
Existing Players
- If you have previously competed in a PDC event, use your existing Login details at
http://pdclive.servasport.com/login.html
If you cannot remember these, please contact the PDC Head Office on 08712 501 180 - DO NOT TRY TO REGISTER AGAIN!.
New Players
- Please register your details at
http://pdclive.servasport.com/register.html
before logging in to complete your entry.
Age Limits: To compete in the 2017 PDC Qualifying School, players must be aged 16 or over on January 19 2017.
PLAYERS WHO ENTER THE PDC QUALIFYING SCHOOL WILL ALSO NEED TO COMPLETE THE PDPA MEMBERSHIP FORMS WHICH CAN BE
DOWNLOADED AT THIS LINK
.
Qualifying School - Daily Schedule
9am - Doors Open
9am-11am - Registration
11am - Draw made. An open draw with no seedings will be made.
12pm - Event Begins. All games will be the best of nine leg.
Players who win a PDC Tour Card will be required to pay a Tour Card Upgrade Fee of £250 to the PDPA to become a Full Member.
Players who play at PDC Qualifying School do not win a Tour Card will be classed as PDPA Associate Members, and will be eligible to compete in:
All PDC Unicorn Challenge Tour events
UK Open Qualifiers
European Tour Qualifiers
Players Championship events (in ranking order up to 128 players)
Players who enter PDC Qualifying School but do not compete are not classed as a PDPA Member and will only be eligible for "Challenge Tour Only Membership", entitling them to play in Challenge Tour events throughout 2017.
For further information, to download PDPA Membership Forms, details of local hotels and travel, please
CLICK HERE TO VISIT THE PDPA WEBSITE