Phil Taylor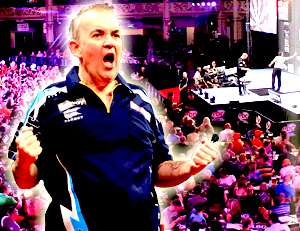 Name:
Phil Taylor
Nickname:
The Power
Walk-On Music:
Snap - (I've Got) The Power
Date of Birth:
August 13 1960
Place of Birth:
Stoke-On-Trent
Home Town:
Stoke-On-Trent
Darts Used:
26g Target
Website:
Click here
Follow Phil Taylor on Twitter
Watch Phil Taylor Highlights in LIVEPDC.TV
* The PDC are not responsible for the content of external websites
THE greatest player ever to throw a dart, Taylor exploded onto the darts scene at the end of the 1980's and has rewritten the history books since, with his achievements headlined by an unrivalled 16 World Championship wins.

A protege of five-time World Champion Eric Bristow, he picked up his first major title at the 1990 Embassy Championship with a 6-1 thrashing of his mentor.

He also added the 1990 World Masters title before picking up a second World Championship two years later in one of darts' greatest matches against Mike Gregory.

Since the formation of the PDC, Taylor has dominated professional darts and picked up an unparalleled number of titles, with his achievements leading to him being compared to the likes of Mohammed Ali and Sir Donald Bradman as a sporting great.

Eleven victories at the Circus Tavern - following a loss to Dennis Priestley in the inaugural PDC World Championship in 1994 - plus two World Championship wins at Alexandra Palace have been complemented by success every other major tournaments.

He claimed a first World Matchplay title in 1995 and also won the title in 1997 before being unbeaten at the Winter Gardens from 2000 to 2004 to claim five successive titles - a record he broke with a sixth successive triumph in 2013.

Taylor's rivalry with Priestley saw him repay the Yorkshireman for that 1994 World Championship loss many times over in major finals - winning the World Championship deciders between the duo in 1996, 1997, 1998 and 2000 as well as the 1995 World Matchplay final.

The new Millennium saw the emergence of a new challenger to his throne, John Part, with Taylor coming out on top in one World Championship final, one World Matchplay decider and two World Grand Prix finals and the Canadian claiming a 7-6 win in the 2003 World Championship.

Taylor regained the World Championship title 12 months later, coming from 4-1 down to win in a sudden-death leg against Kevin Painter in arguably the sport's best-ever game.

The introduction of the double-start World Grand Prix in 1998 saw Taylor win that event for five of the first seven years, only losing in 2001 and 2004 in the first round to Painter and Andy Callaby.

He was also the Las Vegas Desert Classic champion in 2002 and 2004, and he won the first-ever UK Open in 2003 before being the unbeaten victor in the inaugural Premier League Darts in 2005.

Taylor's place in the record books had also been assured after he hit the first live nine-dart leg on Sky Sports during the 2002 World Matchplay - a feat he repeated in both the 2004, 2005, 2007 and 2008 UK Open and in the 2007 International Darts League, and he was unbeaten for two years in a televised match from 1999 to 2001.

2005 also saw Taylor retain his World Championship title by defeating Mark Dudbridge, and claim a second UK Open and a third Las Vegas Desert Classic, before Part ended his bid for a clean sweep of honours with a defeat in the World Matchplay, although he bounced back to win the World Grand Prix against defending champion Colin Lloyd.

Taylor then went on to retain the World Championship with a 7-0 defeat of Peter Manley at the Circus Tavern in January 2006 to claim his 13th crown, but that year saw the arrival of another new challenger to his throne - Holland's Raymond van Barneveld.

After retaining the Premier League crown - again unbeaten - and then winning the first World Series of Darts, he lost twice to van Barneveld, in the UK Open and Las Vegas Desert Classic.

However, he recaptured the World Matchplay title in the summer of 2006 by seeing off James Wade in Blackpool to take the trophy back to Stoke for an eighth time and also retained the World Grand Prix by defeating Terry Jenkins.

Van Barneveld inflicted another defeat on Taylor in a dramatic 2007 World Championship final, the Dutchman overturning a 3-0 deficit before winning a sudden-death leg and taking the title.

Although Taylor won the Premier League for a third successive year, once again being unbeaten in the event, he also lost once more to van Barneveld in the UK Open, and then went out in the Las Vegas Desert Classic at the first round stage against Mark Dudbridge and to Terry Jenkins in the World Matchplay semi-finals.

A loss to Adrian Gray in the World Grand Prix, for a third time in the event at the first round stage, was followed by a quarter-final exit to Wayne Mardle in the World Championship - the first time in the PDC event he had failed to reach the final - and even victories during the autumn of 2007 in the inaugural Grand Slam of Darts and German Darts Championship failed to prevent talk that Taylor's power may be on the wane.

His defeat in the opening game of the 2008 Premier League, to James Wade, was his first ever in the history of the tournament, and two more in his opening four games left Taylor second bottom in the table.

But a change of darts marked an incredible turnaround, with an 8-0 whitewash of Wayne Mardle followed by nine successive wins which saw him top the league table and then take play-off glory against Wade.

Taylor also won six successive PDC Pro Tour events in the spring of 2008, and hit a nine-darter during a Players Championship in Germany, which was followed by a fourth perfect leg in the UK Open before he suffered a third successive quarter-final loss to van Barneveld in Bolton.

Wade was also defeated in the finals of the Las Vegas Desert Classic and the World Matchplays as Taylor regained the number one position in the PDC Order of Merit in the summer of 2008.

He went on to win an eighth World Grand Prix in the autumn, as well as retaining his Grand Slam of Darts title and taking victory in the inaugural Championship League Darts and European Championship events.

Although Taylor was victorious in another five straight Players Championships in the second half of the year, he lost in the final of the German Darts Championship to Co Stompe - only to avenge that in the 2009 World Championship.

The clash with Stompe came at the quarter-final stage, with Steve Grubb, Michael van Gerwen and Kevin Painter already defeated. Mervyn King was Taylor's semi-final victim before he defeated van Barneveld 7-1 to claim a 14th World Championship, having dropped only four sets in the tournament and averaged a record 110 in the final.

His run of form continued into the early part of 2009, with victory in the inaugural Players Championship event at the Circus Tavern, where he defeated Robert Thornton in the final of the new televised event.

His reign in the Premier League Darts was ended in May 2009, losing to Mervyn King in the semi-finals after topping the league table for a fifth successive year.

However, he bounced back to win the UK Open for a fourth time, overcoming Colin Osborne in the final, and then take a fifth Las Vegas Desert Classic with victory against Raymond van Barneveld.

The summer of 2009 saw Taylor claim his tenth World Matchplay title, overcoming Terry Jenkins 18-4 with a record winning margin at the Winter Gardens, having also twice averaged 109 earlier in the event.

He returned to action in September in Championship League Darts, before retaining his South African Masters title in Johannesburg with a victory over James Wade in the final at Emperors Palace.

A Players Championship win in Dublin was followed by a ninth World Grand Prix title in October, with a 6-3 comeback victory over Raymond van Barneveld, after he was initially 2-0 down, maintaining Taylor's record of holding all major ranking titles at once.

Taylor then claimed a second successive European Championship - hitting a then record average for a major championship of 118 against Gary Anderson during the event - and also won a Players Championship in Killarney before retaining the Grand Slam of Darts title in November with victory over Scott Waites in the final in Wolverhampton.

Taylor also won back the German Darts Championship title, defeating Mervyn King in the final to take his prize money for 2009 beyond £750,000 and add a 22nd tournament win of the year to his CV.

He then went on to win yet another World Championship, his 15th, with victory in the 2010 event at Alexandra Palace, overcoming Australian Simon Whitlock 7-3 in the final following another imperious display throughout the event.

While Paul Nicholson knocked him out in the semi-finals of the Players Championship Finals, Taylor's challenge to regain the Premier League Darts crown saw him create further history by hitting two nine-dart finishes in the final against James Wade, being the first player to achieve that feat and also to land a perfect leg in a televised final.

Further success in the UK Open - defeating Gary Anderson in the final after recording another 118 average, against Kevin Painter - and World Matchplay, where he overcame van Barneveld, followed as he retained those titles, and a third successive European Championship win in August 2010 proved to be his last major title of the year.

Adrian Lewis ended his World Grand Prix hopes, while Steve Beaton denied him in the Grand Slam of Darts and Mark Webster knocked him out of the World Championship, as Taylor endured an unusual barren spell.

Taylor returned to form in the early part of 2011, though, edging out Anderson again to win the Players Championship Finals trophy back, and then seeing off van Barneveld in the RTL7 International Masters in Holland during his bid for a sixth Premier League Darts title.

However, that aim was ended with a semi-final defeat to Lewis in the Premier League, and Paul Nicholson's final-leg victory in the last 16 of the UK Open saw another title slip from Taylor's grasp before he returned to defend his World Matchplay title in July 2011.

Mark Hylton, Wayne Jones, Wes Newton and Andy Hamilton were defeated as Taylor reached a fourth straight final, before claiming his 12th World Matchplay victory with an 18-8 win over James Wade.

The winning feeling continued as Taylor then won the European Championship for a fourth successive year, this time defeating Lewis in the final after also seeing off Nicholson in the quarter-finals.

Taylor's success continued into the autumn as he regained the World Grand Prix, Championship League Darts and Grand Slam of Darts titles in a brilliant run, defeating Brendan Dolan, Nicholson and Anderson in the respective finals.

However, the year would end in disappointment as his defence of the Players Championship Finals crown was ended by Mervyn King in the second round before he was knocked out in the last 32 of the World Championship to Dave Chisnall.

Victory alongside Adrian Lewis in the World Cup of Darts was a superb way for Taylor to open 2012, before he went on to reclaim his Premier League title in impressive style - hitting a nine-darter as he topped the league table in the group phase, before defeating Simon Whitlock in the final.

Taylor also hit nine-darters in successive days on the PDC ProTour and won a Players Championship and back-to-back UK Open Qualifiers, before winning through to the UK Open final in Bolton in June, where Robert Thornton denied him another Reebok Stadium triumph.

Taylor, though, responded to win the German Darts Championship European Tour event in Berlin before continuing his incredible domination of the World Matchplay in Blackpool, picking up a record-equalling fifth straight victory and his 13th Winter Gardens title in July - again defeating Wade in the final.

An exhibition tour of Australia followed during the summer, but Taylor was to lose his European Championship and World Grand Prix crowns in the early autumn, being defeated by Brendan Dolan in Germany and Robert Thornton in Dublin.

Michael van Gerwen would also end his hopes of retaining the Grand Slam of Darts title, but - after winning a third Players Championship Finals title by seeing off Kim Huybrechts in Minehead - Taylor avenged that defeat to win his 16th World Championship.

Taylor trailed 4-2 in the World Championship final but reeled off five straight sets to become the first winner of the Sid Waddell Trophy as he returned to the very top of the world!

The rivalry with van Gerwen would continue as the Dutchman claimed victory in the 2013 Premier League final, although Taylor had already won a second World Cup of Darts title alongside Lewis before going on to pick up another UK Open title, overcoming Hamilton in the final in Bolton.

Taylor also won the Gibraltar Darts Trophy event and then bounced back from a second round exit in the European Championship by winning yet another World Matchplay title, extending his winning run to six successive years at the Winter Gardens by seeing off Lewis in a final of incredible quality.

A first World Series of Darts win at the Sydney Darts Masters, where he overcame van Gerwen in the final, was followed by a tenth World Grand Prix title as Taylor crushed Dave Chisnall 6-0 in a one-sided final.

He landed a nine-darter in claiming a fourth Championship League Darts win and then took victory in the inaugural Masters tournament, sweeping past Lewis in the final in Edinburgh.

Taylor and Lewis also clashed in the Grand Slam of Darts, in a classic semi-final, but it was Taylor who took victory on his way to another title in an imperious autumn.

Van Gerwen, though, proved too strong as he took the Players Championship Finals title with a win over Taylor in the final at Minehead, and the Dutchman also succeeded his rival as World Champion, and world number one, with his success at Alexandra Palace after the reigning champion was knocked out by Michael Smith.

Despite hitting two nine-darters in victory in a UK Open Qualifier, Taylor also saw the UK Open title slip away from his grasp in March 2014 when newcomer Aden Kirk produced a huge upset, and van Barneveld then ended Taylor's hopes of regaining the Premier League title with a semi-final triumph.

Taylor, though, bounced back in style with yet another World Matchplay triumph, hitting a nine-darter against Michael Smith before overcoming van Gerwen to claim his seventh successive Blackpool win.

World Series glory followed in the Perth Darts Masters and Sydney Darts Masters, and after losing out in the World Grand Prix, European Championship and The Masters, Taylor picked up another Grand Slam of Darts success as he defeated Chisnall in the final in Wolverhampton.

The year, though, ended in disappointment as Taylor lost to Gary Anderson in the Players Championship Finals and was then defeated by the Scot when they met again in the 2015 World Championship final.

Victories in two PDC ProTour events in the early stage of 2015 were bright spots as Taylor again missed out in The Masters and at the quarter-final stage of the UK Open, before he failed to reach the Premier League Play-Offs for the first time in the event's history as he was edged out of the top four despite some stellar performances.

The runner-up in May's Dubai Darts Masters, he returned to winning ways on the big stage in June by partnering Lewis once again to World Cup of Darts glory in Germany before then winning the Japan Darts Masters with a narrow defeat of Peter Wright.

Taylor's incredible winning run in the World Matchplay, though, was also ended in July 2015 as James Wade inflicted his first defeat in Blackpool since 2007 with his semi-final triumph.

Taylor avenged that loss to Wade in the Perth Darts Masters final as he retained that title before landing a nine-dart finish on his way to a third successive Sydney Darts Masters win.

Major Titles
World Championships:
BDO: 1990, 1992
PDC: 1995, 1996, 1997, 1998, 1999, 2000, 2001, 2002, 2004, 2005, 2006, 2009, 2010, 2013
World Matchplay: 1995, 1997, 2000, 2001, 2002, 2003, 2004, 2006, 2008, 2009, 2010, 2011, 2012, 2013, 2014
World Grand Prix: 1998, 1999, 2000, 2002, 2003, 2005, 2006, 2008, 2009, 2011, 2013
Las Vegas Desert Classic: 2002, 2004, 2005, 2008, 2009
China Telecom Global Cup: 2004
UK Open: 2003, 2005, 2009, 2010, 2013
World Series of Darts: 2006
PDC World Series Event Wins: Sydney 2013; Perth, Sydney 2014
The Masters: 2013
PDC US Open: 2007, 2008
World Darts Trophy: 2006
Championship League Darts (internet): 2008, 2011, 2012, 2013
European Championship: 2008, 2009, 2010, 2011
Players Championship Finals: 2009, 2011, 2012
Premier League Darts: 2005, 2006, 2007, 2008, 2010, 2012
Grand Slam of Darts: 2007, 2008, 2009, 2011, 2013, 2014
South African Masters: 2007, 2008, 2009
RTL7 International Masters: 2011
UK Matchplay: 1996
UK Masters: 1994
World Masters: 1990
PDC World Cup of Darts: 2012 with Adrian Lewis, 2013 with Adrian Lewis

PDC non-televised tournament wins since 2005:
Bobby Bourn Memorial Players Championship 2005, 2006, 2007, 2008
Ireland Open Classic 2005
Welsh Players Championship 2005, 2006
Irish Players Championship 2005, 2006, 2007, 2009
Players Championship (Lisse) 2x 2005, 2x 2007
UK Open Welsh Regional Final 2006
UK Open Irish Regional Final 2006, 2007
UK Open Southern Regional Final 2007
German Darts Championship 2007, 2009
Southern Players Championship 2008, 2009
UK Open North-West Regional Final 2008
Players Championship (Germany) 2x 2008
Midlands Players Championship 2008
UK Open Midlands Regional Final 2008
Antwerp Darts Trophy 2008
Players Championship (Bristol) 2008
Las Vegas Players Championship 2008
Players Championship (Gibraltar) 2x 2009
Players Championship (Gladbeck) 2x 2009
UK Open South-West Regional Final 2009
UK Open West Midlands Regional Final 2009
Players Championship (Nuland) 2x 2009
Players Championship (Killarney) 2009
Players Championship (Derby) 2010 x2
Players Championship (Wigan) 2010
UK Open Qualifier 2010 x2
Players Championship (Austria) 2010
World Cricket Championship (Las Vegas) 2010
PDC US Open Players Championship (Las Vegas) 2010
UK Open Qualifier 2011 x2
Players Championship (Dublin) 2011
Players Championship (Reading) 2012
UK Open Qualifier 2012 x2
European Tour - German Darts Championship 2012
European Tour - Gibraltar Darts Trophy 2013
UK Open Qualifier 2014
Players Championship (Crawley) 2014
European Tour - German Darts Masters 2014

Nine-Dart Legs in PDC competitions
World Matchplay 2002, 2014
UK Open 2004, 2005, 2007, 2008
International Darts League 2007
Players Championship (Germany) 2008
Championship League Darts 2009, 2011, 2013
Premier League Darts x2 2010 (Both in final v James Wade), x1 2012
Players Championship (Dublin) 2011
Players Championship (Reading) 2012
Players Championship (Reading) 2012
UK Open Qualifier x2 2014 (Both in Qualifier Three)

Other Awards
PDC Player of the Year 2006, 2008, 2012, 2013
PDC Fans' Player of the Year 2007, 2008, 2012
Nominated for BBC Sports Personality of the Year 2006
BBC Midlands Sports Personality of the Year 2006
BBC Midlands Sportsman of the Year 2006
PDPA Players' Player of the Year 2008
Best PDC Pro Tour Player 2008
BBC Sports Personality of the Year runner-up 2010
Inducted into PDC Hall of Fame 2011