General Ticket Information & T&Cs
July 18 2016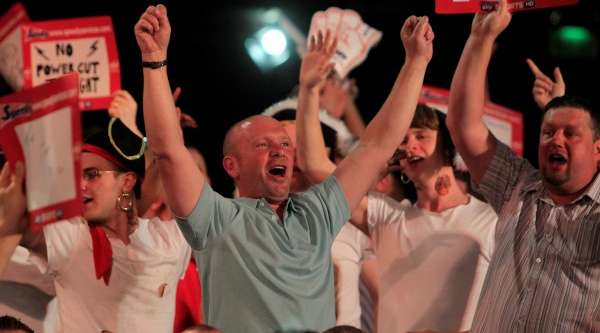 Ticket information for PDC tournaments is posted below.
2016/2017 William Hill World Darts Championship
Tickets are now on General Sale.
Online Sales via
www.seetickets.com/darts
.
Telephone Sales 0844 871 8807 (calls cost 7p per minute from a BT landline plus standard network charge).
Fans booking tickets from outside of the UK can call 0044 115 896 0273.
Hospitality Packages
Hospitality Packages are still being finalised - details will be confirmed here along with an on-sale date as soon as possible.
Thomas Cook Sport Breaks
Official Thomas Cook Sport Breaks feature either a Table or Tiered Seat ticket plus hotel accommodation.
Click here for further details or to book
Viagogo - Ticket Exchange Partner
Where tickets have sold out via SeeTickets, tickets may still be available at Viagogo, the Official International Ticketing Partner.
Click here for further details
Family Enclosure
A Family Enclosure area is available.
Bookings in this area must include at least one Under-18 in their party.
Groups without an Under-18 in their party may face ejection.
Disabled Tickets
Wheelchair access tickets are available for every session at normal price with a free carer place – sales via
0844 871 8807
.
Ticket Limits
Tickets are limited to six per booking per session for Table Seating and in Tiered Seats 174-224 (all Rows).
Tickets are limited to 15 per booking per session for all other Tiered Seats.
The PDC only recommends purchasing tickets from Box Offices advertised at www.pdc.tv.
General PDC Ticket Information
Tickets for major televised PDC events in the UK & Ireland usually have a Priority Sales period for
www.LIVEPDC.TV
Annual Subscribers ahead of tickets going on General Sale.
To be eligible for the Priority Sales Period for any event, fans must have a
LIVEPDC.TV
Annual Subscription (One payment per year, not the Monthly Subscription option) at a specific cut-off point ahead of the Priority Sales period.
Fans should select Yes to receiving marketing emails from the PDC when completing their subscription to ensure that they are sent details of tickets for PDC tournaments and Priority Sales information.
We also recommend that fans check the www.pdc.tv/tickets section on a regular basis for ticket information.
TICKETS CURRENTLY ON SALE

Tickets are currently on sale for the tournaments listed below throughout 2016.
Ticket information not confirmed below will be announced here once finalised and available.
| | | | | |
| --- | --- | --- | --- | --- |
| Event | Dates | Venue | Ticket Status | Link |
| William Hill World Darts Championship | Dec 15-Jan 2 | Alexandra Palace, London | On Sale | Click Here |
| Unibet Masters | Jan 27-29 2017 | Arena MK, Milton Keynes | On Sale | Click Here |
| Betway Premier League | Feb-May 2017 | Various Venues | On Sale | Click Here |
| 2017 Coral UK Open TV Finals | Mar 3-5 | Butlins Minehead Resort | On Sale | Click Here |
Tickets not yet on sale
2017 BetVictor World Matchplay
- Tickets are likely to go on sale in January or February 2017.
Information for all other events will be posted here once finalised.

DO NOT PURCHASE TICKETS FROM ANY WEBSITE NOT ADVERTISED AT THIS PAGE OR WITHIN THE TICKETS SECTION OF www.pdc.tv. OFFICIAL BOX OFFICES ARE LISTED AT THIS WEBSITE.
Thomas Cook Sport
Thomas Cook Sport have official ticket & hotel breaks for events - including the 2016/17 William Hill World Darts Championship and 2017 Betway Premier League - for information and prices
click here
or visit
www.thomascooksport.com/Darts
Viagogo
Viagogo is the International Ticketing Partner of the PDC.
Click here to see available tickets for the William Hill World Darts Championship through viagogo
.
Click here to see available tickets for the Betway Premier League through viagogo
Priority Sales Periods
Most major televised events in the UK & Ireland are likely to have a Priority Sales Period for
LIVEPDC.TV Annual Subscribers
ahead of tickets going on General Sale.
These Priority Sales periods would be open to fans who have a LIVEPDC.TV Annual Subscription (Note: One payment per year, not a monthly payment) at a specific point in advance of each event, with the cut-off for being an active subscriber to be announced in this section in the ticket information story.
Click here for LIVEPDC.TV Subscription Information
European Tour Weekends
Ticket information for the PDC European Tour events held in Europe are available through the PDC Europe website at
www.pdc-europe.tv
,
Non-Televised Events in the UK
Members of the general public will not be admitted to PDC ProTour events staged by the PDC in the UK and Ireland from July 2008 - this applies to UK Open Qualifiers, Players Championship, Challenge Tour and Development Tour events held in the UK & Ireland.
Any events where this does not apply will be advertised on this website.
Players are allowed to take a limited number of guests, however under-11s are not admitted to PDC ProTour events.
PDC Terms & Conditions of ticket sales
* The PDC reserves the right to refuse admission.
* Tickets may be subject to a booking fee and/or service charge.
* No football colours will be allowed into the venue.
* Spectators are requested to behave in an orderly manner.
* Drunkenness will not be tolerated and perpetrators will be asked to leave the premises.
* Shouting out, whistling, booing or otherwise heckling whilst players are throwing may lead to ejection without warning.
* The writing of any message deemed offensive or inflammatory on 180 cards or similar may lead to perpetrators being asked to leave the premises.
* Session times are subject to change and every effort to give as much notice as possible should this be unavoidable. Please check with the Box Office or visit www.pdc.tv for any changes.
* Doors will open at least an hour before the scheduled start time and ticket holders are requested to take their seats at least 15 minutes prior to the start of the event.
* The Broadcast may contain strobe lighting and smoke effects. Any person who may be adversely affected by such effects should take notice and take appropriate action.
* No tickets are to be re-sold at a greater price than the face value on the ticket without permission. Any persons attempting to do so will have those tickets made void.
* The use of flash photography or video/image recording is not permitted.
* Mobile phones should be switched off or placed in silent mode by all spectators.
* Whilst there is no lower age limit, children under 16 should be accompanied by an appropriate adult.
* Spectators may be subject to random bag or person searches for safety and security reasons.
* By attending an event, ticket holders consent to filming and sound recording of themselves as members of the audience. The PDC, event broadcaster or other third party may use such films and recordings (including any copies) without payment.
* FANCY DRESS: While fancy dress is permitted to be worn, costumes which are deemed to politically insensitive or offensive will not be permitted. Masks are only permitted to be worn once spectators are seated inside the venue. No imitation weapons or other potential missiles will be permitted.
TICKET TOUTING/RE-SELLING
The PDC only sells tickets directly through its official outlets and warns against purchasing from other sources, however official they claim to be.
The official box offices are:
Premier League Darts: SeeTickets, Thomas Cook or venue box office, plus official ticket exchange viagogo
UK Open: Butlins Big Weekend Packages
World Matchplay: Venue Box Office (Ticketmaster) & Thomas Cook
World Championship: SeeTickets, Thomas Cook plus official ticket exchange viagogo
Players Championship Finals: Butlins Big Weekends packages
Grand Slam of Darts: Wolves Civic Box Office
World Series of Darts Finals: Braehead Arena Box Office (Ticketmaster).
Please Note: The SeeTickets Box Office does not accept American Express or Diners Club cards.

Other event details to be added as and when tickets go on sale.
Tickets are sold subject to terms and conditions, which include the agreement that tickets will not be re-sold at face value or greater.
The PDC will always strive to cancel any tickets found to be on sale through third parties and would advise that purchasers of tickets through this method face being denied entry into events.
Any ticket holders found selling their tickets will be blacklisted with their details circulated to all PDC official box offices. In certain circumstances, details may be passed to the Police.
We welcome reports of tickets on sale through third-parties and will always request that the tickets are removed from sale immediately via the legal departments of the websites used.

DO NOT BUY TICKETS FROM ANY SOURCE OTHER THAN THE OFFICIAL BOX OFFICE. YOU WILL NOT GET IN TO THE EVENT AND YOU MAY BE BLACKLISTED FROM BUYING TICKETS FOR FUTURE EVENTS.
The PDC

On Twitter
Latest Twitter updates from the PDC
FOLLOW @OFFICIALPDC