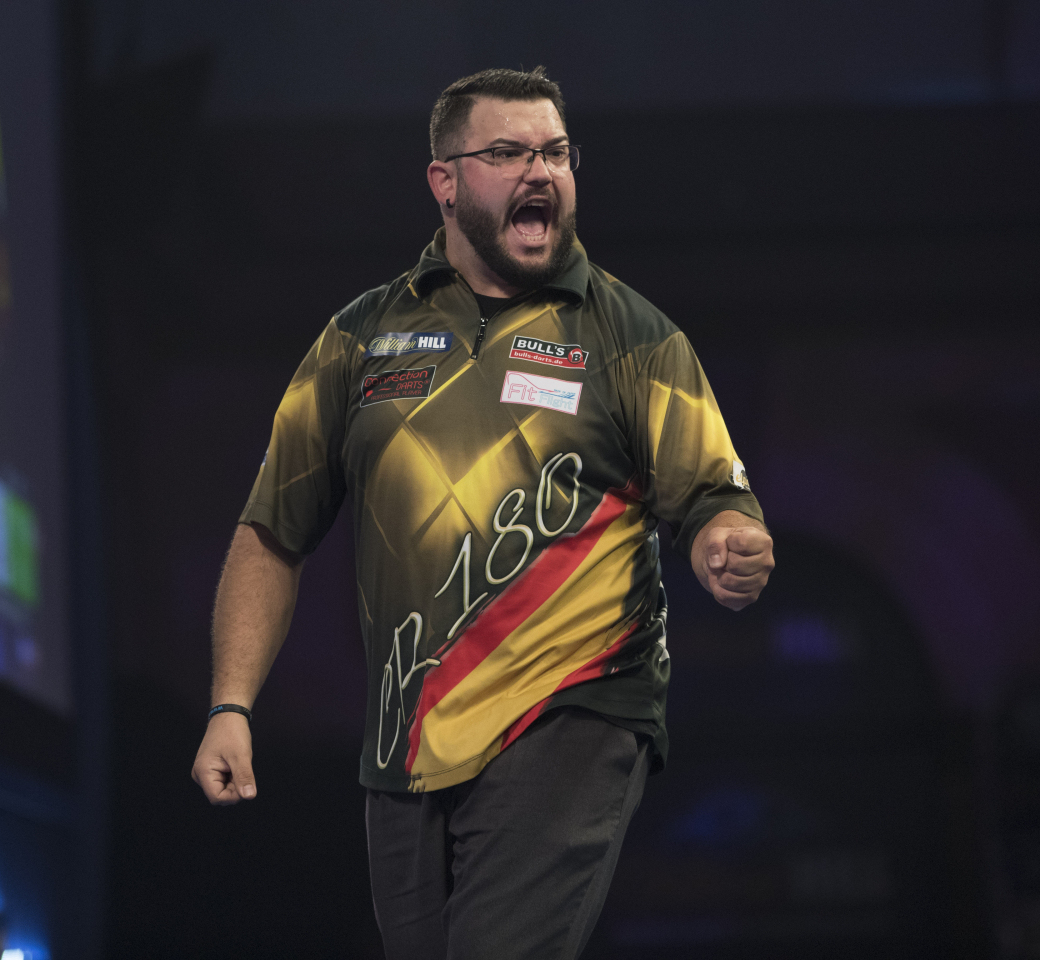 Cristo Reyes
The Spartan
PDC World Ranking

165

Televised titles

0

Non-Televised PDC Titles

0

Televised Nine-Dart Finishes

0
Walk-On Music

Hall of Fame - The Script

Date of Birth

July 30 1987

Darts Used

21g

Bulls

Home Town

Santa Cruz de Tenerife

Twitter

@CristoReyes180
CRISTO has made a big impression since joining the circuit in 2016, and is the first Spanish player to break into the world's top 32.
An unknown when he qualified for the 2015 World Championship, wins over Cristian Perez, Wes Newton and Kevin Painter saw him reach the last 16 on his TV debut as well as win a PDC Tour Card.
He made his World Cup and European Championship debut later in 2015 and competed at the UK Open, World Grand Prix and Players Championship Finals for the first time in 2016.
Reyes also landed two nine-darters on the PDC ProTour during his first year as a professional and has starred for Spain in the World Cup of Darts.
Player Stats
Select below to see result & roll of honour information.
| | | |
| --- | --- | --- |
|   | Most Recent | Best Performance |
| 2021 WORLD CHAMPIONSHIP | - | Last 16 - 2015 |
| 2021 UK OPEN | - | Last 16 - 2019 |
| 2021 WORLD MATCHPLAY | - | Last 16 - 2017 |
| 2020 WORLD GRAND PRIX | - | Last 32 - 2016, 2017 |
| 2020 EUROPEAN CHAMPIONSHIP | - | Last 16 - 2015, 2016, 2018 |
| 2020 GRAND SLAM OF DARTS | - | - |
| 2020 PLAYERS CHAMPIONSHIP FINALS | - | Last 32 - 2018 |
| | | |
| --- | --- | --- |
|   | Most Recent | Best Performance |
| 2021 THE MASTERS | - | - |
| 2021 PREMIER LEAGUE | - | - |
| 2021 WORLD CUP OF DARTS  | - | Last 16 - 2015, 2017, 2018 |
| 2021 NORDIC DARTS MASTERS | - |   |
| 2020 WORLD SERIES OF DARTS FINALS | - | Last 16 - 2016 |
| | | |
| --- | --- | --- |
| TOURNAMENT WIN | - |   |
| FINAL | - |   |
| SEMI FINAL | Austrian Darts Open (June 2017) | lost to Michael van Gerwen 6-1 |
| QUARTER FINAL | Players Championship 27 (October 2019) | lost to Gerwyn Price 6-4 |
| | | |
| --- | --- | --- |
| WORLD CHAMPIONSHIP | - |   |
| THE MASTERS | - |   |
| PLAYERS CHAMPIONSHIP 1 | - |   |
| PLAYERS CHAMPIONSHIP 2 | - |   |
| PLAYERS CHAMPIONSHIP 3 | - |   |
| PLAYERS CHAMPIONSHIP 4 | - |   |
| UK OPEN | - |   |
| PLAYERS CHAMPIONSHIP 5 | - |   |
| PLAYERS CHAMPIONSHIP 6 | - |   |
| PLAYERS CHAMPIONSHIP 7 | - |   |
| PLAYERS CHAMPIONSHIP 8 | - |   |
| PLAYERS CHAMPIONSHIP 9 | - |   |
| PLAYERS CHAMPIONSHIP 10 | - |   |
| PLAYERS CHAMPIONSHIP 11 | - |   |
| PLAYERS CHAMPIONSHIP 12 | - |   |
| PREMIER LEAGUE | - |   |
| PLAYERS CHAMPIONSHIP 13 | - |   |
| PLAYERS CHAMPIONSHIP 14 | - |   |
| PLAYERS CHAMPIONSHIP 15 | - |   |
| PLAYERS CHAMPIONSHIP 16 | - |   |
| PLAYERS CHAMPIONSHIP 17 | - |   |
| PLAYERS CHAMPIONSHIP 18 | - |   |
| PLAYERS CHAMPIONSHIP 19 | - |   |
| PLAYERS CHAMPIONSHIP 20 | - |   |
| WORLD MATCHPLAY | - |   |
| PLAYERS CHAMPIONSHIP 21 | - |   |
| PLAYERS CHAMPIONSHIP 22 | - |   |
| PLAYERS CHAMPIONSHIP 23 | - |   |
| HUNGARIAN DARTS TROPHY | - |   |
| WORLD CUP OF DARTS | - |   |
| NORDIC DARTS MASTERS | - |   |
| | | |
| --- | --- | --- |
| WORLD CHAMPIONSHIP | Last 64 | lost to Adrian Lewis 3-2 |
| THE MASTERS | - |   |
| PLAYERS CHAMPIONSHIP 1 | Last 128 | lost to Mervyn King 6-3 |
| PLAYERS CHAMPIONSHIP 2 | Last 128 | lost to Mervyn King 6-1 |
| PLAYERS CHAMPIONSHIP 3 | - |   |
| PLAYERS CHAMPIONSHIP 4 | - |   |
| PLAYERS CHAMPIONSHIP 5 | Last 128 | lost to Vincent van der Voort 6-3 |
| PLAYERS CHAMPIONSHIP 6 | Last 16 | lost to Michael van Gerwen 6-5 |
| BELGIAN DARTS CHAMPIONSHIP | - |   |
| UK OPEN | Last 96 | lost to Ryan Searle 6-5 |
| PLAYERS CHAMPIONSHIP 7 | Last 128 | lost to Robert Collins 6-4 |
| PLAYERS CHAMPIONSHIP 8 | - |   |
| PLAYERS CHAMPIONSHIP 9 (SS1) | - |   |
| PLAYERS CHAMPIONSHIP 10 (SS2) | - |   |
| PLAYERS CHAMPIONSHIP 11 (SS3) | - |   |
| PLAYERS CHAMPIONSHIP 12 (SS4) | - |   |
| PLAYERS CHAMPIONSHIP 13 (SS5) | - |   |
| WORLD MATCHPLAY | - |   |
| PLAYERS CHAMPIONSHIP 14 (AS1) | - |   |
| PLAYERS CHAMPIONSHIP 15 (AS2) | - |   |
| PLAYERS CHAMPIONSHIP 16 (AS3) | - |   |
| PLAYERS CHAMPIONSHIP 17 (AS4) | - |   |
| PLAYERS CHAMPIONSHIP 18 (AS5) | - |   |
| WORLD SERIES OF DARTS FINALS | - |   |
| GERMAN DARTS CHAMPIONSHIP | - |   |
| WORLD GRAND PRIX | - |   |
| PREMIER LEAGUE | - |   |
| EUROPEAN DARTS GRAND PRIX | - |   |
| INTERNATIONAL DARTS OPEN | - |   |
| EUROPEAN CHAMPIONSHIP | - |   |
| WORLD CUP OF DARTS | - |   |
| PLAYERS CHAMPIONSHIP 19 (WS1) | - |   |
| PLAYERS CHAMPIONSHIP 20 (WS2) | - |   |
| PLAYERS CHAMPIONSHIP 21 (WS3) | - |   |
| PLAYERS CHAMPIONSHIP 22 (WS4) | - |   |
| PLAYERS CHAMPIONSHIP 23 (WS5) | - |   |
| GRAND SLAM OF DARTS | - |   |
| PLAYERS CHAMPIONSHIP FINALS | - |   |
| | | |
| --- | --- | --- |
| WORLD CHAMPIONSHIP | Last 32 | lost to Rob Cross 4-0 |
| THE MASTERS | - |   |
| PLAYERS CHAMPIONSHIP 1 | Last 64 | lost to Jeffrey de Zwaan 6-2 |
| PLAYERS CHAMPIONSHIP 2 | Last 128 | lost to Jamie Lewis 6-2 |
| PLAYERS CHAMPIONSHIP 3 | Last 128 | lost to Ryan Harrington 6-5 |
| PLAYERS CHAMPIONSHIP 4 | Last 128 | lost to Adam Hunt 6-5 |
| PLAYERS CHAMPIONSHIP 5 | Last 64 | lost to Mervyn King 6-3 |
| PLAYERS CHAMPIONSHIP 6 | Last 64 | lost to John Henderson 6-2 |
| UK OPEN | Last 16 | lost to Rob Cross 10-6 |
| PLAYERS CHAMPIONSHIP 7 | Last 32 | lost to Gerwyn Price 6-3 |
| PLAYERS CHAMPIONSHIP 8 | Last 16 | lost to Keegan Brown 6-3 |
| EUROPEAN DARTS OPEN | - |   |
| GERMAN DARTS CHAMPIONSHIP | - |   |
| PLAYERS CHAMPIONSHIP 9 | Last 128 | lost to Jose De Sousa 6-4 |
| PLAYERS CHAMPIONSHIP 10 | Last 128 | lost to Ross Smith 6-4 |
| PLAYERS CHAMPIONSHIP 11 | Last 16 | lost to Andy Boulton 6-4 |
| PLAYERS CHAMPIONSHIP 12 | Last 64 | lost to John Michael 6-4 |
| GERMAN DARTS GRAND PRIX | Last 32 | lost to Simon Whitlock 6-4 |
| GERMAN DARTS OPEN | - |   |
| PLAYERS CHAMPIONSHIP 13 | Last 16 | lost to Adrian Lewis 6-4 |
| PLAYERS CHAMPIONSHIP 14 | Last 128 | lost to Alan Tabern 6-0 |
| AUSTRIAN DARTS OPEN | - |   |
| EUROPEAN DARTS GRAND PRIX | - |   |
| PLAYERS CHAMPIONSHIP 15 | Last 32 | lost to Darius Labanauskas 6-4 |
| PLAYERS CHAMPIONSHIP 16 | Last 128 | lost to Scott Taylor 6-4 |
| PREMIER LEAGUE | - |   |
| DUTCH DARTS MASTERS | - |   |
| WORLD CUP OF DARTS | Last 32 (Toni Alcinas) | lost to Netherlands 5-0 |
| DANISH DARTS OPEN | - |   |
| PLAYERS CHAMPIONSHIP 17 | Last 32 | lost to Stephen Bunting 6-3 |
| PLAYERS CHAMPIONSHIP 18 | Last 32 | lost to Gabriel Clemens 6-1 |
| CZECH DARTS OPEN | - |   |
| U.S. DARTS MASTERS | - |   |
| GERMAN DARTS MASTERS | - |   |
| PLAYERS CHAMPIONSHIP 19 | Last 32 | lost to Ryan Joyce 6-2 |
| PLAYERS CHAMPIONSHIP 20 | Last 64 | lost to Steve West 6-5 |
| WORLD MATCHPLAY | - |   |
| PLAYERS CHAMPIONSHIP 21 | Last 64 | lost to William O'Connor 6-2 |
| PLAYERS CHAMPIONSHIP 22 | Last 128 | lost to Mark Wilson 6-4 |
| BRISBANE DARTS MASTERS | - |   |
| MELBOURNE DARTS MASTERS | - |   |
| NEW ZEALAND DARTS MASTERS | - |   |
| AUSTRIAN DARTS CHAMPIONSHIP | - |   |
| EUROPEAN DARTS MATCHPLAY | - |   |
| PLAYERS CHAMPIONSHIP 23 | Last 128 | lost to Michael Smith 6-2 |
| PLAYERS CHAMPIONSHIP 24 | Last 32 | lost to Benito van de Pas 6-1 |
| INTERNATIONAL DARTS OPEN | - |   |
| PLAYERS CHAMPIONSHIP 25 | Last 128 | lost to Justin Pipe 6-3 |
| PLAYERS CHAMPIONSHIP 26 | Quarter Final | lost to Mensur Suljovic 6-5 |
| GIBRALTAR DARTS TROPHY | - |   |
| PLAYERS CHAMPIONSHIP 27 | Quarter Final | lost to Gerwyn Price 6-4 |
| PLAYERS CHAMPIONSHIP 28 | Last 64 | lost to Glen Durrant 6-0 |
| WORLD GRAND PRIX | - |   |
| PLAYERS CHAMPIONSHIP 29 | Last 128 | lost to Richard North 6-4 |
| PLAYERS CHAMPIONSHIP 30 | Last 32 | lost to Darren Webster 6-0 |
| CHAMPIONS LEAGUE OF DARTS | - |   |
| EUROPEAN CHAMPIONSHIP | - |   |
| WORLD SERIES OF DARTS FINALS | - |   |
| GRAND SLAM OF DARTS | - |   |
| PLAYERS CHAMPIONSHIP FINALS | Last 64 | lost to Chris Dobey 6-1 |
| | | |
| --- | --- | --- |
| WORLD CHAMPIONSHIP | Last 64 | lost to Toni Alcinas 3-1 |
| THE MASTERS | - |   |
| UK OPEN QUALIFIER 1 | Last 128 | lost to Peter Mitchell 6-4 |
| UK OPEN QUALIFIER 2 | Last 32 | lost to Matthew Edgar 6-5 |
| UK OPEN QUALIFIER 3 | Last 128 | lost to Gabriel Clemens 6-3 |
| UK OPEN QUALIFIER 4 | Last 64 | lost to Luke Woodhouse 6-4 |
| UK OPEN QUALIFIER 5 | Last 128 | lost to Dave Ladley 6-5 |
| UK OPEN QUALIFIER 6 | Last 128 | lost to Adam Hunt 6-3 |
| PLAYERS CHAMPIONSHIP 1 | Last 32 | lost to Terry Jenkins 6-3 |
| PLAYERS CHAMPIONSHIP 2 | Last 64 | lost to Chris Quantock 6-4 |
| UK OPEN | Last 128 | lost to Benito van de Pas 6-5 |
| PLAYERS CHAMPIONSHIP 3 | Last 128 | lost to Ryan Joyce 6-4 |
| PLAYERS CHAMPIONSHIP 4 | Last 32 | lost to Gary Anderson 6-4 |
| PLAYERS CHAMPIONSHIP 5 | Last 128 | lost to Cameron Menzies 6-2 |
| PLAYERS CHAMPIONSHIP 6 | Last 32 | lost to Dave Chisnall 6-3 |
| EUROPEAN DARTS OPEN | - |   |
| GERMAN DARTS GRAND PRIX | - |   |
| PLAYERS CHAMPIONSHIP 7 | Last 16 | lost to John Henderson 6-4 |
| PLAYERS CHAMPIONSHIP 8 | Last 64 | lost to Devon Petersen 6-4 |
| GERMAN DARTS OPEN | - |   |
| AUSTRIAN DARTS OPEN | Last 16 | lost to Mensur Suljovic 6-3 |
| PLAYERS CHAMPIONSHIP 9 | Last 64 | lost to Daryl Gurney 6-5 |
| PLAYERS CHAMPIONSHIP 10 | Last 64 | lost to Gary Eastwood 6-2 |
| EUROPEAN DARTS GRAND PRIX | - |   |
| DUTCH DARTS MASTERS | Last 32 | lost to Daryl Gurney 6-4 |
| PREMIER LEAGUE | - |   |
| PLAYERS CHAMPIONSHIP 11 | Last 128 | lost to Jason Lowe 6-5 |
| PLAYERS CHAMPIONSHIP 12 | Last 64 | lost to Paul Nicholson 6-4 |
| GERMAN DARTS MASTERS | - |   |
| WORLD CUP OF DARTS | Last 16 (Toni Alcinas) | lost to Australia 2-1 |
| GIBRALTAR DARTS TROPHY | Last 32 | lost to Rob Cross 6-5 |
| PLAYERS CHAMPIONSHIP 13 | Last 64 | lost to James Wilson 6-2 |
| PLAYERS CHAMPIONSHIP 14 | Last 64 | lost to Jonny Clayton 6-3 |
| DANISH DARTS OPEN | Last 32 | lost to Darren Webster 6-5 |
| PLAYERS CHAMPIONSHIP 15 | Last 64 | lost to Peter Wright 6-3 |
| PLAYERS CHAMPIONSHIP 16 | Last 64 | lost to Michael Barnard 6-2 |
| EUROPEAN DARTS MATCHPLAY | Last 48 | lost to Andy Boulton 6-4 |
| U.S. DARTS MASTERS | - |   |
| SHANGHAI DARTS MASTERS | - |   |
| WORLD MATCHPLAY | - |   |
| AUCKLAND DARTS MASTERS | - |   |
| MELBOURNE DARTS MASTERS | - |   |
| BRISBANE DARTS MASTERS | - |   |
| GERMAN DARTS CHAMPIONSHIP | Last 32 | lost to Michael van Gerwen 6-0 |
| PLAYERS CHAMPIONSHIP 17 | Last 32 | lost to Dave Chisnall 6-5 |
| PLAYERS CHAMPIONSHIP 18 | Last 128 | lost to Darren Webster 6-2 |
| DUTCH DARTS CHAMPIONSHIP | Last 32 | lost to Simon Whitlock 6-1 |
| INTERNATIONAL DARTS OPEN | - |   |
| CHAMPIONS LEAGUE OF DARTS | - |   |
| PLAYERS CHAMPIONSHIP 19 | Last 64 | lost to Kyle Anderson 6-5 |
| PLAYERS CHAMPIONSHIP 20 | Last 128 | lost to Mark Webster 6-3 |
| WORLD GRAND PRIX | - |   |
| EUROPEAN DARTS TROPHY | - |   |
| PLAYERS CHAMPIONSHIP 21 | - |   |
| PLAYERS CHAMPIONSHIP 22 | - |   |
| EUROPEAN CHAMPIONSHIP | Last 16 | lost to Darren Webster 10-9 |
| WORLD SERIES OF DARTS FINALS | - |   |
| GRAND SLAM OF DARTS | - |   |
| PLAYERS CHAMPIONSHIP FINALS | Last 32 | lost to Steve Lennon 6-5 |
| | | |
| --- | --- | --- |
| WORLD CHAMPIONSHIP | Last 32 | lost to Michael van Gerwen 4-2 |
| THE MASTERS | - |   |
| UK OPEN QUALIFIER 1 | Last 32 | lost to Adrian Lewis 6-5 |
| UK OPEN QUALIFIER 2 | Last 32 | lost to Peter Wright 6-5 |
| UK OPEN QUALIFIER 3 | Quarter Final | lost to Michael Smith 6-2 |
| UK OPEN QUALIFIER 4 | Last 128 | lost to Raymond van Barneveld 6-2 |
| UK OPEN QUALIFIER 5 | Last 128 | lost to Mark Walsh 6-5 |
| UK OPEN QUALIFIER 6 | Last 32 | lost to Kyle Anderson 6-3 |
| PLAYERS CHAMPIONSHIP 1 | Quarter Final | lost to James Wade 6-5 |
| PLAYERS CHAMPIONSHIP 2 | Last 16 | lost to Peter Wright 6-5 |
| UK OPEN | Last 32 | lost to Joe Cullen 10-5 |
| PLAYERS CHAMPIONSHIP 3 | Last 64 | lost to John Michael 6-4 |
| PLAYERS CHAMPIONSHIP 4 | Last 32 | lost to Dirk van Duijvenbode 6-2 |
| GERMAN DARTS CHAMPIONSHIP | Last 16 | lost to Michael van Gerwen 6-3 |
| PLAYERS CHAMPIONSHIP 5 | Last 16 | lost to Michael van Gerwen 6-1 |
| PLAYERS CHAMPIONSHIP 6 | Last 16 | lost to Michael van Gerwen 6-3 |
| PLAYERS CHAMPIONSHIP 7 | Last 32 | lost to Daryl Gurney 6-5 |
| PLAYERS CHAMPIONSHIP 8 | Last 32 | lost to Mervyn King 6-4 |
| GERMAN DARTS MASTERS (ET) | Last 16 | lost to Michael van Gerwen 6-3 |
| GERMAN DARTS OPEN | Last 16 | lost to Peter Wright 6-5 |
| PLAYERS CHAMPIONSHIP 9 | Last 32 | lost to Gary Anderson 6-3 |
| PLAYERS CHAMPIONSHIP 10 | Last 128 | lost to Paul Nicholson 6-4 |
| EUROPEAN DARTS GRAND PRIX | Last 32 | lost to Ulf Ceder 6-3 |
| GIBRALTAR DARTS TROPHY | Last 16 | lost to Mensur Suljovic 6-3 |
| PREMIER LEAGUE | - |   |
| PLAYERS CHAMPIONSHIP 11 | Last 32 | lost to Rob Cross 6-3 |
| PLAYERS CHAMPIONSHIP 12 | Last 128 | lost to Zoran Lerchbacher 6-5 |
| DUBAI DARTS MASTERS | - |   |
| WORLD CUP OF DARTS | Last 16 (Antonio Alcinas) | lost to Singapore 2-1 |
| EUROPEAN DARTS MATCHPLAY | Semi Final | lost to Mensur Suljovic 6-3 |
| PLAYERS CHAMPIONSHIP 13 | Last 128 | lost to Kirk Shepherd 6-5 |
| PLAYERS CHAMPIONSHIP 14 | Last 64 | lost to Richard North 6-5 |
| AUSTRIAN DARTS OPEN | Semi Final | lost to Michael van Gerwen 6-1 |
| EUROPEAN DARTS OPEN | Last 48 | lost to Vincent van der Voort 6-2 |
| SHANGHAI DARTS MASTERS | - |   |
| PLAYERS CHAMPIONSHIP 15 | Last 128 | lost to Ron Meulenkamp 6-4 |
| PLAYERS CHAMPIONSHIP 16 | Last 32 | lost to Christian Kist 6-4 |
| U.S. DARTS MASTERS | - |   |
| WORLD MATCHPLAY | Last 16 | lost to Peter Wright 11-4 |
| PLAYERS CHAMPIONSHIP 17 | - |   |
| PLAYERS CHAMPIONSHIP 18 | - |   |
| AUCKLAND DARTS MASTERS | - |   |
| MELBOURNE DARTS MASTERS | - |   |
| PERTH DARTS MASTERS | - |   |
| DUTCH DARTS MASTERS | Last 32 | lost to Robert Owen 6-5 |
| GERMAN DARTS GRAND PRIX | - |   |
| CHAMPIONS LEAGUE OF DARTS | - |   |
| INTERNATIONAL DARTS OPEN | Last 32 | lost to Ronny Huybrechts 6-4 |
| PLAYERS CHAMPIONSHIP 19 | Last 64 | lost to James Wilson 6-4 |
| PLAYERS CHAMPIONSHIP 20 | Last 128 | lost to Simon Stevenson 6-3 |
| WORLD GRAND PRIX | Last 32 | lost to Benito van de Pas 2-1 |
| PLAYERS CHAMPIONSHIP 21 | Last 128 | lost to Scott Taylor 6-5 |
| PLAYERS CHAMPIONSHIP 22 | Last 64 | lost to Andy Jenkins 6-1 |
| EUROPEAN DARTS TROPHY | - |   |
| GERMAN DARTS MASTERS (WS) | - |   |
| EUROPEAN CHAMPIONSHIP | Last 32 | lost to Dave Chisnall 6-1 |
| WORLD SERIES OF DARTS FINALS | - |   |
| GRAND SLAM OF DARTS | - |   |
| PLAYERS CHAMPIONSHIP FINALS | Last 64 | lost to Peter Jacques 6-5 |