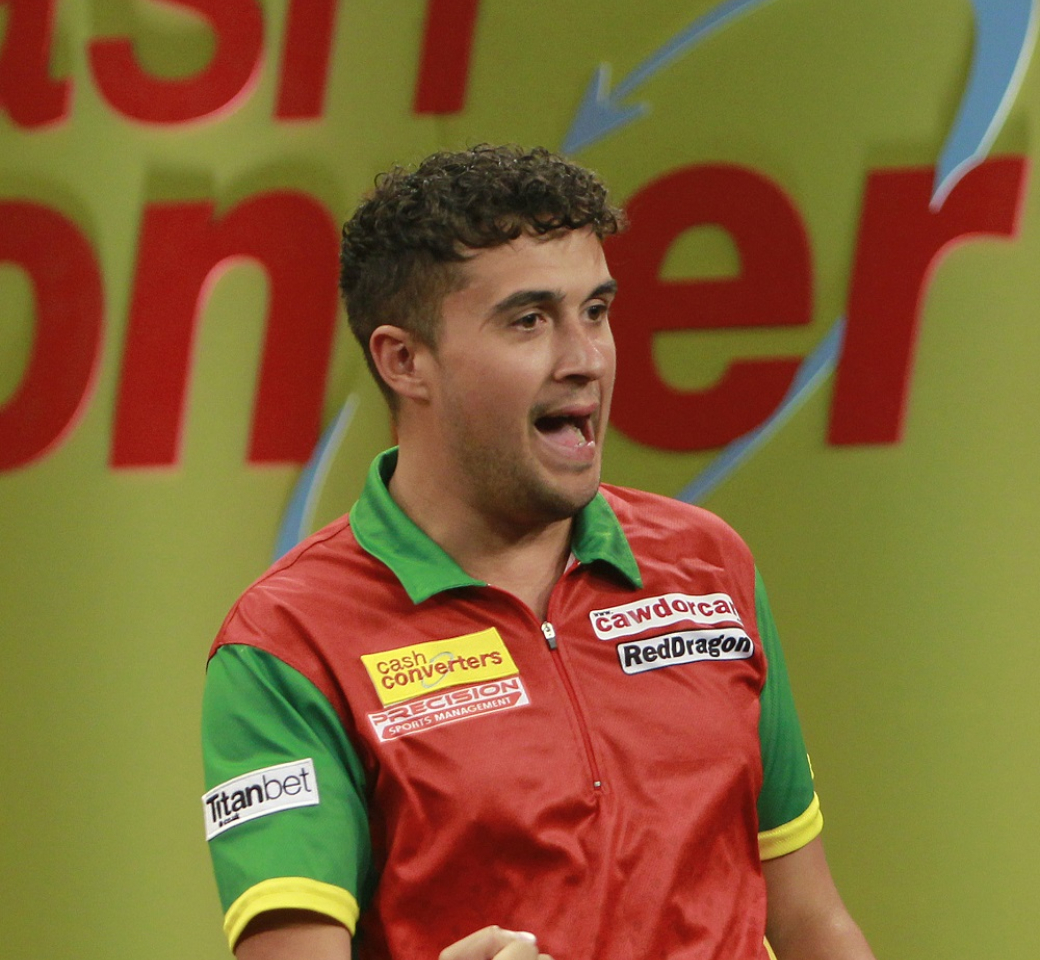 Jamie Lewis
Fireball
PDC World Ranking

78

Televised titles

0

Non-Televised PDC Titles

0

Televised Nine-Dart Finishes

0
Walk-On Music

Uptown Funk - Bruno Mars

Date of Birth

November 08 1991

Darts Used

23g

Red Dragon Jamie Lewis

Home Town

Carmarthen
WELSH ace Jamie is one of the young crop of talents to have emerged in recent years at the top level of the sport.
A former World Youth Masters winner, Jamie joined the PDC circuit in 2012 and has won four titles on the Development Tour during his emergence.
Lewis made his World Cup of Darts debut in 2015 and went on to reach his first televised quarter-final at the World Grand Prix.
At the 2018 World Championship, Lewis enjoyed an incredible run to the semi-finals, which included a 4-1 win over Peter Wright, before he became the last ever player defeated by Phil Taylor on the PDC stage.
Player Stats
Select below to see result & roll of honour information.
| | |
| --- | --- |
| PDC Youth/Development Tour | 2012 (x2), 2013, 2015 |
| | | |
| --- | --- | --- |
|   | Most Recent | Best Performance |
| 2020 WORLD CHAMPIONSHIP | - | Semi Final - 2018 |
| 2020 UK OPEN | Last 64 | Last 16 - 2014 |
| 2020 WORLD MATCHPLAY | - | Last 16 - 2015 |
| 2020 WORLD GRAND PRIX | - | Quarter Final - 2015 |
| 2020 EUROPEAN CHAMPIONSHIP | - | - |
| 2020 GRAND SLAM OF DARTS | - | - |
| 2020 PLAYERS CHAMPIONSHIP FINALS | - | Last 16 - 2015 |
| | | |
| --- | --- | --- |
|   | Most Recent | Best Performance |
| 2020 THE MASTERS | - | - |
| 2020 WORLD SERIES OF DARTS FINALS | - | Quarter Final - 2018 |
| 2020 PREMIER LEAGUE | - | - |
| 2020 WORLD CUP OF DARTS  | - | Last 32 - 2015 |
| | | |
| --- | --- | --- |
| TOURNAMENT WIN | - |   |
| FINAL | UK Open Qualifier 4 (February 2014) | lost to Brendan Dolan 6-1 |
| SEMI FINAL | Players Championship 3 (March 2018) | lost to Gary Anderson 6-3 |
| QUARTER FINAL | World Series of Darts Finals (November 2018) | lost to James Wade 10-5 |
| | | |
| --- | --- | --- |
| WORLD CHAMPIONSHIP | Last 32 | lost to Peter Wright 4-0 |
| THE MASTERS | - |   |
| UK OPEN QUALIFIER 1 | Last 128 | lost to Kevin Painter 6-3 |
| UK OPEN QUALIFIER 2 | Last 16 | lost to Gary Anderson 6-3 |
| UK OPEN QUALIFIER 3 | Last 128 | lost to Scott Rollings 6-5 |
| UK OPEN QUALIFIER 4 | Last 128 | lost to Callum Loose 6-2 |
| UK OPEN QUALIFIER 5 | Last 64 | lost to Kai-Fan Leung 6-4 |
| UK OPEN QUALIFIER 6 | Last 64 | lost to Chris Quantock 6-5 |
| PLAYERS CHAMPIONSHIP 1 | Last 128 | lost to Scott Taylor 6-5 |
| PLAYERS CHAMPIONSHIP 2 | Last 128 | lost to Chris Dobey 6-4 |
| UK OPEN | Last 96 | lost to Paul Hogan 6-4 |
| PLAYERS CHAMPIONSHIP 3 | Last 16 | lost to Michael Smith 6-4 |
| PLAYERS CHAMPIONSHIP 4 | Last 128 | lost to Terry Roach 6-0 |
| GERMAN DARTS CHAMPIONSHIP | - | - |
| PLAYERS CHAMPIONSHIP 5 | Last 128 | lost to Scott Taylor 6-4 |
| PLAYERS CHAMPIONSHIP 6 | Last 64 | lost to Daryl Gurney 6-2 |
| PLAYERS CHAMPIONSHIP 7 | Last 128 | lost to James Wade 6-1 |
| PLAYERS CHAMPIONSHIP 8 | Last 128 | lost to Dave Chisnall 6-0 |
| GERMAN DARTS MASTERS (ET) | Last 32 | lost to Mensur Suljovic 6-5 |
| GERMAN DARTS OPEN | - |   |
| PLAYERS CHAMPIONSHIP 9 | Last 64 | lost to Rob Cross 6-5 |
| PLAYERS CHAMPIONSHIP 10 | Last 128 | lost to Steve West 6-2 |
| EUROPEAN DARTS GRAND PRIX | - |   |
| GIBRALTAR DARTS TROPHY | - |   |
| PREMIER LEAGUE | - |   |
| PLAYERS CHAMPIONSHIP 11 | Last 64 | lost to Cristo Reyes 6-5 |
| PLAYERS CHAMPIONSHIP 12 | Last 128 | lost to Mervyn King 6-0 |
| DUBAI DARTS MASTERS | - |   |
| WORLD CUP OF DARTS | - |   |
| EUROPEAN DARTS MATCHPLAY | - |   |
| PLAYERS CHAMPIONSHIP 13 | Last 16 | lost to Kirk Shepherd 6-5 |
| PLAYERS CHAMPIONSHIP 14 | Last 128 | lost to Jermaine Wattimena 6-3 |
| AUSTRIAN DARTS OPEN | Last 32 | lost to Joe Cullen 6-3 |
| EUROPEAN DARTS OPEN | - |   |
| SHANGHAI DARTS MASTERS | - |   |
| PLAYERS CHAMPIONSHIP 15 | Last 128 | lost to Chris Quantock 6-2 |
| PLAYERS CHAMPIONSHIP 16 | Last 128 | lost to Lee Bryant 6-5 |
| U.S. DARTS MASTERS | - |   |
| WORLD MATCHPLAY | - |   |
| PLAYERS CHAMPIONSHIP 17 | Last 32 | lost to Kevin Painter 6-4 |
| PLAYERS CHAMPIONSHIP 18 | Last 128 | lost to Jonny Clayton 6-3 |
| AUCKLAND DARTS MASTERS | - |   |
| MELBOURNE DARTS MASTERS | - |   |
| PERTH DARTS MASTERS | - |   |
| DUTCH DARTS MASTERS | Last 32 | lost to Rob Cross 6-1 |
| GERMAN DARTS GRAND PRIX | Last 32 | lost to Michael Smith 6-5 |
| CHAMPIONS LEAGUE OF DARTS | - |   |
| INTERNATIONAL DARTS OPEN | - |   |
| PLAYERS CHAMPIONSHIP 19 | Last 128 | lost to Andrew Gilding 6-3 |
| PLAYERS CHAMPIONSHIP 20 | Last 16 | lost to Gerwyn Price 6-1 |
| WORLD GRAND PRIX | - |   |
| PLAYERS CHAMPIONSHIP 21 | Last 64 | lost to Daryl Gurney 6-1 |
| PLAYERS CHAMPIONSHIP 22 | Last 128 | lost to Robert Thornton 6-4 |
| EUROPEAN DARTS TROPHY | - |   |
| GERMAN DARTS MASTERS (WS) | - |   |
| EUROPEAN CHAMPIONSHIP | - |   |
| WORLD SERIES OF DARTS FINALS | - |   |
| GRAND SLAM OF DARTS | - |   |
| PLAYERS CHAMPIONSHIP FINALS | - |   |
| | | |
| --- | --- | --- |
| WORLD CHAMPIONSHIP | Semi Final | lost to Phil Taylor 6-1 |
| THE MASTERS | - |   |
| UK OPEN QUALIFIER 1 | Last 128 | lost to Rusty-Jake Rodriguez 6-5 |
| UK OPEN QUALIFIER 2 | Last 32 | lost to Peter Wright 6-4 |
| UK OPEN QUALIFIER 3 | Last 32 | lost to David Pallett 6-4 |
| UK OPEN QUALIFIER 4 | Quarter Final | lost to Jeffrey de Zwaan 6-4 |
| UK OPEN QUALIFIER 5 | Last 32 | lost to Kim Huybrechts 6-2 |
| UK OPEN QUALIFIER 6 | Last 32 | lost to David Pallett 6-4 |
| PLAYERS CHAMPIONSHIP 1 | Last 128 | lost to Adrian Lewis 6-4 |
| PLAYERS CHAMPIONSHIP 2 | Last 64 | lost to Michael van Gerwen 6-3 |
| UK OPEN | Last 64 | lost to Robert Owen 10-2 |
| PLAYERS CHAMPIONSHIP 3 | Semi Final | lost to Gary Anderson 6-3 |
| PLAYERS CHAMPIONSHIP 4 | Last 64 | lost to Dimitri Van den Bergh 6-3 |
| PLAYERS CHAMPIONSHIP 5 | Last 128 | lost to Simon Preston 6-2 |
| PLAYERS CHAMPIONSHIP 6 | Last 64 | lost to James Wade 6-5 |
| EUROPEAN DARTS OPEN | - |   |
| GERMAN DARTS GRAND PRIX | - |   |
| PLAYERS CHAMPIONSHIP 7 | Last 32 | lost to Adrian Lewis 6-0 |
| PLAYERS CHAMPIONSHIP 8 | Last 16 | lost to Gerwyn Price 6-4 |
| GERMAN DARTS OPEN | - |   |
| AUSTRIAN DARTS OPEN | - |   |
| PLAYERS CHAMPIONSHIP 9 | Last 128 | lost to Michael van Gerwen 6-2 |
| PLAYERS CHAMPIONSHIP 10 | Last 32 | lost to Steve Beaton 6-3 |
| EUROPEAN DARTS GRAND PRIX | Quarter Final | lost to Michael Smith 6-2 |
| DUTCH DARTS MASTERS | Last 48 | lost to Wayne Jones 6-1 |
| PREMIER LEAGUE | - |   |
| PLAYERS CHAMPIONSHIP 11 | Last 128 | lost to Christian Kist 6-3 |
| PLAYERS CHAMPIONSHIP 12 | Last 128 | lost to Gabriel Clemens 6-2 |
| GERMAN DARTS MASTERS | Quarter Final | lost to Gary Anderson 8-6 |
| WORLD CUP OF DARTS | - |   |
| GIBRALTAR DARTS TROPHY | Last 48 | lost to Ross Smith 6-3 |
| PLAYERS CHAMPIONSHIP 13 | Last 128 | lost to Dirk van Duijvenbode 6-5 |
| PLAYERS CHAMPIONSHIP 14 | Last 16 | lost to Dimitri Van den Bergh 6-4 |
| DANISH DARTS OPEN | - |   |
| PLAYERS CHAMPIONSHIP 15 | Last 128 | lost to Nathan Aspinall 6-3 |
| PLAYERS CHAMPIONSHIP 16 | Last 16 | lost to Keegan Brown 6-1 |
| EUROPEAN DARTS MATCHPLAY | - |   |
| U.S. DARTS MASTERS | - |   |
| SHANGHAI DARTS MASTERS | - |   |
| WORLD MATCHPLAY | - |   |
| AUCKLAND DARTS MASTERS | - |   |
| MELBOURNE DARTS MASTERS | - |   |
| BRISBANE DARTS MASTERS | - |   |
| GERMAN DARTS CHAMPIONSHIP | - |   |
| PLAYERS CHAMPIONSHIP 17 | Last 64 | lost to Gary Anderson 6-2 |
| PLAYERS CHAMPIONSHIP 18 | Last 128 | lost to Jarred Cole 6-4 |
| DUTCH DARTS CHAMPIONSHIP | - |   |
| INTERNATIONAL DARTS OPEN | - |   |
| CHAMPIONS LEAGUE OF DARTS | - |   |
| PLAYERS CHAMPIONSHIP 19 | Last 128 | lost to Jamie Hughes 6-5 |
| PLAYERS CHAMPIONSHIP 20 | Last 128 | lost to Paul Nicholson 6-0 |
| WORLD GRAND PRIX | - |   |
| EUROPEAN DARTS TROPHY | - |   |
| PLAYERS CHAMPIONSHIP 21 | Last 128 | lost to Mickey Mansell 6-2 |
| PLAYERS CHAMPIONSHIP 22 | Last 128 | lost to Kim Huybrechts 6-5 |
| EUROPEAN CHAMPIONSHIP | - |   |
| WORLD SERIES OF DARTS FINALS | Quarter Final | lost to James Wade 10-5 |
| GRAND SLAM OF DARTS | - |   |
| PLAYERS CHAMPIONSHIP FINALS | Last 64 | lost to Dave Chisnall 6-4 |
| | | |
| --- | --- | --- |
| WORLD CHAMPIONSHIP | Last 16 | lost to Dave Chisnall 4-0 |
| THE MASTERS | - |   |
| PLAYERS CHAMPIONSHIP 1 | Last 128 | lost to Jeffrey de Zwaan 6-4 |
| PLAYERS CHAMPIONSHIP 2 | Last 64 | lost to Rob Cross 6-3 |
| PLAYERS CHAMPIONSHIP 3 | Last 32 | lost to Darren Webster 6-4 |
| PLAYERS CHAMPIONSHIP 4 | Last 128 | lost to Glen Durrant 6-3 |
| PLAYERS CHAMPIONSHIP 5 | Last 64 | lost to Jermaine Wattimena 6-1 |
| PLAYERS CHAMPIONSHIP 6 | Last 64 | lost to Danny Noppert 6-1 |
| UK OPEN | Last 32 | lost to Josh Payne 10-7 |
| PLAYERS CHAMPIONSHIP 7 | Last 32 | lost to Chris Dobey 6-0 |
| PLAYERS CHAMPIONSHIP 8 | Last 128 | lost to Jermaine Wattimena 6-1 |
| EUROPEAN DARTS OPEN | - |   |
| GERMAN DARTS CHAMPIONSHIP | - |   |
| PLAYERS CHAMPIONSHIP 9 | Last 128 | lost to Mario Robbe 6-2 |
| PLAYERS CHAMPIONSHIP 10 | Last 128 | lost to James Wilson 6-1 |
| PLAYERS CHAMPIONSHIP 11 | Last 128 | lost to Michael Smith 6-4 |
| PLAYERS CHAMPIONSHIP 12 | Last 128 | lost to Michael Smith 6-2 |
| GERMAN DARTS GRAND PRIX | - |   |
| GERMAN DARTS OPEN | - |   |
| PLAYERS CHAMPIONSHIP 13 | Last 128 | lost to Nathan Derry 6-3 |
| PLAYERS CHAMPIONSHIP 14 | Last 128 | lost to Stephen Bunting 6-0 |
| AUSTRIAN DARTS OPEN | - |   |
| EUROPEAN DARTS GRAND PRIX | - |   |
| PLAYERS CHAMPIONSHIP 15 | Last 32 | lost to Ryan Meikle 6-1 |
| PLAYERS CHAMPIONSHIP 16 | Last 64 | lost to Michael van Gerwen 6-1 |
| PREMIER LEAGUE | - |   |
| DUTCH DARTS MASTERS | - |   |
| WORLD CUP OF DARTS | - |   |
| DANISH DARTS OPEN | - |   |
| PLAYERS CHAMPIONSHIP 17 | Last 128 | lost to Glen Durrant 6-2 |
| PLAYERS CHAMPIONSHIP 18 | Last 128 | lost to Vincent van der Meer 6-0 |
| CZECH DARTS OPEN | - |   |
| U.S. DARTS MASTERS | - |   |
| GERMAN DARTS MASTERS | - |   |
| PLAYERS CHAMPIONSHIP 19 | Last 128 | lost to Rob Cross 6-4 |
| PLAYERS CHAMPIONSHIP 20 | Last 128 | lost to Luke Humphries 6-3 |
| WORLD MATCHPLAY | - |   |
| PLAYERS CHAMPIONSHIP 21 | Last 128 | lost to Mark McGeeney 6-5 |
| PLAYERS CHAMPIONSHIP 22 | Last 128 | lost to Devon Petersen 6-0 |
| BRISBANE DARTS MASTERS | - |   |
| MELBOURNE DARTS MASTERS | - |   |
| NEW ZEALAND DARTS MASTERS | - |   |
| AUSTRIAN DARTS CHAMPIONSHIP | - |   |
| EUROPEAN DARTS MATCHPLAY | - |   |
| PLAYERS CHAMPIONSHIP 23 | Last 64 | lost to Dimitri Van den Bergh 6-1 |
| PLAYERS CHAMPIONSHIP 24 | Last 128 | lost to Jose De Sousa 6-2 |
| INTERNATIONAL DARTS OPEN | - |   |
| PLAYERS CHAMPIONSHIP 25 | Last 128 | lost to Brendan Dolan 6-2 |
| PLAYERS CHAMPIONSHIP 26 | Last 64 | lost to Gary Eastwood 6-2 |
| GIBRALTAR DARTS TROPHY | - |   |
| PLAYERS CHAMPIONSHIP 27 | Last 128 | lost to Tytus Kanik 6-5 |
| PLAYERS CHAMPIONSHIP 28 | Last 128 | lost to Andrew Gilding 6-1 |
| WORLD GRAND PRIX | - |   |
| PLAYERS CHAMPIONSHIP 29 | Last 128 | lost to Callan Rydz 6-3 |
| PLAYERS CHAMPIONSHIP 30 | Last 32 | lost to Jermaine Wattimena 6-1 |
| CHAMPIONS LEAGUE OF DARTS | - |   |
| EUROPEAN CHAMPIONSHIP | - |   |
| WORLD SERIES OF DARTS FINALS | - |   |
| GRAND SLAM OF DARTS | - |   |
| PLAYERS CHAMPIONSHIP FINALS | - |   |
| | | |
| --- | --- | --- |
| WORLD CHAMPIONSHIP | - |   |
| THE MASTERS | - |   |
| PLAYERS CHAMPIONSHIP 1 | Last 128 | lost to Wesley Harms 6-4 |
| PLAYERS CHAMPIONSHIP 2 | Last 128 | lost to Brendan Dolan 6-2 |
| PLAYERS CHAMPIONSHIP 3 | Last 128 | lost to Maik Kuivenhoven 6-4 |
| PLAYERS CHAMPIONSHIP 4 | Last 128 | lost to Simon Whitlock 6-3 |
| PLAYERS CHAMPIONSHIP 5 | Last 16 | lost to Gerwyn Price 6-3 |
| PLAYERS CHAMPIONSHIP 6 | Last 128 | lost to Jamie Hughes 6-5 |
| BELGIAN DARTS CHAMPIONSHIP | - |   |
| UK OPEN | Last 64 | lost to Mensur Suljovic 10-4 |
| PLAYERS CHAMPIONSHIP 7 | Last 128 | lost to Geert Nentjes 6-1 |
| PLAYERS CHAMPIONSHIP 8 | Last 64 | lost to Luke Woodhouse 6-2 |
| PLAYERS CHAMPIONSHIP 9 (SS1) | Last 128 | lost to Dave Chisnall 6-1 |
| PLAYERS CHAMPIONSHIP 10 (SS2) | Last 64 | lost to Dave Chisnall 6-2 |
| PLAYERS CHAMPIONSHIP 11 (SS3) | Last 128 | lost to Nathan Aspinall 6-2 |
| PLAYERS CHAMPIONSHIP 12 (SS4) | Last 128 | lost to Dirk van Duijvenbode 6-2 |
| PLAYERS CHAMPIONSHIP 13 (SS5) | - |   |
| WORLD MATCHPLAY | - |   |
| PLAYERS CHAMPIONSHIP 14 (AS1) | Last 128 | lost to Dave Chisnall 6-5 |
| PLAYERS CHAMPIONSHIP 15 (AS2) | Last 128 | lost to Danny Noppert 6-3 |
| PLAYERS CHAMPIONSHIP 16 (AS3) | Last 128 | lost to Ross Smith 6-1 |
| PLAYERS CHAMPIONSHIP 17 (AS4) | - |   |
| PLAYERS CHAMPIONSHIP 18 (AS5) | - |   |
| WORLD SERIES OF DARTS FINALS | - |   |
| GERMAN DARTS CHAMPIONSHIP | - |   |
| WORLD GRAND PRIX | - |   |
| PREMIER LEAGUE | - |   |
| EUROPEAN DARTS GRAND PRIX | - |   |
| INTERNATIONAL DARTS OPEN | Last 48 | lost to Robert Marijanovic 6-0 |
| EUROPEAN CHAMPIONSHIP | - |   |
| WORLD CUP OF DARTS | - |   |
| PLAYERS CHAMPIONSHIP 19 (WS1) | - |   |
| PLAYERS CHAMPIONSHIP 20 (WS2) | - |   |
| PLAYERS CHAMPIONSHIP 21 (WS3) | - |   |
| PLAYERS CHAMPIONSHIP 22 (WS4) | - |   |
| PLAYERS CHAMPIONSHIP 23 (WS5) | - |   |
| GRAND SLAM OF DARTS | - |   |
| PLAYERS CHAMPIONSHIP FINALS | - |   |