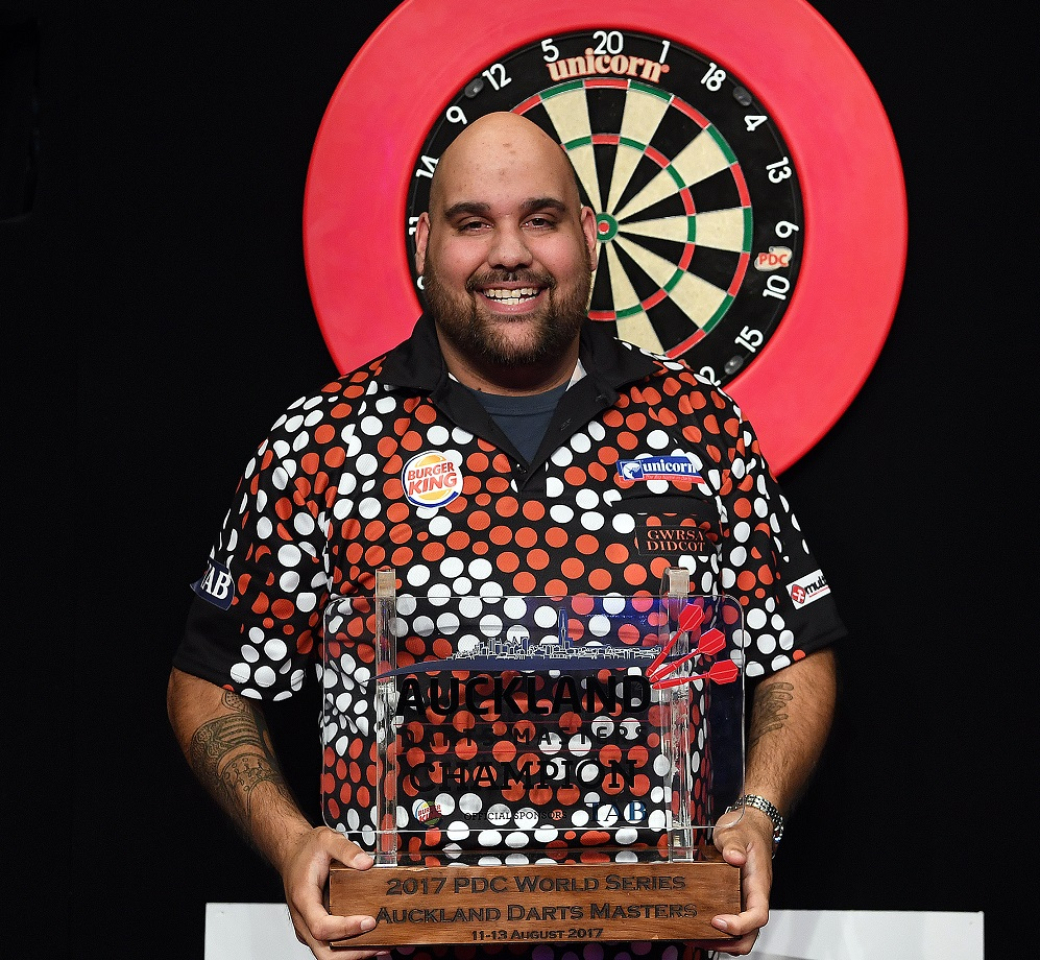 Kyle Anderson
The Original
PDC World Ranking

60

Televised titles

1

Non-Televised PDC Titles

1

Televised Nine-Dart Finishes

2
Walk-On Music

"Solid Rock" - Street Warriors feat. Shannon Noll

Date of Birth

September 14 1987

Darts Used

23g

Shot

Home Town

Perth, Western Australia
Aboriginal Kyle has enjoyed a reputation as one of the most popular players on the tour since his breakthrough in 2013.

Anderson emerged on the domestic circuit in Australia - qualifying for the 2013 World Championship as the DPA Oceanic Masters winner, landing a nine-dart finish on his second visit to Alexandra Palace the following year.

He then moved to the UK to become a full-time professional, however his finest hour came at the 2017 Auckland Darts Masters where he won his first televised title.
Player Stats
Select below to see result & roll of honour information.
| | |
| --- | --- |
| Auckland Darts Masters | 2017 |
| | |
| --- | --- |
| Players Championship | 2017 |
| | | |
| --- | --- | --- |
|   | Most Recent | Best Performance |
| 2020 WORLD CHAMPIONSHIP | Last 64 | Last 32 - 2015, 2016, 2019 |
| 2020 UK OPEN | Last 96 | Quarter Final - 2016 |
| 2020 WORLD MATCHPLAY | - | Last 16 - 2016 |
| 2020 WORLD GRAND PRIX | - | Last 16 - 2016 |
| 2020 EUROPEAN CHAMPIONSHIP | - | Semi Final - 2017 |
| 2020 GRAND SLAM OF DARTS | - | - |
| 2020 PLAYERS CHAMPIONSHIP FINALS | - | Last 64 - 2017, 2018, 2019 |
| | | |
| --- | --- | --- |
|   | Most Recent | Best Performance |
| 2020 THE MASTERS | - | - |
| 2020 WORLD SERIES OF DARTS FINALS | - | Last 16 - 2017, 2018 |
| 2020 PREMIER LEAGUE | - | - |
| 2020 WORLD CUP OF DARTS  | - | Semi Final - 2018 |
| | | |
| --- | --- | --- |
| TOURNAMENT WIN | Auckland Darts Masters (August 2017) | beat Corey Cadby 11-10 |
| FINAL | Auckland Darts Masters (August 2017) | beat Corey Cadby 11-10 |
| SEMI FINAL | Players Championship 22 (October 2018) | lost to Krzysztof Ratajski 6-4 |
| QUARTER FINAL | Brisbane Darts Masters (August 2019) | lost to Simon Whitlock 8-0 |
| | | |
| --- | --- | --- |
| WORLD CHAMPIONSHIP | - |   |
| THE MASTERS | - |   |
| UK OPEN QUALIFIER 1 | Quarter Final | lost to Adrian Lewis 6-1 |
| UK OPEN QUALIFIER 2 | Last 64 | lost to Jan Dekker 6-3 |
| UK OPEN QUALIFIER 3 | Last 64 | lost to Stuart Kellett 6-2 |
| UK OPEN QUALIFIER 4 | Last 128 | lost to Jermaine Wattimena 6-4 |
| UK OPEN QUALIFIER 5 | Last 64 | lost to James Richardson 6-3 |
| UK OPEN QUALIFIER 6 | Quarter Final | lost to Alan Norris 6-5 |
| PLAYERS CHAMPIONSHIP 1 | Quarter Final | lost to Alan Norris 6-1 |
| PLAYERS CHAMPIONSHIP 2 | Last 64 | lost to Raymond van Barneveld 6-3 |
| UK OPEN | Last 64 | lost to Jermaine Wattimena 10-7 |
| PLAYERS CHAMPIONSHIP 3 | Last 32 | lost to Raymond van Barneveld 6-4 |
| PLAYERS CHAMPIONSHIP 4 | Last 32 | lost to Gary Anderson 6-2 |
| GERMAN DARTS CHAMPIONSHIP | - |   |
| PLAYERS CHAMPIONSHIP 5 | Last 32 | lost to Dimitri van den Bergh 6-4 |
| PLAYERS CHAMPIONSHIP 6 | Last 64 | lost to Rob Cross 6-2 |
| PLAYERS CHAMPIONSHIP 7 | Last 16 | lost to Jermaine Wattimena 6-2 |
| PLAYERS CHAMPIONSHIP 8 | Last 64 | lost to Kirk Shepherd 6-2 |
| GERMAN DARTS MASTERS (ET) | Quarter Final | lost to Jelle Klaasen 6-4 |
| GERMAN DARTS OPEN | - |   |
| PLAYERS CHAMPIONSHIP 9 | Last 32 | lost to Ian White 6-3 |
| PLAYERS CHAMPIONSHIP 10 | Last 32 | lost to Alan Norris 6-2 |
| EUROPEAN DARTS GRAND PRIX | - |   |
| GIBRALTAR DARTS TROPHY | - |   |
| PREMIER LEAGUE | - |   |
| PLAYERS CHAMPIONSHIP 11 | Last 16 | lost to Mensur Suljovic 6-2 |
| PLAYERS CHAMPIONSHIP 12 | Last 128 | lost to Paul Harvey 6-4 |
| DUBAI DARTS MASTERS | - |   |
| WORLD CUP OF DARTS | Last 16 (Simon Whitlock) | lost to Russia 2-1 |
| EUROPEAN DARTS MATCHPLAY | Last 16 | lost to Stephen Bunting 6-3 |
| PLAYERS CHAMPIONSHIP 13 | Last 64 | lost to Stuart Kellett 6-4 |
| PLAYERS CHAMPIONSHIP 14 | Last 32 | lost to Gary Anderson 6-2 |
| AUSTRIAN DARTS OPEN | - |   |
| EUROPEAN DARTS OPEN | Last 48 | lost to Peter Jacques 6-3 |
| SHANGHAI DARTS MASTERS | - |   |
| PLAYERS CHAMPIONSHIP 15 | Semi Final | lost to Darren Webster 6-5 |
| PLAYERS CHAMPIONSHIP 16 | Last 128 | lost to Wes Newton 6-3 |
| U.S. DARTS MASTERS | - |   |
| WORLD MATCHPLAY | Last 32 | lost to Simon Whitlock 10-5 |
| PLAYERS CHAMPIONSHIP 17 | Winner | beat Kevin Painter 6-2 |
| PLAYERS CHAMPIONSHIP 18 | Last 64 | lost to Keegan Brown 6-4 |
| AUCKLAND DARTS MASTERS | Winner | beat Corey Cadby 11-10 |
| MELBOURNE DARTS MASTERS | Last 16 | lost to Simon Whitlock 6-1 |
| PERTH DARTS MASTERS | Last 16 | lost to Phil Taylor 6-4 |
| DUTCH DARTS MASTERS | Last 16 | lost to Michael van Gerwen 6-1 |
| GERMAN DARTS GRAND PRIX | Last 16 | lost to Jelle Klaasen 6-1 |
| CHAMPIONS LEAGUE OF DARTS | - |   |
| INTERNATIONAL DARTS OPEN | Last 32 | lost to Simon Whitlock 6-4 |
| PLAYERS CHAMPIONSHIP 19 | Last 16 | lost to Vincent van der Voort 6-5 |
| PLAYERS CHAMPIONSHIP 20 | Last 32 | lost to Gerwyn Price 6-4 |
| WORLD GRAND PRIX | Last 32 | lost to Raymond van Barneveld 2-0 |
| PLAYERS CHAMPIONSHIP 21 | Last 128 | lost to John Bowles 6-5 |
| PLAYERS CHAMPIONSHIP 22 | Last 64 | lost to Joe Murnan 6-3 |
| EUROPEAN DARTS TROPHY | - |   |
| GERMAN DARTS MASTERS (WS) | Last 16 | lost to Mensur Suljovic 6-5 |
| EUROPEAN CHAMPIONSHIP | Semi Final | lost to Michael van Gerwen 11-10 |
| WORLD SERIES OF DARTS FINALS | Last 16 | lost to Rob Cross 6-5 |
| GRAND SLAM OF DARTS | - |   |
| PLAYERS CHAMPIONSHIP FINALS | Last 64 | lost to Ron Meulenkamp 6-4 |
| | | |
| --- | --- | --- |
| WORLD CHAMPIONSHIP | Last 32 | lost to Raymond van Barneveld 4-1 |
| THE MASTERS | - |   |
| UK OPEN QUALIFIER 1 | Quarter Final | lost to Michael Smith 6-3 |
| UK OPEN QUALIFIER 2 | Last 128 | lost to Diogo Portela 6-5 |
| UK OPEN QUALIFIER 3 | Last 32 | lost to Kim Huybrechts 6-5 |
| UK OPEN QUALIFIER 4 | Last 128 | lost to Aden Kirk 6-3 |
| UK OPEN QUALIFIER 5 | Last 128 | lost to Nathan Rafferty 6-4 |
| UK OPEN QUALIFIER 6 | Last 32 | lost to Danny Noppert 6-2 |
| PLAYERS CHAMPIONSHIP 1 | Last 32 | lost to Michael Barnard 6-0 |
| PLAYERS CHAMPIONSHIP 2 | Last 64 | lost to Tytus Kanik 6-2 |
| UK OPEN | Last 32 | lost to Rob Cross 10-7 |
| PLAYERS CHAMPIONSHIP 3 | Last 128 | lost to Adam Hunt 6-2 |
| PLAYERS CHAMPIONSHIP 4 | Last 64 | lost to Robbie Green 6-4 |
| PLAYERS CHAMPIONSHIP 5 | Last 64 | lost to Jimmy Hendriks 6-3 |
| PLAYERS CHAMPIONSHIP 6 | Last 32 | lost to Mervyn King 6-3 |
| EUROPEAN DARTS OPEN | Last 32 | lost to John Henderson 6-4 |
| GERMAN DARTS GRAND PRIX | Last 32 | lost to Alan Tabern 6-5 |
| PLAYERS CHAMPIONSHIP 7 | Last 16 | lost to Michael Smith 6-0 |
| PLAYERS CHAMPIONSHIP 8 | Last 64 | lost to Mark Webster 6-4 |
| GERMAN DARTS OPEN | - |   |
| AUSTRIAN DARTS OPEN | - |   |
| PLAYERS CHAMPIONSHIP 9 | Last 64 | lost to Rowby-John Rodriguez 6-5 |
| PLAYERS CHAMPIONSHIP 10 | Last 64 | lost to Mickey Mansell 6-3 |
| EUROPEAN DARTS GRAND PRIX | Last 16 | lost to Joe Cullen 6-3 |
| DUTCH DARTS MASTERS | Quarter Final | lost to Michael van Gerwen 6-2 |
| PREMIER LEAGUE | - |   |
| PLAYERS CHAMPIONSHIP 11 | - |   |
| PLAYERS CHAMPIONSHIP 12 | - |   |
| GERMAN DARTS MASTERS | - |   |
| WORLD CUP OF DARTS | Semi Final (Simon Whitlock) | lost to Scotland 2-1 |
| GIBRALTAR DARTS TROPHY | - |   |
| PLAYERS CHAMPIONSHIP 13 | Last 16 | lost to Peter Jacques 6-5 |
| PLAYERS CHAMPIONSHIP 14 | Last 64 | lost to Mickey Mansell 6-5 |
| DANISH DARTS OPEN | - |   |
| PLAYERS CHAMPIONSHIP 15 | Last 128 | lost to Gabriel Clemens 6-5 |
| PLAYERS CHAMPIONSHIP 16 | Last 128 | lost to Zoran Lerchbacher 6-2 |
| EUROPEAN DARTS MATCHPLAY | - |   |
| U.S. DARTS MASTERS | - |   |
| SHANGHAI DARTS MASTERS | - |   |
| WORLD MATCHPLAY | Last 32 | lost to Raymond van Barneveld 10-6 |
| AUCKLAND DARTS MASTERS | Quarter Final | lost to Peter Wright 10-3 |
| MELBOURNE DARTS MASTERS | Last 16 | lost to Damon Heta 6-5 |
| BRISBANE DARTS MASTERS | Quarter Final | lost to Michael van Gerwen 10-3 |
| GERMAN DARTS CHAMPIONSHIP | Last 32 | lost to Rob Cross 6-5 |
| PLAYERS CHAMPIONSHIP 17 | Last 32 | lost to Peter Wright 6-5 |
| PLAYERS CHAMPIONSHIP 18 | Last 64 | lost to Luke Woodhouse 6-5 |
| DUTCH DARTS CHAMPIONSHIP | Quarter Final | lost to Ritchie Edhouse 6-4 |
| INTERNATIONAL DARTS OPEN | Last 48 | lost to Ross Smith 6-3 |
| CHAMPIONS LEAGUE OF DARTS | - |   |
| PLAYERS CHAMPIONSHIP 19 | Last 32 |   |
| PLAYERS CHAMPIONSHIP 20 | Last 32 |   |
| WORLD GRAND PRIX | - |   |
| EUROPEAN DARTS TROPHY | - |   |
| PLAYERS CHAMPIONSHIP 21 | Last 64 | lost to Ryan Meikle 6-4 |
| PLAYERS CHAMPIONSHIP 22 | Semi Final | lost to Krzysztof Ratajski 6-4 |
| EUROPEAN CHAMPIONSHIP | Last 32 | lost to Gerwyn Price 6-4 |
| WORLD SERIES OF DARTS FINALS | Last 16 | lost to Michael Smith 6-3 |
| GRAND SLAM OF DARTS | - |   |
| PLAYERS CHAMPIONSHIP FINALS | Last 64 | lost to Simon Whitlock 6-4 |
| | | |
| --- | --- | --- |
| WORLD CHAMPIONSHIP | Last 32 | lost to Nathan Aspinall 4-1 |
| THE MASTERS | - |   |
| PLAYERS CHAMPIONSHIP 1 | Quarter Final | lost to Scott Baker 6-3 |
| PLAYERS CHAMPIONSHIP 2 | Last 64 | lost to Brendan Dolan 6-4 |
| PLAYERS CHAMPIONSHIP 3 | Last 64 | lost to Mark Dudbridge 6-5 |
| PLAYERS CHAMPIONSHIP 4 | Quarter Final | lost to Rob Cross 6-2 |
| PLAYERS CHAMPIONSHIP 5 | Last 64 | lost to Ryan Searle 6-2 |
| PLAYERS CHAMPIONSHIP 6 | Quarter Final | lost to Ricky Evans 6-4 |
| UK OPEN | Last 64 | lost to Josh Payne 10-2 |
| PLAYERS CHAMPIONSHIP 7 | Last 128 | lost to Ted Evetts 6-5 |
| PLAYERS CHAMPIONSHIP 8 | Last 128 | lost to Ryan Meikle 6-4 |
| EUROPEAN DARTS OPEN | - |   |
| GERMAN DARTS CHAMPIONSHIP | - |   |
| PLAYERS CHAMPIONSHIP 9 | Last 64 | lost to Matthew Edgar 6-1 |
| PLAYERS CHAMPIONSHIP 10 | Last 64 | lost to Arron Monk 6-5 |
| PLAYERS CHAMPIONSHIP 11 | Last 128 | lost to Yordi Meeuwisse 6-5 |
| PLAYERS CHAMPIONSHIP 12 | Last 64 | lost to Jelle Klaasen 6-4 |
| GERMAN DARTS GRAND PRIX | Last 32 | lost to Daryl Gurney 6-4 |
| GERMAN DARTS OPEN | Last 48 | lost to Jeffrey de Zwaan 6-3 |
| PLAYERS CHAMPIONSHIP 13 | Last 128 | lost to Brendan Dolan 6-1 |
| PLAYERS CHAMPIONSHIP 14 | Last 32 | lost to Simon Whitlock 6-1 |
| AUSTRIAN DARTS OPEN | - |   |
| EUROPEAN DARTS GRAND PRIX | - |   |
| PLAYERS CHAMPIONSHIP 15 | Last 32 | lost to Glen Durrant 6-4 |
| PLAYERS CHAMPIONSHIP 16 | Last 128 | lost to Stephen Burton 6-5 |
| PREMIER LEAGUE | - |   |
| DUTCH DARTS MASTERS | Last 48 | lost to Mickey Mansell 6-4 |
| WORLD CUP OF DARTS | Last 16 (Simon Whitlock) | lost to Canada 2-0 |
| DANISH DARTS OPEN | Last 32 | lost to Adrian Lewis 6-4 |
| PLAYERS CHAMPIONSHIP 17 | Last 32 | lost to Marko Kantele 6-4 |
| PLAYERS CHAMPIONSHIP 18 | Last 128 | lost to Ryan Searle 6-4 |
| CZECH DARTS OPEN | - |   |
| U.S. DARTS MASTERS | - |   |
| GERMAN DARTS MASTERS | - |   |
| PLAYERS CHAMPIONSHIP 19 | Last 32 | lost to Justin Pipe 6-5 |
| PLAYERS CHAMPIONSHIP 20 | Last 64 | lost to Dirk van Duijvenbode 6-2 |
| WORLD MATCHPLAY | - |   |
| PLAYERS CHAMPIONSHIP 21 | Last 64 | lost to Mark McGeeney 6-5 |
| PLAYERS CHAMPIONSHIP 22 | Last 32 | lost to Joe Cullen 6-2 |
| BRISBANE DARTS MASTERS | Quarter Final | lost to Simon Whitlock 8-0 |
| MELBOURNE DARTS MASTERS | Last 16 | lost to Daryl Gurney 6-4 |
| NEW ZEALAND DARTS MASTERS | Last 16 | lost to Michael van Gerwen 6-5 |
| AUSTRIAN DARTS CHAMPIONSHIP | Last 32 | lost to Michael van Gerwen 6-2 |
| EUROPEAN DARTS MATCHPLAY | - |   |
| PLAYERS CHAMPIONSHIP 23 | Last 32 | lost to Ian White 6-1 |
| PLAYERS CHAMPIONSHIP 24 | Last 16 | lost to Justin Pipe 6-4 |
| INTERNATIONAL DARTS OPEN | Last 32 | lost to Gerwyn Price 6-4 |
| PLAYERS CHAMPIONSHIP 25 | - |   |
| PLAYERS CHAMPIONSHIP 26 | - |   |
| GIBRALTAR DARTS TROPHY | - |   |
| PLAYERS CHAMPIONSHIP 27 | - |   |
| PLAYERS CHAMPIONSHIP 28 | - |   |
| WORLD GRAND PRIX | - |   |
| PLAYERS CHAMPIONSHIP 29 | Last 128 | lost to Gavin Carlin 6-2 |
| PLAYERS CHAMPIONSHIP 30 | Last 128 | lost to Jamie Hughes 6-3 |
| CHAMPIONS LEAGUE OF DARTS | - |   |
| EUROPEAN CHAMPIONSHIP | - |   |
| WORLD SERIES OF DARTS FINALS | Last 24 | lost to Mensur Suljovic 6-1 |
| GRAND SLAM OF DARTS | - |   |
| PLAYERS CHAMPIONSHIP FINALS | Last 64 | lost to Joe Cullen 6-2 |
| | | |
| --- | --- | --- |
| WORLD CHAMPIONSHIP | Last 64 | lost to Steve Beaton 3-1 |
| THE MASTERS | - |   |
| PLAYERS CHAMPIONSHIP 1 | - |   |
| PLAYERS CHAMPIONSHIP 2 | - |   |
| PLAYERS CHAMPIONSHIP 3 | - |   |
| PLAYERS CHAMPIONSHIP 4 | - |   |
| PLAYERS CHAMPIONSHIP 5 | Last 128 | lost to Ryan Joyce 6-1 |
| PLAYERS CHAMPIONSHIP 6 | Last 128 | lost to Luke Woodhouse 6-4 |
| BELGIAN DARTS CHAMPIONSHIP | - |   |
| UK OPEN | Last 96 | lost to Luke Humphries 6-5 |
| PLAYERS CHAMPIONSHIP 7 | Last 64 | lost to Vincent van der Voort 6-3 |
| PLAYERS CHAMPIONSHIP 8 | Last 128 | lost to Damon Heta 6-3 |
| PLAYERS CHAMPIONSHIP 9 (SS1) | - |   |
| PLAYERS CHAMPIONSHIP 10 (SS2) | - |   |
| PLAYERS CHAMPIONSHIP 11 (SS3) | - |   |
| PLAYERS CHAMPIONSHIP 12 (SS4) | - |   |
| PLAYERS CHAMPIONSHIP 13 (SS5) | - |   |
| WORLD MATCHPLAY | - |   |
| PLAYERS CHAMPIONSHIP 14 (AS1) | - |   |
| PLAYERS CHAMPIONSHIP 15 (AS2) | - |   |
| PLAYERS CHAMPIONSHIP 16 (AS3) | - |   |
| PLAYERS CHAMPIONSHIP 17 (AS4) | - |   |
| PLAYERS CHAMPIONSHIP 18 (AS5) | - |   |
| WORLD SERIES OF DARTS FINALS | - |   |
| GERMAN DARTS CHAMPIONSHIP | - |   |
| WORLD GRAND PRIX | - |   |
| PREMIER LEAGUE | - |   |
| EUROPEAN DARTS GRAND PRIX | - |   |
| INTERNATIONAL DARTS OPEN | - |   |
| EUROPEAN CHAMPIONSHIP | - |   |
| WORLD CUP OF DARTS | - |   |
| PLAYERS CHAMPIONSHIP 19 (WS1) | - |   |
| PLAYERS CHAMPIONSHIP 20 (WS2) | - |   |
| PLAYERS CHAMPIONSHIP 21 (WS3) | - |   |
| PLAYERS CHAMPIONSHIP 22 (WS4) | - |   |
| PLAYERS CHAMPIONSHIP 23 (WS5) | - |   |
| GRAND SLAM OF DARTS | - |   |
| PLAYERS CHAMPIONSHIP FINALS | - |   |