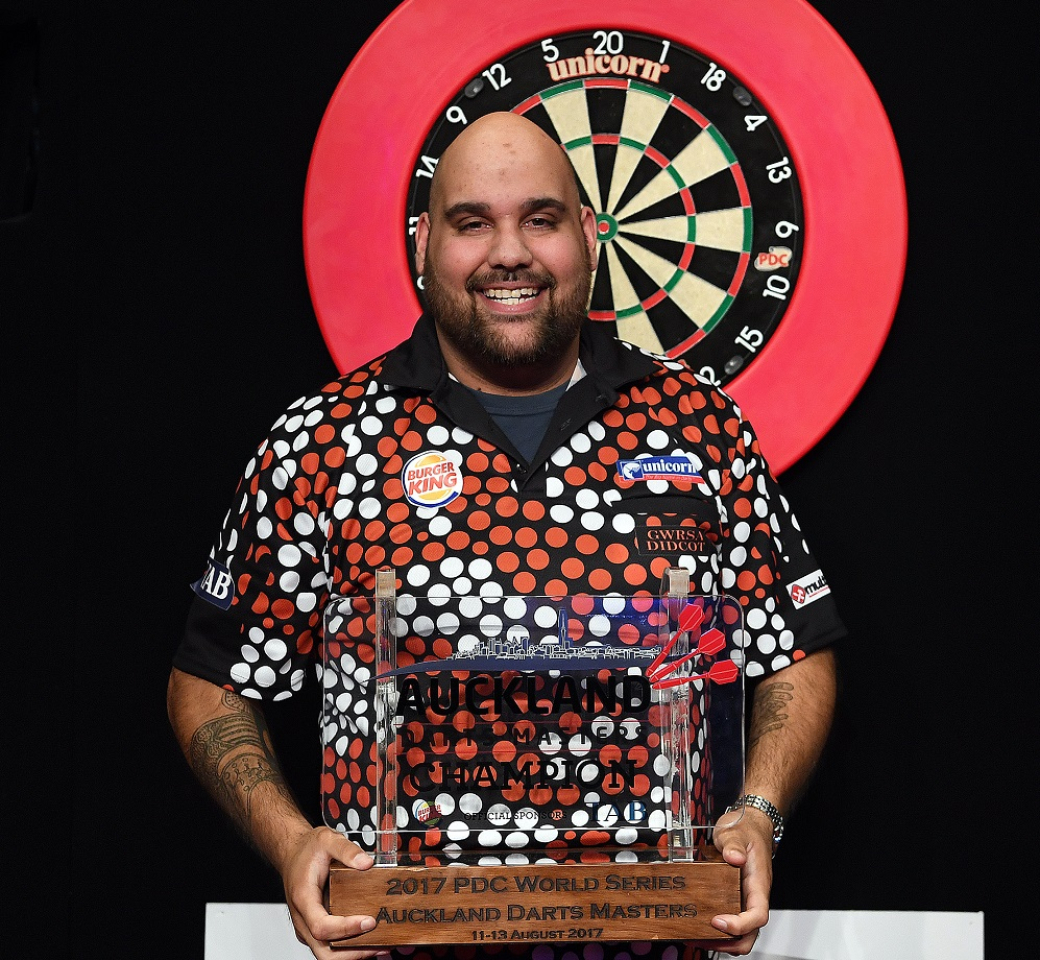 Kyle Anderson
The Original
PDC World Ranking

35

Televised titles

1

Non-Televised PDC Titles

1

Televised Nine-Dart Finishes

2
Walk-On Music

"Solid Rock" - Street Warriors feat. Shannon Noll

Date of Birth

September 16 1987

Darts Used

23g

Unicorn

Home Town

Perth
AUSTRALIAN ace Kyle has made his breakthrough in the world's top 32 since joining the circuit in 2014 - and claimed his first TV title at the 2017 Auckland Darts Masters.
Having made his emergence on the domestic circuit in Australia - qualifying for the 2013 World Championship as the DPA Oceanic Masters winner - Anderson landed a nine-dart finish on his second visit to Alexandra Palace the following year.
He then moved to the UK to become a full-time professional, making his UK Open debut in 2014 before reaching the semi-finals of the Sydney Darts Masters.
Kyle's brother Beau is another former World Championship qualifier, with the pair having competed side-by-side on the DartPlayers Australia circuit and on the World Series of Darts tour as well as at the 2014 World Championship.
Kyle reached the quarter-finals at the UK Open and European Championship in 2016 as he broke into the world's top 32, and also reached the last eight alongside Simon Whitlock when representing Australia at the World Cup of Darts.
August 2017 saw him make a further breakthrough, initially winning his first PDC ranking title at a Players Championship, with the aid of a nine-darter.
A week later, the Australian ace took victory on a TV stage for the first time, defeating Corey Cadby 11-10 in the final of the Auckland Darts Masters.
Anderson continued his good form later in 2017, hitting a nine-dart finish as he made the semi-finals of the European Championship.
Player Stats
Select below to see result & roll of honour information.
| | |
| --- | --- |
| Auckland Darts Masters | 2017 |
| | |
| --- | --- |
| Players Championship | 2017 |
| | | |
| --- | --- | --- |
|   | Most Recent | Best Performance |
| 2019 WORLD CHAMPIONSHIP | Last 32 | Last 32 - 2015, 2016, 2019 |
| 2019 UK OPEN | Last 64 | Quarter Final - 2016 |
| 2018 WORLD MATCHPLAY | Last 32 | Last 16 - 2016 |
| 2018 WORLD GRAND PRIX | - | Last 16 - 2016 |
| 2018 EUROPEAN CHAMPIONSHIP | Last 32 | Semi Final - 2017 |
| 2018 GRAND SLAM OF DARTS | - | - |
| 2018 PLAYERS CHAMPIONSHIP FINALS | Last 64 | Last 64 - 2017, 2018 |
 
Most Recent
Best Performance
2019 THE MASTERS
-
-
2019 PREMIER LEAGUE
-
-
2018 WORLD CUP OF DARTS

 

Semi Final (Simon Whitlock)
Semi Final - 2018
2018 U.S. MASTERS
-
-
2018 GERMAN MASTERS
-
Last 16 - 2017
2018 SHANGHAI MASTERS
-
-
2018 BRISBANE MASTERS
-
-
2018 MELBOURNE MASTERS
-
Last 16 - 2017
2018 AUCKLAND MASTERS
-
Winner - 2017
2018 CHAMPIONS LEAGUE OF DARTS
-
-
2018 WORLD SERIES OF DARTS FINALS
Last 16
Last 16 - 2017, 2018
| | | |
| --- | --- | --- |
| TOURNAMENT WIN | Auckland Darts Masters (August 2017) | beat Corey Cadby 11-10 |
| FINAL | Auckland Darts Masters (August 2017) | beat Corey Cadby 11-10 |
| SEMI FINAL | Players Championship 22 (October 2018) | lost to Krzysztof Ratajski 6-4 |
| QUARTER FINAL | Players Championship 6 (February 2019) | lost to Ricky Evans 6-4 |
| | | |
| --- | --- | --- |
| WORLD CHAMPIONSHIP | - |   |
| THE MASTERS | - |   |
| UK OPEN QUALIFIER 1 | Quarter Final | lost to Adrian Lewis 6-1 |
| UK OPEN QUALIFIER 2 | Last 64 | lost to Jan Dekker 6-3 |
| UK OPEN QUALIFIER 3 | Last 64 | lost to Stuart Kellett 6-2 |
| UK OPEN QUALIFIER 4 | Last 128 | lost to Jermaine Wattimena 6-4 |
| UK OPEN QUALIFIER 5 | Last 64 | lost to James Richardson 6-3 |
| UK OPEN QUALIFIER 6 | Quarter Final | lost to Alan Norris 6-5 |
| PLAYERS CHAMPIONSHIP 1 | Quarter Final | lost to Alan Norris 6-1 |
| PLAYERS CHAMPIONSHIP 2 | Last 64 | lost to Raymond van Barneveld 6-3 |
| UK OPEN | Last 64 | lost to Jermaine Wattimena 10-7 |
| PLAYERS CHAMPIONSHIP 3 | Last 32 | lost to Raymond van Barneveld 6-4 |
| PLAYERS CHAMPIONSHIP 4 | Last 32 | lost to Gary Anderson 6-2 |
| GERMAN DARTS CHAMPIONSHIP | - |   |
| PLAYERS CHAMPIONSHIP 5 | Last 32 | lost to Dimitri van den Bergh 6-4 |
| PLAYERS CHAMPIONSHIP 6 | Last 64 | lost to Rob Cross 6-2 |
| PLAYERS CHAMPIONSHIP 7 | Last 16 | lost to Jermaine Wattimena 6-2 |
| PLAYERS CHAMPIONSHIP 8 | Last 64 | lost to Kirk Shepherd 6-2 |
| GERMAN DARTS MASTERS (ET) | Quarter Final | lost to Jelle Klaasen 6-4 |
| GERMAN DARTS OPEN | - |   |
| PLAYERS CHAMPIONSHIP 9 | Last 32 | lost to Ian White 6-3 |
| PLAYERS CHAMPIONSHIP 10 | Last 32 | lost to Alan Norris 6-2 |
| EUROPEAN DARTS GRAND PRIX | - |   |
| GIBRALTAR DARTS TROPHY | - |   |
| PREMIER LEAGUE | - |   |
| PLAYERS CHAMPIONSHIP 11 | Last 16 | lost to Mensur Suljovic 6-2 |
| PLAYERS CHAMPIONSHIP 12 | Last 128 | lost to Paul Harvey 6-4 |
| DUBAI DARTS MASTERS | - |   |
| WORLD CUP OF DARTS | Last 16 (Simon Whitlock) | lost to Russia 2-1 |
| EUROPEAN DARTS MATCHPLAY | Last 16 | lost to Stephen Bunting 6-3 |
| PLAYERS CHAMPIONSHIP 13 | Last 64 | lost to Stuart Kellett 6-4 |
| PLAYERS CHAMPIONSHIP 14 | Last 32 | lost to Gary Anderson 6-2 |
| AUSTRIAN DARTS OPEN | - |   |
| EUROPEAN DARTS OPEN | Last 48 | lost to Peter Jacques 6-3 |
| SHANGHAI DARTS MASTERS | - |   |
| PLAYERS CHAMPIONSHIP 15 | Semi Final | lost to Darren Webster 6-5 |
| PLAYERS CHAMPIONSHIP 16 | Last 128 | lost to Wes Newton 6-3 |
| U.S. DARTS MASTERS | - |   |
| WORLD MATCHPLAY | Last 32 | lost to Simon Whitlock 10-5 |
| PLAYERS CHAMPIONSHIP 17 | Winner | beat Kevin Painter 6-2 |
| PLAYERS CHAMPIONSHIP 18 | Last 64 | lost to Keegan Brown 6-4 |
| AUCKLAND DARTS MASTERS | Winner | beat Corey Cadby 11-10 |
| MELBOURNE DARTS MASTERS | Last 16 | lost to Simon Whitlock 6-1 |
| PERTH DARTS MASTERS | Last 16 | lost to Phil Taylor 6-4 |
| DUTCH DARTS MASTERS | Last 16 | lost to Michael van Gerwen 6-1 |
| GERMAN DARTS GRAND PRIX | Last 16 | lost to Jelle Klaasen 6-1 |
| CHAMPIONS LEAGUE OF DARTS | - |   |
| INTERNATIONAL DARTS OPEN | Last 32 | lost to Simon Whitlock 6-4 |
| PLAYERS CHAMPIONSHIP 19 | Last 16 | lost to Vincent van der Voort 6-5 |
| PLAYERS CHAMPIONSHIP 20 | Last 32 | lost to Gerwyn Price 6-4 |
| WORLD GRAND PRIX | Last 32 | lost to Raymond van Barneveld 2-0 |
| PLAYERS CHAMPIONSHIP 21 | Last 128 | lost to John Bowles 6-5 |
| PLAYERS CHAMPIONSHIP 22 | Last 64 | lost to Joe Murnan 6-3 |
| EUROPEAN DARTS TROPHY | - |   |
| GERMAN DARTS MASTERS (WS) | Last 16 | lost to Mensur Suljovic 6-5 |
| EUROPEAN CHAMPIONSHIP | Semi Final | lost to Michael van Gerwen 11-10 |
| WORLD SERIES OF DARTS FINALS | Last 16 | lost to Rob Cross 6-5 |
| GRAND SLAM OF DARTS | - |   |
| PLAYERS CHAMPIONSHIP FINALS | Last 64 | lost to Ron Meulenkamp 6-4 |
| | | |
| --- | --- | --- |
| WORLD CHAMPIONSHIP | Last 32 | lost to Raymond van Barneveld 4-1 |
| THE MASTERS | - |   |
| UK OPEN QUALIFIER 1 | Quarter Final | lost to Michael Smith 6-3 |
| UK OPEN QUALIFIER 2 | Last 128 | lost to Diogo Portela 6-5 |
| UK OPEN QUALIFIER 3 | Last 32 | lost to Kim Huybrechts 6-5 |
| UK OPEN QUALIFIER 4 | Last 128 | lost to Aden Kirk 6-3 |
| UK OPEN QUALIFIER 5 | Last 128 | lost to Nathan Rafferty 6-4 |
| UK OPEN QUALIFIER 6 | Last 32 | lost to Danny Noppert 6-2 |
| PLAYERS CHAMPIONSHIP 1 | Last 32 | lost to Michael Barnard 6-0 |
| PLAYERS CHAMPIONSHIP 2 | Last 64 | lost to Tytus Kanik 6-2 |
| UK OPEN | Last 32 | lost to Rob Cross 10-7 |
| PLAYERS CHAMPIONSHIP 3 | Last 128 | lost to Adam Hunt 6-2 |
| PLAYERS CHAMPIONSHIP 4 | Last 64 | lost to Robbie Green 6-4 |
| PLAYERS CHAMPIONSHIP 5 | Last 64 | lost to Jimmy Hendriks 6-3 |
| PLAYERS CHAMPIONSHIP 6 | Last 32 | lost to Mervyn King 6-3 |
| EUROPEAN DARTS OPEN | Last 32 | lost to John Henderson 6-4 |
| GERMAN DARTS GRAND PRIX | Last 32 | lost to Alan Tabern 6-5 |
| PLAYERS CHAMPIONSHIP 7 | Last 16 | lost to Michael Smith 6-0 |
| PLAYERS CHAMPIONSHIP 8 | Last 64 | lost to Mark Webster 6-4 |
| GERMAN DARTS OPEN | - |   |
| AUSTRIAN DARTS OPEN | - |   |
| PLAYERS CHAMPIONSHIP 9 | Last 64 | lost to Rowby-John Rodriguez 6-5 |
| PLAYERS CHAMPIONSHIP 10 | Last 64 | lost to Mickey Mansell 6-3 |
| EUROPEAN DARTS GRAND PRIX | Last 16 | lost to Joe Cullen 6-3 |
| DUTCH DARTS MASTERS | Quarter Final | lost to Michael van Gerwen 6-2 |
| PREMIER LEAGUE | - |   |
| PLAYERS CHAMPIONSHIP 11 | - |   |
| PLAYERS CHAMPIONSHIP 12 | - |   |
| GERMAN DARTS MASTERS | - |   |
| WORLD CUP OF DARTS | Semi Final (Simon Whitlock) | lost to Scotland 2-1 |
| GIBRALTAR DARTS TROPHY | - |   |
| PLAYERS CHAMPIONSHIP 13 | Last 16 | lost to Peter Jacques 6-5 |
| PLAYERS CHAMPIONSHIP 14 | Last 64 | lost to Mickey Mansell 6-5 |
| DANISH DARTS OPEN | - |   |
| PLAYERS CHAMPIONSHIP 15 | Last 128 | lost to Gabriel Clemens 6-5 |
| PLAYERS CHAMPIONSHIP 16 | Last 128 | lost to Zoran Lerchbacher 6-2 |
| EUROPEAN DARTS MATCHPLAY | - |   |
| U.S. DARTS MASTERS | - |   |
| SHANGHAI DARTS MASTERS | - |   |
| WORLD MATCHPLAY | Last 32 | lost to Raymond van Barneveld 10-6 |
| AUCKLAND DARTS MASTERS | Quarter Final | lost to Peter Wright 10-3 |
| MELBOURNE DARTS MASTERS | Last 16 | lost to Damon Heta 6-5 |
| BRISBANE DARTS MASTERS | Quarter Final | lost to Michael van Gerwen 10-3 |
| GERMAN DARTS CHAMPIONSHIP | Last 32 | lost to Rob Cross 6-5 |
| PLAYERS CHAMPIONSHIP 17 | Last 32 | lost to Peter Wright 6-5 |
| PLAYERS CHAMPIONSHIP 18 | Last 64 | lost to Luke Woodhouse 6-5 |
| DUTCH DARTS CHAMPIONSHIP | Quarter Final | lost to Ritchie Edhouse 6-4 |
| INTERNATIONAL DARTS OPEN | Last 48 | lost to Ross Smith 6-3 |
| CHAMPIONS LEAGUE OF DARTS | - |   |
| PLAYERS CHAMPIONSHIP 19 | Last 32 |   |
| PLAYERS CHAMPIONSHIP 20 | Last 32 |   |
| WORLD GRAND PRIX | - |   |
| EUROPEAN DARTS TROPHY | - |   |
| PLAYERS CHAMPIONSHIP 21 | Last 64 | lost to Ryan Meikle 6-4 |
| PLAYERS CHAMPIONSHIP 22 | Semi Final | lost to Krzysztof Ratajski 6-4 |
| EUROPEAN CHAMPIONSHIP | Last 32 | lost to Gerwyn Price 6-4 |
| WORLD SERIES OF DARTS FINALS | Last 16 | lost to Michael Smith 6-3 |
| GRAND SLAM OF DARTS | - |   |
| PLAYERS CHAMPIONSHIP FINALS | Last 64 | lost to Simon Whitlock 6-4 |
| | | |
| --- | --- | --- |
| WORLD CHAMPIONSHIP | Last 32 | lost to Nathan Aspinall 4-1 |
| THE MASTERS | - |   |
| PLAYERS CHAMPIONSHIP 1 | Quarter Final | lost to Scott Baker 6-3 |
| PLAYERS CHAMPIONSHIP 2 | Last 64 | lost to Brendan Dolan 6-4 |
| PLAYERS CHAMPIONSHIP 3 | Last 64 | lost to Mark Dudbridge 6-5 |
| PLAYERS CHAMPIONSHIP 4 | Quarter Final | lost to Rob Cross 6-2 |
| PLAYERS CHAMPIONSHIP 5 | Last 64 | lost to Ryan Searle 6-2 |
| PLAYERS CHAMPIONSHIP 6 | Quarter Final | lost to Ricky Evans 6-4 |
| UK OPEN | Last 64 | lost to Josh Payne 10-2 |
| PLAYERS CHAMPIONSHIP 7 | Last 128 | lost to Ted Evetts 6-5 |
| PLAYERS CHAMPIONSHIP 8 | Last 128 | lost to Ryan Meikle 6-4 |
| EUROPEAN DARTS OPEN | - |   |
| GERMAN DARTS CHAMPIONSHIP | - |   |
| PLAYERS CHAMPIONSHIP 9 | Last 64 | lost to Matthew Edgar 6-1 |
| PLAYERS CHAMPIONSHIP 10 | Last 64 | lost to Arron Monk 6-5 |
| PLAYERS CHAMPIONSHIP 11 | Last 128 | lost to Yordi Meeuwisse 6-5 |
| PLAYERS CHAMPIONSHIP 12 | Last 64 | lost to Jelle Klaasen 6-4 |
| GERMAN DARTS GRAND PRIX | Last 32 | lost to Daryl Gurney 6-4 |
| GERMAN DARTS OPEN | Last 48 | lost to Jeffrey de Zwaan 6-3 |
| PLAYERS CHAMPIONSHIP 13 | Last 128 | lost to Brendan Dolan 6-1 |
| PLAYERS CHAMPIONSHIP 14 | Last 32 | lost to Simon Whitlock 6-1 |
| AUSTRIAN DARTS OPEN | - |   |
| EUROPEAN DARTS GRAND PRIX | - |   |
| PLAYERS CHAMPIONSHIP 15 | Last 32 | lost to Glen Durrant 6-4 |
| PLAYERS CHAMPIONSHIP 16 | Last 128 | lost to Stephen Burton 6-5 |
| PREMIER LEAGUE | - |   |
| DUTCH DARTS MASTERS | Last 48 | lost to Mickey Mansell 6-4 |