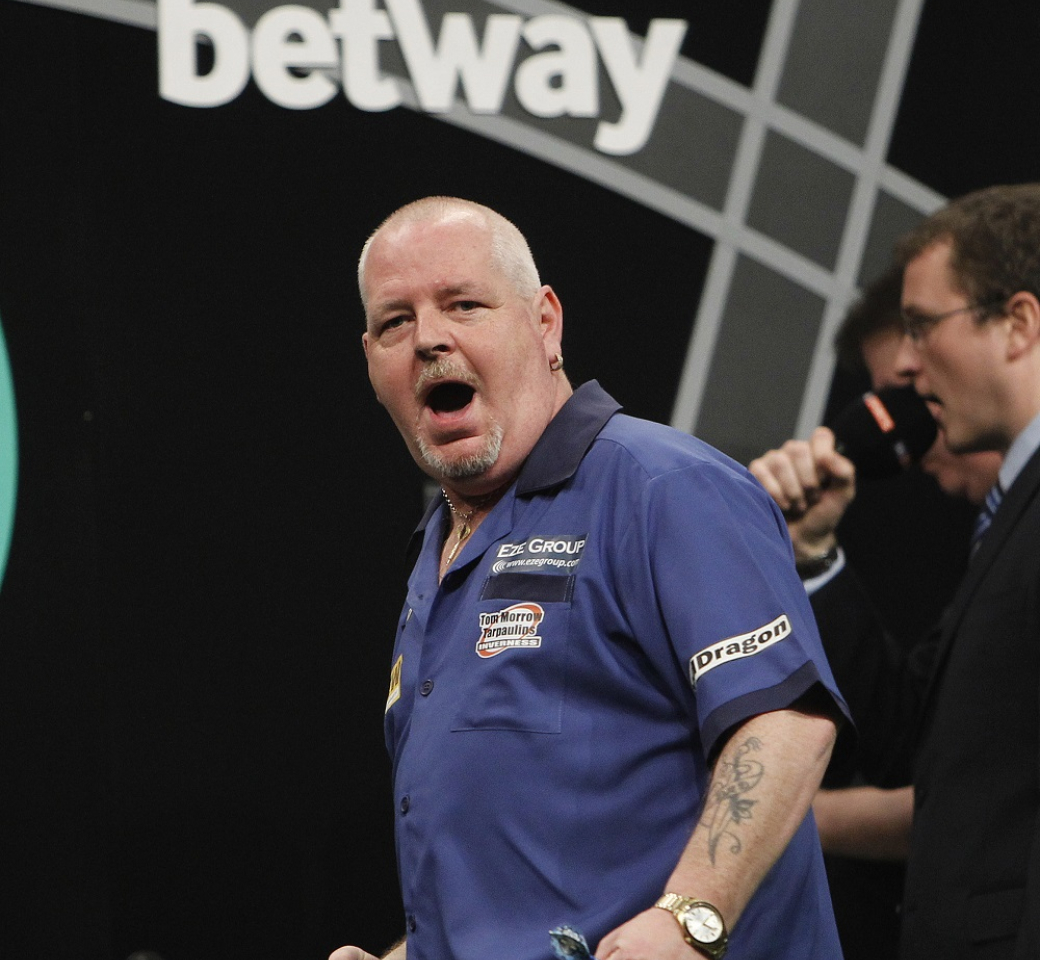 Robert Thornton
The Thorn
PDC World Ranking

73

Televised titles

3

Non-Televised PDC Titles

11

Televised Nine-Dart Finishes

1
Walk-On Music

"500 Miles" by The Proclaimers

Date of Birth

July 15 1967

Darts Used

26g

Red Dragon

Home Town

Saltcoats
SCOTTISH star Robert has enjoyed plenty of success over the past decade to become one of his country's most successful players.
The winner of the 2007 World Masters before he joined the PDC circuit, Thornton has since won more than a dozen PDC ranking titles.
His first PDC televised triumph came at the 2012 UK Open, where a win over Phil Taylor avenged his defeat in the decider at the inaugural Players Championship Finals in 2009.
The runner-up in the 2013 Grand Slam of Darts to Taylor, Thornton hit a nine-dart finish in the double-start format the following year in a historic contest which saw both the Scot and James Wade achieve a perfect leg - the first time that both players had achieved a nine-darter in a televised match.
Thornton's return to Dublin in 2015 saw him enjoy further World Grand Prix success as he went all the way to claim the title by defeating Michael van Gerwen in the final, earning a spot in the 2016 Premier League in the process.
Player Stats
Select below to see result & roll of honour information.
| | |
| --- | --- |
| World Grand Prix  | 2015 |
| UK Open | 2012 |
| World Masters | 2007 |
| | |
| --- | --- |
| European Darts Open | 2015 |
| Players Championship | 2008, 2009, 2012, 2013 (x2), 2014 (x3) |
| UK Open Qualfier | 2009, 2013 |
| | | |
| --- | --- | --- |
|   | Most Recent | Best Performance |
| 2020 WORLD CHAMPIONSHIP | - | Quarter Final - 2015 |
| 2020 UK OPEN | Last 96 | Winner - 2012 |
| 2020 WORLD MATCHPLAY | - | Last 16 - 2016 |
| 2020 WORLD GRAND PRIX | - | Winner - 2015 |
| 2020 EUROPEAN CHAMPIONSHIP | - | Semi Final - 2008 |
| 2020 GRAND SLAM OF DARTS | - | Runner Up - 2013 |
| 2020 PLAYERS CHAMPIONSHIP FINALS | - | Runner Up - 2008 |
| | | |
| --- | --- | --- |
|   | Most Recent | Best Performance |
| 2020 THE MASTERS | - | Quarter Final - 2013, 2017 |
| 2020 WORLD SERIES OF DARTS FINALS | - | Last 16 - 2015 |
| 2020 PREMIER LEAGUE | - | 5th - 2013 |
| 2020 WORLD CUP OF DARTS  | Last 16 | Quarter Final - 2010, 2014, 2016 |
| | | |
| --- | --- | --- |
| TOURNAMENT WIN | World Grand Prix (October 2015) | beat Michael van Gerwen 5-4 |
| FINAL | Players Championship 9 (April 2017) | lost to Michael van Gerwen 6-2 |
| SEMI FINAL | Players Championship 16 (May 2019) | lost to Max Hopp 7-6 |
| QUARTER FINAL | Players Championship 16 (May 2019) | beat Chris Dobey 6-3 |
| | | |
| --- | --- | --- |
| WORLD CHAMPIONSHIP | Last 32 | lost to Daryl Gurney 4-3 |
| THE MASTERS | Quarter Final | lost to Adrian Lewis 10-6 |
| UK OPEN QUALIFIER 1 | Last 64 | lost to Paul Rowley 6-3 |
| UK OPEN QUALIFIER 2 | Last 128 | lost to Ryan Murray 6-0 |
| UK OPEN QUALIFIER 3 | Last 128 | lost to Keegan Brown 6-3 |
| UK OPEN QUALIFIER 4 | Last 64 | lost to Jeffrey de Graaf 6-3 |
| UK OPEN QUALIFIER 5 | Last 16 | lost to Rob Cross 6-1 |
| UK OPEN QUALIFIER 6 | Last 32 | lost to Benito van de Pas 6-2 |
| PLAYERS CHAMPIONSHIP 1 | Last 64 | lost to Mike De Decker 6-5 |
| PLAYERS CHAMPIONSHIP 2 | Last 128 | lost to Paul Rowley 6-4 |
| UK OPEN | Last 64 | lost to Joe Cullen 10-2 |
| PLAYERS CHAMPIONSHIP 3 | Last 64 | lost to Richie Burnett 6-3 |
| PLAYERS CHAMPIONSHIP 4 | Last 128 | lost to Steve Lennon 6-5 |
| GERMAN DARTS CHAMPIONSHIP | - | - |
| PLAYERS CHAMPIONSHIP 5 | Last 64 | lost to Mark Webster 6-1 |
| PLAYERS CHAMPIONSHIP 6 | Last 64 | lost to Ron Meulenkamp 6-5 |
| PLAYERS CHAMPIONSHIP 7 | Last 32 | lost to Jermaine Wattimena 6-5 |
| PLAYERS CHAMPIONSHIP 8 | Last 16 | lost to Gerwyn Price 6-1 |
| GERMAN DARTS MASTERS (ET) | Last 32 | lost to James Wade 6-3 |
| GERMAN DARTS OPEN | Last 48 | lost to Nathan Aspinall 6-3 |
| PLAYERS CHAMPIONSHIP 9 | Runner Up | lost to Michael van Gerwen 6-2 |
| PLAYERS CHAMPIONSHIP 10 | Last 32 | lost to Simon Preston 6-5 |
| EUROPEAN DARTS GRAND PRIX | - |   |
| GIBRALTAR DARTS TROPHY | - |   |
| PREMIER LEAGUE | - |   |
| PLAYERS CHAMPIONSHIP 11 | Last 128 | lost to Richie Corner 6-2 |
| PLAYERS CHAMPIONSHIP 12 | Last 32 | lost to Daryl Gurney 6-3 |
| DUBAI DARTS MASTERS | - |   |
| WORLD CUP OF DARTS | - |   |
| EUROPEAN DARTS MATCHPLAY | - |   |
| PLAYERS CHAMPIONSHIP 13 | Quarter Final | lost to Rob Cross 6-1 |
| PLAYERS CHAMPIONSHIP 14 | Semi Final | lost to Ian White 6-3 |
| AUSTRIAN DARTS OPEN | - |   |
| EUROPEAN DARTS OPEN | - |   |
| SHANGHAI DARTS MASTERS | - |   |
| PLAYERS CHAMPIONSHIP 15 | Last 16 | lost to Daryl Gurney 6-3 |
| PLAYERS CHAMPIONSHIP 16 | Last 16 | lost to Zoran Lerchbacher 6-5 |
| U.S. DARTS MASTERS | - |   |
| WORLD MATCHPLAY | Last 32 | lost to Cristo Reyes 10-3 |
| PLAYERS CHAMPIONSHIP 17 | Last 64 | lost to Chris Quantock 6-3 |
| PLAYERS CHAMPIONSHIP 18 | Last 128 | lost to Andrew Gilding 6-3 |
| AUCKLAND DARTS MASTERS | - |   |
| MELBOURNE DARTS MASTERS | - |   |
| PERTH DARTS MASTERS | - |   |
| DUTCH DARTS MASTERS | - |   |
| GERMAN DARTS GRAND PRIX | - |   |
| CHAMPIONS LEAGUE OF DARTS | - |   |
| INTERNATIONAL DARTS OPEN | - |   |
| PLAYERS CHAMPIONSHIP 19 | Last 16 | lost to Jimmy Hendriks 6-4 |
| PLAYERS CHAMPIONSHIP 20 | Last 16 | lost to James Wilson 6-2 |
| WORLD GRAND PRIX | Quarter Final | lost to Daryl Gurney 3-2 |
| PLAYERS CHAMPIONSHIP 21 | Last 128 | lost to Stuart Kellett 6-5 |
| PLAYERS CHAMPIONSHIP 22 | Last 64 | lost to Jan Dekker 6-5 |
| EUROPEAN DARTS TROPHY | Last 48 | lost to Krzysztof Ratajski 6-4 |
| GERMAN DARTS MASTERS (WS) | - |   |
| EUROPEAN CHAMPIONSHIP | - |   |
| WORLD SERIES OF DARTS FINALS | - |   |
| GRAND SLAM OF DARTS | - |   |
| PLAYERS CHAMPIONSHIP FINALS | Last 32 | lost to Chris Dobey 6-5 |
| | | |
| --- | --- | --- |
| WORLD CHAMPIONSHIP | Last 32 | lost to Mensur Suljovic 4-2 |
| THE MASTERS | - |   |
| UK OPEN QUALIFIER 1 | Last 32 | lost to Michael van Gerwen 6-1 |
| UK OPEN QUALIFIER 2 | Last 32 | lost to James Wade 6-5 |
| UK OPEN QUALIFIER 3 | Last 128 | lost to Corey Cadby 6-2 |
| UK OPEN QUALIFIER 4 | Last 16 | lost to Rob Cross 6-3 |
| UK OPEN QUALIFIER 5 | Last 32 | lost to John Henderson 6-3 |
| UK OPEN QUALIFIER 6 | Last 128 | lost to Peter Jacques 6-2 |
| PLAYERS CHAMPIONSHIP 1 | Last 128 | lost to Mario Robbe 6-2 |
| PLAYERS CHAMPIONSHIP 2 | Last 16 | lost to Gary Anderson 6-3 |
| UK OPEN | Last 64 | lost to David Pallett 10-8 |
| PLAYERS CHAMPIONSHIP 3 | Last 128 | lost to Luke Woodhouse 6-5 |
| PLAYERS CHAMPIONSHIP 4 | Last 64 | lost to Nathan Aspinall 6-5 |
| PLAYERS CHAMPIONSHIP 5 | Last 128 | lost to Ronny Huybrechts 6-1 |
| PLAYERS CHAMPIONSHIP 6 | Last 32 | lost to Ryan Joyce 6-1 |
| EUROPEAN DARTS OPEN | - |   |
| GERMAN DARTS GRAND PRIX | - |   |
| PLAYERS CHAMPIONSHIP 7 | Last 16 | lost to Jeffrey de Zwaan 6-5 |
| PLAYERS CHAMPIONSHIP 8 | Last 16 | lost to Mickey Mansell 6-0 |
| GERMAN DARTS OPEN | Last 48 | lost to Steve Lennon 6-0 |
| AUSTRIAN DARTS OPEN | - |   |
| PLAYERS CHAMPIONSHIP 9 | Last 64 | lost to Simon Stevenson 6-1 |
| PLAYERS CHAMPIONSHIP 10 | Last 64 | lost to Michael van Gerwen 6-1 |
| EUROPEAN DARTS GRAND PRIX | - |   |
| DUTCH DARTS MASTERS | - |   |
| PREMIER LEAGUE | - |   |
| PLAYERS CHAMPIONSHIP 11 | - |   |
| PLAYERS CHAMPIONSHIP 12 | - |   |
| GERMAN DARTS MASTERS | - |   |
| WORLD CUP OF DARTS | - |   |
| GIBRALTAR DARTS TROPHY | Last 48 | lost to Cristo Reyes 6-5 |
| PLAYERS CHAMPIONSHIP 13 | Last 64 | lost to Ian White 6-4 |
| PLAYERS CHAMPIONSHIP 14 | Last 128 | lost to Tony Newell 6-5 |
| DANISH DARTS OPEN | Last 48 | lost to Scott Taylor 6-5 |
| PLAYERS CHAMPIONSHIP 15 | Last 64 | lost to James Wade 6-2 |
| PLAYERS CHAMPIONSHIP 16 | Last 64 | lost to James Wade 6-2 |
| EUROPEAN DARTS MATCHPLAY | Last 16 | lost to Michael van Gerwen 6-1 |
| U.S. DARTS MASTERS | - |   |
| SHANGHAI DARTS MASTERS | - |   |
| WORLD MATCHPLAY | - |   |
| AUCKLAND DARTS MASTERS | - |   |
| MELBOURNE DARTS MASTERS | - |   |
| BRISBANE DARTS MASTERS | - |   |
| GERMAN DARTS CHAMPIONSHIP | Last 16 | lost to James Wilson 6-3 |
| PLAYERS CHAMPIONSHIP 17 | Last 128 | lost to Mervyn King 6-4 |
| PLAYERS CHAMPIONSHIP 18 | Last 32 | lost to Steve Lennon 6-1 |
| DUTCH DARTS CHAMPIONSHIP | Last 48 | lost to Arron Monk 6-3 |
| INTERNATIONAL DARTS OPEN | Last 48 | lost to Danny Noppert 6-0 |
| CHAMPIONS LEAGUE OF DARTS | - |   |
| PLAYERS CHAMPIONSHIP 19 | Last 128 | lost to Mark Webster 6-5 |
| PLAYERS CHAMPIONSHIP 20 | Quarter Final | lost to Keegan Brown 6-5 |
| WORLD GRAND PRIX | - |   |
| EUROPEAN DARTS TROPHY | - |   |
| PLAYERS CHAMPIONSHIP 21 | Last 128 | lost to Ross Smith 6-4 |
| PLAYERS CHAMPIONSHIP 22 | Last 64 | lost to Adrian Lewis 6-5 |
| EUROPEAN CHAMPIONSHIP | - |   |
| WORLD SERIES OF DARTS FINALS | - |   |
| GRAND SLAM OF DARTS | - |   |
| PLAYERS CHAMPIONSHIP FINALS | Last 64 | lost to Daryl Gurney 6-3 |
| | | |
| --- | --- | --- |
| WORLD CHAMPIONSHIP | Last 96 | lost to Daniel Larsson 3-1 |
| THE MASTERS | - |   |
| PLAYERS CHAMPIONSHIP 1 | Last 128 | lost to Michael Smith 6-2 |
| PLAYERS CHAMPIONSHIP 2 | Last 16 | lost to Glen Durrant 6-4 |
| PLAYERS CHAMPIONSHIP 3 | Last 64 | lost to Martin Schindler 6-5 |
| PLAYERS CHAMPIONSHIP 4 | Last 32 | lost to Mensur Suljovic 6-2 |
| PLAYERS CHAMPIONSHIP 5 | Last 64 | lost to Mensur Suljovic 6-4 |
| PLAYERS CHAMPIONSHIP 6 | Last 128 | lost to Adam Hunt 6-3 |
| UK OPEN | Last 96 | lost to Arron Monk 6-5 |
| PLAYERS CHAMPIONSHIP 7 | Last 128 | lost to James Wade 6-3 |
| PLAYERS CHAMPIONSHIP 8 | Last 128 | lost to Rowby-John Rodriguez 6-2 |
| EUROPEAN DARTS OPEN | - |   |
| GERMAN DARTS CHAMPIONSHIP | Last 48 | lost to Ricky Evans 6-4 |
| PLAYERS CHAMPIONSHIP 9 | Last 128 | lost to Devon Petersen 6-3 |
| PLAYERS CHAMPIONSHIP 10 | Last 64 | lost to Matthew Edgar 6-4 |
| PLAYERS CHAMPIONSHIP 11 | Last 128 | lost to Steve Beaton 6-5 |
| PLAYERS CHAMPIONSHIP 12 | Last 128 | lost to Rowby-John Rodriguez 6-3 |
| GERMAN DARTS GRAND PRIX | - |   |
| GERMAN DARTS OPEN | - |   |
| PLAYERS CHAMPIONSHIP 13 | Last 32 | lost to Justin Pipe 6-1 |
| PLAYERS CHAMPIONSHIP 14 | Last 128 | lost to Justin Pipe 6-2 |
| AUSTRIAN DARTS OPEN | - |   |
| EUROPEAN DARTS GRAND PRIX | - |   |
| PLAYERS CHAMPIONSHIP 15 | Last 128 | lost to Bradley Brooks 6-4 |
| PLAYERS CHAMPIONSHIP 16 | Semi Final | lost to Max Hopp 7-6 |
| PREMIER LEAGUE | - |   |
| DUTCH DARTS MASTERS | - |   |
| WORLD CUP OF DARTS | - |   |
| DANISH DARTS OPEN | - |   |
| PLAYERS CHAMPIONSHIP 17 | Last 128 | lost to Ricky Evans 6-2 |
| PLAYERS CHAMPIONSHIP 18 | Last 64 | lost to Steve Beaton 6-3 |
| CZECH DARTS OPEN | Last 48 | lost to Stephen Bunting 6-3 |
| U.S. DARTS MASTERS | - |   |
| GERMAN DARTS MASTERS | - |   |
| PLAYERS CHAMPIONSHIP 19 | Last 128 | lost to Mark Wilson 6-1 |
| PLAYERS CHAMPIONSHIP 20 | Last 64 | lost to John Henderson 6-0 |
| WORLD MATCHPLAY | - |   |
| PLAYERS CHAMPIONSHIP 21 | Last 128 | lost to Nathan Aspinall 6-2 |
| PLAYERS CHAMPIONSHIP 22 | Last 128 | lost to Stephen Bunting 6-0 |
| BRISBANE DARTS MASTERS | - |   |
| MELBOURNE DARTS MASTERS | - |   |
| NEW ZEALAND DARTS MASTERS | - |   |
| AUSTRIAN DARTS CHAMPIONSHIP | - |   |
| EUROPEAN DARTS MATCHPLAY | Last 48 | lost to Kim Huybrechts 6-5 |
| PLAYERS CHAMPIONSHIP 23 | Last 128 | lost to Cody Harris 6-5 |
| PLAYERS CHAMPIONSHIP 24 | Last 128 | lost to Keegan Brown 6-5 |
| INTERNATIONAL DARTS OPEN | - |   |
| PLAYERS CHAMPIONSHIP 25 | Last 32 | lost to Keegan Brown 6-5 |
| PLAYERS CHAMPIONSHIP 26 | Last 128 | lost to Dimitri Van den Bergh 6-1 |
| GIBRALTAR DARTS TROPHY | Last 48 | lost to David Francis 6-4 |
| PLAYERS CHAMPIONSHIP 27 | Last 64 | lost to Krzysztof Ratajski 6-2 |
| PLAYERS CHAMPIONSHIP 28 | Last 64 | lost to Luke Humphries 6-3 |
| WORLD GRAND PRIX | - |   |
| PLAYERS CHAMPIONSHIP 29 | Last 128 | lost to Alan Norris 6-3 |
| PLAYERS CHAMPIONSHIP 30 | Last 128 | lost to Madars Razma 6-5 |
| CHAMPIONS LEAGUE OF DARTS | - |   |
| EUROPEAN CHAMPIONSHIP | - |   |
| WORLD SERIES OF DARTS FINALS | - |   |
| GRAND SLAM OF DARTS | Last 16 | lost to Gary Anderson 10-8 |
| PLAYERS CHAMPIONSHIP FINALS | - |   |
| | | |
| --- | --- | --- |
| WORLD CHAMPIONSHIP | - |   |
| THE MASTERS | - |   |
| PLAYERS CHAMPIONSHIP 1 | Last 64 | lost to Michael Smith 6-0 |
| PLAYERS CHAMPIONSHIP 2 | Last 128 | lost to Jamie Hughes 6-2 |
| PLAYERS CHAMPIONSHIP 3 | Last 128 | lost to Simon Whitlock 6-3 |
| PLAYERS CHAMPIONSHIP 4 | Last 64 | lost to Nathan Aspinall 6-2 |
| PLAYERS CHAMPIONSHIP 5 | - |   |
| PLAYERS CHAMPIONSHIP 6 | Last 128 | lost to Jose de Sousa 6-4 |
| BELGIAN DARTS CHAMPIONSHIP | - |   |
| UK OPEN | Last 96 | lost to Kim Huybrechts 6-1 |
| PLAYERS CHAMPIONSHIP 7 | Last 64 | lost to Glen Durrant 6-5 |
| PLAYERS CHAMPIONSHIP 8 | Last 128 | lost to Connor Scutt 6-2 |
| PLAYERS CHAMPIONSHIP 9 (SS1) | Last 128 | lost to Jeffrey de Zwaan 6-5 |
| PLAYERS CHAMPIONSHIP 10 (SS2) | Last 128 | lost to Maik Kuivenhoven 6-1 |
| PLAYERS CHAMPIONSHIP 11 (SS3) | Last 128 | lost to Scott Mitchell 6-2 |
| PLAYERS CHAMPIONSHIP 12 (SS4) | Last 16 | lost to Daryl Gurney 6-4 |
| PLAYERS CHAMPIONSHIP 13 (SS5) | Last 32 | lost to Nathan Aspinall 6-4 |
| WORLD MATCHPLAY | - |   |
| PLAYERS CHAMPIONSHIP 14 (AS1) | Last 64 | lost to Danny Noppert 6-3 |
| PLAYERS CHAMPIONSHIP 15 (AS2) | Last 32 | lost to Peter Wright 6-5 |
| PLAYERS CHAMPIONSHIP 16 (AS3) | Last 128 | lost to Jose de Sousa 6-1 |
| PLAYERS CHAMPIONSHIP 17 (AS4) | Last 128 | lost to Devon Petersen 6-2 |
| PLAYERS CHAMPIONSHIP 18 (AS5) | Last 128 | lost to Danny Noppert 6-4 |
| WORLD SERIES OF DARTS FINALS | - |   |
| GERMAN DARTS CHAMPIONSHIP | - |   |
| WORLD GRAND PRIX | - |   |
| PREMIER LEAGUE | - |   |
| EUROPEAN DARTS GRAND PRIX | - |   |
| INTERNATIONAL DARTS OPEN | - |   |
| EUROPEAN CHAMPIONSHIP | - |   |
| WORLD CUP OF DARTS | Last 16 (John Henderson) | lost to Wales 2-0 |
| PLAYERS CHAMPIONSHIP 19 (WS1) | Last 128 | lost to Danny Noppert 6-4 |
| PLAYERS CHAMPIONSHIP 20 (WS2) | Last 64 | lost to Danny Noppert 6-3 |
| PLAYERS CHAMPIONSHIP 21 (WS3) | Last 64 | lost to Ian White 6-1 |
| PLAYERS CHAMPIONSHIP 22 (WS4) | Last 64 | lost to Peter Wright 6-1 |
| PLAYERS CHAMPIONSHIP 23 (WS5) | Last 128 | lost to Kim Huybrechts 6-2 |
| GRAND SLAM OF DARTS | - |   |
| PLAYERS CHAMPIONSHIP FINALS | - |   |