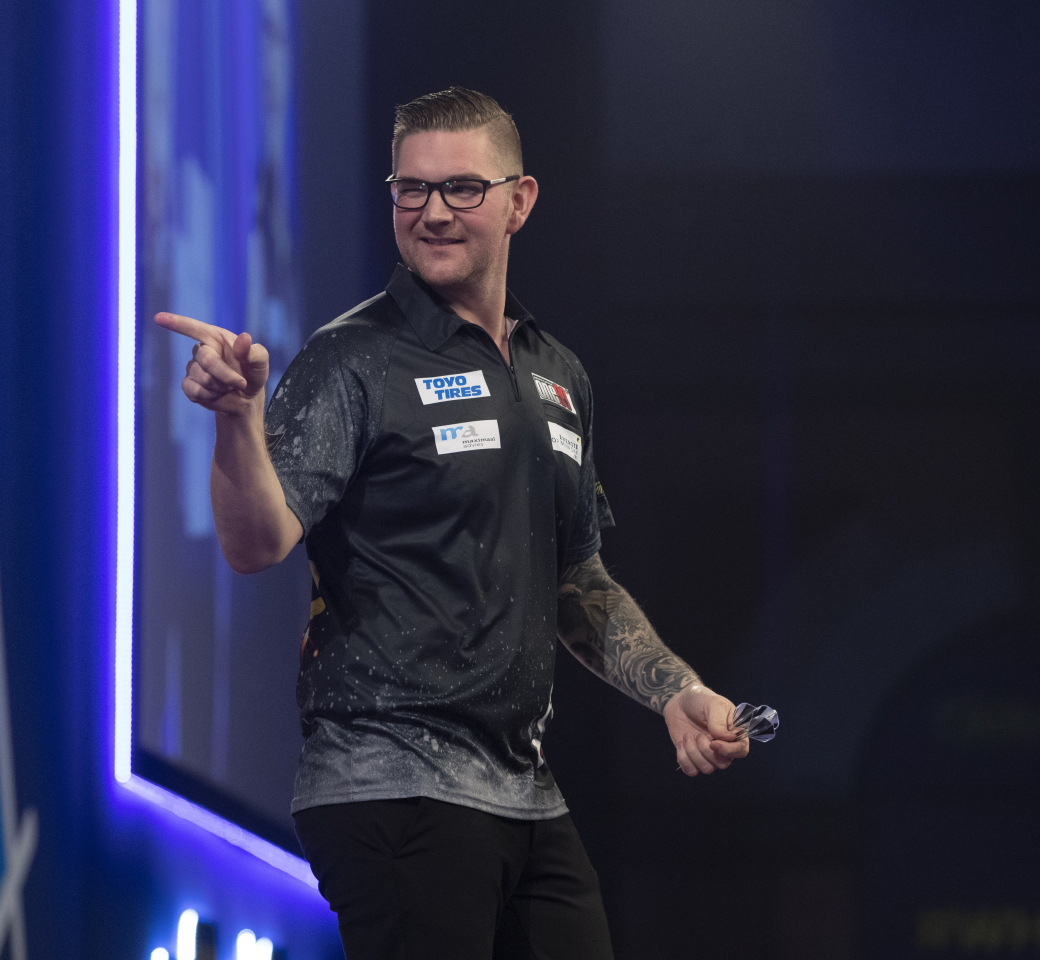 Ron Meulenkamp
The Bomb
PDC World Ranking

52

Televised titles

0

Non-Televised PDC Titles

0

Televised Nine-Dart Finishes

0
RON played in his first PDC World Championship in 2015, having finished as the second-highest non-qualified European player on the Pro Tour Order of Merit, but lost to Mark Webster on his Alexandra Palace debut.
The Dutch ace won a two-year tour card at 2016 Q School, before a pair of last 16 finishes in Players Championship events saw him qualify for the Finals.
He beat Stephen Bunting in the first round, before claiming the biggest win of his career as he knocked out Gary Anderson in a last leg decider, before losing to Peter Wright in the third round.
Meulenkamp earned the final European Order of Merit spot to play in the 2017 World Championship, where he was defeated by Mensur Suljovic.
Ron once again featured at the 2017 Players Championship, beating Kyle Anderson before going down to Justin Pipe.
Player Stats
Select below to see result & roll of honour information.
| | | |
| --- | --- | --- |
|   | Most Recent | Best Performance |
| 2022 WORLD CHAMPIONSHIP | Last 64 | Last 64 - 2015, 2017, 2019, 2020, 2021, 2022 |
| 2021 UK OPEN | Last 32 | Last 32 - 2017, 2018, 2021 |
| 2021 WORLD MATCHPLAY | - | - |
| 2021 WORLD GRAND PRIX | - | Last 16 - 2018 |
| 2021 EUROPEAN CHAMPIONSHIP | - | - |
| 2021 GRAND SLAM OF DARTS | - | - |
| 2021 PLAYERS CHAMPIONSHIP FINALS | Last 64 | Last 16 - 2016 |
| | | |
| --- | --- | --- |
|   | Most Recent | Best Performance |
| 2021 THE MASTERS | - | - |
| 2021 PREMIER LEAGUE | - | - |
| 2021 WORLD CUP OF DARTS  | - | - |
| 2021 NORDIC DARTS MASTERS | - |   |
| 2021 WORLD SERIES OF DARTS FINALS | - | - |
| | | |
| --- | --- | --- |
| TOURNAMENT WIN | - |   |
| FINAL | - |   |
| SEMI FINAL | Players Championship 29 (October 2019) | lost to Ian White 7-5 |
| QUARTER FINAL | Players Championship 29 (October 2019) | beat Dave Chisnall 6-3 |
| | | |
| --- | --- | --- |
| WORLD CHAMPIONSHIP | Last 64 | lost to Michael Smith 3-0 |
| | | |
| --- | --- | --- |
| WORLD CHAMPIONSHIP | Last 64 | lost to Vincent van der Voort 3-2 |
| THE MASTERS | - |   |
| PLAYERS CHAMPIONSHIP 1 | Last 128 | lost to Nick Kenny 6-5 |
| PLAYERS CHAMPIONSHIP 2 | Last 128 | lost to Mike De Decker 6-5 |
| PLAYERS CHAMPIONSHIP 3 | Last 32 | lost to Glen Durrant 6-1 |
| PLAYERS CHAMPIONSHIP 4 | Last 64 | lost to Rowby-John Rodriguez 6-5 |
| UK OPEN | Last 32 | lost to Alan Soutar 10-7 |
| PLAYERS CHAMPIONSHIP 5 | Last 128 | lost to Krzysztof Ratajski 6-5 |
| PLAYERS CHAMPIONSHIP 6 | Last 64 | lost to Brendan Dolan 6-5 |
| PLAYERS CHAMPIONSHIP 7 | Last 64 | lost to Michael Smith 6-3 |
| PLAYERS CHAMPIONSHIP 8 | Last 128 | lost to Devon Petersen 6-2 |
| PLAYERS CHAMPIONSHIP 9 | Last 32 | lost to Jason Lowe 6-3 |
| PLAYERS CHAMPIONSHIP 10 | Last 64 | lost to Stephen Bunting 6-0 |
| PLAYERS CHAMPIONSHIP 11 | Last 32 | lost to Mensur Suljovic 6-2 |
| PLAYERS CHAMPIONSHIP 12 | Last 16 | lost to Daryl Gurney 6-5 |
| PREMIER LEAGUE | - |   |
| PLAYERS CHAMPIONSHIP 13 | Last 128 | lost to Justin Pipe 6-3 |
| PLAYERS CHAMPIONSHIP 14 | Last 64 | lost to Damon Heta 6-4 |
| PLAYERS CHAMPIONSHIP 15 | Last 32 | lost to Jeff Smith 6-1 |
| PLAYERS CHAMPIONSHIP 16 | Last 32 | lost to Gerwyn Price 6-3 |
| PLAYERS CHAMPIONSHIP 17 | Last 64 | lost to Steve Brown 6-3 |
| PLAYERS CHAMPIONSHIP 18 | Last 16 | lost to Scott Mitchell 6-5 |
| PLAYERS CHAMPIONSHIP 19 | Last 16 | lost to Ross Smith 6-4 |
| PLAYERS CHAMPIONSHIP 20 | Last 128 | lost to Scott Waites 6-2 |
| WORLD MATCHPLAY | - |   |
| PLAYERS CHAMPIONSHIP 21 | Last 64 | lost to Ryan Joyce 6-3 |
| PLAYERS CHAMPIONSHIP 22 | Last 128 | lost to Rusty-Jake Rodriguez 6-5 |
| PLAYERS CHAMPIONSHIP 23 | Last 128 | lost to Michael Rasztovits 6-5 |
| HUNGARIAN DARTS TROPHY | - |   |
| WORLD CUP OF DARTS | - |   |
| NORDIC DARTS MASTERS | - |   |
| GIBRALTAR DARTS TROPHY | - |   |
| WORLD GRAND PRIX | - |   |
| EUROPEAN CHAMPIONSHIP | - |   |
| PLAYERS CHAMPIONSHIP 24 | Last 64 | lost to Dirk van Duijvenbode 6-4 |
| PLAYERS CHAMPIONSHIP 25 | Last 128 | lost to Ryan Searle 6-4 |
| PLAYERS CHAMPIONSHIP 26 | Last 64 | lost to Dave Chisnall 6-0 |
| PLAYERS CHAMPIONSHIP 27 | Last 64 | lost to Mensur Suljovic 6-5 |
| WORLD SERIES OF DARTS FINALS | - |   |
| PLAYERS CHAMPIONSHIP 28 | Last 128 | lost to Steve Brown 6-3 |
| PLAYERS CHAMPIONSHIP 29 | Last 64 | lost to Jelle Klaasen 6-5 |
| PLAYERS CHAMPIONSHIP 30 | Last 128 | lost to Martin Atkins 6-5 |
| GRAND SLAM OF DARTS | - |   |
| PLAYERS CHAMPIONSHIP FINALS | Last 64 | lost to Krzysztof Ratajski 6-1 |
| | | |
| --- | --- | --- |
| WORLD CHAMPIONSHIP | Last 64 | lost to Chris Dobey 3-2 |
| THE MASTERS | - |   |
| PLAYERS CHAMPIONSHIP 1 | Last 64 | lost to Jamie Hughes 6-4 |
| PLAYERS CHAMPIONSHIP 2 | Last 128 | lost to Maik Kuivenhoven 6-3 |
| PLAYERS CHAMPIONSHIP 3 | Last 128 | lost to Boris Krcmar 6-3 |
| PLAYERS CHAMPIONSHIP 4 | Last 128 | lost to Stephen Bunting 6-5 |
| PLAYERS CHAMPIONSHIP 5 | Last 128 | lost to Ian White 6-2 |
| PLAYERS CHAMPIONSHIP 6 | Last 64 | lost to Ian White 6-4 |
| BELGIAN DARTS CHAMPIONSHIP | Last 48 | lost to Mike De Decker 6-5 |
| UK OPEN | Last 96 | lost to Richard North 6-4 |
| PLAYERS CHAMPIONSHIP 7 | Last 128 | lost to Ted Evetts 6-2 |
| PLAYERS CHAMPIONSHIP 8 | Last 128 | lost to Jan Dekker 6-5 |
| PLAYERS CHAMPIONSHIP 9 (SS1) | Last 128 | lost to Peter Wright 6-5 |
| PLAYERS CHAMPIONSHIP 10 (SS2) | Last 128 | lost to Ryan Murray 6-3 |
| PLAYERS CHAMPIONSHIP 11 (SS3) | Last 64 | lost to Ryan Searle 6-3 |
| PLAYERS CHAMPIONSHIP 12 (SS4) | Last 128 | lost to Kai-Fan Leung 6-3 |
| PLAYERS CHAMPIONSHIP 13 (SS5) | Last 64 | lost to Nathan Aspinall 6-0 |
| WORLD MATCHPLAY | - |   |
| PLAYERS CHAMPIONSHIP 14 (AS1) | Last 64 | lost to Lisa Ashton 6-3 |
| PLAYERS CHAMPIONSHIP 15 (AS2) | Last 32 | lost to Ian White 6-3 |
| PLAYERS CHAMPIONSHIP 16 (AS3) | Last 64 | lost to Gerwyn Price 6-1 |
| PLAYERS CHAMPIONSHIP 17 (AS4) | Last 128 | lost to Marko Kantele 6-5 |
| PLAYERS CHAMPIONSHIP 18 (AS5) | Last 128 | lost to Justin Hood 6-1 |
| WORLD SERIES OF DARTS FINALS | - |   |
| GERMAN DARTS CHAMPIONSHIP | Last 48 | lost to Richard North 6-5 |
| WORLD GRAND PRIX | - |   |
| PREMIER LEAGUE | - |   |
| EUROPEAN DARTS GRAND PRIX | - |   |
| INTERNATIONAL DARTS OPEN | Last 32 | lost to Dave Chisnall 6-3 |
| EUROPEAN CHAMPIONSHIP | - |   |
| WORLD CUP OF DARTS | - |   |
| PLAYERS CHAMPIONSHIP 19 (WS1) | Last 16 | lost to Damon Heta 6-1 |
| PLAYERS CHAMPIONSHIP 20 (WS2) | Last 64 | lost to Jeffrey de Zwaan 6-5 |
| PLAYERS CHAMPIONSHIP 21 (WS3) | Last 128 | lost to Peter Wright 6-0 |
| PLAYERS CHAMPIONSHIP 22 (WS4) | Last 64 | lost to Damon Heta 6-0 |
| PLAYERS CHAMPIONSHIP 23 (WS5) | Last 32 | lost to Krzysztof Ratajski 6-5 |
| GRAND SLAM OF DARTS | - |   |
| PLAYERS CHAMPIONSHIP FINALS | - |   |
| | | |
| --- | --- | --- |
| WORLD CHAMPIONSHIP | Last 64 | lost to Michael Smith 3-1 |
| THE MASTERS | - |   |
| PLAYERS CHAMPIONSHIP 1 | Last 128 | lost to Peter Wright 6-4 |
| PLAYERS CHAMPIONSHIP 2 | Last 32 | lost to Steve West 6-5 |
| PLAYERS CHAMPIONSHIP 3 | Last 16 | lost to Steve West 6-1 |
| PLAYERS CHAMPIONSHIP 4 | Last 128 | lost to Mensur Suljovic 6-5 |
| PLAYERS CHAMPIONSHIP 5 | Last 128 | lost to Stephen Burton 6-4 |
| PLAYERS CHAMPIONSHIP 6 | Last 64 | lost to Eddie Dootson 6-5 |
| UK OPEN | Last 96 | lost to Adam Hunt 6-5 |
| PLAYERS CHAMPIONSHIP 7 | Quarter Final | lost to Mark McGeeney 6-5 |
| PLAYERS CHAMPIONSHIP 8 | Last 64 | lost to Jonny Clayton 6-5 |
| EUROPEAN DARTS OPEN | - |   |
| GERMAN DARTS CHAMPIONSHIP | Last 32 | lost to Rob Cross 6-4 |
| PLAYERS CHAMPIONSHIP 9 | Last 128 | lost to Yordi Meeuwisse 6-3 |
| PLAYERS CHAMPIONSHIP 10 | Last 64 | lost to Steve Lennon 6-3 |
| PLAYERS CHAMPIONSHIP 11 | Last 128 | lost to David Pallett 6-1 |
| PLAYERS CHAMPIONSHIP 12 | Last 64 | lost to Joe Murnan 6-4 |
| GERMAN DARTS GRAND PRIX | - |   |
| GERMAN DARTS OPEN | - |   |
| PLAYERS CHAMPIONSHIP 13 | Last 128 | lost to Alan Tabern 6-4 |
| PLAYERS CHAMPIONSHIP 14 | Last 64 | lost to Mensur Suljovic 6-4 |
| AUSTRIAN DARTS OPEN | - |   |
| EUROPEAN DARTS GRAND PRIX | - |   |
| PLAYERS CHAMPIONSHIP 15 | Semi Final | lost to Darius Labanauskas 7-4 |
| PLAYERS CHAMPIONSHIP 16 | Last 128 | lost to Christian Kist 6-4 |
| PREMIER LEAGUE | - |   |
| DUTCH DARTS MASTERS | - |   |
| WORLD CUP OF DARTS | - |   |
| DANISH DARTS OPEN | - |   |
| PLAYERS CHAMPIONSHIP 17 | Semi Final | lost to Nathan Aspinall 7-5 |
| PLAYERS CHAMPIONSHIP 18 | Last 32 | lost to Luke Woodhouse 6-3 |
| CZECH DARTS OPEN | Last 16 | lost to Jamie Hughes 6-3 |
| U.S. DARTS MASTERS | - |   |
| GERMAN DARTS MASTERS | - |   |
| PLAYERS CHAMPIONSHIP 19 | Semi Final | lost to Justin Pipe 7-4 |
| PLAYERS CHAMPIONSHIP 20 | Last 128 | lost to Darius Labanauskas 6-3 |
| WORLD MATCHPLAY | - |   |
| PLAYERS CHAMPIONSHIP 21 | Quarter Final | lost to Dimitri Van den Bergh 6-5 |
| PLAYERS CHAMPIONSHIP 22 | Last 128 | lost to Ryan Harrington 6-4 |
| BRISBANE DARTS MASTERS | - |   |
| MELBOURNE DARTS MASTERS | - |   |
| NEW ZEALAND DARTS MASTERS | - |   |
| AUSTRIAN DARTS CHAMPIONSHIP | - |   |
| EUROPEAN DARTS MATCHPLAY | - |   |
| PLAYERS CHAMPIONSHIP 23 | Last 32 | lost to Martin Schindler 6-3 |
| PLAYERS CHAMPIONSHIP 24 | Last 16 | lost to John Henderson 6-5 |
| INTERNATIONAL DARTS OPEN | - |   |
| PLAYERS CHAMPIONSHIP 25 | Last 32 | lost to Jeffrey de Zwaan 6-3 |
| PLAYERS CHAMPIONSHIP 26 | Last 16 | lost to Cristo Reyes 6-3 |
| GIBRALTAR DARTS TROPHY | - |   |
| PLAYERS CHAMPIONSHIP 27 | Last 64 | lost to Simon Whitlock 6-5 |
| PLAYERS CHAMPIONSHIP 28 | Last 128 | lost to Andy Boulton 6-3 |
| WORLD GRAND PRIX | - |   |
| PLAYERS CHAMPIONSHIP 29 | Semi Final | lost to Ian White 7-5 |
| PLAYERS CHAMPIONSHIP 30 | Last 128 | lost to Geert Nentjes 6-4 |
| CHAMPIONS LEAGUE OF DARTS | - |   |
| EUROPEAN CHAMPIONSHIP | - |   |
| WORLD SERIES OF DARTS FINALS | - |   |
| GRAND SLAM OF DARTS | - |   |
| PLAYERS CHAMPIONSHIP FINALS | Last 64 | lost to Rob Cross 6-2 |
| | | |
| --- | --- | --- |
| WORLD CHAMPIONSHIP | - |   |
| THE MASTERS | - |   |
| UK OPEN QUALIFIER 1 | Last 256 | lost to Dafydd Edwards 6-2 |
| UK OPEN QUALIFIER 2 | Last 32 | lost to Ricky Evans 6-5 |
| UK OPEN QUALIFIER 3 | Last 32 | lost to Jamie Hughes 6-3 |
| UK OPEN QUALIFIER 4 | Last 256 | lost to Andrew Gilding 6-5 |
| UK OPEN QUALIFIER 5 | Preliminary Round | lost to Dawson Murschell 6-5 |
| UK OPEN QUALIFIER 6 | Last 256 | lost to Kevin Garcia 6-4 |
| PLAYERS CHAMPIONSHIP 1 | Quarter Final | lost to Ryan Joyce 6-4 |
| PLAYERS CHAMPIONSHIP 2 | Last 128 | lost to Jimmy Hendriks 6-4 |
| UK OPEN | Last 32 | lost to John Part 10-9 |
| PLAYERS CHAMPIONSHIP 3 | Last 32 | lost to Steve Hine 6-4 |
| PLAYERS CHAMPIONSHIP 4 | Last 128 | lost to Zoran Lerchbacher 6-3 |
| PLAYERS CHAMPIONSHIP 5 | Last 32 | lost to Ryan Searle 6-5 |
| PLAYERS CHAMPIONSHIP 6 | Last 64 | lost to James Wilson 6-3 |
| EUROPEAN DARTS OPEN | Quarter Final | lost to Richard North 6-2 |
| GERMAN DARTS GRAND PRIX | - |   |
| PLAYERS CHAMPIONSHIP 7 | Last 32 | lost to Dave Chisnall 6-3 |
| PLAYERS CHAMPIONSHIP 8 | Last 128 | lost to Stephen Bunting 6-0 |
| GERMAN DARTS OPEN | - |   |
| AUSTRIAN DARTS OPEN | Last 32 | lost to Daryl Gurney 6-3 |
| PLAYERS CHAMPIONSHIP 9 | Last 32 | lost to Simon Whitlock 6-0 |
| PLAYERS CHAMPIONSHIP 10 | Last 128 | lost to Jonny Clayton 6-4 |
| EUROPEAN DARTS GRAND PRIX | - |   |
| DUTCH DARTS MASTERS | - |   |
| PREMIER LEAGUE | - |   |
| PLAYERS CHAMPIONSHIP 11 | Last 128 | lost to Justin Pipe 6-4 |
| PLAYERS CHAMPIONSHIP 12 | Last 64 | lost to Jeffrey de Graaf 6-2 |
| GERMAN DARTS MASTERS | - |   |
| WORLD CUP OF DARTS | - |   |
| GIBRALTAR DARTS TROPHY | - |   |
| PLAYERS CHAMPIONSHIP 13 | Last 32 | lost to Rob Cross 6-5 |
| PLAYERS CHAMPIONSHIP 14 | Last 128 | lost to Mervyn King 6-5 |
| DANISH DARTS OPEN | - |   |
| PLAYERS CHAMPIONSHIP 15 | Last 128 | lost to Jimmy Hendriks 6-5 |
| PLAYERS CHAMPIONSHIP 16 | Last 128 | lost to Justin Pipe 6-2 |
| EUROPEAN DARTS MATCHPLAY | - |   |
| U.S. DARTS MASTERS | - |   |
| SHANGHAI DARTS MASTERS | - |   |
| WORLD MATCHPLAY | - |   |
| AUCKLAND DARTS MASTERS | - |   |
| MELBOURNE DARTS MASTERS | - |   |
| BRISBANE DARTS MASTERS | - |   |
| GERMAN DARTS CHAMPIONSHIP | Quarter Final | lost to James Wilson 6-2 |
| PLAYERS CHAMPIONSHIP 17 | Last 128 | lost to Andrew Gilding 6-3 |
| PLAYERS CHAMPIONSHIP 18 | Semi Final | lost to Ryan Searle 6-5 |
| DUTCH DARTS CHAMPIONSHIP | - |   |
| INTERNATIONAL DARTS OPEN | Last 48 | lost to Martin Schindler 6-3 |
| CHAMPIONS LEAGUE OF DARTS | - |   |
| PLAYERS CHAMPIONSHIP 19 | Last 32 | lost to Ross Smith 6-5 |
| PLAYERS CHAMPIONSHIP 20 | Last 16 | lost to Ian White 6-0 |
| WORLD GRAND PRIX | Last 16 | lost to Daryl Gurney 3-2 |
| EUROPEAN DARTS TROPHY | - |   |
| PLAYERS CHAMPIONSHIP 21 | Last 128 | lost to Stephen Bunting 6-4 |
| PLAYERS CHAMPIONSHIP 22 | Last 128 | lost to Stephen Bunting 6-3 |
| EUROPEAN CHAMPIONSHIP | - |   |
| WORLD SERIES OF DARTS FINALS | - |   |
| GRAND SLAM OF DARTS | - |   |
| PLAYERS CHAMPIONSHIP FINALS | Last 64 | lost to Chris Dobey 6-3 |
| | | |
| --- | --- | --- |
| WORLD CHAMPIONSHIP | Last 64 | lost to Menur Suljovic 3-0 |
| THE MASTERS | - |   |
| UK OPEN QUALIFIER 1 | Last 256 | lost to Ricky Evans 6-3 |
| UK OPEN QUALIFIER 2 | Last 32 | lost to Jamie Lewis 6-3 |
| UK OPEN QUALIFIER 3 | Last 64 | lost to Raymond van Barneveld 6-2 |
| UK OPEN QUALIFIER 4 | Last 256 | lost to Andy Jenkins 6-5 |
| UK OPEN QUALIFIER 5 | Last 128 | lost to Daryl Gurney 6-2 |
| UK OPEN QUALIFIER 6 | Last 128 | lost to Kevin Painter 6-4 |
| PLAYERS CHAMPIONSHIP 1 | Last 128 | lost to Aden Kirk 6-4 |
| PLAYERS CHAMPIONSHIP 2 | Last 128 | lost to Steve Beaton 6-4 |
| UK OPEN | Last 32 | lost to Raymond van Barneveld 10-3 |
| PLAYERS CHAMPIONSHIP 3 | Last 128 | lost to Warrick Scheffer 6-4 |
| PLAYERS CHAMPIONSHIP 4 | Last 64 | lost to Cristo Reyes 6-4 |
| GERMAN DARTS CHAMPIONSHIP | - |   |
| PLAYERS CHAMPIONSHIP 5 | Last 128 | lost to James Wilson 6-3 |
| PLAYERS CHAMPIONSHIP 6 | Last 32 | lost to Michael van Gerwen 6-2 |
| PLAYERS CHAMPIONSHIP 7 | Last 64 | lost to Gerwyn Price 6-1 |
| PLAYERS CHAMPIONSHIP 8 | Last 64 | lost to Richie Corner 6-2 |
| GERMAN DARTS MASTERS (ET) | - |   |
| GERMAN DARTS OPEN | - |   |
| PLAYERS CHAMPIONSHIP 9 | Last 64 | lost to Darren Webster 6-0 |
| PLAYERS CHAMPIONSHIP 10 | Last 128 | lost to Ricky Evans 6-3 |
| EUROPEAN DARTS GRAND PRIX | Last 48 | lost to John Henderson 6-5 |
| GIBRALTAR DARTS TROPHY | - |   |
| PREMIER LEAGUE | - |   |
| PLAYERS CHAMPIONSHIP 11 | Last 64 | lost to Andy Boulton 6-2 |
| PLAYERS CHAMPIONSHIP 12 | Last 64 | lost to Michael Smith 6-4 |
| DUBAI DARTS MASTERS | - |   |
| WORLD CUP OF DARTS | - |   |
| EUROPEAN DARTS MATCHPLAY | - |   |
| PLAYERS CHAMPIONSHIP 13 | Last 128 | lost to William O'Connor 6-4 |
| PLAYERS CHAMPIONSHIP 14 | Last 32 | lost to Mensur Suljovic 6-5 |
| AUSTRIAN DARTS OPEN | - |   |
| EUROPEAN DARTS OPEN | - |   |
| SHANGHAI DARTS MASTERS | - |   |
| PLAYERS CHAMPIONSHIP 15 | Last 32 | lost to Darren Webster 6-3 |
| PLAYERS CHAMPIONSHIP 16 | Last 128 | lost to Robert Thornton 6-3 |
| U.S. DARTS MASTERS | - |   |
| WORLD MATCHPLAY | - |   |
| PLAYERS CHAMPIONSHIP 17 | Last 128 | lost to Zoran Lerchbacher 6-5 |
| PLAYERS CHAMPIONSHIP 18 | Last 128 | lost to William O'Connor 6-1 |
| AUCKLAND DARTS MASTERS | - |   |
| MELBOURNE DARTS MASTERS | - |   |
| PERTH DARTS MASTERS | - |   |
| DUTCH DARTS MASTERS | - |   |
| GERMAN DARTS GRAND PRIX | - |   |
| CHAMPIONS LEAGUE OF DARTS | - |   |
| INTERNATIONAL DARTS OPEN | Semi Final | lost to Peter Wright 6-3 |
| PLAYERS CHAMPIONSHIP 19 | Last 32 | lost to Gerwyn Price 6-1 |
| PLAYERS CHAMPIONSHIP 20 | Last 32 | lost to Raymond van Barneveld 6-2 |
| WORLD GRAND PRIX | - |   |
| PLAYERS CHAMPIONSHIP 21 | Last 128 | lost to Rob Cross 6-0 |
| PLAYERS CHAMPIONSHIP 22 | Quarter Final | lost to James Wilson 6-5 |
| EUROPEAN DARTS TROPHY | - |   |
| GERMAN DARTS MASTERS (WS) | - |   |
| EUROPEAN CHAMPIONSHIP | - |   |
| WORLD SERIES OF DARTS FINALS | - |   |
| GRAND SLAM OF DARTS | - |   |
| PLAYERS CHAMPIONSHIP FINALS | Last 32 | lost to Justin Pipe 6-5 |