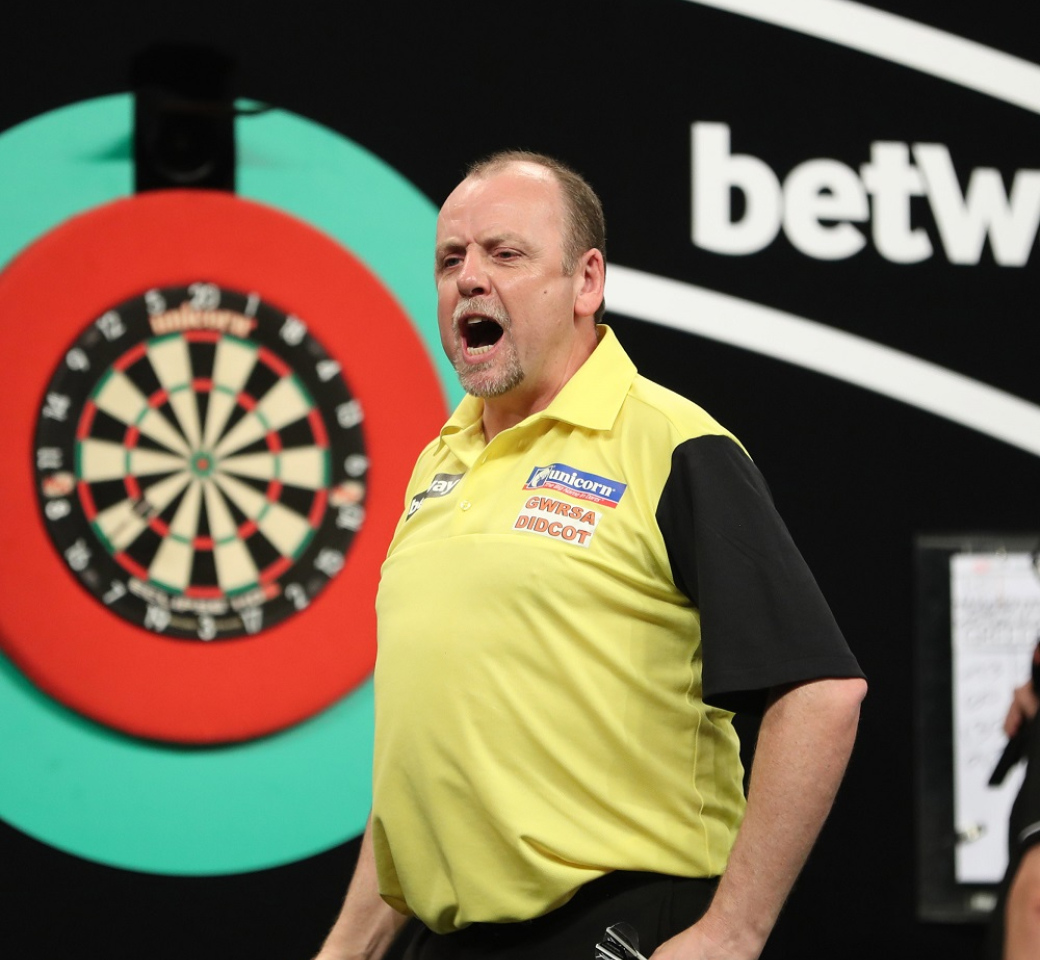 Ronny Huybrechts
PDC World Ranking

122

Televised titles

0

Non-Televised PDC Titles

0

Televised Nine-Dart Finishes

0
Walk-On Music

Rebel Rebel - David Bowie

Date of Birth

July 20 1965

Darts Used

22g

Unicorn

Home Town

Deurne
RONNY followed younger brother Kim onto the PDC circuit when he won a Tour Card at the 2013 Qualifying School, and has since shown his quality at the top level.
The Belgian ace has vast experience in continental tournaments, and made an immediate impact on the PDC circuit alongside Kim when they paired up to represent their country in the 2013 World Cup of Darts and emotionally won through to the final, where they lost out to England.
Huybrechts went on to reach a Players Championship final and make his UK Open debut before being a semi-finalist in the 2013 European Championship, where he knocked out Phil Taylor along the way.
He also competed in the World Matchplay and Grand Slam of Darts before capping a fine debut year on the circuit with his World Championship debut.
2014 featured further appearances in the UK Open, World Cup of Darts, European Championship and Grand Slam of Darts, while he was a semi-finalist in the 2015, 2016 and 2017 World Cups as the brothers continued their successful partnership for Belgium.
Huybrechts also achieved his first nine-dart finish on the circuit during a run to a UK Open Qualifier final in February 2017, his second ranking final inside six months.
Player Stats
Select below to see result & roll of honour information.
| | | |
| --- | --- | --- |
|   | Most Recent | Best Performance |
| 2019 WORLD CHAMPIONSHIP | - | Last 32 - 2015, 2016 |
| 2019 UK OPEN | Last 96 | Last 32 - 2014 |
| 2019 WORLD MATCHPLAY | - | Last 32 - 2013 |
| 2019 WORLD GRAND PRIX | - | Last 32 - 2017 |
| 2019 EUROPEAN CHAMPIONSHIP | - | Semi Final - 2013 |
| 2018 GRAND SLAM OF DARTS | - | Last 16 - 2013 |
| 2018 PLAYERS CHAMPIONSHIP FINALS | - | Last 64 - 2016, 2017 |
| | | |
| --- | --- | --- |
|   | Most Recent | Best Performance |
| 2019 THE MASTERS | - | - |
| 2019 PREMIER LEAGUE | - | - |
| 2019 WORLD CUP OF DARTS  | - | Runner Up - 2013 |
| 2019 U.S. MASTERS | - | - |
| 2019 GERMAN MASTERS | - | - |
| 2019 BRISBANE MASTERS | - | - |
| 2019 MELBOURNE MASTERS | - | - |
| 2019 NEW ZEALAND MASTERS | - | - |
| 2019 CHAMPIONS LEAGUE OF DARTS | - | - |
| 2019 WORLD SERIES OF DARTS FINALS | - | - |
| | | |
| --- | --- | --- |
| TOURNAMENT WIN | - |   |
| FINAL | UK Open Qualifier 5 (February 2017) | lost to Simon Whitlock 6-3 |
| SEMI FINAL | UK Open Qualifier 5 (February 2017) | beat Michael Smith 6-5 |
| QUARTER FINAL | UK Open Qualifier 5 (February 2017) | beat Darren Webster 6-4 |
| | | |
| --- | --- | --- |
| WORLD CHAMPIONSHIP | Last 64 | lost to James Wade 3-0 |
| THE MASTERS | - |   |
| UK OPEN QUALIFIER 1 | Last 128 | lost to Mark Webster 6-2 |
| UK OPEN QUALIFIER 2 | Last 64 | lost to Gerwyn Price 6-1 |
| UK OPEN QUALIFIER 3 | Last 256 | lost to Ross Twell 6-5 |
| UK OPEN QUALIFIER 4 | Last 256 | lost to Kai-Fan Leung 6-0 |
| UK OPEN QUALIFIER 5 | Runner Up | lost to Simon Whitlock 6-3 |
| UK OPEN QUALIFIER 6 | Last 256 | lost to Paul Rowley 6-5 |
| PLAYERS CHAMPIONSHIP 1 | Last 128 | lost to Chris Quantock 6-5 |
| PLAYERS CHAMPIONSHIP 2 | Last 16 | lost to Daryl Gurney 6-4 |
| UK OPEN | Last 64 | lost to Vincent van der Voort 10-4 |
| PLAYERS CHAMPIONSHIP 3 | Last 32 | lost to Martin Schindler 6-5 |
| PLAYERS CHAMPIONSHIP 4 | Last 128 | lost to Colin Roelofs 6-4 |
| GERMAN DARTS CHAMPIONSHIP | - |   |
| PLAYERS CHAMPIONSHIP 5 | Last 64 | lost to Adam Hunt 6-2 |
| PLAYERS CHAMPIONSHIP 6 | Last 64 | lost to Rowby-John Rodriguez 6-4 |
| PLAYERS CHAMPIONSHIP 7 | Last 64 | lost to Andy Hamilton 6-0 |
| PLAYERS CHAMPIONSHIP 8 | Last 64 | lost to Ricky Evans 6-4 |
| GERMAN DARTS MASTERS (ET) | Last 48 | lost to Jonny Clayton 6-5 |
| GERMAN DARTS OPEN | Last 32 | lost to Michael van Gerwen 6-3 |
| PLAYERS CHAMPIONSHIP 9 | Last 128 | lost to Berry van Peer 6-4 |
| PLAYERS CHAMPIONSHIP 10 | Last 64 | lost to Wayne Jones 6-4 |
| EUROPEAN DARTS GRAND PRIX | - |   |
| GIBRALTAR DARTS TROPHY | Last 48 | lost to Christian Kist 6-4 |
| PREMIER LEAGUE | - |   |
| PLAYERS CHAMPIONSHIP 11 | Last 64 | lost to Simon Stevenson 6-3 |
| PLAYERS CHAMPIONSHIP 12 | Last 32 | lost to Ian White 6-1 |
| DUBAI DARTS MASTERS | - |   |
| WORLD CUP OF DARTS | Semi Final (Kim Huybrechts) | lost to Wales 2-0 |
| EUROPEAN DARTS MATCHPLAY | - |   |
| PLAYERS CHAMPIONSHIP 13 | Last 128 | lost to Darren Johnson 6-2 |
| PLAYERS CHAMPIONSHIP 14 | Last 64 | lost to Wayne Jones 6-4 |
| AUSTRIAN DARTS OPEN | Last 32 | lost to Mensur Suljovic 6-1 |
| EUROPEAN DARTS OPEN | - |   |
| SHANGHAI DARTS MASTERS | - |   |
| PLAYERS CHAMPIONSHIP 15 | Last 64 | lost to Rowby-John Rodriguez 6-5 |
| PLAYERS CHAMPIONSHIP 16 | Last 128 | lost to Joe Murnan 6-5 |
| U.S. DARTS MASTERS | - |   |
| WORLD MATCHPLAY | - |   |
| PLAYERS CHAMPIONSHIP 17 | Last 16 | lost to Kyle Anderson 6-3 |
| PLAYERS CHAMPIONSHIP 18 | Last 128 | lost to Ritchie Edhouse 6-2 |
| AUCKLAND DARTS MASTERS | - |   |
| MELBOURNE DARTS MASTERS | - |   |
| PERTH DARTS MASTERS | - |   |
| DUTCH DARTS MASTERS | Last 48 | lost to John Henderson 6-4 |
| GERMAN DARTS GRAND PRIX | Last 16 | lost to Vincent van der Voort 6-0 |
| CHAMPIONS LEAGUE OF DARTS | - |   |
| INTERNATIONAL DARTS OPEN | - |   |
| PLAYERS CHAMPIONSHIP 19 | Last 32 | lost to Mensur Suljovic 6-0 |
| PLAYERS CHAMPIONSHIP 20 | Last 16 | lost to Madars Razma 6-2 |
| WORLD GRAND PRIX | Last 32 | lost to Mervyn King 2-0 |
| PLAYERS CHAMPIONSHIP 21 | Last 128 | lost to Barrie Bates 6-3 |
| PLAYERS CHAMPIONSHIP 22 | Last 128 | lost to Chris Dobey 6-3 |
| EUROPEAN DARTS TROPHY | - |   |
| GERMAN DARTS MASTERS (WS) | - |   |
| EUROPEAN CHAMPIONSHIP | Last 32 | lost to Gerwyn Price 6-5 |
| WORLD SERIES OF DARTS FINALS | - |   |
| GRAND SLAM OF DARTS | - |   |
| PLAYERS CHAMPIONSHIP FINALS | Last 64 | lost to Steve Beaton 6-4 |
| | | |
| --- | --- | --- |
| WORLD CHAMPIONSHIP | Last 64 | lost to Daryl Gurney 3-1 |
| THE MASTERS | - |   |
| UK OPEN QUALIFIER 1 | Last 128 | lost to Steve Beaton 6-2 |
| UK OPEN QUALIFIER 2 | Last 256 | lost to Terry Jenkins 6-3 |
| UK OPEN QUALIFIER 3 | Last 64 | lost to George Killington 6-3 |
| UK OPEN QUALIFIER 4 | Preliminary Round | lost to Jeffrey de Graaf 6-2 |
| UK OPEN QUALIFIER 5 | Last 128 | lost to James Wade 6-5 |
| UK OPEN QUALIFIER 6 | Last 128 | lost to Adrian Lewis 6-3 |
| PLAYERS CHAMPIONSHIP 1 | Last 128 | lost to Jamie Bain 6-4 |
| PLAYERS CHAMPIONSHIP 2 | Last 128 | lost to Richie Burnett 6-1 |
| UK OPEN | - |   |
| PLAYERS CHAMPIONSHIP 3 | Last 128 | lost to Darren Webster 6-2 |
| PLAYERS CHAMPIONSHIP 4 | Last 128 | lost to Rowby-John Rodriguez 6-1 |
| PLAYERS CHAMPIONSHIP 5 | Last 32 | lost to Mensur Suljovic 6-5 |
| PLAYERS CHAMPIONSHIP 6 | Last 128 | lost to Ross Twell 6-5 |
| EUROPEAN DARTS OPEN | - |   |
| GERMAN DARTS GRAND PRIX | - |   |
| PLAYERS CHAMPIONSHIP 7 | Last 128 | lost to Cristo Reyes 6-1 |
| PLAYERS CHAMPIONSHIP 8 | Last 128 | lost to Devon Petersen 6-4 |
| GERMAN DARTS OPEN | Last 48 | lost to Luke Humphries 6-3 |
| AUSTRIAN DARTS OPEN | Last 48 | lost to Steve West 6-3 |
| PLAYERS CHAMPIONSHIP 9 | Last 128 | lost to Peter Wright 6-2 |
| PLAYERS CHAMPIONSHIP 10 | Last 128 | lost to Michael van Gerwen 6-1 |
| EUROPEAN DARTS GRAND PRIX | - |   |
| DUTCH DARTS MASTERS | - |   |
| PREMIER LEAGUE | - |   |
| PLAYERS CHAMPIONSHIP 11 | Last 128 | lost to Peter Jacques 6-4 |
| PLAYERS CHAMPIONSHIP 12 | Last 128 | lost to Steve Lennon 6-5 |
| GERMAN DARTS MASTERS | - |   |
| WORLD CUP OF DARTS | - |   |
| GIBRALTAR DARTS TROPHY | - |   |
| PLAYERS CHAMPIONSHIP 13 | Last 128 | lost to Vincent van der Voort 6-2 |
| PLAYERS CHAMPIONSHIP 14 | Last 128 | lost to Richard North 6-2 |
| DANISH DARTS OPEN | - |   |
| PLAYERS CHAMPIONSHIP 15 | Last 64 | lost to Steve Beaton 6-2 |
| PLAYERS CHAMPIONSHIP 16 | Last 128 | lost to Yordi Meeuwisse 6-2 |
| EUROPEAN DARTS MATCHPLAY | Last 48 | lost to Luke Humphries 6-5 |
| U.S. DARTS MASTERS | - |   |
| SHANGHAI DARTS MASTERS | - |   |
| WORLD MATCHPLAY | - |   |
| AUCKLAND DARTS MASTERS | - |   |
| MELBOURNE DARTS MASTERS | - |   |
| BRISBANE DARTS MASTERS | - |   |
| GERMAN DARTS CHAMPIONSHIP | - |   |
| PLAYERS CHAMPIONSHIP 17 | Last 128 | lost to Yordi Meeuwisse 6-3 |
| PLAYERS CHAMPIONSHIP 18 | Last 64 | lost to Gerwyn Price 6-4 |
| DUTCH DARTS CHAMPIONSHIP | - |   |
| INTERNATIONAL DARTS OPEN | - |   |
| CHAMPIONS LEAGUE OF DARTS | - |   |
| PLAYERS CHAMPIONSHIP 19 | Last 16 | lost to Madars Razma 6-5 |
| PLAYERS CHAMPIONSHIP 20 | Last 32 | lost to Steve West 6-3 |
| WORLD GRAND PRIX | - |   |
| EUROPEAN DARTS TROPHY | - |   |
| PLAYERS CHAMPIONSHIP 21 | Last 128 | lost to Dave Chisnall 6-0 |
| PLAYERS CHAMPIONSHIP 22 | Last 32 | lost to James Wade 6-4 |
| EUROPEAN CHAMPIONSHIP | - |   |
| WORLD SERIES OF DARTS FINALS | - |   |
| GRAND SLAM OF DARTS | - |   |
| PLAYERS CHAMPIONSHIP FINALS | - |   |
| | | |
| --- | --- | --- |
| WORLD CHAMPIONSHIP | - |   |
| THE MASTERS | - |   |
| PLAYERS CHAMPIONSHIP 1 | Last 128 | lost to Diogo Portela 6-3 |
| PLAYERS CHAMPIONSHIP 2 | Last 64 | lost to Daryl Gurney 6-2 |
| PLAYERS CHAMPIONSHIP 3 | Last 64 | lost to Ron Meulenkamp 6-4 |
| PLAYERS CHAMPIONSHIP 4 | Last 64 | lost to Jonny Clayton 6-3 |
| PLAYERS CHAMPIONSHIP 5 | Last 64 | lost to Max Hopp 6-4 |
| PLAYERS CHAMPIONSHIP 6 | Last 128 | lost to Cristo Reyes 6-2 |
| UK OPEN | Last 96 | lost to Richard North 6-5 |
| PLAYERS CHAMPIONSHIP 7 | Last 128 | lost to Ross Smith 6-2 |
| PLAYERS CHAMPIONSHIP 8 | Last 64 | lost to James Wade 6-3 |
| EUROPEAN DARTS OPEN | - |   |
| GERMAN DARTS CHAMPIONSHIP | - |   |
| PLAYERS CHAMPIONSHIP 9 | Last 128 | lost to John Michael 6-4 |
| PLAYERS CHAMPIONSHIP 10 | Last 64 | lost to Ryan Searle 6-3 |
| PLAYERS CHAMPIONSHIP 11 | Last 16 | lost to Ian White 6-5 |
| PLAYERS CHAMPIONSHIP 12 | Last 128 | lost to Stephen Bunting 6-3 |
| GERMAN DARTS GRAND PRIX | - |   |
| GERMAN DARTS OPEN | - |   |
| PLAYERS CHAMPIONSHIP 13 | Last 128 | lost to Yordi Meeuwisse 6-3 |
| PLAYERS CHAMPIONSHIP 14 | Last 128 | lost to Glen Durrant 6-4 |
| AUSTRIAN DARTS OPEN | - |   |
| EUROPEAN DARTS GRAND PRIX | - |   |
| PLAYERS CHAMPIONSHIP 15 | Last 128 | lost to Geert Nentjes 6-4 |
| PLAYERS CHAMPIONSHIP 16 | Last 128 | lost to Corey Cadby 6-2 |
| PREMIER LEAGUE | - |   |
| DUTCH DARTS MASTERS | - |   |
| WORLD CUP OF DARTS | - |   |
| DANISH DARTS OPEN | - |   |
| PLAYERS CHAMPIONSHIP 17 | Last 128 | lost to Peter Hudson 6-4 |
| PLAYERS CHAMPIONSHIP 18 | Last 64 | lost to Martin Schindler 6-1 |
| CZECH DARTS OPEN | - |   |
| U.S. DARTS MASTERS | - |   |
| GERMAN DARTS MASTERS | - |   |
| PLAYERS CHAMPIONSHIP 19 | Last 128 | lost to Dave Chisnall 6-3 |
| PLAYERS CHAMPIONSHIP 20 | Last 128 | lost to Nathan Aspinall 6-2 |
| WORLD MATCHPLAY | - |   |
| PLAYERS CHAMPIONSHIP 21 | Last 64 | lost to Jeffrey de Zwaan 6-1 |
| PLAYERS CHAMPIONSHIP 22 | Last 128 | lost to Ryan Joyce 6-5 |
| BRISBANE DARTS MASTERS | - |   |
| MELBOURNE DARTS MASTERS | - |   |
| NEW ZEALAND DARTS MASTERS | - |   |
| AUSTRIAN DARTS CHAMPIONSHIP | - |   |
| EUROPEAN DARTS MATCHPLAY | - |   |
| PLAYERS CHAMPIONSHIP 23 | Last 128 | lost to Ritchie Edhouse 6-1 |
| PLAYERS CHAMPIONSHIP 24 | Last 128 | lost to Alan Norris 6-2 |
| INTERNATIONAL DARTS OPEN | - |   |
| PLAYERS CHAMPIONSHIP 25 | Last 128 | lost to Harry Ward 6-5 |
| PLAYERS CHAMPIONSHIP 26 | Last 64 | lost to Gary Anderson 6-2 |
| GIBRALTAR DARTS TROPHY | - |   |
| PLAYERS CHAMPIONSHIP 27 | Last 32 | lost to Krzysztof Ratajski 6-3 |
| PLAYERS CHAMPIONSHIP 28 | Last 128 | lost to Justin Pipe 6-1 |
| WORLD GRAND PRIX | - |   |
| PLAYERS CHAMPIONSHIP 29 | Last 128 | lost to Vincent van der Voort 6-4 |
| PLAYERS CHAMPIONSHIP 30 | Last 128 | lost to Jamie Lewis 6-5 |
| CHAMPIONS LEAGUE OF DARTS | - |   |
| EUROPEAN CHAMPIONSHIP | - |   |
| WORLD SERIES OF DARTS FINALS | - |   |