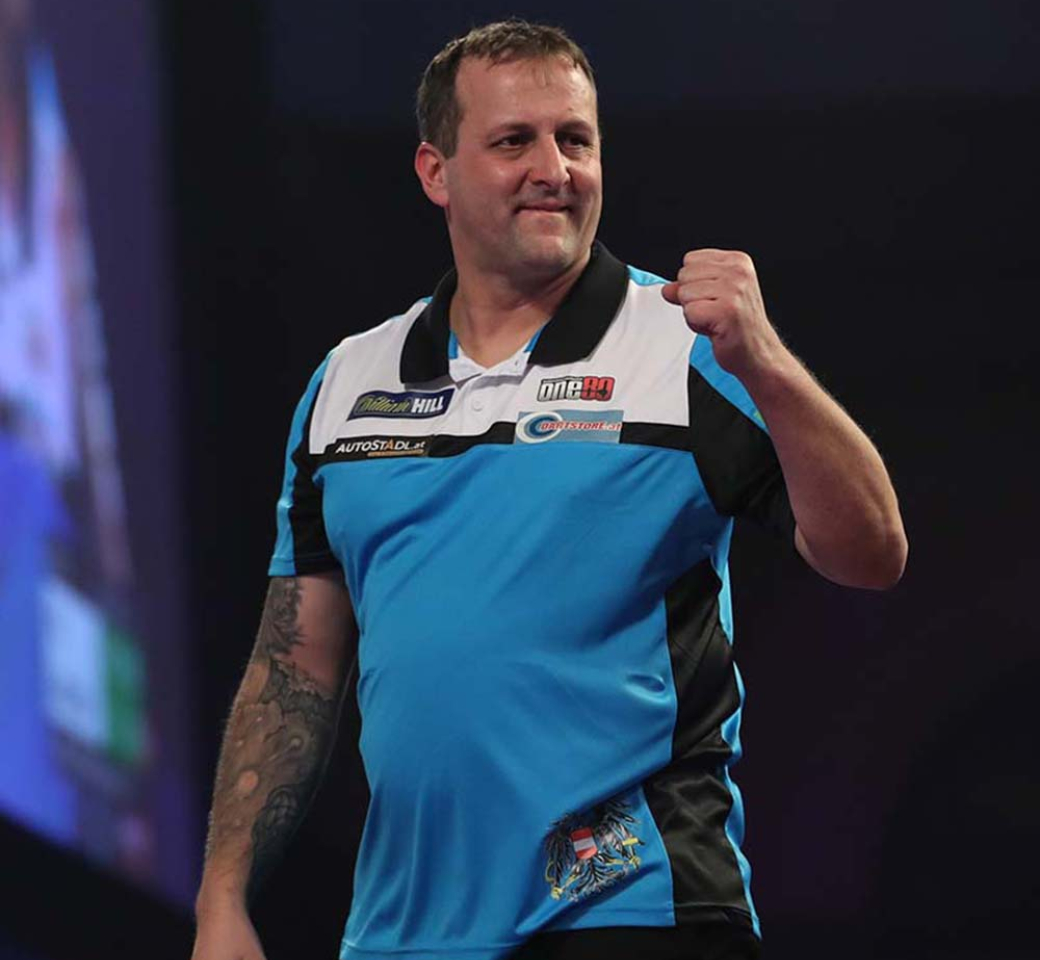 Zoran Lerchbacher
Hypercane
PDC World Ranking

76

Televised titles

0

Non-Televised PDC Titles

0

Televised Nine-Dart Finishes

0
Walk-On Music

Freed From Desire - Gala

Date of Birth

May 30 1972

Darts Used

22g

One80

Home Town

Knittelfeld
ZORAN made his World Championship debut in 2014, where he lost to Michael van Gerwen in the first round proper, before securing his tour card in January 2015.
He made his second World Championship appearance in 2017, where he was defeated by Robert Thornton, once again in the first round proper having won his preliminary game.
The Austrian star reached his first ranking final in July 2017 at a Players Championship event, and featured in the Players Championship finals before making his third World Championship appearance in 2018.
He progressed to round two for the first time with a 3-2 win over Mervyn King, before losing to Keegan Brown in round two.
Lerchbacher continued his impressive ProTour form by reaching his second ranking final at a UK Open qualifier in February 2018.
Player Stats
Select below to see result & roll of honour information.
| | | |
| --- | --- | --- |
|   | Most Recent | Best Performance |
| 2019 WORLD CHAMPIONSHIP | - | Last 32 - 2018 |
| 2019 UK OPEN | Last 96 | Last 64 - 2018 |
| 2019 WORLD MATCHPLAY | - | - |
| 2019 WORLD GRAND PRIX | - | - |
| 2019 EUROPEAN CHAMPIONSHIP | - | - |
| 2018 GRAND SLAM OF DARTS | - | - |
| 2018 PLAYERS CHAMPIONSHIP FINALS | - | Last 64 - 2017 |
| | | |
| --- | --- | --- |
|   | Most Recent | Best Performance |
| 2019 THE MASTERS | - | - |
| 2019 PREMIER LEAGUE | - | - |
| 2019 WORLD CUP OF DARTS  | Quarter Final (Mensur Suljovic) | Quarter Final - 2019 |
| 2019 U.S. MASTERS | - | - |
| 2019 GERMAN MASTERS | - | - |
| 2019 BRISBANE MASTERS | - | - |
| 2019 MELBOURNE MASTERS | - | - |
| 2019 NEW ZEALAND MASTERS | - | - |
| 2019 CHAMPIONS LEAGUE OF DARTS | - | - |
| 2019 WORLD SERIES OF DARTS FINALS | - | - |
| | | |
| --- | --- | --- |
| TOURNAMENT WIN | - |   |
| FINAL | UK Open Qualifier 3 (February 2018) | lost to Michael Smith 6-0 |
| SEMI FINAL | UK Open Qualifier 3 (February 2018) | beat John Henderson 6-4 |
| QUARTER FINAL | UK Open Qualifier 3 (February 2018) | beat James Wilson 6-1 |
| | | |
| --- | --- | --- |
| WORLD CHAMPIONSHIP | Last 64 | lost to Robert Thornton 3-0 |
| THE MASTERS | - |   |
| UK OPEN QUALIFIER 1 | Last 64 | lost to Kevin Painter 6-3 |
| UK OPEN QUALIFIER 2 | Last 256 | lost to Martin Thomas 6-5 |
| UK OPEN QUALIFIER 3 | Last 128 | lost to Bernd Roith 6-4 |
| UK OPEN QUALIFIER 4 | Last 16 | lost to Michael van Gerwen 6-1 |
| UK OPEN QUALIFIER 5 | Last 64 | lost to Mervyn King 6-0 |
| UK OPEN QUALIFIER 6 | Last 256 | lost to Mark Walsh 6-3 |
| PLAYERS CHAMPIONSHIP 1 | Last 32 | lost to Steve West 6-4 |
| PLAYERS CHAMPIONSHIP 2 | Last 16 | lost to James Wade 6-3 |
| UK OPEN | Last 96 | lost to Matthew Dennant 6-4 |
| PLAYERS CHAMPIONSHIP 3 | Last 128 | lost to William O'Connor 6-4 |
| PLAYERS CHAMPIONSHIP 4 | Last 64 | lost to Jimmy Hendriks 6-4 |
| GERMAN DARTS CHAMPIONSHIP | - |   |
| PLAYERS CHAMPIONSHIP 5 | Last 128 | lost to Steve Beaton 6-2 |
| PLAYERS CHAMPIONSHIP 6 | Last 64 | lost to Ryan Meikle 6-5 |
| PLAYERS CHAMPIONSHIP 7 | Last 32 | lost to Gerwyn Price 6-4 |
| PLAYERS CHAMPIONSHIP 8 | Last 128 | lost to Mick Todd 6-1 |
| GERMAN DARTS MASTERS (ET) | Last 48 | lost to Jamie Lewis 6-3 |
| GERMAN DARTS OPEN | Last 48 | lost to Ronny Huybrechts 6-0 |
| PLAYERS CHAMPIONSHIP 9 | Last 128 | lost to Jamie Lewis 6-2 |
| PLAYERS CHAMPIONSHIP 10 | Last 128 | lost to Robert Thornton 6-3 |
| EUROPEAN DARTS GRAND PRIX | Last 48 | lost to Max Hopp 6-4 |
| GIBRALTAR DARTS TROPHY | - |   |
| PREMIER LEAGUE | - |   |
| PLAYERS CHAMPIONSHIP 11 | Last 32 | lost to Jonny Clayton 6-5 |
| PLAYERS CHAMPIONSHIP 12 | Last 32 | lost to Mickey Mansell 6-5 |
| DUBAI DARTS MASTERS | - |   |
| WORLD CUP OF DARTS | - |   |
| EUROPEAN DARTS MATCHPLAY | - |   |
| PLAYERS CHAMPIONSHIP 13 | Last 128 | lost to Vincent van der Voort 6-3 |
| PLAYERS CHAMPIONSHIP 14 | Last 128 | lost to Chris Dobey 6-5 |
| AUSTRIAN DARTS OPEN | Last 32 | lost to Mervyn King 6-2 |
| EUROPEAN DARTS OPEN | Last 48 | lost to Christian Kist 6-2 |
| SHANGHAI DARTS MASTERS | - |   |
| PLAYERS CHAMPIONSHIP 15 | Last 64 | lost to Daryl Gurney 6-4 |
| PLAYERS CHAMPIONSHIP 16 | Runner Up | lost to Joe Cullen 6-4 |
| U.S. DARTS MASTERS | - |   |
| WORLD MATCHPLAY | - |   |
| PLAYERS CHAMPIONSHIP 17 | Last 64 | lost to Christian Kist 6-1 |
| PLAYERS CHAMPIONSHIP 18 | Last 64 | lost to Jelle Klaasen 6-3 |
| AUCKLAND DARTS MASTERS | - |   |
| MELBOURNE DARTS MASTERS | - |   |
| PERTH DARTS MASTERS | - |   |
| DUTCH DARTS MASTERS | - |   |
| GERMAN DARTS GRAND PRIX | Last 48 | lost to Ronny Huybrechts 6-3 |
| CHAMPIONS LEAGUE OF DARTS | - |   |
| INTERNATIONAL DARTS OPEN | - |   |
| PLAYERS CHAMPIONSHIP 19 | Last 128 | lost to Andy Jenkins 6-2 |
| PLAYERS CHAMPIONSHIP 20 | Last 128 | lost to Mike De Decker 6-2 |
| WORLD GRAND PRIX | - |   |
| PLAYERS CHAMPIONSHIP 21 | Last 32 | lost to John Henderson 6-4 |
| PLAYERS CHAMPIONSHIP 22 | Last 128 | lost to Peter Hudson 6-5 |
| EUROPEAN DARTS TROPHY | Last 32 | lost to Michael van Gerwen 6-3 |
| GERMAN DARTS MASTERS (WS) | - |   |
| EUROPEAN CHAMPIONSHIP | - |   |
| WORLD SERIES OF DARTS FINALS | - |   |
| GRAND SLAM OF DARTS | - |   |
| PLAYERS CHAMPIONSHIP FINALS | Last 64 | lost to Steve Lennon 6-4 |
| | | |
| --- | --- | --- |
| WORLD CHAMPIONSHIP | Last 32 | lost to Keegan Brown 4-2 |
| THE MASTERS | - |   |
| UK OPEN QUALIFIER 1 | Last 128 | lost to Ryan Harrington 6-3 |
| UK OPEN QUALIFIER 2 | Preliminary Round | lost to Shayne Burgess 6-2 |
| UK OPEN QUALIFIER 3 | Runner Up | lost to Michael Smith 6-0 |
| UK OPEN QUALIFIER 4 | Last 64 | lost to Robert Thornton 6-0 |
| UK OPEN QUALIFIER 5 | Last 64 | lost to Chris Dobey 6-2 |
| UK OPEN QUALIFIER 6 | Last 256 | lost to Danny Noppert 6-2 |
| PLAYERS CHAMPIONSHIP 1 | Last 128 | lost to Peter Jacques 6-3 |
| PLAYERS CHAMPIONSHIP 2 | Last 128 | lost to Paul Rowley 6-4 |
| UK OPEN | Last 64 | (withdrew) |
| PLAYERS CHAMPIONSHIP 3 | Last 64 | lost to Gabriel Clemens 6-2 |
| PLAYERS CHAMPIONSHIP 4 | Last 64 | lost to Keegan Brown 6-4 |
| PLAYERS CHAMPIONSHIP 5 | Last 128 | lost to Ron Meulenkamp 6-4 |
| PLAYERS CHAMPIONSHIP 6 | Last 128 | lost to Joe Murnan 6-4 |
| EUROPEAN DARTS OPEN | - |   |
| GERMAN DARTS GRAND PRIX | - |   |
| PLAYERS CHAMPIONSHIP 7 | Last 64 | lost to Arron Monk 6-4 |
| PLAYERS CHAMPIONSHIP 8 | Last 32 | lost to Mark Webster 6-1 |
| GERMAN DARTS OPEN | Last 48 | lost to Max Hopp 6-1 |
| AUSTRIAN DARTS OPEN | - |   |
| PLAYERS CHAMPIONSHIP 9 | Last 64 | lost to James Wade 6-5 |
| PLAYERS CHAMPIONSHIP 10 | Last 128 | lost to Jeffrey de Zwaan 6-4 |
| EUROPEAN DARTS GRAND PRIX | - |   |
| DUTCH DARTS MASTERS | - |   |
| PREMIER LEAGUE | - |   |
| PLAYERS CHAMPIONSHIP 11 | Last 64 | lost to Peter Wright 6-4 |
| PLAYERS CHAMPIONSHIP 12 | Last 64 | lost to Josh Payne 6-4 |
| GERMAN DARTS MASTERS | - |   |
| WORLD CUP OF DARTS | Last 32 (Mensur Suljovic) | lost to Japan 5-4 |
| GIBRALTAR DARTS TROPHY | - |   |
| PLAYERS CHAMPIONSHIP 13 | Last 128 | lost to Mark Webster 6-5 |
| PLAYERS CHAMPIONSHIP 14 | Last 32 | lost to Dimitri Van den Bergh 6-3 |
| DANISH DARTS OPEN | - |   |
| PLAYERS CHAMPIONSHIP 15 | Last 128 | lost to Joe Cullen 6-4 |
| PLAYERS CHAMPIONSHIP 16 | Last 32 | lost to Danny Noppert 6-3 |
| EUROPEAN DARTS MATCHPLAY | - |   |
| U.S. DARTS MASTERS | - |   |
| SHANGHAI DARTS MASTERS | - |   |
| WORLD MATCHPLAY | - |   |
| AUCKLAND DARTS MASTERS | - |   |
| MELBOURNE DARTS MASTERS | - |   |
| BRISBANE DARTS MASTERS | - |   |
| GERMAN DARTS CHAMPIONSHIP | - |   |
| PLAYERS CHAMPIONSHIP 17 | - |   |
| PLAYERS CHAMPIONSHIP 18 | Last 128 | lost to Joe Cullen 6-5 |
| DUTCH DARTS CHAMPIONSHIP | - |   |
| INTERNATIONAL DARTS OPEN | - |   |
| CHAMPIONS LEAGUE OF DARTS | - |   |
| PLAYERS CHAMPIONSHIP 19 | Last 128 | lost to Ryan Harrington 6-3 |
| PLAYERS CHAMPIONSHIP 20 | Last 64 | lost to Keegan Brown 6-3 |
| WORLD GRAND PRIX | - |   |
| EUROPEAN DARTS TROPHY | - |   |
| PLAYERS CHAMPIONSHIP 21 | Last 64 | lost to Terry Jenkins 6-3 |
| PLAYERS CHAMPIONSHIP 22 | Last 64 | lost to Krzysztof Ratajski 6-2 |
| EUROPEAN CHAMPIONSHIP | - |   |
| WORLD SERIES OF DARTS FINALS | - |   |
| GRAND SLAM OF DARTS | - |   |
| PLAYERS CHAMPIONSHIP FINALS | - |   |
| | | |
| --- | --- | --- |
| WORLD CHAMPIONSHIP | - |   |
| THE MASTERS | - |   |
| PLAYERS CHAMPIONSHIP 1 | Last 128 | lost to Ian White 6-3 |
| PLAYERS CHAMPIONSHIP 2 | Last 32 | lost to Glen Durrant 6-4 |
| PLAYERS CHAMPIONSHIP 3 | Last 16 | lost to Chris Dobey 6-5 |
| PLAYERS CHAMPIONSHIP 4 | Last 128 | lost to Nathan Derry 6-4 |
| PLAYERS CHAMPIONSHIP 5 | Last 128 | lost to Jamie Hughes 6-3 |
| PLAYERS CHAMPIONSHIP 6 | Last 64 | lost to Gerwyn Price 6-0 |
| UK OPEN | Last 96 | lost to Gabriel Clemens 6-2 |
| PLAYERS CHAMPIONSHIP 7 | Last 128 | lost to Jeffrey de Zwaan 6-3 |
| PLAYERS CHAMPIONSHIP 8 | Last 64 | lost to Raymond van Barneveld 6-5 |
| EUROPEAN DARTS OPEN | - |   |
| GERMAN DARTS CHAMPIONSHIP | - |   |
| PLAYERS CHAMPIONSHIP 9 | Last 128 | lost to Arron Monk 6-5 |
| PLAYERS CHAMPIONSHIP 10 | Last 64 | lost to Jonny Clayton 6-2 |
| PLAYERS CHAMPIONSHIP 11 | Last 64 | lost to Jermaine Wattimena 6-4 |
| PLAYERS CHAMPIONSHIP 12 | Last 64 | lost to Rowby-John Rodriguez 6-2 |
| GERMAN DARTS GRAND PRIX | - |   |
| GERMAN DARTS OPEN | - |   |
| PLAYERS CHAMPIONSHIP 13 | Last 128 | lost to Glen Durrant 6-4 |
| PLAYERS CHAMPIONSHIP 14 | Last 128 | lost to John Henderson 6-4 |
| AUSTRIAN DARTS OPEN | - |   |
| EUROPEAN DARTS GRAND PRIX | - |   |
| PLAYERS CHAMPIONSHIP 15 | Last 128 | lost to Dirk van Duijvenbode 6-5 |
| PLAYERS CHAMPIONSHIP 16 | Last 32 | lost to John Henderson 6-5 |
| PREMIER LEAGUE | - |   |
| DUTCH DARTS MASTERS | - |   |
| WORLD CUP OF DARTS | Quarter Final (Mensur Suljovic) | lost to Republic of Ireland 2-1 |
| DANISH DARTS OPEN | - |   |
| PLAYERS CHAMPIONSHIP 17 | Last 128 | lost to Barrie Bates 6-5 |
| PLAYERS CHAMPIONSHIP 18 | Last 128 | lost to Cristo Reyes 6-3 |
| CZECH DARTS OPEN | - |   |
| U.S. DARTS MASTERS | - |   |
| GERMAN DARTS MASTERS | - |   |
| PLAYERS CHAMPIONSHIP 19 | Last 128 | lost to Barrie Bates 6-2 |
| PLAYERS CHAMPIONSHIP 20 | Last 128 | lost to Christian Bunse 6-4 |
| WORLD MATCHPLAY | - |   |
| PLAYERS CHAMPIONSHIP 21 | Last 128 | lost to Mario Robbe 6-4 |
| PLAYERS CHAMPIONSHIP 22 | Last 128 | lost to Justin Smith 6-5 |
| BRISBANE DARTS MASTERS | - |   |
| MELBOURNE DARTS MASTERS | - |   |
| NEW ZEALAND DARTS MASTERS | - |   |
| AUSTRIAN DARTS CHAMPIONSHIP | - |   |
| EUROPEAN DARTS MATCHPLAY | - |   |
| PLAYERS CHAMPIONSHIP 23 | Last 128 | lost to Stephen Bunting 6-2 |
| PLAYERS CHAMPIONSHIP 24 | Last 64 | lost to Benito van de Pas 6-5 |
| INTERNATIONAL DARTS OPEN | - |   |
| PLAYERS CHAMPIONSHIP 25 | Last 128 | lost to Reece Robinson 6-4 |
| PLAYERS CHAMPIONSHIP 26 | Last 128 | lost to Alan Tabern 6-2 |
| GIBRALTAR DARTS TROPHY | - |   |
| PLAYERS CHAMPIONSHIP 27 | Last 128 | lost to Alan Norris 6-2 |
| PLAYERS CHAMPIONSHIP 28 | Last 64 | lost to Josh Payne 6-4 |
| WORLD GRAND PRIX | - |   |
| PLAYERS CHAMPIONSHIP 29 | Last 128 | lost to Darren Johnson 6-2 |
| PLAYERS CHAMPIONSHIP 30 | Last 32 | lost to Michael Smith 6-1 |
| CHAMPIONS LEAGUE OF DARTS | - |   |
| EUROPEAN CHAMPIONSHIP | - |   |
| WORLD SERIES OF DARTS FINALS | - |   |