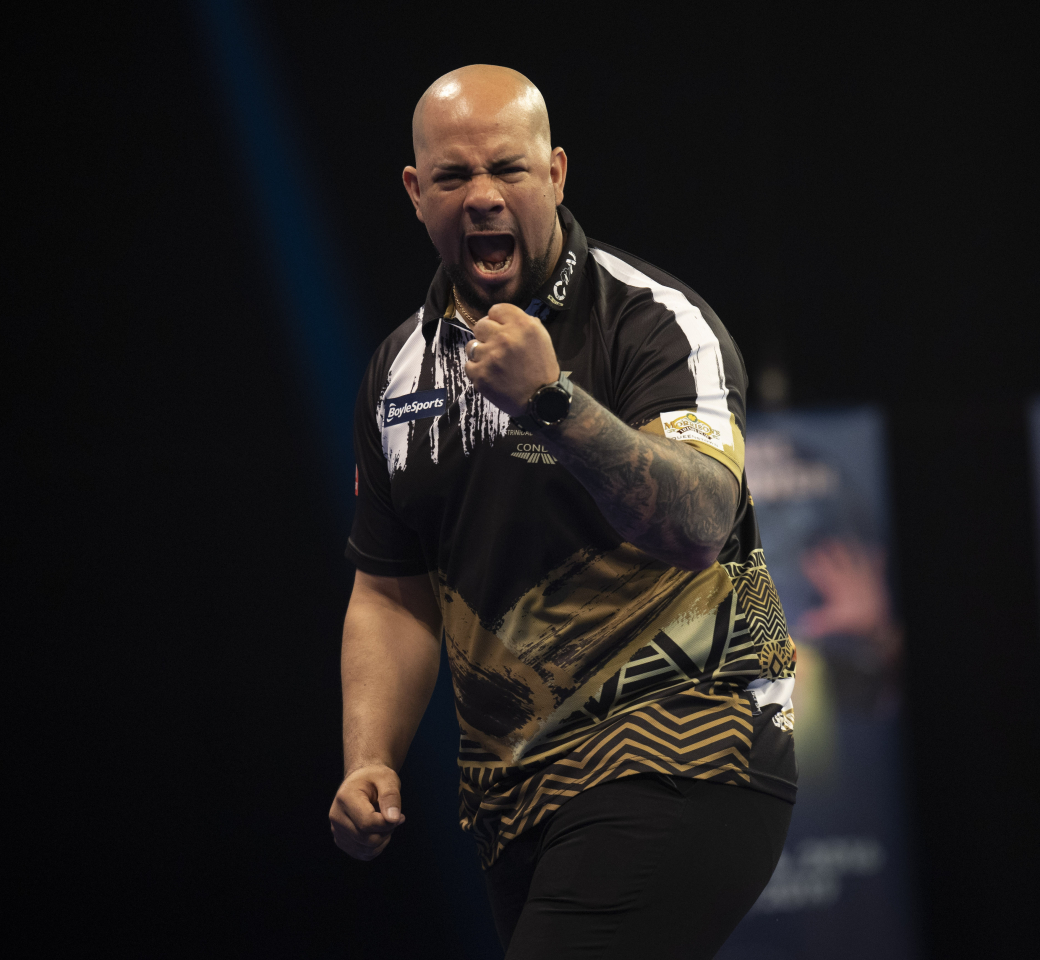 Devon Petersen
The African Warrior
World Ranking

69

Televised titles

0

Non-Televised PDC Titles

1

Televised Nine-Dart Finishes

0
Dancing Devon has established himself as a crowd favourite, courtesy of his slick dance moves and passionate playing style.
Petersen, who made his big stage bow at the 2011 World Championship, has been an ever-present at the World Cup of Darts, guiding South Africa to quarter-finals in 2012 and 2014.
His run to the last 16 at the World Championship sparked a brilliant 18-month spell, which saw him claim a first PDC ranking title at the German Darts Championship in September 2020.
Just weeks later, the South African star secured a place in his first televised semi-final at the European Championship, which saw him break into the world's top 32 for the very first time.
Player Stats
Select below to see result & roll of honour information.
| | |
| --- | --- |
| German Darts Championship | 2020 |
| | | |
| --- | --- | --- |
|   | Most Recent | Best Performance |
| 2023 WORLD CHAMPIONSHIP | - | Last 16 - 2014, 2019, 2021 |
| 2023 UK OPEN | Last 96 | Quarter Final - 2015, 2021 |
| 2022 WORLD MATCHPLAY | - | Last 32 - 2021 |
| 2022 WORLD GRAND PRIX | - | Last 16 - 2020 |
| 2022 EUROPEAN CHAMPIONSHIP | - | Semi Final - 2020 |
| 2022 GRAND SLAM OF DARTS | - | Last 16 - 2020 |
| 2022 PLAYERS CHAMPIONSHIP FINALS | - | Last 64 - 2016, 2019, 2020, 2021 |
 
Most Recent
Best Performance
2023 MASTERS
-
Last 24 - 2022
2022 PREMIER LEAGUE
-
-
2022 WORLD CUP OF DARTS

 

Last 32
Quarter Final - 2012, 2014
2022 WORLD SERIES OF DARTS FINALS
Last 24
Last 24 - 2015, 2022
| | | |
| --- | --- | --- |
|   | Most Recent | Best Performance |
| 2023 BAHRAIN DARTS MASTERS | - | - |
| 2023 NORDIC DARTS MASTERS | - | - |
| 2022 U.S. DARTS MASTERS | - | - |
| 2022 DUTCH DARTS MASTERS | - | - |
| 2022 QUEENSLAND DARTS MASTERS | - | - |
| 2022 NEW SOUTH WALES DARTS MASTERS | - | - |
| 2022 NEW ZEALAND DARTS MASTERS | - | - |
| | | |
| --- | --- | --- |
| TOURNAMENT WIN | German Darts Championship (September 2020) | beat Jonny Clayton 8-3 |
| FINAL | German Darts Championship (September 2020) | beat Jonny Clayton 8-3 |
| SEMI FINAL | European Championship (November 2020) | lost to James Wade 11-10 |
| QUARTER FINAL | UK Open (March 2021) | lost to Gerwyn Price 10-9 |
| | | |
| --- | --- | --- |
| WORLD CHAMPIONSHIP | - |   |
| BAHRAIN DARTS MASTERS | - |   |
| NORDIC DARTS MASTERS | - |   |
| THE MASTERS | - |   |
| PLAYERS CHAMPIONSHIP 1 | Last 128 | lost to James Wade 6-0 |
| PLAYERS CHAMPIONSHIP 2 | Last 128 | lost to Mike De Decker 6-1 |
| PLAYERS CHAMPIONSHIP 3 | Last 128 | lost to Kim Huybrechts 6-1 |
| PLAYERS CHAMPIONSHIP 4 | Last 128 | lost to Danny Jansen 6-4 |
| BALTIC SEA DARTS OPEN | - |   |
| UK OPEN | Last 96 | lost to William O'Connor 6-2 |
| PLAYERS CHAMPIONSHIP 5 | Last 128 | lost to Adam Smith-Neale 6-4 |
| PLAYERS CHAMPIONSHIP 6 | Last 128 | lost to Lewy Williams 6-3 |
| PLAYERS CHAMPIONSHIP 7 | Last 128 | lost to Bradley Brooks 6-3 |
| PLAYERS CHAMPIONSHIP 8 | Last 64 | lost to Keegan Brown 6-5 |
| EUROPEAN DARTS OPEN | - |   |
| INTERNATIONAL DARTS OPEN | - |   |
| GERMAN DARTS GRAND PRIX | - |   |
| PLAYERS CHAMPIONSHIP 9 | Last 128 | lost to Keegan Brown 6-3 |
| PLAYERS CHAMPIONSHIP 10 | Last 128 | lost to Krzysztof Ratajski 6-2 |
| AUSTRIAN DARTS OPEN | - |   |
| DUTCH DARTS CHAMPIONSHIP | - |   |
| BELGIAN DARTS OPEN | - |   |
| CZECH DARTS OPEN | - |   |
| | | |
| --- | --- | --- |
| WORLD CHAMPIONSHIP | Last 64 | lost to Raymond Smith 3-0 |
| THE MASTERS | Last 24 | lost to Luke Humphries 6-1 |
| PLAYERS CHAMPIONSHIP 1 | Last 128 | lost to Michael Smith 6-2 |
| PLAYERS CHAMPIONSHIP 2 | Last 128 | lost to Jim McEwan 6-4 |
| PLAYERS CHAMPIONSHIP 3 | Last 128 | lost to Peter Wright 6-5 |
| PLAYERS CHAMPIONSHIP 4 | Last 128 | lost to Luke Humphries 6-4 |
| INTERNATIONAL DARTS OPEN | Last 32 | lost to Kim Huybrechts 6-3 |
| UK OPEN | Last 32 | lost to Danny Noppert 10-8 |
| GERMAN DARTS CHAMPIONSHIP | Last 32 | lost to Michael Smith 6-4 |
| PLAYERS CHAMPIONSHIP 5 | Last 128 | lost to Connor Scutt 6-5 |
| PLAYERS CHAMPIONSHIP 6 | Last 64 | lost to Michael Smith 6-4 |
| PLAYERS CHAMPIONSHIP 7 | Last 128 | lost to Scott Marsh 6-4 |
| PLAYERS CHAMPIONSHIP 8 | Last 128 | lost to Ricardo Pietreczko 6-2 |
| PLAYERS CHAMPIONSHIP 9 | Last 64 | lost to Stephen Bunting 6-5 |
| PLAYERS CHAMPIONSHIP 10 | Last 64 | lost to Steve Lennon 6-3 |
| PLAYERS CHAMPIONSHIP 11 | Last 64 | lost to Mervyn King 6-4 |
| PLAYERS CHAMPIONSHIP 12 | Last 128 | lost to Raymond van Barneveld 6-5 |
| PLAYERS CHAMPIONSHIP 13 | Last 64 | lost to Michael Smith 6-1 |
| GERMAN DARTS GRAND PRIX | - |   |
| AUSTRIAN DARTS OPEN | Last 48 | lost to Josh Rock 6-3 |
| EUROPEAN DARTS OPEN | Last 32 | lost to Joe Cullen 6-1 |
| PLAYERS CHAMPIONSHIP 14 | Last 64 | lost to Krzysztof Kciuk 6-2 |
| PLAYERS CHAMPIONSHIP 15 | Last 128 | lost to Danny Noppert 6-2 |
| CZECH DARTS OPEN | - |   |
| EUROPEAN DARTS GRAND PRIX | - |   |
| DUTCH DARTS CHAMPIONSHIP | - |   |
| U.S. DARTS MASTERS | - |   |
| NORDIC DARTS MASTERS | - |   |
| PREMIER LEAGUE | - |   |
| PLAYERS CHAMPIONSHIP 16 | Last 128 | lost to Ryan Meikle 6-5 |
| PLAYERS CHAMPIONSHIP 17 | Last 128 | lost to Chris Dobey 6-2 |
| WORLD CUP OF DARTS | Last 32 (Stefan Vermaak) | lost to Sweden 5-2 |
| DUTCH DARTS MASTERS | - |   |
| EUROPEAN DARTS MATCHPLAY | - |   |
| PLAYERS CHAMPIONSHIP 18 | Last 64 | lost to Chris Dobey 6-2 |
| PLAYERS CHAMPIONSHIP 19 | Last 64 | lost to Martin Lukeman 6-1 |
| PLAYERS CHAMPIONSHIP 20 | Last 128 | lost to Jim Williams 6-5 |
| PLAYERS CHAMPIONSHIP 21 | Last 64 | lost to Nathan Aspinall 6-4 |
| WORLD MATCHPLAY | - |   |
| PLAYERS CHAMPIONSHIP 22 | Last 64 | lost to Gerwyn Price 6-2 |
| PLAYERS CHAMPIONSHIP 23 | Last 128 | lost to Gian van Veen 6-2 |
| PLAYERS CHAMPIONSHIP 24 | Last 128 | lost to Nathan Aspinall 6-1 |
| QUEENSLAND DARTS MASTERS | - |   |
| NEW SOUTH WALES DARTS MASTERS | - |   |
| NEW ZEALAND DARTS MASTERS | - |   |
| HUNGARIAN DARTS TROPHY | - |   |
| GERMAN DARTS OPEN | - |   |
| WORLD SERIES OF DARTS FINALS | Last 24 | lost to Leonard Gates 6-4 |
| BELGIAN DARTS OPEN | - |   |
| WORLD GRAND PRIX | - |   |
| GIBRALTAR DARTS TROPHY | - |   |
| PLAYERS CHAMPIONSHIP 25 | Last 128 | lost to Luke Humphries 6-4 |
| PLAYERS CHAMPIONSHIP 26 | Last 128 | lost to Luke Humphries 6-1 |
| PLAYERS CHAMPIONSHIP 27 | Last 128 | lost to Nathan Rafferty 6-5 |
| PLAYERS CHAMPIONSHIP 28 | Last 128 | lost to Ron Meulenkamp 6-3 |
| EUROPEAN CHAMPIONSHIP | - |   |
| PLAYERS CHAMPIONSHIP 29 | Last 32 | lost to Damon Heta 6-3 |
| PLAYERS CHAMPIONSHIP 30 | Last 128 | lost to Jeff Smith 6-1 |
| GRAND SLAM OF DARTS | - |   |
| PLAYERS CHAMPIONSHIP FINALS | - |   |
| | | |
| --- | --- | --- |
| WORLD CHAMPIONSHIP | Last 16 | lost to Gary Anderson 4-0 |
| THE MASTERS | - |   |
| PLAYERS CHAMPIONSHIP 1 | Last 32 | lost to Jelle Klaasen 6-3 |
| PLAYERS CHAMPIONSHIP 2 | Last 128 | lost to Mickey Mansell 6-3 |
| PLAYERS CHAMPIONSHIP 3 | Last 16 | lost to Krzysztof Ratajski 6-4 |
| PLAYERS CHAMPIONSHIP 4 | Last 32 | lost to Gabriel Clemens 6-2 |
| UK OPEN | Quarter Final | lost to Gerwyn Price 10-9 |
| PLAYERS CHAMPIONSHIP 5 | Last 16 | lost to Scott Mitchell 6-5 |
| PLAYERS CHAMPIONSHIP 6 | Last 32 | lost to Dirk van Duijvenbode 6-3 |
| PLAYERS CHAMPIONSHIP 7 | Last 128 | lost to Maik Kuivenhoven 6-4 |
| PLAYERS CHAMPIONSHIP 8 | Last 64 | lost to Jelle Klaasen 6-5 |
| PLAYERS CHAMPIONSHIP 9 | Last 128 | lost to Nick Kenny 6-3 |
| PLAYERS CHAMPIONSHIP 10 | Last 128 | lost to Benito van de Pas 6-1 |
| PLAYERS CHAMPIONSHIP 11 | Last 32 | lost to Scott Mitchell 6-1 |
| PLAYERS CHAMPIONSHIP 12 | Last 128 | lost to Krzysztof Kciuk 6-4 |
| PREMIER LEAGUE | - |   |
| PLAYERS CHAMPIONSHIP 13 | Last 128 | lost to John Henderson 6-5 |
| PLAYERS CHAMPIONSHIP 14 | Last 128 | lost to Gary Blades 6-3 |
| PLAYERS CHAMPIONSHIP 15 | Last 128 | lost to Josh Payne 6-4 |
| PLAYERS CHAMPIONSHIP 16 | Last 128 | lost to Karel Sedlacek 6-1 |
| PLAYERS CHAMPIONSHIP 17 | Last 64 | lost to Raymond van Barneveld 6-4 |
| PLAYERS CHAMPIONSHIP 18 | Last 32 | lost to Mervyn King 6-4 |
| PLAYERS CHAMPIONSHIP 19 | Last 64 | lost to Keegan Brown 6-2 |
| PLAYERS CHAMPIONSHIP 20 | Last 64 | lost to Chas Barstow 6-5 |
| WORLD MATCHPLAY | Last 32 | lost to Dimitri Van den Bergh 10-5 |
| PLAYERS CHAMPIONSHIP 21 | Last 32 | lost to John Henderson 6-3 |
| PLAYERS CHAMPIONSHIP 22 | Last 128 | lost to Boris Krcmar 6-4 |
| PLAYERS CHAMPIONSHIP 23 | Last 128 | lost to Matthew Edgar 6-4 |
| HUNGARIAN DARTS TROPHY | Last 32 | lost to Luke Humphries 6-2 |
| WORLD CUP OF DARTS | Last 16 (Carl Gabriel) | lost to England 2-0 |
| NORDIC DARTS MASTERS | - |   |
| GIBRALTAR DARTS TROPHY | Last 32 | lost to Gabriel Clemens 6-3 |
| WORLD GRAND PRIX | - |   |
| EUROPEAN CHAMPIONSHIP | - |   |
| PLAYERS CHAMPIONSHIP 24 | Last 128 | lost to Scott Waites 6-3 |
| PLAYERS CHAMPIONSHIP 25 | Last 128 | lost to Mensur Suljovic 6-1 |
| PLAYERS CHAMPIONSHIP 26 | Last 64 | lost to Ross Smith 6-4 |
| PLAYERS CHAMPIONSHIP 27 | Last 128 | lost to Andy Hamilton 6-3 |
| WORLD SERIES OF DARTS FINALS | - |   |
| PLAYERS CHAMPIONSHIP 28 | Last 128 | lost to Gavin Carlin 6-3 |
| PLAYERS CHAMPIONSHIP 29 | Last 128 | lost to Michael Smith 6-3 |
| PLAYERS CHAMPIONSHIP 30 | Last 128 | lost to Maik Kuivenhoven 6-4 |
| GRAND SLAM OF DARTS | - |   |
| PLAYERS CHAMPIONSHIP FINALS | Last 64 | lost to Jose de Sousa 6-4 |
| | | |
| --- | --- | --- |
| WORLD CHAMPIONSHIP | Last 96 | lost to Luke Humphries 3-1 |
| THE MASTERS | - |   |
| PLAYERS CHAMPIONSHIP 1 | Last 128 | lost to Ross Smith 6-2 |
| PLAYERS CHAMPIONSHIP 2 | Last 128 | lost to William O'Connor 6-4 |
| PLAYERS CHAMPIONSHIP 3 | Last 128 | lost to Dave Chisnall 6-4 |
| PLAYERS CHAMPIONSHIP 4 | Last 128 | lost to Ryan Murray 6-1 |
| PLAYERS CHAMPIONSHIP 5 | Semi Final | lost to Peter Wright 7-5 |
| PLAYERS CHAMPIONSHIP 6 | Last 16 | lost to Krzysztof Ratajski 6-4 |
| BELGIAN DARTS CHAMPIONSHIP | - |   |
| UK OPEN | Last 96 | lost to Bradley Brooks 6-4 |
| PLAYERS CHAMPIONSHIP 7 | Last 64 | lost to Kai-Fan Leung 6-4 |
| PLAYERS CHAMPIONSHIP 8 | Last 128 | lost to Brendan Dolan 6-2 |
| PLAYERS CHAMPIONSHIP 9 (SS1) | Last 64 | lost to Dave Chisnall 6-5 |
| PLAYERS CHAMPIONSHIP 10 (SS2) | Last 64 | lost to Madars Razma 6-5 |
| PLAYERS CHAMPIONSHIP 11 (SS3) | Last 32 | lost to Mike De Decker 6-2 |
| PLAYERS CHAMPIONSHIP 12 (SS4) | Last 32 | lost to Daryl Gurney 6-4 |
| PLAYERS CHAMPIONSHIP 13 (SS5) | Semi Final | lost to Gerwyn Price 7-6 |
| WORLD MATCHPLAY | - |   |
| PLAYERS CHAMPIONSHIP 14 (AS1) | Semi Final | lost to Madars Razma 7-6 |
| PLAYERS CHAMPIONSHIP 15 (AS2) | Last 64 | lost to Robert Thornton 6-3 |
| PLAYERS CHAMPIONSHIP 16 (AS3) | Last 128 | lost to Nick Kenny 6=5 |
| PLAYERS CHAMPIONSHIP 17 (AS4) | Runner Up | lost to Gerwyn Price 8-7 |
| PLAYERS CHAMPIONSHIP 18 (AS5) | Last 64 | lost to Dimitri Van den Bergh 6-2 |
| WORLD SERIES OF DARTS FINALS | - |   |
| GERMAN DARTS CHAMPIONSHIP | Winner | beat Jonny Clayton 8-3 |
| WORLD GRAND PRIX | Last 16 | lost to Michael van Gerwen 3-0 |
| PREMIER LEAGUE | - |   |
| EUROPEAN DARTS GRAND PRIX | Last 32 | lost to Gerwyn Price 6-2 |
| INTERNATIONAL DARTS OPEN | - |   |
| EUROPEAN CHAMPIONSHIP | Semi Final | lost to James Wade 11-10 |
| WORLD CUP OF DARTS | Last 32 (Carl Gabriel) | lost to Poland 5-0 |
| PLAYERS CHAMPIONSHIP 19 (WS1) | Last 64 | lost to Scott Waites 6-2 |
| PLAYERS CHAMPIONSHIP 20 (WS2) | Last 128 | lost to Rowby-John Rodriguez 6-3 |
| PLAYERS CHAMPIONSHIP 21 (WS3) | Last 128 | lost to Martin Schindler 6-2 |
| PLAYERS CHAMPIONSHIP 22 (WS4) | Last 64 | lost to Ryan Murray 6-3 |
| PLAYERS CHAMPIONSHIP 23 (WS5) | Last 32 | lost to Ritchie Edhouse 6-4 |
| GRAND SLAM OF DARTS | Last 16 | lost to Damon Heta 10-7 |
| PLAYERS CHAMPIONSHIP FINALS | Last 64 | lost to Luke Humphries 6-3 |
| | | |
| --- | --- | --- |
| WORLD CHAMPIONSHIP | Last 16 | lost to Nathan Aspinall 4-3 |
| THE MASTERS | - |   |
| PLAYERS CHAMPIONSHIP 1 | Last 128 | lost to Steve Lennon 6-4 |
| PLAYERS CHAMPIONSHIP 2 | Last 32 | lost to James Wade 6-4 |
| PLAYERS CHAMPIONSHIP 3 | Last 128 | lost to Mark Webster 6-1 |
| PLAYERS CHAMPIONSHIP 4 | Last 128 | lost to Stephen Burton 6-4 |
| PLAYERS CHAMPIONSHIP 5 | Last 32 | lost to John Henderson 6-1 |
| PLAYERS CHAMPIONSHIP 6 | Last 128 | lost to Joe Cullen 6-0 |
| UK OPEN | Last 96 | lost to Jamie Hughes 6-2 |
| PLAYERS CHAMPIONSHIP 7 | Last 64 | lost to Cristo Reyes 6-2 |
| PLAYERS CHAMPIONSHIP 8 | Last 128 | lost to Mark Webster 6-3 |
| EUROPEAN DARTS OPEN | - |   |
| GERMAN DARTS CHAMPIONSHIP | - |   |
| PLAYERS CHAMPIONSHIP 9 | Last 64 | lost to Ryan Searle 6-4 |
| PLAYERS CHAMPIONSHIP 10 | Last 128 | lost to Mark Webster 6-5 |
| PLAYERS CHAMPIONSHIP 11 | Last 128 | lost to Ryan Searle 6-5 |
| PLAYERS CHAMPIONSHIP 12 | Last 128 | lost to Adam Hunt 6-1 |
| GERMAN DARTS GRAND PRIX | - |   |
| GERMAN DARTS OPEN | - |   |
| PLAYERS CHAMPIONSHIP 13 | Last 64 | lost to Max Hopp 6-2 |
| PLAYERS CHAMPIONSHIP 14 | Last 128 | lost to Ricky Evans 6-2 |
| AUSTRIAN DARTS OPEN | Last 48 | lost to Mervyn King 6-4 |
| EUROPEAN DARTS GRAND PRIX | - |   |
| PLAYERS CHAMPIONSHIP 15 | Last 32 | lost to David Pallett 6-5 |
| PLAYERS CHAMPIONSHIP 16 | Last 64 | lost to Mickey Mansell 6-3 |
| PREMIER LEAGUE | - |   |
| DUTCH DARTS MASTERS | - |   |
| WORLD CUP OF DARTS | Last 16 (Vernon Bouwers) | lost to New Zealand 2-1 |
| DANISH DARTS OPEN | - |   |
| PLAYERS CHAMPIONSHIP 17 | Last 64 | lost to Gerwyn Price 6-4 |
| PLAYERS CHAMPIONSHIP 18 | Last 128 | lost to William O'Connor 6-1 |
| CZECH DARTS OPEN | Last 48 | lost to Jamie Hughes 6-4 |
| U.S. DARTS MASTERS | - |   |
| GERMAN DARTS MASTERS | - |   |
| PLAYERS CHAMPIONSHIP 19 | Last 32 | lost to Christian Kist 6-5 |
| PLAYERS CHAMPIONSHIP 20 | Quarter Final | lost to Peter Wright 6-0 |
| WORLD MATCHPLAY | - |   |
| PLAYERS CHAMPIONSHIP 21 | Last 64 | lost to Mensur Suljovic 6-3 |
| PLAYERS CHAMPIONSHIP 22 | Last 64 | lost to Krzysztof Ratajski 6-2 |
| BRISBANE DARTS MASTERS | - |   |
| MELBOURNE DARTS MASTERS | - |   |
| NEW ZEALAND DARTS MASTERS | - |   |
| AUSTRIAN DARTS CHAMPIONSHIP | - |   |
| EUROPEAN DARTS MATCHPLAY | - |   |
| PLAYERS CHAMPIONSHIP 23 | Last 128 | lost to Max Hopp 6-5 |
| PLAYERS CHAMPIONSHIP 24 | Last 16 | lost to Scott Taylor 6-5 |
| INTERNATIONAL DARTS OPEN | - |   |
| PLAYERS CHAMPIONSHIP 25 | Last 128 | lost to Krzysztof Ratajski 6-4 |
| PLAYERS CHAMPIONSHIP 26 | Last 64 | lost to Cristo Reyes 6-5 |
| GIBRALTAR DARTS TROPHY | - |   |
| PLAYERS CHAMPIONSHIP 27 | Last 128 | lost to Justin Pipe 6-5 |
| PLAYERS CHAMPIONSHIP 28 | Last 128 | lost to Michael van Gerwen 6-3 |
| WORLD GRAND PRIX | - |   |
| PLAYERS CHAMPIONSHIP 29 | Last 16 | lost to Gerwyn Price 6-4 |
| PLAYERS CHAMPIONSHIP 30 | Last 64 | lost to Martin Schindler 6-4 |
| CHAMPIONS LEAGUE OF DARTS | - |   |
| EUROPEAN CHAMPIONSHIP | - |   |
| WORLD SERIES OF DARTS FINALS | - |   |
| GRAND SLAM OF DARTS | - |   |
| PLAYERS CHAMPIONSHIP FINALS | Last 64 | lost to Ian White 6-4 |
| | | |
| --- | --- | --- |
| WORLD CHAMPIONSHIP | Last 64 | lost to Darren Webster 3-2 |
| THE MASTERS | - |   |
| UK OPEN QUALIFIER 1 | Last 256 | lost to Kevin Edwards 6-1 |
| UK OPEN QUALIFIER 2 | Last 128 | lost to Nathan Aspinall 6-2 |
| UK OPEN QUALIFIER 3 | Last 256 | lost to Jim Walker 6-5 |
| UK OPEN QUALIFIER 4 | Last 128 | lost to Daryl Gurney 6-4 |
| UK OPEN QUALIFIER 5 | Last 256 | lost to Bradley Brooks 6-5 |
| UK OPEN QUALIFIER 6 | Last 256 | lost to Kevin Painter 6-1 |
| PLAYERS CHAMPIONSHIP 1 | Last 128 | lost to Simon Whitlock 6-4 |
| PLAYERS CHAMPIONSHIP 2 | Last 128 | lost to Steve Beaton 6-1 |
| UK OPEN | - |   |
| PLAYERS CHAMPIONSHIP 3 | Last 128 | lost to James Richardson 6-4 |
| PLAYERS CHAMPIONSHIP 4 | Last 128 | lost to Kim Huybrechts 6-1 |
| PLAYERS CHAMPIONSHIP 5 | - |   |
| PLAYERS CHAMPIONSHIP 6 | - |   |
| EUROPEAN DARTS OPEN | - |   |
| GERMAN DARTS GRAND PRIX | - |   |
| PLAYERS CHAMPIONSHIP 7 | Last 64 | lost to Dave Chisnall 6-3 |
| PLAYERS CHAMPIONSHIP 8 | Last 32 | lost to Mario Robbe 6-5 |
| GERMAN DARTS OPEN | - |   |
| AUSTRIAN DARTS OPEN | - |   |
| PLAYERS CHAMPIONSHIP 9 | Last 128 | lost to Richard North 6-0 |
| PLAYERS CHAMPIONSHIP 10 | Last 128 | lost to Vincent van der Voort 6-2 |
| EUROPEAN DARTS GRAND PRIX | - |   |
| DUTCH DARTS MASTERS | - |   |
| PREMIER LEAGUE | - |   |
| PLAYERS CHAMPIONSHIP 11 | Last 128 | lost to Daryl Gurney 6-3 |
| PLAYERS CHAMPIONSHIP 12 | Last 128 | lost to Michael Barnard 6-5 |
| GERMAN DARTS MASTERS | - |   |
| WORLD CUP OF DARTS | Last 16 (Liam O'Brien) | lost to Netherlands 2-0 |
| GIBRALTAR DARTS TROPHY | - |   |
| PLAYERS CHAMPIONSHIP 13 | Last 128 | lost to Toni Alcinas 6-2 |
| PLAYERS CHAMPIONSHIP 14 | Last 128 | lost to Prakash Jiwa 6-5 |
| DANISH DARTS OPEN | - |   |
| PLAYERS CHAMPIONSHIP 15 | Last 32 | lost to Mark Webster 6-3 |
| PLAYERS CHAMPIONSHIP 16 | Last 64 | lost to Jamie Lewis 6-2 |
| EUROPEAN DARTS MATCHPLAY | - |   |
| U.S. DARTS MASTERS | - |   |
| SHANGHAI DARTS MASTERS | - |   |
| WORLD MATCHPLAY | - |   |
| AUCKLAND DARTS MASTERS | - |   |
| MELBOURNE DARTS MASTERS | - |   |
| BRISBANE DARTS MASTERS | - |   |
| GERMAN DARTS CHAMPIONSHIP | - |   |
| PLAYERS CHAMPIONSHIP 17 | Last 128 | lost to Kim Huybrechts 6-1 |
| PLAYERS CHAMPIONSHIP 18 | Last 64 | lost to Matthew Edgar 6-3 |
| DUTCH DARTS CHAMPIONSHIP | - |   |
| INTERNATIONAL DARTS OPEN | - |   |
| CHAMPIONS LEAGUE OF DARTS | - |   |
| PLAYERS CHAMPIONSHIP 19 | Last 128 | lost to Ronny Huybrechts 6-3 |
| PLAYERS CHAMPIONSHIP 20 | Last 128 | lost to James Wilson 6-4 |
| WORLD GRAND PRIX | - |   |
| EUROPEAN DARTS TROPHY | - |   |
| PLAYERS CHAMPIONSHIP 21 | Last 128 | lost to Michael Smith 6-3 |
| PLAYERS CHAMPIONSHIP 22 | Last 64 | lost to Peter Hudson 6-4 |
| EUROPEAN CHAMPIONSHIP | - |   |
| WORLD SERIES OF DARTS FINALS | - |   |
| GRAND SLAM OF DARTS | - |   |
| PLAYERS CHAMPIONSHIP FINALS | - |   |
| | | |
| --- | --- | --- |
| WORLD CHAMPIONSHIP | Last 64 | lost to Steve Beaton 3-1 |
| THE MASTERS | - |   |
| UK OPEN QUALIFIER 1 | Last 16 | lost to William O'Connor 6-2 |
| UK OPEN QUALIFIER 2 | Last 256 | lost to Ryan Searle 6-0 |
| UK OPEN QUALIFIER 3 | Last 256 | lost to Brian Woods 6-1 |
| UK OPEN QUALIFIER 4 | Last 256 | lost to Nathan Derry 6-5 |
| UK OPEN QUALIFIER 5 | Last 256 | lost to Robbie Green 6-4 |
| UK OPEN QUALIFIER 6 | Last 128 | lost to David Pallett 6-5 |
| PLAYERS CHAMPIONSHIP 1 | Last 128 | lost to Robert Thornton 6-1 |
| PLAYERS CHAMPIONSHIP 2 | Last 32 | lost to Daryl Gurney 6-3 |
| UK OPEN | Last 96 | lost to Jermaine Wattimena 6-2 |
| PLAYERS CHAMPIONSHIP 3 | Last 128 | lost to Jeffrey de Graaf 6-4 |
| PLAYERS CHAMPIONSHIP 4 | Last 64 | lost to Simon Whitlock 6-1 |
| GERMAN DARTS CHAMPIONSHIP | - |   |
| PLAYERS CHAMPIONSHIP 5 | Last 128 | lost to John Bowles 6-2 |
| PLAYERS CHAMPIONSHIP 6 | Last 128 | lost to David Pallett 6-2 |
| PLAYERS CHAMPIONSHIP 7 | Last 128 | lost to Jamie Bain 6-4 |
| PLAYERS CHAMPIONSHIP 8 | Last 128 | lost to Martin Schindler 6-4 |
| GERMAN DARTS MASTERS (ET) | - |   |
| GERMAN DARTS OPEN | - |   |
| PLAYERS CHAMPIONSHIP 9 | Last 128 | lost to Peter Hudson 6-3 |
| PLAYERS CHAMPIONSHIP 10 | Last 128 | lost to Jermaine Wattimena 6-3 |
| EUROPEAN DARTS GRAND PRIX | - |   |
| GIBRALTAR DARTS TROPHY | - |   |
| PREMIER LEAGUE | - |   |
| PLAYERS CHAMPIONSHIP 11 | Last 64 | lost to Rob Cross 6-4 |
| PLAYERS CHAMPIONSHIP 12 | Last 64 | lost to Christian Kist 6-5 |
| DUBAI DARTS MASTERS | - |   |
| WORLD CUP OF DARTS | Last 16 (Deon Oliver) | lost to England 2-0 |
| EUROPEAN DARTS MATCHPLAY | - |   |
| PLAYERS CHAMPIONSHIP 13 | Last 128 | lost to Paul Nicholson 6-2 |
| PLAYERS CHAMPIONSHIP 14 | Last 64 | lost to David Pallett 6-5 |
| AUSTRIAN DARTS OPEN | - |   |
| EUROPEAN DARTS OPEN | Last 16 | lost to Mervyn King 6-3 |
| SHANGHAI DARTS MASTERS | - |   |
| PLAYERS CHAMPIONSHIP 15 | Last 16 | lost to Jonny Clayton 6-3 |
| PLAYERS CHAMPIONSHIP 16 | Last 64 | lost to Wes Newton 6-2 |
| U.S. DARTS MASTERS | - |   |
| WORLD MATCHPLAY | - |   |
| PLAYERS CHAMPIONSHIP 17 | Last 32 | lost to Ted Evetts 6-5 |
| PLAYERS CHAMPIONSHIP 18 | Last 64 | lost to Brendan Dolan 6-5 |
| AUCKLAND DARTS MASTERS | - |   |
| MELBOURNE DARTS MASTERS | - |   |
| PERTH DARTS MASTERS | - |   |
| DUTCH DARTS MASTERS | - |   |
| GERMAN DARTS GRAND PRIX | - |   |
| CHAMPIONS LEAGUE OF DARTS | - |   |
| INTERNATIONAL DARTS OPEN | - |   |
| PLAYERS CHAMPIONSHIP 19 | Last 64 | lost to Kyle Anderson 6-3 |
| PLAYERS CHAMPIONSHIP 20 | Last 64 | lost to Justin Pipe 6-1 |
| WORLD GRAND PRIX | - |   |
| PLAYERS CHAMPIONSHIP 21 | Last 128 | lost to Joe Cullen 6-4 |
| PLAYERS CHAMPIONSHIP 22 | Last 32 | lost to Andy Jenkins 6-4 |
| EUROPEAN DARTS TROPHY | - |   |
| GERMAN DARTS MASTERS (WS) | - |   |
| EUROPEAN CHAMPIONSHIP | - |   |
| WORLD SERIES OF DARTS FINALS | - |   |
| GRAND SLAM OF DARTS | - |   |
| PLAYERS CHAMPIONSHIP FINALS | - |   |