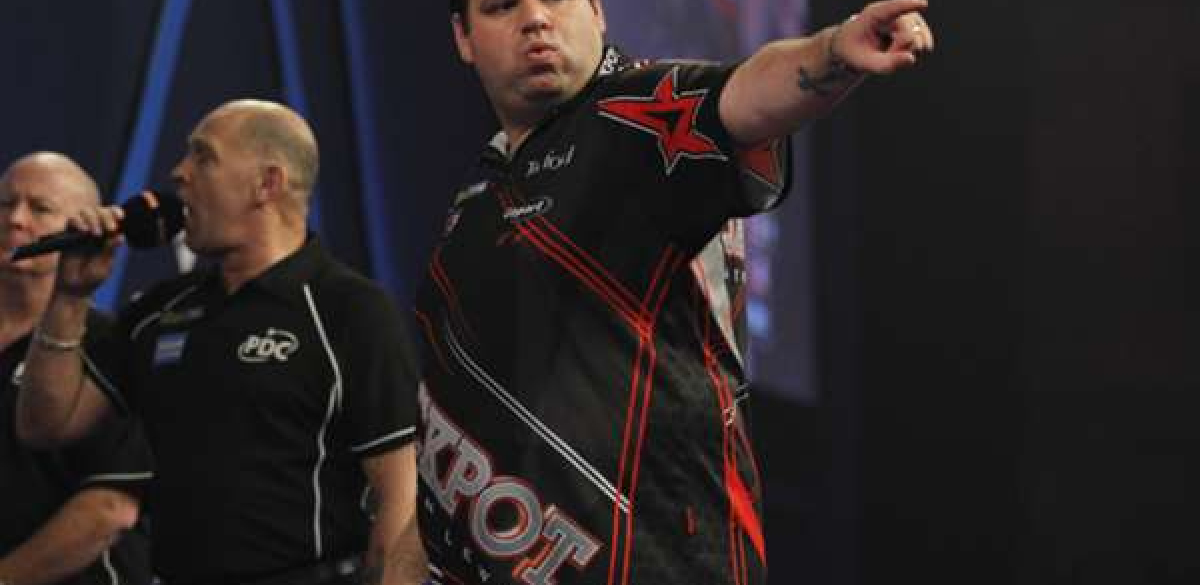 LEWIS EASES THROUGH AS KING AND CULLEN WIN THRILLERS

ADRIAN LEWIS began his 2017 William Hill World Darts Championship campaign with a routine victory over Magnus Caris on Monday, while Meryvn King and Joe Cullen both came through exciting encounters at Alexandra Palace.

Lewis, last year's runner-up to Gary Anderson, began his bid to be crowned as World Champion for a third time with a straight sets success against Swedish number one Magnus Caris.

After losing the first set, Caris missed one dart to win the second before Lewis eased through the third to move into the second round in comfortable fashion.

"I was just pleased to get the job done," said Lewis, the number four seed who took glory in the 2011 and 2012 World Championships.

"Everybody is a bit nervous and apprehensive in the first round but I was okay. It was hard to get in a rhythm but I'll get better as it goes on."

Lewis will meet Cullen in the second round after the Yorkshireman reached that stage for the first time, having failed to do so in six previous attempts.

Cullen came out on top in a a high quality affair against Australian prospect Corey Cadby, who had produced a brilliant performance in flooring China's Qiang Sun with a preliminary round record average of 102 in a six-leg whitewash.

Cullen then averaged over 100 as he recovered from losing the first set to the PDC Unicorn World Youth Champion, who took out six finishes of over 100 across his two matches.

"Corey played really well," admitted Cullen, who has enjoyed the best year of his career in 2016 to break into the world's top 32.

"I'm just happy to get over the line. The hoodoo is over now and I feel really confident.

"I'm looking forward to playing Adrian. He's a great player and a great guy but if play my game I can cause him trouble." 

King, meanwhile, came back from two sets down to defeat Steve West in a thrilling tie-breaker, defying eight 180s from his opponent.

King's fight-back was sparked by a superbly timed 136 checkout to stay alive in the third set with West waiting on 36 for the match, before the former Alexandra Palace semi-finalist battled back to progress.

"I haven't got words for this," said an emotional King, who faces Michael Smith in round two.

"I played one of my best mates and I feel really sorry for Steve. I've played some fantastic games and won a lot of things over the years but getting through the first round here is special.

"I'm going to play a lot better against Michael so he better watch out."

Tuesday evening will see 2007 winner Raymond van Barneveld return to the Alexandra Palace Pally stage as the Dutch great takes on Robbie Green, while Brendan Dolan meets Christian Kist and 2010 finalist Simon Whitlock faces the winner of a preliminary round match between Russia's Boris Koltsov and German qualifier Dragutin Horvat.
 
WATCH LIVE 
The William Hill World Darts Championship will be broadcast live on the Sky Sports Darts channel.

Worldwide coverage is also available through a record number of live broadcasters, and online for PDCTV-HD Subscribers (outside of UK, Ireland & Netherlands) through www.LIVEPDC.TV .

TICKETS 
A limited number of tickets are still available for the William Hill World Darts Championship - including sessions pre-Christmas - and can be ordered online by CLICKING HERE .

For full ticket information, click here .

William Hill World Darts Championship
Monday December 19
Qiang Sun 0-2 Corey Cadby (P)
Mervyn King (22) 3-2 Steve West
Adrian Lewis (5) 3-0 Magnus Caris
Joe Cullen (28) 3-1 Corey Cadby

Preliminary Round - Best of three sets
First Round - Best of five sets

LIVE STATS 
Follow live stats & see match stats throughout the event via the official PDC Live Scores website - CLICK HERE 

MATCH UPDATES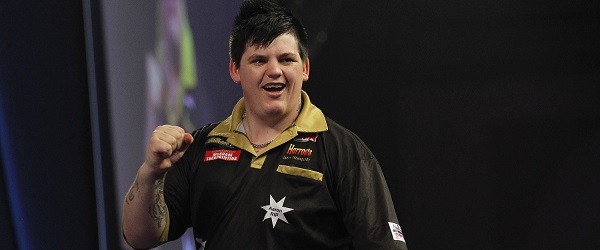 Qiang Sun 0-2 Corey Cadby (P) 
0-1 (0-3)
Cadby started in sensational style with back-to-back checkouts of 152 and 108. He missed double top for a third consecutive ton-plus checkout but returned to bed double ten to seal a first set whitewash.

0-2 (0-3)
Cadby continued to play brilliantly, taking out 121 on the bull and narrowly missing the bull for a 170. He cleaned up the remaining 25 and added a 180 as he completed a fabulous victory, in which he averaged 102.48 - the highest ever in a World Championship preliminary round match.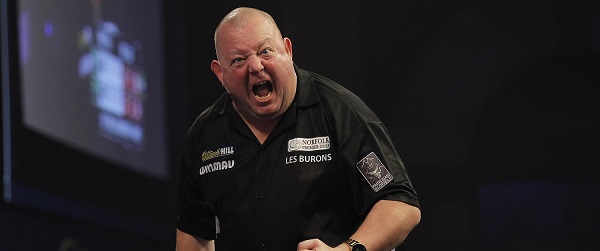 Mervyn King 3-2 Steve West 
0-1 (0-3) 
West hit a 180 in the opening leg and landed double two to win. He then pinned tops in each of the next two legs to win the set.

0-2 (2-3)
King took the first leg with an 80 checkout and pinned double 16 after hitting a maximum to move two legs in front. He was then punished for missing two set darts as West took out 45, 36 and 60 to pinch the set, adding his third and fourth 180s in the process. 

1-2 (3-2)
The first two legs were shared before West took out 109 to move within a leg of victory, and he looked to be closing out the win when he kicked off the the following leg with back-to-back 180s, only to see King take out 136 for a stunning match-saver. King won the following leg to take the set.

2-2 (3-1)
King took out finishes of 140, 95 and 106 to win the set 3-1, forcing a decider.

3-2 (6-4)
The pair shared four legs to take the match to a tie-break. West edged ahead when he took out 56 after hitting a seventh 180 but he missed two match darts in the following leg, allowing King to level. The pair each won a leg before King took two to move into round two.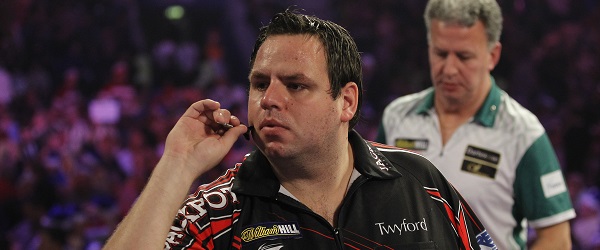 Adrian Lewis 3-0 Magnus Caris 
1-0 (3-1)
Caris pinned tops to win the first leg but Lewis responded with a ten-dart leg as he won three in a row to take the set.

2-0 (3-2)
Lewis hit a 180 and took out 65 to win the first leg but his fourth maximum couldn't stop Caris levelling as Sweden's top player took out 60. Lewis landed double 18 before Caris landed double ten but he missed a set dart at tops in the decider, allowing the two-time World Champion to peg double 14. 

3-0 (3-1)
Caris landed tops before Lewis levelled on double one and the number three seed went on to take the following two legs to move into the second round.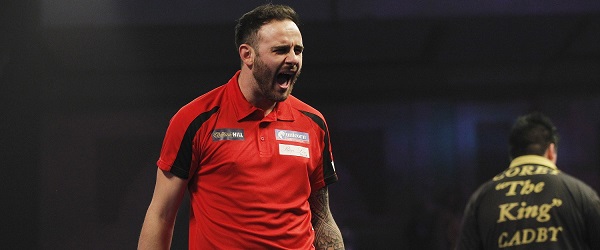 Joe Cullen 3-1 Corey Cadby 
0-1 (1-3)
Cadby took 90 in the first leg and Cullen levelled on double 18. Cadby hit three 180s in the following two legs as he sealed the set with an 81 checkout.

1-1 (3-2)
Cullen fired in a 180 and a 107 finish in the first leg but Cadby levelled by taking out 68. He then broke in a leg that saw both players hit 180s but Cullen added his fourth maximum and took out 85 to break back immediately. Cullen then produced a fabulous 117 checkout to level the tie.

2-1 (3-1)
Cadby took out 108 but Cullen won the following three legs to lead the match, adding two more maximums in the process.

3-1 (3-2)
Cadby added 109 to his list of ton-plus checkouts as he broke in the first leg but Cullen levelled on double four. The next two legs went with throw and Cullen finished the job by landing double 18 for his first World Championship victory.