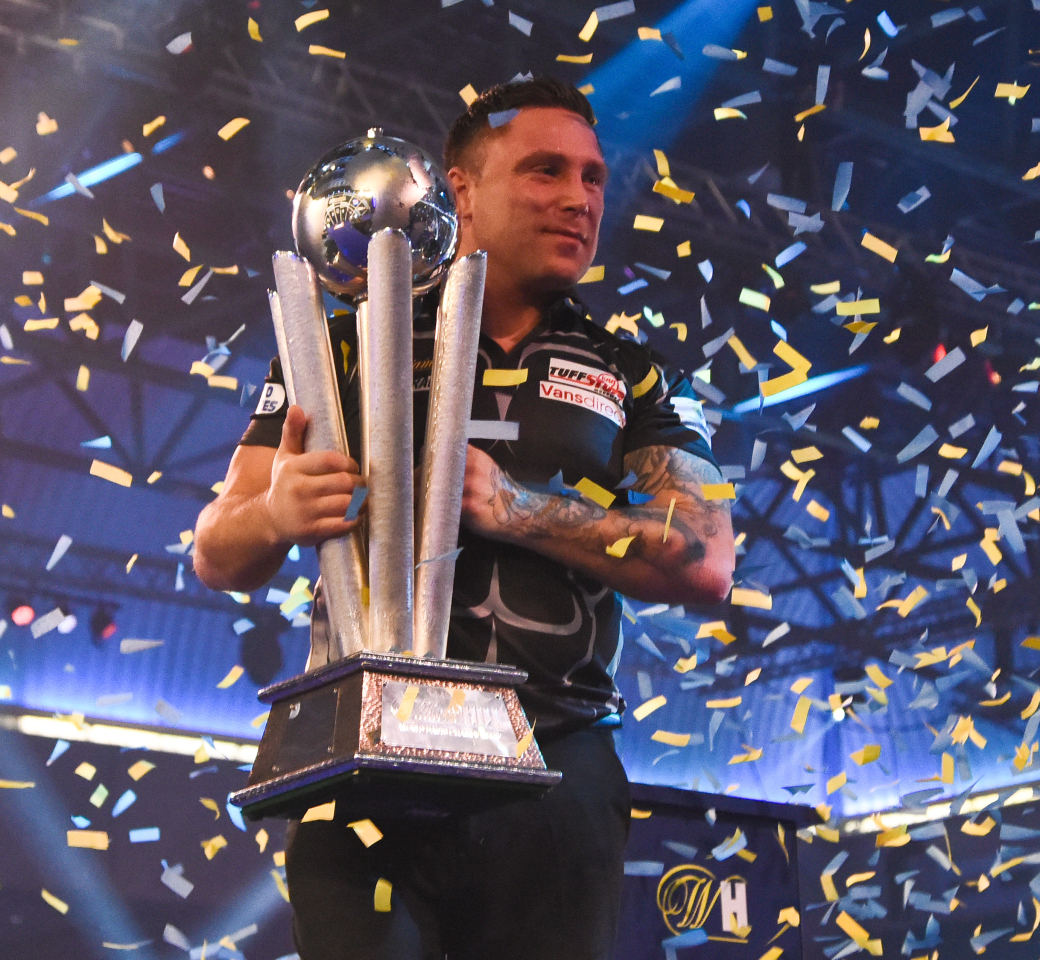 Gerwyn Price
The Iceman
World Ranking

4

Televised titles

10

Non-Televised PDC Titles

24

Televised Nine-Dart Finishes

7
Welsh thrower Price has enjoyed a meteoric rise since joining the PDC circuit in 2014, claiming seven televised titles to become one of the sport's most established names.
The former rugby professional rose consistently up the ranks before securing his maiden televised crown at the 2018 Grand Slam of Darts, his first of three triumphs in Wolverhampton.
Price added three more titles to his haul in 2020, including the World Cup of Darts, before he was crowned World Champion for the first time in January 2021.
He defeated Gary Anderson 7-3 in the final at Alexandra Palace, becoming the 10th player in PDC history to achieve world number one status.
Player Stats
Select below to see result & roll of honour information.
| | |
| --- | --- |
| 10 |   |
| World Championship | 2021 |
| World Grand Prix | 2020 |
| Grand Slam of Darts | 2018, 2019, 2021 |
| World Series of Darts Finals | 2020, 2022 |
| World Cup of Darts | 2020, 2023 |
| New Zealand Darts Masters | 2022 |
| | | |
| --- | --- | --- |
| Belgian Darts Championship | 2020 |   |
| European Darts Open | 2023 |   |
| Gibraltar Darts Trophy | 2021 |   |
| Hungarian Darts Trophy | 2021 |   |
| International Darts Open | 2018, 2019, 2022, 2023 |   |
| Players Championship | 2016 (x2), 2019 (x3), 2020 (x4), 2021 (x2), 2022 (x2), 2023 (x3) |   |
| | | |
| --- | --- | --- |
|   | Most Recent | Best Performance |
| 2023 WORLD CHAMPIONSHIP | Quarter Final | Winner - 2021 |
| 2023 UK OPEN | Last 32 | Runner Up - 2017, 2020 |
| 2023 WORLD MATCHPLAY | Last 16 | Runner Up - 2022 |
| 2022 WORLD GRAND PRIX | Semi Final | Winner - 2020 |
| 2022 EUROPEAN CHAMPIONSHIP | Last 32 | Runner Up - 2019 |
| 2022 GRAND SLAM OF DARTS | Quarter Final | Winner - 2018, 2019, 2021 |
| 2022 PLAYERS CHAMPIONSHIP FINALS | Last 64 | Runner Up - 2019 |
 
Most Recent
Best Performance
2023 MASTERS
Last 16
Semi Final - 2021
2023 PREMIER LEAGUE
Runner Up
Runner Up - 2023
2023 WORLD CUP OF DARTS

 

Winner
Winner - 2020, 2023
2022 WORLD SERIES OF DARTS FINALS
Winner
Winner - 2020, 2022
| | | |
| --- | --- | --- |
|   | Most Recent | Best Performance |
| 2023 BAHRAIN DARTS MASTERS | Runner Up | Runner Up - 2023 |
| 2023 NORDIC DARTS MASTERS | Runner Up | Runner Up - 2023 |
| 2023 U.S. DARTS MASTERS | Quarter Final | Semi Final - 2017, 2019, 2022 |
| 2023 POLAND DARTS MASTERS | Semi Final | Semi Final - 2023 |
| 2023 NEW ZEALAND DARTS MASTERS | Semi Final | Winner - 2022 |
| 2023 NEW SOUTH WALES DARTS MASTERS | Quarter Final | Semi Final - 2022 |
| | | |
| --- | --- | --- |
| TOURNAMENT WIN | Players Championship 21 (September 2023) | beat Daniel Klose 8-6 |
| FINAL | Players Championship 21 (September 2023) | beat Daniel Klose 8-6 |
| SEMI FINAL | Players Championship 21 (September 2023) | beat Daryl Gurney 7-3 |
| QUARTER FINAL | Players Championship 21 (September 2023) | beat Danny Noppert 6-1 |
| | | |
| --- | --- | --- |
| WORLD CHAMPIONSHIP | Quarter Final | lost to Gabriel Clemens 5-1 |
| BAHRAIN DARTS MASTERS | Runner Up | lost to Michael Smith 8-6 |
| NORDIC DARTS MASTERS | Runner Up | lost to Peter Wright 11-5 |
| THE MASTERS | Last 16 | lost to to Dirk van Duijvenbode 10-8 |
| PLAYERS CHAMPIONSHIP 1 | - |   |
| PLAYERS CHAMPIONSHIP 2 | - |   |
| PLAYERS CHAMPIONSHIP 3 | Semi Final | lost to Kim Huybrechts 7-3 |
| PLAYERS CHAMPIONSHIP 4 | Last 128 | lost to Jeffrey Sparidaans 6-5 |
| BALTIC SEA DARTS OPEN | Last 16 | lost to Dave Chisnall 6-4 |
| UK OPEN | Last 32 | lost to Jeffrey de Zwaan 10-8 |
| PLAYERS CHAMPIONSHIP 5 | Semi Final | lost to Gary Anderson 7-5 |
| PLAYERS CHAMPIONSHIP 6 | Last 128 | lost to Jose Justicia 6-5 |
| PLAYERS CHAMPIONSHIP 7 | Last 128 | lost to Kevin Doets 6-5 |
| PLAYERS CHAMPIONSHIP 8 | Semi Final | lost to Gary Anderson 7-3 |
| EUROPEAN DARTS OPEN | Winner | beat Dirk van Duijvenbode 8-7 |
| INTERNATIONAL DARTS OPEN | Winner | beat Michael van Gerwen 8-4 |
| GERMAN DARTS GRAND PRIX | Last 16 | lost to Michael Smith 6-2 |
| PLAYERS CHAMPIONSHIP 9 | - |   |
| PLAYERS CHAMPIONSHIP 10 | - |   |
| AUSTRIAN DARTS OPEN | - |   |
| DUTCH DARTS CHAMPIONSHIP | - |   |
| BELGIAN DARTS OPEN | - |   |
| CZECH DARTS OPEN | - |   |
| PLAYERS CHAMPIONSHIP 11 | Quarter Final | lost to Mike De Decker 6-5 |
| PLAYERS CHAMPIONSHIP 12 | Last 16 | lost to Joe Cullen 6-3 |
| PREMIER LEAGUE | Runner Up | lost to Michael van Gerwen 11-5 |
| EUROPEAN DARTS GRAND PRIX | Last 16 | lost to Martin Schindler 6-5 |
| U.S. DARTS MASTERS | Quarter Final | lost to Luke Humphries 6-4 |
| PLAYERS CHAMPIONSHIP 13 | Quarter Final | lost to Damon Heta 6-4 |
| PLAYERS CHAMPIONSHIP 14 | Last 128 | lost to Mickey Mansell 6-4 |
| WORLD CUP OF DARTS | Winner (Jonny Clayton) | beat Scotland 10-2 |
| EUROPEAN DARTS MATCHPLAY | - |   |
| POLAND DARTS MASTERS | Semi Final | lost to Dimitri Van den Bergh 7-6 |
| PLAYERS CHAMPIONSHIP 15 | - |   |
| PLAYERS CHAMPIONSHIP 16 | - |   |
| WORLD MATCHPLAY | Last 16 | lost to Joe Cullen 13-11 |
| NEW ZEALAND DARTS MASTERS | Semi Final | lost to Rob Cross 7-3 |
| NEW SOUTH WALES DARTS MASTERS | Quarter Final | lost to Damon Heta 6-3 |
| PLAYERS CHAMPIONSHIP 17 | Winner | beat Josh Rock 8-5 |
| PLAYERS CHAMPIONSHIP 18 | Winner | beat Gian van Veen 8-1 |
| PLAYERS CHAMPIONSHIP 19 | Last 128 | lost to Jim Williams 6-5 |
| PLAYERS CHAMPIONSHIP 20 | Last 32 | lost to Jules van Dongen 6-5 |
| PLAYERS CHAMPIONSHIP 21 | Winner | beat Daniel Klose 8-6 |
| GERMAN DARTS OPEN | - |   |
| | | |
| --- | --- | --- |
| WORLD CHAMPIONSHIP | Quarter Final | lost to Michael Smith 5-4 |
| THE MASTERS | Quarter Final | lost to Jonny Clayton 10-8 |
| PLAYERS CHAMPIONSHIP 1 | Last 64 | lost to Jim Williams 6-4 |
| PLAYERS CHAMPIONSHIP 2 | Runner Up | lost to Peter Wright 8-5 |
| PLAYERS CHAMPIONSHIP 3 | Last 128 | lost to Keegan Brown 6-5 |
| PLAYERS CHAMPIONSHIP 4 | Semi Final | lost to Joe Cullen 7-5 |
| INTERNATIONAL DARTS OPEN | Winner | beat Peter Wright 8-4 |
| UK OPEN | Quarter Final | lost to Michael Smith 10-7 |
| GERMAN DARTS CHAMPIONSHIP | - |   |
| PLAYERS CHAMPIONSHIP 5 | - |   |
| PLAYERS CHAMPIONSHIP 6 | - |   |
| PLAYERS CHAMPIONSHIP 7 | Winner | beat Madars Razma 8-4 |
| PLAYERS CHAMPIONSHIP 8 | Last 32 | lost to Jamie Hughes 6-4 |
| PLAYERS CHAMPIONSHIP 9 | Last 32 | lost to Madars Razma 6-3 |
| PLAYERS CHAMPIONSHIP 10 | Last 64 | lost to Ryan Joyce 6-2 |
| PLAYERS CHAMPIONSHIP 11 | Last 16 | lost to Josh Rock 6-4 |
| PLAYERS CHAMPIONSHIP 12 | Last 16 | lost to Gordon Mathers 6-5 |
| PLAYERS CHAMPIONSHIP 13 | Last 64 | lost to Radek Szaganski 6-4 |
| GERMAN DARTS GRAND PRIX | - |   |
| AUSTRIAN DARTS OPEN | - |   |
| EUROPEAN DARTS OPEN | Last 16 | lost to Nathan Aspinall 6-5 |
| PLAYERS CHAMPIONSHIP 14 | - |   |
| PLAYERS CHAMPIONSHIP 15 | - |   |
| CZECH DARTS OPEN | Last 32 | lost to Adrian Lewis 6-3 |
| EUROPEAN DARTS GRAND PRIX | - |   |
| DUTCH DARTS CHAMPIONSHIP | Last 32 | lost to Mervyn King 6-5 |
| U.S. DARTS MASTERS | Semi Final | lost to Michael van Gerwen 8-4 |
| NORDIC DARTS MASTERS | Quarter Final | lost to Dimitri Van den Bergh 10-5 |
| PREMIER LEAGUE | 7th |   |
| PLAYERS CHAMPIONSHIP 16 | - |   |
| PLAYERS CHAMPIONSHIP 17 | - |   |
| WORLD CUP OF DARTS | Runner Up (Jonny Clayton) | lost to Australia 3-1 |
| DUTCH DARTS MASTERS | Last 16 | lost to Vincent van der Voort 6-5 |
| EUROPEAN DARTS MATCHPLAY | Last 32 | lost to Rowby-John Rodriguez 6-2 |
| PLAYERS CHAMPIONSHIP 18 | Last 64 | lost to Cameron Menzies 6-1 |
| PLAYERS CHAMPIONSHIP 19 | Last 64 | lost to Karel Sedlacek 6-4 |
| PLAYERS CHAMPIONSHIP 20 | - |   |
| PLAYERS CHAMPIONSHIP 21 | - |   |
| WORLD MATCHPLAY | Runner Up | lost to Michael van Gerwen 18-14 |
| PLAYERS CHAMPIONSHIP 22 | Last 16 | lost to Krzysztof Ratajski 6-3 |
| PLAYERS CHAMPIONSHIP 23 | Last 64 | lost to Ross Montgomery 6-5 |
| PLAYERS CHAMPIONSHIP 24 | - |   |
| QUEENSLAND DARTS MASTERS | Runner Up | lost to Michael van Gerwen 8-5 |
| NEW SOUTH WALES DARTS MASTERS | Semi Final | lost to James Wade 7-3 |
| NEW ZEALAND DARTS MASTERS | Winner | beat Gerwyn Price 8-4 |
| HUNGARIAN DARTS TROPHY | - |   |
| GERMAN DARTS OPEN | Quarter Final | lost to Jose de Sousa 6-5 |
| WORLD SERIES OF DARTS FINALS | Winner | beat Dirk van Duijvenbode 11-10 |
| BELGIAN DARTS OPEN | - |   |
| WORLD GRAND PRIX | Semi Final | lost to Nathan Aspinall 4-2 |
| GIBRALTAR DARTS TROPHY | Last 32 | lost to Mensur Suljovic 6-4 |
| PLAYERS CHAMPIONSHIP 25 | Semi Final | lost to Dave Chisnall 7-6 |
| PLAYERS CHAMPIONSHIP 26 | Semi Final | lost to Damon Heta 7-3 |
| PLAYERS CHAMPIONSHIP 27 | Last 128 | lost to Raymond van Barneveld 6-4 |
| PLAYERS CHAMPIONSHIP 28 | - |   |
| EUROPEAN CHAMPIONSHIP | Last 32 | lost to Rowby-John Rodriguez 6-4 |
| PLAYERS CHAMPIONSHIP 29 | Winner | beat Gian van Veen 8-4 |
| PLAYERS CHAMPIONSHIP 30 | - |   |
| GRAND SLAM OF DARTS | Quarter Final | lost to Raymond van Barneveld 16-13 |
| PLAYERS CHAMPIONSHIP FINALS | Last 64 | lost to Ryan Joyce 6-5 |
| | | |
| --- | --- | --- |
| WORLD CHAMPIONSHIP | Winner | beat Gary Anderson 7-3 |
| THE MASTERS | Semi Final | lost to Mervyn King 11-10 |
| PLAYERS CHAMPIONSHIP 1 | Last 64 | lost to Gary Anderson 6-2 |
| PLAYERS CHAMPIONSHIP 2 | Last 64 | lost to Aaron Beeney 6-5 |
| PLAYERS CHAMPIONSHIP 3 | - |   |
| PLAYERS CHAMPIONSHIP 4 | - |   |
| UK OPEN | Semi Final | lost to James Wade 11-6 |
| PLAYERS CHAMPIONSHIP 5 | Last 32 | lost to Brendan Dolan 6-2 |
| PLAYERS CHAMPIONSHIP 6 | Winner | beat Luke Humphries 8-5 |
| PLAYERS CHAMPIONSHIP 7 | Last 64 | lost to Chas Barstow 6-2 |
| PLAYERS CHAMPIONSHIP 8 | Runner Up | lost to Peter Wright 8-3 |
| PLAYERS CHAMPIONSHIP 9 | - |   |
| PLAYERS CHAMPIONSHIP 10 | - |   |
| PLAYERS CHAMPIONSHIP 11 | - |   |
| PLAYERS CHAMPIONSHIP 12 | - |   |
| PREMIER LEAGUE | - |   |
| PLAYERS CHAMPIONSHIP 13 | Runner Up | lost to Joe Cullen 8-6 |
| PLAYERS CHAMPIONSHIP 14 | Last 128 | lost to Luke Woodhouse 6-4 |
| PLAYERS CHAMPIONSHIP 15 | Last 32 | lost to Maik Kuivenhoven 6-5 |
| PLAYERS CHAMPIONSHIP 16 | Quarter Final | lost to Dirk van Duijvenbode 6-3 |
| PLAYERS CHAMPIONSHIP 17 | Semi Final | lost to Stephen Bunting 7-5 |
| PLAYERS CHAMPIONSHIP 18 | Last 16 | lost to Boris Krcmar 6-4 |
| PLAYERS CHAMPIONSHIP 19 | Last 32 | lost to Ross Smith 6-4 |
| PLAYERS CHAMPIONSHIP 20 | Quarter Final | lost to James Wade 6-3 |
| WORLD MATCHPLAY | Quarter Final | lost to Dimitri Van den Bergh 16-9 |
| PLAYERS CHAMPIONSHIP 21 | Winner | beat Damon Heta 8-7 |
| PLAYERS CHAMPIONSHIP 22 | Last 32 | lost to Martijn Kleermaker 6-2 |
| PLAYERS CHAMPIONSHIP 23 | Last 16 | lost to Ryan Searle 6-4 |
| HUNGARIAN DARTS TROPHY | Winner | beat Michael Smith 8-2 |
| WORLD CUP OF DARTS | Semi Final (Jonny Clayton) | lost to Scotland 2-1 |
| NORDIC DARTS MASTERS | Quarter Final | (withdrew) |
| GIBRALTAR DARTS TROPHY | Winner | beat Mensur Suljovic 8-0 |
| WORLD GRAND PRIX | Runner Up | lost to Jonny Clayton 5-1 |
| EUROPEAN CHAMPIONSHIP | Quarter Final | lost to Michael van Gerwen 10-8 |
| PLAYERS CHAMPIONSHIP 24 | - |   |
| PLAYERS CHAMPIONSHIP 25 | - |   |
| PLAYERS CHAMPIONSHIP 26 | - |   |
| PLAYERS CHAMPIONSHIP 27 | - |   |
| WORLD SERIES OF DARTS FINALS | Quarter Final | lost to Jonny Clayton 10-9 |
| PLAYERS CHAMPIONSHIP 28 | - |   |
| PLAYERS CHAMPIONSHIP 29 | - |   |
| PLAYERS CHAMPIONSHIP 30 | - |   |
| GRAND SLAM OF DARTS | Winner | beat Peter Wright 16-8 |
| PLAYERS CHAMPIONSHIP FINALS | Last 16 | lost to Brendan Dolan 10-8 |
| | | |
| --- | --- | --- |
| WORLD CHAMPIONSHIP | Semi Final | lost to Peter Wright 6-3 |
| THE MASTERS | Quarter Final | lost to Gary Anderson 10-2 |
| PLAYERS CHAMPIONSHIP 1 | Last 32 | lost to Gary Anderson 6-3 |
| PLAYERS CHAMPIONSHIP 2 | Runner Up | lost to Nathan Aspinall 8-3 |
| PLAYERS CHAMPIONSHIP 3 | Last 128 | lost to Ryan Searle 6-4 |
| PLAYERS CHAMPIONSHIP 4 | - |   |
| PLAYERS CHAMPIONSHIP 5 | Runner Up | lost to Peter Wright 8-6 |
| PLAYERS CHAMPIONSHIP 6 | Winner | beat Michael van Gerwen 8-7 |
| BELGIAN DARTS CHAMPIONSHIP | Winner | beat Michael Smith 8-3 |
| UK OPEN | Runner Up | lost to Michael van Gerwen 11-9 |
| PLAYERS CHAMPIONSHIP 7 | - |   |
| PLAYERS CHAMPIONSHIP 8 | - |   |
| PLAYERS CHAMPIONSHIP 9 (SS1) | Last 64 | lost to Martijn Kleermaker 6-5 |
| PLAYERS CHAMPIONSHIP 10 (SS2) | Last 32 | lost to Madars Razma 6-4 |
| PLAYERS CHAMPIONSHIP 11 (SS3) | Last 16 | lost to Jose de Sousa 6-3 |
| PLAYERS CHAMPIONSHIP 12 (SS4) | Last 32 | lost to Callan Rydz 6-5 |
| PLAYERS CHAMPIONSHIP 13 (SS5) | Runner Up | lost to Peter Wright 8-2 |
| WORLD MATCHPLAY | Last 32 | lost to Danny Noppert 10-7 |
| PREMIER LEAGUE | 5th |   |
| PLAYERS CHAMPIONSHIP 14 (AS1) | Last 32 | lost to Devon Petersen 6-2 |
| PLAYERS CHAMPIONSHIP 15 (AS2) | Quarter Final | lost to Joe Cullen 6-5 |
| PLAYERS CHAMPIONSHIP 16 (AS3) | Last 32 | lost to Ross Smith 6-4 |
| PLAYERS CHAMPIONSHIP 17 (AS4) | Winner | beat Devon Petersen 8-7 |
| PLAYERS CHAMPIONSHIP 18 (AS5) | Winner | beat Krzysztof Ratajski 8-5 |
| WORLD SERIES OF DARTS FINALS | Winner | beat Rob Cross 11-9 |
| GERMAN DARTS CHAMPIONSHIP | Last 32 | lost to Devon Petersen 6-5 |
| WORLD GRAND PRIX | Winner | beat Dirk van Duijvenbode 5-2 |
| EUROPEAN DARTS GRAND PRIX | Last 16 | lost to Jose de Sousa 6-3 |
| INTERNATIONAL DARTS OPEN | Last 32 | lost to Ross Smith 6-5 |
| EUROPEAN CHAMPIONSHIP | Last 16 | lost to Peter Wright 10-6 |
| WORLD CUP OF DARTS | Winner (Jonny Clayton) | beat England 3-0 |
| PLAYERS CHAMPIONSHIP 19 (WS1) | Last 64 | lost to Martin Schindler 6-2 |
| PLAYERS CHAMPIONSHIP 20 (WS2) | Last 32 | lost to Ryan Joyce 6-1 |
| PLAYERS CHAMPIONSHIP 21 (WS3) | Winner | beat Damon Heta 8-6 |
| PLAYERS CHAMPIONSHIP 22 (WS4) | - |   |
| PLAYERS CHAMPIONSHIP 23 (WS5) | - |   |
| GRAND SLAM OF DARTS | Last 16 | lost to Nathan Aspinall 10-8 |
| PLAYERS CHAMPIONSHIP FINALS | Semi Final | lost to Michael van Gerwen 11-8 |
| | | |
| --- | --- | --- |
| WORLD CHAMPIONSHIP | Last 64 | lost to Nathan Aspinall 3-2 |
| THE MASTERS | Last 16 | lost to James Wade 10-7 |
| PLAYERS CHAMPIONSHIP 1 | Last 64 | lost to Diogo Portela 6-5 |
| PLAYERS CHAMPIONSHIP 2 | Last 64 | lost to Alan Tabern 6-5 |
| PLAYERS CHAMPIONSHIP 3 | Last 32 | lost to Kim Huybrechts 6-5 |
| PLAYERS CHAMPIONSHIP 4 | Semi Final | lost to Glen Durrant 7-3 |
| PLAYERS CHAMPIONSHIP 5 | Winner | beat Gabriel Clemens 8-4 |
| PLAYERS CHAMPIONSHIP 6 | Winner | beat Ricky Evans 8-4 |
| UK OPEN | Semi Final | lost to Nathan Aspinall 11-9 |
| PLAYERS CHAMPIONSHIP 7 | Semi Final | lost to Daryl Gurney 7-2 |
| PLAYERS CHAMPIONSHIP 8 | Last 64 | lost to Andy Boulton 6-5 |
| EUROPEAN DARTS OPEN | Quarter Final | lost to Michael van Gerwen 6-5 |
| GERMAN DARTS CHAMPIONSHIP | Quarter Final | lost to Keegan Brown 6-5 |
| PLAYERS CHAMPIONSHIP 9 | - |   |
| PLAYERS CHAMPIONSHIP 10 | - |   |
| PLAYERS CHAMPIONSHIP 11 | Last 128 | lost to Arron Monk 6-3 |
| PLAYERS CHAMPIONSHIP 12 | Last 16 | lost to Danny Noppert 6-5 |
| GERMAN DARTS GRAND PRIX | - |   |
| GERMAN DARTS OPEN | Quarter Final | lost to Rob Cross 6-5 |
| PLAYERS CHAMPIONSHIP 13 | Last 64 | lost to Luke Woodhouse 6-3 |
| PLAYERS CHAMPIONSHIP 14 | Last 16 | lost to Krzysztof Ratajski 6-3 |
| AUSTRIAN DARTS OPEN | Quarter Final | lost to James Wade 6-4 |
| EUROPEAN DARTS GRAND PRIX | Last 16 | lost to Darren Webster 6-4 |
| PLAYERS CHAMPIONSHIP 15 | - |   |
| PLAYERS CHAMPIONSHIP 16 | - |   |
| PREMIER LEAGUE | 5th |   |
| DUTCH DARTS MASTERS | Semi Final | lost to Michael van Gerwen 7-6 |
| WORLD CUP OF DARTS | Last 32 (Jonny Clayton) | lost to Singapore 5-3 |
| DANISH DARTS OPEN | Semi Final | lost to Chris Dobey 7-4 |
| PLAYERS CHAMPIONSHIP 17 | Last 16 | lost to Nathan Aspinall 6-3 |
| PLAYERS CHAMPIONSHIP 18 | - |   |
| CZECH DARTS OPEN | Last 16 | lost to Simon Whitlock 6-3 |
| U.S. DARTS MASTERS | Semi Final | lost to Michael Smith 8-4 |
| GERMAN DARTS MASTERS | - |   |
| PLAYERS CHAMPIONSHIP 19 | Last 128 | lost to Justin Pipe 6-3 |
| PLAYERS CHAMPIONSHIP 20 | Last 16 | lost to Joe Cullen 6-2 |
| WORLD MATCHPLAY | Last 32 | lost to Stephen Bunting 13-12 |
| PLAYERS CHAMPIONSHIP 21 | - |   |
| PLAYERS CHAMPIONSHIP 22 | - |   |
| BRISBANE DARTS MASTERS | - |   |
| MELBOURNE DARTS MASTERS | - |   |
| NEW ZEALAND DARTS MASTERS | - |   |
| AUSTRIAN DARTS CHAMPIONSHIP | Last 16 | lost to Vincent van der Voort 6-1 |
| EUROPEAN DARTS MATCHPLAY | Last 16 | lost to Glen Durrant 6-3 |
| PLAYERS CHAMPIONSHIP 23 | Runner Up | lost to Jose De Sousa 8-1 |
| PLAYERS CHAMPIONSHIP 24 | Last 16 | lost to Jamie Hughes 6-5 |
| INTERNATIONAL DARTS OPEN | Winner | beat Rob Cross 8-6 |
| PLAYERS CHAMPIONSHIP 25 | Last 16 | lost to Michael Smith 6-1 |
| PLAYERS CHAMPIONSHIP 26 | Last 64 | lost to Ron Meulenkamp 6-2 |
| GIBRALTAR DARTS TROPHY | Quarter Final | lost to Daryl Gurney 6-3 |
| PLAYERS CHAMPIONSHIP 27 | Winner | beat Krzysztof Ratajski 8-7 |
| PLAYERS CHAMPIONSHIP 28 | Semi Final | lost to Glen Durrant 7-6 |
| WORLD GRAND PRIX | Last 32 | lost to Dave Chisnall 2-1 |
| PLAYERS CHAMPIONSHIP 29 | Quarter Final | lost to Brendan Dolan 6-2 |
| PLAYERS CHAMPIONSHIP 30 | Semi Final | lost to Krzysztof Ratajski 7-5 |
| CHAMPIONS LEAGUE OF DARTS | Semi Final | lost to Michael van Gerwen 11-10 |
| EUROPEAN CHAMPIONSHIP | Runner Up | lost to Rob Cross 11-6 |
| WORLD SERIES OF DARTS FINALS | Last 16 | lost to Michael van Gerwen 6-5 |
| GRAND SLAM OF DARTS | Winner | beat Peter Wright 16-6 |
| PLAYERS CHAMPIONSHIP FINALS | Runner Up | lost to Michael van Gerwen 11-9 |
| | | |
| --- | --- | --- |
| WORLD CHAMPIONSHIP | Last 16 | lost to Michael van Gerwen 4-2 |
| THE MASTERS | Quarter Final | lost to Gary Anderson 10-6 |
| UK OPEN QUALIFIER 1 | Last 16 | lost to Peter Wright 6-5 |
| UK OPEN QUALIFIER 2 | Last 32 | lost to Alan Norris 6-5 |
| UK OPEN QUALIFIER 3 | - |   |
| UK OPEN QUALIFIER 4 | Last 32 | lost to Raymond van Barneveld 6-1 |
| UK OPEN QUALIFIER 5 | Last 64 | lost to David Evans 6-4 |
| UK OPEN QUALIFIER 6 | Last 64 | lost to John Goldie 6-4 |
| PLAYERS CHAMPIONSHIP 1 | Semi Final | lost to Michael van Gerwen 6-3 |
| PLAYERS CHAMPIONSHIP 2 | Last 128 | lost to Dimitri Van den Bergh 6-2 |
| UK OPEN | Quarter Final | lost to Corey Cadby 10-5 |
| PLAYERS CHAMPIONSHIP 3 | Last 16 | lost to Joe Cullen 6-5 |
| PLAYERS CHAMPIONSHIP 4 | - |   |
| PLAYERS CHAMPIONSHIP 5 | Last 128 | lost to Mickey Mansell 6-3 |
| PLAYERS CHAMPIONSHIP 6 | Last 128 | lost to Josh Payne 6-4 |
| EUROPEAN DARTS OPEN | Last 32 | lost to Richard North 6-5 |
| GERMAN DARTS GRAND PRIX | Last 32 | lost to Luke Humphries 6-1 |
| PLAYERS CHAMPIONSHIP 7 | Last 32 | lost to John Henderson 6-3 |
| PLAYERS CHAMPIONSHIP 8 | Quarter Final | lost to Mickey Mansell 6-3 |
| GERMAN DARTS OPEN | Quarter Final | lost to Rob Cross 6-1 |
| AUSTRIAN DARTS OPEN | Runner Up | lost to Jonny Clayton 8-5 |
| PLAYERS CHAMPIONSHIP 9 | Last 32 | lost to James Wade 6-4 |
| PLAYERS CHAMPIONSHIP 10 | Last 32 | lost to Adrian Lewis 6-3 |
| EUROPEAN DARTS GRAND PRIX | Last 32 | lost to Danny Noppert 6-5 |
| DUTCH DARTS MASTERS | Last 16 | lost to Peter Wright 6-3 |
| PREMIER LEAGUE | 10th |   |
| PLAYERS CHAMPIONSHIP 11 | Last 32 | lost to Adrian Lewis 6-5 |
| PLAYERS CHAMPIONSHIP 12 | Last 64 | lost to Dawson Murschell 6-5 |
| GERMAN DARTS MASTERS | - |   |
| WORLD CUP OF DARTS | Quarter Final (Jonny Clayton) | lost to Australia 2-1 |
| GIBRALTAR DARTS TROPHY | Quarter Final | lost to Paul Nicholson 6-5 |
| PLAYERS CHAMPIONSHIP 13 | - |   |
| PLAYERS CHAMPIONSHIP 14 | - |   |
| DANISH DARTS OPEN | Last 16 | lost to Peter Wright 6-1 |
| PLAYERS CHAMPIONSHIP 15 | Last 128 | lost to Adam Hunt 6-5 |
| PLAYERS CHAMPIONSHIP 16 | Last 128 | lost to Ricky Evans 6-5 |
| EUROPEAN DARTS MATCHPLAY | Quarter Final | lost to Andy Boulton 6-5 |
| U.S. DARTS MASTERS | Last 16 | lost to Dawson Murschell 6-2 |
| SHANGHAI DARTS MASTERS | Quarter Final | lost to Peter Wright 8-7 |
| WORLD MATCHPLAY | Last 32 | lost to Joe Cullen 10-3 |
| AUCKLAND DARTS MASTERS | - |   |
| MELBOURNE DARTS MASTERS | - |   |
| BRISBANE DARTS MASTERS | - |   |
| GERMAN DARTS CHAMPIONSHIP | Last 32 | lost to Jan Dekker 6-4 |
| PLAYERS CHAMPIONSHIP 17 | Last 64 | lost to Kevin Painter 6-4 |
| PLAYERS CHAMPIONSHIP 18 | Quarter Final | lost to Ian White 6-5 |
| DUTCH DARTS CHAMPIONSHIP | Last 32 | lost to Darren Johnson 6-5 |
| INTERNATIONAL DARTS OPEN | Winner | beat Simon Whitlock 8-3 |
| CHAMPIONS LEAGUE OF DARTS | - |   |
| PLAYERS CHAMPIONSHIP 19 | Last 32 | lost to Madars Razma 6-3 |
| PLAYERS CHAMPIONSHIP 20 | Last 128 | lost to Jeffrey de Graaf 6-3 |
| WORLD GRAND PRIX | Quarter Final | lost to Mensur Suljovic 3-2 |
| EUROPEAN DARTS TROPHY | Last 32 | lost to Steve Beaton 6-5 |
| PLAYERS CHAMPIONSHIP 21 | - |   |
| PLAYERS CHAMPIONSHIP 22 | - |   |
| EUROPEAN CHAMPIONSHIP | Quarter Final | lost to James Wade 10-9 |
| WORLD SERIES OF DARTS FINALS | Semi Final | lost to Michael Smith 11-8 |
| GRAND SLAM OF DARTS | Winner | beat Gary Anderson 16-13 |
| PLAYERS CHAMPIONSHIP FINALS | Last 64 | lost to Krzysztof Ratajski 6-5 |
| | | |
| --- | --- | --- |
| WORLD CHAMPIONSHIP | Last 64 | lost to Jonny Clayton 3-1 |
| THE MASTERS | - |   |
| UK OPEN QUALIFIER 1 | Last 128 | lost to Keegan Brown 6-2 |
| UK OPEN QUALIFIER 2 | Last 32 | lost to Ian White 6-5 |
| UK OPEN QUALIFIER 3 | Last 32 | lost to Dave Chisnall 6-4 |
| UK OPEN QUALIFIER 4 | Last 16 | lost to Peter Wright 6-3 |
| UK OPEN QUALIFIER 5 | Quarter Final | lost to Michael Smith 6-5 |
| UK OPEN QUALIFIER 6 | Last 32 | lost to Adrian Lewis 6-3 |
| PLAYERS CHAMPIONSHIP 1 | - |   |
| PLAYERS CHAMPIONSHIP 2 | - |   |
| UK OPEN | Final | lost to Peter Wright 11-6 |
| PLAYERS CHAMPIONSHIP 3 | Semi Final | lost to Rob Cross 6-5 |
| PLAYERS CHAMPIONSHIP 4 | Last 16 | lost to Simon Whitlock 6-4 |
| GERMAN DARTS CHAMPIONSHIP | Semi Final | lost to Peter Wright 6-5 |
| PLAYERS CHAMPIONSHIP 5 | Last 16 | lost to Alan Norris 6-2 |
| PLAYERS CHAMPIONSHIP 6 | Last 16 | lost to Simon Whitlock 6-3 |
| PLAYERS CHAMPIONSHIP 7 | Semi Final | lost to Daryl Gurney 6-4 |
| PLAYERS CHAMPIONSHIP 8 | Quarter Final | lost to Mervyn King 6-4 |
| GERMAN DARTS MASTERS (ET) | Last 16 | lost to James Wade 6-2 |
| GERMAN DARTS OPEN | Quarter Final | lost to Peter Wright 6-2 |
| PLAYERS CHAMPIONSHIP 9 | Last 32 | lost to Adrian Lewis 6-4 |
| PLAYERS CHAMPIONSHIP 10 | Last 64 | lost to Peter Hudson 6-4 |
| EUROPEAN DARTS GRAND PRIX | Last 16 | lost to Benito van de Pas 6-2 |
| GIBRALTAR DARTS TROPHY | Last 32 | lost to Darren Johnson 6-3 |
| PREMIER LEAGUE | - |   |
| PLAYERS CHAMPIONSHIP 11 | - |   |
| PLAYERS CHAMPIONSHIP 12 | - |   |
| DUBAI DARTS MASTERS | Semi Final | lost to Michael van Gerwen 11-3 |
| WORLD CUP OF DARTS | Runner Up (Mark Webster) | lost to Netherlands 3-1 |
| EUROPEAN DARTS MATCHPLAY | - |   |
| PLAYERS CHAMPIONSHIP 13 | Last 64 | lost to Wes Newton 6-5 |
| PLAYERS CHAMPIONSHIP 14 | Last 16 | lost to Ian White 6-2 |
| AUSTRIAN DARTS OPEN | - |   |
| EUROPEAN DARTS OPEN | Quarter Final | lost to Michael Smith 6-4 |
| SHANGHAI DARTS MASTERS | Quarter Final | lost to Dave Chisnall 8-4 |
| PLAYERS CHAMPIONSHIP 15 | - |   |
| PLAYERS CHAMPIONSHIP 16 | - |   |
| U.S. DARTS MASTERS | Semi Final | lost to Michael van Gerwen 8-0 |
| WORLD MATCHPLAY | Last 32 | lost to Phil Taylor 10-5 |
| PLAYERS CHAMPIONSHIP 17 | Quarter Final | lost to Kevin Painter 6-5 |
| PLAYERS CHAMPIONSHIP 18 | - | - |
| AUCKLAND DARTS MASTERS | - |   |
| MELBOURNE DARTS MASTERS | - |   |
| PERTH DARTS MASTERS | - |   |
| DUTCH DARTS MASTERS | Last 32 | lost to Martin Schindler 6-5 |
| GERMAN DARTS GRAND PRIX | Last 16 | lost to Michael van Gerwen 6-2 |
| CHAMPIONS LEAGUE OF DARTS | - |   |
| INTERNATIONAL DARTS OPEN | Quarter Final | lost to Kim Huybrechts 6-4 |
| PLAYERS CHAMPIONSHIP 19 | Last 16 | lost to Peter Wright 6-4 |
| PLAYERS CHAMPIONSHIP 20 | Quarter Final | lost to Madars Razma 6-5 |
| WORLD GRAND PRIX | Last 16 | lost to Benito van de Pas 3-0 |
| PLAYERS CHAMPIONSHIP 21 | Quarter Final | lost to Adrian Lewis 6-5 |
| PLAYERS CHAMPIONSHIP 22 | Last 128 | lost to Jermaine Wattimena 6-5 |
| EUROPEAN DARTS TROPHY | Last 32 | lost to Jonny Clayton 6-3 |
| GERMAN DARTS MASTERS (WS) | - |   |
| EUROPEAN CHAMPIONSHIP | Last 16 | lost to Mensur Suljovic 10-4 |
| WORLD SERIES OF DARTS FINALS | Quarter Final | lost to Gary Anderson 10-8 |
| GRAND SLAM OF DARTS | Last 32 (3rd) |   |
| PLAYERS CHAMPIONSHIP FINALS | Last 32 | lost to Jonny Clayton 6-2 |