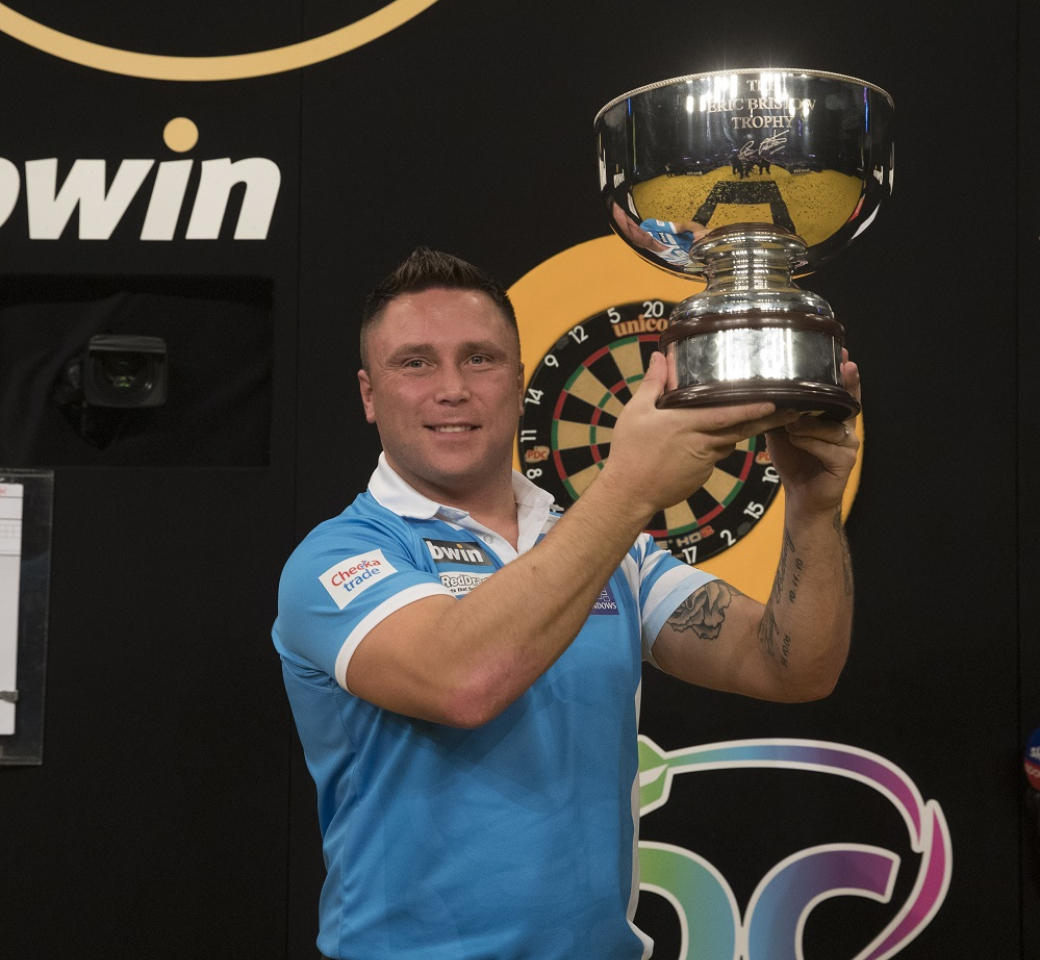 Gerwyn Price
THE ICEMAN
PDC World Ranking

3

Televised titles

1

Non-Televised PDC Titles

6

Televised Nine-Dart Finishes

0
Walk-On Music

Ice Ice Baby - Vanilla Ice

Date of Birth

March 07 1985

Darts Used

24g

reddragon

Home Town

Markham
WELSH thrower Gerwyn Price has made a big impression since joining the PDC circuit in 2014 after winning a Tour Card at Qualifying School.
A former rugby union professional with Neath, Glasgow Warriors and Cross Keys who also had a brief stint in rugby league with the South Wales Scorpions, Price took little time to establish himself in a third major sport.
After making his World Championship debut less than a year after joining the circuit, Price went on to reach his first televised quarter-final at the 2015 World Matchplay, where he knocked out Michael Smith and Adrian Lewis.
2016 saw Price claim his maiden PDC titles as he won back-to-back Players Championship events to cement his spot inside the world's top 32.
He won through to his first televised final at the 2017 UK Open, going down to Peter Wright as he continued his progress towards the world's top 16, before partnering Mark Webster to the World Cup of Darts final for Wales, losing out to the Netherlands.
Price rounded off a strong year by reaching the final 16 of the 2018 World Championship to earn his place in the 2018 Premier League.
In September 2018 Price claimed his first European Tour title by defeating Simon Whitlock 8-3 in the final of the International Darts Open in Riesa.
The biggest win of the Welshman's career so far came in November 2018 as he claimed his maiden televised title with a remarkable Grand Slam of Darts success, overcoming Gary Anderson 16-13.
Price won back-to-back titles at Players Championships 5 and 6 in February 2019 on a weekend which saw the Welshman in sensational form, hitting ten ton-plus averages in his 14 victories which culminated with a 170 finish to end a perfect weekend for the Welshman.
Player Stats
Select below to see result & roll of honour information.
| | |
| --- | --- |
| International Darts Open | 2018, 2019 |
| Players Championship | 2016 (x2), 2019 (x2) |
| | | |
| --- | --- | --- |
|   | Most Recent | Best Performance |
| 2019 WORLD CHAMPIONSHIP | Last 64 | Last 16 - 2018 |
| 2019 UK OPEN | Semi Final | Runner Up - 2017 |
| 2018 WORLD MATCHPLAY | Last 32 | Quarter Final - 2015 |
| 2018 WORLD GRAND PRIX | Quarter Final | Quarter Final - 2018 |
| 2018 EUROPEAN CHAMPIONSHIP | Quarter Final | Quarter Final - 2018 |
| 2018 GRAND SLAM OF DARTS | Winner | Winner - 2018 |
| 2018 PLAYERS CHAMPIONSHIP FINALS | Last 64 | Last 16 - 2015 |
 
Most Recent
Best Performance
2019 THE MASTERS
Last 16
Quarter Final - 2018
2019 PREMIER LEAGUE
5th
5th - 2019
2018 WORLD CUP OF DARTS

 

Quarter Final (Jonny Clayton)
Runner Up - 2017
2018 U.S. MASTERS
Last 16
Semi Final - 2017
2018 GERMAN MASTERS
-
-
2018 SHANGHAI MASTERS
Quarter Final
Quarter Final - 2017, 2018
2018 BRISBANE MASTERS
-
-
2018 MELBOURNE MASTERS
-
-
2018 AUCKLAND MASTERS
-
-
2018 CHAMPIONS LEAGUE OF DARTS
-
-
2018 WORLD SERIES OF DARTS FINALS
Semi Final
Semi Final - 2018
| | | |
| --- | --- | --- |
| TOURNAMENT WIN | Players Championship 6 (February 2019) | beat Ricky Evans 8-4 |
| FINAL | Players Championship 6 (February 2019) | beat Ricky Evans 8-4 |
| SEMI FINAL | Dutch Darts Masters (May 2019) | lost to Michael van Gerwen 7-6 |
| QUARTER FINAL | Dutch Darts Masters (May 2019) | beat Glen Durrant 6-3 |
| | | |
| --- | --- | --- |
| WORLD CHAMPIONSHIP | Last 64 | lost to Jonny Clayton 3-1 |
| THE MASTERS | - |   |
| UK OPEN QUALIFIER 1 | Last 128 | lost to Keegan Brown 6-2 |
| UK OPEN QUALIFIER 2 | Last 32 | lost to Ian White 6-5 |
| UK OPEN QUALIFIER 3 | Last 32 | lost to Dave Chisnall 6-4 |
| UK OPEN QUALIFIER 4 | Last 16 | lost to Peter Wright 6-3 |
| UK OPEN QUALIFIER 5 | Quarter Final | lost to Michael Smith 6-5 |
| UK OPEN QUALIFIER 6 | Last 32 | lost to Adrian Lewis 6-3 |
| PLAYERS CHAMPIONSHIP 1 | - |   |
| PLAYERS CHAMPIONSHIP 2 | - |   |
| UK OPEN | Final | lost to Peter Wright 11-6 |
| PLAYERS CHAMPIONSHIP 3 | Semi Final | lost to Rob Cross 6-5 |
| PLAYERS CHAMPIONSHIP 4 | Last 16 | lost to Simon Whitlock 6-4 |
| GERMAN DARTS CHAMPIONSHIP | Semi Final | lost to Peter Wright 6-5 |
| PLAYERS CHAMPIONSHIP 5 | Last 16 | lost to Alan Norris 6-2 |
| PLAYERS CHAMPIONSHIP 6 | Last 16 | lost to Simon Whitlock 6-3 |
| PLAYERS CHAMPIONSHIP 7 | Semi Final | lost to Daryl Gurney 6-4 |
| PLAYERS CHAMPIONSHIP 8 | Quarter Final | lost to Mervyn King 6-4 |
| GERMAN DARTS MASTERS (ET) | Last 16 | lost to James Wade 6-2 |
| GERMAN DARTS OPEN | Quarter Final | lost to Peter Wright 6-2 |
| PLAYERS CHAMPIONSHIP 9 | Last 32 | lost to Adrian Lewis 6-4 |
| PLAYERS CHAMPIONSHIP 10 | Last 64 | lost to Peter Hudson 6-4 |
| EUROPEAN DARTS GRAND PRIX | Last 16 | lost to Benito van de Pas 6-2 |
| GIBRALTAR DARTS TROPHY | Last 32 | lost to Darren Johnson 6-3 |
| PREMIER LEAGUE | - |   |
| PLAYERS CHAMPIONSHIP 11 | - |   |
| PLAYERS CHAMPIONSHIP 12 | - |   |
| DUBAI DARTS MASTERS | Semi Final | lost to Michael van Gerwen 11-3 |
| WORLD CUP OF DARTS | Runner Up (Mark Webster) | lost to Netherlands 3-1 |
| EUROPEAN DARTS MATCHPLAY | - |   |
| PLAYERS CHAMPIONSHIP 13 | Last 64 | lost to Wes Newton 6-5 |
| PLAYERS CHAMPIONSHIP 14 | Last 16 | lost to Ian White 6-2 |
| AUSTRIAN DARTS OPEN | - |   |
| EUROPEAN DARTS OPEN | Quarter Final | lost to Michael Smith 6-4 |
| SHANGHAI DARTS MASTERS | Quarter Final | lost to Dave Chisnall 8-4 |
| PLAYERS CHAMPIONSHIP 15 | - |   |
| PLAYERS CHAMPIONSHIP 16 | - |   |
| U.S. DARTS MASTERS | Semi Final | lost to Michael van Gerwen 8-0 |
| WORLD MATCHPLAY | Last 32 | lost to Phil Taylor 10-5 |
| PLAYERS CHAMPIONSHIP 17 | Quarter Final | lost to Kevin Painter 6-5 |
| PLAYERS CHAMPIONSHIP 18 | - | - |
| AUCKLAND DARTS MASTERS | - |   |
| MELBOURNE DARTS MASTERS | - |   |
| PERTH DARTS MASTERS | - |   |
| DUTCH DARTS MASTERS | Last 32 | lost to Martin Schindler 6-5 |
| GERMAN DARTS GRAND PRIX | Last 16 | lost to Michael van Gerwen 6-2 |
| CHAMPIONS LEAGUE OF DARTS | - |   |
| INTERNATIONAL DARTS OPEN | Quarter Final | lost to Kim Huybrechts 6-4 |
| PLAYERS CHAMPIONSHIP 19 | Last 16 | lost to Peter Wright 6-4 |
| PLAYERS CHAMPIONSHIP 20 | Quarter Final | lost to Madars Razma 6-5 |
| WORLD GRAND PRIX | Last 16 | lost to Benito van de Pas 3-0 |
| PLAYERS CHAMPIONSHIP 21 | Quarter Final | lost to Adrian Lewis 6-5 |
| PLAYERS CHAMPIONSHIP 22 | Last 128 | lost to Jermaine Wattimena 6-5 |
| EUROPEAN DARTS TROPHY | Last 32 | lost to Jonny Clayton 6-3 |
| GERMAN DARTS MASTERS (WS) | - |   |
| EUROPEAN CHAMPIONSHIP | Last 16 | lost to Mensur Suljovic 10-4 |
| WORLD SERIES OF DARTS FINALS | Quarter Final | lost to Gary Anderson 10-8 |
| GRAND SLAM OF DARTS | Last 32 (3rd) |   |
| PLAYERS CHAMPIONSHIP FINALS | Last 32 | lost to Jonny Clayton 6-2 |
| | | |
| --- | --- | --- |
| WORLD CHAMPIONSHIP | Last 16 | lost to Michael van Gerwen 4-2 |
| THE MASTERS | Quarter Final | lost to Gary Anderson 10-6 |
| UK OPEN QUALIFIER 1 | Last 16 | lost to Peter Wright 6-5 |
| UK OPEN QUALIFIER 2 | Last 32 | lost to Alan Norris 6-5 |
| UK OPEN QUALIFIER 3 | - |   |
| UK OPEN QUALIFIER 4 | Last 32 | lost to Raymond van Barneveld 6-1 |
| UK OPEN QUALIFIER 5 | Last 64 | lost to David Evans 6-4 |
| UK OPEN QUALIFIER 6 | Last 64 | lost to John Goldie 6-4 |
| PLAYERS CHAMPIONSHIP 1 | Semi Final | lost to Michael van Gerwen 6-3 |
| PLAYERS CHAMPIONSHIP 2 | Last 128 | lost to Dimitri Van den Bergh 6-2 |
| UK OPEN | Quarter Final | lost to Corey Cadby 10-5 |
| PLAYERS CHAMPIONSHIP 3 | Last 16 | lost to Joe Cullen 6-5 |
| PLAYERS CHAMPIONSHIP 4 | - |   |
| PLAYERS CHAMPIONSHIP 5 | Last 128 | lost to Mickey Mansell 6-3 |
| PLAYERS CHAMPIONSHIP 6 | Last 128 | lost to Josh Payne 6-4 |
| EUROPEAN DARTS OPEN | Last 32 | lost to Richard North 6-5 |
| GERMAN DARTS GRAND PRIX | Last 32 | lost to Luke Humphries 6-1 |
| PLAYERS CHAMPIONSHIP 7 | Last 32 | lost to John Henderson 6-3 |
| PLAYERS CHAMPIONSHIP 8 | Quarter Final | lost to Mickey Mansell 6-3 |
| GERMAN DARTS OPEN | Quarter Final | lost to Rob Cross 6-1 |
| AUSTRIAN DARTS OPEN | Runner Up | lost to Jonny Clayton 8-5 |
| PLAYERS CHAMPIONSHIP 9 | Last 32 | lost to James Wade 6-4 |
| PLAYERS CHAMPIONSHIP 10 | Last 32 | lost to Adrian Lewis 6-3 |
| EUROPEAN DARTS GRAND PRIX | Last 32 | lost to Danny Noppert 6-5 |
| DUTCH DARTS MASTERS | Last 16 | lost to Peter Wright 6-3 |
| PREMIER LEAGUE | 10th |   |
| PLAYERS CHAMPIONSHIP 11 | Last 32 | lost to Adrian Lewis 6-5 |
| PLAYERS CHAMPIONSHIP 12 | Last 64 | lost to Dawson Murschell 6-5 |
| GERMAN DARTS MASTERS | - |   |
| WORLD CUP OF DARTS | Quarter Final (Jonny Clayton) | lost to Australia 2-1 |
| GIBRALTAR DARTS TROPHY | Quarter Final | lost to Paul Nicholson 6-5 |
| PLAYERS CHAMPIONSHIP 13 | - |   |
| PLAYERS CHAMPIONSHIP 14 | - |   |
| DANISH DARTS OPEN | Last 16 | lost to Peter Wright 6-1 |
| PLAYERS CHAMPIONSHIP 15 | Last 128 | lost to Adam Hunt 6-5 |
| PLAYERS CHAMPIONSHIP 16 | Last 128 | lost to Ricky Evans 6-5 |
| EUROPEAN DARTS MATCHPLAY | Quarter Final | lost to Andy Boulton 6-5 |
| U.S. DARTS MASTERS | Last 16 | lost to Dawson Murschell 6-2 |
| SHANGHAI DARTS MASTERS | Quarter Final | lost to Peter Wright 8-7 |
| WORLD MATCHPLAY | Last 32 | lost to Joe Cullen 10-3 |
| AUCKLAND DARTS MASTERS | - |   |
| MELBOURNE DARTS MASTERS | - |   |
| BRISBANE DARTS MASTERS | - |   |
| GERMAN DARTS CHAMPIONSHIP | Last 32 | lost to Jan Dekker 6-4 |
| PLAYERS CHAMPIONSHIP 17 | Last 64 | lost to Kevin Painter 6-4 |
| PLAYERS CHAMPIONSHIP 18 | Quarter Final | lost to Ian White 6-5 |
| DUTCH DARTS CHAMPIONSHIP | Last 32 | lost to Darren Johnson 6-5 |
| INTERNATIONAL DARTS OPEN | Winner | beat Simon Whitlock 8-3 |
| CHAMPIONS LEAGUE OF DARTS | - |   |
| PLAYERS CHAMPIONSHIP 19 | Last 32 | lost to Madars Razma 6-3 |
| PLAYERS CHAMPIONSHIP 20 | Last 128 | lost to Jeffrey de Graaf 6-3 |
| WORLD GRAND PRIX | Quarter Final | lost to Mensur Suljovic 3-2 |
| EUROPEAN DARTS TROPHY | Last 32 | lost to Steve Beaton 6-5 |
| PLAYERS CHAMPIONSHIP 21 | - |   |
| PLAYERS CHAMPIONSHIP 22 | - |   |
| EUROPEAN CHAMPIONSHIP | Quarter Final | lost to James Wade 10-9 |
| WORLD SERIES OF DARTS FINALS | Semi Final | lost to Michael Smith 11-8 |
| GRAND SLAM OF DARTS | Winner | beat Gary Anderson 16-13 |
| PLAYERS CHAMPIONSHIP FINALS | Last 64 | lost to Krzysztof Ratajski 6-5 |
| | | |
| --- | --- | --- |
| WORLD CHAMPIONSHIP | Last 64 | lost to Nathan Aspinall 3-2 |
| THE MASTERS | Last 16 | lost to James Wade 10-7 |
| PLAYERS CHAMPIONSHIP 1 | Last 64 | lost to Diogo Portela 6-5 |
| PLAYERS CHAMPIONSHIP 2 | Last 64 | lost to Alan Tabern 6-5 |
| PLAYERS CHAMPIONSHIP 3 | Last 32 | lost to Kim Huybrechts 6-5 |
| PLAYERS CHAMPIONSHIP 4 | Semi Final | lost to Glen Durrant 7-3 |
| PLAYERS CHAMPIONSHIP 5 | Winner | beat Gabriel Clemens 8-4 |
| PLAYERS CHAMPIONSHIP 6 | Winner | beat Ricky Evans 8-4 |
| UK OPEN | Semi Final | lost to Nathan Aspinall 11-9 |
| PLAYERS CHAMPIONSHIP 7 | Semi Final | lost to Daryl Gurney 7-2 |
| PLAYERS CHAMPIONSHIP 8 | Last 64 | lost to Andy Boulton 6-5 |
| EUROPEAN DARTS OPEN | Quarter Final | lost to Michael van Gerwen 6-5 |
| GERMAN DARTS CHAMPIONSHIP | Quarter Final | lost to Keegan Brown 6-5 |
| PLAYERS CHAMPIONSHIP 9 | - |   |
| PLAYERS CHAMPIONSHIP 10 | - |   |
| PLAYERS CHAMPIONSHIP 11 | Last 128 | lost to Arron Monk 6-3 |
| PLAYERS CHAMPIONSHIP 12 | Last 16 | lost to Danny Noppert 6-5 |
| GERMAN DARTS GRAND PRIX | - |   |
| GERMAN DARTS OPEN | Quarter Final | lost to Rob Cross 6-5 |
| PLAYERS CHAMPIONSHIP 13 | Last 64 | lost to Luke Woodhouse 6-3 |
| PLAYERS CHAMPIONSHIP 14 | Last 16 | lost to Krzysztof Ratajski 6-3 |
| AUSTRIAN DARTS OPEN | Quarter Final | lost to James Wade 6-4 |
| EUROPEAN DARTS GRAND PRIX | Last 16 | lost to Darren Webster 6-4 |
| PLAYERS CHAMPIONSHIP 15 | - |   |
| PLAYERS CHAMPIONSHIP 16 | - |   |
| PREMIER LEAGUE | 5th |   |
| DUTCH DARTS MASTERS | Semi Final | lost to Michael van Gerwen 7-6 |