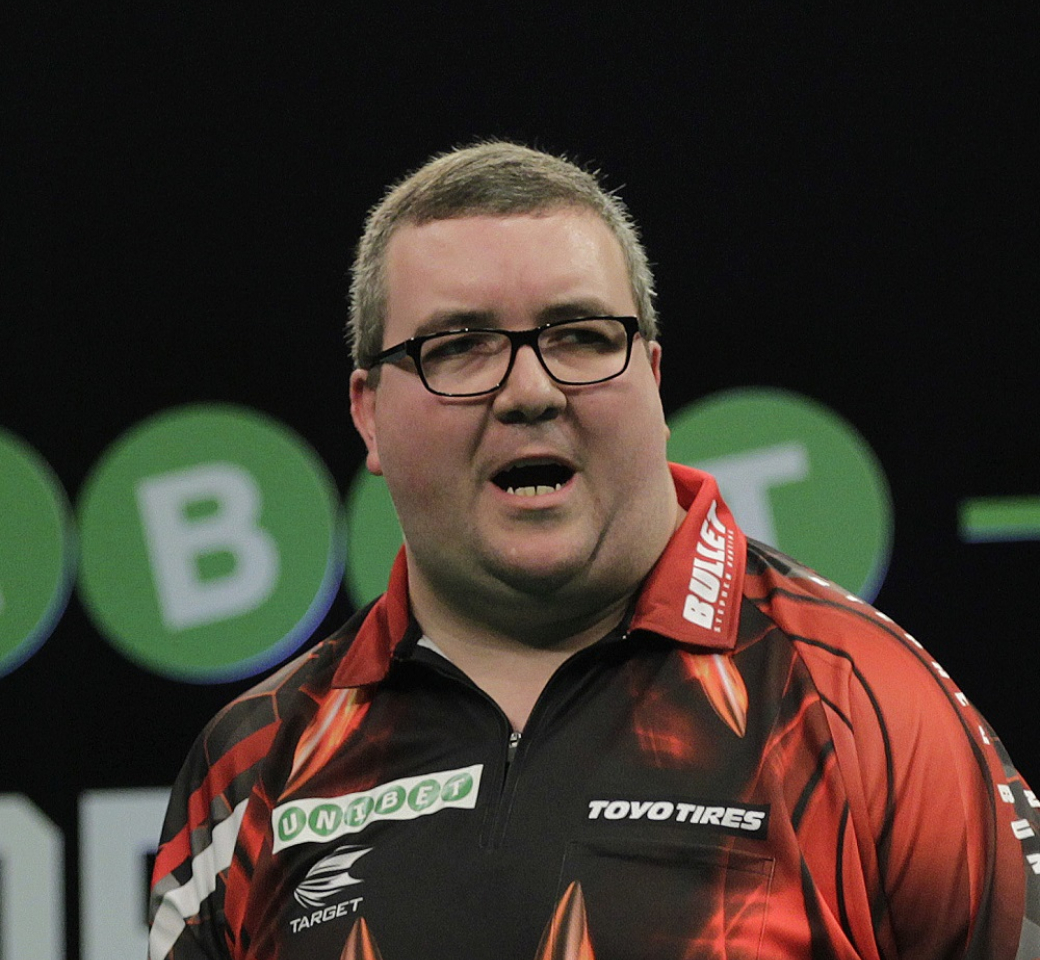 Stephen Bunting
The Bullet
PDC World Ranking

17

Televised titles

4

Non-Televised PDC Titles

2

Televised Nine-Dart Finishes

0
Walk-On Music

Surfin' Bird - The Trashmen

Date of Birth

April 09 1985

Darts Used

12g

Target

Home Town

St Helens
STEPHEN enjoyed a rapid rise after joining the PDC circuit in 2014.
A two-time World Masters winner before claiming victory in the 2014 Lakeside Championship, Bunting made an immediate impact on the PDC circuit with victory in his opening PDC ProTour event at a UK Open Qualifier.
The Sydney Darts Masters runner-up as he made his World Series of Darts debut in 2014, Bunting also broke into the Premier League the following year after reaching the quarter-finals of the PDC World Championship on his Alexandra Palace debut.
Also a semi-finalist in the UK Open and World Grand Prix, Bunting won his second PDC ranking title at a Players Championship in Barnsley in 2016.
Player Stats
Select below to see result & roll of honour information.
| | |
| --- | --- |
| BDO World Championship | 2014 |
| World Masters | 2012, 2013 |
| Zuiderduin Darts Masters | 2012 |
| | |
| --- | --- |
| Players Championship | 2016 |
| UK Open Qualifier | 2014 |
| | | |
| --- | --- | --- |
| RECENT RANKING EVENT RECORD | Most Recent | Best Performance |
| 2019 WORLD CHAMPIONSHIP | Last 64 | Quarter Final - 2015 |
| 2019 UK OPEN | Last 64 | Semi Final - 2015 |
| 2018 WORLD MATCHPLAY | Last 32 | Last 16 - 2014 |
| 2018 WORLD GRAND PRIX | Last 32 | Semi Final - 2014 |
| 2018 EUROPEAN CHAMPIONSHIP | Last 32 | Quarter Final - 2014 |
| 2018 GRAND SLAM OF DARTS | Last 16 | Quarter Final - 2014 |
| 2018 PLAYERS CHAMPIONSHIP FINALS | Quarter Final | Quarter Final - 2018 |
 
Most Recent
Best Performance
2019 THE MASTERS
Quarter Final
Quarter Final - 2019
2019 PREMIER LEAGUE
-
8th - 2015
2018 WORLD CUP OF DARTS

 

-
-
2018 U.S. MASTERS
-
-
2018 GERMAN MASTERS
-
-
2018 SHANGHAI MASTERS
-
-
2018 BRISBANE MASTERS
-
-
2018 MELBOURNE MASTERS
-
-
2018 AUCKLAND MASTERS
-
Last 16 - 2015
2018 CHAMPIONS LEAGUE OF DARTS
-
-
2018 WORLD SERIES OF DARTS FINALS
-
Quarter Final - 2015
| | | |
| --- | --- | --- |
| TOURNAMENT WIN | Players Championship 2 (March 2016) | beat Michael van Gerwen 6-4 |
| FINAL | Players Championship 14 (May 2019) | lost to Jeffrey de Zwaan 8-2 |
| SEMI FINAL | Players Championship 14 (May 2019) | beat Darius Labanauskas 7-5 |
| QUARTER FINAL | Players Championship 14 (May 2019) | beat Joe Cullen 6-3 |
| | | |
| --- | --- | --- |
| WORLD CHAMPIONSHIP | Last 64 | lost to Darren Webster 3-2 |
| THE MASTERS | - |   |
| UK OPEN QUALIFIER 1 | Last 128 | lost to Jay Foreman 6-2 |
| UK OPEN QUALIFIER 2 | Last 32 | lost to Chris Dobey 6-1 |
| UK OPEN QUALIFIER 3 | Last 16 | lost to Peter Wright 6-1 |
| UK OPEN QUALIFIER 4 | Last 128 | lost to Andy Jenkins 6-4 |
| UK OPEN QUALIFIER 5 | Last 128 | lost to David Pallett 6-4 |
| UK OPEN QUALIFIER 6 | Last 32 | lost to Alan Norris 6-3 |
| PLAYERS CHAMPIONSHIP 1 | Last 128 | lost to Wes Newton 6-4 |
| PLAYERS CHAMPIONSHIP 2 | Last 128 | lost to Robert Owen 6-5 |
| UK OPEN | Last 96 | lost to Mark Webster 6-2 |
| PLAYERS CHAMPIONSHIP 3 | Last 128 | lost to Andy Jenkins 6-5 |
| PLAYERS CHAMPIONSHIP 4 | Last 128 | lost to Jamie Bain 6-2 |
| GERMAN DARTS CHAMPIONSHIP | Last 16 | lost to Peter Wright 6-2 |
| PLAYERS CHAMPIONSHIP 5 | Last 32 | lost to Steve Beaton 6-5 |
| PLAYERS CHAMPIONSHIP 6 | Last 64 | lost to Max Hopp 6-4 |
| PLAYERS CHAMPIONSHIP 7 | Last 128 | lost to Jimmy Hendriks 6-3 |
| PLAYERS CHAMPIONSHIP 8 | Last 64 | lost to Antonio Alcinas 6-4 |
| GERMAN DARTS MASTERS (ET) | Last 16 | lost to Peter Wright 6-1 |
| GERMAN DARTS OPEN | Last 16 | lost to Mensur Suljovic 6-0 |
| PLAYERS CHAMPIONSHIP 9 | Last 128 | lost to Alan Tabern 6-1 |
| PLAYERS CHAMPIONSHIP 10 | Last 128 | lost to Josh Payne 6-5 |
| EUROPEAN DARTS GRAND PRIX | Last 48 | lost to Adrian Lewis 6-2 |
| GIBRALTAR DARTS TROPHY | Last 16 | lost to Peter Wright 6-0 |
| PREMIER LEAGUE | - |   |
| PLAYERS CHAMPIONSHIP 11 | Last 32 | lost to Robert Owen 6-3 |
| PLAYERS CHAMPIONSHIP 12 | Last 128 | lost to Vincent van der Voort 6-0 |
| DUBAI DARTS MASTERS | - |   |
| WORLD CUP OF DARTS | - |   |
| EUROPEAN DARTS MATCHPLAY | Quarter Final | lost to Cristo Reyes 6-3 |
| PLAYERS CHAMPIONSHIP 13 | Last 64 | lost to Richard North 6-4 |
| PLAYERS CHAMPIONSHIP 14 | Last 128 | lost to Peter Jacques 6-5 |
| AUSTRIAN DARTS OPEN | Last 32 | lost to Chris Dobey 6-0 |
| EUROPEAN DARTS OPEN | Last 16 | lost to Peter Wright 6-3 |
| SHANGHAI DARTS MASTERS | - |   |
| PLAYERS CHAMPIONSHIP 15 | Last 64 | lost to Joe Murnan 6-1 |
| PLAYERS CHAMPIONSHIP 16 | Last 32 | lost to Robert Thornton 6-5 |
| U.S. DARTS MASTERS | - |   |
| WORLD MATCHPLAY | Last 32 | lost to Michael van Gerwen 10-4 |
| PLAYERS CHAMPIONSHIP 17 | Quarter Final | lost to Kyle Anderson 6-3 |
| PLAYERS CHAMPIONSHIP 18 | Semi Final | lost to Richard North 6-5 |
| AUCKLAND DARTS MASTERS | - |   |
| MELBOURNE DARTS MASTERS | - |   |
| PERTH DARTS MASTERS | - |   |
| DUTCH DARTS MASTERS | - |   |
| GERMAN DARTS GRAND PRIX | - |   |
| CHAMPIONS LEAGUE OF DARTS | - |   |
| INTERNATIONAL DARTS OPEN | - |   |
| PLAYERS CHAMPIONSHIP 19 | Last 16 | lost to Steve Lennon 6-5 |
| PLAYERS CHAMPIONSHIP 20 | Runner Up | lost to Mensur Suljovic 6-4 |
| WORLD GRAND PRIX | Last 32 | lost to Peter Wright 2-1 |
| PLAYERS CHAMPIONSHIP 21 | Last 64 | lost to Jonathan Worsley 6-3 |
| PLAYERS CHAMPIONSHIP 22 | Last 64 | lost to Jeffrey de Zwaan 6-2 |
| EUROPEAN DARTS TROPHY | Last 16 | lost to Michael van Gerwen 6-1 |
| GERMAN DARTS MASTERS (WS) | - |   |
| EUROPEAN CHAMPIONSHIP | Last 16 | lost to Daryl Gurney 10-6 |
| WORLD SERIES OF DARTS FINALS | - |   |
| GRAND SLAM OF DARTS | Last 16 | lost to Peter Wright 10-4 |
| PLAYERS CHAMPIONSHIP FINALS | Last 16 | lost to Jonny Clayton 10-8 |
| | | |
| --- | --- | --- |
| WORLD CHAMPIONSHIP | Last 64 | lost to Dimitri Van den Bergh 3-1 |
| THE MASTERS | - |   |
| UK OPEN QUALIFIER 1 | Last 128 | lost to Jeffrey de Zwaan 6-4 |
| UK OPEN QUALIFIER 2 | Last 32 | lost to Toni Alcinas 6-3 |
| UK OPEN QUALIFIER 3 | Last 64 | lost to Wayne Jones 6-5 |
| UK OPEN QUALIFIER 4 | Last 128 | lost to Kevin Garcia 6-1 |
| UK OPEN QUALIFIER 5 | Last 64 | lost to Jim Walker 6-5 |
| UK OPEN QUALIFIER 6 | Last 32 | lost to Jonny Clayton 6-5 |
| PLAYERS CHAMPIONSHIP 1 | Last 32 | lost to Gerwyn Price 6-3 |
| PLAYERS CHAMPIONSHIP 2 | Last 128 | lost to Martin Schindler 6-3 |
| UK OPEN | Last 32 | lost to Jermaine Wattimena 10-8 |
| PLAYERS CHAMPIONSHIP 3 | Last 32 | lost to Jamie Lewis 6-2 |
| PLAYERS CHAMPIONSHIP 4 | Quarter Final | lost to Dave Chisnall 6-3 |
| PLAYERS CHAMPIONSHIP 5 | Last 64 | lost to Paul Nicholson 6-1 |
| PLAYERS CHAMPIONSHIP 6 | Quarter Final | lost to Dave Chisnall 6-3 |
| EUROPEAN DARTS OPEN | - |   |
| GERMAN DARTS GRAND PRIX | Last 32 | lost to Ian White 6-4 |
| PLAYERS CHAMPIONSHIP 7 | Quarter Final | lost to Adrian Lewis 6-3 |
| PLAYERS CHAMPIONSHIP 8 | Last 64 | lost to Luke Humphries 6-3 |
| GERMAN DARTS OPEN | - |   |
| AUSTRIAN DARTS OPEN | - |   |
| PLAYERS CHAMPIONSHIP 9 | Last 64 | lost to Dawson Murschell 6-2 |
| PLAYERS CHAMPIONSHIP 10 | Semi Final | lost to Jonny Clayton 6-3 |
| EUROPEAN DARTS GRAND PRIX | Last 48 | lost to Kirk Shepherd 6-2 |
| DUTCH DARTS MASTERS | Quarter Final | lost to Daryl Gurney 6-2 |
| PREMIER LEAGUE | - |   |
| PLAYERS CHAMPIONSHIP 11 | Last 64 | lost to Davy Van Baelen 6-5 |
| PLAYERS CHAMPIONSHIP 12 | Last 32 | lost to Steve Beaton 6-2 |
| GERMAN DARTS MASTERS | - |   |
| WORLD CUP OF DARTS | - |   |
| GIBRALTAR DARTS TROPHY | Last 32 | lost to Andy Boulton 6-4 |
| PLAYERS CHAMPIONSHIP 13 | Semi Final | lost to Rob Cross 6-1 |
| PLAYERS CHAMPIONSHIP 14 | Last 128 | lost to Toni Alcinas 6-2 |
| DANISH DARTS OPEN | Last 16 | lost to Adrian Lewis 6-4 |
| PLAYERS CHAMPIONSHIP 15 | Last 16 | lost to Rob Cross 6-2 |
| PLAYERS CHAMPIONSHIP 16 | Last 32 | lost to Jermaine Wattimena 6-3 |
| EUROPEAN DARTS MATCHPLAY | Semi Final | lost to Michael van Gerwen 7-4 |
| U.S. DARTS MASTERS | - |   |
| SHANGHAI DARTS MASTERS | - |   |
| WORLD MATCHPLAY | Last 32 | lost to Gary Anderson 10-7 |
| AUCKLAND DARTS MASTERS | - |   |
| MELBOURNE DARTS MASTERS | - |   |
| BRISBANE DARTS MASTERS | - |   |
| GERMAN DARTS CHAMPIONSHIP | Last 32 | lost to Ron Meulenkamp 6-5 |
| PLAYERS CHAMPIONSHIP 17 | Last 128 | lost to Terry Temple 6-1 |
| PLAYERS CHAMPIONSHIP 18 | Last 32 | lost to James Wilson 6-4 |
| DUTCH DARTS CHAMPIONSHIP | Last 32 | lost to Jeffrey de Graaf 6-3 |
| INTERNATIONAL DARTS OPEN | Last 16 | lost to Adrian Lewis 6-2 |
| CHAMPIONS LEAGUE OF DARTS | - |   |
| PLAYERS CHAMPIONSHIP 19 | Last 128 | lost to Michael Barnard 6-3 |
| PLAYERS CHAMPIONSHIP 20 | Last 64 | lost to Chris Quantock 6-2 |
| WORLD GRAND PRIX | Last 32 | lost to Darren Webster 2-0 |
| EUROPEAN DARTS TROPHY | Last 16 | lost to Michael van Gerwen 6-4 |
| PLAYERS CHAMPIONSHIP 21 | Quarter Final | lost to Chris Dobey 6-2 |
| PLAYERS CHAMPIONSHIP 22 | Last 64 | lost to Vincent Kamphuis 6-2 |
| EUROPEAN CHAMPIONSHIP | Last 32 | lost to to Darren Webster 6-5 |
| WORLD SERIES OF DARTS FINALS | - |   |
| GRAND SLAM OF DARTS | Last 16 | lost to Dimitri Van den Bergh 10-6 |
| PLAYERS CHAMPIONSHIP FINALS | Quarter Final | lost to Danny Noppert 10-7 |
| | | |
| --- | --- | --- |
| WORLD CHAMPIONSHIP | Last 64 | lost to Luke Humphries 3-1 |
| THE MASTERS | Quarter Final | lost to Dave Chisnall 10-4 |
| PLAYERS CHAMPIONSHIP 1 | Last 32 | lost to Mick Todd 6-4 |
| PLAYERS CHAMPIONSHIP 2 | Last 128 | lost to William O'Connor 6-1 |
| PLAYERS CHAMPIONSHIP 3 | Last 128 | lost to Robert Thornton 6-2 |
| PLAYERS CHAMPIONSHIP 4 | Last 128 | lost to Ritchie Edhouse 6-4 |
| PLAYERS CHAMPIONSHIP 5 | Last 128 | lost to Tony Alcinas 6-3 |
| PLAYERS CHAMPIONSHIP 6 | Last 128 | lost to Gavin Carlin 6-1 |
| UK OPEN | Last 64 | lost to Steve Lennon 10-6 |
| PLAYERS CHAMPIONSHIP 7 | Last 32 | lost to Dave Chisnall 6-3 |
| PLAYERS CHAMPIONSHIP 8 | Last 128 | lost to Geert Nentjes 6-4 |
| EUROPEAN DARTS OPEN | - |   |
| GERMAN DARTS CHAMPIONSHIP | Quarter Final | lost to Daryl Gurney 6-5 |
| PLAYERS CHAMPIONSHIP 9 | Last 128 | lost to Ryan Searle 6-5 |
| PLAYERS CHAMPIONSHIP 10 | Last 128 | lost to Raymond van Barneveld 6-5 |
| PLAYERS CHAMPIONSHIP 11 | Last 64 | lost to Jose de Sousa 6-4 |
| PLAYERS CHAMPIONSHIP 12 | Last 16 | lost to James Wade 6-4 |
| GERMAN DARTS GRAND PRIX | Last 16 | lost to Michael van Gerwen 6-1 |
| GERMAN DARTS OPEN | Last 48 | lost to John Henderson 6-5 |
| PLAYERS CHAMPIONSHIP 13 | Last 32 | lost to Christian Kist 6-5 |
| PLAYERS CHAMPIONSHIP 14 | Runner Up | lost to Jeffrey de Zwaan 8-2 |
| AUSTRIAN DARTS OPEN | Last 16 | lost to Michael van Gerwen 6-1 |
| EUROPEAN DARTS GRAND PRIX | Last 48 | lost to Steve Beaton 6-4 |
| PLAYERS CHAMPIONSHIP 15 | Last 128 | lost to Nathan Rafferty 6-3 |
| PLAYERS CHAMPIONSHIP 16 | Last 128 | lost to Kirk Shepherd 6-4 |
| PREMIER LEAGUE | - |   |
| DUTCH DARTS MASTERS | Last 32 | lost to Brendan Dolan 6-4 |