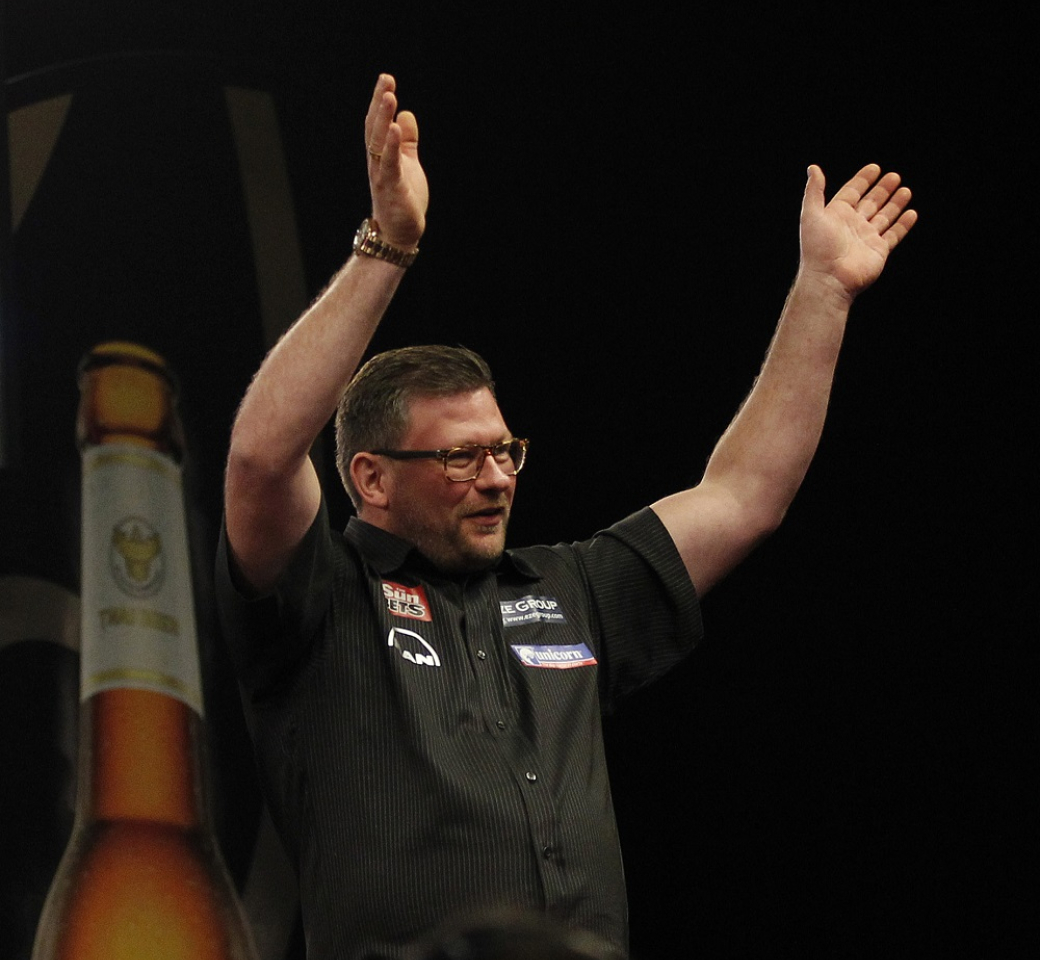 James Wade
The Machine
PDC World Ranking

8

Televised titles

9

Non-Televised PDC Titles

25

Televised Nine-Dart Finishes

2
Walk-On Music

The Boys Are Back In Town - Thin Lizzy

Date of Birth

April 06 1983

Darts Used

20g

Unicorn

Home Town

Aldershot
THE sport's most successful left-hander, James has enjoyed a fine decade at the top level to establish himself amongst the darts' top stars.
Having initially emerged as a teenage mechanic, Wade joined the PDC circuit in 2004 and became a full-time professional two years later, with the decision paying dividends as he reached his first televised final at the 2006 World Matchplay.
Wade also landed three nine-dart finishes on the PDC circuit in 2006 to show his superb ability, but made his major breakthrough the following year by winning both the World Matchplay and World Grand Prix titles.
He has since won the UK Open in 2008 and 2011, the Premier League in 2009, the internet-streamed Championship League Darts and a second World Grand Prix in 2010 and the 2014 Masters title, when he produced a remarkable comeback from 9-2 down to defeat Mervyn King 11-10.
Alongside his televised successes, Wade has been the runner-up in five World Matchplays, both the Premier League and Grand Slam of Darts on two occasions and in the Las Vegas Desert Classic and World Grand Prix.
The left-hander has hit televised nine-dart finishes at the 2008 Grand Slam of Darts and in the 2014 World Grand Prix - when both he and Robert Thornton achieved double-start nine-dart finishes in a historic contest - while he was on the receiving end of Phil Taylor's unprecedented two nine-darters during the 2010 Premier League final.
Wade reached the finals of the 2014 World Grand Prix, 2015 World Matchplay and 2016 Grand Slam of Darts, losing out to Michael Van Gerwen on each occasion.
In October 2018 Wade ended his four-year wait for a televised PDC title by lifting the European Championship crown by defeating Simon Whitlock 11-8 in a gripping final in Dortmund.
Wade lifted his second televised title in the space of seven days with a dramatic 11-10 win over Michael Smith in the final of the World Series of Darts Finals in Vienna, crediting both victories to new-born son Arthur James Wade.
In April 2019 Wade won his first floor title in almost four years at Players Championship Ten in Barnsley, once again defeating Smith in the final.
Just a week later, Wade enjoyed a double success, claiming Players Championships 12 and 13 in Barnsley, defeating Michael Smith and Jeffrey de Zwaan in the finals.
Wade picked up his fourth PDC ranking title of 2019 at Players Championship 18 in June 2019, equalling his best ever tally of ranking titles in a calendar year.
Player Stats
Select below to see result & roll of honour information.
World Matchplay
2007
World Grand Prix
2007, 2010
UK Open

 

2008, 2011
Premier League
2009
The Masters
2014
European Championship
2018
World Series of Darts Finals
2018
| | |
| --- | --- |
| European Darts Matchplay | 2016 |
| Gibraltar Darts Trophy | 2014 |
| Players Championship | 2008 (x3), 2009 (x2), 2010, 2011 (x2), 2014, 2015 (x2), 2019 (x3) |
| UK Open Qualfier | 2007 (x3), 2009, 2010 |
| Championship League Darts | 2010 |
| Irish Masters | 2005 |
| Vauxhall 128 Pro Classic | 2006 |
| | | |
| --- | --- | --- |
|   | Most Recent | Best Performance |
| 2019 WORLD CHAMPIONSHIP | Last 16 | Semi Final - 2009, 2012, 2013 |
| 2019 UK OPEN | Last 16 | Winner - 2008, 2011 |
| 2018 WORLD MATCHPLAY | Last 16 | Winner - 2007 |
| 2018 WORLD GRAND PRIX | Last 32 | Winner - 2007, 2010 |
| 2018 EUROPEAN CHAMPIONSHIP | Winner | Winner - 2018 |
| 2018 GRAND SLAM OF DARTS | Last 16 | Runner Up - 2010, 2016 |
| 2018 PLAYERS CHAMPIONSHIP FINALS | Last 16 | Semi Final - 2008 |
 
Most Recent
Best Performance
2019 THE MASTERS
Runner Up
Winner - 2014
2019 PREMIER LEAGUE
Semi Final
Winner - 2009
2018 WORLD CUP OF DARTS

 

-
Last 16 - 2010
2018 U.S. MASTERS
Semi Final
Semi Final - 2018
2018 GERMAN MASTERS
-
Semi Final - 2017
2018 SHANGHAI MASTERS
Quarter Final
Runner Up - 2016
2018 BRISBANE MASTERS
-
-
2018 MELBOURNE MASTERS
-
Quarter Final - 2017
2018 AUCKLAND MASTERS
-
Semi Final - 2015, 2016, 2017
2018 CHAMPIONS LEAGUE OF DARTS
-
Semi Final - 2016
2018 WORLD SERIES OF DARTS FINALS
Winner
Winner - 2018
| | | |
| --- | --- | --- |
| TOURNAMENT WIN | Players Championship 12 (April 2019) | beat Jeffrey de Zwaan 8-5 |
| FINAL | Players Championship 12 (April 2019) | beat Jeffrey de Zwaan 8-5 |
| SEMI FINAL | Premier League (May 2019) | lost to Rob Cross 10-5 |
| QUARTER FINAL | Austrian Darts Open (May 2019) | beat Gerwyn Price 6-4 |
| | | |
| --- | --- | --- |
| WORLD CHAMPIONSHIP | Quarter Final | lost to Peter Wright 5-3 |
| THE MASTERS | Last 16 | lost to Robert Thornton 10-9 |
| UK OPEN QUALIFIER 1 | Last 32 | lost to Peter Wright 6-5 |
| UK OPEN QUALIFIER 2 | Last 16 | lost to Dave Chisnall 6-5 |
| UK OPEN QUALIFIER 3 | Last 16 | lost to Michael Smith 6-3 |
| UK OPEN QUALIFIER 4 | Last 64 | lost to Christian Kist 6-5 |
| UK OPEN QUALIFIER 5 | Last 128 | lost to Rob Cross 6-5 |
| UK OPEN QUALIFIER 6 | Runner Up | lost to Peter Wright 6-3 |
| PLAYERS CHAMPIONSHIP 1 | Semi Final | lost to Peter Jacques 6-4 |
| PLAYERS CHAMPIONSHIP 2 | Quarter Final | lost to Peter Wright 6-5 |
| UK OPEN | Last 64 | lost to Adrian Lewis 10-8 |
| PLAYERS CHAMPIONSHIP 3 | Last 32 | lost to Mervyn King 6-4 |
| PLAYERS CHAMPIONSHIP 4 | Last 16 | lost to Ian White 6-3 |
| GERMAN DARTS CHAMPIONSHIP | Last 32 | lost to Darren Johnson 6-5 |
| PLAYERS CHAMPIONSHIP 5 | - |   |
| PLAYERS CHAMPIONSHIP 6 | Last 128 | lost to Richard North 6-5 |
| PLAYERS CHAMPIONSHIP 7 | Last 16 | lost to Kim Huybrechts 6-0 |
| PLAYERS CHAMPIONSHIP 8 | Semi Final | lost to Daryl Gurney 6-4 |
| GERMAN DARTS MASTERS (ET) | Semi Final | lost to Jelle Klaasen 6-3 |
| GERMAN DARTS OPEN | - |   |
| PLAYERS CHAMPIONSHIP 9 | Last 64 | lost to John Bowles 6-1 |
| PLAYERS CHAMPIONSHIP 10 | Last 128 | lost to Ted Evetts 6-5 |
| EUROPEAN DARTS GRAND PRIX | Last 32 | lost to Mark Webster 6-5 |
| GIBRALTAR DARTS TROPHY | Last 32 | lost to Dimitri Van den Bergh 6-5 |
| PREMIER LEAGUE | 7th |   |
| PLAYERS CHAMPIONSHIP 11 | Last 128 | lost to Ryan Searle 6-2 |
| PLAYERS CHAMPIONSHIP 12 | Last 32 | lost to Rob Cross 6-2 |
| DUBAI DARTS MASTERS | Quarter Final | lost to Gerwyn Price 10-9 |
| WORLD CUP OF DARTS | - |   |
| EUROPEAN DARTS MATCHPLAY | Last 32 | lost to Kyle Anderson 6-2 |
| PLAYERS CHAMPIONSHIP 13 | Last 128 | lost to Jermaine Wattimena 6-4 |
| PLAYERS CHAMPIONSHIP 14 | Last 32 | lost to Richard North 6-5 |
| AUSTRIAN DARTS OPEN | - |   |
| EUROPEAN DARTS OPEN | Last 32 | lost to Dave Chisnall 6-2 |
| SHANGHAI DARTS MASTERS | Semi Final | lost to Michael van Gerwen 8-3 |
| PLAYERS CHAMPIONSHIP 15 | - |   |
| PLAYERS CHAMPIONSHIP 16 | - |   |
| U.S. DARTS MASTERS | Last 16 | lost to Dawson Murschell 6-5 |
| WORLD MATCHPLAY | Last 32 | lost to Darren Webster 13-11 |
| PLAYERS CHAMPIONSHIP 17 | Last 64 | lost to Ted Evetts 6-3 |
| PLAYERS CHAMPIONSHIP 18 | Last 16 | lost to Alan Norris 6-2 |
| AUCKLAND DARTS MASTERS | Semi Final | lost to Kyle Anderson 11-4 |
| MELBOURNE DARTS MASTERS | Quarter Final | lost to Simon Whitlock 10-9 |
| PERTH DARTS MASTERS | Semi Final | lost to Gary Anderson 11-9 |
| DUTCH DARTS MASTERS | - |   |
| GERMAN DARTS GRAND PRIX | - |   |
| CHAMPIONS LEAGUE OF DARTS | - |   |
| INTERNATIONAL DARTS OPEN | - |   |
| PLAYERS CHAMPIONSHIP 19 | Last 16 | lost to Rob Cross 6-5 |
| PLAYERS CHAMPIONSHIP 20 | Last 64 | lost to Keegan Brown 6-5 |
| WORLD GRAND PRIX | Last 32 | lost to Steve West 2-0 |
| PLAYERS CHAMPIONSHIP 21 | Last 16 | lost to Keegan Brown 6-5 |
| PLAYERS CHAMPIONSHIP 22 | Last 128 | lost to Richie Burnett 6-1 |
| EUROPEAN DARTS TROPHY | Last 48 | lost to Nathan Aspinall 6-1 |
| GERMAN DARTS MASTERS (WS) | Semi Final | lost to Phil Taylor 11-7 |
| EUROPEAN CHAMPIONSHIP | - |   |
| WORLD SERIES OF DARTS FINALS | Semi Final | lost to Gary Anderson 11-5 |
| GRAND SLAM OF DARTS | Last 16 | lost to Daryl Gurney 10-2 |
| PLAYERS CHAMPIONSHIP FINALS | Quarter Final | lost to Rob Cross 10-6 |
| | | |
| --- | --- | --- |
| WORLD CHAMPIONSHIP | Last 64 | lost to Keegan Brown 3-2 |
| THE MASTERS | Quarter Final | lost to Michael van Gerwen 10-2 |
| UK OPEN QUALIFIER 1 | Last 64 | lost to Robert Owen 6-4 |
| UK OPEN QUALIFIER 2 | Last 16 | lost to Mervyn King 6-3 |
| UK OPEN QUALIFIER 3 | Last 128 | lost to Mick McGowan 6-5 |
| UK OPEN QUALIFIER 4 | Quarter Final | lost to Gary Anderson 6-4 |
| UK OPEN QUALIFIER 5 | Last 32 | lost to Martin Schindler 6-5 |
| UK OPEN QUALIFIER 6 | Last 64 | lost to Nathan Aspinall 6-3 |
| PLAYERS CHAMPIONSHIP 1 | Runner Up | lost to Michael van Gerwen 6-4 |
| PLAYERS CHAMPIONSHIP 2 | Last 128 | lost to Michael Barnard 6-4 |
| UK OPEN | Last 32 | lost to David Pallett 10-6 |
| PLAYERS CHAMPIONSHIP 3 | Last 128 | lost to Ricky Evans 6-0 |
| PLAYERS CHAMPIONSHIP 4 | Last 128 | lost to Jeffrey de Graaf 6-5 |
| PLAYERS CHAMPIONSHIP 5 | Semi Final | lost to Michael van Gerwen 6-2 |
| PLAYERS CHAMPIONSHIP 6 | Last 16 | lost to Ian White 6-1 |
| EUROPEAN DARTS OPEN | Semi Final | lost to Peter Wright 7-4 |
| GERMAN DARTS GRAND PRIX | Semi Final | lost to Peter Wright 7-3 |
| PLAYERS CHAMPIONSHIP 7 | Last 32 | lost to Kyle Anderson 6-3 |
| PLAYERS CHAMPIONSHIP 8 | Last 64 | lost to Danny Noppert 6-4 |
| GERMAN DARTS OPEN | Last 32 | lost to Mervyn King 6-3 |
| AUSTRIAN DARTS OPEN | Last 16 | lost to Jonny Clayton 6-3 |
| PLAYERS CHAMPIONSHIP 9 | Semi Final | lost to Michael van Gerwen 6-4 |
| PLAYERS CHAMPIONSHIP 10 | Last 16 | lost to Gabriel Clemens 6-2 |
| EUROPEAN DARTS GRAND PRIX | Runner Up | lost to Michael van Gerwen 8-3 |
| DUTCH DARTS MASTERS | Last 48 | lost to Cristo Reyes 6-3 |
| PREMIER LEAGUE | - |   |
| PLAYERS CHAMPIONSHIP 11 | Last 128 | lost to Richie Burnett 6-5 |
| PLAYERS CHAMPIONSHIP 12 | Last 16 | lost to Jonny Clayton 6-4 |
| GERMAN DARTS MASTERS | - |   |
| WORLD CUP OF DARTS | - |   |
| GIBRALTAR DARTS TROPHY | Last 16 | lost to Adrian Lewis 6-5 |
| PLAYERS CHAMPIONSHIP 13 | Last 64 | lost to Jeffrey de Graaf 6-4 |
| PLAYERS CHAMPIONSHIP 14 | Last 128 | lost to Jason Lowe 6-2 |
| DANISH DARTS OPEN | Last 16 | lost to Joe Cullen 6-4 |
| PLAYERS CHAMPIONSHIP 15 | Runner Up | lost to Mervyn King 6-2 |
| PLAYERS CHAMPIONSHIP 16 | Last 32 | lost to Michael Barnard 6-3 |
| EUROPEAN DARTS MATCHPLAY | - |   |
| U.S. DARTS MASTERS | Semi Final | lost to Gary Anderson 8-7 |
| SHANGHAI DARTS MASTERS | Quarter Final | lost to Rob Cross 8-3 |
| WORLD MATCHPLAY | Last 16 | lost to Simon Whitlock 11-7 |
| AUCKLAND DARTS MASTERS | - |   |
| MELBOURNE DARTS MASTERS | - |   |
| BRISBANE DARTS MASTERS | - |   |
| GERMAN DARTS CHAMPIONSHIP | Last 32 | lost to Robert Thornton 6-3 |
| PLAYERS CHAMPIONSHIP 17 | Semi Final | lost to Daryl Gurney 6-3 |
| PLAYERS CHAMPIONSHIP 18 | Last 64 | lost to Brendan Dolan 6-3 |
| DUTCH DARTS CHAMPIONSHIP | Last 32 | lost to Ritchie Edhouse 6-4 |
| INTERNATIONAL DARTS OPEN | - |   |
| CHAMPIONS LEAGUE OF DARTS | - |   |
| PLAYERS CHAMPIONSHIP 19 | Last 128 | lost to Dawson Murschell 6-3 |
| PLAYERS CHAMPIONSHIP 20 | Last 64 | lost to Paul Nicholson 6-5 |
| WORLD GRAND PRIX | Last 32 | lost to Mensur Suljovic 2-0 |
| EUROPEAN DARTS TROPHY | Runner Up | lost to Michael van Gerwen 8-3 |
| PLAYERS CHAMPIONSHIP 21 | Last 128 | lost to Zoran Lerchbacher 6-4 |
| PLAYERS CHAMPIONSHIP 22 | Quarter Final | lost to Adrian Lewis 6-4 |
| EUROPEAN CHAMPIONSHIP | Winner | beat Simon Whitlock 11-8 |
| WORLD SERIES OF DARTS FINALS | Winner | beat Michael Smith 11-10 |
| GRAND SLAM OF DARTS | Last 16 | lost to Michael Unterbuchner 10-6 |
| PLAYERS CHAMPIONSHIP FINALS | Last 16 | lost to Chris Dobey 10-9 |
| | | |
| --- | --- | --- |
| WORLD CHAMPIONSHIP | Last 16 | lost to Ryan Joyce 4-3 |
| THE MASTERS | Runner Up | lost to Michael van Gerwen 11-5 |
| PLAYERS CHAMPIONSHIP 1 | Last 32 | lost to Kyle Anderson 6-3 |
| PLAYERS CHAMPIONSHIP 2 | Quarter Final | lost to Dave Chisnall 6-5 |
| PLAYERS CHAMPIONSHIP 3 | Last 128 | lost to William O'Connor 6-5 |
| PLAYERS CHAMPIONSHIP 4 | Last 32 | lost to Dimitri Van den Bergh 6-4 |
| PLAYERS CHAMPIONSHIP 5 | Quarter Final | lost to Dave Chisnall 6-3 |
| PLAYERS CHAMPIONSHIP 6 | - |   |
| UK OPEN | Last 16 | lost to Ross Smith 10-7 |
| PLAYERS CHAMPIONSHIP 7 | Last 64 | lost to Arron Monk 6-5 |
| PLAYERS CHAMPIONSHIP 8 | Last 32 | lost to Vincent van der Voort 6-4 |
| EUROPEAN DARTS OPEN | Quarter Final | lost to Mensur Suljovic 6-2 |
| GERMAN DARTS CHAMPIONSHIP | Last 16 | lost to Darren Webster 6-5 |
| PLAYERS CHAMPIONSHIP 9 | Winner | beat Michael Smith 8-2 |
| PLAYERS CHAMPIONSHIP 10 | Last 128 | lost to Jose Justicia 6-2 |
| PLAYERS CHAMPIONSHIP 11 | Winner | beat Michael Smith 8-6 |
| PLAYERS CHAMPIONSHIP 12 | Winner | beat Jeffrey de Zwaan 8-5 |
| GERMAN DARTS GRAND PRIX | Last 32 | lost to Kim Huybrechts 6-5 |
| GERMAN DARTS OPEN | Last 16 | lost to Nathan Aspinall 6-2 |
| PLAYERS CHAMPIONSHIP 13 | - |   |
| PLAYERS CHAMPIONSHIP 14 | - |   |
| AUSTRIAN DARTS OPEN | Semi Final | lost to Ian White 7-4 |
| EUROPEAN DARTS GRAND PRIX | Last 32 | (withdrew) |
| PLAYERS CHAMPIONSHIP 15 | Last 64 | lost to Kyle Anderson 6-2 |
| PLAYERS CHAMPIONSHIP 16 | - |   |
| PREMIER LEAGUE | Semi Final | lost to Rob Cross 10-5 |
| DUTCH DARTS MASTERS | Last 32 | (withdrew) |