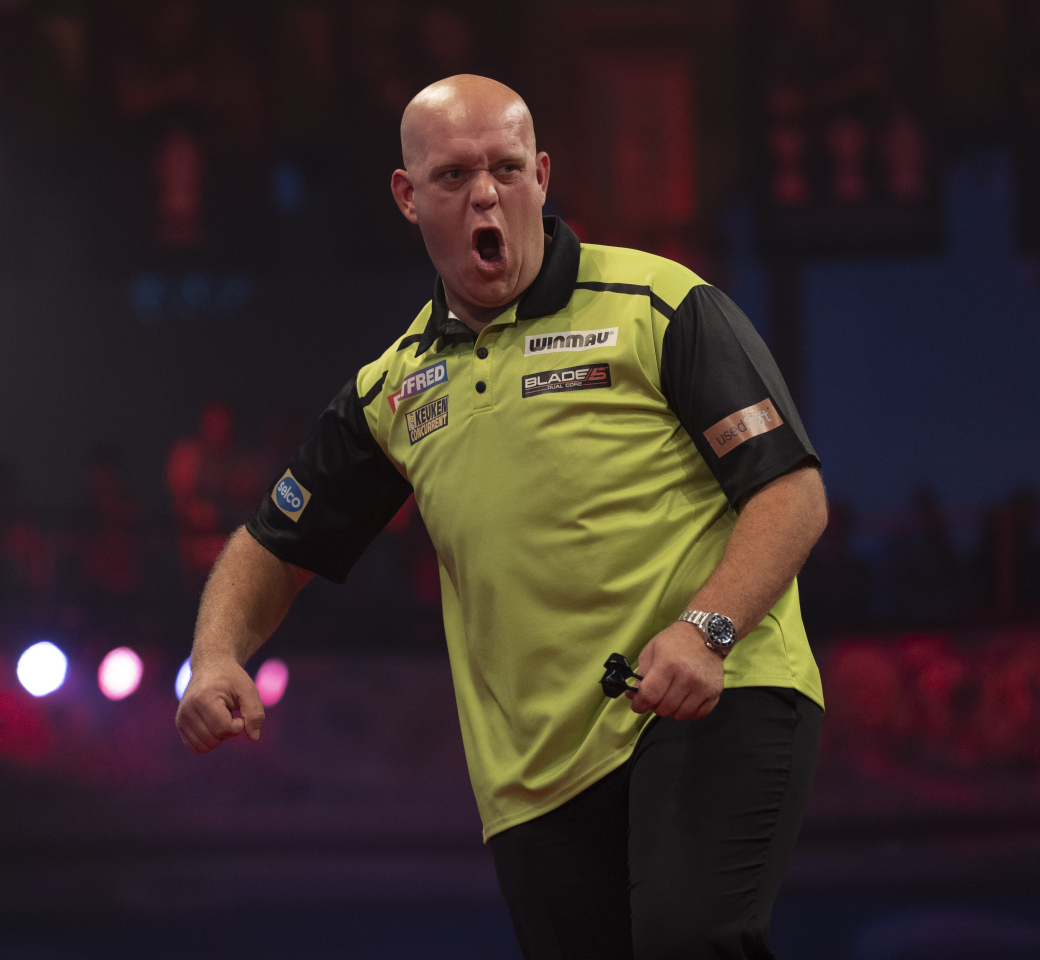 Michael van Gerwen
Mighty Mike
PDC World Ranking

3

Televised titles

57

Non-Televised PDC Titles

81

Televised Nine-Dart Finishes

7
Walk-On Music

White Stripes - Seven Nation Army

Date of Birth

April 25 1989

Darts Used

21.5g

Winmau

Home Town

Vlijmen

Website

michaelvangerwen.com

Twitter

@MvG180
Michael van Gerwen has enjoyed an extraordinary career to establish himself as one of the sport's all-time greats.
A teenage wonderkid when he broke through to win the 2006 World Masters in the BDO, the Dutchman would wait six years to pick up his next televised title at the 2012 World Grand Prix, a victory which sparked a golden run of success.
A two-time World Youth Championship finalist who honed his skills in the early years of the PDC's Youth Tour - having initially joined the PDC circuit in 2007 - Van Gerwen has been the world's dominant player since 2013.
His comeback win over Mervyn King in Dublin opened the floodgates for a sensational haul of titles, though he had to wait eight months for his next at the 2013 Premier League Play-Offs.
 
Wins at the Dubai Darts Masters and Players Championship Finals followed, before Van Gerwen became a World Champion for the first time in January 2014.
 
Another two World Series titles were picked up by 'the green machine' in 2014 along with another World Grand Prix and the European Championship.
 
The World Matchplay, UK Open, Grand Slam and Masters titles proved more elusive but his first year of unrivalled dominance in 2015 rectified the missing gaps in his glittering trophy cabinet.
 
Van Gerwen completed his set of televised PDC titles in October 2019 as he won the Champions League in Leicester.
Player Stats
Select below to see result & roll of honour information.
| | |
| --- | --- |
| PDC World Championship | 2014, 2017, 2019 |
| Premier League | 2013, 2016, 2017, 2018, 2019 |
| World Matchplay | 2015, 2016 |
| World Grand Prix | 2012, 2014, 2016, 2018, 2019 |
| Grand Slam of Darts | 2015, 2016, 2017 |
| The Masters | 2015, 2016, 2017, 2018, 2019 |
| UK Open | 2015, 2016, 2020 |
| European Championship | 2014, 2015, 2016, 2017 |
| Players Championship Finals | 2013, 2015, 2016, 2017, 2019, 2020 |
| Champions League of Darts | 2019 |
| World Cup of Darts | 2014, 2017, 2018 |
| World Series of Darts Finals | 2015, 2016, 2017, 2019 |
| Auckland Darts Masters | 2018 |
| Dubai Darts Masters | 2013, 2014, 2015 |
| Melbourne Darts Masters | 2019 |
| New Zealand Darts Masters | 2019 |
| Perth Darts Masters | 2016 |
| Shangahai Darts Masters | 2016, 2017 |
| Singapore Darts Masters | 2014 |
| U.S. Darts Masters | 2017 |
| World Masters | 2006 |
| | |
| --- | --- |
| Austrian Darts Open | 2013, 2017, 2019 |
| Dutch Darts Masters | 2014, 2015, 2016, 2017, 2018 |
| European Darts Grand Prix | 2016, 2018 |
| European Darts Matchplay | 2015, 2017, 2018 |
| European Darts Open | 2013, 2016, 2018, 2019 |
| European Darts Trophy | 2016, 2017, 2018 |
| German Darts Championship | 2015, 2018 |
| German Darts Grand Prix | 2017, 2018, 2019 |
| German Darts Masters | 2015, 2016, 2017 |
| German Darts Open | 2019 |
| Gibraltar Darts Trophy | 2015, 2016, 2018 |
| Players Championship | 2009, 2012 (x6), 2013 (x2), 2014 (x3), 2015 (x2), 2016 (x5), 2017 (x2), 2018 (x4), 2019 (x2), 2020 (x3), 2021 |
| UK Open Qualifier | 2012, 2013 (x5), 2014, 2015 (x3), 2016 (x3), 2017, 2018 (x2) |
| Open Holland | 2006, 2007 |
| PDC Youth/Development Tour | 2011 (x4) |
| | | |
| --- | --- | --- |
|   | Most Recent | Best Performance |
| 2021 WORLD CHAMPIONSHIP | Quarter Final | Winner - 2014, 2017, 2019 |
| 2021 UK OPEN | Semi Final | Winner - 2015, 2016, 2020 |
| 2021 WORLD MATCHPLAY | Semi Final | Winner - 2015, 2016 |
| 2021 WORLD GRAND PRIX | Last 32 | Winner - 2012, 2014, 2016, 2018, 2019 |
| 2021 EUROPEAN CHAMPIONSHIP | Runner Up | Winner - 2014, 2015, 2016, 2017 |
| 2020 GRAND SLAM OF DARTS | Quarter Final | Winner - 2015, 2016, 2017 |
| 2020 PLAYERS CHAMPIONSHIP FINALS | Winner | Winner - 2013, 2015, 2016, 2017, 2019, 2020 |
| | | |
| --- | --- | --- |
|   | Most Recent | Best Performance |
| 2021 THE MASTERS | Last 16 | Winner - 2015, 2016, 2017, 2018, 2019 |
| 2021 PREMIER LEAGUE | Semi Final | Winner - 2013, 2016, 2017, 2018, 2019 |
| 2021 WORLD CUP OF DARTS  | Quarter Final | Winner - 2014, 2017, 2018 |
| 2021 NORDIC DARTS MASTERS | Winner | Winner - 2021 |
| 2021 WORLD SERIES OF DARTS FINALS | Semi Final | Winner - 2015, 2016, 2017, 2019 |
| | | |
| --- | --- | --- |
| TOURNAMENT WIN | Players Championship 29 (November 2021) | beat Nathan Aspinall 8-5 |
| FINAL | Players Championship 29 (November 2021) | beat Nathan Aspinall 8-5 |
| SEMI FINAL | Players Championship 30 (November 2021) | lost to Joe Cullen 7-4 |
| QUARTER FINAL | Players Championship 30 (November 2021) | beat Matthew Edgar 6-3 |
| | | |
| --- | --- | --- |
| WORLD CHAMPIONSHIP | Quarter Final | lost to Dave Chisnall 5-0 |
| THE MASTERS | Last 16 | lost to Jonny Clayton 10-9 |
| PLAYERS CHAMPIONSHIP 1 | Last 32 | lost to Lewis Williams 6-5 |
| PLAYERS CHAMPIONSHIP 2 | Last 16 | lost to Jonny Clayton 6-1 |
| PLAYERS CHAMPIONSHIP 3 | Last 128 | lost to Darius Labanauskas 6-3 |
| PLAYERS CHAMPIONSHIP 4 | Semi Final | lost to Damon Heta 7-3 |
| UK OPEN | Semi Final | lost to Luke Humphries 11-5 |
| PLAYERS CHAMPIONSHIP 5 | - |   |
| PLAYERS CHAMPIONSHIP 6 | - |   |
| PLAYERS CHAMPIONSHIP 7 | - |   |
| PLAYERS CHAMPIONSHIP 8 | - |   |
| PLAYERS CHAMPIONSHIP 9 | Last 128 | lost to Josh Payne 6-4 |
| PLAYERS CHAMPIONSHIP 10 | Last 64 | lost to William Borland 6-2 |
| PLAYERS CHAMPIONSHIP 11 | Last 64 | lost to Gino Vos 6-1 |
| PLAYERS CHAMPIONSHIP 12 | Last 16 | lost to Simon Whitlock 6-3 |
| PREMIER LEAGUE | Semi Final | lost to Jonny Clayton 10-8 |
| PLAYERS CHAMPIONSHIP 13 | Semi Final | lost to Joe Cullen 7-2 |
| PLAYERS CHAMPIONSHIP 14 | Runner Up | lost to Jose de Sousa 8-6 |
| PLAYERS CHAMPIONSHIP 15 | Last 16 | lost to Rob Cross 6-4 |
| PLAYERS CHAMPIONSHIP 16 | - |   |
| PLAYERS CHAMPIONSHIP 17 | Quarter Final | lost to Gerwyn Price 6-5 |
| PLAYERS CHAMPIONSHIP 18 | Last 32 | lost to Ryan Searle 6-5 |
| PLAYERS CHAMPIONSHIP 19 | Last 128 | lost to Luke Woodhouse 6-3 |
| PLAYERS CHAMPIONSHIP 20 | Runner Up | lost to Peter Wright 8-2 |
| WORLD MATCHPLAY | Semi Final | lost to Peter Wright 17-10 |
| PLAYERS CHAMPIONSHIP 21 | Last 32 | lost to Daryl Gurney 6-5 |
| PLAYERS CHAMPIONSHIP 22 | Last 128 | lost to Kevin Doets 6-4 |
| PLAYERS CHAMPIONSHIP 23 | - |   |
| HUNGARIAN DARTS TROPHY | Last 16 | lost to Brendan Dolan 6-5 |
| WORLD CUP OF DARTS | Quarter Final (Dirk van Duijvenbode) | lost to Scotland 2-1 |
| NORDIC DARTS MASTERS | Winner | beat Fallon Sherrock 11-7 |
| GIBRALTAR DARTS TROPHY | Quarter Final | lost to Gerwyn Price 6-5 |
| WORLD GRAND PRIX | Last 32 | lost to Danny Noppert 2-0 |
| EUROPEAN CHAMPIONSHIP | Runner Up | lost to Rob Cross 11-8 |
| PLAYERS CHAMPIONSHIP 24 | Last 16 | lost to Ryan Searle 6-3 |
| PLAYERS CHAMPIONSHIP 25 | Last 16 | lost to Dirk van Duijvenbode 6-4 |
| PLAYERS CHAMPIONSHIP 26 | Last 32 | lost to Daryl Gurney 6-3 |
| PLAYERS CHAMPIONSHIP 27 | Last 16 | lost to Kim Huybrechts 6-2 |
| WORLD SERIES OF DARTS FINALS | Semi Final | lost to Jonny Clayton 11-6 |
| PLAYERS CHAMPIONSHIP 28 | Quarter Final | lost to Dave Chisnall 6-2 |
| PLAYERS CHAMPIONSHIP 29 | Winner | beat Nathan Aspinall 8-5 |
| PLAYERS CHAMPIONSHIP 30 | Semi Final | lost to Joe Cullen 7-4 |
| | | |
| --- | --- | --- |
| WORLD CHAMPIONSHIP | Runner Up | lost to Peter Wright 7-3 |
| THE MASTERS | Last 16 | lost to Jonny Clayton 10-6 |
| PLAYERS CHAMPIONSHIP 1 | Last 32 | lost to Brendan Dolan 6-4 |
| PLAYERS CHAMPIONSHIP 2 | Last 16 | lost to Jamie Hughes 6-5 |
| PLAYERS CHAMPIONSHIP 3 | Runner Up | lost to Ryan Searle 8-6 |
| PLAYERS CHAMPIONSHIP 4 | Quarter Final | lost to Danny Noppert 6-4 |
| PLAYERS CHAMPIONSHIP 5 | Last 32 | lost to Christian Bunse 6-5 |
| PLAYERS CHAMPIONSHIP 6 | Runner Up | lost to Gerwyn Price 8-7 |
| BELGIAN DARTS CHAMPIONSHIP | Last 16 | lost to Michael Smith 6-5 |
| UK OPEN | Winner | beat Gerwyn Price 11-9 |
| PLAYERS CHAMPIONSHIP 7 | Quarter Final | lost to Nathan Aspinall 6-1 |
| PLAYERS CHAMPIONSHIP 8 | Last 128 | lost to Maik Kuivenhoven 6-5 |
| PLAYERS CHAMPIONSHIP 9 (SS1) | Winner | beat Peter Wright 8-7 |
| PLAYERS CHAMPIONSHIP 10 (SS2) | Last 32 | lost to Maik Kuivenhoven 6-5 |
| PLAYERS CHAMPIONSHIP 11 (SS3) | Winner | beat Jose de Sousa 8-3 |
| PLAYERS CHAMPIONSHIP 12 (SS4) | Last 128 | lost to Joe Murnan 6-3 |
| PLAYERS CHAMPIONSHIP 13 (SS5) | Last 64 | lost to Devon Petersen 6-5 |
| WORLD MATCHPLAY | Last 16 | lost to Simon Whitlock 11-4 |
| PREMIER LEAGUE | 6th |   |
| PLAYERS CHAMPIONSHIP 14 (AS1) | Semi Final | lost to Peter Wright 7-6 |
| PLAYERS CHAMPIONSHIP 15 (AS2) | Last 64 | lost to Damon Heta 6-4 |
| PLAYERS CHAMPIONSHIP 16 (AS3) | Winner | beat Mensur Suljovic 8-1 |
| PLAYERS CHAMPIONSHIP 17 (AS4) | Last 32 | lost to Devon Petersen 6-0 |
| PLAYERS CHAMPIONSHIP 18 (AS5) | Quarter Final | lost to Jose de Sousa 6-3 |
| WORLD SERIES OF DARTS FINALS | Last 16 | lost to Glen Durrant 6-4 |
| GERMAN DARTS CHAMPIONSHIP | Last 16 | lost to Mervyn King 6-1 |
| WORLD GRAND PRIX | Quarter Final | lost to Simon Whitlock 4-1 |
| EUROPEAN DARTS GRAND PRIX | Runner Up | lost to Jose de Sousa 8-4 |
| INTERNATIONAL DARTS OPEN | Runner Up | lost to Joe Cullen 8-5 |
| EUROPEAN CHAMPIONSHIP | Last 16 | lost to Ian White 10-4 |
| WORLD CUP OF DARTS | Quarter Final (Danny Noppert) | lost to Germany 2-1 |
| PLAYERS CHAMPIONSHIP 19 (WS1) | - |   |
| PLAYERS CHAMPIONSHIP 20 (WS2) | - |   |
| PLAYERS CHAMPIONSHIP 21 (WS3) | - |   |
| PLAYERS CHAMPIONSHIP 22 (WS4) | Last 32 | lost to Adrian Lewis 6-4 |
| PLAYERS CHAMPIONSHIP 23 (WS5) | Last 64 | lost to Callan Rydz 6-4 |
| GRAND SLAM OF DARTS | Quarter Final | lost to Simon Whitlock 16-15 |
| PLAYERS CHAMPIONSHIP FINALS | Winner | beat Mervyn King 11-10 |
| | | |
| --- | --- | --- |
| WORLD CHAMPIONSHIP | Winner | beat Michael Smith 7-3 |
| THE MASTERS | Winner | beat James Wade 11-5 |
| PLAYERS CHAMPIONSHIP 1 | Winner | beat Jermaine Wattimena 8-4 |
| PLAYERS CHAMPIONSHIP 2 | Quarter Final | lost to Jonny Clayton 6-3 |
| PLAYERS CHAMPIONSHIP 3 | Winner | beat Ian White 8-5 |
| PLAYERS CHAMPIONSHIP 4 | Last 16 | lost to Nathan Aspinall 6-1 |
| PLAYERS CHAMPIONSHIP 5 | - |   |
| PLAYERS CHAMPIONSHIP 6 | - |   |
| UK OPEN | Last 64 | lost to Mervyn King 10-6 |
| PLAYERS CHAMPIONSHIP 7 | - |   |
| PLAYERS CHAMPIONSHIP 8 | - |   |
| EUROPEAN DARTS OPEN | Winner | beat Rob Cross 8-6 |
| GERMAN DARTS CHAMPIONSHIP | Last 32 | lost to Keegan Brown 6-4 |
| PLAYERS CHAMPIONSHIP 9 | - |   |
| PLAYERS CHAMPIONSHIP 10 | - |   |
| PLAYERS CHAMPIONSHIP 11 | - |   |
| PLAYERS CHAMPIONSHIP 12 | - |   |
| GERMAN DARTS GRAND PRIX | Winner | beat Simon Whitlock 8-3 |
| GERMAN DARTS OPEN | Winner | beat Ian White 8-3 |
| PLAYERS CHAMPIONSHIP 13 | - |   |
| PLAYERS CHAMPIONSHIP 14 | - |   |
| AUSTRIAN DARTS OPEN | Winner | beat Ian White 8-7 |
| EUROPEAN DARTS GRAND PRIX | Quarter Final | lost to Peter Wright 6-3 |
| PLAYERS CHAMPIONSHIP 15 | Semi Final | lost to Glen Durrant 7-2 |
| PLAYERS CHAMPIONSHIP 16 | Last 32 | lost to Robert Thornton 6-4 |
| PREMIER LEAGUE | Winner | beat Rob Cross 11-5 |
| DUTCH DARTS MASTERS | Runner Up | lost to Ian White 8-7 |
| WORLD CUP OF DARTS | Semi Final (Jermaine Wattimena) | lost to Republic of Ireland 2-1 |
| DANISH DARTS OPEN | - |   |
| PLAYERS CHAMPIONSHIP 17 | - |   |
| PLAYERS CHAMPIONSHIP 18 | - |   |
| CZECH DARTS OPEN | Last 32 | lost to Keegan Brown 6-5 |
| U.S. DARTS MASTERS | Quarter Final | lost to Michael Smith 8-6 |
| GERMAN DARTS MASTERS | Last 16 | lost to Martin Schindler 6-5 |
| PLAYERS CHAMPIONSHIP 19 | - |   |
| PLAYERS CHAMPIONSHIP 20 | - |   |
| WORLD MATCHPLAY | Last 16 | lost to Glen Durrant 13-11 |
| PLAYERS CHAMPIONSHIP 21 | - |   |
| PLAYERS CHAMPIONSHIP 22 | - |   |
| BRISBANE DARTS MASTERS | Quarter Final | lost to Daryl Gurney 8-5 |
| MELBOURNE DARTS MASTERS | Winner | beat Daryl Gurney 8-3 |
| NEW ZEALAND DARTS MASTERS | Winner | beat Raymond van Barneveld 8-1 |
| AUSTRIAN DARTS CHAMPIONSHIP | Runner Up | lost to Mensur Suljovic 8-7 |
| EUROPEAN DARTS MATCHPLAY | Runner Up | lost to Joe Cullen 8-5 |
| PLAYERS CHAMPIONSHIP 23 | Quarter Final | lost to Peter Wright 6-5 |
| PLAYERS CHAMPIONSHIP 24 | - |   |
| INTERNATIONAL DARTS OPEN | - |   |
| PLAYERS CHAMPIONSHIP 25 | - |   |
| PLAYERS CHAMPIONSHIP 26 | - |   |
| GIBRALTAR DARTS TROPHY | Last 16 | lost to Nathan Aspinall 6-3 |
| PLAYERS CHAMPIONSHIP 27 | - |   |
| PLAYERS CHAMPIONSHIP 28 | Last 64 | lost to Alan Norris 6-4 |
| WORLD GRAND PRIX | Winner | beat Dave Chisnall 5-2 |
| PLAYERS CHAMPIONSHIP 29 | - |   |
| PLAYERS CHAMPIONSHIP 30 | - |   |
| CHAMPIONS LEAGUE OF DARTS | Winner | beat Peter Wright 11-10 |
| EUROPEAN CHAMPIONSHIP | Last 32 | lost to Ross Smith 6-5 |
| WORLD SERIES OF DARTS FINALS | Winner | beat Danny Noppert 11-2 |
| GRAND SLAM OF DARTS | Semi Final | lost to Gerwyn Price 16-12 |
| PLAYERS CHAMPIONSHIP FINALS | Winner | beat Gerwyn Price 11-9 |
| | | |
| --- | --- | --- |
| WORLD CHAMPIONSHIP | Semi Final | lost to Rob Cross 6-5 |
| THE MASTERS | Winner | beat Raymond van Barneveld 11-9 |
| UK OPEN QUALIFIER 1 | Winner | beat Michael Smith 6-3 |
| UK OPEN QUALIFIER 2 | Winner | beat Darren Webster 6-3 |
| UK OPEN QUALIFIER 3 | Quarter Final | lost to Michael Smith 6-1 |
| UK OPEN QUALIFIER 4 | - |   |
| UK OPEN QUALIFIER 5 | - |   |
| UK OPEN QUALIFIER 6 | - |   |
| PLAYERS CHAMPIONSHIP 1 | Winner | beat James Wade 6-4 |
| PLAYERS CHAMPIONSHIP 2 | Winner | beat Corey Cadby 6-1 |
| UK OPEN | Last 64 | lost to Jeffrey de Zwaan 10-8 |
| PLAYERS CHAMPIONSHIP 3 | - |   |
| PLAYERS CHAMPIONSHIP 4 | - |   |
| PLAYERS CHAMPIONSHIP 5 | Winner | beat Chris Dobey 6-2 |
| PLAYERS CHAMPIONSHIP 6 | Last 32 | lost to Jermaine Wattimena 6-4 |
| EUROPEAN DARTS OPEN | Winner | beat Peter Wright 8-7 |
| GERMAN DARTS GRAND PRIX | Winner | beat Peter Wright 8-5 |
| PLAYERS CHAMPIONSHIP 7 | - |   |
| PLAYERS CHAMPIONSHIP 8 | - |   |
| GERMAN DARTS OPEN | Quarter Final | lost to Ian White 6-2 |
| AUSTRIAN DARTS OPEN | - |   |
| PLAYERS CHAMPIONSHIP 9 | Winner | beat Scott Taylor 6-4 |
| PLAYERS CHAMPIONSHIP 10 | Quarter Final | lost to Jonny Clayton 6-4 |
| EUROPEAN DARTS GRAND PRIX | Winner | beat James Wade 8-3 |
| DUTCH DARTS MASTERS | Winner | beat Steve Lennon 8-5 |
| PREMIER LEAGUE | Winner | beat Michael Smith 11-4 |
| PLAYERS CHAMPIONSHIP 11 | - |   |
| PLAYERS CHAMPIONSHIP 12 | - |   |
| GERMAN DARTS MASTERS | Quarter Final | lost to Dimitri Van den Bergh 8-3 |
| WORLD CUP OF DARTS | Winner (Raymond van Barneveld) | beat Scotland 3-1 |
| GIBRALTAR DARTS TROPHY | Winner | beat Adrian Lewis 8-3 |
| PLAYERS CHAMPIONSHIP 13 | - |   |
| PLAYERS CHAMPIONSHIP 14 | - |   |
| DANISH DARTS OPEN | Last 16 | lost to Brendan Dolan 6-4 |
| PLAYERS CHAMPIONSHIP 15 | - |   |
| PLAYERS CHAMPIONSHIP 16 | - |   |
| EUROPEAN DARTS MATCHPLAY | Winner | beat William O'Connor 8-2 |
| U.S. DARTS MASTERS | Quarter Final | lost to James wade 8-3 |
| SHANGHAI DARTS MASTERS | Semi Final | lost to Michael Smith 8-4 |
| WORLD MATCHPLAY | Last 32 | lost to Jeffrey de Zwaan 10-6 |
| AUCKLAND DARTS MASTERS | Winner | beat Raymond van Barneveld 11-4 |
| MELBOURNE DARTS MASTERS | Semi Final | lost to Peter Wright 11-7 |
| BRISBANE DARTS MASTERS | Runner Up | lost to Rob Cross 11-6 |
| GERMAN DARTS CHAMPIONSHIP | Winner | beat James Wilson 8-6 |
| PLAYERS CHAMPIONSHIP 17 | - |   |
| PLAYERS CHAMPIONSHIP 18 | - |   |
| DUTCH DARTS CHAMPIONSHIP | Last 32 | lost to William O'Connor 6-1 |
| INTERNATIONAL DARTS OPEN | - |   |
| CHAMPIONS LEAGUE OF DARTS | Semi Final | lost to Peter Wright 11-9 |
| PLAYERS CHAMPIONSHIP 19 | Quarter Final | lost to Madars Razma 6-5 |
| PLAYERS CHAMPIONSHIP 20 | Last 128 | lost to Martin Schindler 6-5 |
| WORLD GRAND PRIX | Winner | beat Peter Wright 5-2 |
| EUROPEAN DARTS TROPHY | Winner | beat James Wade 8-3 |
| PLAYERS CHAMPIONSHIP 21 | - |   |
| PLAYERS CHAMPIONSHIP 22 | - |   |
| EUROPEAN CHAMPIONSHIP | Last 16 | lost to Steve West 10-7 |
| WORLD SERIES OF DARTS FINALS | Quarter Final | lost to Raymond van Barneveld 10-8 |
| GRAND SLAM OF DARTS | Semi Final | lost to Gary Anderson 16-12 |
| PLAYERS CHAMPIONSHIP FINALS | Runner Up | lost to Daryl Gurney 11-9 |
| | | |
| --- | --- | --- |
| WORLD CHAMPIONSHIP | Winner | beat Gary Anderson 7-3 |
| THE MASTERS | Winner | beat Gary Anderson 11-7 |
| UK OPEN QUALIFIER 1 | Last 64 | lost to Ritchie Edhouse 6-5 |
| UK OPEN QUALIFIER 2 | Last 32 | lost to Steve Beaton 6-2 |
| UK OPEN QUALIFIER 3 | Quarter Final | lost to Peter Wright 6-4 |
| UK OPEN QUALIFIER 4 | Winner | beat Gary Anderson 6-3 |
| UK OPEN QUALIFIER 5 | - |   |
| UK OPEN QUALIFIER 6 | - |   |
| PLAYERS CHAMPIONSHIP 1 | - |   |
| PLAYERS CHAMPIONSHIP 2 | - |   |
| UK OPEN | - |   |
| PLAYERS CHAMPIONSHIP 3 | Last 32 | lost to William O'Connor 6-4 |
| PLAYERS CHAMPIONSHIP 4 | Semi Final | lost to Darren Johnson 6-5 |
| GERMAN DARTS CHAMPIONSHIP | Runner Up | lost to Peter Wright 6-3 |
| PLAYERS CHAMPIONSHIP 5 | Semi Final | lost to Adrian Lewis 6-5 |
| PLAYERS CHAMPIONSHIP 6 | Winner | beat Peter Wright 6-1 |
| PLAYERS CHAMPIONSHIP 7 | - |   |
| PLAYERS CHAMPIONSHIP 8 | - |   |
| GERMAN DARTS MASTERS (ET) | Winner | beat Jelle Klaasen 6-2 |
| GERMAN DARTS OPEN | Quarter Final | lost to Ian White 6-1 |
| PLAYERS CHAMPIONSHIP 9 | Winner | beat Robert Thornton 6-2 |
| PLAYERS CHAMPIONSHIP 10 | Last 16 | lost to Gary Anderson 6-4 |
| EUROPEAN DARTS GRAND PRIX | Runner Up | lost to Peter Wright 6-0 |
| GIBRALTAR DARTS TROPHY | - |   |
| PREMIER LEAGUE | Winner | beat Peter Wright 11-10 |
| PLAYERS CHAMPIONSHIP 11 | - |   |
| PLAYERS CHAMPIONSHIP 12 | - |   |
| DUBAI DARTS MASTERS | Runner Up | lost to Gary Anderson 11-7 |
| WORLD CUP OF DARTS | Winner (Raymond van Barneveld) | beat Wales 3-1 |
| EUROPEAN DARTS MATCHPLAY | Winner | beat Mensur Suljovic 6-3 |
| PLAYERS CHAMPIONSHIP 13 | - |   |
| PLAYERS CHAMPIONSHIP 14 | - |   |
| AUSTRIAN DARTS OPEN | Winner | beat Michael Smith 6-5 |
| EUROPEAN DARTS OPEN | Last 16 | lost to Rob Cross 6-2 |
| SHANGHAI DARTS MASTERS | Winner | beat Dave Chisnall 8-0 |
| PLAYERS CHAMPIONSHIP 15 | - |   |
| PLAYERS CHAMPIONSHIP 16 | - |   |
| U.S. DARTS MASTERS | Winner | beat Daryl Gurney 8-6 |
| WORLD MATCHPLAY | Quarter Final | lost to Phil Taylor 16-6 |
| PLAYERS CHAMPIONSHIP 17 | - |   |
| PLAYERS CHAMPIONSHIP 18 | - |   |
| AUCKLAND DARTS MASTERS | - |   |
| MELBOURNE DARTS MASTERS | - |   |
| PERTH DARTS MASTERS | - |   |
| DUTCH DARTS MASTERS | Winner | beat Steve Beaton 6-1 |
| GERMAN DARTS GRAND PRIX | Winner | beat Rob Cross 6-3 |
| CHAMPIONS LEAGUE OF DARTS | Group Stage (3rd) |   |
| INTERNATIONAL DARTS OPEN | - |   |
| PLAYERS CHAMPIONSHIP 19 | Last 32 | lost to Vincent van der Voort 6-5 |
| PLAYERS CHAMPIONSHIP 20 | Quarter Final | lost to Mensur Suljovic 6-3 |
| WORLD GRAND PRIX | Last 32 | lost to John Henderson 2-1 |
| PLAYERS CHAMPIONSHIP 21 | - |   |
| PLAYERS CHAMPIONSHIP 22 | - |   |
| EUROPEAN DARTS TROPHY | Winner | beat Rob Cross 6-4 |
| GERMAN DARTS MASTERS (WS) | Quarter Final | (withdrew) |
| EUROPEAN CHAMPIONSHIP | Winner | beat Rob Cross 11-7 |
| WORLD SERIES OF DARTS FINALS | Winner | beat Gary Anderson 11-7 |
| GRAND SLAM OF DARTS | Winner | beat Peter Wright 16-12 |
| PLAYERS CHAMPIONSHIP FINALS | Winner | beat Jonny Clayton 11-2 |