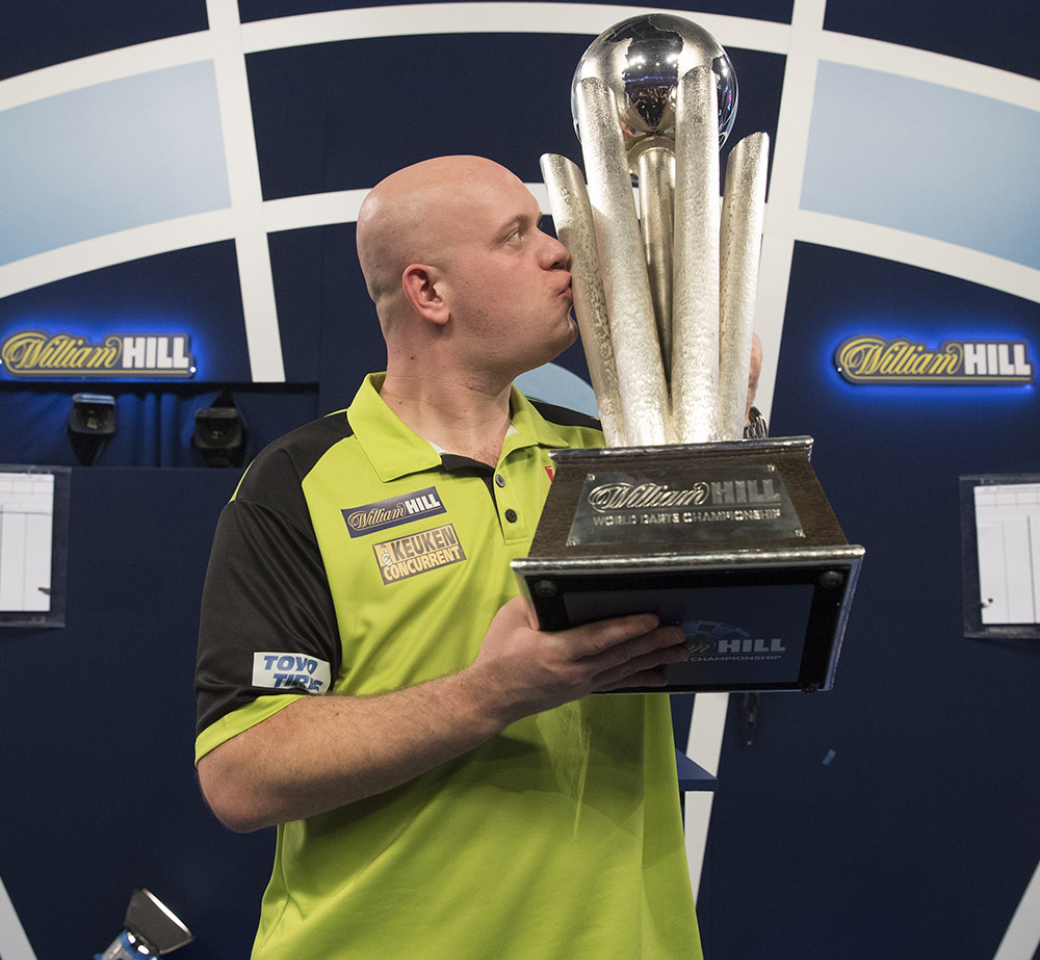 Michael van Gerwen
Mighty Mike
PDC World Ranking

1

Televised titles

53

Non-Televised PDC Titles

77

Televised Nine-Dart Finishes

5
Walk-On Music

White Stripes - Seven Nation Army

Date of Birth

April 25 1989

Darts Used

23g

XQ Max

Home Town

Vlijmen
The current world number one, Dutch ace Michael van Gerwen has enjoyed an extraordinary spell to establish himself as one of the sport's superstars.
A teenage wonderkid when he broke through to win the 2006 World Masters, he would wait a further six years to pick up his next televised title at the 2012 World Grand Prix, a victory which has sparked a golden run of success.
A two-time World Youth Championship finalist who honed his skills in the early years of the PDC's Youth Tour - having initially joined the PDC circuit in 2007 - Van Gerwen has been the dominant player on the PDC circuit since 2013.
Having hit a brilliant nine-darter in the 2013 World Championship - and missed double 12 to complete amazing back-to-back perfect legs - his Premier League win in his debut season of that event was swiftly followed by victory in the PDC's inaugural World Series event in Dubai.
Two European Tour victories were accompanied by seven other ProTour wins during the year, which ended with him going all the way to glory in the 2014 World Championship - defeating Peter Wright in the final in his most memorable New Year's Day ever!
After topping the Premier League table once again following the 2014 season, van Gerwen bounced back from losing that title to Van Barneveld in the Play-Offs by picking up another victory in the Dubai Darts Masters.
He added another World Series title in Singapore in August 2014 and teamed up with van Barneveld to win the World Cup of Darts title before a memorable October led to him taking a second World Grand Prix triumph and success in the European Championship, which also featured a nine-darter.
A semi-finalist in the defence of his World Championship title, van Gerwen began 2015 in style by winning The Masters in Milton Keynes, a European Tour event and three UK Open Qualifiers during an amazing run which saw him win 42 games out of 43 during February before then winning the UK Open TV Finals in March.
His imperious form on the circuit continued with three further European Tour wins, in Gibraltar, Germany and Holland, and two Players Championship triumphs, while he also finished at the head of the Premier League table for a third straight season, only to lose out in the final to Gary Anderson.
After retaining the Dubai Darts Masters title for a third successive year, this time defeating Phil Taylor in the final, van Gerwen then succeeded Taylor as World Matchplay champion with his brilliant success in Blackpool, which was sealed with his defeat of James Wade in the final.
Further 2015 triumphs followed as Van Gerwen retained the European Championship title with a comeback win over Anderson, won his first Grand Slam of Darts title, as he memorably overcame Taylor in the final, and claimed victory in the inaugural World Series of Darts Finals.
He also won a second Players Championship Finals title by overcoming Lewis in the final, but was knocked out of the 2016 World Championship by Dutch rival Van Barneveld.
Van Gerwen bounced back to retain both his Masters and UK Open titles - hitting a nine-darter in Minehead - before claiming his second Premier League title by seeing off Taylor in the final.
Victory in the inaugural Shanghai Darts Masters was followed by another superb World Matchplay triumph, glory in the Perth Darts Masters and a third World Grand Prix win, as he bounced back from a loss to Taylor in the Champions League of Darts final.
Another golden autumn saw Van Gerwen then win the European Championship, World Series of Darts Finals, Grand Slam of Darts and Players Championship Finals to continue an incredible year, which ended fittingly with his second World Championship triumph as he defeated Anderson in the Alexandra Palace final.
Another win over Anderson sealed a third successive Masters final to open 2017 in style, and after topping the Premier League's regular season table for a fifth straight year he retained that title in May before claiming his second World Cup of Darts title alongside Van Barneveld in June.
Whilst he missed out on a World Matchplay hat-trick, Van Gerwen's summer highlight saw the birth of first child Zoe, before he returned to action in another golden autumn campaign.
Three European Tour wins were followed by a fourth successive European Championship title, wins for a third straight year in the World Series of Darts Finals and Grand Slam of Darts and at the Players Championship Finals for a fourth time in five years.
Van Gerwen's incredible winning streak was ended by Rob Cross in the World Championship semi-finals, with the Dutchman missing match darts as his title defence ended at Alexandra Palace.
After once again being named PDC Player of the Year to begin 2018, Van Gerwen made an immediate return to winning ways at The Masters by claiming his fourth straight victory in the top-16 event.
The Dutch star continued his dominance, adding a fourth Premier League crown and a third World Cup title alongside Van Barneveld, while picking up six of the first nine European Tour titles of the year.
Van Gerwen secured his first World Series title of 2018 at the Auckland Darts Masters before making it seven European Tour titles for the year as he defeated James Wilson 8-6 in the final of the German Darts Championship.
October 2018 saw Van Gerwen lift the World Grand Prix title for a fourth time with a 5-2 win over Peter Wright at the Citywest in Dublin and followed that success with an eighth European Tour title of the year at the European Darts Trophy.
Van Gerwen lifted his third World Championship title at the 2018/19 World Championship with a 7-3 victory over Michael Smith in the final.
The Dutchman started 2019 in typically strong style, claiming an incredible fifth successive Masters title before a 29th European Tour title in the first event of the year, hitting a nine-darter in the process in Leverkusen.
In April 2019, just three days before his 30th birthday, Van Gerwen claimed his 30th European Tour title at the German Darts Grand Prix in Munich, defeating Simon Whitlock 8-3 in the final.
Van Gerwen topped the Premier League table for a seventh straight year in 2019 before claimed his fifth Premier League title in May 2019, defeating Rob Cross 11-5 in the final.
Player Stats
Select below to see result & roll of honour information.
| | |
| --- | --- |
| PDC World Championship | 2014, 2017, 2019 |
| Premier League | 2013, 2016, 2017, 2018, 2019 |
| World Matchplay | 2015, 2016 |
| World Grand Prix | 2012, 2014, 2016, 2018, 2019 |
| Grand Slam of Darts | 2015, 2016, 2017 |
| The Masters | 2015, 2016, 2017, 2018, 2019 |
| UK Open | 2015, 2016 |
| European Championship | 2014, 2015, 2016, 2017 |
| Players Championship Finals | 2013, 2015, 2016, 2017 |
| Champions League of Darts | 2019 |
| World Cup of Darts | 2014, 2017, 2018 |
| World Series of Darts Finals | 2015, 2016, 2017, 2019 |
| Auckland Darts Masters | 2018 |
| Dubai Darts Masters | 2013, 2014, 2015 |
| Melbourne Darts Masters | 2019 |
| New Zealand Darts Masters | 2019 |
| Perth Darts Masters | 2016 |
| Shangahai Darts Masters | 2016, 2017 |
| Singapore Darts Masters | 2014 |
| U.S. Darts Masters | 2017 |
| World Masters | 2006 |
| | |
| --- | --- |
| Austrian Darts Open | 2013, 2017, 2019 |
| Dutch Darts Masters | 2014, 2015, 2016, 2017, 2018 |
| European Darts Grand Prix | 2016, 2018 |
| European Darts Matchplay | 2015, 2017, 2018 |
| European Darts Open | 2013, 2016, 2018, 2019 |
| European Darts Trophy | 2016, 2017, 2018 |
| German Darts Championship | 2015, 2018 |
| German Darts Grand Prix | 2017, 2018, 2019 |
| German Darts Masters | 2015, 2016, 2017 |
| German Darts Open | 2019 |
| Gibraltar Darts Trophy | 2015, 2016, 2018 |
| Players Championship | 2009, 2012 (x6), 2013 (x2), 2014 (x3), 2015 (x2), 2016 (x5), 2017 (x2), 2018 (x4), 2019 (x2) |
| UK Open Qualifier | 2012, 2013 (x5), 2014, 2015 (x3), 2016 (x3), 2017, 2018 (x2) |
| Open Holland | 2006, 2007 |
| PDC Youth/Development Tour | 2011 (x4) |
| | | |
| --- | --- | --- |
|   | Most Recent | Best Performance |
| 2019 WORLD CHAMPIONSHIP | Winner | Winner - 2014, 2017, 2019 |
| 2019 UK OPEN | Last 64 | Winner - 2015, 2016 |
| 2019 WORLD MATCHPLAY | Last 16 | Winner - 2015, 2016 |
| 2019 WORLD GRAND PRIX | Winner | Winner - 2012, 2014, 2016, 2018, 2019 |
| 2019 EUROPEAN CHAMPIONSHIP | Last 32 | Winner - 2014, 2015, 2016, 2017 |
| 2018 GRAND SLAM OF DARTS | Semi Final | Winner - 2015, 2016, 2017 |
| 2018 PLAYERS CHAMPIONSHIP FINALS | Runner Up | Winner - 2013, 2015, 2016, 2017 |
| | | |
| --- | --- | --- |
|   | Most Recent | Best Performance |
| 2019 THE MASTERS | Winner | Winner - 2015, 2016, 2017, 2018, 2019 |
| 2019 PREMIER LEAGUE | Winner | Winner - 2013, 2016, 2017, 2018, 2019 |
| 2019 WORLD CUP OF DARTS  | Semi Final (Jermaine Wattimena) | Winner - 2014, 2017, 2018 |
| 2019 U.S. MASTERS | Quarter Final | Winner - 2017 |
| 2019 GERMAN MASTERS | Last 16 | Quarter Final - 2017, 2018 |
| 2019 BRISBANE MASTERS | Quarter Final | Runner Up - 2018 |
| 2019 MELBOURNE MASTERS | Winner | Winner - 2019 |
| 2019 NEW ZEALAND MASTERS | Winner | Winner - 2019 |
| 2019 CHAMPIONS LEAGUE OF DARTS | Winner | Winner - 2019 |
| 2019 WORLD SERIES OF DARTS FINALS | Winner | Winner - 2015, 2016, 2017, 2019 |
| | | |
| --- | --- | --- |
| TOURNAMENT WIN | World Series of Darts Finals (November 2019) | beat Danny Noppert 11-2 |
| FINAL | World Series of Darts Finals (November 2019) | beat Danny Noppert 11-2 |
| SEMI FINAL | World Series of Darts Finals (November 2019) | beat Mensur Suljovic 11-4 |
| QUARTER FINAL | World Series of Darts Finals (November 2019) | beat Jonny Clayton 10-6 |
| | | |
| --- | --- | --- |
| WORLD CHAMPIONSHIP | Winner | beat Gary Anderson 7-3 |
| THE MASTERS | Winner | beat Gary Anderson 11-7 |
| UK OPEN QUALIFIER 1 | Last 64 | lost to Ritchie Edhouse 6-5 |
| UK OPEN QUALIFIER 2 | Last 32 | lost to Steve Beaton 6-2 |
| UK OPEN QUALIFIER 3 | Quarter Final | lost to Peter Wright 6-4 |
| UK OPEN QUALIFIER 4 | Winner | beat Gary Anderson 6-3 |
| UK OPEN QUALIFIER 5 | - |   |
| UK OPEN QUALIFIER 6 | - |   |
| PLAYERS CHAMPIONSHIP 1 | - |   |
| PLAYERS CHAMPIONSHIP 2 | - |   |
| UK OPEN | - |   |
| PLAYERS CHAMPIONSHIP 3 | Last 32 | lost to William O'Connor 6-4 |
| PLAYERS CHAMPIONSHIP 4 | Semi Final | lost to Darren Johnson 6-5 |
| GERMAN DARTS CHAMPIONSHIP | Runner Up | lost to Peter Wright 6-3 |
| PLAYERS CHAMPIONSHIP 5 | Semi Final | lost to Adrian Lewis 6-5 |
| PLAYERS CHAMPIONSHIP 6 | Winner | beat Peter Wright 6-1 |
| PLAYERS CHAMPIONSHIP 7 | - |   |
| PLAYERS CHAMPIONSHIP 8 | - |   |
| GERMAN DARTS MASTERS (ET) | Winner | beat Jelle Klaasen 6-2 |
| GERMAN DARTS OPEN | Quarter Final | lost to Ian White 6-1 |
| PLAYERS CHAMPIONSHIP 9 | Winner | beat Robert Thornton 6-2 |
| PLAYERS CHAMPIONSHIP 10 | Last 16 | lost to Gary Anderson 6-4 |
| EUROPEAN DARTS GRAND PRIX | Runner Up | lost to Peter Wright 6-0 |
| GIBRALTAR DARTS TROPHY | - |   |
| PREMIER LEAGUE | Winner | beat Peter Wright 11-10 |
| PLAYERS CHAMPIONSHIP 11 | - |   |
| PLAYERS CHAMPIONSHIP 12 | - |   |
| DUBAI DARTS MASTERS | Runner Up | lost to Gary Anderson 11-7 |
| WORLD CUP OF DARTS | Winner (Raymond van Barneveld) | beat Wales 3-1 |
| EUROPEAN DARTS MATCHPLAY | Winner | beat Mensur Suljovic 6-3 |
| PLAYERS CHAMPIONSHIP 13 | - |   |
| PLAYERS CHAMPIONSHIP 14 | - |   |
| AUSTRIAN DARTS OPEN | Winner | beat Michael Smith 6-5 |
| EUROPEAN DARTS OPEN | Last 16 | lost to Rob Cross 6-2 |
| SHANGHAI DARTS MASTERS | Winner | beat Dave Chisnall 8-0 |
| PLAYERS CHAMPIONSHIP 15 | - |   |
| PLAYERS CHAMPIONSHIP 16 | - |   |
| U.S. DARTS MASTERS | Winner | beat Daryl Gurney 8-6 |
| WORLD MATCHPLAY | Quarter Final | lost to Phil Taylor 16-6 |
| PLAYERS CHAMPIONSHIP 17 | - |   |
| PLAYERS CHAMPIONSHIP 18 | - |   |
| AUCKLAND DARTS MASTERS | - |   |
| MELBOURNE DARTS MASTERS | - |   |
| PERTH DARTS MASTERS | - |   |
| DUTCH DARTS MASTERS | Winner | beat Steve Beaton 6-1 |
| GERMAN DARTS GRAND PRIX | Winner | beat Rob Cross 6-3 |
| CHAMPIONS LEAGUE OF DARTS | Group Stage (3rd) |   |
| INTERNATIONAL DARTS OPEN | - |   |
| PLAYERS CHAMPIONSHIP 19 | Last 32 | lost to Vincent van der Voort 6-5 |
| PLAYERS CHAMPIONSHIP 20 | Quarter Final | lost to Mensur Suljovic 6-3 |
| WORLD GRAND PRIX | Last 32 | lost to John Henderson 2-1 |
| PLAYERS CHAMPIONSHIP 21 | - |   |
| PLAYERS CHAMPIONSHIP 22 | - |   |
| EUROPEAN DARTS TROPHY | Winner | beat Rob Cross 6-4 |
| GERMAN DARTS MASTERS (WS) | Quarter Final | (withdrew) |
| EUROPEAN CHAMPIONSHIP | Winner | beat Rob Cross 11-7 |
| WORLD SERIES OF DARTS FINALS | Winner | beat Gary Anderson 11-7 |
| GRAND SLAM OF DARTS | Winner | beat Peter Wright 16-12 |
| PLAYERS CHAMPIONSHIP FINALS | Winner | beat Jonny Clayton 11-2 |
| | | |
| --- | --- | --- |
| WORLD CHAMPIONSHIP | Semi Final | lost to Rob Cross 6-5 |
| THE MASTERS | Winner | beat Raymond van Barneveld 11-9 |
| UK OPEN QUALIFIER 1 | Winner | beat Michael Smith 6-3 |
| UK OPEN QUALIFIER 2 | Winner | beat Darren Webster 6-3 |
| UK OPEN QUALIFIER 3 | Quarter Final | lost to Michael Smith 6-1 |
| UK OPEN QUALIFIER 4 | - |   |
| UK OPEN QUALIFIER 5 | - |   |
| UK OPEN QUALIFIER 6 | - |   |
| PLAYERS CHAMPIONSHIP 1 | Winner | beat James Wade 6-4 |
| PLAYERS CHAMPIONSHIP 2 | Winner | beat Corey Cadby 6-1 |
| UK OPEN | Last 64 | lost to Jeffrey de Zwaan 10-8 |
| PLAYERS CHAMPIONSHIP 3 | - |   |
| PLAYERS CHAMPIONSHIP 4 | - |   |
| PLAYERS CHAMPIONSHIP 5 | Winner | beat Chris Dobey 6-2 |
| PLAYERS CHAMPIONSHIP 6 | Last 32 | lost to Jermaine Wattimena 6-4 |
| EUROPEAN DARTS OPEN | Winner | beat Peter Wright 8-7 |
| GERMAN DARTS GRAND PRIX | Winner | beat Peter Wright 8-5 |
| PLAYERS CHAMPIONSHIP 7 | - |   |
| PLAYERS CHAMPIONSHIP 8 | - |   |
| GERMAN DARTS OPEN | Quarter Final | lost to Ian White 6-2 |
| AUSTRIAN DARTS OPEN | - |   |
| PLAYERS CHAMPIONSHIP 9 | Winner | beat Scott Taylor 6-4 |
| PLAYERS CHAMPIONSHIP 10 | Quarter Final | lost to Jonny Clayton 6-4 |
| EUROPEAN DARTS GRAND PRIX | Winner | beat James Wade 8-3 |
| DUTCH DARTS MASTERS | Winner | beat Steve Lennon 8-5 |
| PREMIER LEAGUE | Winner | beat Michael Smith 11-4 |
| PLAYERS CHAMPIONSHIP 11 | - |   |
| PLAYERS CHAMPIONSHIP 12 | - |   |
| GERMAN DARTS MASTERS | Quarter Final | lost to Dimitri Van den Bergh 8-3 |
| WORLD CUP OF DARTS | Winner (Raymond van Barneveld) | beat Scotland 3-1 |
| GIBRALTAR DARTS TROPHY | Winner | beat Adrian Lewis 8-3 |
| PLAYERS CHAMPIONSHIP 13 | - |   |
| PLAYERS CHAMPIONSHIP 14 | - |   |
| DANISH DARTS OPEN | Last 16 | lost to Brendan Dolan 6-4 |
| PLAYERS CHAMPIONSHIP 15 | - |   |
| PLAYERS CHAMPIONSHIP 16 | - |   |
| EUROPEAN DARTS MATCHPLAY | Winner | beat William O'Connor 8-2 |
| U.S. DARTS MASTERS | Quarter Final | lost to James wade 8-3 |
| SHANGHAI DARTS MASTERS | Semi Final | lost to Michael Smith 8-4 |
| WORLD MATCHPLAY | Last 32 | lost to Jeffrey de Zwaan 10-6 |
| AUCKLAND DARTS MASTERS | Winner | beat Raymond van Barneveld 11-4 |
| MELBOURNE DARTS MASTERS | Semi Final | lost to Peter Wright 11-7 |
| BRISBANE DARTS MASTERS | Runner Up | lost to Rob Cross 11-6 |
| GERMAN DARTS CHAMPIONSHIP | Winner | beat James Wilson 8-6 |
| PLAYERS CHAMPIONSHIP 17 | - |   |
| PLAYERS CHAMPIONSHIP 18 | - |   |
| DUTCH DARTS CHAMPIONSHIP | Last 32 | lost to William O'Connor 6-1 |
| INTERNATIONAL DARTS OPEN | - |   |
| CHAMPIONS LEAGUE OF DARTS | Semi Final | lost to Peter Wright 11-9 |
| PLAYERS CHAMPIONSHIP 19 | Quarter Final | lost to Madars Razma 6-5 |
| PLAYERS CHAMPIONSHIP 20 | Last 128 | lost to Martin Schindler 6-5 |
| WORLD GRAND PRIX | Winner | beat Peter Wright 5-2 |
| EUROPEAN DARTS TROPHY | Winner | beat James Wade 8-3 |
| PLAYERS CHAMPIONSHIP 21 | - |   |
| PLAYERS CHAMPIONSHIP 22 | - |   |
| EUROPEAN CHAMPIONSHIP | Last 16 | lost to Steve West 10-7 |
| WORLD SERIES OF DARTS FINALS | Quarter Final | lost to Raymond van Barneveld 10-8 |
| GRAND SLAM OF DARTS | Semi Final | lost to Gary Anderson 16-12 |
| PLAYERS CHAMPIONSHIP FINALS | Runner Up | lost to Daryl Gurney 11-9 |
| | | |
| --- | --- | --- |
| WORLD CHAMPIONSHIP | Winner | beat Michael Smith 7-3 |
| THE MASTERS | Winner | beat James Wade 11-5 |
| PLAYERS CHAMPIONSHIP 1 | Winner | beat Jermaine Wattimena 8-4 |
| PLAYERS CHAMPIONSHIP 2 | Quarter Final | lost to Jonny Clayton 6-3 |
| PLAYERS CHAMPIONSHIP 3 | Winner | beat Ian White 8-5 |
| PLAYERS CHAMPIONSHIP 4 | Last 16 | lost to Nathan Aspinall 6-1 |
| PLAYERS CHAMPIONSHIP 5 | - |   |
| PLAYERS CHAMPIONSHIP 6 | - |   |
| UK OPEN | Last 64 | lost to Mervyn King 10-6 |
| PLAYERS CHAMPIONSHIP 7 | - |   |
| PLAYERS CHAMPIONSHIP 8 | - |   |
| EUROPEAN DARTS OPEN | Winner | beat Rob Cross 8-6 |
| GERMAN DARTS CHAMPIONSHIP | Last 32 | lost to Keegan Brown 6-4 |
| PLAYERS CHAMPIONSHIP 9 | - |   |
| PLAYERS CHAMPIONSHIP 10 | - |   |
| PLAYERS CHAMPIONSHIP 11 | - |   |
| PLAYERS CHAMPIONSHIP 12 | - |   |
| GERMAN DARTS GRAND PRIX | Winner | beat Simon Whitlock 8-3 |
| GERMAN DARTS OPEN | Winner | beat Ian White 8-3 |
| PLAYERS CHAMPIONSHIP 13 | - |   |
| PLAYERS CHAMPIONSHIP 14 | - |   |
| AUSTRIAN DARTS OPEN | Winner | beat Ian White 8-7 |
| EUROPEAN DARTS GRAND PRIX | Quarter Final | lost to Peter Wright 6-3 |
| PLAYERS CHAMPIONSHIP 15 | Semi Final | lost to Glen Durrant 7-2 |
| PLAYERS CHAMPIONSHIP 16 | Last 32 | lost to Robert Thornton 6-4 |
| PREMIER LEAGUE | Winner | beat Rob Cross 11-5 |
| DUTCH DARTS MASTERS | Runner Up | lost to Ian White 8-7 |
| WORLD CUP OF DARTS | Semi Final (Jermaine Wattimena) | lost to Republic of Ireland 2-1 |
| DANISH DARTS OPEN | - |   |
| PLAYERS CHAMPIONSHIP 17 | - |   |
| PLAYERS CHAMPIONSHIP 18 | - |   |
| CZECH DARTS OPEN | Last 32 | lost to Keegan Brown 6-5 |
| U.S. DARTS MASTERS | Quarter Final | lost to Michael Smith 8-6 |
| GERMAN DARTS MASTERS | Last 16 | lost to Martin Schindler 6-5 |
| PLAYERS CHAMPIONSHIP 19 | - |   |
| PLAYERS CHAMPIONSHIP 20 | - |   |
| WORLD MATCHPLAY | Last 16 | lost to Glen Durrant 13-11 |
| PLAYERS CHAMPIONSHIP 21 | - |   |
| PLAYERS CHAMPIONSHIP 22 | - |   |
| BRISBANE DARTS MASTERS | Quarter Final | lost to Daryl Gurney 8-5 |
| MELBOURNE DARTS MASTERS | Winner | beat Daryl Gurney 8-3 |
| NEW ZEALAND DARTS MASTERS | Winner | beat Raymond van Barneveld 8-1 |
| AUSTRIAN DARTS CHAMPIONSHIP | Runner Up | lost to Mensur Suljovic 8-7 |
| EUROPEAN DARTS MATCHPLAY | Runner Up | lost to Joe Cullen 8-5 |
| PLAYERS CHAMPIONSHIP 23 | Quarter Final | lost to Peter Wright 6-5 |
| PLAYERS CHAMPIONSHIP 24 | - |   |
| INTERNATIONAL DARTS OPEN | - |   |
| PLAYERS CHAMPIONSHIP 25 | - |   |
| PLAYERS CHAMPIONSHIP 26 | - |   |
| GIBRALTAR DARTS TROPHY | Last 16 | lost to Nathan Aspinall 6-3 |
| PLAYERS CHAMPIONSHIP 27 | - |   |
| PLAYERS CHAMPIONSHIP 28 | Last 64 | lost to Alan Norris 6-4 |
| WORLD GRAND PRIX | Winner | beat Dave Chisnall 5-2 |
| PLAYERS CHAMPIONSHIP 29 | - |   |
| PLAYERS CHAMPIONSHIP 30 | - |   |
| CHAMPIONS LEAGUE OF DARTS | Winner | beat Peter Wright 11-10 |
| EUROPEAN CHAMPIONSHIP | Last 32 | lost to Ross Smith 6-5 |
| WORLD SERIES OF DARTS FINALS | Winner | beat Danny Noppert 11-2 |