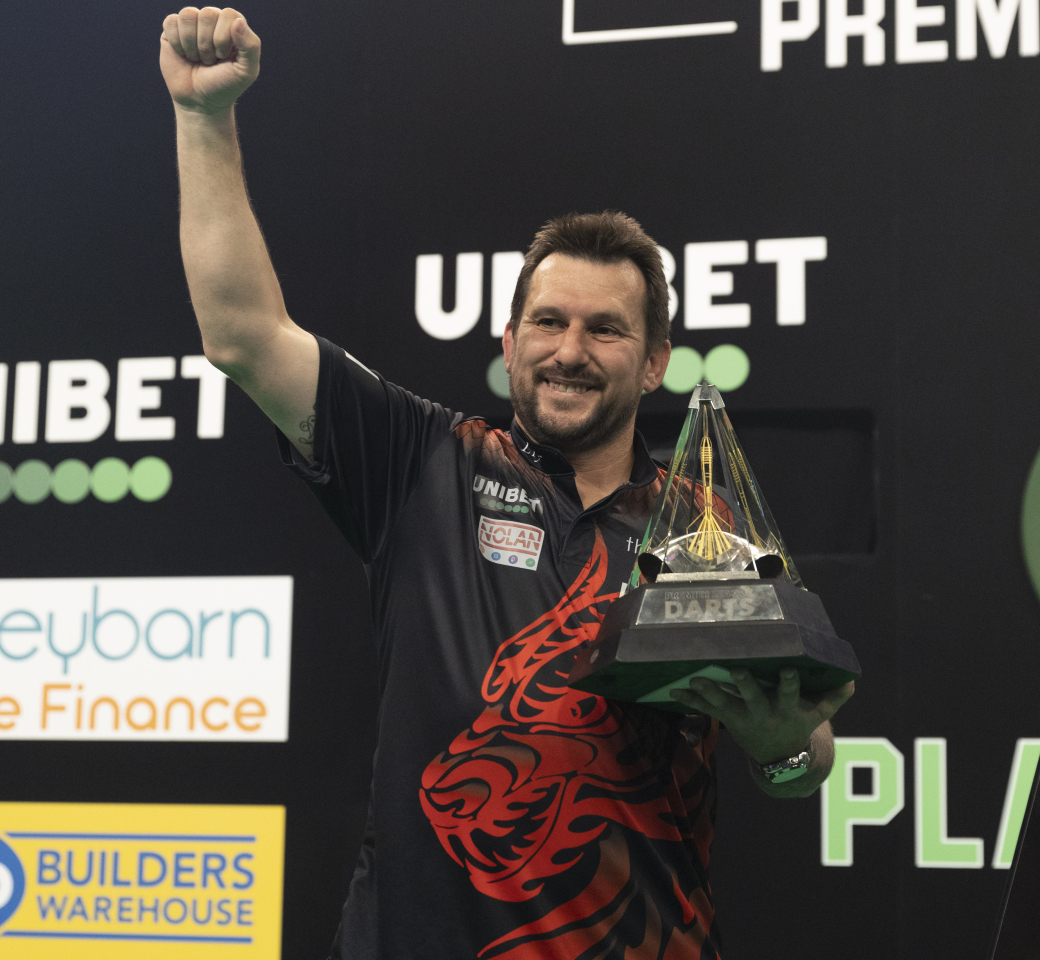 Jonny Clayton
The Ferret
PDC World Ranking

8

Televised titles

5

Non-Televised PDC Titles

5

Televised Nine-Dart Finishes

2
Walk-On Music

Johnny B. Goode - Chuck Berry

Date of Birth

October 04 1974

Darts Used

21g

Red Dragon

Home Town

Pontyberem

Twitter

@JonnyClay9
Welsh star Jonny has won the 2020 World Cup of Darts and the 2021 Masters and Premier League titles in an incredible rise to stardom.
Jonny joined the PDC circuit in 2015, winning a Tour Card at Qualifying School and going on to qualify for the UK Open and Grand Slam in his debut year on the circuit.
Clayton then made his World Championship debut at the 2016/2017 event, before his consistency on the ProTour was rewarded with a first ranking title at a Players Championship event in October 2017.
Clayton then jumped into the world's top 32 with a run to his first TV final at the Players Championship Finals, and further appearances in the World Championship and UK Open followed.
In April 2019 Clayton landed his third PDC title at a Players Championship event, while he would land a nine-darter in the 2020 UK Open.
November 2020 saw him partner Gerwyn Price for Wales as they claimed their first World Cup of Darts title and Clayton his first televised success.
He then claimed The Masters in 2021, securing a debut season in the Premier League in the process as he defeated Mervyn King in the final which was effectively a shoot-out for a spot in the ten-player event.
The Premier League proved equally successful as Clayton secured a top-four finish on the final night of the league phase, before taking glory in the Play-Offs by defeating Michael van Gerwen in the semi-finals and Jose de Sousa in the final.
Player Stats
Select below to see result & roll of honour information.
| | |
| --- | --- |
| World Grand Prix | 2021 |
| Premier League | 2021 |
| The Masters | 2021 |
| World Series of Darts Finals | 2021 |
| World Cup of Darts | 2020 |
| | |
| --- | --- |
| Austrian Darts Open | 2018 |
| Players Championship | 2017, 2019, 2021 (x2) |
| | | |
| --- | --- | --- |
|   | Most Recent | Best Performance |
| 2021 WORLD CHAMPIONSHIP | Last 32 | Last 32 - 2017, 2020, 2021 |
| 2021 UK OPEN | Last 16 | Semi Final - 2020 |
| 2021 WORLD MATCHPLAY | Last 16 | Last 16 - 2021 |
| 2021 WORLD GRAND PRIX | Winner | Winner - 2021 |
| 2021 EUROPEAN CHAMPIONSHIP | - | Semi Final - 2020 |
| 2020 GRAND SLAM OF DARTS | Last 16 | Quarter Final - 2018 |
| 2020 PLAYERS CHAMPIONSHIP FINALS | Last 32 | Runner Up - 2017 |
| | | |
| --- | --- | --- |
|   | Most Recent | Best Performance |
| 2021 THE MASTERS | Winner | Winner - 2021 |
| 2021 PREMIER LEAGUE | Winner | Winner - 2021 |
| 2021 WORLD CUP OF DARTS  | Semi Final | Winner - 2020 |
| 2021 NORDIC DARTS MASTERS | Semi Final | Semi Final - 2021 |
| 2021 WORLD SERIES OF DARTS FINALS | Winner | Winner - 2021 |
| | | |
| --- | --- | --- |
| TOURNAMENT WIN | World Series of Darts Finals (October 2021) | beat Dimitri Van den Bergh 11-6 |
| FINAL | World Series of Darts Finals (October 2021) | beat Dimitri Van den Bergh 11-6 |
| SEMI FINAL | World Series of Darts Finals (October 2021) | beat Michael van Gerwen 11-6 |
| QUARTER FINAL | Players Championship 30 (November 2021) | lost to Krzysztof Ratajski 6-5 |
| | | |
| --- | --- | --- |
| WORLD CHAMPIONSHIP | Last 32 | lost to Joe Cullen 4-3 |
| THE MASTERS | Winner | beat Mervyn King 11-8 |
| PLAYERS CHAMPIONSHIP 1 | Runner Up | lost to Joe Cullen 8-7 |
| PLAYERS CHAMPIONSHIP 2 | Runner Up | lost to Callan Rydz 8-7 |
| PLAYERS CHAMPIONSHIP 3 | Quarter Final | lost to Danny Noppert 6-4 |
| PLAYERS CHAMPIONSHIP 4 | Winner | beat Damon Heta 8-6 |
| UK OPEN | Last 16 | lost to Krzysztof Ratajski 10-3 |
| PLAYERS CHAMPIONSHIP 5 | Last 64 | lost to Kirk Shepherd 6-5 |
| PLAYERS CHAMPIONSHIP 6 | Last 32 | lost to Mervyn King 6-1 |
| PLAYERS CHAMPIONSHIP 7 | Winner | beat James Wade 8-5 |
| PLAYERS CHAMPIONSHIP 8 | Last 128 | lost to Steve Lennon 6-4 |
| PLAYERS CHAMPIONSHIP 9 | - |   |
| PLAYERS CHAMPIONSHIP 10 | - |   |
| PLAYERS CHAMPIONSHIP 11 | - |   |
| PLAYERS CHAMPIONSHIP 12 | - |   |
| PREMIER LEAGUE | Winner | beat Jose de Sousa 11-5 |
| PLAYERS CHAMPIONSHIP 13 | Semi Final | lost to Gerwyn Price 7-1 |
| PLAYERS CHAMPIONSHIP 14 | Last 32 | lost to Dimitri Van den Bergh 6-2 |
| PLAYERS CHAMPIONSHIP 15 | Quarter Final | lost to Jose de Sousa 6-5 |
| PLAYERS CHAMPIONSHIP 16 | Last 16 | lost to Dirk van Duijvenbode 6-2 |
| PLAYERS CHAMPIONSHIP 17 | Last 16 | lost to Mervyn King 6-3 |
| PLAYERS CHAMPIONSHIP 18 | Last 16 | lost to Chris Dobey 6-3 |
| PLAYERS CHAMPIONSHIP 19 | Last 16 | lost to Dimitri Van den Bergh 6-3 |
| PLAYERS CHAMPIONSHIP 20 | Last 64 | lost to Adrian Lewis 6-2 |
| WORLD MATCHPLAY | Last 16 | lost to Gerwyn Price 11-3 |
| PLAYERS CHAMPIONSHIP 21 | Last 64 | lost to Max Hopp 6-4 |
| PLAYERS CHAMPIONSHIP 22 | Last 16 | lost to Martin Lukeman 6-3 |
| PLAYERS CHAMPIONSHIP 23 | Runner Up | lost to Peter Wright 8-7 |
| HUNGARIAN DARTS TROPHY | Last 32 | lost to Adam Gawlas 6-5 |
| WORLD CUP OF DARTS | Semi Final (Gerwyn Price) | lost to Scotland 2-1 |
| NORDIC DARTS MASTERS | Semi Final | lost to Michael van Gerwen 11-7 |
| GIBRALTAR DARTS TROPHY | Last 32 | lost to Adam Smith-Neale 6-4 |
| WORLD GRAND PRIX | Winner | beat Gerwyn Price 5-1 |
| EUROPEAN CHAMPIONSHIP | - |   |
| PLAYERS CHAMPIONSHIP 24 | - |   |
| PLAYERS CHAMPIONSHIP 25 | - |   |
| PLAYERS CHAMPIONSHIP 26 | - |   |
| PLAYERS CHAMPIONSHIP 27 | - |   |
| WORLD SERIES OF DARTS FINALS | Winner | beat Dimitri Van den Bergh 11-6 |
| PLAYERS CHAMPIONSHIP 28 | Last 64 | lost to Karel Sedlacek 6-2 |
| PLAYERS CHAMPIONSHIP 29 | Last 16 | lost to William O'Connor 6-5 |
| PLAYERS CHAMPIONSHIP 30 | Quarter Final | lost to Krzysztof Ratajski 6-5 |
| | | |
| --- | --- | --- |
| WORLD CHAMPIONSHIP | Last 32 | lost to Stephen Bunting 4-0 |
| THE MASTERS | Quarter Final | lost to Nathan Aspinall 10-8 |
| PLAYERS CHAMPIONSHIP 1 | Last 128 | lost to Daniel Larsson 6-1 |
| PLAYERS CHAMPIONSHIP 2 | Last 32 | lost to Ross Smith 6-3 |
| PLAYERS CHAMPIONSHIP 3 | Last 32 | lost to Dirk van Duijvenbode 6-5 |
| PLAYERS CHAMPIONSHIP 4 | Last 64 | lost to Nick Kenny 6-3 |
| PREMIER LEAGUE | Challenger | lost to Michael Smith 7-1 |
| PLAYERS CHAMPIONSHIP 5 | Last 128 | lost to Kai-Fan Leung 6-5 |
| PLAYERS CHAMPIONSHIP 6 | Last 128 | lost to Cristo Reyes 6-1 |
| BELGIAN DARTS CHAMPIONSHIP | Last 32 | lost to Steve West 6-2 |
| UK OPEN | Semi Final | lost to Gerwyn Price 11-4 |
| PLAYERS CHAMPIONSHIP 7 | Last 128 | lost to Scott Taylor 6-5 |
| PLAYERS CHAMPIONSHIP 8 | Last 64 | lost to Josh Payne 6-3 |
| PLAYERS CHAMPIONSHIP 9 (SS1) | Last 32 | lost to Dave Chisnall 6-4 |
| PLAYERS CHAMPIONSHIP 10 (SS2) | Quarter Final | lost to Gary Anderson 6-4 |
| PLAYERS CHAMPIONSHIP 11 (SS3) | Last 16 | lost to Ian White 6-2 |
| PLAYERS CHAMPIONSHIP 12 (SS4) | Last 128 | lost to Scott Baker 6-5 |
| PLAYERS CHAMPIONSHIP 13 (SS5) | Last 128 | lost to Mickey Mansell 6-2 |
| WORLD MATCHPLAY | Last 32 | lost to Michael Smith 10-3 |
| PLAYERS CHAMPIONSHIP 14 (AS1) | Last 128 | lost to Vincent van der Voort 6-3 |
| PLAYERS CHAMPIONSHIP 15 (AS2) | Last 64 | lost to Chris Dobey 6-5 |
| PLAYERS CHAMPIONSHIP 16 (AS3) | Last 64 | lost to William Borland 6-3 |
| PLAYERS CHAMPIONSHIP 17 (AS4) | Last 16 | lost to Ryan Searle 6-3 |
| PLAYERS CHAMPIONSHIP 18 (AS5) | Last 64 | lost to Adam Hunt 6-4 |
| WORLD SERIES OF DARTS FINALS | - |   |
| GERMAN DARTS CHAMPIONSHIP | Runner Up | lost to Devon Petersen 8-3 |
| WORLD GRAND PRIX | Last 16 | lost to Joe Cullen 3-2 |
| EUROPEAN DARTS GRAND PRIX | - |   |
| INTERNATIONAL DARTS OPEN | - |   |
| EUROPEAN CHAMPIONSHIP | Semi Final | lost to Peter Wright 11-8 |
| WORLD CUP OF DARTS | Winner (Gerwyn Price) | beat England 3-0 |
| PLAYERS CHAMPIONSHIP 19 (WS1) | Last 32 | lost to Ron Meulenkamp 6-5 |
| PLAYERS CHAMPIONSHIP 20 (WS2) | Last 64 | lost to Darius Labanauskas 6-3 |
| PLAYERS CHAMPIONSHIP 21 (WS3) | Last 16 | lost to William O'Connor 6-5 |
| PLAYERS CHAMPIONSHIP 22 (WS4) | Quarter Final | lost to Jose de Sousa 6-3 |
| PLAYERS CHAMPIONSHIP 23 (WS5) | Last 64 | lost to David Evans 6-5 |
| GRAND SLAM OF DARTS | Last 16 | lost to Dimitri Van den Bergh 10-3 |
| PLAYERS CHAMPIONSHIP FINALS | Last 32 | lost to Michael van Gerwen 6-4 |
| | | |
| --- | --- | --- |
| WORLD CHAMPIONSHIP | Last 64 | lost to Dimitri Van den Bergh 3-1 |
| THE MASTERS | Last 16 | lost to Michael van Gerwen 10-5 |
| PLAYERS CHAMPIONSHIP 1 | Quarter Final | lost to Michael van Gerwen 6-1 |
| PLAYERS CHAMPIONSHIP 2 | Semi Final | lost to Dave Chisnall 7-5 |
| PLAYERS CHAMPIONSHIP 3 | Last 128 | lost to Wayne Jones 6-4 |
| PLAYERS CHAMPIONSHIP 4 | Last 16 | lost to Rob Cross 6-3 |
| PLAYERS CHAMPIONSHIP 5 | Last 16 | lost to Gerwyn Price 6-5 |
| PLAYERS CHAMPIONSHIP 6 | Last 16 | lost to John Henderson 6-5 |
| UK OPEN | Last 32 | lost to Krzysztof Ratajski 10-7 |
| PLAYERS CHAMPIONSHIP 7 | Last 32 | lost to Mark McGeeney 6-2 |
| PLAYERS CHAMPIONSHIP 8 | Semi Final | lost to Adrian Lewis 7-1 |
| EUROPEAN DARTS OPEN | Last 16 | lost to Rob Cross 6-4 |
| GERMAN DARTS CHAMPIONSHIP | Last 16 | lost to Gerwyn Price 6-1 |
| PLAYERS CHAMPIONSHIP 9 | Last 128 | lost to Scott Baker 6-3 |
| PLAYERS CHAMPIONSHIP 10 | Winner | beat Gabriel Clemens 8-4 |
| PLAYERS CHAMPIONSHIP 11 | Quarter Final | lost to James Wade 6-3 |
| PLAYERS CHAMPIONSHIP 12 | Quarter Final | lost to James Wade 6-2 |
| GERMAN DARTS GRAND PRIX | Last 32 | lost to Ted Evetts 6-2 |
| GERMAN DARTS OPEN | Last 32 | lost to Nathan Aspinall 6-3 |
| PLAYERS CHAMPIONSHIP 13 | Last 128 | lost to Nathan Rafferty 6-2 |
| PLAYERS CHAMPIONSHIP 14 | Last 128 | lost to Harry Ward 6-5 |
| AUSTRIAN DARTS OPEN | Last 32 | lost to Tytus Kanik 6-2 |
| EUROPEAN DARTS GRAND PRIX | Last 16 | lost to Peter Wright 6-4 |
| PLAYERS CHAMPIONSHIP 15 | Last 64 | lost to Vincent van der Meer 6-4 |
| PLAYERS CHAMPIONSHIP 16 | Last 16 | lost to Chris Dobey 6-0 |
| PREMIER LEAGUE | - |   |
| DUTCH DARTS MASTERS | Last 32 | lost to Dennis Nilsson 6-5 |
| WORLD CUP OF DARTS | Last 32 (Gerwyn Price) | lost to Singapore 5-3 |
| DANISH DARTS OPEN | Semi Final | lost to Dave Chisnall 7-6 |
| PLAYERS CHAMPIONSHIP 17 | Last 128 | lost to Niels Zonneveld 6-5 |
| PLAYERS CHAMPIONSHIP 18 | Last 128 | lost to Rowby-John Rodriguez 6-3 |
| CZECH DARTS OPEN | Last 32 | lost to Jermaine Wattimena 6-2 |
| U.S. DARTS MASTERS | - |   |
| GERMAN DARTS MASTERS | - |   |
| PLAYERS CHAMPIONSHIP 19 | Last 128 | lost to Mickey Mansell 6-4 |
| PLAYERS CHAMPIONSHIP 20 | Last 32 | lost to Jeffrey de Zwaan 6-2 |
| WORLD MATCHPLAY | Last 32 | lost to Keegan Brown 10-8 |
| PLAYERS CHAMPIONSHIP 21 | Last 16 | lost to Mensur Suljovic 6-3 |
| PLAYERS CHAMPIONSHIP 22 | Last 64 | lost to Cody Harris 6-5 |
| BRISBANE DARTS MASTERS | - |   |
| MELBOURNE DARTS MASTERS | - |   |
| NEW ZEALAND DARTS MASTERS | - |   |
| AUSTRIAN DARTS CHAMPIONSHIP | Last 32 | lost to Mike De Decker 6-3 |
| EUROPEAN DARTS MATCHPLAY | Quarter Final | lost to James Wade 6-4 |
| PLAYERS CHAMPIONSHIP 23 | Last 64 | lost to Ryan Meikle 6-2 |
| PLAYERS CHAMPIONSHIP 24 | Last 32 | lost to Ron Meulenkamp 6-5 |
| INTERNATIONAL DARTS OPEN | Last 16 | lost to Adrian Lewis 6-2 |
| PLAYERS CHAMPIONSHIP 25 | Last 128 | lost to Raymond van Barneveld 6-5 |
| PLAYERS CHAMPIONSHIP 26 | Semi Final | lost to Mensur Suljovic 7-5 |
| GIBRALTAR DARTS TROPHY | Last 32 | lost to Kim Huybrechts 6-3 |
| PLAYERS CHAMPIONSHIP 27 | Last 64 | lost to Justin Pipe 6-4 |
| PLAYERS CHAMPIONSHIP 28 | Last 16 | lost to Gerwyn Price 6-5 |
| WORLD GRAND PRIX | Last 32 | lost to Stephen Bunting 2-0 |
| PLAYERS CHAMPIONSHIP 29 | Last 16 | lost to Peter Wright 6-2 |
| PLAYERS CHAMPIONSHIP 30 | Quarter Final | lost to Gerwyn Price 6-4 |
| CHAMPIONS LEAGUE OF DARTS | - |   |
| EUROPEAN CHAMPIONSHIP | Last 16 | lost to Dave Chisnall 10-4 |
| WORLD SERIES OF DARTS FINALS | Quarter Final | lost to Michael van Gerwen 10-6 |
| GRAND SLAM OF DARTS | - |   |
| PLAYERS CHAMPIONSHIP FINALS | Last 64 | lost to Ryan Meikle 6-0 |
| | | |
| --- | --- | --- |
| WORLD CHAMPIONSHIP | Last 64 | lost to Jamie Lewis 3-0 |
| THE MASTERS | - |   |
| UK OPEN QUALIFIER 1 | Last 32 | lost to Jose-Antonio Justicia-Perales 6-4 |
| UK OPEN QUALIFIER 2 | Last 128 | lost to Toni Alcinas 6-2 |
| UK OPEN QUALIFIER 3 | Last 128 | lost to Dave Prins 6-5 |
| UK OPEN QUALIFIER 4 | Last 64 | lost to Matthew Edgar 6-3 |
| UK OPEN QUALIFIER 5 | Last 16 | lost to Steve West 6-4 |
| UK OPEN QUALIFIER 6 | Last 16 | lost to Daryl Gurney 6-4 |
| PLAYERS CHAMPIONSHIP 1 | Last 32 | lost to Ian White 6-2 |
| PLAYERS CHAMPIONSHIP 2 | Last 64 | lost to Corey Cadby 6-5 |
| UK OPEN | Last 32 | lost to Mervyn King 10-8 |
| PLAYERS CHAMPIONSHIP 3 | Last 128 | lost to Zoran Lerchbacher 6-4 |
| PLAYERS CHAMPIONSHIP 4 | Last 64 | lost to Michael Barnard 6-4 |
| PLAYERS CHAMPIONSHIP 5 | Last 64 | lost to Ron Meulenkamp 6-3 |
| PLAYERS CHAMPIONSHIP 6 | Last 128 | lost to Cameron Menzies 6-2 |
| EUROPEAN DARTS OPEN | Last 48 | lost to Jermaine Wattimena 6-2 |
| GERMAN DARTS GRAND PRIX | Last 32 | lost to Rob Cross 6-4 |
| PLAYERS CHAMPIONSHIP 7 | Last 64 | lost to Vincent Kamphuis 6-4 |
| PLAYERS CHAMPIONSHIP 8 | Last 128 | lost to Steve Lennon 6-5 |
| GERMAN DARTS OPEN | - |   |
| AUSTRIAN DARTS OPEN | Winner | beat Gerwyn Price 8-5 |
| PLAYERS CHAMPIONSHIP 9 | Quarter Final | lost to Michael van Gerwen 6-3 |
| PLAYERS CHAMPIONSHIP 10 | Runner Up | lost to Jeffrey de Zwaan 6-5 |
| EUROPEAN DARTS GRAND PRIX | - |   |
| DUTCH DARTS MASTERS | Last 48 | lost to Josh Payne 6-5 |
| PREMIER LEAGUE | - |   |
| PLAYERS CHAMPIONSHIP 11 | Last 128 | lost to Ryan Harrington 6-5 |
| PLAYERS CHAMPIONSHIP 12 | Quarter Final | lost to Joshn Payne 6-2 |
| GERMAN DARTS MASTERS | - |   |
| WORLD CUP OF DARTS | Quarter Final (Gerwyn Price) | lost to Australia 2-1 |
| GIBRALTAR DARTS TROPHY | Quarter Final | lost to Michael van Gerwen 6-2 |
| PLAYERS CHAMPIONSHIP 13 | Quarter Final | lost to Rob Cross 6-5 |
| PLAYERS CHAMPIONSHIP 14 | Last 16 | lost to Simon Whitlock 6-5 |
| DANISH DARTS OPEN | Last 32 | lost to Darius Labanauskas 6-5 |
| PLAYERS CHAMPIONSHIP 15 | Last 32 | lost to Jarred Cole 6-3 |
| PLAYERS CHAMPIONSHIP 16 | Last 64 | lost to Yordi Meeuwisse 6-2 |
| EUROPEAN DARTS MATCHPLAY | Last 32 | lost to Jason Lowe 6-5 |
| U.S. DARTS MASTERS | - |   |
| SHANGHAI DARTS MASTERS | - |   |
| WORLD MATCHPLAY | Last 32 | lost to Michael Smith 10-6 |
| AUCKLAND DARTS MASTERS | - |   |
| MELBOURNE DARTS MASTERS | - |   |
| BRISBANE DARTS MASTERS | - |   |
| GERMAN DARTS CHAMPIONSHIP | Last 32 | lost to James Wilson 6-5 |
| PLAYERS CHAMPIONSHIP 17 | Last 16 | lost to Martin Schindler 6-5 |
| PLAYERS CHAMPIONSHIP 18 | Last 128 | lost to Kevin Burness 6-2 |
| DUTCH DARTS CHAMPIONSHIP | Last 32 | lost to Kyle Anderson 6-3 |
| INTERNATIONAL DARTS OPEN | Last 16 | lost to Steve West 6-5 |
| CHAMPIONS LEAGUE OF DARTS | - |   |
| PLAYERS CHAMPIONSHIP 19 | Last 64 | lost to Ronny Huybrechts 6-1 |
| PLAYERS CHAMPIONSHIP 20 | Last 128 | lost to Davy Van Baelen 6-4 |
| WORLD GRAND PRIX | Last 32 | lost to Gary Anderson 2-0 |
| EUROPEAN DARTS TROPHY | Last 16 | lost to Richard North 6-1 |
| PLAYERS CHAMPIONSHIP 21 | Last 128 | lost to Christian Kist 6-1 |
| PLAYERS CHAMPIONSHIP 22 | Last 128 | lost to Vincent van der Voort 6-3 |
| EUROPEAN CHAMPIONSHIP | Last 32 | lost to James Wilson 6-2 |
| WORLD SERIES OF DARTS FINALS | - |   |
| GRAND SLAM OF DARTS | Quarter Final | lost to Michael van Gerwen 16-12 |
| PLAYERS CHAMPIONSHIP FINALS | Quarter Final | lost to Gary Anderson 10-4 |
| | | |
| --- | --- | --- |
| WORLD CHAMPIONSHIP | Last 32 | lost to Ian White 4-1 |
| THE MASTERS | - |   |
| UK OPEN QUALIFIER 1 | Last 128 | lost to Cristo Reyes 6-2 |
| UK OPEN QUALIFIER 2 | Last 128 | lost to John Henderson 6-4 |
| UK OPEN QUALIFIER 3 | Last 256 | lost to Kevin Painter 6-3 |
| UK OPEN QUALIFIER 4 | Last 256 | lost to Wayne Jones 6-3 |
| UK OPEN QUALIFIER 5 | Last 128 | lost to Ricky Evans 6-2 |
| UK OPEN QUALIFIER 6 | Last 32 | lost to Kim Huybrechts 6-2 |
| PLAYERS CHAMPIONSHIP 1 | Last 128 | lost to Ryan Searle 6-4 |
| PLAYERS CHAMPIONSHIP 2 | Last 128 | lost to Joe Cullen 6-4 |
| UK OPEN | Last 64 | lost to Jelle Klaasen 10-7 |
| PLAYERS CHAMPIONSHIP 3 | Last 64 | lost to Gerwyn Price 6-4 |
| PLAYERS CHAMPIONSHIP 4 | Last 64 | lost to Josh Payne 6-3 |
| GERMAN DARTS CHAMPIONSHIP | - |   |
| PLAYERS CHAMPIONSHIP 5 | Last 128 | lost to Dimitri Van den Bergh 6-4 |
| PLAYERS CHAMPIONSHIP 6 | Last 64 | lost to Gerwyn Price 6-4 |
| PLAYERS CHAMPIONSHIP 7 | Last 32 | lost to Michael Smith 6-2 |
| PLAYERS CHAMPIONSHIP 8 | Last 128 | lost to John Henderson 6-3 |
| GERMAN DARTS MASTERS (ET) | Last 32 | lost to Simon Whitlock 6-4 |
| GERMAN DARTS OPEN | - |   |
| PLAYERS CHAMPIONSHIP 9 | Last 16 | lost to Adrian Lewis 6-3 |
| PLAYERS CHAMPIONSHIP 10 | Quarter Final | lost to Gary Anderson 6-0 |
| EUROPEAN DARTS GRAND PRIX | Last 32 | lost to Joe Cullen 6-1 |
| GIBRALTAR DARTS TROPHY | Last 32 | lost to Dave Chisnall 6-4 |
| PREMIER LEAGUE | - |   |
| PLAYERS CHAMPIONSHIP 11 | Quarter Final | lost to Rob Cross 6-2 |
| PLAYERS CHAMPIONSHIP 12 | Quarter Final | lost to James Wilson 6-2 |
| DUBAI DARTS MASTERS | - |   |
| WORLD CUP OF DARTS | - |   |
| EUROPEAN DARTS MATCHPLAY | - |   |
| PLAYERS CHAMPIONSHIP 13 | Last 32 | lost to Jamie Lewis 6-4 |
| PLAYERS CHAMPIONSHIP 14 | Last 128 | lost to Brendan Dolan 6-5 |
| AUSTRIAN DARTS OPEN | Last 32 | lost to Daryl Gurney 6-2 |
| EUROPEAN DARTS OPEN | - |   |
| SHANGHAI DARTS MASTERS | - |   |
| PLAYERS CHAMPIONSHIP 15 | Quarter Final | lost to Kyle Anderson 6-2 |
| PLAYERS CHAMPIONSHIP 16 | Last 64 | lost to Scott Taylor 6-2 |
| U.S. DARTS MASTERS | - |   |
| WORLD MATCHPLAY | - |   |
| PLAYERS CHAMPIONSHIP 17 | Last 32 | lost to Yordi Meeuwisse 6-3 |
| PLAYERS CHAMPIONSHIP 18 | Last 16 | lost to Joe Cullen 6-2 |
| AUCKLAND DARTS MASTERS | - |   |
| MELBOURNE DARTS MASTERS | - |   |
| PERTH DARTS MASTERS | - |   |
| DUTCH DARTS MASTERS | - |   |
| GERMAN DARTS GRAND PRIX | - |   |
| CHAMPIONS LEAGUE OF DARTS | - |   |
| INTERNATIONAL DARTS OPEN | - |   |
| PLAYERS CHAMPIONSHIP 19 | Last 128 | lost to Andy Boulton 6-3 |
| PLAYERS CHAMPIONSHIP 20 | Last 128 | lost to Robbie Green 6-3 |
| WORLD GRAND PRIX | - |   |
| PLAYERS CHAMPIONSHIP 21 | Last 32 | lost to Daryl Gurney 6-4 |
| PLAYERS CHAMPIONSHIP 22 | Winner | beat James Wilson 6-1 |
| EUROPEAN DARTS TROPHY | Last 16 | lost to Michael Smith 6-3 |
| GERMAN DARTS MASTERS (WS) | - |   |
| EUROPEAN CHAMPIONSHIP | Last 16 | lost to Peter Wright 10-8 |
| WORLD SERIES OF DARTS FINALS | Last 24 | lost to Rob Cross 6-1 |
| GRAND SLAM OF DARTS | - |   |
| PLAYERS CHAMPIONSHIP FINALS | Runner Up | lost to Michael van Gerwen 11-2 |