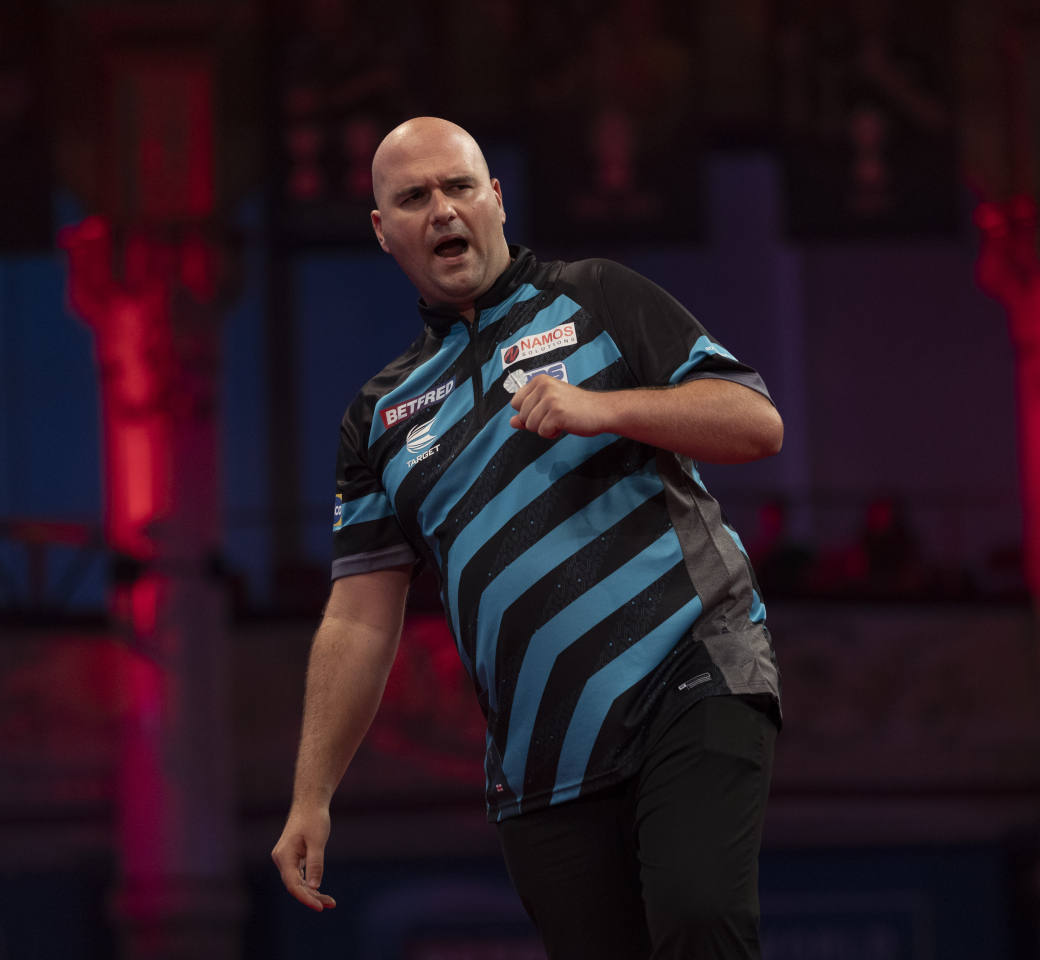 Rob Cross
Voltage
PDC World Ranking

10

Televised titles

5

Non-Televised PDC Titles

6

Televised Nine-Dart Finishes

0
Walk-On Music

Hot Hot Hot - Arrow

Date of Birth

September 21 1990

Darts Used

21g

Target

Home Town

Hastings

Twitter

@RobCross180
Rob's incredible impact on the PDC circuit saw him complete his first full year as a professional with his stunning triumph in the William Hill World Darts Championship.
Originally an amateur qualifier at the 2016 UK Open, the Sussex-based electrician defeated Ken MacNeil, Wes Newton and Jeffrey de Graaf to reach the last 32, where it took a nine-darter and two 170 finishes from Michael van Gerwen to end his hopes.
Following that experience, Cross joined the PDC Unicorn Challenge Tour and won three tournaments, reached two other finals and landed a nine-darter as his success on the second-tier tour earned him a PDC Tour Card for 2017/2018.
Cross' transition to the professional circuit began with qualification for another UK Open before he won his first full ranking title at a Players Championship in March 2017.
Runs to three successive European Tour quarter-finals were followed by a second Players Championship victory in May before Cross made his World Matchplay debut in July.
Two further Players Championship wins followed before Cross' quality was shown with a run to the European Championship final, where he was again denied by Van Gerwen.
The pair would clash again on the big stage during Cross' debut run at the World Championship, but it was this time the Englishman who emerged victorious in a sudden-death leg in their classic semi-final.
Cross then defeated Phil Taylor 7-2 in sets to secure darts' biggest prize as he crowned his incredible year by being named as World Champion.
The Hastings thrower claimed his first PDC title since being crowned World Champion at Players Championship 13 in Wigan in June 2018, beating Ian White in the final.
Cross then picked up his first televised title since winning the World Championship at the Brisbane Darts Masters, defeating Van Gerwen 11-6 in the final.
Player Stats
Select below to see result & roll of honour information.
| | |
| --- | --- |
| PDC World Championship | 2018 |
| World Matchplay | 2019 |
| European Championshp | 2019, 2021 |
| Brisbane Darts Masters | 2018 |
| | |
| --- | --- |
| Players Championship | 2017 (x4), 2018, 2021 |
| PDC Challenge Tour | 2016 (x3) |
| | | |
| --- | --- | --- |
|   | Most Recent | Best Performance |
| 2022 WORLD CHAMPIONSHIP | Last 16 | Winner - 2018 |
| 2021 UK OPEN | Last 32 | Runner Up - 2019 |
| 2021 WORLD MATCHPLAY | Last 16 | Winner - 2019 |
| 2021 WORLD GRAND PRIX | Last 16 | Last 16 - 2019, 2021 |
| 2021 EUROPEAN CHAMPIONSHIP | Winner | Winner - 2019, 2021 |
| 2021 GRAND SLAM OF DARTS | Quarter Final | Quarter Final - 2017, 2021 |
| 2021 PLAYERS CHAMPIONSHIP FINALS | Last 16 | Semi Final - 2017 |
| | | |
| --- | --- | --- |
|   | Most Recent | Best Performance |
| 2021 THE MASTERS | Last 16 | Quarter Final - 2018 |
| 2021 PREMIER LEAGUE | 9th | Runner Up - 2019 |
| 2021 WORLD CUP OF DARTS  | - | Runner Up - 2020 |
| 2021 NORDIC DARTS MASTERS | - |   |
| 2021 WORLD SERIES OF DARTS FINALS | - | Runner Up - 2020 |
| | | |
| --- | --- | --- |
| TOURNAMENT WIN | Players Championship 26 (October 2021) | beat Ryan Searle 8-6 |
| FINAL | Players Championship 26 (October 2021) | beat Ryan Searle 8-6 |
| SEMI FINAL | Players Championship 28 (November 2021) | lost to Chris Dobey 7-4 |
| QUARTER FINAL | Grand Slam of Darts (November 2021) | lost to James Wade 16-14 |
| | | |
| --- | --- | --- |
| WORLD CHAMPIONSHIP | Last 16 | lost to Gary Anderson 4-3 |
| | | |
| --- | --- | --- |
| TV NON-RANKING EVENT RECORD | Most Recent | Best Performance |
| 2021 THE MASTERS | Last 16 | Quarter Final - 2018 |
| 2021 PREMIER LEAGUE | 9th | Runner Up - 2019 |
| 2021 WORLD CUP OF DARTS  | - | Runner Up - 2020 |
| 2021 NORDIC DARTS MASTERS | - |   |
| 2021 WORLD SERIES OF DARTS FINALS | - | Runner Up - 2020 |
| | | |
| --- | --- | --- |
| WORLD CHAMPIONSHIP | Last 64 | lost to Kim Huybrechts 3-0 |
| THE MASTERS | Last 16 | lost to Adrian Lewis 10-5 |
| PLAYERS CHAMPIONSHIP 1 | Last 16 | lost to Gary Anderson 6-2 |
| PLAYERS CHAMPIONSHIP 2 | Last 128 | lost to Darius Labanauskas 6-5 |
| PLAYERS CHAMPIONSHIP 3 | Last 128 | lost to Scott Baker 6-4 |
| PLAYERS CHAMPIONSHIP 4 | Last 64 | lost to Karel Sedlacek 6-5 |
| PLAYERS CHAMPIONSHIP 5 | Quarter Final | lost to Devon Petersen 6-5 |
| PLAYERS CHAMPIONSHIP 6 | Last 128 | lost to Vincent van der Meer 6-3 |
| BELGIAN DARTS CHAMPIONSHIP | Last 16 | lost to Krzysztof Ratajski 6-3 |
| UK OPEN | Quarter Final | lost to Michael van Gerwen 10-4 |
| PLAYERS CHAMPIONSHIP 7 | Last 32 | lost to Danny Noppert 6-5 |
| PLAYERS CHAMPIONSHIP 8 | Last 32 | lost to Keegan Brown 6-5 |
| PLAYERS CHAMPIONSHIP 9 (SS1) | Last 16 | lost to Peter Wright 6-2 |
| PLAYERS CHAMPIONSHIP 10 (SS2) | Last 64 | lost to Jason Lowe 6-5 |
| PLAYERS CHAMPIONSHIP 11 (SS3) | Last 128 | lost to Mickey Mansell 6-5 |
| PLAYERS CHAMPIONSHIP 12 (SS4) | Runner Up | lost to James Wade 8-2 |
| PLAYERS CHAMPIONSHIP 13 (SS5) | Last 128 | lost to William Borland 6-3 |
| WORLD MATCHPLAY | Last 32 | lost to Gabriel Clemens 10-8 |
| PREMIER LEAGUE | 9th |   |
| PLAYERS CHAMPIONSHIP 14 (AS1) | Last 64 | lost to Karel Sedlacek 6-3 |
| PLAYERS CHAMPIONSHIP 15 (AS2) | Last 64 | lost to Ross Smith 6-5 |
| PLAYERS CHAMPIONSHIP 16 (AS3) | Last 32 | lost to Luke Humphries 6-3 |
| PLAYERS CHAMPIONSHIP 17 (AS4) | Last 32 | lost to Joe Cullen 6-2 |
| PLAYERS CHAMPIONSHIP 18 (AS5) | Last 32 | lost to Chris Dobey 6-4 |
| WORLD SERIES OF DARTS FINALS | Runner Up | lost to Gerwyn Price 11-9 |
| GERMAN DARTS CHAMPIONSHIP | Last 16 | lost to Devon Petersen 6-5 |
| WORLD GRAND PRIX | Last 32 | lost to Gary Anderson 2-0 |
| EUROPEAN DARTS GRAND PRIX | Quarter Final | lost to Mensur Suljovic 6-0 |
| INTERNATIONAL DARTS OPEN | Last 32 | lost to Franz Roetzsch 6-3 |
| EUROPEAN CHAMPIONSHIP | Last 32 | lost to Martijn Kleermaker 6-3 |
| WORLD CUP OF DARTS | Runner Up (Michael Smith) | lost to Wales 3-0 |
| PLAYERS CHAMPIONSHIP 19 (WS1) | Last 32 | lost to Brendan Dolan 6-2 |
| PLAYERS CHAMPIONSHIP 20 (WS2) | Last 32 | lost to Justin Pipe 6-5 |
| PLAYERS CHAMPIONSHIP 21 (WS3) | Last 128 | lost to William Borland 6-4 |
| PLAYERS CHAMPIONSHIP 22 (WS4) | Last 128 | lost to Lisa Ashton 6-5 |
| PLAYERS CHAMPIONSHIP 23 (WS5) | - |   |
| GRAND SLAM OF DARTS | Last 16 | lost to Michael Smith 10-9 |
| PLAYERS CHAMPIONSHIP FINALS | Last 32 | lost to Joe Cullen 6-5 |
| | | |
| --- | --- | --- |
| WORLD CHAMPIONSHIP | Last 16 | lost to Luke Humphries 4-2 |
| THE MASTERS | Last 16 | lost to Joe Cullen 10-6 |
| PLAYERS CHAMPIONSHIP 1 | Last 64 | lost to Scott Baker 6-4 |
| PLAYERS CHAMPIONSHIP 2 | Last 16 | lost to Dave Chisnall 6-3 |
| PLAYERS CHAMPIONSHIP 3 | Last 32 | lost to John Henderson 6-5 |
| PLAYERS CHAMPIONSHIP 4 | Semi Final | lost to Dimitri Van den Bergh 7-5 |
| PLAYERS CHAMPIONSHIP 5 | Last 16 | lost to Dave Chisnall 6-5 |
| PLAYERS CHAMPIONSHIP 6 | Last 32 | lost to Krzysztof Ratajski 6-2 |
| UK OPEN | Runner Up | lost to Nathan Aspinall 11-5 |
| PLAYERS CHAMPIONSHIP 7 | Last 16 | lost to Dave Chisnall 6-3 |
| PLAYERS CHAMPIONSHIP 8 | - |   |
| EUROPEAN DARTS OPEN | Runner Up | lost to Michael van Gerwen 8-6 |
| GERMAN DARTS CHAMPIONSHIP | Last 16 | lost to Daryl Gurney 6-2 |
| PLAYERS CHAMPIONSHIP 9 | Last 64 | lost to Jose De Sousa 6-2 |
| PLAYERS CHAMPIONSHIP 10 | - |   |
| PLAYERS CHAMPIONSHIP 11 | - |   |
| PLAYERS CHAMPIONSHIP 12 | - |   |
| GERMAN DARTS GRAND PRIX | Semi Final | lost to Michael van Gerwen 7-1 |
| GERMAN DARTS OPEN | Semi Final | lost to Ian White 7-5 |
| PLAYERS CHAMPIONSHIP 13 | - |   |
| PLAYERS CHAMPIONSHIP 14 | - |   |
| AUSTRIAN DARTS OPEN | Last 16 | lost to Steve Beaton 6-2 |
| EUROPEAN DARTS GRAND PRIX | Last 32 | lost to Jeffrey de Zwaan 6-3 |
| PLAYERS CHAMPIONSHIP 15 | - |   |
| PLAYERS CHAMPIONSHIP 16 | - |   |
| PREMIER LEAGUE | Runner Up | lost to Michael van Gerwen 11-5 |
| DUTCH DARTS MASTERS | - |   |
| WORLD CUP OF DARTS | Last 16 (Michael Smith) | lost to Republic of Ireland 2-0 |
| DANISH DARTS OPEN | Last 32 | lost to Kirk Shepherd 6-4 |
| PLAYERS CHAMPIONSHIP 17 | - |   |
| PLAYERS CHAMPIONSHIP 18 | - |   |
| CZECH DARTS OPEN | - |   |
| U.S. DARTS MASTERS | Quarter Final | lost to Nathan Aspinall 8-5 |
| GERMAN DARTS MASTERS | Quarter Final | lost to Gabriel Clemens 8-5 |
| PLAYERS CHAMPIONSHIP 19 | Last 64 | lost to Ryan Joyce 6-1 |
| PLAYERS CHAMPIONSHIP 20 | Quarter Final | lost to Joe Cullen 6-4 |
| WORLD MATCHPLAY | Winner | beat Michael Smith 18-13 |
| PLAYERS CHAMPIONSHIP 21 | - |   |
| PLAYERS CHAMPIONSHIP 22 | - |   |
| BRISBANE DARTS MASTERS | Runner Up | lost to Damon Heta 8-7 |
| MELBOURNE DARTS MASTERS | Semi Final | lost to Daryl Gurney 8-5 |
| NEW ZEALAND DARTS MASTERS | Semi Final | lost to Michael van Gerwen 8-3 |
| AUSTRIAN DARTS CHAMPIONSHIP | - |   |
| EUROPEAN DARTS MATCHPLAY | Quarter Final | lost to Dave Chisnall 6-5 |
| PLAYERS CHAMPIONSHIP 23 | Last 16 | lost to Gerwyn Price 6-4 |
| PLAYERS CHAMPIONSHIP 24 | Last 128 | lost to Jelle Klaasen 6-3 |
| INTERNATIONAL DARTS OPEN | Runner Up | lost to Gerwyn Price 8-6 |
| PLAYERS CHAMPIONSHIP 25 | Last 128 | lost to Andy Jenkins 6-5 |
| PLAYERS CHAMPIONSHIP 26 | Last 16 | lost to Ross Smith 6-5 |
| GIBRALTAR DARTS TROPHY | Last 16 | lost to Gerwyn Price 6-5 |
| PLAYERS CHAMPIONSHIP 27 | Last 16 | lost to Krzysztof Ratajski 6-5 |
| PLAYERS CHAMPIONSHIP 28 | Last 64 | lost to Conan Whitehead 6-4 |
| WORLD GRAND PRIX | Last 16 | lost to Glen Durrant 3-2 |
| PLAYERS CHAMPIONSHIP 29 | - |   |
| PLAYERS CHAMPIONSHIP 30 | - |   |
| CHAMPIONS LEAGUE OF DARTS | Group Stage (4th) |   |
| EUROPEAN CHAMPIONSHIP | Winner | beat Gerwyn Price 11-6 |
| WORLD SERIES OF DARTS FINALS | Last 16 | lost to Dave Chisnall 6-4 |
| GRAND SLAM OF DARTS | Last 16 | lost to Peter Wright 10-3 |
| PLAYERS CHAMPIONSHIP FINALS | Last 16 | lost to Mervyn King 10-4 |
| | | |
| --- | --- | --- |
| WORLD CHAMPIONSHIP | Winner | beat Phil Taylor 7-2 |
| THE MASTERS | Quarter Final | lost to Mensur Suljovic 10-8 |
| UK OPEN QUALIFIER 1 | Last 128 | lost to Corey Cadby 6-2 |
| UK OPEN QUALIFIER 2 | Last 128 | lost to Jamie Hughes 6-3 |
| UK OPEN QUALIFIER 3 | Last 128 | lost to Ryan Meikle 6-5 |
| UK OPEN QUALIFIER 4 | Semi Final | lost to Gary Anderson 6-5 |
| UK OPEN QUALIFIER 5 | Runner Up | lost to Corey Cadby 6-4 |
| UK OPEN QUALIFIER 6 | Semi Final | lost to Krzysztof Ratajski 6-5 |
| PLAYERS CHAMPIONSHIP 1 | Quarter Final | lost to James Wade 6-5 |
| PLAYERS CHAMPIONSHIP 2 | Last 64 | lost to Keegan Brown 6-5 |
| UK OPEN | Quarter Final | lost to Gary Anderson 10-5 |
| PLAYERS CHAMPIONSHIP 3 | Last 16 | lost to Gary Anderson 6-0 |
| PLAYERS CHAMPIONSHIP 4 | Last 64 | lost to Adam Hunt 6-4 |
| PLAYERS CHAMPIONSHIP 5 | Last 128 | lost to Luke Woodhouse 6-5 |
| PLAYERS CHAMPIONSHIP 6 | Quarter Final | lost to James Wilson 6-4 |
| EUROPEAN DARTS OPEN | Last 16 | lost to Richard North 6-2 |
| GERMAN DARTS GRAND PRIX | Quarter Final | lost to Daryl Gurney 6-3 |
| PLAYERS CHAMPIONSHIP 7 | Last 32 | lost to Cristo Reyes 6-5 |
| PLAYERS CHAMPIONSHIP 8 | - |   |
| GERMAN DARTS OPEN | Semi Final | lost to Max Hopp 7-6 |
| AUSTRIAN DARTS OPEN | Quarter Final | lost to Gerwyn Price 6-3 |
| PLAYERS CHAMPIONSHIP 9 | Last 32 | lost to Ryan Joyce 6-5 |
| PLAYERS CHAMPIONSHIP 10 | Last 32 | lost to Martin Schindler 6-0 |
| EUROPEAN DARTS GRAND PRIX | Last 16 | lost to James Wade 6-5 |
| DUTCH DARTS MASTERS | Last 32 | (withdrew) |
| PREMIER LEAGUE | Semi Final | lost to Michael van Gerwen 10-6 |
| PLAYERS CHAMPIONSHIP 11 | - |   |
| PLAYERS CHAMPIONSHIP 12 | - |   |
| GERMAN DARTS MASTERS | Quarter Final | lost to Mensur Suljovic 8-7 |
| WORLD CUP OF DARTS | Quarter Final (Dave Chisnall) | lost to Belgium 2-1 |
| GIBRALTAR DARTS TROPHY | Quarter Final | lost to Steve West 6-5 |
| PLAYERS CHAMPIONSHIP 13 | Winner | beat Ian White 6-4 |
| PLAYERS CHAMPIONSHIP 14 | Runner Up | lost to Peter Wright 6-4 |
| DANISH DARTS OPEN | Last 16 | lost to Mervyn King 6-5 |
| PLAYERS CHAMPIONSHIP 15 | Quarter Final | lost to James Wade 6-3 |
| PLAYERS CHAMPIONSHIP 16 | Last 32 | lost to Brendan Dolan 6-3 |
| EUROPEAN DARTS MATCHPLAY | Last 32 | lost to William O'Connor 6-4 |
| U.S. DARTS MASTERS | Runner Up | lost to Gary Anderson 8-4 |
| SHANGHAI DARTS MASTERS | Runner Up | lost to Michael Smith 8-2 |
| WORLD MATCHPLAY | Last 16 | lost to Darren Webster 11-8 |
| AUCKLAND DARTS MASTERS | Quarter Final | lost to Simon Whitlock 10-7 |
| MELBOURNE DARTS MASTERS | Quarter Final | lost to Michael Smith 10-9 |
| BRISBANE DARTS MASTERS | Winner | beat Michael van Gerwen 11-6 |
| GERMAN DARTS CHAMPIONSHIP | Quarter Final | lost to Mensur Suljovic 6-2 |
| PLAYERS CHAMPIONSHIP 17 | Quarter Final | lost to Daryl Gurney 6-5 |
| PLAYERS CHAMPIONSHIP 18 | Last 64 | lost to Simon Stevenson 6-3 |
| DUTCH DARTS CHAMPIONSHIP | - |   |
| INTERNATIONAL DARTS OPEN | - |   |
| CHAMPIONS LEAGUE OF DARTS | Group Stage (3rd) |   |
| PLAYERS CHAMPIONSHIP 19 | Last 16 | lost to James Wilson 6-4 |
| PLAYERS CHAMPIONSHIP 20 | Semi Final | lost to Danny Noppert 6-3 |
| WORLD GRAND PRIX | Last 32 | lost to Steve Beaton 2-0 |
| EUROPEAN DARTS TROPHY | Quarter Final | lost to James Wade 6-3 |
| PLAYERS CHAMPIONSHIP 21 | Last 128 | lost to Gabriel Clemens 6-4 |
| PLAYERS CHAMPIONSHIP 22 | Last 64 | lost to Jan Dekker 6-2 |
| EUROPEAN CHAMPIONSHIP | Quarter Final | lost to Joe Cullen 10-8 |
| WORLD SERIES OF DARTS FINALS | Last 16 | lost to Jamie Lewis 6-5 |
| GRAND SLAM OF DARTS | Last 16 | lost to Mensur Suljovic 10-7 |
| PLAYERS CHAMPIONSHIP FINALS | Last 64 | lost to Cristo Reyes 6-1 |
| | | |
| --- | --- | --- |
| WORLD CHAMPIONSHIP | - |   |
| THE MASTERS | - |   |
| UK OPEN QUALIFIER 1 | Last 64 | lost to Peter Hudson 6-5 |
| UK OPEN QUALIFIER 2 | Last 64 | lost to Chris Dobey 6-4 |
| UK OPEN QUALIFIER 3 | Last 16 | lost to Alan Norris 6-4 |
| UK OPEN QUALIFIER 4 | Last 16 | lost to Gary Anderson 6-1 |
| UK OPEN QUALIFIER 5 | Semi Final | lost to Simon Whitlock 6-4 |
| UK OPEN QUALIFIER 6 | Last 64 | lost to James Wade 6-3 |
| PLAYERS CHAMPIONSHIP 1 | Last 128 | lost to Alan Norris 6-4 |
| PLAYERS CHAMPIONSHIP 2 | Last 32 | lost to Robert Owen 6-4 |
| UK OPEN | Last 16 | lost to Peter Wright 10-6 |
| PLAYERS CHAMPIONSHIP 3 | Winner | beat Mervyn King 6-5 |
| PLAYERS CHAMPIONSHIP 4 | Last 32 | lost to Ian White 6-4 |
| GERMAN DARTS CHAMPIONSHIP | - |   |
| PLAYERS CHAMPIONSHIP 5 | Last 16 | lost to Ian White 6-3 |
| PLAYERS CHAMPIONSHIP 6 | Last 32 | lost to Gerwyn Price 6-3 |
| PLAYERS CHAMPIONSHIP 7 | Last 128 | lost to Ronny Huybrechts 6-4 |
| PLAYERS CHAMPIONSHIP 8 | Last 32 | lost to Robert Thornton 6-4 |
| GERMAN DARTS MASTERS (ET) | - |   |
| GERMAN DARTS OPEN | Quarter Final | lost to Benito van de Pas 6-2 |
| PLAYERS CHAMPIONSHIP 9 | Last 32 | lost to Jonny Clayton 6-5 |
| PLAYERS CHAMPIONSHIP 10 | Last 32 | lost to Michael van Gerwen 6-5 |
| EUROPEAN DARTS GRAND PRIX | Quarter Final | lost to Dave Chisnall 6-3 |
| GIBRALTAR DARTS TROPHY | Quarter Final | lost to Michael Smith 6-5 |
| PREMIER LEAGUE | - |   |
| PLAYERS CHAMPIONSHIP 11 | Semi Final | lost to Peter Wright 6-3 |
| PLAYERS CHAMPIONSHIP 12 | Winner | beat Ian White 6-5 |
| DUBAI DARTS MASTERS | - |   |
| WORLD CUP OF DARTS | - |   |
| EUROPEAN DARTS MATCHPLAY | - |   |
| PLAYERS CHAMPIONSHIP 13 | Semi Final | lost to Steve Beaton 6-3 |
| PLAYERS CHAMPIONSHIP 14 | Semi Final | lost to Gary Anderson 6-4 |
| AUSTRIAN DARTS OPEN | Last 32 | lost to Jelle Klaasen 6-0 |
| EUROPEAN DARTS OPEN | Quarter Final | lost to Mervyn King 6-2 |
| SHANGHAI DARTS MASTERS | - |   |
| PLAYERS CHAMPIONSHIP 15 | Last 32 | lost to Jonny Clayton 6-4 |
| PLAYERS CHAMPIONSHIP 16 | Last 16 | lost to Ian White 6-4 |
| U.S. DARTS MASTERS | - |   |
| WORLD MATCHPLAY | Last 16 | lost to Adrian Lewis 11-8 |
| PLAYERS CHAMPIONSHIP 17 | Last 64 | lost to Ryan Meikle 6-5 |
| PLAYERS CHAMPIONSHIP 18 | Last 64 | lost to Chris Quantock 6-2 |
| AUCKLAND DARTS MASTERS | - |   |
| MELBOURNE DARTS MASTERS | - |   |
| PERTH DARTS MASTERS | - |   |
| DUTCH DARTS MASTERS | Last 16 | lost to Peter Wright 6-3 |
| GERMAN DARTS GRAND PRIX | Runner Up | lost to Michael van Gerwen 6-3 |
| CHAMPIONS LEAGUE OF DARTS | - |   |
| INTERNATIONAL DARTS OPEN | Last 32 | lost to Josh Payne 6-4 |
| PLAYERS CHAMPIONSHIP 19 | Winner | beat Peter Wright 6-2 |
| PLAYERS CHAMPIONSHIP 20 | Last 16 | lost to John Henderson 6-4 |
| WORLD GRAND PRIX | Last 32 | lost to Steve Beaton 2-0 |
| PLAYERS CHAMPIONSHIP 21 | Winner | beat Adrian Lewis 6-3 |
| PLAYERS CHAMPIONSHIP 22 | Last 32 | lost to Jonny Clayton 6-5 |
| EUROPEAN DARTS TROPHY | Runner Up | lost to Michael van Gerwen 6-4 |
| GERMAN DARTS MASTERS (WS) | - |   |
| EUROPEAN CHAMPIONSHIP | Runner Up | lost to Michael van Gerwen 11-7 |
| WORLD SERIES OF DARTS FINALS | Quarter Final | lost to Michael van Gerwen 10-4 |
| GRAND SLAM OF DARTS | Quarter Final | lost to Michael van Gerwen 16-13 |
| PLAYERS CHAMPIONSHIP FINALS | Semi Final | lost to Jonny Clayton 11-8 |