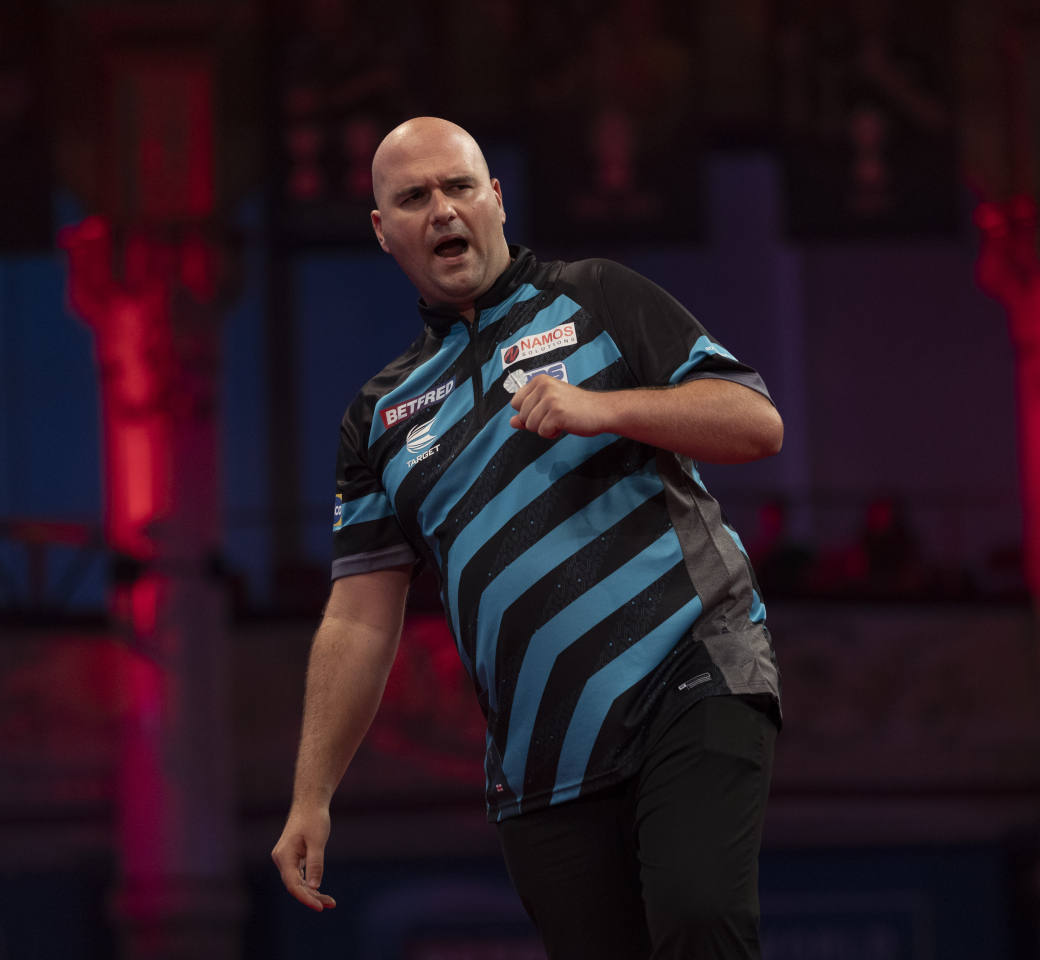 Rob Cross
Voltage
World Ranking

8

Televised titles

7

Non-Televised PDC Titles

8

Televised Nine-Dart Finishes

0
Walk-On Music

Hot Hot Hot - Arrow

Date of Birth

September 21 1990

Darts Used

21g

Target

Home Town

Hastings

Twitter

@RobCross180
Rob's incredible impact on the PDC circuit saw him complete his first full year as a professional with a stunning triumph in the William Hill World Darts Championship.
Originally an amateur qualifier at the 2016 UK Open, the Sussex-based electrician made an immediate impression on the PDC Challenge Tour, which helped him secure a two-year Tour Card for 2017/2018.
Cross' seamless transition to the professional circuit saw him claim four Players Championship victories in 2017, before he capped off an astonishing debut season by defeating Phil Taylor 7-2 in sets to secure darts' biggest prize at Alexandra Palace.
Following a difficult 2018 campaign, Cross returned to the winner's circle with World Matchplay and European Championship success in 2019, and he captured a second European Championship crown with an 11-8 victory over Michael van Gerwen in October 2021.
Player Stats
Select below to see result & roll of honour information.
| | |
| --- | --- |
| World Championship | 2018 |
| World Matchplay | 2019 |
| European Championshp | 2019, 2021 |
| Brisbane Darts Masters | 2018 |
| New South Wales Darts Masters | 2023 |
| New Zealand Darts Masters | 2023 |
| | |
| --- | --- |
| European Darts Grand Prix | 2023 |
| Players Championship | 2017 (x4), 2018, 2021, 2022 (x2), 2023 |
| [Challenge Tour] | 2016 (x3) |
| | | |
| --- | --- | --- |
|   | Most Recent | Best Performance |
| 2023 WORLD CHAMPIONSHIP | Last 16 | Winner - 2018 |
| 2023 UK OPEN | Quarter Final | Runner Up - 2019 |
| 2023 WORLD MATCHPLAY | Last 32 | Winner - 2019 |
| 2022 WORLD GRAND PRIX | Last 32 | Last 16 - 2019, 2021 |
| 2022 EUROPEAN CHAMPIONSHIP | Last 32 | Winner - 2019, 2021 |
| 2022 GRAND SLAM OF DARTS | Last 16 | Quarter Final - 2017, 2021 |
| 2022 PLAYERS CHAMPIONSHIP FINALS | Runner Up | Runner Up - 2022 |
 
Most Recent
Best Performance
2023 MASTERS
Runner Up
Runner Up - 2023
2023 PREMIER LEAGUE
-
Runner Up - 2019
2023 WORLD CUP OF DARTS

 

Quarter Final
Runner Up - 2020
2022 WORLD SERIES OF DARTS FINALS
-
Runner Up - 2020
| | | |
| --- | --- | --- |
|   | Most Recent | Best Performance |
| 2023 BAHRAIN DARTS MASTERS | Semi Final | Semi Final - 2023 |
| 2023 NORDIC DARTS MASTERS | Quarter Final | Quarter Final - 2023 |
| 2023 U.S. DARTS MASTERS | Semi Final | Runner Up - 2018 |
| 2023 POLAND DARTS MASTERS | Last 16 | Last 16 - 2023 |
| 2023 NEW ZEALAND DARTS MASTERS | Winner | Winner - 2023 |
| 2023 NEW SOUTH WALES DARTS MASTERS | Winner | Winner - 2023 |
| | | |
| --- | --- | --- |
| TOURNAMENT WIN | New South Wales Darts Masters (August 2023) | beat Damon Heta 8-1 |
| FINAL | New South Wales Darts Masters (August 2023) | beat Damon Heta 8-1 |
| SEMI FINAL | New South Wales Darts Masters (August 2023) | beat Peter Wright 7-0 |
| QUARTER FINAL | Players Championship 20 (September 2023) | lost to Callan Rydz 6-5 |
| | | |
| --- | --- | --- |
| WORLD CHAMPIONSHIP | Last 16 | lost to Chris Dobey 4-2 |
| BAHRAIN DARTS MASTERS | Semi Final | lost to Gerwyn Price 7-3 |
| NORDIC DARTS MASTERS | Quarter Final | lost to Jonny Clayton 10-4 |
| THE MASTERS | Runner Up | lost to Chris Dobey 11-7 |
| PLAYERS CHAMPIONSHIP 1 | Last 32 | lost to Kim Huybrechts 6-4 |
| PLAYERS CHAMPIONSHIP 2 | Last 32 | lost to Richard Veenstra 6-2 |
| PLAYERS CHAMPIONSHIP 3 | Last 32 | lost to Niels Zonneveld 6-4 |
| PLAYERS CHAMPIONSHIP 4 | Last 32 | lost to Simon Whitlock 6-4 |
| BALTIC SEA DARTS OPEN | Last 32 | lost to Martijn Dragt 6-5 |
| UK OPEN | Quarter Final | lost to Adam Gawlas 10-8 |
| PLAYERS CHAMPIONSHIP 5 | Last 128 | lost to Lee Evans 6-4 |
| PLAYERS CHAMPIONSHIP 6 | Last 64 | lost to Gian van Veen 6-2 |
| PLAYERS CHAMPIONSHIP 7 | Last 128 | lost to Ross Montgomery 6-5 |
| PLAYERS CHAMPIONSHIP 8 | Last 128 | lost to Keegan Brown 6-3 |
| EUROPEAN DARTS OPEN | Semi Final | lost to Dirk van Duijvenbode 7-6 |
| INTERNATIONAL DARTS OPEN | Quarter Final | lost to Gerwyn Price 6-4 |
| GERMAN DARTS GRAND PRIX | Last 32 | lost to Keane Barry 6-3 |
| PLAYERS CHAMPIONSHIP 9 | Last 128 | (withdrew v Mario Vandenbogaerde) |
| PLAYERS CHAMPIONSHIP 10 | Last 64 | lost to John O'Shea 6-4 |
| AUSTRIAN DARTS OPEN | Last 16 | lost to Ryan Searle 6-3 |
| DUTCH DARTS CHAMPIONSHIP | Last 32 | lost to Keane Barry 6-3 |
| BELGIAN DARTS OPEN | Last 16 | lost to Gary Anderson 6-2 |
| CZECH DARTS OPEN | Semi Final | lost to Dave Chisnall 7-4 |
| PLAYERS CHAMPIONSHIP 11 | Winner | beat Mike De Decker 8-3 |
| PLAYERS CHAMPIONSHIP 12 | Last 16 | lost to Chris Dobey 6-4 |
| PREMIER LEAGUE | - |   |
| EUROPEAN DARTS GRAND PRIX | Winner | beat Luke Humphries 8-6 |
| U.S. DARTS MASTERS | Semi Final | lost to Michael van Gerwen 7-6 |
| PLAYERS CHAMPIONSHIP 13 | Last 128 | lost to Christian Perez 6-5 |
| PLAYERS CHAMPIONSHIP 14 | Last 64 | lost to Mensur Suljovic 6-1 |
| WORLD CUP OF DARTS | Quarter Final (Michael Smith) | lost to Germany 8-3 |
| EUROPEAN DARTS MATCHPLAY | Last 16 | lost to James Wade 6-2 |
| POLAND DARTS MASTERS | Last 16 | lost to Krzysztof Ratajski 6-3 |
| PLAYERS CHAMPIONSHIP 15 | Last 32 | lost to Kevin Doets 6-5 |
| PLAYERS CHAMPIONSHIP 16 | Last 64 | lost to Vincent van der Voort 6-3 |
| WORLD MATCHPLAY | Last 32 | lost to Daryl Gurney 12-10 |
| NEW ZEALAND DARTS MASTERS | Winner | beat Nathan Aspinall 8-7 |
| NEW SOUTH WALES DARTS MASTERS | Winner | beat Damon Heta 8-1 |
| PLAYERS CHAMPIONSHIP 17 | Last 32 | lost to Jeff Smith 6-2 |
| PLAYERS CHAMPIONSHIP 18 | Quarter Final | lost to Gerwyn Price 6-0 |
| PLAYERS CHAMPIONSHIP 19 | Last 32 | lost to Cameron Menzies 6-2 |
| PLAYERS CHAMPIONSHIP 20 | Quarter Final | lost to Callan Rydz 6-5 |
| PLAYERS CHAMPIONSHIP 21 | Last 64 | lost to Robert Owen 6-3 |
| GERMAN DARTS OPEN | Last 32 | lost to Brian Raman 6-5 |
| | | |
| --- | --- | --- |
| WORLD CHAMPIONSHIP | Last 16 | lost to Gary Anderson 4-3 |
| THE MASTERS | Last 16 | lost to Jose de Sousa 10-7 |
| PLAYERS CHAMPIONSHIP 1 | Last 64 | lost to Lee Evans 6-5 |
| PLAYERS CHAMPIONSHIP 2 | Quarter Final | lost to Peter Wright 6-4 |
| PLAYERS CHAMPIONSHIP 3 | Last 128 | lost to George Killington 6-1 |
| PLAYERS CHAMPIONSHIP 4 | Quarter Final | lost to Joe Cullen 6-5 |
| INTERNATIONAL DARTS OPEN | Last 48 | lost to Krzysztof Kciuk 6-1 |
| UK OPEN | Last 64 | lost to Gabriel Clemens 10-7 |
| GERMAN DARTS CHAMPIONSHIP | Runner Up | lost to Michael van Gerwen 8-5 |
| PLAYERS CHAMPIONSHIP 5 | Quarter Final | lost to Gary Anderson 6-2 |
| PLAYERS CHAMPIONSHIP 6 | Last 32 | lost to Mario Vandenbogaerde 6-0 |
| PLAYERS CHAMPIONSHIP 7 | Semi Final | lost to Gerwyn Price 7-6 |
| PLAYERS CHAMPIONSHIP 8 | Last 16 | lost to Stephen Bunting 6-3 |
| PLAYERS CHAMPIONSHIP 9 | Last 16 | lost to Andrew Gilding 6-4 |
| PLAYERS CHAMPIONSHIP 10 | Last 32 | lost to Gabriel Clemens 6-1 |
| PLAYERS CHAMPIONSHIP 11 | Semi Final | lost to Ryan Searle 7-6 |
| PLAYERS CHAMPIONSHIP 12 | Last 128 | lost to John Henderson 6-3 |
| PLAYERS CHAMPIONSHIP 13 | Quarter Final | lost to Nathan Aspinall 6-3 |
| GERMAN DARTS GRAND PRIX | Last 16 | lost to Michael van Gerwen 6-3 |
| AUSTRIAN DARTS OPEN | Quarter Final | lost to Stephen Bunting 6-4 |
| EUROPEAN DARTS OPEN | Last 32 | lost to Martin Schindler 6-4 |
| PLAYERS CHAMPIONSHIP 14 | Last 128 | lost to Matt Campbell 6-5 |
| PLAYERS CHAMPIONSHIP 15 | Last 16 | lost to Callan Rydz 6-1 |
| CZECH DARTS OPEN | Runner Up | lost to Luke Humphries 8-5 |
| EUROPEAN DARTS GRAND PRIX | Runner Up | lost to Luke Humphries 8-7 |
| DUTCH DARTS CHAMPIONSHIP | Last 32 | lost to Ryan Meikle 6-2 |
| U.S. DARTS MASTERS | - |   |
| NORDIC DARTS MASTERS | - |   |
| PREMIER LEAGUE | - |   |
| PLAYERS CHAMPIONSHIP 16 | Last 64 | lost to Gary Blades 6-5 |
| PLAYERS CHAMPIONSHIP 17 | Quarter Final | lost to Scott Williams 6-4 |
| WORLD CUP OF DARTS | - |   |
| DUTCH DARTS MASTERS | - |   |
| EUROPEAN DARTS MATCHPLAY | Quarter Final | lost to Madars Razma 6-4 |
| PLAYERS CHAMPIONSHIP 18 | Last 128 | lost to Scott Waites 6-3 |
| PLAYERS CHAMPIONSHIP 19 | Last 128 | lost to Max Hopp 6-2 |
| PLAYERS CHAMPIONSHIP 20 | Last 128 | lost to Raymond van Barneveld 6-2 |
| PLAYERS CHAMPIONSHIP 21 | Last 32 | lost to Vincent van der Voort 6-4 |
| WORLD MATCHPLAY | Last 16 | lost to Jose de Sousa 11-8 |
| PLAYERS CHAMPIONSHIP 22 | Last 64 | lost to Martijn Kleermaker 6-2 |
| PLAYERS CHAMPIONSHIP 23 | Last 16 | lost to Shaun Wilkinson 6-4 |
| PLAYERS CHAMPIONSHIP 24 | Winner | beat Luke Humphries 8-3 |
| QUEENSLAND DARTS MASTERS | - |   |
| NEW SOUTH WALES DARTS MASTERS | - |   |
| NEW ZEALAND DARTS MASTERS | - |   |
| HUNGARIAN DARTS TROPHY | Last 32 | lost to Jeffrey de Zwaan 6-4 |
| GERMAN DARTS OPEN | Last 16 | lost to Krzysztof Ratajski 6-5 |
| WORLD SERIES OF DARTS FINALS | - |   |
| BELGIAN DARTS OPEN | Last 16 | lost to Gabriel Clemens 6-3 |
| WORLD GRAND PRIX | Last 32 | lost to Daryl Gurney 2-1 |
| GIBRALTAR DARTS TROPHY | Semi Final | lost to Peter Wright 7-1 |
| PLAYERS CHAMPIONSHIP 25 | Last 128 | lost to Mike De Decker 6-4 |
| PLAYERS CHAMPIONSHIP 26 | Last 128 | lost to Vincent van der Voort 6-3 |
| PLAYERS CHAMPIONSHIP 27 | Winner | beat Peter Wright 8-4 |
| PLAYERS CHAMPIONSHIP 28 | Last 32 | lost to Jim Williams 6-3 |
| EUROPEAN CHAMPIONSHIP | Last 32 | lost to James Wade 6-5 |
| PLAYERS CHAMPIONSHIP 29 | Quarter Final | lost to Mike De Decker 6-4 |
| PLAYERS CHAMPIONSHIP 30 | Last 32 | lost to Raymond van Barneveld 6-3 |
| GRAND SLAM OF DARTS | Last 16 | lost to Michael Smith 10-8 |
| PLAYERS CHAMPIONSHIP FINALS | Runner Up | lost to Michael van Gerwen 11-6 |
| | | |
| --- | --- | --- |
| TV NON-RANKING EVENT RECORD | Most Recent | Best Performance |
| 2021 THE MASTERS | Last 16 | Quarter Final - 2018 |
| 2021 PREMIER LEAGUE | 9th | Runner Up - 2019 |
| 2021 WORLD CUP OF DARTS  | - | Runner Up - 2020 |
| 2021 NORDIC DARTS MASTERS | - |   |
| 2021 WORLD SERIES OF DARTS FINALS | - | Runner Up - 2020 |
| | | |
| --- | --- | --- |
| WORLD CHAMPIONSHIP | Last 64 | lost to Kim Huybrechts 3-0 |
| THE MASTERS | Last 16 | lost to Adrian Lewis 10-5 |
| PLAYERS CHAMPIONSHIP 1 | Last 16 | lost to Gary Anderson 6-2 |
| PLAYERS CHAMPIONSHIP 2 | Last 128 | lost to Darius Labanauskas 6-5 |
| PLAYERS CHAMPIONSHIP 3 | Last 128 | lost to Scott Baker 6-4 |
| PLAYERS CHAMPIONSHIP 4 | Last 64 | lost to Karel Sedlacek 6-5 |
| PLAYERS CHAMPIONSHIP 5 | Quarter Final | lost to Devon Petersen 6-5 |
| PLAYERS CHAMPIONSHIP 6 | Last 128 | lost to Vincent van der Meer 6-3 |
| BELGIAN DARTS CHAMPIONSHIP | Last 16 | lost to Krzysztof Ratajski 6-3 |
| UK OPEN | Quarter Final | lost to Michael van Gerwen 10-4 |
| PLAYERS CHAMPIONSHIP 7 | Last 32 | lost to Danny Noppert 6-5 |
| PLAYERS CHAMPIONSHIP 8 | Last 32 | lost to Keegan Brown 6-5 |
| PLAYERS CHAMPIONSHIP 9 (SS1) | Last 16 | lost to Peter Wright 6-2 |
| PLAYERS CHAMPIONSHIP 10 (SS2) | Last 64 | lost to Jason Lowe 6-5 |
| PLAYERS CHAMPIONSHIP 11 (SS3) | Last 128 | lost to Mickey Mansell 6-5 |
| PLAYERS CHAMPIONSHIP 12 (SS4) | Runner Up | lost to James Wade 8-2 |
| PLAYERS CHAMPIONSHIP 13 (SS5) | Last 128 | lost to William Borland 6-3 |
| WORLD MATCHPLAY | Last 32 | lost to Gabriel Clemens 10-8 |
| PREMIER LEAGUE | 9th |   |
| PLAYERS CHAMPIONSHIP 14 (AS1) | Last 64 | lost to Karel Sedlacek 6-3 |
| PLAYERS CHAMPIONSHIP 15 (AS2) | Last 64 | lost to Ross Smith 6-5 |
| PLAYERS CHAMPIONSHIP 16 (AS3) | Last 32 | lost to Luke Humphries 6-3 |
| PLAYERS CHAMPIONSHIP 17 (AS4) | Last 32 | lost to Joe Cullen 6-2 |
| PLAYERS CHAMPIONSHIP 18 (AS5) | Last 32 | lost to Chris Dobey 6-4 |
| WORLD SERIES OF DARTS FINALS | Runner Up | lost to Gerwyn Price 11-9 |
| GERMAN DARTS CHAMPIONSHIP | Last 16 | lost to Devon Petersen 6-5 |
| WORLD GRAND PRIX | Last 32 | lost to Gary Anderson 2-0 |
| EUROPEAN DARTS GRAND PRIX | Quarter Final | lost to Mensur Suljovic 6-0 |
| INTERNATIONAL DARTS OPEN | Last 32 | lost to Franz Roetzsch 6-3 |
| EUROPEAN CHAMPIONSHIP | Last 32 | lost to Martijn Kleermaker 6-3 |
| WORLD CUP OF DARTS | Runner Up (Michael Smith) | lost to Wales 3-0 |
| PLAYERS CHAMPIONSHIP 19 (WS1) | Last 32 | lost to Brendan Dolan 6-2 |
| PLAYERS CHAMPIONSHIP 20 (WS2) | Last 32 | lost to Justin Pipe 6-5 |
| PLAYERS CHAMPIONSHIP 21 (WS3) | Last 128 | lost to William Borland 6-4 |
| PLAYERS CHAMPIONSHIP 22 (WS4) | Last 128 | lost to Lisa Ashton 6-5 |
| PLAYERS CHAMPIONSHIP 23 (WS5) | - |   |
| GRAND SLAM OF DARTS | Last 16 | lost to Michael Smith 10-9 |
| PLAYERS CHAMPIONSHIP FINALS | Last 32 | lost to Joe Cullen 6-5 |
| | | |
| --- | --- | --- |
| WORLD CHAMPIONSHIP | Last 16 | lost to Luke Humphries 4-2 |
| THE MASTERS | Last 16 | lost to Joe Cullen 10-6 |
| PLAYERS CHAMPIONSHIP 1 | Last 64 | lost to Scott Baker 6-4 |
| PLAYERS CHAMPIONSHIP 2 | Last 16 | lost to Dave Chisnall 6-3 |
| PLAYERS CHAMPIONSHIP 3 | Last 32 | lost to John Henderson 6-5 |
| PLAYERS CHAMPIONSHIP 4 | Semi Final | lost to Dimitri Van den Bergh 7-5 |
| PLAYERS CHAMPIONSHIP 5 | Last 16 | lost to Dave Chisnall 6-5 |
| PLAYERS CHAMPIONSHIP 6 | Last 32 | lost to Krzysztof Ratajski 6-2 |
| UK OPEN | Runner Up | lost to Nathan Aspinall 11-5 |
| PLAYERS CHAMPIONSHIP 7 | Last 16 | lost to Dave Chisnall 6-3 |
| PLAYERS CHAMPIONSHIP 8 | - |   |
| EUROPEAN DARTS OPEN | Runner Up | lost to Michael van Gerwen 8-6 |
| GERMAN DARTS CHAMPIONSHIP | Last 16 | lost to Daryl Gurney 6-2 |
| PLAYERS CHAMPIONSHIP 9 | Last 64 | lost to Jose De Sousa 6-2 |
| PLAYERS CHAMPIONSHIP 10 | - |   |
| PLAYERS CHAMPIONSHIP 11 | - |   |
| PLAYERS CHAMPIONSHIP 12 | - |   |
| GERMAN DARTS GRAND PRIX | Semi Final | lost to Michael van Gerwen 7-1 |
| GERMAN DARTS OPEN | Semi Final | lost to Ian White 7-5 |
| PLAYERS CHAMPIONSHIP 13 | - |   |
| PLAYERS CHAMPIONSHIP 14 | - |   |
| AUSTRIAN DARTS OPEN | Last 16 | lost to Steve Beaton 6-2 |
| EUROPEAN DARTS GRAND PRIX | Last 32 | lost to Jeffrey de Zwaan 6-3 |
| PLAYERS CHAMPIONSHIP 15 | - |   |
| PLAYERS CHAMPIONSHIP 16 | - |   |
| PREMIER LEAGUE | Runner Up | lost to Michael van Gerwen 11-5 |
| DUTCH DARTS MASTERS | - |   |
| WORLD CUP OF DARTS | Last 16 (Michael Smith) | lost to Republic of Ireland 2-0 |
| DANISH DARTS OPEN | Last 32 | lost to Kirk Shepherd 6-4 |
| PLAYERS CHAMPIONSHIP 17 | - |   |
| PLAYERS CHAMPIONSHIP 18 | - |   |
| CZECH DARTS OPEN | - |   |
| U.S. DARTS MASTERS | Quarter Final | lost to Nathan Aspinall 8-5 |
| GERMAN DARTS MASTERS | Quarter Final | lost to Gabriel Clemens 8-5 |
| PLAYERS CHAMPIONSHIP 19 | Last 64 | lost to Ryan Joyce 6-1 |
| PLAYERS CHAMPIONSHIP 20 | Quarter Final | lost to Joe Cullen 6-4 |
| WORLD MATCHPLAY | Winner | beat Michael Smith 18-13 |
| PLAYERS CHAMPIONSHIP 21 | - |   |
| PLAYERS CHAMPIONSHIP 22 | - |   |
| BRISBANE DARTS MASTERS | Runner Up | lost to Damon Heta 8-7 |
| MELBOURNE DARTS MASTERS | Semi Final | lost to Daryl Gurney 8-5 |
| NEW ZEALAND DARTS MASTERS | Semi Final | lost to Michael van Gerwen 8-3 |
| AUSTRIAN DARTS CHAMPIONSHIP | - |   |
| EUROPEAN DARTS MATCHPLAY | Quarter Final | lost to Dave Chisnall 6-5 |
| PLAYERS CHAMPIONSHIP 23 | Last 16 | lost to Gerwyn Price 6-4 |
| PLAYERS CHAMPIONSHIP 24 | Last 128 | lost to Jelle Klaasen 6-3 |
| INTERNATIONAL DARTS OPEN | Runner Up | lost to Gerwyn Price 8-6 |
| PLAYERS CHAMPIONSHIP 25 | Last 128 | lost to Andy Jenkins 6-5 |
| PLAYERS CHAMPIONSHIP 26 | Last 16 | lost to Ross Smith 6-5 |
| GIBRALTAR DARTS TROPHY | Last 16 | lost to Gerwyn Price 6-5 |
| PLAYERS CHAMPIONSHIP 27 | Last 16 | lost to Krzysztof Ratajski 6-5 |
| PLAYERS CHAMPIONSHIP 28 | Last 64 | lost to Conan Whitehead 6-4 |
| WORLD GRAND PRIX | Last 16 | lost to Glen Durrant 3-2 |
| PLAYERS CHAMPIONSHIP 29 | - |   |
| PLAYERS CHAMPIONSHIP 30 | - |   |
| CHAMPIONS LEAGUE OF DARTS | Group Stage (4th) |   |
| EUROPEAN CHAMPIONSHIP | Winner | beat Gerwyn Price 11-6 |
| WORLD SERIES OF DARTS FINALS | Last 16 | lost to Dave Chisnall 6-4 |
| GRAND SLAM OF DARTS | Last 16 | lost to Peter Wright 10-3 |
| PLAYERS CHAMPIONSHIP FINALS | Last 16 | lost to Mervyn King 10-4 |
| | | |
| --- | --- | --- |
| WORLD CHAMPIONSHIP | Winner | beat Phil Taylor 7-2 |
| THE MASTERS | Quarter Final | lost to Mensur Suljovic 10-8 |
| UK OPEN QUALIFIER 1 | Last 128 | lost to Corey Cadby 6-2 |
| UK OPEN QUALIFIER 2 | Last 128 | lost to Jamie Hughes 6-3 |
| UK OPEN QUALIFIER 3 | Last 128 | lost to Ryan Meikle 6-5 |
| UK OPEN QUALIFIER 4 | Semi Final | lost to Gary Anderson 6-5 |
| UK OPEN QUALIFIER 5 | Runner Up | lost to Corey Cadby 6-4 |
| UK OPEN QUALIFIER 6 | Semi Final | lost to Krzysztof Ratajski 6-5 |
| PLAYERS CHAMPIONSHIP 1 | Quarter Final | lost to James Wade 6-5 |
| PLAYERS CHAMPIONSHIP 2 | Last 64 | lost to Keegan Brown 6-5 |
| UK OPEN | Quarter Final | lost to Gary Anderson 10-5 |
| PLAYERS CHAMPIONSHIP 3 | Last 16 | lost to Gary Anderson 6-0 |
| PLAYERS CHAMPIONSHIP 4 | Last 64 | lost to Adam Hunt 6-4 |
| PLAYERS CHAMPIONSHIP 5 | Last 128 | lost to Luke Woodhouse 6-5 |
| PLAYERS CHAMPIONSHIP 6 | Quarter Final | lost to James Wilson 6-4 |
| EUROPEAN DARTS OPEN | Last 16 | lost to Richard North 6-2 |
| GERMAN DARTS GRAND PRIX | Quarter Final | lost to Daryl Gurney 6-3 |
| PLAYERS CHAMPIONSHIP 7 | Last 32 | lost to Cristo Reyes 6-5 |
| PLAYERS CHAMPIONSHIP 8 | - |   |
| GERMAN DARTS OPEN | Semi Final | lost to Max Hopp 7-6 |
| AUSTRIAN DARTS OPEN | Quarter Final | lost to Gerwyn Price 6-3 |
| PLAYERS CHAMPIONSHIP 9 | Last 32 | lost to Ryan Joyce 6-5 |
| PLAYERS CHAMPIONSHIP 10 | Last 32 | lost to Martin Schindler 6-0 |
| EUROPEAN DARTS GRAND PRIX | Last 16 | lost to James Wade 6-5 |
| DUTCH DARTS MASTERS | Last 32 | (withdrew) |
| PREMIER LEAGUE | Semi Final | lost to Michael van Gerwen 10-6 |
| PLAYERS CHAMPIONSHIP 11 | - |   |
| PLAYERS CHAMPIONSHIP 12 | - |   |
| GERMAN DARTS MASTERS | Quarter Final | lost to Mensur Suljovic 8-7 |
| WORLD CUP OF DARTS | Quarter Final (Dave Chisnall) | lost to Belgium 2-1 |
| GIBRALTAR DARTS TROPHY | Quarter Final | lost to Steve West 6-5 |
| PLAYERS CHAMPIONSHIP 13 | Winner | beat Ian White 6-4 |
| PLAYERS CHAMPIONSHIP 14 | Runner Up | lost to Peter Wright 6-4 |
| DANISH DARTS OPEN | Last 16 | lost to Mervyn King 6-5 |
| PLAYERS CHAMPIONSHIP 15 | Quarter Final | lost to James Wade 6-3 |
| PLAYERS CHAMPIONSHIP 16 | Last 32 | lost to Brendan Dolan 6-3 |
| EUROPEAN DARTS MATCHPLAY | Last 32 | lost to William O'Connor 6-4 |
| U.S. DARTS MASTERS | Runner Up | lost to Gary Anderson 8-4 |
| SHANGHAI DARTS MASTERS | Runner Up | lost to Michael Smith 8-2 |
| WORLD MATCHPLAY | Last 16 | lost to Darren Webster 11-8 |
| AUCKLAND DARTS MASTERS | Quarter Final | lost to Simon Whitlock 10-7 |
| MELBOURNE DARTS MASTERS | Quarter Final | lost to Michael Smith 10-9 |
| BRISBANE DARTS MASTERS | Winner | beat Michael van Gerwen 11-6 |
| GERMAN DARTS CHAMPIONSHIP | Quarter Final | lost to Mensur Suljovic 6-2 |
| PLAYERS CHAMPIONSHIP 17 | Quarter Final | lost to Daryl Gurney 6-5 |
| PLAYERS CHAMPIONSHIP 18 | Last 64 | lost to Simon Stevenson 6-3 |
| DUTCH DARTS CHAMPIONSHIP | - |   |
| INTERNATIONAL DARTS OPEN | - |   |
| CHAMPIONS LEAGUE OF DARTS | Group Stage (3rd) |   |
| PLAYERS CHAMPIONSHIP 19 | Last 16 | lost to James Wilson 6-4 |
| PLAYERS CHAMPIONSHIP 20 | Semi Final | lost to Danny Noppert 6-3 |
| WORLD GRAND PRIX | Last 32 | lost to Steve Beaton 2-0 |
| EUROPEAN DARTS TROPHY | Quarter Final | lost to James Wade 6-3 |
| PLAYERS CHAMPIONSHIP 21 | Last 128 | lost to Gabriel Clemens 6-4 |
| PLAYERS CHAMPIONSHIP 22 | Last 64 | lost to Jan Dekker 6-2 |
| EUROPEAN CHAMPIONSHIP | Quarter Final | lost to Joe Cullen 10-8 |
| WORLD SERIES OF DARTS FINALS | Last 16 | lost to Jamie Lewis 6-5 |
| GRAND SLAM OF DARTS | Last 16 | lost to Mensur Suljovic 10-7 |
| PLAYERS CHAMPIONSHIP FINALS | Last 64 | lost to Cristo Reyes 6-1 |
| | | |
| --- | --- | --- |
| WORLD CHAMPIONSHIP | - |   |
| THE MASTERS | - |   |
| UK OPEN QUALIFIER 1 | Last 64 | lost to Peter Hudson 6-5 |
| UK OPEN QUALIFIER 2 | Last 64 | lost to Chris Dobey 6-4 |
| UK OPEN QUALIFIER 3 | Last 16 | lost to Alan Norris 6-4 |
| UK OPEN QUALIFIER 4 | Last 16 | lost to Gary Anderson 6-1 |
| UK OPEN QUALIFIER 5 | Semi Final | lost to Simon Whitlock 6-4 |
| UK OPEN QUALIFIER 6 | Last 64 | lost to James Wade 6-3 |
| PLAYERS CHAMPIONSHIP 1 | Last 128 | lost to Alan Norris 6-4 |
| PLAYERS CHAMPIONSHIP 2 | Last 32 | lost to Robert Owen 6-4 |
| UK OPEN | Last 16 | lost to Peter Wright 10-6 |
| PLAYERS CHAMPIONSHIP 3 | Winner | beat Mervyn King 6-5 |
| PLAYERS CHAMPIONSHIP 4 | Last 32 | lost to Ian White 6-4 |
| GERMAN DARTS CHAMPIONSHIP | - |   |
| PLAYERS CHAMPIONSHIP 5 | Last 16 | lost to Ian White 6-3 |
| PLAYERS CHAMPIONSHIP 6 | Last 32 | lost to Gerwyn Price 6-3 |
| PLAYERS CHAMPIONSHIP 7 | Last 128 | lost to Ronny Huybrechts 6-4 |
| PLAYERS CHAMPIONSHIP 8 | Last 32 | lost to Robert Thornton 6-4 |
| GERMAN DARTS MASTERS (ET) | - |   |
| GERMAN DARTS OPEN | Quarter Final | lost to Benito van de Pas 6-2 |
| PLAYERS CHAMPIONSHIP 9 | Last 32 | lost to Jonny Clayton 6-5 |
| PLAYERS CHAMPIONSHIP 10 | Last 32 | lost to Michael van Gerwen 6-5 |
| EUROPEAN DARTS GRAND PRIX | Quarter Final | lost to Dave Chisnall 6-3 |
| GIBRALTAR DARTS TROPHY | Quarter Final | lost to Michael Smith 6-5 |
| PREMIER LEAGUE | - |   |
| PLAYERS CHAMPIONSHIP 11 | Semi Final | lost to Peter Wright 6-3 |
| PLAYERS CHAMPIONSHIP 12 | Winner | beat Ian White 6-5 |
| DUBAI DARTS MASTERS | - |   |
| WORLD CUP OF DARTS | - |   |
| EUROPEAN DARTS MATCHPLAY | - |   |
| PLAYERS CHAMPIONSHIP 13 | Semi Final | lost to Steve Beaton 6-3 |
| PLAYERS CHAMPIONSHIP 14 | Semi Final | lost to Gary Anderson 6-4 |
| AUSTRIAN DARTS OPEN | Last 32 | lost to Jelle Klaasen 6-0 |
| EUROPEAN DARTS OPEN | Quarter Final | lost to Mervyn King 6-2 |
| SHANGHAI DARTS MASTERS | - |   |
| PLAYERS CHAMPIONSHIP 15 | Last 32 | lost to Jonny Clayton 6-4 |
| PLAYERS CHAMPIONSHIP 16 | Last 16 | lost to Ian White 6-4 |
| U.S. DARTS MASTERS | - |   |
| WORLD MATCHPLAY | Last 16 | lost to Adrian Lewis 11-8 |
| PLAYERS CHAMPIONSHIP 17 | Last 64 | lost to Ryan Meikle 6-5 |
| PLAYERS CHAMPIONSHIP 18 | Last 64 | lost to Chris Quantock 6-2 |
| AUCKLAND DARTS MASTERS | - |   |
| MELBOURNE DARTS MASTERS | - |   |
| PERTH DARTS MASTERS | - |   |
| DUTCH DARTS MASTERS | Last 16 | lost to Peter Wright 6-3 |
| GERMAN DARTS GRAND PRIX | Runner Up | lost to Michael van Gerwen 6-3 |
| CHAMPIONS LEAGUE OF DARTS | - |   |
| INTERNATIONAL DARTS OPEN | Last 32 | lost to Josh Payne 6-4 |
| PLAYERS CHAMPIONSHIP 19 | Winner | beat Peter Wright 6-2 |
| PLAYERS CHAMPIONSHIP 20 | Last 16 | lost to John Henderson 6-4 |
| WORLD GRAND PRIX | Last 32 | lost to Steve Beaton 2-0 |
| PLAYERS CHAMPIONSHIP 21 | Winner | beat Adrian Lewis 6-3 |
| PLAYERS CHAMPIONSHIP 22 | Last 32 | lost to Jonny Clayton 6-5 |
| EUROPEAN DARTS TROPHY | Runner Up | lost to Michael van Gerwen 6-4 |
| GERMAN DARTS MASTERS (WS) | - |   |
| EUROPEAN CHAMPIONSHIP | Runner Up | lost to Michael van Gerwen 11-7 |
| WORLD SERIES OF DARTS FINALS | Quarter Final | lost to Michael van Gerwen 10-4 |
| GRAND SLAM OF DARTS | Quarter Final | lost to Michael van Gerwen 16-13 |
| PLAYERS CHAMPIONSHIP FINALS | Semi Final | lost to Jonny Clayton 11-8 |