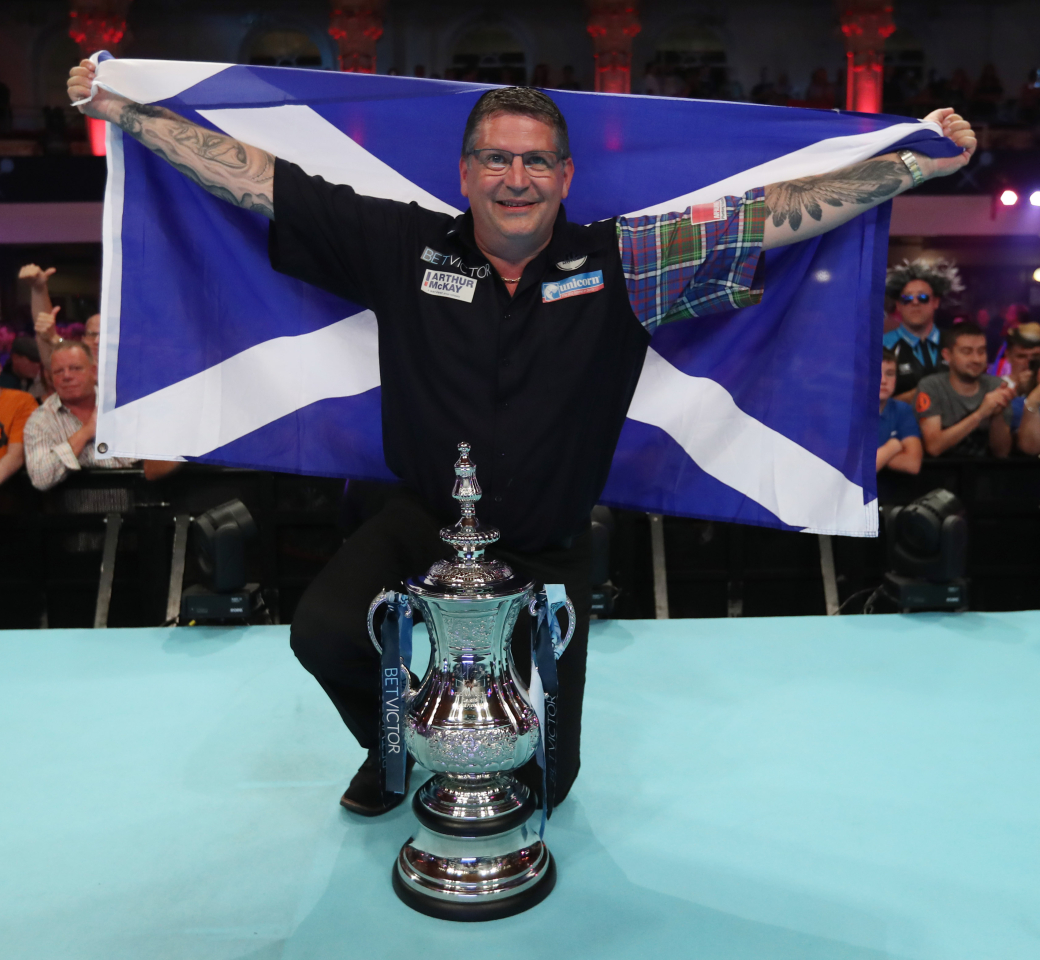 Gary Anderson
Flying Scotsman
World Ranking

22

Televised titles

19

Non-Televised PDC Titles

32

Televised Nine-Dart Finishes

3
Walk-On Music

Jump Around - House of Pain

Date of Birth

December 22 1970

Darts Used

23g

Unicorn

Home Town

Burnham-on-Sea

Twitter

@GaryAnderson180
Scottish legend Anderson joined an elite group of players to win back-to-back World Championship titles with his successes in 2015 and 2016 at Alexandra Palace, cementing his name amongst the most successful players in the history of the sport.
The winner of both the International Darts League and World Darts Trophy events in 2007, Anderson joined the PDC circuit two years later.
After reaching the 2011 World Championship final, where he lost to Adrian Lewis, Anderson went on to gain revenge in the 2016 final, having defeated Phil Taylor the previous year.
The Scot has also won the Premier League on two occasions, and in 2018 lifted the World Matchplay, UK Open and Champions League titles, before tasting World Cup success in 2019 alongside Peter Wright.
Player Stats
Select below to see result & roll of honour information.
| | |
| --- | --- |
| World Championship | 2015, 2016 |
| Premier League | 2011, 2015 |
| World Matchplay | 2018 |
| UK Open | 2018 |
| Players Championship Finals | 2014 |
| Champions League of Darts | 2018 |
| World Cup of Darts | 2019 |
| Dubai Darts Masters | 2016, 2017 |
| Auckland Darts Masters | 2016 |
| Perth Darts Masters | 2017 |
| Tokyo Darts Masters | 2016 |
| U.S. Darts Masters | 2018 |
| [International Darts League] | 2007 |
| [World Darts Trophy] | 2007 |
| [Zuiderduin Darts Masters] | 2007, 2008 |
German Darts Championship

 

2014
 
 
Players Championship
2009, 2010 (x3), 2011 (x5), 2014 (x5), 2015 (x2), 2016, 2017 (x3), 2018 (x3), 2020, 2023
UK Open Qualifier
2010, 2011 (x2), 2014, 2016, 2018
 
 
 
Most Recent
Best Performance
2023 WORLD CHAMPIONSHIP
Last 32
Winner - 2015, 2016
2023 UK OPEN
Last 16
Winner - 2018
2022 WORLD MATCHPLAY
Last 32
Winner - 2018
2022 WORLD GRAND PRIX
Last 32
Runner Up - 2016
2022 EUROPEAN CHAMPIONSHIP
-
Runner Up - 2015
2022 GRAND SLAM OF DARTS
-
Runner Up - 2011, 2018
2022 PLAYERS CHAMPIONSHIP FINALS
Last 32
Winner - 2014

 
 
Most Recent
Best Performance
2023 MASTERS
Last 16
Runner Up - 2017
2022 PREMIER LEAGUE
8th
Winner - 2011, 2015
2022 WORLD CUP OF DARTS

 

-
Winner - 2019
2022 WORLD SERIES OF DARTS FINALS
Last 16
Runner Up - 2017
| | | |
| --- | --- | --- |
|   | Most Recent | Best Performance |
| 2023 BAHRAIN DARTS MASTERS | - | - |
| 2023 NORDIC DARTS MASTERS | - | Runner Up - 2022 |
| 2022 U.S. DARTS MASTERS | Quarter Final | Winner - 2018 |
| 2022 DUTCH DARTS MASTERS | - | - |
| 2022 QUEENSLAND DARTS MASTERS | - | - |
| 2022 NEW SOUTH WALES DARTS MASTERS | - | - |
| 2022 NEW ZEALAND DARTS MASTERS | - | Quarter Final - 2019 |
| | | |
| --- | --- | --- |
| TOURNAMENT WIN | Players Championship 8 (March 2023) | beat Krzysztof Ratajski 8-5 |
| FINAL | Players Championship 8 (March 2023) | beat Krzysztof Ratajski 8-5 |
| SEMI FINAL | Players Championship 8 (March 2023) | beat Gerwyn Price 7-3 |
| QUARTER FINAL | Belgian Darts Open (May 2023) | lost to Michael van Gerwen 6-1 |
| | | |
| --- | --- | --- |
| WORLD CHAMPIONSHIP | Last 32 | lost to Chris Dobey 4-1 |
| BAHRAIN DARTS MASTERS | - |   |
| NORDIC DARTS MASTERS | - |   |
| THE MASTERS | Last 16 | lost to Rob Cross 10-6 |
| PLAYERS CHAMPIONSHIP 1 | Last 64 | lost to Stephen Bunting 6-2 |
| PLAYERS CHAMPIONSHIP 2 | Last 128 | lost to Brendan Dolan 6-1 |
| PLAYERS CHAMPIONSHIP 3 | Last 128 | lost to Josh Rock 6-4 |
| PLAYERS CHAMPIONSHIP 4 | Last 128 | lost to Andy Boulton 6-2 |
| BALTIC SEA DARTS OPEN | - |   |
| UK OPEN | Last 16 | lost to Dimitri Van den Bergh 10-8 |
| PLAYERS CHAMPIONSHIP 5 | Runner Up | lost to Ross Smith 8-6 |
| PLAYERS CHAMPIONSHIP 6 | Last 64 | lost to Ryan Searle 6-4 |
| PLAYERS CHAMPIONSHIP 7 | Last 32 | lost to Bradley Brooks 6-1 |
| PLAYERS CHAMPIONSHIP 8 | Winner | beat Krzysztof Ratajski 8-5 |
| EUROPEAN DARTS OPEN | - |   |
| INTERNATIONAL DARTS OPEN | - |   |
| GERMAN DARTS GRAND PRIX | - |   |
| PLAYERS CHAMPIONSHIP 9 | Quarter Final | lost to Jonny Clayton 6-1 |
| PLAYERS CHAMPIONSHIP 10 | Last 128 | lost to Owen Roelofs 6-4 |
| AUSTRIAN DARTS OPEN | - |   |
| DUTCH DARTS CHAMPIONSHIP | Last 48 | lost to Roman Benecky 6-2 |
| BELGIAN DARTS OPEN | Quarter Final | lost to Michael van Gerwen 6-1 |
| CZECH DARTS OPEN | - |   |
| | | |
| --- | --- | --- |
| WORLD CHAMPIONSHIP | Semi Final | lost to Peter Wright 6-4 |
| THE MASTERS | Last 16 | lost to Joe Cullen 10-1 |
| PLAYERS CHAMPIONSHIP 1 | Quarter Final | lost to Daryl Gurney 6-5 |
| PLAYERS CHAMPIONSHIP 2 | Last 64 | lost to Stephen Bunting 6-4 |
| PLAYERS CHAMPIONSHIP 3 | Last 64 | lost to Vincent van der Voort 6-5 |
| PLAYERS CHAMPIONSHIP 4 | - |   |
| INTERNATIONAL DARTS OPEN | - |   |
| UK OPEN | Last 64 | lost to Michael van Gerwen 10-7 |
| GERMAN DARTS CHAMPIONSHIP | - |   |
| PLAYERS CHAMPIONSHIP 5 | Runner Up | lost to Damon Heta 8-6 |
| PLAYERS CHAMPIONSHIP 6 | Last 128 | lost to Darius Labanauskas 6-1 |
| PLAYERS CHAMPIONSHIP 7 | - |   |
| PLAYERS CHAMPIONSHIP 8 | - |   |
| PLAYERS CHAMPIONSHIP 9 | Last 16 | lost to Danny Noppert 6-4 |
| PLAYERS CHAMPIONSHIP 10 | Last 128 | lost to Darius Labanauskas 6-2 |
| PLAYERS CHAMPIONSHIP 11 | - |   |
| PLAYERS CHAMPIONSHIP 12 | - |   |
| PLAYERS CHAMPIONSHIP 13 | - |   |
| GERMAN DARTS GRAND PRIX | - |   |
| AUSTRIAN DARTS OPEN | - |   |
| EUROPEAN DARTS OPEN | - |   |
| PLAYERS CHAMPIONSHIP 14 | - |   |
| PLAYERS CHAMPIONSHIP 15 | - |   |
| CZECH DARTS OPEN | - |   |
| EUROPEAN DARTS GRAND PRIX | - |   |
| DUTCH DARTS CHAMPIONSHIP | - |   |
| U.S. DARTS MASTERS | Quarter Final | lost to Michael Smith 8-3 |
| NORDIC DARTS MASTERS | Runner Up | lost to Dimitri Van den Bergh 11-5 |
| PREMIER LEAGUE | 8th |   |
| PLAYERS CHAMPIONSHIP 16 | - |   |
| PLAYERS CHAMPIONSHIP 17 | - |   |
| WORLD CUP OF DARTS | - |   |
| DUTCH DARTS MASTERS | - |   |
| EUROPEAN DARTS MATCHPLAY | - |   |
| PLAYERS CHAMPIONSHIP 18 | Last 128 | lost to Madars Razma 6-2 |
| PLAYERS CHAMPIONSHIP 19 | Last 64 | lost to Dave Chisnall 6-5 |
| PLAYERS CHAMPIONSHIP 20 | Last 128 | lost to Damon Heta 6-3 |
| PLAYERS CHAMPIONSHIP 21 | - |   |
| WORLD MATCHPLAY | Last 32 | lost to Daryl Gurney 10-7 |
| PLAYERS CHAMPIONSHIP 22 | Last 64 | lost to Jeffrey de Zwaan 6-3 |
| PLAYERS CHAMPIONSHIP 23 | Last 64 | lost to Luc Peters 6-5 |
| PLAYERS CHAMPIONSHIP 24 | Last 128 | lost to Daryl Gurney 6-5 |
| QUEENSLAND DARTS MASTERS | - |   |
| NEW SOUTH WALES DARTS MASTERS | - |   |
| NEW ZEALAND DARTS MASTERS | - |   |
| HUNGARIAN DARTS TROPHY | - |   |
| GERMAN DARTS OPEN | - |   |
| WORLD SERIES OF DARTS FINALS | Last 16 | lost to Dirk van Duijvenbode 6-3 |
| BELGIAN DARTS OPEN | - |   |
| WORLD GRAND PRIX | Last 32 | lost to Michael van Gerwen 2-0 |
| GIBRALTAR DARTS TROPHY | - |   |
| PLAYERS CHAMPIONSHIP 25 | Last 16 | lost to Dave Chisnall 6-1 |
| PLAYERS CHAMPIONSHIP 26 | Last 16 | lost to Damian Mol 6-3 |
| PLAYERS CHAMPIONSHIP 27 | Quarter Final | lost to Ryan Meikle 6-4 |
| PLAYERS CHAMPIONSHIP 28 | Last 128 | lost to Ross Smith 6-5 |
| EUROPEAN CHAMPIONSHIP | - |   |
| PLAYERS CHAMPIONSHIP 29 | Last 32 | lost to Luke Woodhouse 6-3 |
| PLAYERS CHAMPIONSHIP 30 | Last 32 | lost to Jamie Hughes 6-5 |
| GRAND SLAM OF DARTS | - |   |
| PLAYERS CHAMPIONSHIP FINALS | Last 32 | lost to Rob Cross 6-5 |
| | | |
| --- | --- | --- |
| WORLD CHAMPIONSHIP | Runner Up | lost to Gerwyn Price 7-3 |
| THE MASTERS | Last 16 | lost to Adrian Lewis 10-8 |
| PLAYERS CHAMPIONSHIP 1 | Last 16 | lost to Rob Cross 6-2 |
| PLAYERS CHAMPIONSHIP 2 | Last 16 | lost to Ian White 6-3 |
| PLAYERS CHAMPIONSHIP 3 | Last 64 | lost to Dirk van Duijvenbode 6-4 |
| PLAYERS CHAMPIONSHIP 4 | Last 128 | lost to Bradley Brooks 6-4 |
| UK OPEN | Last 64 | lost to Dirk van Duijvenbode 10-9 |
| PLAYERS CHAMPIONSHIP 5 | Last 128 | lost to Andy Boulton 6-4 |
| PLAYERS CHAMPIONSHIP 6 | Last 64 | lost to Dirk van Duijvenbode 6-1 |
| PLAYERS CHAMPIONSHIP 7 | Last 64 | lost to Ritchie Edhouse 6-5 |
| PLAYERS CHAMPIONSHIP 8 | - |   |
| PLAYERS CHAMPIONSHIP 9 | - |   |
| PLAYERS CHAMPIONSHIP 10 | - |   |
| PLAYERS CHAMPIONSHIP 11 | - |   |
| PLAYERS CHAMPIONSHIP 12 | - |   |
| PREMIER LEAGUE | 8th |   |
| PLAYERS CHAMPIONSHIP 13 | Quarter Final | lost to Gerwyn Price 6-5 |
| PLAYERS CHAMPIONSHIP 14 | Semi Final | lost to Michael van Gerwen 7-2 |
| PLAYERS CHAMPIONSHIP 15 | Last 64 | lost to Ryan Searle 6-4 |
| PLAYERS CHAMPIONSHIP 16 | Last 64 | lost to William Borland 6-3 |
| PLAYERS CHAMPIONSHIP 17 | Last 128 | lost to Ross Smith 6-4 |
| PLAYERS CHAMPIONSHIP 18 | Last 64 | lost to Jonny Clayton 6-4 |
| PLAYERS CHAMPIONSHIP 19 | Quarter Final | lost to Ross Smith 6-1 |
| PLAYERS CHAMPIONSHIP 20 | - |   |
| WORLD MATCHPLAY | Last 16 | lost to Nathan Aspinall 11-9 |
| PLAYERS CHAMPIONSHIP 21 | - |   |
| PLAYERS CHAMPIONSHIP 22 | - |   |
| PLAYERS CHAMPIONSHIP 23 | - |   |
| HUNGARIAN DARTS TROPHY | - |   |
| WORLD CUP OF DARTS | - |   |
| NORDIC DARTS MASTERS | Quarter Final | lost to Dimitri Van den Bergh 10-8 |
| GIBRALTAR DARTS TROPHY | - |   |
| WORLD GRAND PRIX | Last 32 | lost to Ian White 2-1 |
| EUROPEAN CHAMPIONSHIP | - |   |
| PLAYERS CHAMPIONSHIP 24 | Last 32 | lost to Jose de Sousa 6-5 |
| PLAYERS CHAMPIONSHIP 25 | Last 128 | lost to Ross Smith 6-2 |
| PLAYERS CHAMPIONSHIP 26 | Last 64 | lost to Nathan Aspinall 6-3 |
| PLAYERS CHAMPIONSHIP 27 | Last 128 | lost to Max Hopp 6-4 |
| WORLD SERIES OF DARTS FINALS | Last 16 | lost to Niels Zonneveld 6-4 |
| PLAYERS CHAMPIONSHIP 28 | Last 128 | lost to Kim Huybrechts 6-1 |
| PLAYERS CHAMPIONSHIP 29 | Last 32 | lost to Krzysztof Ratajski 6-4 |
| PLAYERS CHAMPIONSHIP 30 | Last 32 | lost to Callan Rydz 6-2 |
| GRAND SLAM OF DARTS | Last 16 | lost to Michael van Gerwen 10-8 |
| PLAYERS CHAMPIONSHIP FINALS | Last 16 | lost to Michael van Gerwen 10-6 |
| | | |
| --- | --- | --- |
| WORLD CHAMPIONSHIP | Last 16 | lost to Nathan Aspinall 4-2 |
| THE MASTERS | Semi Final | lost to Peter Wright 11-7 |
| PLAYERS CHAMPIONSHIP 1 | Winner | beat Jeff Smith 8-4 |
| PLAYERS CHAMPIONSHIP 2 | Last 128 | lost to Steve Beaton 6-5 |
| PLAYERS CHAMPIONSHIP 3 | Last 64 | lost to Wesley Harms 6-5 |
| PLAYERS CHAMPIONSHIP 4 | Last 16 | lost to Michael van Gerwen 6-3 |
| PLAYERS CHAMPIONSHIP 5 | Last 32 | lost to Ryan Joyce 6-2 |
| PLAYERS CHAMPIONSHIP 6 | Last 32 | lost to Michael van Gerwen 6-4 |
| BELGIAN DARTS CHAMPIONSHIP | - |   |
| UK OPEN | Last 16 | lost to Jelle Klaasen 10-9 |
| PLAYERS CHAMPIONSHIP 7 | Last 32 | lost to Derk Telnekes 6-3 |
| PLAYERS CHAMPIONSHIP 8 | Last 128 | lost to Andy Hamilton 6-4 |
| PLAYERS CHAMPIONSHIP 9 (SS1) | Last 128 | lost to Matt Clark 6-2 |
| PLAYERS CHAMPIONSHIP 10 (SS2) | Semi Final | lost to Ryan Joyce 7-3 |
| PLAYERS CHAMPIONSHIP 11 (SS3) | Last 128 | lost to Ryan Murray 6-5 |
| PLAYERS CHAMPIONSHIP 12 (SS4) | Last 64 | lost to Jason Lowe 6-3 |
| PLAYERS CHAMPIONSHIP 13 (SS5) | Last 64 | lost to Matthew Edgar 6-4 |
| WORLD MATCHPLAY | Runner Up | lost to Dimitri Van den Bergh 18-10 |
| PLAYERS CHAMPIONSHIP 14 (AS1) | - |   |
| PLAYERS CHAMPIONSHIP 15 (AS2) | - |   |
| PLAYERS CHAMPIONSHIP 16 (AS3) | - |   |
| PLAYERS CHAMPIONSHIP 17 (AS4) | - |   |
| PLAYERS CHAMPIONSHIP 18 (AS5) | - |   |
| WORLD SERIES OF DARTS FINALS | - |   |
| GERMAN DARTS CHAMPIONSHIP | - |   |
| WORLD GRAND PRIX | Quarter Final | lost to Dirk van Duijvenbode 3-1 |
| PREMIER LEAGUE | Semi Final | lost to Glen Durrant 10-9 |
| EUROPEAN DARTS GRAND PRIX | - |   |
| INTERNATIONAL DARTS OPEN | - |   |
| EUROPEAN CHAMPIONSHIP | - |   |
| WORLD CUP OF DARTS | - |   |
| PLAYERS CHAMPIONSHIP 19 (WS1) | Last 128 | lost to Andy Hamilton 6-5 |
| PLAYERS CHAMPIONSHIP 20 (WS2) | - |   |
| PLAYERS CHAMPIONSHIP 21 (WS3) | - |   |
| PLAYERS CHAMPIONSHIP 22 (WS4) | - |   |
| PLAYERS CHAMPIONSHIP 23 (WS5) | - |   |
| GRAND SLAM OF DARTS | Last 16 | lost to Michael van Gerwen 10-2 |
| PLAYERS CHAMPIONSHIP FINALS | Last 32 | lost to Michael Smith 6-4 |
| | | |
| --- | --- | --- |
| WORLD CHAMPIONSHIP | Semi Final | lost to Michael van Gerwen 6-1 |
| THE MASTERS | - |   |
| PLAYERS CHAMPIONSHIP 1 | - |   |
| PLAYERS CHAMPIONSHIP 2 | - |   |
| PLAYERS CHAMPIONSHIP 3 | - |   |
| PLAYERS CHAMPIONSHIP 4 | - |   |
| PLAYERS CHAMPIONSHIP 5 | - |   |
| PLAYERS CHAMPIONSHIP 6 | - |   |
| UK OPEN | Last 64 | lost to Steve Beaton 10-8 |
| PLAYERS CHAMPIONSHIP 7 | Last 64 | lost to Vincent van der Voort 6-5 |
| PLAYERS CHAMPIONSHIP 8 | Last 128 | lost to Conan Whitehead 6-5 |
| EUROPEAN DARTS OPEN | - |   |
| GERMAN DARTS CHAMPIONSHIP | - |   |
| PLAYERS CHAMPIONSHIP 9 | - |   |
| PLAYERS CHAMPIONSHIP 10 | - |   |
| PLAYERS CHAMPIONSHIP 11 | - |   |
| PLAYERS CHAMPIONSHIP 12 | - |   |
| GERMAN DARTS GRAND PRIX | - |   |
| GERMAN DARTS OPEN | - |   |
| PLAYERS CHAMPIONSHIP 13 | Last 128 | lost to Geert Nentjes 6-1 |
| PLAYERS CHAMPIONSHIP 14 | Last 32 | lost to Peter Wright 6-0 |
| AUSTRIAN DARTS OPEN | - |   |
| EUROPEAN DARTS GRAND PRIX | - |   |
| PLAYERS CHAMPIONSHIP 15 | - |   |
| PLAYERS CHAMPIONSHIP 16 | - |   |
| PREMIER LEAGUE | - |   |
| DUTCH DARTS MASTERS | - |   |
| WORLD CUP OF DARTS | Winner (Peter Wright) | beat Republic of Ireland 3-1 |
| DANISH DARTS OPEN | - |   |
| PLAYERS CHAMPIONSHIP 17 | - |   |
| PLAYERS CHAMPIONSHIP 18 | - |   |
| CZECH DARTS OPEN | - |   |
| U.S. DARTS MASTERS | Quarter Final | lost to Gerwyn Price 8-6 |
| GERMAN DARTS MASTERS | Last 16 | lost to Nico Kurz 6-4 |
| PLAYERS CHAMPIONSHIP 19 | Semi Final | lost to Peter Wright 7-3 |
| PLAYERS CHAMPIONSHIP 20 | Last 64 | lost to Christian Kist 6-4 |
| WORLD MATCHPLAY | Last 16 | lost to Mervyn King 11-8 |
| PLAYERS CHAMPIONSHIP 21 | - |   |
| PLAYERS CHAMPIONSHIP 22 | - |   |
| BRISBANE DARTS MASTERS | Quarter Final | lost to Damon Heta 8-6 |
| MELBOURNE DARTS MASTERS | Quarter Final | lost to Michael van Gerwen 8-6 |
| NEW ZEALAND DARTS MASTERS | Quarter Final | lost to Michael van Gerwen 8-5 |
| AUSTRIAN DARTS CHAMPIONSHIP | - |   |
| EUROPEAN DARTS MATCHPLAY | - |   |
| PLAYERS CHAMPIONSHIP 23 | Last 64 | lost to Peter Wright 6-3 |
| PLAYERS CHAMPIONSHIP 24 | Last 128 | lost to Ritchie Edhouse 6-5 |
| INTERNATIONAL DARTS OPEN | - |   |
| PLAYERS CHAMPIONSHIP 25 | Last 128 | lost to Peter Wright 6-5 |
| PLAYERS CHAMPIONSHIP 26 | Quarter Final | lost to Steve West 6-3 |
| GIBRALTAR DARTS TROPHY | - |   |
| PLAYERS CHAMPIONSHIP 27 | Last 128 | lost to Nathan Aspinall 6-3 |
| PLAYERS CHAMPIONSHIP 28 | Last 64 | lost to David Evans 6-3 |
| WORLD GRAND PRIX | Last 16 | lost to Chris Dobey 3-1 |
| PLAYERS CHAMPIONSHIP 29 | - |   |
| PLAYERS CHAMPIONSHIP 30 | - |   |
| CHAMPIONS LEAGUE OF DARTS | Group Stage (4th) |   |
| EUROPEAN CHAMPIONSHIP | - |   |
| WORLD SERIES OF DARTS FINALS | Last 16 | lost to Danny Noppert 6-1 |
| GRAND SLAM OF DARTS | Quarter Final | lost to Gerwyn Price 16-9 |
| PLAYERS CHAMPIONSHIP FINALS | - |   |
| | | |
| --- | --- | --- |
| WORLD CHAMPIONSHIP | Quarter Final | lost to Phil Taylor 5-3 |
| THE MASTERS | Semi Final | lost to Michael van Gerwen 11-5 |
| UK OPEN QUALIFIER 1 | - |   |
| UK OPEN QUALIFIER 2 | - |   |
| UK OPEN QUALIFIER 3 | - |   |
| UK OPEN QUALIFIER 4 | Winner | beat Jeffrey de Zwaan 6-3 |
| UK OPEN QUALIFIER 5 | Last 128 | lost to Adam Hunt 6-4 |
| UK OPEN QUALIFIER 6 | Last 128 | lost to Danny Noppert 6-3 |
| PLAYERS CHAMPIONSHIP 1 | Last 32 | lost to Benito van de Pas 6-5 |
| PLAYERS CHAMPIONSHIP 2 | Quarter Final | lost to Corey Cadby 6-4 |
| UK OPEN | Winner | beat Corey Cadby 11-7 |
| PLAYERS CHAMPIONSHIP 3 | Winner | beat Peter Wright 6-0 |
| PLAYERS CHAMPIONSHIP 4 | Winner | beat Jeffrey de Zwaan 6-2 |
| PLAYERS CHAMPIONSHIP 5 | Quarter Final | lost to Michael van Gerwen 6-1 |
| PLAYERS CHAMPIONSHIP 6 | Last 64 | lost to Ricky Evans 6-4 |
| EUROPEAN DARTS OPEN | - |   |
| GERMAN DARTS GRAND PRIX | - |   |
| PLAYERS CHAMPIONSHIP 7 | Last 64 | lost to Jamie Lewis 6-4 |
| PLAYERS CHAMPIONSHIP 8 | Last 32 | lost to Robert Thornton 6-5 |
| GERMAN DARTS OPEN | - |   |
| AUSTRIAN DARTS OPEN | - |   |
| PLAYERS CHAMPIONSHIP 9 | Quarter Final | lost to Scott Taylor 6-4 |
| PLAYERS CHAMPIONSHIP 10 | Last 32 | lost to James Wilson 6-5 |
| EUROPEAN DARTS GRAND PRIX | - |   |
| DUTCH DARTS MASTERS | - |   |
| PREMIER LEAGUE | Semi Final | lost to Michael Smith 10-6 |
| PLAYERS CHAMPIONSHIP 11 | Winner | beat Gabriel Clemens 6-5 |
| PLAYERS CHAMPIONSHIP 12 | Last 16 | lost to Ricky Evans 6-5 |
| GERMAN DARTS MASTERS | Semi Final | lost to Dimitri Van den Bergh 8-7 |
| WORLD CUP OF DARTS | Runner Up (Peter Wright) | lost to Netherlands 3-1 |
| GIBRALTAR DARTS TROPHY | - |   |
| PLAYERS CHAMPIONSHIP 13 | - |   |
| PLAYERS CHAMPIONSHIP 14 | - |   |
| DANISH DARTS OPEN | - |   |
| PLAYERS CHAMPIONSHIP 15 | - |   |
| PLAYERS CHAMPIONSHIP 16 | - |   |
| EUROPEAN DARTS MATCHPLAY | - |   |
| U.S. DARTS MASTERS | Winner | beat Rob Cross 8-4 |
| SHANGHAI DARTS MASTERS | Last 16 | lost to Royden Lam 6-5 |
| WORLD MATCHPLAY | Winner | beat Mensur Suljovic 21-19 |
| AUCKLAND DARTS MASTERS | Quarter Final | lost to Michael van Gerwen 10-4 |
| MELBOURNE DARTS MASTERS | Semi Final | lost to Michael Smith 11-5 |
| BRISBANE DARTS MASTERS | Quarter Final | lost to Raymond van Barneveld 10-8 |
| GERMAN DARTS CHAMPIONSHIP | - |   |
| PLAYERS CHAMPIONSHIP 17 | Last 16 | lost to Michael Smith 6-5 |
| PLAYERS CHAMPIONSHIP 18 | Last 32 | lost to Ryan Searle 6-5 |
| DUTCH DARTS CHAMPIONSHIP | - |   |
| INTERNATIONAL DARTS OPEN | - |   |
| CHAMPIONS LEAGUE OF DARTS | Winner | beat Peter Wright 11-4 |
| PLAYERS CHAMPIONSHIP 19 | Last 16 | lost to Michael van Gerwen 6-5 |
| PLAYERS CHAMPIONSHIP 20 | - |   |
| WORLD GRAND PRIX | Quarter Final | lost to Daryl Gurney 3-0 |
| EUROPEAN DARTS TROPHY | - |   |
| PLAYERS CHAMPIONSHIP 21 | Last 32 | lost to Ricky Evans 6-5 |
| PLAYERS CHAMPIONSHIP 22 | - |   |
| EUROPEAN CHAMPIONSHIP | - |   |
| WORLD SERIES OF DARTS FINALS | Last 16 | lost to Dave Chisnall 6-5 |
| GRAND SLAM OF DARTS | Runner Up | lost to Gerwyn Price 16-13 |
| PLAYERS CHAMPIONSHIP FINALS | Semi Final | lost to Michael van Gerwen 11-9 |
| | | |
| --- | --- | --- |
| WORLD CHAMPIONSHIP | Runner Up | lost to Michael van Gerwen 7-3 |
| THE MASTERS | Runner Up | lost to Michael van Gerwen 11-7 |
| UK OPEN QUALIFIER 1 | Last 32 | lost to John Henderson 6-2 |
| UK OPEN QUALIFIER 2 | Runner Up | lost to Simon Whitlock 6-4 |
| UK OPEN QUALIFIER 3 | - |   |
| UK OPEN QUALIFIER 4 | Runner Up | lost to Michael vn Gerwen 6-3 |
| UK OPEN QUALIFIER 5 | Last 64 | lost to Ronny Huybrechts 6-5 |
| UK OPEN QUALIFIER 6 | Last 32 | lost to James Wade 6-5 |
| PLAYERS CHAMPIONSHIP 1 | Last 16 | lost to Peter Jacques 6-3 |
| PLAYERS CHAMPIONSHIP 2 | Winner | beat Peter Wright 6-1 |
| UK OPEN | Last 64 | lost to Paul Hogan 10-9 |
| PLAYERS CHAMPIONSHIP 3 | Last 32 | lost to Daryl Gurney 6-4 |
| PLAYERS CHAMPIONSHIP 4 | Quarter Final | lost to Simon Whitlock 6-5 |
| GERMAN DARTS CHAMPIONSHIP | - |   |
| PLAYERS CHAMPIONSHIP 5 | Last 64 | lost to Peter Hudson 6-3 |
| PLAYERS CHAMPIONSHIP 6 | Last 16 | lost to Mensur Suljovic 6-4 |
| PLAYERS CHAMPIONSHIP 7 | - |   |
| PLAYERS CHAMPIONSHIP 8 | - |   |
| GERMAN DARTS MASTERS (ET) | - |   |
| GERMAN DARTS OPEN | - |   |
| PLAYERS CHAMPIONSHIP 9 | Last 16 | lost to Michael van Gerwen 6-4 |
| PLAYERS CHAMPIONSHIP 10 | Winner | beat Peter Wright 6-3 |
| EUROPEAN DARTS GRAND PRIX | - |   |
| GIBRALTAR DARTS TROPHY | - |   |
| PREMIER LEAGUE | Semi Final | lost to Michael van Gerwen 10-7 |
| PLAYERS CHAMPIONSHIP 11 | - |   |
| PLAYERS CHAMPIONSHIP 12 | - |   |
| DUBAI DARTS MASTERS | Winner | beat Michael van Gerwen 11-7 |
| WORLD CUP OF DARTS | Last 32 (Peter Wright) | lost to Singapore 5-2 |
| EUROPEAN DARTS MATCHPLAY | - |   |
| PLAYERS CHAMPIONSHIP 13 | Runner Up | lost to Steve Beaton 6-3 |
| PLAYERS CHAMPIONSHIP 14 | Winner | beat Ian White 6-1 |
| AUSTRIAN DARTS OPEN | - |   |
| EUROPEAN DARTS OPEN | - |   |
| SHANGHAI DARTS MASTERS | Quarter Final | lost to Raymond van Barneveld 8-1 |
| PLAYERS CHAMPIONSHIP 15 | - |   |
| PLAYERS CHAMPIONSHIP 16 | - |   |
| U.S. DARTS MASTERS | Semi Final | lost to Daryl Gurney 8-4 |
| WORLD MATCHPLAY | Last 16 | lost to Daryl Gurney 11-9 |
| PLAYERS CHAMPIONSHIP 17 | - |   |
| PLAYERS CHAMPIONSHIP 18 | - |   |
| AUCKLAND DARTS MASTERS | Last 16 | lost to Kyle Anderson 6-4 |
| MELBOURNE DARTS MASTERS | Quarter Final | lost to Daryl Gurney 10-8 |
| PERTH DARTS MASTERS | Winner | beat Raymond van Barneveld 11-7 |
| DUTCH DARTS MASTERS | - |   |
| GERMAN DARTS GRAND PRIX | - |   |
| CHAMPIONS LEAGUE OF DARTS | Runner Up | lost to Mensur Suljovic 11-9 |
| INTERNATIONAL DARTS OPEN | - |   |
| PLAYERS CHAMPIONSHIP 19 | - |   |
| PLAYERS CHAMPIONSHIP 20 | - |   |
| WORLD GRAND PRIX | - |   |
| PLAYERS CHAMPIONSHIP 21 | - |   |
| PLAYERS CHAMPIONSHIP 22 | - |   |
| EUROPEAN DARTS TROPHY | - |   |
| GERMAN DARTS MASTERS (WS) | Quarter Final | lost to Raymond van Barneveld 10-8 |
| EUROPEAN CHAMPIONSHIP | - |   |
| WORLD SERIES OF DARTS FINALS | Runner Up | lost to Michael van Gerwen 11-7 |
| GRAND SLAM OF DARTS | Semi Final | lost to Peter Wright 16-15 |
| PLAYERS CHAMPIONSHIP FINALS | Last 64 | lost to Mickey Mansell 6-3 |