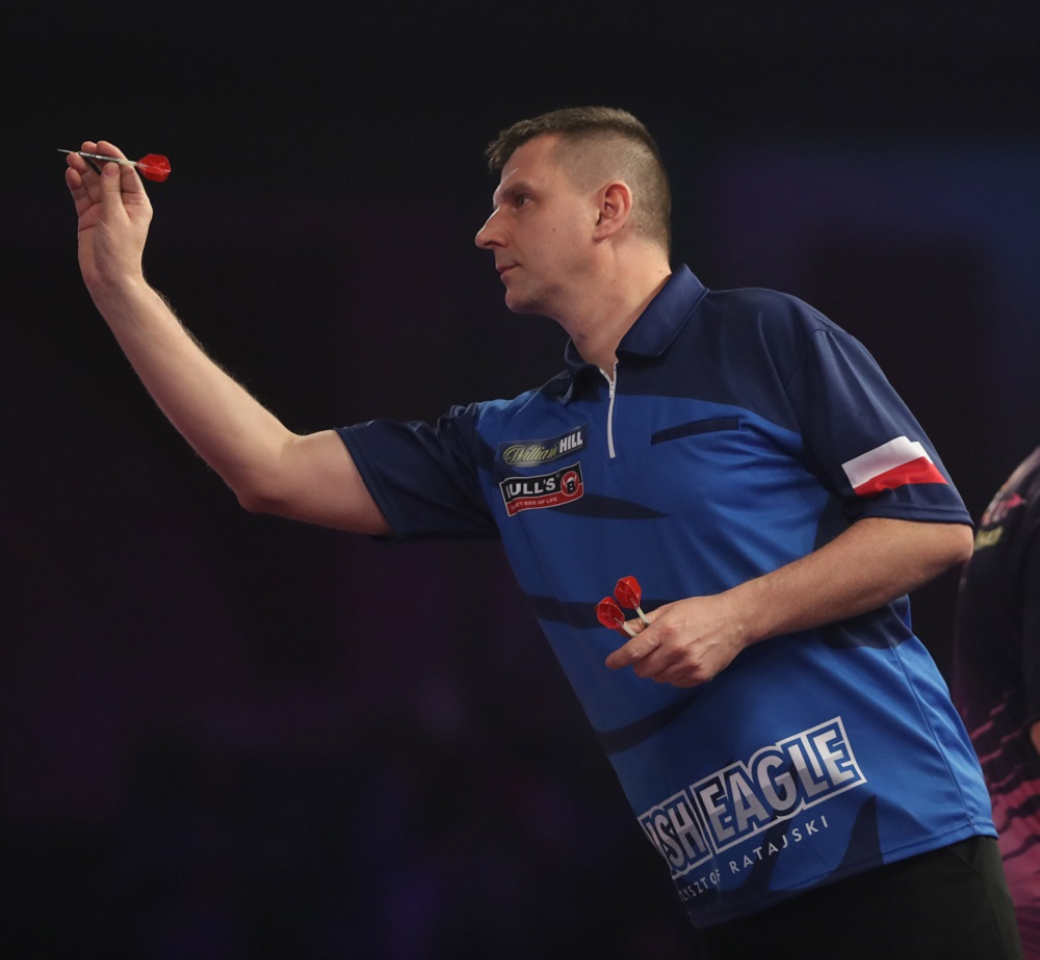 Krzysztof Ratajski
The Polish Eagle
PDC World Ranking

37

Televised titles

0

Non-Televised PDC Titles

4

Televised Nine-Dart Finishes

0
Date of Birth

January 01 1977

Darts Used

20g

Bulls

Home Town

Warszawa
KRZYSZTOF became the first player from Poland to enjoy success on the PDC circuit with two ProTour wins in 2018.
The winner of the BDO World Masters in 2017, Ratajski's success on the PDC European Tour helped secure him spots in the European Championship and William Hill World Darts Championship.
Despite missing out on a PDC Tour Card at the 2018 Qualifying School, Ratajski enjoyed success with victory in UK Open Qualifier Six.
The Polish star enjoyed an incredible weekend in October 2018, winning back-to-back Players Championship events.
Ratajski landed the fourth PDC title of his career at Players Championship 17 in June 2019, defeating Nathan Aspinall 8-3 in the final.
Player Stats
Select below to see result & roll of honour information.
| | | |
| --- | --- | --- |
|   | Most Recent | Best Performance |
| 2019 WORLD CHAMPIONSHIP | Last 96 | Last 64 - 2018 |
| 2019 UK OPEN | Last 16 | Last 16 - 2018, 2019 |
| 2018 WORLD MATCHPLAY | - | - |
| 2018 WORLD GRAND PRIX | - | - |
| 2018 EUROPEAN CHAMPIONSHIP | - | Last 32 - 2017 |
| 2018 GRAND SLAM OF DARTS | Last 16 | Last 16 - 2018 |
| 2018 PLAYERS CHAMPIONSHIP FINALS | Last 16 | Last 16 - 2018 |
| | |
| --- | --- |
| Players Championship | 2018 (x2) |
| UK Open Qualifier | 2018 |
| PDC Challenge Tour | 2018 |
 
Most Recent
Best Performance
2019 THE MASTERS
-
-
2019 PREMIER LEAGUE
-
-
2018 WORLD CUP OF DARTS

 

Last 32 (Tytus Kanik)
Last 16 - 2013
2018 U.S. MASTERS
-
-
2018 GERMAN MASTERS
-
-
2018 SHANGHAI MASTERS
-
-
2018 BRISBANE MASTERS
-
-
2018 MELBOURNE MASTERS
-
-
2018 AUCKLAND MASTERS
-
-
2018 CHAMPIONS LEAGUE OF DARTS
-
-
2018 WORLD SERIES OF DARTS FINALS
-
-
| | | |
| --- | --- | --- |
| TOURNAMENT WIN | Players Championship 22 (October 2018) | beat Adrian Lewis 6-4 |
| FINAL | Players Championship 22 (October 2018) | beat Adrian Lewis 6-4 |
| SEMI FINAL | Players Championship 22 (October 2018) | beat Kyle Anderson 6-4 |
| QUARTER FINAL | Players Championship 14 (May 2019) | lost to Arron Monk 6-4 |
| | | |
| --- | --- | --- |
| WORLD CHAMPIONSHIP | - |   |
| THE MASTERS | - |   |
| UK OPEN QUALIFIER 1 | - |   |
| UK OPEN QUALIFIER 2 | - |   |
| UK OPEN QUALIFIER 3 | - |   |
| UK OPEN QUALIFIER 4 | - |   |
| UK OPEN QUALIFIER 5 | - |   |
| UK OPEN QUALIFIER 6 | - |   |
| PLAYERS CHAMPIONSHIP 1 | - |   |
| PLAYERS CHAMPIONSHIP 2 | - |   |
| UK OPEN | - |   |
| PLAYERS CHAMPIONSHIP 3 | - |   |
| PLAYERS CHAMPIONSHIP 4 | - |   |
| GERMAN DARTS CHAMPIONSHIP | Last 32 | lost to Gerwyn Price 6-1 |
| PLAYERS CHAMPIONSHIP 5 | - |   |
| PLAYERS CHAMPIONSHIP 6 | - |   |
| PLAYERS CHAMPIONSHIP 7 | - |   |
| PLAYERS CHAMPIONSHIP 8 | - |   |
| GERMAN DARTS MASTERS (ET) | Last 48 | lost to Rowby-John Rodriguez 6-1 |
| GERMAN DARTS OPEN | Last 32 | lost to Peter Wright 6-1 |
| PLAYERS CHAMPIONSHIP 9 | - |   |
| PLAYERS CHAMPIONSHIP 10 | - |   |
| EUROPEAN DARTS GRAND PRIX | Last 32 | lost to Mensur Suljovic 6-4 |
| GIBRALTAR DARTS TROPHY | Last 32 | lost to Peter Wright 6-3 |
| PREMIER LEAGUE | - |   |
| PLAYERS CHAMPIONSHIP 11 | - |   |
| PLAYERS CHAMPIONSHIP 12 | - |   |
| DUBAI DARTS MASTERS | - |   |
| WORLD CUP OF DARTS | Last 32 (Tytus Kanik) |   |
| EUROPEAN DARTS MATCHPLAY | Last 48 | lost to Justin Pipe 6-4 |
| PLAYERS CHAMPIONSHIP 13 | - |   |
| PLAYERS CHAMPIONSHIP 14 | - |   |
| AUSTRIAN DARTS OPEN | Last 48 | lost to Kim Viljanen 6-5 |
| EUROPEAN DARTS OPEN | Last 32 | lost to Joe Cullen 6-2 |
| SHANGHAI DARTS MASTERS | - |   |
| PLAYERS CHAMPIONSHIP 15 | - |   |
| PLAYERS CHAMPIONSHIP 16 | - |   |
| U.S. DARTS MASTERS | - |   |
| WORLD MATCHPLAY | - |   |
| PLAYERS CHAMPIONSHIP 17 | - |   |
| PLAYERS CHAMPIONSHIP 18 | - |   |
| AUCKLAND DARTS MASTERS | - |   |
| MELBOURNE DARTS MASTERS | - |   |
| PERTH DARTS MASTERS | - |   |
| DUTCH DARTS MASTERS | Quarter Final | lost to Peter Wright 6-3 |
| GERMAN DARTS GRAND PRIX | Last 32 | lost to Gerwyn Price 6-3 |
| CHAMPIONS LEAGUE OF DARTS | - |   |
| INTERNATIONAL DARTS OPEN | - |   |
| PLAYERS CHAMPIONSHIP 19 | - |   |
| PLAYERS CHAMPIONSHIP 20 | - |   |
| WORLD GRAND PRIX | - |   |
| PLAYERS CHAMPIONSHIP 21 | - |   |
| PLAYERS CHAMPIONSHIP 22 | - |   |
| EUROPEAN DARTS TROPHY | Last 32 | lost to Simon Whitlock 6-4 |
| GERMAN DARTS MASTERS (WS) | - |   |
| EUROPEAN CHAMPIONSHIP | Last 32 | lost to Peter Wright 6-3 |
| WORLD SERIES OF DARTS FINALS | - |   |
| GRAND SLAM OF DARTS | - |   |
| PLAYERS CHAMPIONSHIP FINALS | - |   |
| | | |
| --- | --- | --- |
| WORLD CHAMPIONSHIP | Last 64 | lost to James Wilson 3-1 |
| THE MASTERS | - |   |
| UK OPEN QUALIFIER 1 | Last 64 | lost to Jose Justicia 6-5 |
| UK OPEN QUALIFIER 2 | Quarter Final | lost to Ian White 6-3 |
| UK OPEN QUALIFIER 3 | Last 128 | lost to Justin Pipe 6-2 |
| UK OPEN QUALIFIER 4 | Quarter Final | lost to Rob Cross 6-4 |
| UK OPEN QUALIFIER 5 | Last 32 | lost to Simon Whitlock 6-2 |
| UK OPEN QUALIFIER 6 | Winner | beat Daryl Gurney 6-4 |
| PLAYERS CHAMPIONSHIP 1 | - |   |
| PLAYERS CHAMPIONSHIP 2 | - |   |
| UK OPEN | Last 16 | lost to Rob Cross 10-3 |
| PLAYERS CHAMPIONSHIP 3 | - |   |
| PLAYERS CHAMPIONSHIP 4 | - |   |
| PLAYERS CHAMPIONSHIP 5 | - |   |
| PLAYERS CHAMPIONSHIP 6 | - |   |
| EUROPEAN DARTS OPEN | - |   |
| GERMAN DARTS GRAND PRIX | Last 48 | lost to Danny Noppert 6-3 |
| PLAYERS CHAMPIONSHIP 7 | - |   |
| PLAYERS CHAMPIONSHIP 8 | - |   |
| GERMAN DARTS OPEN | - |   |
| AUSTRIAN DARTS OPEN | - |   |
| PLAYERS CHAMPIONSHIP 9 | - |   |
| PLAYERS CHAMPIONSHIP 10 | - |   |
| EUROPEAN DARTS GRAND PRIX | Last 48 | lost to Danny Noppert 6-3 |
| DUTCH DARTS MASTERS | Last 16 | lost to Stephen Bunting 6-3 |
| PREMIER LEAGUE | - |   |
| PLAYERS CHAMPIONSHIP 11 | - |   |
| PLAYERS CHAMPIONSHIP 12 | - |   |
| GERMAN DARTS MASTERS | - |   |
| WORLD CUP OF DARTS | Last 32 (Tytus Kanik) |   |
| GIBRALTAR DARTS TROPHY | Last 48 | lost to Michael Barnard 6-3 |
| PLAYERS CHAMPIONSHIP 13 | - |   |
| PLAYERS CHAMPIONSHIP 14 | - |   |
| DANISH DARTS OPEN | Last 48 | lost to Ryan Joyce 6-2 |
| PLAYERS CHAMPIONSHIP 15 | - |   |
| PLAYERS CHAMPIONSHIP 16 | - |   |
| EUROPEAN DARTS MATCHPLAY | - |   |
| U.S. DARTS MASTERS | - |   |
| SHANGHAI DARTS MASTERS | - |   |
| WORLD MATCHPLAY | - |   |
| AUCKLAND DARTS MASTERS | - |   |
| MELBOURNE DARTS MASTERS | - |   |
| BRISBANE DARTS MASTERS | - |   |
| GERMAN DARTS CHAMPIONSHIP | Last 32 | lost to Michael Smith 6-1 |
| PLAYERS CHAMPIONSHIP 17 | - |   |
| PLAYERS CHAMPIONSHIP 18 | - |   |
| DUTCH DARTS CHAMPIONSHIP | - |   |
| INTERNATIONAL DARTS OPEN | - |   |
| CHAMPIONS LEAGUE OF DARTS | - |   |
| PLAYERS CHAMPIONSHIP 19 | Last 128 | lost to Ross Smith 6-3 |
| PLAYERS CHAMPIONSHIP 20 | Last 128 | lost to Rob Cross 6-4 |
| WORLD GRAND PRIX | - |   |
| EUROPEAN DARTS TROPHY | Last 32 | lost to Max Hopp 6-5 |
| PLAYERS CHAMPIONSHIP 21 | Winner | beat Chris Dobey 6-2 |
| PLAYERS CHAMPIONSHIP 22 | Winner | beat Adrian Lewis 6-4 |
| EUROPEAN CHAMPIONSHIP | - |   |
| WORLD SERIES OF DARTS FINALS | - |   |
| GRAND SLAM OF DARTS | Last 16 | lost to Jonny Clayton 10-3 |
| PLAYERS CHAMPIONSHIP FINALS | Last 16 | lost to Danny Noppert 10-4 |
| | | |
| --- | --- | --- |
| WORLD CHAMPIONSHIP | Last 96 | lost to Seigo Asada 3-2 |
| THE MASTERS | - |   |
| PLAYERS CHAMPIONSHIP 1 | Last 64 | lost to Mick Todd 6-2 |
| PLAYERS CHAMPIONSHIP 2 | Last 16 | lost to James Wade 6-3 |
| PLAYERS CHAMPIONSHIP 3 | Last 64 | lost to Andy Boulton 6-5 |
| PLAYERS CHAMPIONSHIP 4 | Last 128 | lost to Robert Thornton 6-2 |
| PLAYERS CHAMPIONSHIP 5 | Last 32 | lost to James Wade 6-4 |
| PLAYERS CHAMPIONSHIP 6 | Last 16 | lost to Ricky Evans 6-1 |
| UK OPEN | Last 16 | lost to Gerwyn Price 10-3 |
| PLAYERS CHAMPIONSHIP 7 | Last 16 | lost to Ryan Searle 6-4 |
| PLAYERS CHAMPIONSHIP 8 | Last 64 | lost to Dimitri Van den Bergh 6-5 |
| EUROPEAN DARTS OPEN | Last 16 | lost to Gerwyn Price 6-4 |
| GERMAN DARTS CHAMPIONSHIP | - |   |
| PLAYERS CHAMPIONSHIP 9 | Last 128 | lost to Glen Durrant 6-4 |
| PLAYERS CHAMPIONSHIP 10 | Last 64 | lost to Mike van Duivenbode 6-3 |
| PLAYERS CHAMPIONSHIP 11 | Last 16 | lost to James Wade 6-3 |
| PLAYERS CHAMPIONSHIP 12 | Last 16 | lost to Jonny Clayton 6-2 |
| GERMAN DARTS GRAND PRIX | Last 32 | lost to Michael van Gerwen 6-4 |
| GERMAN DARTS OPEN | - |   |
| PLAYERS CHAMPIONSHIP 13 | Last 64 | lost to Arron Monk 6-5 |
| PLAYERS CHAMPIONSHIP 14 | Quarter Final | lost to Arron Monk 6-4 |
| AUSTRIAN DARTS OPEN | - |   |
| EUROPEAN DARTS GRAND PRIX | Last 32 | lost to Michael Smith 6-4 |
| PLAYERS CHAMPIONSHIP 15 | Last 16 | lost to Ian White 6-3 |
| PLAYERS CHAMPIONSHIP 16 | Last 16 | lost to Robert Thornton 6-3 |
| PREMIER LEAGUE | - |   |
| DUTCH DARTS MASTERS | Last 32 | lost to Gerwyn Price 6-1 |