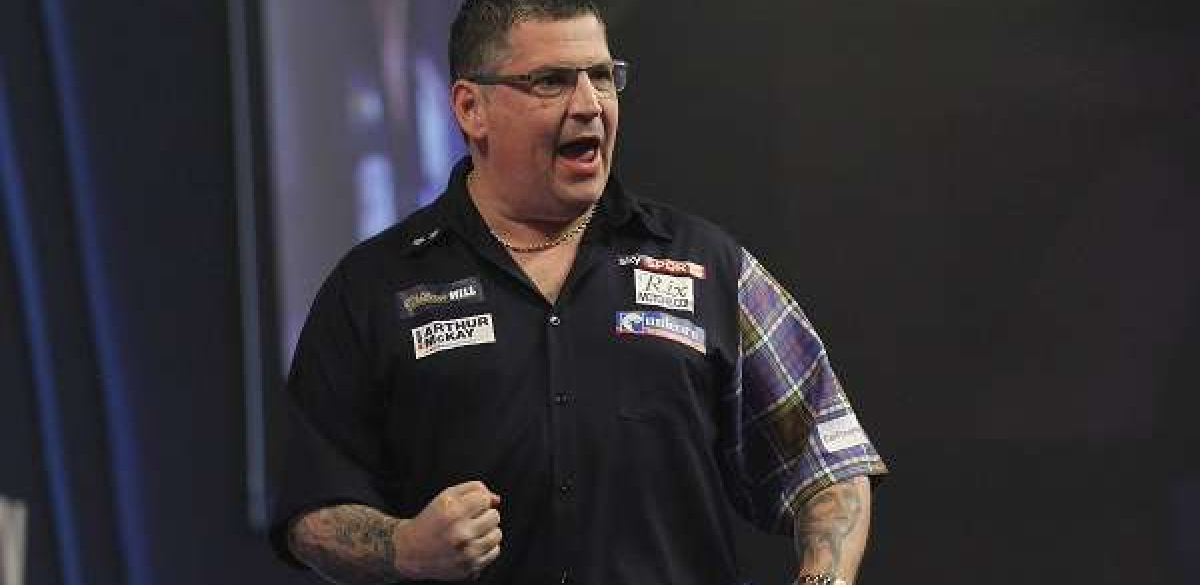 AWESOME ANDERSON & BRILLIANT BARNEY SEAL QUARTER-FINAL SPOTS

GARY ANDERSON moved into the quarter-finals of the William Hill World Darts Championship with a sensational performance to beat Benito van de Pas in a thrilling contest at Alexandra Palace, while Raymond van Barneveld edged past Adrian Lewis on Wednesday to book his place in the last eight.

Anderson and Van Barneveld won the first third round ties in the sport's biggest tournament after Peter Wright, James Wade, Jelle Klaasen and Kim Huybrechts had all enjoyed comfortable second round victories earlier in the day.

Reigning champion Anderson averaged 107.68 - the highest in this year's tournament so far - as he defeated an impressive Van de Pas by four sets to two, hitting 11 180s in the process.

The Scottish ace, who has held the Sid Waddell Trophy for the last two years, won the first three sets without missing a dart at a double in a stunning display of finishing. 

Anderson missed a dart at double top to win 4-0 and Van de Pas, who hit four ton-plus finishes, fought back and won the following two sets before the World Champion completed the job.

"This is what the World Championship is all about," said number two seed Anderson, who will face either Dave Chisnall or Jelle Klaasen in the last eight on Friday.

"I felt really good at three-nil up but it got a bit nervy when Benito started coming back. Every player in the tournament can play good darts so I expected it.

"The 180s are back for me and the doubles went well. I'll keep my head though because there is a long way to go but, so far, so good."

Van Barneveld edged out Adrian Lewis in a seven set battle to reach the quarter-finals for the third consecutive year.

The five-time World Champion overturned a 3-2 deficit to progress, gaining some revenge for last year's semi-final defeat to Lewis, whose six 180s proved to be in vain on this occasion.

"I had to keep digging," said Van Barneveld, who will play Phil Taylor or Kim Huybrechts next. "I kept fighting and I'm proud of myself. It's all about belief and I'm so happy.

"I can't wait for the next match against Phil or Kim. I can't wait for the crowd, for myself and for everyone."

Wright produced an imperious display to defeat Welshman Jamie Lewis in straight sets, dropping just one leg in the final round two match.

The number three seed missed just four darts at doubles in 16 attempts, averaged 103.53 and took out spectacular finishes of 100, 130 and 144 in a stunning victory to ease into the last 16.

"I've missed this place over Christmas," said Wright after following up his first round win against Jerry Hendriks with another whitewash triumph. "I've been practising a lot since my last game and I think it paid off.

"I play Ian White next and it should be a fantastic game. I never look past the next one so I'm hoping to perform even better in that."

Number six seed Wade, meanwhile, saw off seasoned competitor Steve Beaton in five sets as he booked his place in the last 16 with a competent display.

The three-time World Championship semi-finalist averaged just under 100 as he raced three sets clear before eventually closing out a 4-1 success.
"I'm so pleased to win," said Wade, who will take on Michael Smith in the third round on Thursday. "I really wanted to get it done four-nil because Steve is a natural player and I started to get a little nervous when he started to play like he can.

"I'm excited for the next round and the rest of the tournament. I'm not playing quite well enough yet but I'm there or thereabouts."

2016 World Championship semi-finalist Klaasen twice threatened to produce the first nine-darter of this year's tournament in an equally convincing win against Brendan Dolan, whose finishes of 142, 135 and 101 proved to be in vain. 

Number ten seed Klaasen started two legs with back-to-back 180s, including the final one, which he eventually won with a 76 finish to set up a last 16 showdown with Dave Chisnall.

"I'm just pleased to get through that one," said Klaasen, who hit five maximums on his way to a straight sets victory.

"The game against Dave Chisnall will be more at my pace and I think that will mean I can play better than this but I'm very happy with the game I played and the job I did."

Belgian ace Huybrechts breezed past Max Hopp in straight sets as the German youngster was unable to follow up his impressive first round win against Vincent van der Voort.

Former Players Championship Finals and World Cup of Darts runner-up Huybrechts hit five 180s and a clinical 117 checkout in a comfortable victory, which set up a tasty last 16 tie with Phil Taylor.

"It wasn't the best game but I'm happy to be through to the next round," said Huybrechts, who has not reached the quarter-finals at Alexandra Palace since his debut in 2012.

"I'm going to have to play much better against Phil Taylor if I want to get to the last eight but I'll be ready and I'm going to love every minute of it."
 
Thursday sees the third round conclude with the remaining six matches across two sessions, beginning with Mark Webster's meeting with Daryl Gurney before Chisnall takes on Klaasen. Wade then meets Smith in the final match of the afternoon's action.

Wright's clash with White kicks off the evening session, before Taylor and Michael van Gerwen return to the Alexandra Palace stage, taking on Huybrechts and Darren Webster respectively.

WATCH LIVE 
The William Hill World Darts Championship will be broadcast live on the Sky Sports Darts channel.

Worldwide coverage is also available through a record number of live broadcasters, and online for PDCTV-HD Subscribers (outside of UK, Ireland & Netherlands) through www.LIVEPDC.TV .

TICKETS 
A very limited number of tickets are still available for the William Hill World Darts Championship and can be ordered online by CLICKING HERE  or for the Hospitality Area via THIS LINK .

For full ticket information, click here .

LIVE STATS 
Follow live stats & see match stats throughout the event via the official PDC Live Scores website - CLICK HERE 

William Hill World Darts Championship
Wednesday December 28
Afternoon Session
Second Round 
Kim Huybrechts (13) 4-0 Max Hopp
James Wade (6) 4-1 Steve Beaton (27)
Jelle Klaasen (10) 4-0 Brendan Dolan (23)

Evening Session 
Peter Wright (3) 4-0 Jamie Lewis (30)
Third Round 
Gary Anderson (2) 4-2 Benito van de Pas (15)
Adrian Lewis (5) 3-4 Raymond van Barneveld (12)

Second Round - best of seven sets
Third Round - best of seven sets

MATCH UPDATES
Kim Huybrechts (13) 4-0 Max Hopp 
1-0 (3-1)
Huybrechts landed double 16 and then double 18 to open up a two-leg lead. Hopp hit a maximum and then bedded double eight but Huybrechts took the set on double 11 after setting it up with a 171.

2-0 (3-1) 
Huybrechts pinned double 16 before taking out 80. He then hit his first 180 but Hopp nailed double nine, only to see Huybrechts pin double eight in the following leg to double his lead in the match.

3-0 (3-1) 
Huybrechts hit a 180 in the first leg, which Hopp took on double four. The Belgian ace hit back with a 117 checkout and then sank double six to break. Huybrechts then pegged double five to win a third straight set.

4-0 (3-2)
Both players landed double eight to share the first two legs. Huybrechts' fourth 180 then helped him move within a leg of victory but Hopp hit back with an 87 finish. Huybrechts got the job done though, firing in a further maximum before completing a 12-dart-leg with a 102 checkout. 

James Wade (6) 4-1 Steve Beaton (27) 
1-0 (3-1)
Neither player missed a dart at a double in the opening set, which saw Wade go ahead on double ten before Beaton produced a brilliant 123 combination checkout, finishing on the bullseye. Wade then rattled in a 180 and landed double top before taking out 71 to break and seal the set with an average of over 111.

2-0 (3-0)
Wade doubled his lead despite three 180s from Beaton in the first two legs of set two. The left-hander pegged double ten, then tops and finished off the set with a 71 finish on double top.

3-0 (3-2)
Wade took out 104 before Beaton levelled on double ten. A second 180 then helped Wade edge back ahead but Beaton defied two further maximums from Wade in the following leg by bedding double 12. Wade took the next leg to establish a three-set lead by cleaning up 81. 

3-1 (2-3)
Wade pinned double ten before Beaton levelled with with the aid of his fifth 180. He then fired in another maximum and took out 112 to edge ahead but Wade again found the double ten bed to force a deciding leg, which Beaton won on double eight.

4-1 (3-1)
Wade landed tops before Beaton hit a seventh 180 as he levelled up, but Wade added a fifth maximum before bedding doubles 18 and 20 to seal a convincing win.

Jelle Klaasen (10) 4-0 Brendan Dolan (23) 
1-0 (3-2)
Dolan broke immediately with a 68 finish but Klaasen responded superbly by firing in seven perfect darts, including two 180s, in the second leg, as he eventually went out in eleven darts on double 18. He hit the same double in the following leg to edge ahead but Dolan took out 72 to level in the fourth leg, which saw both players hit maximums. Klaasen edged the set on double 18 after his opponent had missed a dart at the bull.

2-0 (2-1)
Dolan took the first leg by finishing 62 but it was the only one he would get in the second set as Klassen took out 54, 78 and 36 to double his advantage.

3-0 (3-2)
Klaasen landed double 18 but Dolan levelled on double eight. The Dutchman then finished 48 before Dolan produced a fantastic 135 checkout on the bull. Klaasen took the set, though, pegging double 16 in the deciding leg.

 4-0 (3-2)
Dolan took out 101 before hitting his fourth 180, only to see Klaasen level on double ten. Dolan the executed a sublime 142 finish, with a treble 20, bullseye, double 16 combination. Klaasen levelled on his favourite double 18, though, and went on to seal a whitewash win by finishing 76.

Peter Wright (3) 4-0 Jamie Lewis (30) 
1-0 (3-0) 
Wright took the first set with ease as landed doubles ten, 12 and 20 to move ahead.

2-0 (3-0)
Wright hit a 180 and took out 71 before adding a spectacular 144 finish. He then fired in his second maximum and pinned double 16 to make it two sets on the spin and six straight legs. 

3-0 (3-1)
Wright pinned double 14 and then took out 74 to make it eight legs on the spin before Lewis finally took out 110. Wright sealed the set though, sinking double 16.

4-0 (3-0)
Wright took out 89 on the bull, 100 and 130 to cap off a fabulous display. 

Gary Anderson (2) 4-2 Benito van de Pas (15) 
1-0 (3-2)
Both players hit 180s in the opening leg, which Van de Pas won with a 52 finish. He then produced a brilliant 121 checkout to break but Anderson hit back with finishes of 44, 62 and 24 as he come back to take the set, hitting four 180s and not missing a dart at a double. 

2-0 (3-2) 
Anderson hit his fifth 180 and took out 41 but Van de Pas took out 46. The Scotsman edged back ahead with an 81 checkout before his Dutch opponent levelled with a 46 finish but Anderson won the deciding leg, in which both players hit 180s and Anderson pegged tops to keep up his perfect record on double attempts.

3-0 (3-1)
Anderson hit a ninth 180 and took out 65 before doubling his lead with a 75 finish as he made it eight out of eight successful double attempts. Van de Pas then brilliantly took out 143 before Anderson took out 96 to complete three sets without missing a dart at a double.
3-1 (2-3)
Both players hit 180s before Anderson finally missed darts at doubles but the Scotsman took the first leg on double one. Van de Pas hit maximums in each of the following two legs and finished 40 and a fabulous 125 to edge ahead. Anderson then threw six perfect darts before taking out 68 to level but missed a dart for the win in the next leg, allowing Van de Pas to take out 72 to get a set on the board.

3-2 (0-3)
Van de Pas hit double 18, then double nine and sealed a second set with a 112 finish after Anderson had missed a dart at the bull for a 170 checkout.

4-2 (3-1)
Anderson took out 81 before Van de Pas' eighth 180 helped him level. Anderson, though, pegged double four and double 12 to become the first man to move into the quarter-finals.

Adrian Lewis (5) 3-4 Raymond van Barneveld (12) 
1-0 (3-0) 
Lewis landed double 16 to break in between to identical 90 checkouts - both bullseye followed by double top - to take the first set with apparent ease.

1-1 (2-3)
Van Barneveld took out 74 before Lewis finished 42 to level. Both players then pinned tops and the Dutchman won the deciding leg, taking out 70 to restore parity.

1-2 (1-3)
Van Barneveld took out 64 and then pinned double eight before Lewis produced a lovely 10-darter. Van Barneveld nailed double four to move a set ahead.

2-2 (3-2) 
Barney pegged double four and Lewis took out 86 to level, before a 117 finish saw the two-time World Champion break. Van Barneveld broke straight back but then missed a dart to lead by three sets to one and Lewis capitalised by landing double twenty. 

3-2 (3-1)
Lewis' third maximum helped him take the first leg and he doubled his lead with a 112 finish. Van Barneveld landed double nine but Lewis took out 106 to move within a set of victory.

3-3 (0-3)
Van Barneveld landed doubles eight, six and eight again to take the match into a seventh-set shoot-out.

3-4 (1-3)
Van Barneveld took out 72 on double 16 for a crucial break of throw before holding on the same double. Lewis hit a sixth 180 and a 73 finish to stay alive but Van Barneveld sank double 16 again to progress.