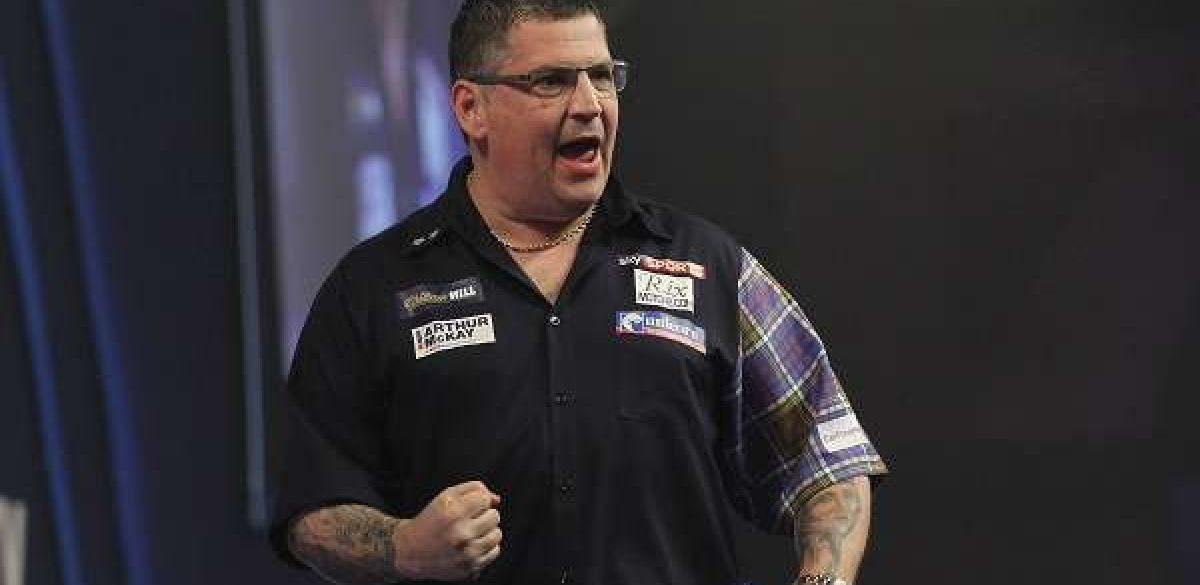 ANDERSON WINS THRILLER TO JOIN VAN GERWEN, VAN BARNEVELD & WRIGHT IN LAST FOUR

GARY ANDERSON continued his William Hill World Darts Championship title defence by winning a sensational quarter-final against Dave Chisnall at London's Alexandra Palace on Friday, as Raymond van Barneveld sent Phil Taylor crashing out on a day which also saw Michael van Gerwen and Peter Wright reach the semi-finals.

Anderson moved a step closer to lifting the Sid Waddell Trophy for a third successive year after triumphing in an match of extraordinary quality, which included 33 180s - just one short of the record set in his final victory against Adrian Lewis last year.

Chisnall equalled the previous record for the most 180s hit by a player as he fired in 21 maximums - equalling van Barneveld's record from the 2007 World Championship final - but was still unable to stop Anderson charging into the semi-finals.

The number two seed edged the first two sets - which were littered with 14 maximums - before Chisnall hit back to level.

The St Helens ace, appearing in his first Alexandra Palace quarter-final, went on to lead the seventh set 2-0 with the match poised at three sets apiece, but Anderson stormed back to take a 5-3 victory.

The run extends Anderson's winning run to a record 16 matches on the Alexandra Palace stage - surpassing the previous 15-game winning streaks of Taylor from 2009-2011 and Adrian Lewis from 2011-2013 - as he continued his bid to become only the third player in the sport's history to win three successive World Championships.

"It's the kind of match this brilliant crowd deserved to see," said Anderson, who averaged 106 and produced finishes of 124, 121 and 104 in setting up a last four clash with Wright.

"I pinched that seventh set and the rest is history. I'm still here, still fighting and I'm happy with how I've been playing.

"I'm looking forward to playing Peter and I hope it will be just as good as this game was."

Number three seed Wright is one match away from a second final appearance - having been runner-up to Michael van Gerwen in 2014 - after sealing a 5-3 success against Wade, which he finished with a brilliant 134 checkout.

The Scottish ace also completed finishes of 130, 121 and 100 as he averaged over 100 for the fourth consecutive match, this time reaching almost 105, as he fended off a battling display from Wade, who at one stage took out back-to-back finishes of 144 and 155 to lead 2-1 in sets.

Wright recovered from that double blow to win three successive sets as he pulled clear to complete a memorable win.

"I'm quite happy with how I played," said Wright, who hit ten of the tie's 22 180s on route to another stunning triumph.

"I had to take the big 134 shot at the end because James is always right behind you. He is a top player and I'm pleased to get over this one.

"I'll be up for the semi-final and if I keep playing like this, you never know what could happen."

World number one van Gerwen fired in two 170 finishes in another dominant display as he saw off Northern Ireland's Daryl Gurney 5-1 to continue his bid to win a second World Championship title. 

The Dutch sensation averaged 103.08 and - like Wright - has averaged over 100 in all four games in reaching the semi-finals, having won four straight sets from one-all to complete a comfortable win.

"I don't have anything to celebrate yet," said van Gerwen, the 4/7 odds-on favourite with sponsors William Hill to win the £1.65 million tournament.

"I've come here to do a job and I'm only a step closer. I knew Daryl was the underdog today and sometimes that is hard position to be in. 

"This World Championship is something special. I still get goose-bumps on the walk-on and I'm excited and ready for the semi-finals."

Van Gerwen will meet his Dutch compatriot Van Barneveld in the last four after the five-time World Champion defeated Taylor for the first time in the World Championship since his famous victory in the 2007 final.

Van Barneveld produced back-to-back finishes of 167 and 120 in set four as he opened up a 3-1 lead, only for Taylor to fight back and level by taking the next two sets.

The Dutchman took the seventh set in three legs though and wrestled his way back from 2-1 down in the eighth to end Taylor's hopes of a 17th World Championship title for another year.

"I'm very proud of what I've done here so far," said Van Barneveld, who's New Year's Day meeting with Van Gerwen will see him contest his third consecutive Alexandra Palace semi-final. 

"I didn't feel very comfortable at times but I was expecting more from Phil. I put him under pressure though, especially in the last set.

"I'm going to play the greatest player in the world next when I play Michael and I'm really excited. I can't wait to play him."

Van Barneveld famously knocked Van Gerwen out of last year's tournament in a thrilling last 16 clash and the pair will meet again on Sunday after Anderson and Wright face off, with the final being contested on Monday. 

Van Gerwen's position as the odds-on 4/7 favourite with sponsors William Hill is followed by reigning champion Gary Anderson as the 11/4 second favourite, with Wright now 8/1 to claim his first televised title and Van Barneveld the 10/1 outsider.

Van Gerwen is 1/6 on to claim victory in the semi-final against Van Barneveld - who is a 4/1 chance of repeating his success of last year - while Anderson is 2/5 ahead of his clash with Wright (2/1).

WATCH LIVE 
The William Hill World Darts Championship will be broadcast live on the Sky Sports Darts channel.

Worldwide coverage is also available through a record number of live broadcasters, and online for PDCTV-HD Subscribers (outside of UK, Ireland & Netherlands) through www.LIVEPDC.TV .

TICKETS 
A very limited number of tickets are still available for the William Hill World Darts Championship and can be ordered online by CLICKING HERE  or for the Hospitality Area via THIS LINK .

For full ticket information, click here .

LIVE STATS 
Follow live stats & see match stats throughout the event via the official PDC Live Scores website - CLICK HERE 

William Hill World Darts Championship
Friday December 30
Quarter-Finals
Afternoon Session
James Wade (6) 3-5 Peter Wright (3)
Gary Anderson (2) 5-3 Dave Chisnall (7)

Evening Session
Michael van Gerwen (1) 5-1 Daryl Gurney (24)
Raymond van Barneveld (12) 5-3 Phil Taylor (4)

Quarter-Finals - Best of nine sets

Sunday January 1 (7pm)
Semi-Finals
Gary Anderson (2) v Peter Wright (3)
Michael van Gerwen (1) v Raymond van Barneveld (12)

Semi-Finals - Best of 11 sets

MATCH UPDATES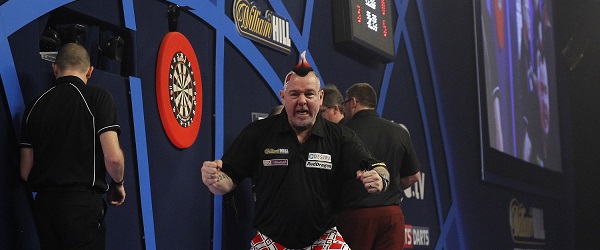 James Wade (6) 3-5 Peter Wright (3) 
1-0 (3-2)
The first four legs went with throw before Wright missed two darts to take the set, and Wade took his opportunity, breaking with a 61 checkout.

1-1 (1-3)
Wade's third 180 helped him take the first leg before Wright levelled with a 96 checkout. He then completed a brilliant ten-dart-leg to break his opponent's throw and landed double eight to square up the score-line. 

2-1 (3-2)
The pair exchanged maximums before Wright took out 76. Wade's fifth 180 helped him level up but Wright moved back in front in another leg that saw both players hit maximums. Wade then produced two sensational checkouts to take the set - first a 144 to make it two legs apiece before ruthlessly punishing Wright for two missed set darts with a 155 out-shot to take the set.

2-2 (1-3)
Wade landed double ten but Wright levelled on double 16. The pair both then hit 180s as Wright pinned double 16 to break before sealing the set with a brilliant 130 finish on the bull.

2-3 (0-3)
Wright took out finishes of 90, 61 and 60 as he moved a set ahead for the first time in the match - averaging around 110 for the second consecutive set.
2-4 (2-3)
Wright finished 56 and 100 and then threw six perfect darts but Wade snatched the leg and then capitalised on four missed darts at double by Wright to break. The Scotsman broke back immediately, though, landing double 12 to go two sets ahead.

3-4 (3-1)
Wade landed double nine to break straight away and doubled his lead after rattling in his tenth 180. Wright then produced a brilliant 124 checkout on the bull but Wade took the set by finishing 80.

3-5 (1-3)
Wright broke on double eight before finishing 76 to go within a leg of victory. Wade hit his 12th 180 and followed it with an 81 finish but Wright took the match in style with a fabulous 134 checkout.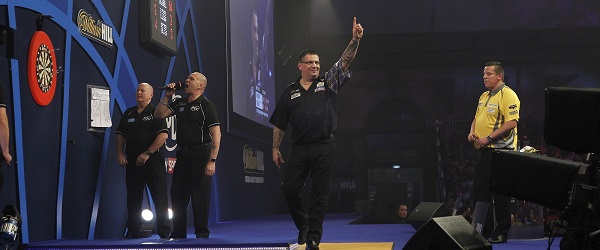 Gary Anderson (2) 5-3 Dave Chisnall (7) 
1-0 (3-2)
Anderson won an incredible opening set, in which nine 180s were hit. Chisnall, who hit five of the maximums took the first leg but missed darts to break in the second. The following two legs also went with the throw, Anderson took out 104 to break.

2-0 (3-2)
Anderson edged another five-leg set, starting with a 121 finish. The pair added five further maximums between them as Anderson doubled his lead. 

2-1 (2-3)
Both players hit 180s as Chisnall took the first leg before firing in two maximums in the following leg, upping his count to 11 as he moved two legs clear in the set. Anderson won the next two, though, but Chisnall took out 56 to get a set on the board.

2-2 (0-3)
Chisnall levelled the match by winning three legs in quick succession to take the fourth set. He hit yet another 180 in the first leg, which he won on double 20, before following his 13th maximum with a brilliant 130 finish. The number seven seed then took out 54 on tops.

3-2 (3-0)
It was Anderson's turn to win three straight legs as he took out 124 before landing doubles six and eight, upping his 180 tally to 11 in the process.

3-3 (1-3)
Chisnall took out 84 and 105 to open up a two-leg lead before Anderson finished 80. Chisnall then increased his maximum count to 16 as he took the set on double two,

4-3 (3-2) 
Chisnall took out 96 and then pegged double three to go 2-0 up but missed four darts for the set and Anderson hit double eight. The defending champion then took out 76 and landed double six for the set, as the match 180 count reached 31.

5-3 (3-2)
Anderson took the first two legs but missed three darts for the match and Chisnall broke on double four. He then hit two more 180s to equal van Barneveld's record of 21 maximums hit in a match as he levelled but Anderson pinned double ten to book his place in the semis.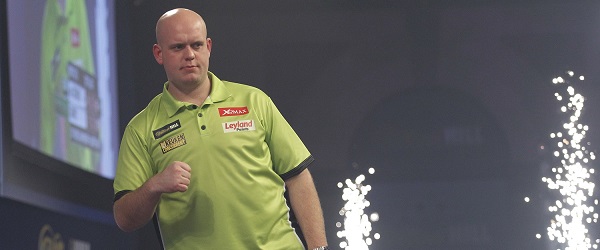 Michael van Gerwen (1) 5-1 Daryl Gurney (24) 
1-0 (3-0)
Van Gerwen made a brilliant start, taking out 101 in the first leg to break with a 12-darter. He then produced a fabulous 170 finish and checked out 92 to complete three consecutive 12 dart-legs in four minutes and five seconds. 

1-1 (3-2)
Gurney took out 76 to break but van Gerwen landed double eight to level up. The Dutchman then nailed double six before Gurney took out 108 and then hit his third 180, which helped him win the decider.

2-1 (3-0)
Van Gerwen took out 44, 25 and then a spectacular 170 finish for the second time in the match and third in his last two games.

3-1 (3-2)
Van Gerwen hit double eight before Gurney threw seven perfect darts, eventually finishing 48 to level. The Dutch ace took out 72 but Gurney's sixth and seventh 180s helped him restore parity before Van Gerwen finished 85 in the deciding leg.

4-1 (3-1)
The first two legs were shared before Van Gerwen landed double nine. He then took out 76 to move within a set of victory.

5-1 (3-2)
Van Gerwen pegged tops before Gurney levelled on double 18. The world number one hit his sixth maximum before pegging tops again. Gurney levelled with a 76 finish but van Gerwen completed victory by taking out 65.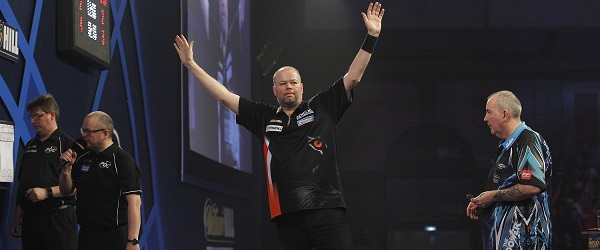 Raymond van Barneveld (12) 5-3 Phil Taylor (4) 
1-0 (3-1)
Van Barneveld landed double 16 before Taylor levelled. The Dutchman went back in front on double one and hit a 180 in the following leg before sinking double ten to break and take the first set.

1-1 (1-3)
Taylor took out 64 before Barney levelled with a 71 finish but Taylor hit his first 180 and took the following two legs to level the tie.

2-1 (3-2) 
Taylor led 2-0 after taking out 26 and 62 but Van Barneveld hit back as his second 180 helped him pull a leg back before he punished Taylor for missing two set darts. He then took out 76 to edge the set and regain the lead.

3-1 (3-2)
Taylor took the first leg on double ten before Van Barneveld finished 84. The 16-time World Champion landed double five but saw his opponent complete a beautiful 167 checkout when he was waiting on 74 - and Van Barneveld took the set with a brilliant 120 checkout. 

3-2 (0-3)
Taylor pegged double eight, double 16 and took out 62 to take the fifth set comfortably.

3-3 (2-3)
Taylor took out 81 and 97 before Van Barneveld took the next two legs to level. Taylor hit his sixth 180, though and landed double eight to take the set.

4-3 (3-0)
Van Barneveld landed double one before following his fourth 180 with a 76 finish. The Dutch great then pinned double three to move within a set of victory.

5-3 (3-2)
The first two legs were shared before Taylor took out 123 to edge ahead but Barney landed double eight. He then started the deciding leg with a sixth 180 and took out 86 for the match.