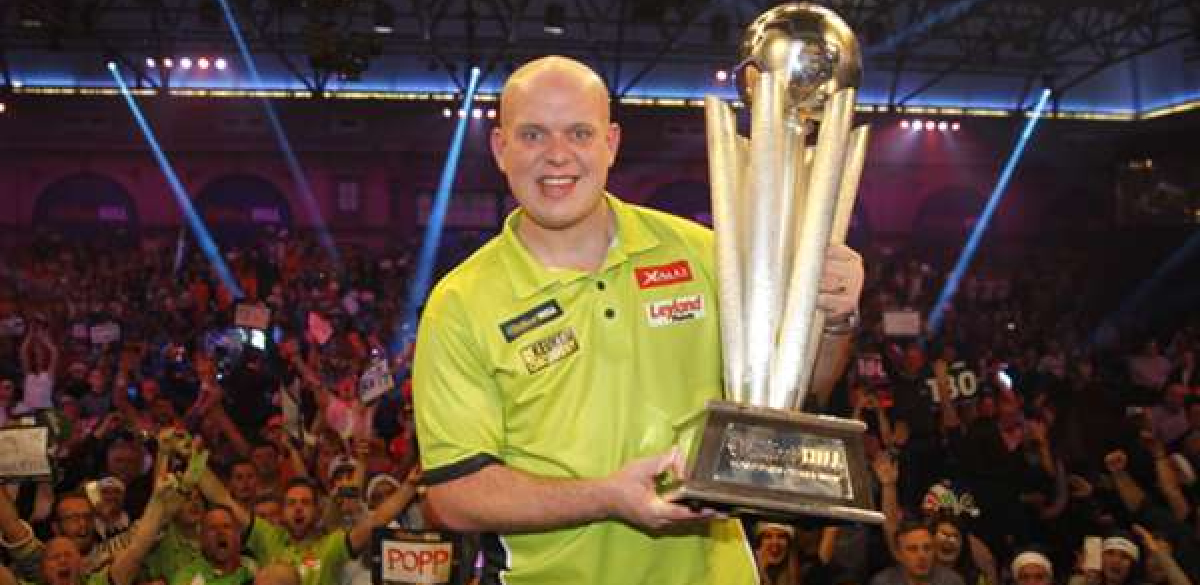 UNSTOPPABLE VAN GERWEN CLAIMS SECOND WORLD CHAMPIONSHIP TITLE TO DENY ANDERSON IN THRILLING FINAL
MICHAEL VAN GERWEN was crowned as William Hill World Darts Champion for the second time after winning a breath-taking final against Gary Anderson at London's Alexandra Palace on Monday. 

The pair shared  42 180s - a record for maximums hit in any match - in a sensational decider as Van Gerwen picked up his 26th and most prestigious title of the last 12 months with a stunning display, as he triumphed 7-3 to deny Anderson his third straight World Championship glory.

The Dutch star followed up his brilliant semi-final win against Raymond van Barneveld, in which he posted the highest ever average in a World Championship match, with another sublime performance, averaging 108.06 to clinch the Sid Waddell Trophy.

Anderson fired in 22 of the game's 180s to break the world record for maximums hit by an individual player but it wasn't enough to stop Van Gerwen claiming the £350,000 prize. 

The Scottish ace missed two darts to take a 3-1 lead before a crucial 86 checkout sparked a blistering run from Van Gerwen, which saw the number one seed take five sets in a row to take control, before going on to seal a memorable success.

"This feels absolutely phenomenal," said Van Gerwen, who also hit five finishes of over 100 in winning a classic final and ended the £1.65 million tournament with an overall average of 106.96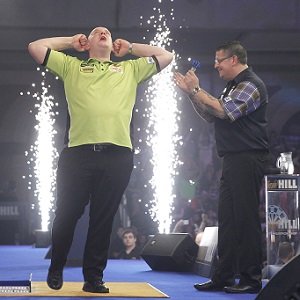 "I think it was a special game of darts for everyone who saw it. I'm a really happy man because I've worked so hard for this all year.

"Everyone wants this trophy and I'm really glad that it is me holding it - and to win it against Gary makes it even more special. He is a phenomenal player with a lot of class and I had to play like that to beat him.

"I've got great support from my wife, family and all the people around me and winning this means a lot to me. Everyone said that I would have to win a second World Championship to be one of the big boys. Well I've done it now and it means everything to me."

The first four sets of the final were shared, with each going to the full five-leg distance, but Anderson's two missed set darts in the fourth set, followed by Van Gerwen's 86 finish in the decider, proved to be pivotal moments in the contest.

Van Gerwen took the fifth set 3-0 and the sixth 3-1 as he embarked upon a dominant spell, adding 3-0 and 3-1 wins of sets seven and eight to close in on the title.

Anderson edged the following set 3-2, sealing it with an 81 checkout as the pair overtook the record of 180s scored in a match - which was set in Anderson's final victory over Adrian Lewis last year - but Van Gerwen refused to be denied and finished 85 on the bullseye in the deciding leg of the tenth set to seal glory.

Following two successive World Championship successes, Anderson scooped £160,000 as runner-up as the top two seeds contested the tournament finale for the first time since the 2009 decider between Phil Taylor and Van Barneveld.

"Michael deserves it this year," said Anderson, whose tournament 180 tally of 71 maximums was the most ever hit in a World Championship tournament.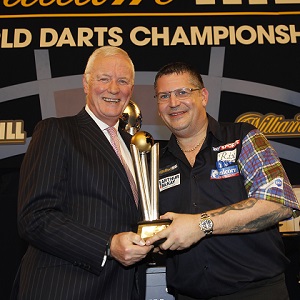 "The year he has had has been brilliant and if anyone was going to beat me it was going to be him. We've both had a good tournament and it's been a fantastic one for everyone to watch."

The 2017 William Hill World Darts Championship also saw the record for total 180s hit broken comfortable, with 708 maximums being fired in to eclipse the previous best, which was set twelve months ago.

A crowd of 66,000 fans attended at Alexandra Palace, with Sky Sports' coverage being screened across over 100 countries worldwide.

WATCH LIVE 
The William Hill World Darts Championship will be broadcast live on the Sky Sports Darts channel.

Worldwide coverage is also available through a record number of live broadcasters, and online for PDCTV-HD Subscribers (outside of UK, Ireland & Netherlands) through www.LIVEPDC.TV .

LIVE STATS 
Follow live stats & see match stats throughout the event via the official PDC Live Scores website - CLICK HERE 

William Hill World Darts Championship
Monday January 2
Final 
Michael van Gerwen (1) 7-3 Gary Anderson (2)

Final - Best of 13 sets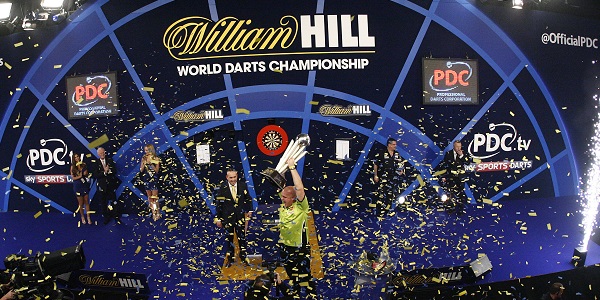 MATCH UPDATES 
Michael van Gerwen (1) 7-3 Gary Anderson (2)  
1-0 (3-2)
There was at least one 180 hit in every leg in the first set as Van Gerwen defied one from Anderson in the opener with a brilliant 122 finish on the bull. The Scotsman landed a second maximum as he took the second leg with an 11-darter on tops but Van Gerwen went back ahead by pinning double five. A third 180 helped Anderson level and the pair both hit maximums in the deciding leg, which the world number one took on double 18. 

1-1 (2-3)
All legs continued to go with the throw as Anderson hit double seven after Van Gerwen had added his third 180. The following leg was the first without a maximum score as the Dutchman tied up the set with a 116 finish. Anderson moved ahead, with another 180 on his tally, but van Gerwen pegged bull and double top to complete a 90 checkout. Anderson took the set though, winning a deciding leg in which both players hit 180s, by finishing 80.

1-2 (2-3)
Anderson got the first break of throw by taking out 52 but Van Gerwen replied with an 11-darter and then pinned double four to edge ahead. Anderson fired in a 12-darter, after van Gerwen had fired in seven perfect darts without getting a shot at winning the leg, and then punished his opponent for two missed set-darts by landing double 12 for a 13-darter to take the set.

2-2 (3-2)
A fourth consecutive set went all five legs as Anderson, who hit his eighth 180, landed tops after Van Gerwen had missed the bullseye for a 170 finish. The Dutchman's sixth maximum helped him level but his seventh 180 was in vain as Anderson pegged tops. Van Gerwen sank double eight to level and grabbed a crucial break by following his eighth 180 with an 86 finish on double seven. 

3-2 (3-0)
Anderson missed the bull to break and was severely punished as Van Gerwen took the next three legs to extend his winning run to five in a row, thanks to finishes of 94 and 65.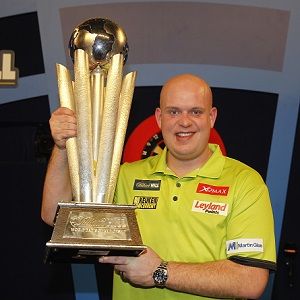 4-2 (3-1)
Anderson took the first leg with a 74 finish but an 11th 180 helped Van Gerwen level. He then broke by bedding double eight after Anderson had missed two darts to take the third leg, in which both players hit 180s. The Dutch ace then finished 6-4 to move two sets clear for the first time.

5-2 (3-0)
Van Gerwen hit his 13th 180 and landed double 16 before the pair had a maximum apiece in the second leg, as the number one seed produced an 11-darter to break. He then executed a brilliant 125 finish to move three sets clear and two from claiming the title.

6-2 (3-1)
Anderson landed double two in a scrappy first leg before Van Gerwen took out finishes of 76, 75 and 100 to move within a set of victory. 

6-3 (2-3)
Both players hit 180s in the first leg which Van Gerwen won on double three. Anderson nailed tops to level but missed a dart to break in the following leg as Van Gerwen pinned double two. The Scotsman hit yet another 180 and landed double eight before grabbing a set-winning 81 finish.

7-3 (3-2)
Anderson fired in a 19th 180 and took out 81 again but van Gerwen's 18th maximum, followed by an 87 finish, saw him level. Anderson landed tops before Van Gerwen took out 100 and the final leg saw both players hit 180s, taking the match tally to an incredible record-breaking 42, as Van Gerwen finished 85 on the bullseye to become World Champion for the second time.