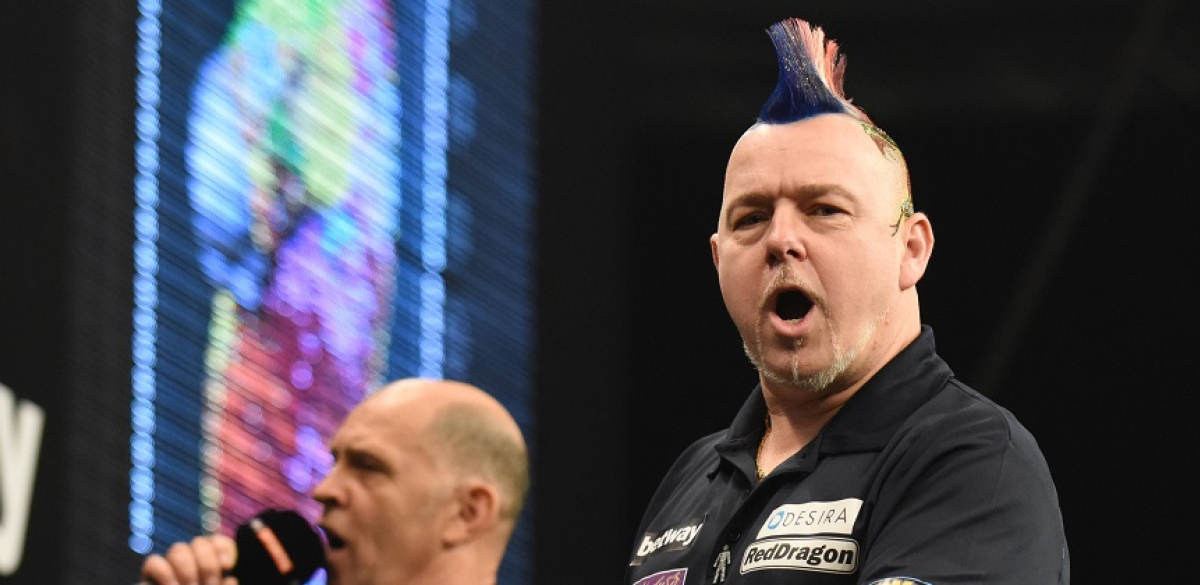 PETER WRIGHT produced the second highest televised average in history of 119.50 as he defeated Adrian Lewis in the Betway Premier League in Exeter.
Wright's 7-2 triumph over Lewis at the Westpoint Arena sits second only to Michael van Gerwen's 123.40 in the history of televised tournaments.
The Scot produced an outstanding performance as he left Lewis, who averaged over 109 in reply, with little chance of withstanding his barrage of trebles and doubles.
Wright landed five 180s and a 174 score during the game and also took out a 125 finish at a key stage, while he also landed seven doubles from ten attempts.
The historic match went as follows:
Lewis v Wright
0-1 - Lewis opens with two 180s in seven perfect darts, but Wright scores 100, 180, 180 and finishes 41 on double 16 for a 12-darter to break throw.
1-1 - Wright scores 125, 45, 100 and 105 but is left on 126 as Lewis levels with a 12-darter of his own.
1-2 - Wright scores 96, 100, 180, 65 and 60 as tops secures a 14-darter to break throw again.
1-3 - Wright scores 140, 95, 174 and finishes 92 on double eight for another 12-dart leg.
2-3 - Lewis responds with an 11-dart finish, scoring 80, 180, 180 and 61 to hit back, with Wright scoring 100, 140 and 140 to be left with 121 after nine darts thrown.
2-4 - Wright regains a two-leg lead with an 11-darter of his own, scoring 140, 125, 180 and finishing 56 on tops.
2-5 - Lewis leaves 45 after 12 darts, only to see Wright follow up scores of 95, 140 and 141 with a brilliant 125 finish.
2-6 - Wright produces another 11-darter, scoring 140, 100 and 180 before finishing 81 on double 12.
2-7 - Wright seals a superb win with a 14-dart finish, scoring 140, 140, 84, 97 and then taking out 40 on tops.
In total, Wright's winning legs were of 12, 14, 12, 11, 12, 11 and 14 darts.
The world number three said: "Adrian started off brilliantly with the two 180s and I just felt like following him, and they were going in.
"That first leg set the pace and I got control of the match, but it felt like a magnet was pulling the darts into the treble!
"I saw my average at 117 on the big screen and I wanted to get it higher but I think there's loads of improvement to come. Michael van Gerwen's the man to beat, he's immense and it's an honour to be chasing him at the moment."
The performance was also Wright's best-ever in a televised match, eclipsing his previous career-best 109.48 in a 7-5 win over Gary Anderson at the First Direct Arena in Leeds a fortnight ago.
Betway Premier League
Top Ten Averages
123.40 - Michael van Gerwen v Michael Smith, 2016
119.50 - Peter Wright v Adrian Lewis, 2017
117.95 - Michael van Gerwen v Robert Thornton, 2016
117.35 - Phil Taylor v Simon Whitlock, 2012
116.90 - Michael van Gerwen v James Wade, 2015
116.67 - Michael van Gerwen v Peter Wright, 2016
116.10 - Phil Taylor v James Wade, 2012
116.01 - Phil Taylor v John Part, 2009
115.08 - Phil Taylor v Raymond van Barneveld, 2015 (Also the Record Losing Average)
115.25 - Phil Taylor v Dave Chisnall, 2015