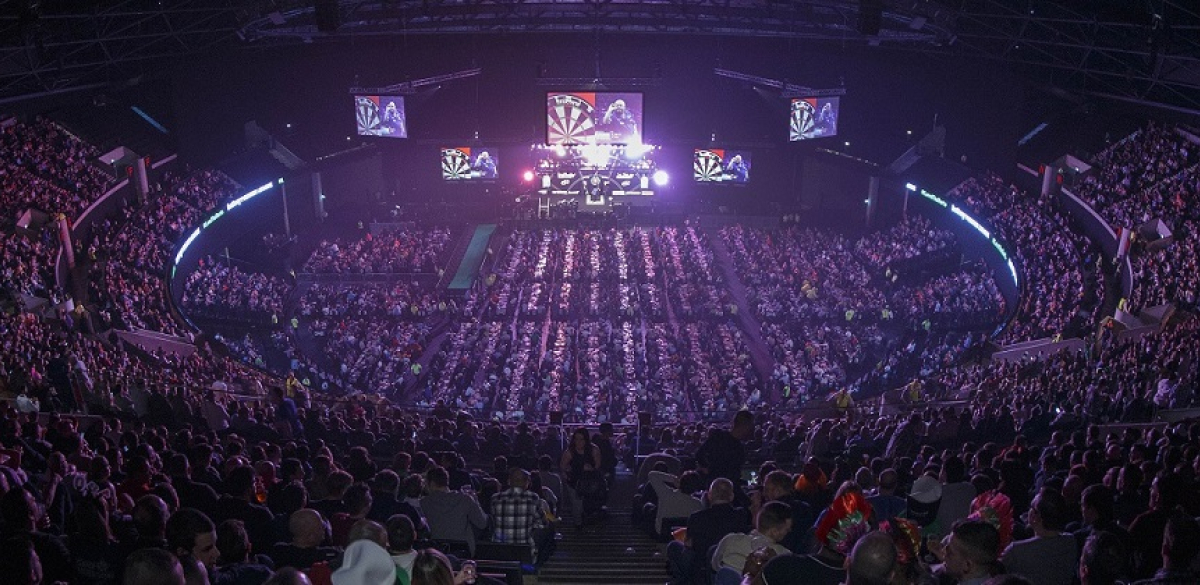 MICHAEL VAN GERWEN returns to action in the Betway Premier League on Thursday as Gary Anderson and Peter Wright look to thrill the Scottish crowd when the event visits The SSE Hydro.
Reigning Premier League champion Van Gerwen missed out on the season's fifth league night last week in Exeter - and the weekend's UK Open - due to a back injury.
However, following extensive treatment in the Netherlands, the Dutchman will return to action on Thursday when he defends his unbeaten start to the season against Kim Huybrechts in Glasgow.
"It was really disappointing for me to miss out last week but I can't wait to get back playing," said Van Gerwen. "I've tried to do the right things with my treatment and hopefully my back will be okay.
"It's a big game on Thursday, like they all are in the Premier League, and it's always a fantastic crowd in Glasgow so I want to show everyone what I can do against Kim."
The first of two visits to Scotland in this year's Premier League will see 10,000 fans pack The SSE Hydro, with the night set to be a special one for Peter Wright as he makes his first appearance since being crowned as UK Open champion.
In-form Wright will face James Wade in Glasgow, having moved joint top of the table with Phil Taylor on seven points with his sensational 119.50 average has he defeated Adrian Lewis in Exeter.
"The weekend was really special for me but I've got to look ahead now and focus on the Premier League again," said Wright. "I'd love to win the Premier League too but there's a long way to go yet.
"I've got to take it week by week and concentrate on my next game against James."
Two-time World Champion and Premier League winner Gary Anderson returns to his homeland against Dave Chisnall - who jumped above the Scot in the league table when he won twice in Exeter last week.
"It's special every time we play in Scotland and I can't wait to be back there," said Anderson. "Dave had a great week in Exeter and he'll be confident, but I want to get the win.
"It's not been great so far for me but there's still lots of darts to be played. It's a long season and you could get a bad start and still get in the top four, and there's a long way to go."
Chisnall overcame Raymond van Barneveld and Wade in Exeter to move onto six points in the table, and is excited by the prospect of meeting the world number two.
"Last Thursday was a great night for me and I think this will be a good game," said Chisnall. "You know Gary's going to turn up so I've got to make sure I turn up too.
"There's still a long way to go and I've got the top three to play, starting with Gary this week. I've played Gary in Glasgow before and I loved it - it's the best venue I've played at and I'll look forward to it."
The night in Glasgow also sees an all-Dutch battle between Jelle Klaasen and Raymond van Barneveld, as well as the 'Stoke derby' as unbeaten Taylor meets Lewis.
A small number of tickets for Thursday's Betway Premier League remain available for sale through The SSE Hydro's Box Office on 0844 395 4000 or via www.thessehydro.com.
Betway Premier League
Night Six - Thursday March 9
The SSE Hydro, Glasgow
Adrian Lewis v Phil Taylor
James Wade v Peter Wright
Kim Huybrechts v Michael van Gerwen
Jelle Klaasen v Raymond van Barneveld
Dave Chisnall v Gary Anderson
Tickets: 0844 395 4000 or via www.thessehydro.com
Betway Odds
Tournament Winner – After Night Five
8/15 Michael van Gerwen
9/2 Gary Anderson
13/2 Peter Wright
12/1 Phil Taylor
33/1 James Wade
50/1 Raymond van Barneveld, Adrian Lewis, Dave Chisnall
200/1 Jelle Klaasen
250/1 Kim Huybrechts
Night Six Match Odds
2/1 Adrian Lewis
7/2 Draw
Evs Phil Taylor
100/30 James Wade
7/2 Draw
4/6 Peter Wright
15/2 Kim Huybrechts
15/2 Draw
2/9 Michael van Gerwen
5/2 Jelle Klaasen
7/2 Draw
4/5 Raymond van Barneveld
7/2 Dave Chisnall
4/1 Draw
4/7 Gary Anderson
Odds correct at time of writing and courtesy of www.betway.com. Odds subject to fluctuation.