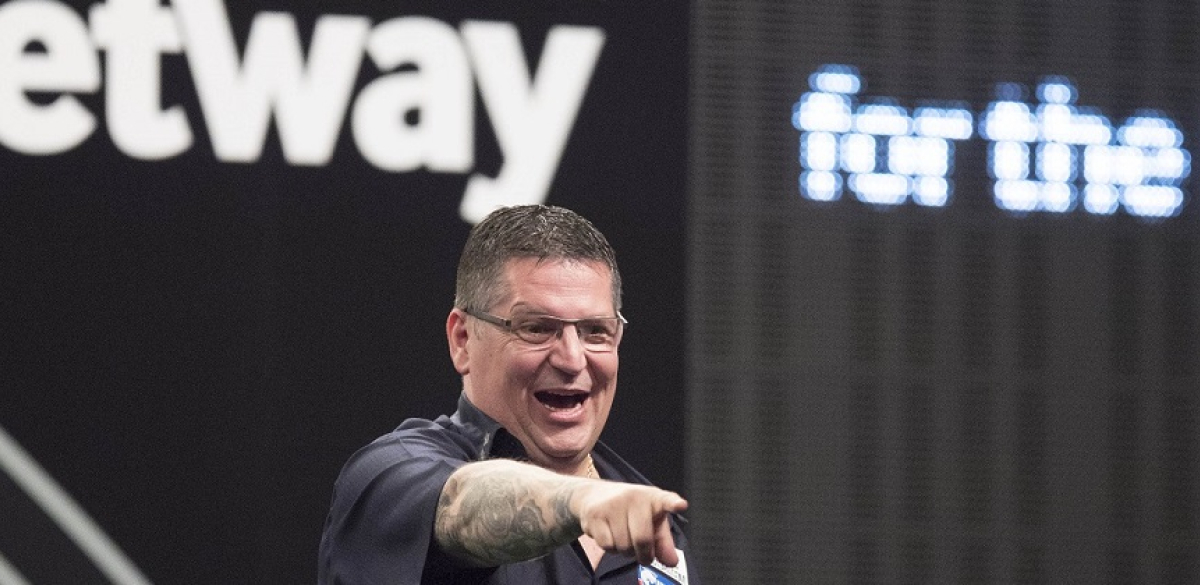 GARY ANDERSON and Peter Wright thrilled a capacity crowd at The SSE Hydro in Glasgow with victories as the Betway Premier League visited Scotland on Thursday.
A capacity 10,000 crowd in Glasgow were treated to a superb display as Anderson kick-started his Premier League campaign with a second victory of the season.
The world number two was in scintillating form as he stormed into a 5-0 lead, opening with a 13-darter, taking the third leg with a 147 checkout and the fifth with a bullseye to complete an 88 combination after Chisnall had opened the leg with two 180s.
The 2015 semi-finalist responded with three legs as he pulled back to 5-3, but the Scot hit double six to regain breathing space and double one to secure the points.
"This was a really special night for me," said Anderson, who moves third in the table. "There was a mixture of nerves and excitement - it's great to be back in Scotland and to get a win.
"Dave's a cracking player and I knew he would come back at me, so I'm happy that I managed to get it finished off.
"It's not been brilliant so far this season so it's nice to go out there and get a win."
Scottish-born Wright, meanwhile, moved a point clear at the top of the table as he held off James Wade's challenge to take a 7-5 win from their clash.
Wright claimed his fourth win of the season to follow up last weekend's UK Open triumph and a huge 119.50 average against Adrian Lewis in the Premier League in Exeter.
Wright did the damage early on as he raced into a 5-1 lead, hitting a key 115 finish in the process, with the left-hander taking out 100 and a 13-darter as he pulled back to 5-4.
Wright secured a point with double two - after starting the tenth leg with two 180s in six perfect darts - with Wade taking out 76 to force a decider which the world number three won on double 16.
"The crowd helped me out - the reception was fantastic and it felt great," said Wright. "James should have won the game if he'd hit his doubles but I managed to get the two points.
"I can play way better than that, but it's a win and that's all that counts and I can get back on the practice board for next week."
Michael van Gerwen made his return from the back injury which forced him to miss Night Five in Exeter and the UK Open with a 7-5 comeback win over Belgium's Kim Huybrechts, who remains joint bottom of the table.
A high-quality opening saw Huybrechts score 171 on his way to the opening leg and Van Gerwen respond with a 109 checkout in the second, before claiming the first break of throw to lead 4-3.
Huybrechts, though, hit back with a 76 finish and took out 96 for a 5-4 cushion, only for the reigning champion to level, punish four misses from the Belgian with an 80 checkout to lead 6-5 and then take out a 14-darter to seal the win.
"I feel good and it was great to be back tonight," said Van Gerwen. "It's always nice to get the two points and Kim played well, but you have to take advantage if he misses and I did that.
"It's another two points for me and the crowd were nice, but next week in Rotterdam will be very special for me too."
Raymond van Barneveld ignited his season with a brilliant comeback from 4-1 down to defeat Jelle Klaasen 7-5 to win his second game of the season.
Klaasen had opened with an 11-darter and also took out 111 to break throw on his way to a 4-1 cushion - despite a 104 finish from his rival - but two misses at double 12 in leg six allowed Van Barneveld in for a sublime 154 checkout to turn the match.
The 2014 Premier League champion then won the next four legs, taking out 106 for a third ton-plus checkout, as he sealed a minimum of a point.
Klaasen landed double ten to force a decider, but tops secured both points for Van Barneveld as he moved three points clear of his rival.
"Tonight I went out to enjoy it and the crowds are amazing in Scotland," said Van Barneveld. "I'm more relaxed and want to enjoy myself, and I'm thinking in a positive way.
"The 154 was so important and it changed the game. Jelle was under pressure then and he started missing doubles, and he let me in."
Two-time World Champion Adrian Lewis claimed his second victory of the season with a 7-4 defeat of Stoke rival Phil Taylor, who suffered his first loss of the campaign.
The pair shared the opening six legs before Lewis produced a burst of five 180s in as many legs as he pulled away for the win, punishing Taylor's missed two doubles to move clear of the six-time Premier League champion.
The Betway Premier League continues next Thursday as the tournament returns for a second year to a sold-out Ahoy Arena in Rotterdam, which will see the three Dutch stars receive an amazing welcome from their home crowd.
Betway Premier League
Night Six - Thursday March 9
The SSE Hydro, Glasgow
Adrian Lewis 7-4 Phil Taylor
James Wade 5-7 Peter Wright
Kim Huybrechts 5-7 Michael van Gerwen
Jelle Klaasen 5-7 Raymond van Barneveld
Dave Chisnall 3-7 Gary Anderson