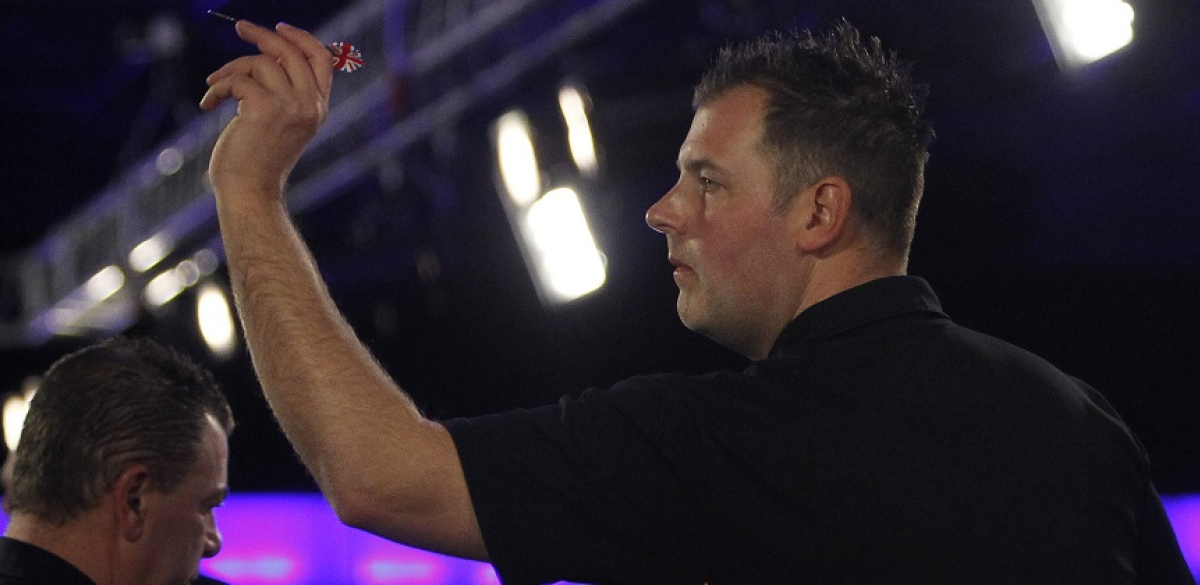 AARON DYER and Paul Milford shared victories on the opening day of the 2017 PDC Unicorn Challenge Tour in Milton Keynes.
Gloucestershire-based Dyer, 24, followed up his win on the PDC Unicorn Development Tour in 2015 by taking victory on his Challenge Tour debut as he claimed the opening £2,000 title of the year.
After starting the day with a whitewash of Daniel Russell, Dyer battled past Ricky Nathan, Jamie Kelling and Gary Stone before seeing off former TV finalists Wayne Jones and Barrie Bates to reach the semi-finals.
There, he saw off Jason Lovett 5-3, before sweeping past Mark Frost 5-1 in the final.
Frost - a World Championship qualifier last year - defeated Allan Edwards, Nick Fullwell, Ryan Murray, Luke Woodhouse, Jim Walker and Alan Tabern in his run to the final, and took home £1,000 as runner-up.
Bates and Walker were joined in the quarter-finals by Welsh youngster Kurt Parry and former Challenge Tour event winner Martin Lukeman, while South Africa's Warrick Scheffer was amongst the last 16 losers.
Event Two saw Devon's Paul Milford claim victory as he bounced back from a first round loss in Event One to go all the way to the £2,000 title.
The 40-year-old overcame Joshua Richardson, Jim Moston, Scheffer, Keith Arber, Brett Claydon, Pete Dyos and Tabern, before whitewashing Lukeman 5-0 in the final.
Lukeman followed up his earlier quarter-final appearance with victories over Barry Lynn - the 2016 UK Open quarter-finalist - Brian Hallas, Jim Walker, Ian Jones, Joey Palfreyman, Ryan Murray and Mike Norton.
Tabern won through to his second semi-final of the day in another strong showing, with Norton also progressing to the last four as he included former ProTour event winner Steve Brown amongst his victims.
Reigning Lakeside Women's Champion Lisa Ashton made her Challenge Tour debut on Saturday, but lost out to Alex Roy and Scott Marsh respectively as she suffered two first round exits.
The PDC Unicorn Challenge Tour weekend continues on Sunday with Event Three and Event Four at Arena MK in Milton Keynes, with a further £20,000 in prize money on offer.
PDC Unicorn Challenge Tour
Event One
Saturday March 25, Arena MK, Milton Keynes
First Round
Pete Dyos Bye
Ian Jones 5-1 Kevin Garcia
Scott Rollings 5-4 Wayne Thomas
Ian Withers 5-1 Mike Norton
Rob Hewson Bye
Ash Khayatzadeh 5-1 Adam Whieldon
Joshua Richardson 5-4 Mark Farmer
Eikichi Nakanishi 5-1 Christopher Dale
Martin Lukeman Bye
Eddie Dootson 5-2 Ian Moss
Brett Claydon 5-1 Joe Davis
Radoslaw Szaganski 5-1 Andre Knox
Colin Fowler Bye
John Brown 5-1 Jay Foreman
Paul Phillips 5-0 Barry Morgan
Michael Barnard 5-0 Stuart Stubbs
Jack Todd Bye
Jamie Robinson 5-2 Paul Milford
Alan Tabern 5-3 Josh McCarthy
Wayne Crossley 5-2 Danny Bosch
Pip Blackwell Bye
Arron Monk 5-0 Martin Thomas
Charlie Jackson 5-4 Ben Adams
Coni Singh Nagi 5-1 Lee Budgen
Sean Johnson Bye
Mareno Michels 5-2 Marc Dewsbury
Rohit Rabadia 5-2 David Wilson
Peter Mitchell 5-1 Chris Skeates
Steven Harbert Bye
Rob Holroyd 5-2 David Evans
Aaron Stevens 5-2 Lewis Coult
Andrew Belton 5-0 Ian Hurley
Craig Gilchrist Bye
Paul Meyer 5-1 Tony Cole
Jim Walker 5-0 Robert Hughes
Ben Green 5-3 Andrew Currivan
Lee Evans Bye
Ian Lever 5-1 Andrew Poynton
Jason Wilson 5-1 Nathan Aspinall
Steve Brown 5-0 Nick Jennings
Ricky Palmer Bye
Stuart Bousfield 5-2 Shane Reidy
John Morris 5-3 Dave Ladley
Steve Maish 5-4 Emre Toros
Mark Dudbridge Bye
Paul Coughlin 5-0 James Hajdar
Alan Tabern Jnr 5-4 Sandy Morrison
Billy Holmes 5-4 Evan Wilson
Steve Perren Bye
Daniel Key 5-2 Reece Robinson
Ryan Murray 5-1 Robbie Gorst
Michael Burgoine 5-3 Stuart Monaghan
Mark Frost Bye
Allan Edwards 5-2 Laurie Selby
Chris Jackson 5-0 Ian Moar
Nick Fullwell 5-1 Ryan Harrington
Terry Roach Bye
Nolan Arendse 5-0 Justin Broton
Kelvin Hart 5-1 Barry Lynn
Michael Blake 5-0 Lee Shewan
Chris Hartrey Bye
Luke Woodhouse 5-2 Darren Brown
Robert Rickwood 5-4 Harry Ward
Sam Head 5-3 Bryan de Hoog
Nathan Derry Bye
Andy Smith 5-0 Nathan Richards
Matt Padgett 5-0 David Marson
Stuart Dutton 5-4 Kevin Burness
Gary Eastwood Bye
Tony Martin 5-3 Justin Bradshaw
Wayne Jones 5-3 Mark Foreman
Alex Roy 5-1 Lisa Ashton
Jon Jukes Bye
Gary Stone 5-1 Michael Huntley
Kieran Evans 5-4 Gary Butcher
Mark Westgarth 5-3 Mark Jodrill
Ricky Nathan Bye
Aaron Dyer 5-0 Daniel Russell
Nigel Lloyd 5-4 Jamie Landon
Jamie Kelling 5-0 Ben Simpson
Steve Douglas Bye
Lewis McGurn 5-0 John Gibson
James Marcroft 5-4 Joey Palfreyman
Dawson Murchell 5-1 Richard Platt
Glen Parsons Bye
Kevin Lane 5-4 Callum Loose
Justin Smith 5-1 Mark Devon
Barrie Bates 5-4 Mark Wilson
Dan Read Bye
Steven McNally 5-0 Peter Evison
Kevin McDine 5-4 Richie Howson
John Power 5-4 Ross Parsons
Shaun Matthews Bye
Scott Dale Bye
Kevin Dowling 5-4 Thom Humphrey
Daniel Dootson - (Kevin Self timed out)
Evander Stevenson Bye
Barry Maclean 5-0 Mark Hylton
Chris Ware 5-1 Brian Hallas
Kurt Parry 5-0 John Scott
Mark Carter Bye
Stuart Kellett 5-0 Nigel Pinchen
Derek Brand 5-1 Shaun Carroll
Adam Smith-Neale 5-2 Richie Parkin
Keith Arber Bye
Greg Ritchie 5-1 David Read
Nicholas Ellis 5-2 Colin Littlecott
Samuel Fuller 5-3 Steve Hattersley
David King Bye
Jim Moston 5-4 James Young
Scott Marsh 5-2 Kevin Edwards
Warrick Scheffer 5-1 Stuart McGaulley
Dean Reynolds Bye
Peter Hudson 5-3 Curtis Hammond
Tim Hope 5-1 Hayden Barnes
Dean Stewart 5-2 Bradley Brooks
Steve Kingdon Bye
Luke Humphries 5-2 Mark Baxter
Matthew Edgar 5-1 Peter Fisher
Tony Lincoln 5-2 James Lane
Ben Ward Bye
Ricky Sudale 5-1 Paul Reeve
Dean Owen 5-1 Max Baulcomb
Stephen Gallimore 5-4 Daniel Cole
Raymond van den Ende Bye
Sheamus Hagan Bye
Jason Lovett 5-1 Kevin McDonnell
Edward Lovely 5-1 Josh Wills
Second Round
Ian Jones 5-2 Pete Dyos
Ian Withers 5-1 Scott Rollings
Rob Hewson 5-4 Ash Khayatzadeh
Johsua Richardson 5-3 Eikichi Nakanishi
Martin Lukeman 5-1 Eddie Dootson
Brett Claydon 5-2 Radoslaw Szaganski
Colin Fowler 5-3 John Brown
Paul Phillips 5-4 Michael Barnard
Jamie Robinson 5-2 Jack Todd
Alan Tabern 5-0 Wayne Crossley
Pip Blackwell 5-3 Arron Monk
Charlie Jackson 5-3 Coni Singh Nagi
Mareno Michels 5-4 Sean Johnson
Peter Mitchell 5-0 Rohit Rabadia
Rob Holyroyd 5-0 Steven Harbert
Aaron Stevens 5-2 Andrew Belton
Craig Gilchrist 5-2 Paul Meyer
Jim Walker 5-2 Ben Green
Lee Evans 5-1 Ian Lever
Steve Brown 5-2 Jason Wilson
Ricky Palmer 5-3 Stuart Bousfield
Steve Maish 5-2 John Morris
Paul Coughlin 5-4 Mark Dudbridge
Alan Tabern Jnr 5-3 Billy Holmes
Steve Perren 5-2 Daniel Key
Ryan Murray 5-3 Michael Burgoine
Mark Frost 5-4 Allan Edwards
Nick Fullwell 5-2 Chris Jackson
Terry Roach 5-2 Nolan Arendse
Michael Blake 5-2 Kelvin Hart
Luke Woodhouse 5-2 Chris Hartrey
Robert Rickwood 5-4 Sam Head
Andy Smith 5-1 Nathan Derry
Matt Padgett 5-4 Stuart Dutton
Tony Martin 5-2 Gary Eastwood
Wayne Jones 5-2 Alex Roy
Gary Stone 5-3 Jon Jukes
Mark Westgarth 5-1 Kieran Evans
Aaron Dyer 5-4 Ricky Nathan
Jamie Kelling 5-4 Nigel Lloyd
Lewis McGurn 5-2 Steve Douglas
Dawson Murschell 5-4 James Marcroft
Kevin Lane 5-2 Glen Parsons
Barrie Bates 5-3 Justin Smith
Steve McNally 5-4 Dan Read
Kevin McDine 5-2 John Power
Scott Dale 5-1 Shaun Matthews
Kevin Dowling 5-3 Daniel Dootson
Evenader Stevenson 5-1 Barry Maclean
Kurt Parry 5-2 Chris Ware
Stuart Kellett 5-1 Mark Carter
Derek Brand 5-4 Adam Smith-Neale
Keith Arber 5-4 Greg Ritchie
Samuel Fuller 5-3 Nicholas Ellis
David King 5-2 Jim Moston
Warrick Scheffer 5-3 Scott Marsh
Peter Hudson 5-1 Dean Reynolds
Dean Stewart 5-3 Tim Hope
Luke Humphries 5-0 Steve Kingdon
Tony Lincoln 5-4 Matthew Edgar
Ricky Sudale 5-3 Ben Ward
Dean Owen 5-1 Stephen Gallimore
Raymond van den Ende 5-4 Sheamus Hagan
Jason Lovett 5-3 Edward Lovely
Third Round
Ian Jones 5-3 Ian Withers
Rob Hewson 5-1 Joshua Richardson
Martin Lukeman 5-1 Brett Claydon
Paul Phillips 5-3 Colin Fowler
Alan Tabern 5-3 Jamie Robinson
Charlie Jackson 5-3 Pip Blackwell
Peter Mitchell 5-2 Mareno Michels
Rob Holroyd 5-1 Aaron Stevens
Jim Walker 5-3 Craig Gilchrist
Lee Evans 5-3 Steve Brown
Steve Maish 5-1 Ricky Palmer
Paul Coughlin 5-1 Alan Tabern Jnr
Ryan Murray 5-1 Steve Perren
Mark Frost 5-2 Nick Fullwell
Michael Blake 5-3 Terry Roach
Luke Woodhouse 5-2 Robert Rickwood
Andy Smith 5-3 Matt Padgett
Wayne Jones 5-1 Tony Martin
Gary Stone 5-1 Mark Westgarth
Aaron Dyer 5-3 Jamie Kelling
Lewis McGurn 5-1 Dawson Murschell
Barrie Bates 5-3 Kevin Lane
Kevin McDine 5-3 Steve McNally
Kevin Dowling 5-3 Scott Dale
Kurt Parry 5-2 Evander Stevenson
Stuart Kellett 5-0 Derek Brand
Keith Arber 5-2 Samuel Fuller
Warrick Scheffer 5-1 David King
Peter Hudson 5-1 Dean Stewart
Luke Humphries 5-1 Tony Lincoln
Ricky Sudale 5-4 Dean Owen
Jason Lovett 5-0 Raymond van den Ende
Fourth Round
Ian Jones 5-4 Rob Hewson
Martin Lukeman 5-1 Paul Phillips
Alan Tabern 5-0 Charlie Jackson
Peter Mitchell 5-0 Rob Holroyd
Jim Walker 5-4 Lee Evans
Paul Coughlin 5-0 Steve Maish
Mark Frost 5-4 Ryan Murray
Luke Woodhouse 5-3 Michael Blake
Wayne Jones 5-3 Andy Smith
Aaron Dyer 5-1 Gary Stone
Barrie Bates 5-2 Lewis McGurn
Kevin McDine 5-1 Kevin Dowling
Kurt Parry 5-4 Stuart Kellett
Warrick Scheffer 5-1 Keith Arber
Peter Hudson 5-2 Luke Humphries
Jason Lovett 5-1 Ricky Sudale
Fifth Round
Martin Lukeman 5-4 Ian Jones
Alan Tabern 5-3 Peter Mitchell
Jim Walker 5-2 Paul Coughlin
Mark Frost 5-3 Luke Woodhouse
Aaron Dyer 5-2 Wayne Jones
Barrie Bates 5-2 Kevin McDine
Kurt Parry 5-4 Warrick Scheffer
Jason Lovett  5-3 Peter Hudson
Quarter-Finals
Alan Tabern 5-2 Martin Lukeman
Mark Frost 5-2 Jim Walker
Aaron Dyer 5-3 Barrie Bates
Jason Lovett 5-4 Kurt Parry
Semi-Finals
Mark Frost 5-4 Alan Tabern
Aaron Dyer 5-3 Jason Lovett
Final
Aaron Dyer 5-1 Mark Frost
Event Two
Saturday March 25, Arena MK, Milton Keynes
First Round
Terry Roach 5-2 Daniel Russell
Nathan Aspinall 5-1 Bryan de Hoog
Lee Evans 5-0 Andrew Poynton
Nick Fullwell 5-3 Mark Farmer
Michael Barnard Bye
Aaron Monk 5-4 Derek Brand
Ricky Nathan 5-1 Emre Toros
Nolan Arendse 5-1 Kieran Evans
Mark Hylton Bye
Nigel Lloyd 5-3 Shane Reidy
James Hajdar 5-3 Chris Ware
Ryan Murray 5-1 Adam Whieldon
Stuart McGaulley Bye
Dan Read 5-3 John Power
Marc Dewsbury 5-0 Ben Simpson
Tony Martin 5-1 Josh Wills
Stephen Gallimore Bye
Richie Howson 5-2 Nathan Derry
Callum Loose 5-4 Jack Todd
Ian Jones 5-0 Tony Cole
Richie Parkin Bye
Jim Walker 5-4 Ryan Harrington
Martin Lukeman 5-3 Barry Lynn
Brian Hallas 5-2 John Gibson
Joey Palfreyman Bye
Curtis Hammond 5-1 Alex Roy
Scott Marsh 5-4 Lisa Ashton
Martin Thomas 5-0 Nick Jennings
Paul Coughlin Bye
Jason Lovett 5-1 Stuart Dutton
Mark Carter 5-3 Andrew Belton
Daniel Cole 5-3 Steve Maish
Billy Holmes Bye
Thom Humphrey 5-3 Ben Ward
Shaun Carroll 5-3 Rob Hewson
Colin Fowler 5-4 David King
Billy Gallie Bye
Radoslaw Szaganski 5-0 Wayne Crossley
Stuart Kellett 5-1 Barry Maclean
Kevin Garcia 5-0 Kevin McDonnell
Mark Frost Bye
Kevin Lane 5-3 David Evans
Eikichi Nakanishi 5-2 Jay Foreman
Robert Hughes 5-0 Barrie Bates
Lee Watkins Bye
Peter Hudson 5-2 Rob Holyroyd
Jason Wilson 5-1 Raymond van den Ende
Dave Ladley 5-4 Paul Meyer
Nathan Richards Bye
Adam Smith-Neale 5-1 Coni Singh Nagi
Jamie Kelling 5-4 Lee Shewan
Lee Budgen 5-3  Stuart Monaghan
Chris Skeates Bye
Steve Brown 5-3 Mark Dudbridge
Josh McCarthy 5-1 Peter Fisher
Evan Wilson 5-2 Andrew Currivan
Justin Broton Bye
Mark Devon 5-4 Paul Reeve
Mike Norton 5-2 Aaron Stevens
Steve Perren 5-2Hayden Barnes
Jamie Robinson Bye
Allan Edwards 5-0 David Marson
Pip Blackwell 5-2 Stuart Stubbs
Gary Stone 5-2 Ash Khayatzadeh
Robbie Gorst Bye
Sam Head 5-4 Gary Eastwood
Stuart Bousfield 5-4 Kevin Edwards
Wayne Jones 5-0 Alan Tabern Jnr
James Marcroft Bye
Darren Brown 5-2 Michael Huntley
Mark Jodrill 5-2 Jon Jukes
Ross Parsons 5-0 Barry Morgan
Joe Davis Bye
Mark Westgarth 5-2 Colin Littlecott
Michael Burgoine 5-2 Laurie Selby
Mark Wilson 5-0 Ian Hurley
Aaron Dyer Bye
Kevin McDine 5-1 Samuel Fuller
Andy Smith 5-0 Ricky Palmer
Craig Gilchrist 5-2 Peter Evison
Eddie Dootson Bye
John Brown 5-2 Robert Rickwood
Alan Tabern 5-3 Daniel Dootson
Dean Reynolds 5-2 James Young
Greg Ritchie Bye
David Wilson 5-3 Mark Forman
Edward Lovely 5-2 Reece Robinson
Dean Stewart 5-0 Danny Key
Evander Stevenson Bye
Justin Smith 5-0 Garath Illidge
Danny Bosch 5-3 Ben Adams
Mark Baxter 5-4 Ricky Sudale
Christopher Dale Bye
Luke Humphries 5-2 Glen Parsons
Charlie Jackson 5-0 Steve Hattersley
Chris Hartrey 5-2 Paul Phillips
Keith Arber Bye
Scott Rollings 5-4 Kelvin Self
John Morris 5-1 Bradley Brooks
Peter Mitchell 5-3 Richard Platt
Jim Moston Bye
Paul Milford 5-2 Joshua Richardson
Warrick Scheffer 5-0 Lewis Coult
Harry Ward 5-4 Tony Lincoln
Shaun Matthews Bye
Sheamus Hagan 5-3 Ian Withers
Justin Bradshaw 5-2 Steve Kingdon
Brett Claydon 5-0 David Read
Luke Woodhouse Bye
Kurt Parry 5-2 Sean Johnson
Ben Green 5-2 Kelvin Hart
Nicholas Ellis 5-4 Matthew Edgar
Mareno Michels Bye
Scott Dale 5-0 Max Baulcomb
Gary Butcher 5-2 Dean Owen
Steve McNally 5-1 Steven Harbert
Rohit Rabadia Bye
Matt Padgett 5-4 Andre Know
Lewis McGurn 5-4 Ian Moss
Jamie Landon 5-3 Ian Lever
Chris Jackson Bye
Kevin Burness 5-0 Wayne Thomas
Pete Dyos 5-0 Ian Moar
John Scott 5-3 Sandy Morrison
Steve Douglas Bye
Kevin Dowling 5-0 James Lane
Nigel Pinchen 5-1 Tim Hope
Dawson Murschell 5-2 Michael Blake
Second Round
Nathan Aspinall 5-0 Terry Roach
Lee Evans 5-2 Nick Fullwell
Michael Barnard 5-2 Aaron Monk
Ricky Nathan 5-1 Nolan Arendse
Nigel Lloyd 5-1 Mark Hylton
Ryan Murray 5-4 James Hadjar
Dan Read 5-3 Stuart McGaully
Marc Dewsbury 5-4Tony Martin
Richie Howson 5-3 Stephen Gallimore
Ian Jones 5-3 Callum Loose
Jim Walker 5-4 Richie Parkin
Martin Lukeman 5-0 Brian Hallas
Joey Palreyman 5-1Curtis Hammond
Martin Thomas 5-2 Scott Marsh
Paul Coughlin 5-4 Jason Lovett
Mark Carter 5-1 Daniel Cole
Thom Humphrey 5-2 Billy Holmes
Shaun Carroll 5-4 Colin Fowler
Radoslaw Szaganski 5-0 Billy Gallie
Stuart Kellett 5-4 Kevin Garcia
Kevin Lane 5-1 Mark Frost
Robert Hughes 5-4 Eikichi Nakanish
Peter Hudson 5-0 Lee Watkins
Jason Wilson 5-0 Dave Ladley
Adam -Smith Neale 5-0 Nathan Richards
Lee Budgen 5-4 Jamie Kelling
Steve Brown 5-4 Chris Skeates
Josh McCarthy 5-2 Ewan Wilson
Mark Devon 5-2 Justin Broton
Mike Norton 5-1 Steve Perren
Allan Edwards 5-2 Jamie Robinson
Pip Blackwell 5-4 Gary Stone
Sam Head 5-1 Robbie Gorst
Wayne Jones 5-3 Wayne Jones
Darren Brown 5-3 James Marcroft
Ross Parsons 5-2 Mark Jodrill
Joe Davis 5-2 Mark Westgarth
Mark Wilson 5-2 Michael Burgoine
Kevin McDine 5-4 Arron Dyer
Andy Smith 5-1 Craig Gilchrist
John Brown 5-3 Eddie Dootson
Alan Tabern 5-1 Dean Reynolds
David Wilson 5- 1 Greg Ritchie
Dean Stewart 5-4 Edward Lovely
Justin Smith 5-3 Evander Stevenson
Mark Baxter 5-4 Danny Bosch
Luke Humphries 5-2 Christopher Dale
Chris Hartrey 5-4 Charlie Jackson
Keith Arber 5-4 Scott Rollings
Peter Mitchell 5-1 John Morris
Paul Milford 5-0 Jim Moston
Warrick Scheffer 5-0 Harry Ward
Sheamus Hagan 5-2 Shaun Matthews
Brett Claydon 5-0 Justin Bradshaw
Kurt Parry 5-4 Like Woodhouse
Nicholas Ellis 5-4 Ben Green
Mareno Michels 5-3 Scott Dale
Gary Butcher 5-4 Steve McNally
Matt Padgett 5-1 Rohit Rabadia
Jamie Landon 5-4 Jamie Landon
Kevin Burness 5-2 Chris Jackson
Pete Dyos 5-4 John Scott
Steve Douglas 5-1 Kevin Dowling
Dawson Murschell 5-4 Nigel Pinchen
Third Round
Lee Evans 5-4 Nathan Aspinall
Ricky Nathan 5-3 Michael Barnard
Ryan Murray 5-1 Nigel Lloyd
Dan Read 5-3 Marc Dewsbury
Ian Jones 5-2 Richie Howson
Martin Lukeman 5-3 Jim Walker 
Joey Palreyman 5-2 Martin Thomas
Paul Coughlin 5-1 Mark Carter
Thom Humphrey 5-3 Shaun Carroll
Stuart Kellett 5-4 Radoslaw Szaganski
Robert Hughes 5-0 Kevin Lane
Jason Wilson 5-1 Peter Hudson
Adam- Smith Neale 5-4 Lee Budgen
Steve Brown 5 -0 Josh McCarthy
Mike Norton 5-4 Mark Devon
Allan Edwards 5-4 Pip Blackwell
Sam Head 5-0 Wayne Jones
Ross Parsons 5-4 Darren Brown
Joe Davis 5-1 Mark Wilson
Andy Smith 5-1 Kevin McDine
Alan Tabern 5-4 John Brown
Dean Stewart 5-3 David Wilson
Justin Smith 5-2 Mark Baxter
Luke Humphries 5-4 Chris Hartrey
Keith Arber 5-0 Peter Mitchell
Paul Milford 5-3 Warrick Scheffer
Brett Claydon 5-1 Shamus Hagan
Kurt Parry 5-3 Nicholas Ellis
Mareno Michels 5-4 Gary Butcher
Jamie Landon 5-0 Matt Padget
Pete Dyos 5-0 Kevin Burness
Dawson Murschell 5-3 Steve Douglas
Fourth Round
Lee Evans 5-3 Ricky Nathan
Ryan Murray 5-1 Dan Read
Martin Lukeman 5-3 Ian Jones
Joey Palfreyman 5-3 Paul Coughlin
Stuart Kellett 5-2 Thom Humphrey
Jason Wilson 5-1 Robert Hughes
Steve Brown 5-2 Adam-Smith Neale
Mike Norton 5-0 Allan Edwards
Sam Head 5-3 Ross Parsons
Joe Davis 5-4 Andy Smith
Alan Tabern 5-3 Dean Stewart
Luke Humphries 5-1 Justin Smith
Paul MIlford 5-4 Keith Arber
Brett Claydon 5-1 Kurt Parry
Mareno Michels 5-0 Jamie Landon
Pete Dyos 5-1 Dawson Murschell
Fifth Round
Ryan Murray 5-4 Lee Evans
Martin Lukeman 5-4 Joey Palfreyman
Jason Wilson 5-1 Stuart Kellett
Mike Norton 5-0 Steve Brown
Sam Head 5-4 Joe Davis
Alan Tabern 5-3 Luke Humphries
Paul Milford 5-1 Brett Claydon
Pete Dyos 5-3 Mareno Michels
Quarter-Finals
Martin Lukeman 5-3 Ryan Murray
Mike Norton 5-3 Jason Wilson
Alan Tabern 5-4 Sam Head
Paul Milford 5-0 Pete Dyos
Semi-Finals
Martin Lukeman 5-2 Mike Norton
Paul Milford 5-3 Alan Tabern
Final
Paul Milford 5-0 Martin Lukeman
Prize Fund (Per Event)
Winner £2,000
Runner-Up £1,000
Semi-Finalists £500
Quarter-Finalists £300
Last 16 £200
Last 32 £100
Last 64 £50
Total £10,000