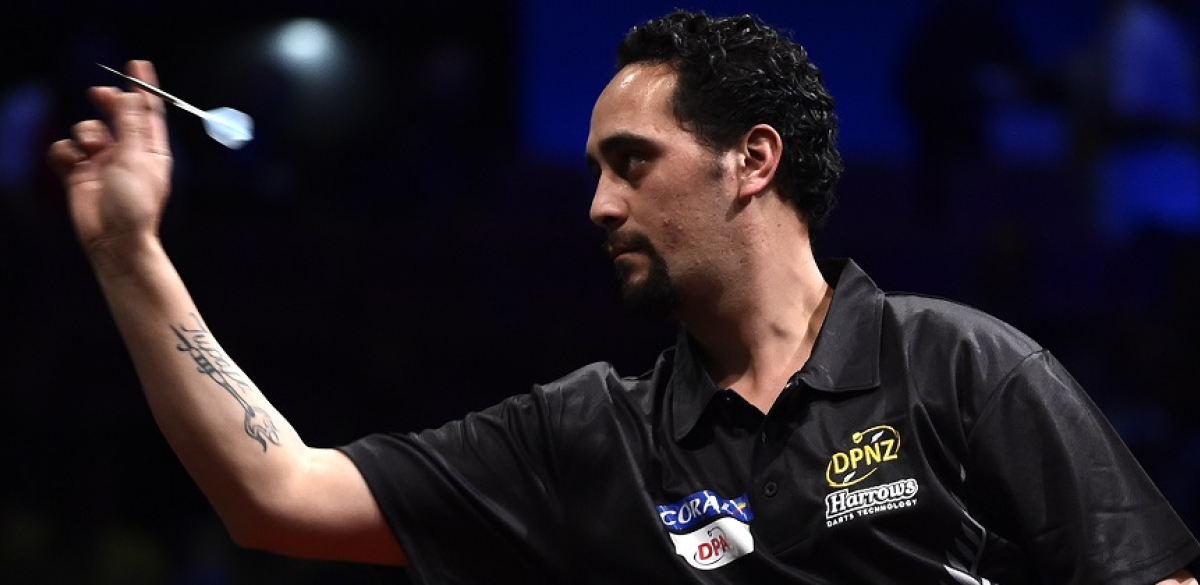 CODY HARRIS and Corey Cadby shared victories on the fourth weekend of the DPA Australian Pro Tour season.
New Zealand's Harris followed up his win in Friday's World Series of Darts Qualifier by taking victory in Saturday's Joe Seymour Memorial.
A superb run - which included a missed double 12 for a nine-dart finish - saw Harris drop only three legs in five games during the knockout phase of the event, defeating Shane Hill, Paul Cotton, Robbie King and Lucas Cameron before whitewashing Rhys Mathewson in the final.
Harris also won through to the semi-finals of Sunday's Kelvin Boyland Memorial event, where he lost out 6-5 to Cadby in a tight tussle.
Reigning PDC Unicorn World Youth Champion Cadby then went on to defeat Gordon Mathers 6-3 in the final, having also seen off Jerry Weyman, Clinton Bridge and Kalani Hillman in the knockout stages.
The next DPA weekend will be held from April 7-9 at the Osborne Park Bowling Club in WA. For further details, please visit www.dartplayersaustralia.com.
World Series of Darts Qualifier Four
Quarter-Finals
Clinton Bridge def Jerry Weyman
Cody Harris def Dean McGladdery
Justin Thompson def Kevin Luland
Lucas Cameron def Corey Cadby
Semi-Finals
Cody Harris def Clinton Bridge
Lucas Cameron def Justin Thompson
Final
Cody Harris 6-5 Lucas Cameron
Joe Seymour Memorial
Harrows DPA Pro Tour Event Seven
Quarter-Finals
Gordon Mathers 6-3 Corey Cadby
Rhys Mathewson 6-0 Dave Marland
Lucas Cameron 6-0 Kalani Hillman
Cody Harris 6-0 Robbie King
Semi-Finals
Rhys Mathewson 6-2 Gordon Mathers
Cody Harris 6-2 Lucas Cameron
Final
Cody Harris 6-0 Rhys Mathewson
Kelvin Boyland Memorial
Harrows DPA Pro Tour Event Eight
Quarter-Finals
Corey Cadby 6-3 Kalani Hillman
Cody Harris 6-0 Mike Bonser
Gordon Mathers def Craig Prizeman
Rhys Mathewson 6-3 Robbie King
Semi-Finals
Corey Cadby 6-5 Cody Harris
Gordon Mathers 6-1 Rhys Mathewson
Final
Corey Cadby 6-3 Gordon Mathers