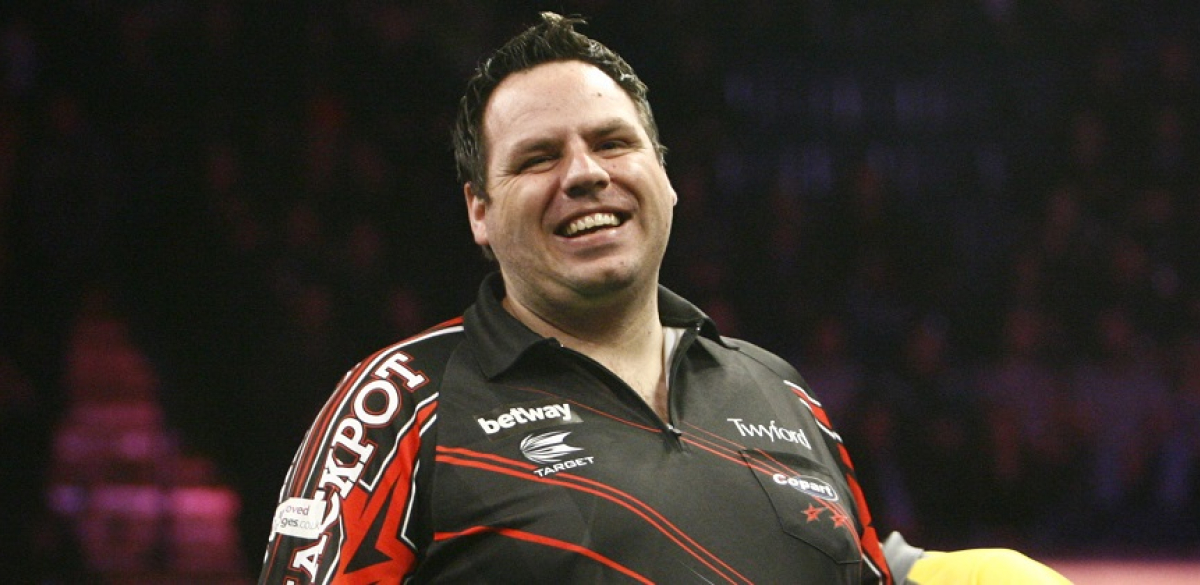 FORMER European Tour winners Adrian Lewis, Raymond van Barneveld, Mervyn King, Justin Pipe and Robert Thornton were amongst the 18 UK Qualifiers for April's HappyBet German Darts Masters on Friday night.
World number four Lewis secured his spot in the Easter event in Jena by overcoming Adrian Gray and Scott Taylor at Arena MK in Milton Keynes to headline the 18 UK Qualifiers.
Five-time World Champion Van Barneveld defeated Luke Woodhouse and then edged out in-form Darren Johnson 6-5 as he secured his spot in the £135,000 tournament.
King dropped just three legs in his wins over Andy Boulton and Mark Barilli, while another former European Tour winner, Thornton, whitewashed Paul Rowley and then defeated former World Youth Champion Keegan Brown as he progressed.
Justin Pipe - the winner of the 2012 Austrian Darts Open in the inaugural European Tour event - battled past Richie Burnett and South Africa's Warrick Scheffer to seal his spot in Jena.
Ronnie Baxter edged out former European Tour winner Steve Beaton 6-5 in their decider as he won through, while former Lakeside Champion Mark Webster qualified at the expense of William O'Connor and Paul Nicholson.
Northern Ireland's Daryl Gurney overcame Lee Bryant and James Richardson to move into the main event, but his fellow countryman Mickey Mansell lost out to Australia's Kyle Anderson in their decider.
Welsh aces Jamie Lewis, Jonny Clayton and Robert Owen joined Webster in qualifying, alongside English throwers Robbie Green, Brian Woods, Andrew Gilding, Joe Murnan, Ricky Evans and Ted Evetts.
The UK Qualifier opened the PDC ProTour weekend at Arena MK in Milton Keynes, with a pair of Players Championship events being held on Saturday and Sunday.
The events will be streamed live with coverage from two boards simultaneously for PDCTV-HD Subscribers worldwide via www.livepdc.tv, as well as through a series of bookmakers' websites advertised at www.pdc.tv.
HappyBet German Darts Masters
UK Qualifier
Friday March 31, Arena MK, Milton Keynes
Preliminary Round
Darron Brown 6-2 Michael Barnard
James Richardson 6-3 Matthew Dennant
Brian Woods 6-4 Jim Brown
John Bowles 6-3 Peter Jacques
Mickey Mansell 6-2 Martin Lukeman
Jamie Bain 6-2 Andy Jenkins
Warrick Scheffer 6-5 Simon Preston
Terry Temple 6-5 Stephen Burton
Simon Stevenson 6-3 Ryan Searle
Peter Hudson 6-4 Paul Harvey
Andrew Gilding 6-5 Matt Clark
Darren Johnson 6-2 Adam Hunt
Steve Hine 6-5 Ritchie Edhouse
Jim Walker 6-3 Craig Gilchrist
Paul Nicholson 6-3 Ross Twell
John Part 6-1 Ray Campbell
Devon Petersen 6-5 Chris Quantock
Mick McGowan 6-2 Ricky Williams
Joe Murnan 6-2 Harry Robinson
First Round
Steve Beaton 6-1 Dennis Smith
Ronnie Baxter 6-1 Darron Brown
Daryl Gurney 6-3 Lee Bryant
James Richardson 6-2 Mick Todd
Tony Newell 6-2 Chris Dobey
Brian Woods 6-1 Ryan Palmer
Andy Hamilton 6-3 James Wilson
Robert Owen 6-3 John Bowles
Kyle Anderson 6-2 Steve Lennon
Mickey Mansell 6-3 Richard North
Mervyn King 6-2 Andy Boulton
Mark Barilli 6-5 Jamie Bain
Justin Pipe 6-5 Richie Burnett
Warrick Scheffer 6-4 Brendan Dolan
Robbie Green 6-4 Ryan Meikle
Jonathan Worsley 6-2 Terry Temple
Robert Thornton 6-0 Paul Rowley
Keegan Brown 6-1 Simon Stevenson
Darren Webster 6-0 Wes Newton
Ted Evetts 6-3 Peter Hudson
Josh Payne 6-2 Callum Loose
Andrew Gilding 6-3 David Pallett
Raymond van Barneveld 6-1 Luke Woodhouse
Darren Johnson 6-3 Aden Kirk
Jamie Lewis 6-4 Jamie Caven
Rob Cross 6-4 Steve Hine
John Henderson 6-2 Terry Roach
Ricky Evans 6-1 Jim Walker
Mark Webster 6-3 William O'Connor
Paul Nicholson 6-4 Wayne Jones
Adrian Lewis 6-2 Adrian Grey
Scott Taylor 6-2 John Part
Jonny Clayton 6-3 Kirk Shepherd
Devon Peterson 6-3 John Norman Jnr
Richie Corner 6-5 Kevin Painter
Joe Murnan 6-1 Mick McGowan
Second Round
Ronnie Baxter 6-5 Steve Beaton
Daryl Gurney 6-2 James Richardson
Brian Woods 6-5 Tony Newell
Robert Owen 6-5 Andy Hamilton
Kyle Anderson 6-1 Mickey Mansell
Mervyn King 6-1 Mark Barilli
Justin Pipe 6-3 Warrick Scheffer
Robbie Green 6-1 Jonathan Worsley
Robert Thornton 6-4 Keegan Brown
Ted Evetts 6-4 Darren Webster
Andrew Gilding 6-2 Josh Payne
Raymond van Barneveld 6-5 Darren Johnson
Jamie Lewis 6-3 Rob Cross
Ricky Evans 6-5 John Henderson
Mark Webster 6-3 Paul Nicholson
Adrian Lewis 6-1 Scott Taylor
Jonny Clayton 6-3 Devon Peterson
Joe Murnan 6-1 Richie Corner
Qualifiers: Ronnie Baxter, Daryl Gurney, Brian Woods, Robert Owen, Kyle Anderson, Mervyn King, Justin Pipe, Robbie Green, Robert Thornton, Ted Evetts, Andrew Gilding, Raymond van Barneveld, Jamie Lewis, Ricky Evans, Mark Webster, Adrian Lewis, Jonny Clayton, Joe Murnan