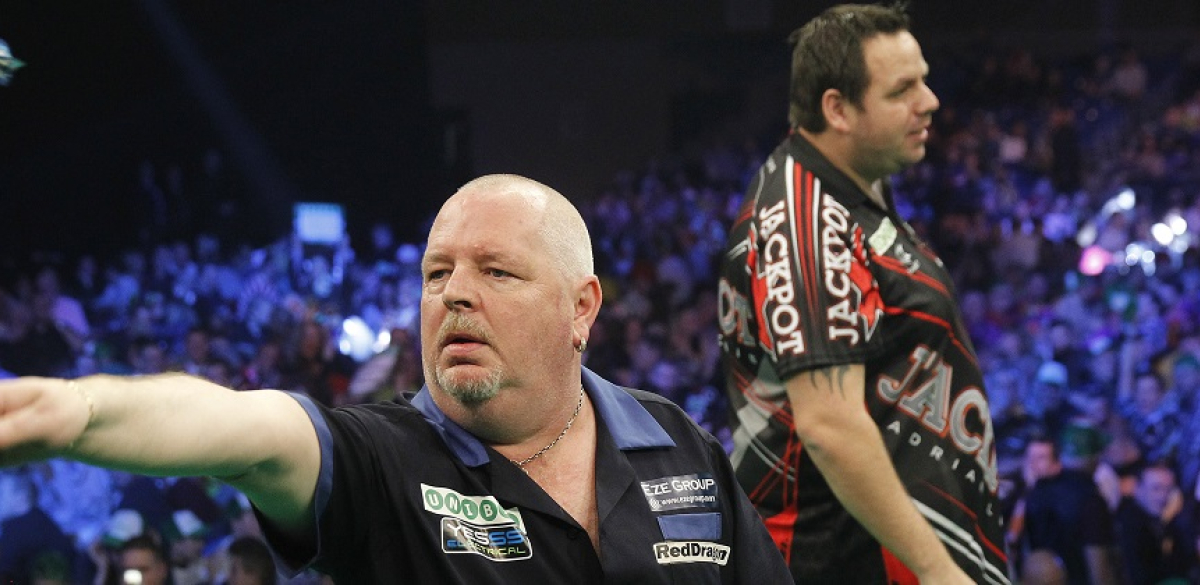 FORMER European Tour winners Robert Thornton and Mervyn King headlined the 18 players who won through the UK Qualifier for the HappyBet German Darts Open on Friday, as Steve Beaton landed a nine-dart finish in Barnsley.
Scottish star Thornton dropped just four legs as he defeated Terry Temple and Ray Campbell to secure his spot in the year's third European Tour event, which will be held in Saarbrucken from April 21-23.
King, meanwhile, defeated Richie Corner and David Pallett with 6-3 scorelines as he qualified, while Paul Nicholson saw off Daryl Gurney and Richie Burnett as he won through.
John Henderson, another former European Tour finalist, defeated youngsters Luke Woodhouse and Keegan Brown to progress, while former World Championship finalist Andy Hamilton enjoyed wins over Wes Newton and Jamie Lewis.
Peter Jacques, a Players Championship finalist earlier this year, qualified for his European Tour debut by defeating Callan Rydz, Robert Owen and Justin Pipe.
South Africa's Warrick Scheffer will also make his European Tour debut after overcoming fellow countryman Devon Petersen in their decider.
James Richardson defied a nine-dart finish from Steve Beaton in the opening leg of their decider to claim a 6-4 win as he qualified, while former UK Open finalist Mark Walsh defeated James Wilson and Matthew Dennant on the night.
Former World Youth Championship finalist Nathan Aspinall whitewashed Kyle Anderson in their decider, while Josh Payne, Adam Hunt, Brian Woods and Rob Cross all qualified by edging through 11-leg contests in their final clash.
Ireland's Steve Lennon knocked out Kevin Painter to secure his place in Saarbrucken, while Jamie Bain, Darren Webster and Robbie Green also progressed on the night.
The PDC ProTour weekend in Barnsley continues on Saturday with Players Championship Seven, as a 128-player field compete for £75,000 in prize money.
HappyBet German Darts Open
UK Qualifier
Friday April 7, Barnsley Metrodome
Preliminary Round
Ted Evetts 6-3 Paul Rowley
Brendan Dolan 6-2 Mick McGowan
John Bowles 6-4 Jim Brown
Peter Jacques 6-4 Callan Rydz
Ray Campbell 6-3 Ricky Williams
Wes Newton 6-3 Martin Lukeman
Steve Hine 6-5 Kirk Shepherd
Chris Quantock 6-0 Andrew Gilding
Rob Cross 6-1 Ricky Evans
Steve Lennon 6-2 Scott Taylor
Jamie Bain 6-5 Mickey Mansell
Matt Clark 6-4 Peter Hudson
First Round
Steve Beaton 6-5 Craig Gilchrist
James Richardson 6-0 Ronnie Baxter
Mervyn King 6-3 Richie Corner
David Pallett 6-5 Callum Loose
Paul Nicholson 6-4 Daryl Gurney
Richie Burnett 6-1 Richard North
Kyle Anderson 6-4 Ritchie Edhouse
Nathan Aspinall 6-3 Andy Boulton
Mark Walsh 6-5 James Wilson
Matthew Dennant 6-3 Ryan Palmer
Brian Woods 6-5 Chris Dobey
Tony Newell 6-5 Andy Jenkins
Robbie Green 6-2 Wayne Jones
Ted Evetts 6-5 Aden Kirk
Darren Webster 6-5 Jonathan Worsley
Brendan Dolan 6-4 Jim Walker
Josh Payne 6-5 Rob Hewson
John Bowles 6-5 Harry Robinson
Justin Pipe 6-2 Andy Parsons
Peter Jacques 6-1 Robert Owen
Robert Thornton 6-2 Terry Temple
Ray Campbell 6-5 Lee Bryant
Jamie Lewis 6-3 Jamie Caven
Andy Hamilton 6-4 Wes Newton
John Henderson 6-2 Luke Woodhouse
Keegan Brown 6-4 Steve Hine
Mark Webster 6-5 Darren Johnson
Adam Hunt 6-3 Chris Quantock
Jonny Clayton 6-1 Ryan Meikle
Rob Cross 6-1 William O'Connor
Kevin Painter 6-2 Simon Preston
Steve Lennon 6-5 John Norman Jnr
Joe Murnan 6-3 Stephen Burton
Jamie Bain 6-4 Scott Darbyshire
Devon Petersen 6-2 Ross Twell
Warrick Scheffer 6-4 Matt Clark
Second Round
James Richardson 6-4 Steve Beaton - Steve Beaton hits nine-dart finish
Mervyn King 6-3 David Pallett
Paul Nicholson 6-4 Richie Burnett
Nathan Aspinall 6-0 Kyle Anderson
Mark Walsh 6-2 Matthew Dennant
Brain Woods 6-5 Tony Newell
Robbie Green 6-3 Ted Evetts
Darren Webster 6-3 Brendan Dolan
Josh Payne 6-5 John Bowles
Peter Jacques 6-4 Justin Pipe
Robert Thornton 6-2 Ray Campbell
Andy Hamilton 6-5 Jamie Lewis
John Henderson 6-3 Keegan Brown
Adam Hunt 6-5 Mark Webster
Rob Cross 6-5 Jonny Clayton
Steve Lennon 6-3 Kevin Painter
Jamie Bain 6-4 Joe Murnan
Warrick Scheffer 6-1 Devon Peterson
Qualifiers
James Richardson, Mervyn King, Paul Nicholson, Nathan Aspinall, Mark Walsh, Brian Woods, Robbie Green, Darren Webster, Josh Payne, Peter Jacques, Robert Thornton, Andy Hamilton, John Henderson, Adam Hunt, Rob Cross, Steve Lennon, Jamie Bain, Warrick Scheffer