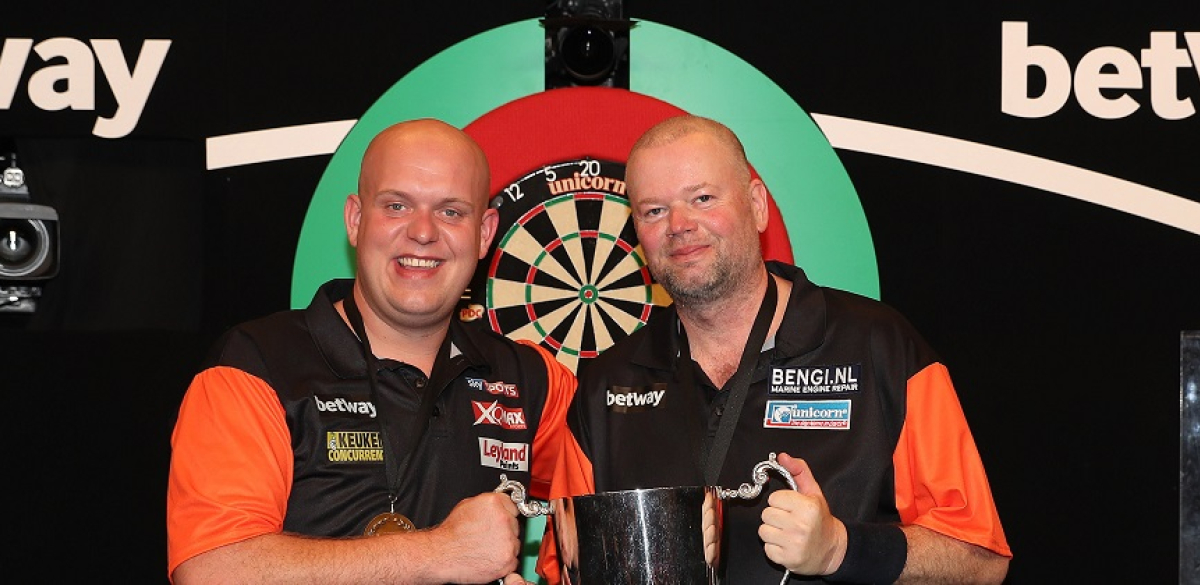 THE Netherlands won the Betway World Cup of Darts for a third time as Michael van Gerwen and Raymond van Barneveld defeated Wales' Gerwyn Price and Mark Webster 3-1 in Sunday's final in Frankfurt.
The Dutch duo had begun the weekend in dramatic fashion when World Champion Van Gerwen emerged as a doubt with a foot injury - with Benito van de Pas travelling to Germany on stand-by.
However, after the world number one declared himself fit, the two-time champions eased past the Czech Republic and then saw off the United States of America and Germany in Doubles deciders at the Eissporthalle.
Their title bid continued with a 2-0 semi-final win over reigning champions England - avenging last year's defeat in the final - before they overcame Wales in a repeat of the 2010 final.
Van Gerwen opened the final with a 4-0 whitewash of UK Open finalist Price, before Webster clinically saw off Van Barneveld 4-1 to level matters.
The Dutch raced into a 3-0 lead in the Doubles tie, before Price responded to Van Gerwen's 107 checkout by taking out 100 with the aid of two double tops as Wales hit back, but double 16 sealed a 4-1 result.
Van Barneveld then came from a leg down to defeat Price 4-2 in the final's third Singles tie, hitting a 136 checkout in the process of sealing his World Cup hat-trick and a share of the £60,000 top prize.
"This is fantastic," said Van Gerwen. "Only once a year we can play as a team and we're going to enjoy this.
"If you're in the tournament you want to win it, On paper we were the strongest couple but you still have to do it and we played well, especially in the Pairs games we were absolutely fantastic."
Van Barneveld added: "It was an amazing tournament and I'm so happy with my third World Cup title.
"Michael was really in agony on Friday and Benito came to be there if Michael couldn't play. I'm happy he played, he's a fighter and a battler and he was always there for me.
"If you look back to the Pairs, it was unreal what we averaged. I was struggling in the Singles but the Pairs was our key thing, and I'm extremely happy with this."
Wales' run to the final was their best finish in the tournament since Webster had been joined by Barrie Bates as they reached the 2010 decider, as they saw off Russia - for the loss of just one leg - and Belgium on Sunday.
"From day one we played pretty well, and if I knew on Thursday we'd be in the final I would have taken it," said Price. "I'm thrilled to be in the final.
"It's disappointing to lose, but it's hard to pull out a big performance against people like Raymond and Michael, they're on top of their game all the time."
Webster added: "We believed we could win but they hit the big shots at the right time. I'm really proud of what we've done, I've had a great weekend with Gezzy and enjoyed every minute of it."
Belgian duo Kim and Ronny Huybrechts had been bidding to emulate their run to the 2013 final as they saw off Singapore in a Doubles decider at the quarter-final stage.
That win over Singapore included younger brother Kim's stunning 121.97 average as he overcame Paul Lim 4-1 in the opening Singles tie of the day, recording the second highest televised average in history.
Host nation Germany took the Netherlands to a Doubles decider, with youngster Martin Schindler having led 2-0 before losing to Van Gerwen before Max Hopp overcame Van Barneveld 4-3, only for the Dutch to prevail 4-1 after pairing up once more.
Austria took England to a Doubles decider after Mensur Suljovic whitewashed Lewis in their opener, landing a 170 finish in the process, with Chisnall then seeing off Rowby-John Rodriguez 4-1 before the reigning champions edged through.
However, Lewis was made to pay for missing the bull to defeat Van Gerwen in their semi-final, before Van Barneveld's 4-2 defeat of Chisnall ended England's bid to win a fifth World Cup.
Betway World Cup of Darts
Sunday June 4
Afternoon Session
Quarter-Finals
Singapore v Belgium
Singles One: Paul Lim 1-4 Kim Huybrechts
Singles Two: Harith Lim 4-2 Ronny Huybrechts
Doubles: Lim/Lim 2-4 Huybrechts/Huybrechts
Final Result: Singapore 1-2 Belgium
Russia v Wales
Singles One: Aleksandr Oreshkin 1-4 Gerwyn Price
Singles Two: Boris Koltsov 0-4 Mark Webster
Doubles: Oreshkin/Koltsov v Price/Webster - Not needed
Result : Russia 0-2 Wales
England v Austria
Singles One: Adrian Lewis 0-4 Mensur Suljovc
Singles Two: Dave Chisnall 4-1 Rowby-John Rodriguez
Doubles: Lewis/Chisnall 4-2 Suljovic/Rodriguez
Results: England 2-1 Austria
Germany v Netherlands
Singles One: Martin Schindler 2-4 Michael van Gerwen
Singles Two: Max Hopp 4-3 Raymond van Barneveld
Doubles: Schindler/Hopp 1-4 Van Gerwen/Van Barneveld
Result: Germany 1-2 Netherlands
Evening Session
Semi-Finals
Belgium v Wales
Singles One: Kim Huybrechts 2-4 Gerwyn Price
Singles Two: Ronny Huybrechts 2-4 Mark Webster
Doubles: Huybrechts/Huybrechts v Price/Webster - Not Needed
Result: Belgium 0-2 Wales
England v Netherlands
Singles One: Adrian Lewis 3-4 Michael van Gerwen
Singles Two: Dave Chisnall 2-4 Raymond van Barneveld
Doubles: Lewis/Chisnall v Van Gerwen/Van Barneveld - Not Needed
Result: England 0-2 Netherlands
Final
Wales v Netherlands
Singles One: Gerwyn Price 0-4 Michael van Gerwen
Singles Two: Mark Webster 4-1 Raymond van Barneveld
Doubles: Price/Webster 1-4 Van Gerwen/Van Barneveld
Singles Three: Gerwyn Price 2-4 Raymond van Barneveld
Singles Four: Mark Webster v Michael van Gerwen - Not Needed
Result: Wales 1-3 Netherlands
Format
The quarter-finals and semi-finals will be played as two best of seven leg 501 Singles matches, with both nations nominating the order in which their players play. In the event of both nations winning one Singles match apiece, a best of seven leg 501 Doubles match will be played to decide the tie.
The final will be played as two best of seven leg 501 Singles matches, with both nations nominating the order in which their players play the first two matches, followed by a best of seven leg 501 Doubles match and then Reverse Singles matches. The first team to win three games is declared the winner.
Quarter-Finals Round-Up
England survived a scare against Austria as the current World Cup holders needed a Doubles decider to setup a semi-final tie with tournament favourites Netherlands.
Mensur Suljoivc gave Austria the perfect start to their encounter, whitewashing Adrian Lewis in Frankfurt.
The European Championship runner-up averaged 101.90 and hit a 170 finish in leg two to secure a point for his team.
Dave Chisnall then levelled the tie, averaging 101.08 and hitting four out of six attempts at a double as he defeated Rowby-John Rodriguez 4-1.
With the game needing a Doubles decider, Adrian Lewis took out 129 on the bull to break throw and give England a 2-1 advantage.
Austria immediately broke back to level the score at 2-2, but Suljoivic then missed the bullseye for a 164 finish to move into the lead before Lewis pinned double 18 to break again.
England sealed the victory in the sixth leg as Lewis hit double 12 to move his side in to the semi-finals.
"We get on so well, I need him and he needs me," said Lewis, of partner Chisnall. "We're here to win this and we're well on our way to doing it."
England will face rivals Netherlands in the last four as the tournament favourites set-up the mouthwatering encounter with a 2-1 win over Germany.
Michael van Gerwen had to recover from 2-0 behind to beat Martin Schindler 4-2 in the first game of the tie.
The world number one looked shell-shocked as Berlin youngster Schindler - making his televised debut this week - took out 60 to break and then 100 for a 2-0 lead.
The World Champion came storming back though, taking out a 116 finish in a run of four straight legs to confirm the victory.
Raymond van Barneveld then lost his second Singles game in as many days as Max Hopp came from behind to win 4-3.
Hopp started the game well, moving in to a 2-0 lead, before Van Barneveld strung together three consecutive legs to take the lead.
Hopp then broke back in the sixth leg taking out 105 to set up a decider, which he opened with a maximum before hitting double four to take the tie to a doubles match.
The Dutch duo booked their place in the semi-finals with a 4-1 victory in the Doubles shoot-out, but it was not as straight forward as the scoreline would suggest.
"It wasn't easy at all, they had a couple of chances at doubles in the early legs but fortunately for us they missed," said Van Gerwen.
"I think experience and quality paid off in the end and we are still in the tournament."
Kim Huybrechts began the final day of action with a stunning performance to beat Singapore's Paul Lim, with his 121.97 average in a 4-1 victory being the second highest televised average in history.
The 31-year-old had a dart at double 18 to break the world record average of 123.40, currently held by Van Gerwen, but narrowly missed the target before eventually sealing a brilliant win.
The average also broke the record for a Belgian in a televised game which had been set by brother Ronny on Saturday.
Harith Lim then levelled the tie by beating Ronny 4-2, hitting two ton-plus finishes to set up a Doubles decider before the 2013 finalists took a 4-2 win.
"It would have been nice to have broken the world record but winning is more important today," said Kim Huybrechts. "We're still in the tournament and we want to win it."
The Belgians will face Wales in the last four as the pair of Mark Webster and Gerwyn Price cruised past Russia in the quarter-finals.
Price first beat Aleksandr Oreshkin 4-1 before Mark Webster took to the stage and whitewashed Boris Koltsov to wrap up a 2-0 Welsh win.
Semi-Finals Round-Up
Wales booked a place in their first World Cup final since 2010 with a 2-0 victory over eighth seeds Belgium.
Gerwyn Price opted to open the tie, and took on Kim Huybrechts as the semi-finals got underway in Frankfurt.
The Welshman opened the match taking out 105 on tops to grab the initiative. Price then broke the Huybrechts throw, hitting a maximum in the process before pinning tops for a 2-0 lead.
Huybrechts refused to give in though, breaking back immediately with a delightful 118 finish to close the gap to a single leg.
Price, appearing in his second World Cup, then regained control of the match by breaking the throw for a second time, hitting tops for the third time in four legs.
Once again, the Belgian responded as he landed back-to-back 180s to set up a 41 finish on double 16.
A fifth consecutive break of throw in the match gave Price the win as he found double 14 to put a point on the board.
Mark Webster then sealed Wales' spot in the final of the 2017 Betway World Cup of Darts by beating Ronny Huybrechts 4-2.
Webster broke the Huybrechts throw in the opening leg of the match taking out 80 on double ten for a 1-0 lead.
A second pinning of double ten followed as the Welshman doubled his advantage in the next leg. Huybrechts then got his first leg of the match on the board, hitting a maximum before taking out 96 on double eight.
Webster responded hitting his second 180 of the match and then taking out 65 on double ten to move within a leg of the match.
Huybrechts responded again, holding throw and forcing Webster to throw for the match.
The 33-year-old sealed his country's path to the final by hitting a third 180 and then pinning double ten for the fourth time in the match.
Michael van Gerwen and Adrian Lewis played out a thrilling clash as the Netherlands took a 1-0 lead against 2016 World Cup winners England.
The match started with Lewis breaking the throw with a 121 bullseye finish, before Van Gerwen responded with speed, breaking back to level the match at 1-1.
The third leg saw Adrian Lewis hit a 140 and a 180 to leave tops before the world number one took out 160 to take the lead for the first time.
A second ton-plus finish followed for Lewis as he took out 115 on double 19 to level the match.
Two breaks of throw followed to take the game to a deciding leg, where Van Gerwen claimed the victory.
The Dutchman opened the leg with a maximum, but after Van Gerwen had missed match darts, Lewis missed the bull for a 127 finish to allow the World Champion back in to finally land double two to earn a 1-0 lead.
Raymond van Barneveld then defeated Dave Chisnall as the Netherlands booked their place in the final against Wales.
The five-time World Champion kicked off the match in style, hitting two maximums in the leg before taking out 81 for a opening leg break.
Chisnall levelled the tie taking out 68 on on double four before a ten-dart leg restored Van Barneveld's advantage.
Another classy moment from the Dutchman followed as he took out 115 on tops, with Chinsall missing two darts to break back again.
Chisnall put the pressure on Van Barneveld by holding throw, but a 25 finish on double eight confirmed the 2-0 win for the Dutch pairing.