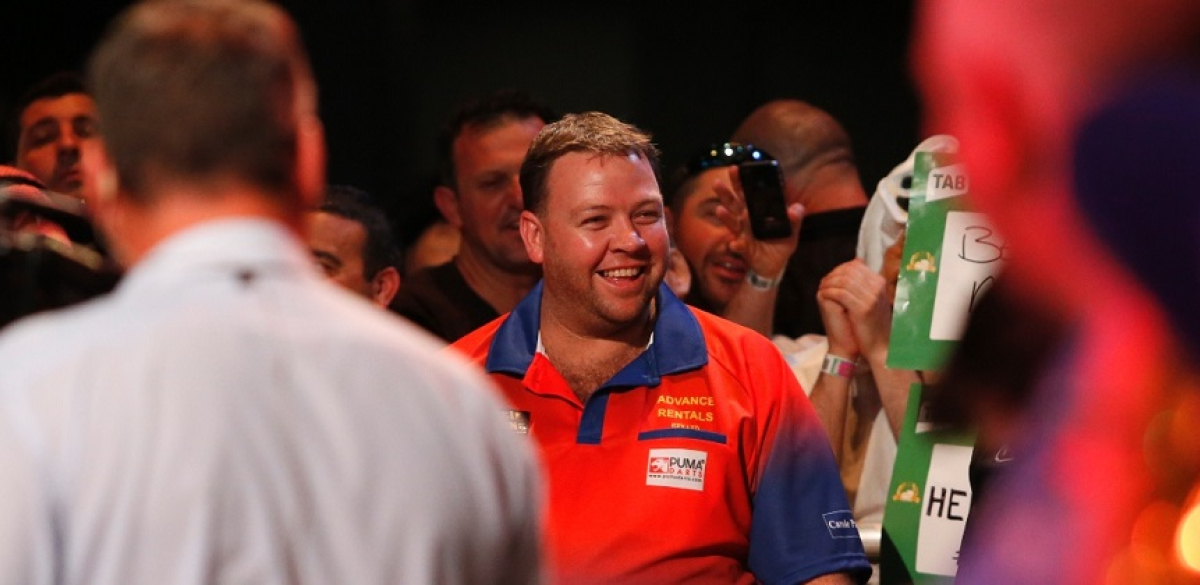 GORDON MATHERS has won a place in the William Hill World Darts Championship after topping the DPA Pro Tour rankings following the conclusion of the Australian season.
Mathers held on to top spot in the DPA rankings following the final weekend of the Pro Tour season in Balcatta, Perth, with Corey Cadby and Rhys Mathewson missing out on the chance to overtake him in the last two events.
Mathewson was a quarter-finalist in Saturday's Event 15, losing out to David Platt before reigning PDC Unicorn World Youth Champion Cadby went on to claim the title.
Cadby defeated Platt 6-1 in the semi-finals before whitewashing Barry Gardner in the final.
Sunday's Event 16 was won by New Zealand-born Koha Kokiri, the former Oceanic Masters winner who saw off Mathewson 6-2 in the decider.
Mathers - a 2013 Sydney Darts Masters qualifier - now moves forward to make his World Championship debut in December at Alexandra Palace in London as the DPA Pro Tour winner.
Cadby topped the DPA World Series Qualifying table, and also secured a spot alongside Robbie King in the 2017 PDC Unicorn World Youth Championship, where he will defend his title in November.
For information about further DPA events being held during 2017, please visit the DPA website.
DPA Harrows Australian Pro Tour Event 15
Quarter-Finals
David Platt 6-4 Rhys Mathewson
Corey Cadby 6-2 Adam Rowe
Alan Aird 6-4 Koha Kokiri
Barry Gardner 6-3 Robbie King
Semi-Finals
Corey Cadby 6-1 David Platt
Barry Gardner 6-3 Alan Aird
Final
Corey Cadby 6-0 Barry Gardner
DPA Harrows Australian Pro Tour Event 16
Quarter-Finals
Lawrence Ryder def Clinton Bridge
Koha Kokiri def Kim Lewis
Rhys Mathewson def Robbie King
Brad Austen def Barry Gardner
Semi-Finals
Koha Kokiri 6-0 Lawrence Ryder
Rhys Mathewson 6-1 Brad Austen
Final
Koha Kokiri 6-2 Rhys Mathewson

Final 2017 DPA Harrows Pro Tour Rankings - Top Ten
| Pos | Name | Points | Prize Money |
| --- | --- | --- | --- |
| 1 | Gordon Mathers | 176 | $6,600 |
| 2 | Rhys Mathewson | 168 | $5,470 |
| 3 | Corey Cadby | 164 | $6,860 |
| 4 | Lucas Cameron | 116 | $3,180 |
| 5 | Clinton Bridge | 108 | $2,700 |
| 6 | Justin Thompson | 104 | $3,520 |
| 7 | Cody Harris | 96 | $4,410 |
| 8 | Robbie King | 68 | $1,020 |
| 9 | Koha Kokiri | 56 | $2,190 |
| 10 | John Weber | 56 | $1,550 |