TOP SEEDS Gary Anderson and Peter Wright crashed out of the 2017 Auckland Darts Masters, presented by TAB & Burger King, on the opening night as Australian pair Kyle Anderson and Corey Cadby showed their class at the Trusts Arena.
World number two Anderson had gone all the way to glory in Auckland last year and had been aiming to follow up his repeat success from the Dubai Darts Masters by retaining the title on his return to the Trusts Arena.
However, Australian star Anderson produced a brilliant display to average almost 103 and hit five 180s in a thrilling 6-4 win over the Scot as he ended his namesake's title defence at the first hurdle.
After the pair traded 180s in the opening leg, Gary Anderson took out 138 to lead, only to see the Australian power through the next three for a 3-1 advantage.
A 14-darter and a 100 finish for a 12-dart leg helped Gary Anderson to win three of the next five as he stayed in contention, but Kyle Anderson opened leg ten with his fifth 180 before pinning double eight for victory.
Having won his maiden PDC ranking title last week, where he also hit a nine-darter, Anderson admitted that his confidence is high as he bids for glory in Auckland.
"I'm delighted," said the 29-year-old. "I couldn't hit a thing in the practice room but as soon as I got on stage everything started to flow, which is a really good sign.
"It's going well on the ProTour and it was just a case of hitting the doubles on stage, and today that happened for me. I'm taking everything seriously and things are starting to go my way."
Anderson's triumph was followed by another upset as number two seed Peter Wright, the reigning UK Open champion, was eliminated with a 6-4 defeat to inspired Corey Cadby.
Cadby had stunned Phil Taylor in the Perth Darts Masters in only his second televised appearance last year before losing out to Wright - but the World Youth Champion gained revenge with the aid of six 180s.
Each of those maximums came in the opening six legs, as Wright withstood a barrage of big scores to remain level at three-all - despite his own trouble hitting the treble 20 leading to a mid-game switch to the 19 bed instead.
That paid off as Wright hit a 13-darter in leg seven to lead 4-3, but Cadby levelled, took out a superb 112 finish to regain the lead and then finished double 16 for a memorable triumph.
"I wanted revenge against Peter and I got it," said Tasmania-born Cadby. "My dad told me to never let someone beat you twice in a row and I managed to stop Peter doing that tonight.
"I'm not here to lose and I know I can beat the best on my day. We'll see what happens but I don't plan on losing."
Simon Whitlock completed a trio of Australians to progress to the quarter-finals on the opening night despite being given a stern test by New Zealand's Cody Harris, who eventually fell to a 6-4 defeat.
Whitlock hit back from a leg down to lead 2-1 before Harris showed his class with a 12-darter as a 76 finish levelled - but he crucially missed seven darts to lead as the Australian regained the edge.
A 122 finish from Harris saw him respond once more, with Whitlock firing in a stunning ten-darter only to then miss seven doubles of his own as the Kiwi claimed leg eight.
However, double 16 edged Whitlock back ahead, before he took out 60 to seal the win, after Harris missed two darts at tops to force a decider.
"I'm really happy to win," said Whitlock, who now meets Anderson in the quarter-finals. "He played well and every time I gave him a chance he seemed to take it, but there's a lot more to come from me.
"I'm really confident at the moment, my darts feel great and I feel like my performance levels are really good at the moment.
"I feel like I can win here. Whether I do or not is another thing, but the belief is there."
The other three New Zealanders in the PDC World Series of Darts event joined Harris in being eliminated on the opening night, although debutant Darren Herewini and veteran star Warren Parry both gave their World Champion opponents a scare.
Herewini, a 25-year-old from Porirua who won through last weekend's DPNZ Qualifiers, pushed the legendary Phil Taylor all the way on his first TV appearance before the 56-year-old edged through with a 6-4 win.
Taylor had looked set to pull away when, after sharing the opening two legs, he took out 101 and an 11-darter to move into a 3-1 lead.
Herewini, though, finished 68 in leg five and then punished five missed doubles from Taylor to level in the sixth and threaten an almighty upset.
The New Zealander then opened leg seven with a 180, but crucially missed two darts at doubles to lead as Taylor took out double 16 to regain the edge.
A 69 finish moved Taylor 5-3 up, before Herewini landed two 180s to his rival's one in the ninth as a 12-darter kept the match alive - but the 56-year-old sealed victory in style with another double 16.
Taylor now takes on great rival Van Barneveld in the quarter-finals, after the Dutchman also emerged with a 6-4 win from his tussle with Invercargill's Parry.
Parry - who knocked out Michael van Gerwen in the Sydney Darts Masters three years ago - shared the opening six legs with the Dutchman as he chased another upset win, twice capitalising on missed doubles from Van Barneveld as well as finishing 107.
The former Auckland finalist - who had hit an earlier 116 checkout of his own - claimed a crucial break of throw in leg eight to move 5-3 up, only for Parry to hit back immediately by taking out 80 when his rival missed one match dart.
However, Van Barneveld was first to a finish in the next, and took out 56 seal his quarter-final spot.
"On the practice board things are going well but I'm not sure why it's not quite there on stage yet," admitted Van Barneveld. "I struggled a bit tonight."
Michael Smith impressed on his World Series of Darts debut with a 6-0 whitewash of Rob Szabo, with the former World Youth Champion averaging 103.66 and hitting four 180s as he set up a mouth-watering tie with Cadby.
A bright start settled any nerves as Smith landed maximums in legs of 13 and 11 darts to take control, and he hit two further 180s as he moved 4-0 up before closing out victory without Szabo having a dart at a double.
James Wade battled his way to a 6-2 win as he overcame New Zealand's Mark Cleaver, who lost out in the first round for the second time in three years.
The left-hander took the opening three legs, including a 74 to break throw in leg two, before the qualifier capitalised on Wade's misses to hit back in the fourth.
A 120 finish saw Wade regain his advantage before Cleaver's misses at double 14 and seven allowed him to move 5-1 up, and though a 66 finish kept the home favourite's hopes alive, the former World Series finalist hit double ten to seal the win.
Having lost in the first round at the U.S. Darts Masters and World Matchplay, Wade is hoping that he can bounce back in style during the World Series treble-header in New Zealand and Australia.
"The results haven't been there for six or seven months but I know it's still there," said Wade. "It wasn't great tonight but when I needed it then it was there.
"The crazy thing is that I'm still 100 percent confident whenever I play, despite the results I've been getting. I believe I can win against anyone and from any position."
Wade now takes on Daryl Gurney, who ended the hopes of Australian qualifier Rob Modra with a 6-2 victory in their clash.
Gurney's opening 103 checkout was levelled by Modra's 102 finish, before the Northern Irish ace took the next three to open up a 4-1 cushion.
Modra hit back on double eight, but U.S. Darts Masters finalist Gurney took out 96 to regain his advantage before sealing the win on double eight.
The Auckland Darts Masters, presented by TAB & Burger King, continues on Saturday (7pm) with the quarter-finals at the Trusts Arena, before concluding with the semi-finals and final on Sunday (6pm).
For tickets, visit www.ticketek.co.nz.
FOLLOW LIVE STATS IN OUR MATCH CENTRE AT THIS LINK
TV coverage will be live in New Zealand on Sky Sport, and worldwide through the PDC's series of broadcast partners, as well as through PDCTV-HD for Rest of the World Subscribers (outside of the UK, Ireland & Netherlands.
UK TV coverage will be from 7pm (BST) on ITV4, with coverage in the Netherlands on RTL7 from 10pm on Friday and Saturday and 10.40pm on Sunday.
Auckland Darts Masters, presented by TAB & Burger King
Friday August 11 (7pm local time)
First Round
Michael Smith 6-0 Rob Szabo
Daryl Gurney 6-2 Rob Modra
James Wade 6-2 Mark Cleaver
Raymond van Barneveld 6-4 Warren Parry
Phil Taylor 6-4 Darren Herewini
Simon Whitlock 6-4 Cody Harris
Gary Anderson 4-6 Kyle Anderson
Peter Wright 4-6 Corey Cadby
All games best of 11 legs
Saturday August 12 (7pm local time)
Quarter-Finals
James Wade v Daryl Gurney
Kyle Anderson v Simon Whitlock
Raymond van Barneveld v Phil Taylor
Corey Cadby v Michael Smith
All games best of 19 legs
Sunday August 13 (6pm local time)
Semi Finals 
Final
All games best of 21 legs
Pictures courtesy Photosport
Michael Smith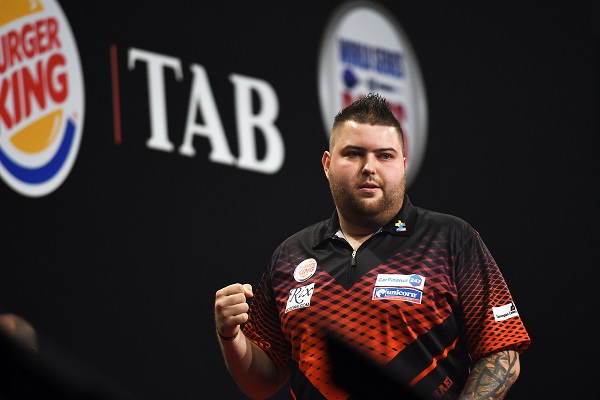 Rob Szabo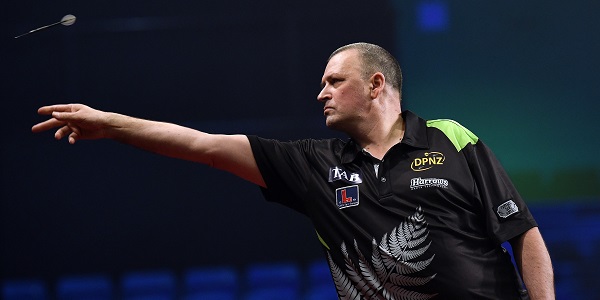 Daryl Gurney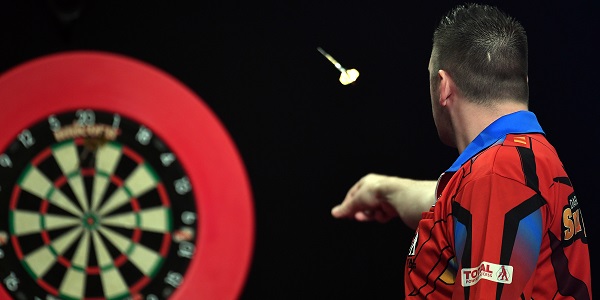 Rob Modra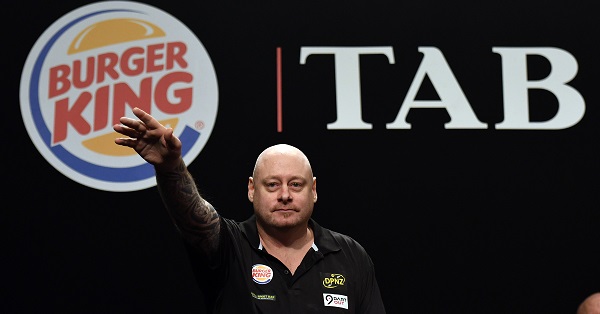 James Wade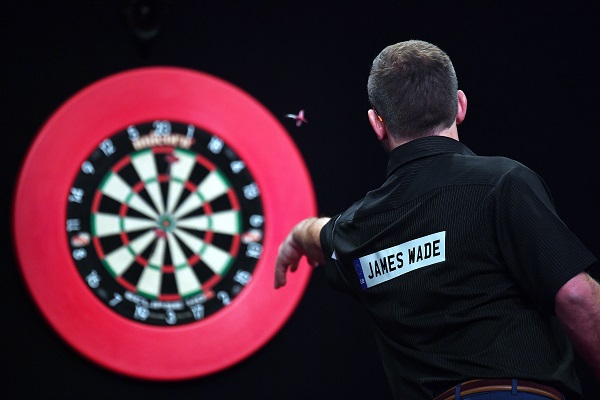 Mark Cleaver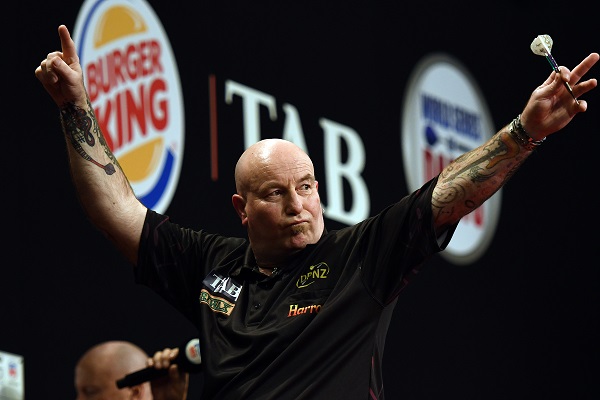 Darren Herewini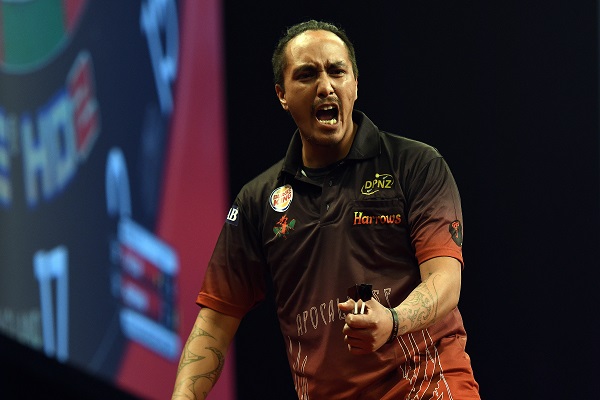 Phil Taylor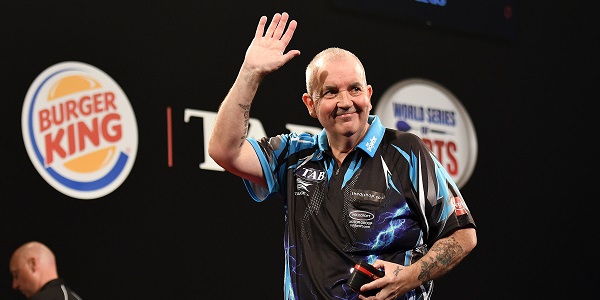 Simon Whitlock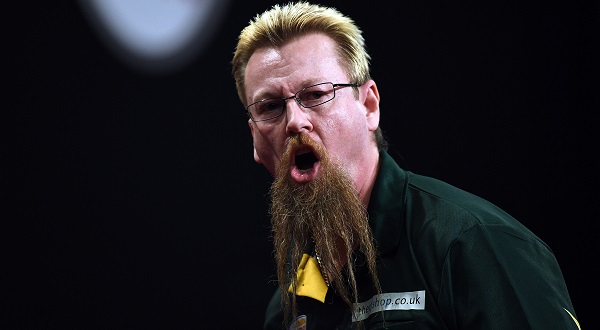 Gary Anderson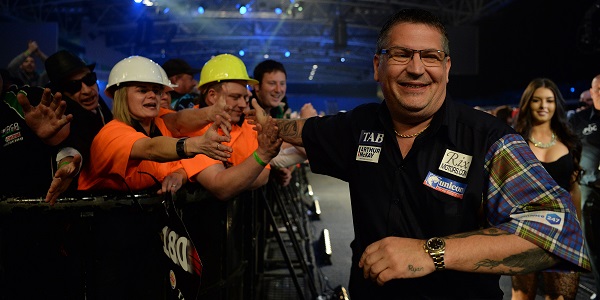 Kyle Anderson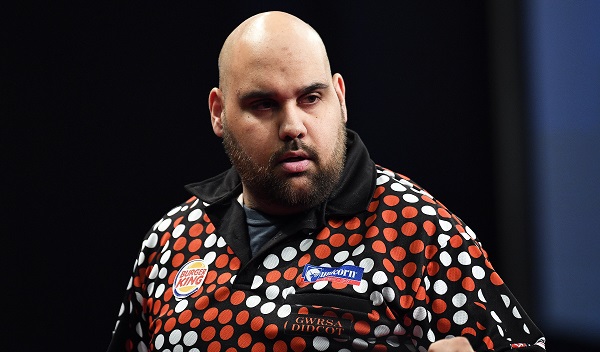 Peter Wright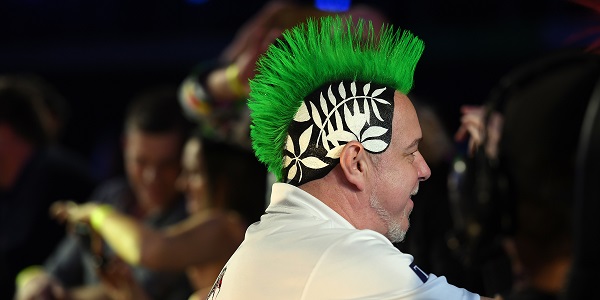 Corey Cadby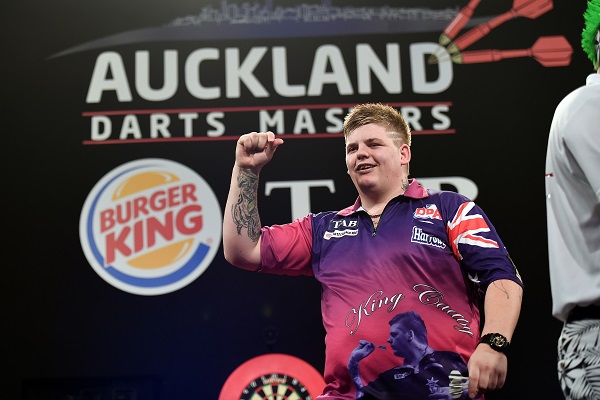 Worldwide TV
Sky Sport - New Zealand
Fox Sports - Australia
ITV - UK (Delayed with 7pm BST start on all three days)
Setanta - Ireland
RTL7 - Netherlands (Delayed highlights, 10pm start on Friday & Saturday & 10.40pm Sunday)
OSN - Middle East & North Africa
DAZN - Germany, Japan & Canada
CCTV - China
Madison Online - China
Fox Sports - Asia
Kwese - South Africa & Sub-Sahara Africa
Viasat - Scandinavia
Nova - Czech Republic
Eleven Sports - USA
PDCTV-HD via www.pdc.tv - For Rest of the World Subscribers (outside UK, Ireland & Netherlands)
Live coverage may be available at the following Bookmakers' websites:
Bet365 - www.bet365.com - Worldwide
Betcity - www.betcity.ru - Russia
Betfair - www.betfair.com - Brazil, Denmark, England, Ireland, Northern Ireland, Scotland, Spain, Wales
Betfred - www.betfred.com - England, Ireland, Northern Ireland, Scotland, Wales
bwin - www.bwin.com - Worldwide
Fonbet - www.fonbet.com - Armenia, Belarus, Cyprus, Kazakhstan, Russian federation, Ukraine
HappyBet – www.happybet.com - Germany
Marathonbet - www.betmarathon.com - Belarus, Russian Federation, Spain, Ukraine
Napoleon - www.napoleongames.be - Belgium
Nike - www.nike.sk - Slovakia
Sazka - www.sazka.cz/kurzove-sazky/ - Czech Republic
Tempobet - www.tempobet.org - Europe
Tipsport - www.tipsport.cz - Czech Republic & Slovakia
Unibet - www.unibet.com - Belgium, Czech Republic, Denmark, Estonia, Finland, Hungary, Ireland, Lithuania, Luxembourg, Netherlands, Norway, Poland, Romania, Slovakia, Sweden, United Kingdom.
William Hill - www.williamhill.com - United Kingdom, Ireland, Russia, Spain, Sweden & Germany
Winlinebet – www.winlinebet.ru - Russia