Christopher Kempf, the new statistical analyst of the PDC, looks at the stats behind some of the biggest upsets of 2017.
The three highest-ranked players in the world - Gary Anderson, Peter Wright and Michael van Gerwen - were collectively responsible for 25 appearances in televised finals in 2017.
At least one of those three elite darters reached the final in every event in which all three participated - an unprecedented display of dominance.
But this year's tournament action proved their vulnerability as well; the current world numbers one, two and three were unceremoniously dumped out of televised events in their first matches by players then ranked 32, 104 and in Anderson's case, by an unranked player who qualified for the tournament at a Rileys Sports Bar.
The paths to career-defining triumphs for John Henderson (Van Gerwen's conqueror in the World Grand Prix, Steve Hine (who overcame Wright in the Players Championship Finals) and Paul Hogan (who knocked out Anderson in the UK Open) were myriad, but all three rose to the occasion with clinical and tenacious play.
The opening throw for the bull can sometimes be as crucial to the outcome of a match as any dart within the match itself.
Such was the case in Van Gerwen's shock first round defeat in Dublin, a match in which the world number one missed 27 darts at starting doubles and recorded his lowest World Grand Prix average since 2012.
This anaemic form allowed Henderson, who threw first in the match and in the final set, to win deciding legs in which Van Gerwen did not attempt a single dart at a finishing double.
Henderson missed a mere five darts at tops to start in the seven legs in which he threw first, making himself unbreakable in the deciding set.
Although Van Gerwen actually won a majority of legs in the match - seven to the Scot's six - Henderson hit the bullseye to imperil the Dutchman's title defence and won legs when it mattered to eliminate him.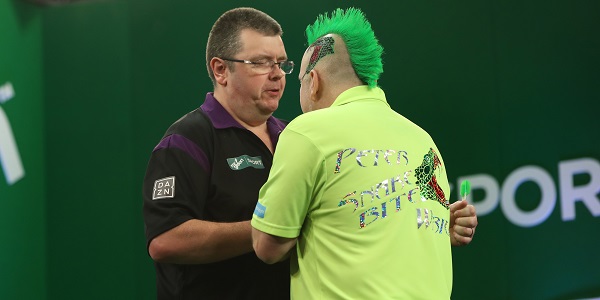 The world's best darts players can often count on a brief lapse of form from their unseeded rivals, during which they can break, surge ahead and seize control of the match.
If Peter Wright expected such an opportunity in the first round of the Players Championship Finals against the muffin-wielding underdog Hine, it never came.
In his 6-5 upset of number three seed Wright, Hine masterfully applied pressure to his opponent by attempting darts at doubles in each of the last ten legs of the match.
Despite never scoring a 180, and only finishing where he was guaranteed at least two darts with which to win the leg, Hine clawed his way back from a 3-1 deficit by recording 21 two-treble visits and shutting out his opponent's break attempts with three consecutive 13-dart holds of throw.
Never give your opponent breathing room, make him fight for every leg; this is the lesson to be learned from the Muffin Man's masterful Minehead triumph.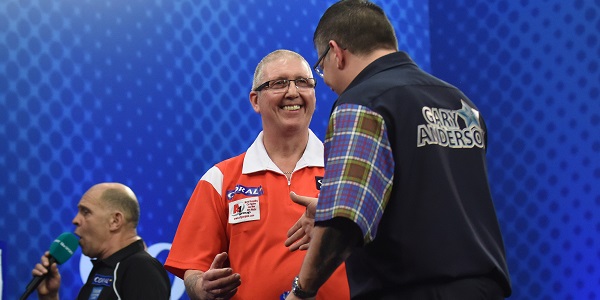 Three extraordinary strokes of bad luck were as responsible as Paul Hogan's resilient performance for the surprise third-round elimination of Gary Anderson at the UK Open.
In the fourth leg, Anderson's dart at bullseye for an 84 checkout bounced out, despite making a visible scratch in the red sisal.
In the next leg, the Scot's attempt to put pressure on Hogan's throw was thwarted by a third dart that 'Robin Hooded' his second, likely costing him 54 points and two darts at doubles with which to break Hogan's throw.
Finally, in one of the most dramatic conclusions to a match of 2017, Anderson again threw a dart at the bull for an 84 finish, this time in the deciding 19th leg of the match.
Again it made a mark on the surface of the bullseye - in almost exactly the same place as it did earlier in the match - but Anderson's arrow dropped to the floor.
Hogan won each leg in which one of these most unexpected opportunities presented itself, but he could not have done so without reaching a finish in 11 darts or less in 16 of his 18 legs so as to capitalize on them.
Mistakes, bounceouts and slow starts often endanger a top player's tournament run in a best-of-11-legs match, but may prove no hindrance at all in a long format.
Defeating one of history's greatest darts players can be helped along by a bit of luck, but Hogan, Hine and Henderson certainly proved that it cannot be done without an exceptional performance of one's own.