RUSTY-JAKE RODRIGUEZ and Owen Roelofs will contest the final of the WDS Associates Junior World Darts Championship at Alexandra Palace on December 16, while Bradley Brooks has won the JDC European Open.
The final full weekend of the Junior Darts Corporation's circuit saw a double-header held at the Action Indoor Sports Arena in Bristol on December 2-3.
Saturday's JDC European Open saw 57 players from eight countries competing, with Blackburn's Brooks eventually taking the title.
Brooks overcame James Beeton - the winner of the year's opening JDC Modus UK Tour event - in the last 16, then whitewashed Jake Neale in the quarter-finals.
He overcame JDC UK Tour Event Four winner Alfie Jacques 6-4 in the semi-finals and then claimed the title in a tight final against Jarred Cole - the winner of three JDC events this year to top the JDC rankings - 6-5.
Sunday's early rounds of the WDC Associates Junior World Darts Championship saw 40 players from nine countries, including the USA, Canada, Spain, Austria, Belgium, the Netherlands and UK, competing for places in the final.
Austria's Rusty-Jake Rodriguez - the third youngest of four darting brothers - will take on Dutch youngster Owen Roelofs in the final, which will take place on Saturday December 16 at Alexandra Palace before the afternoon session of the William Hill World Darts Championship.
Rodriguez denied Cole a spot in the decider with a 5-2 victory in the semi-finals, whitewashed Luke Durham in the quarter-finals and dropped just one leg in his last 16 victory over Dutch youngster Roy Rietberger.
Roelofs won an all-Dutch semi-final against Daan Bastiaansen 5-4, and also saw off JDC UK Tour Event Three winner Keelan Kay in the quarter-finals.
The weekend's action also saw the junior players mixing with some of the sport's top names - including World Champion Michael van Gerwen, a new JDC director - at an exhibition event in Bristol.
"It was an unbelievable weekend," said JDC Chairman Steve Brown. "We saw so much talent and the professionalism and ability these youngsters have is truly amazing.
"They have no fear these days, they see what is on offer and are hungry for it. I'm so glad that the JDC can facilitate that journey.
"We're looking forward to crowning a World Champion at Alexandra Palace on December 16 and doing it all over again in 2018 on the JDC circuit."
Jarred Cole, Keelan Kay and Jakob Kelly all secured a PDPA Scholarship for 2017 to compete on the PDC Unicorn Development Tour following the year's JDC action.
For more information about the JDC, visit www.juniordarts.com or follow @JDCDarts on Twitter.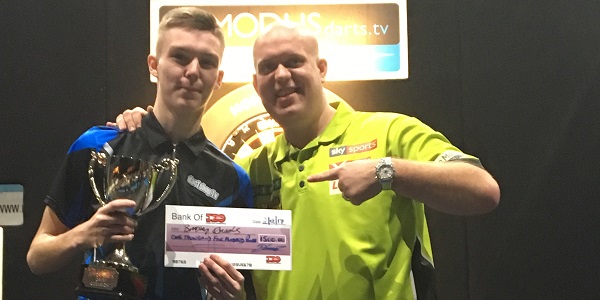 JDC European Open
Last 16
Rusty-Jake Rodriguez 6-0 Erik Meyers
Wessel Nijman 6-2 William Byrne
Jarred Cole 6-1 Jack Seymour
Jakob Kelly ENG 6-4 Owen Roelofs
Keelan Kay 6-2 Levy Frauenfelder
Alfie Jacques 6-2 Paul Gray
Bradley Brooks 6-4 James Beeton
Jake Neale 6-3 Henry Coates
Quarter-Finals
Rusty-Jake Rodriguez 6-3 Wessel Nijman
Jarred Cole 6-1 Jakob Kelly
Alfie Jacques 6-3 Keelan Kay
Bradley Brooks 6-0 Jake Neale
Semi-Finals
Jarred Cole 6-3 Rusty-Jake Rodriguez
Bradley Brooks 6-4 Alfie Jacques
Final
Bradley Brooks 6-5 Jarred Cole
WDS Associates Junior World Darts Championship
Last 16
Jakob Kelly 5-2 Nico Langer
Jarred Cole 5-2 William Byrne
Rusty-Jake Rodriguez 5-1 Roy Rietberger
Luke Durham 5-4 Ross Gilder
Keelan Kay 5-0 Jack Vincent
Owen Roelofs 5-3 Stephen Sheerin
Daan Bastiaansen 5-2 James Beeton
Alfie Jacques 5-1 Levi Matthews
Quarter-Finals
Jarred Cole 5-1 Jakob Kelly
Rusty-Jake Rodriguez 5-0 Luke Durham
Owen Roelofs 5-2 Keelan Kay
Daan Bastiaansen 5-4 Alfie Jacques
Semi-Finals
Rusty-Jake Rodriguez 5-2 Jarred Cole
Owen Roelofs 5-4 Daan Bastiaansen
Final
Rusty-Jake Rodriguez v Owen Roelofs
Saturday December 16, Alexandra Palace, London