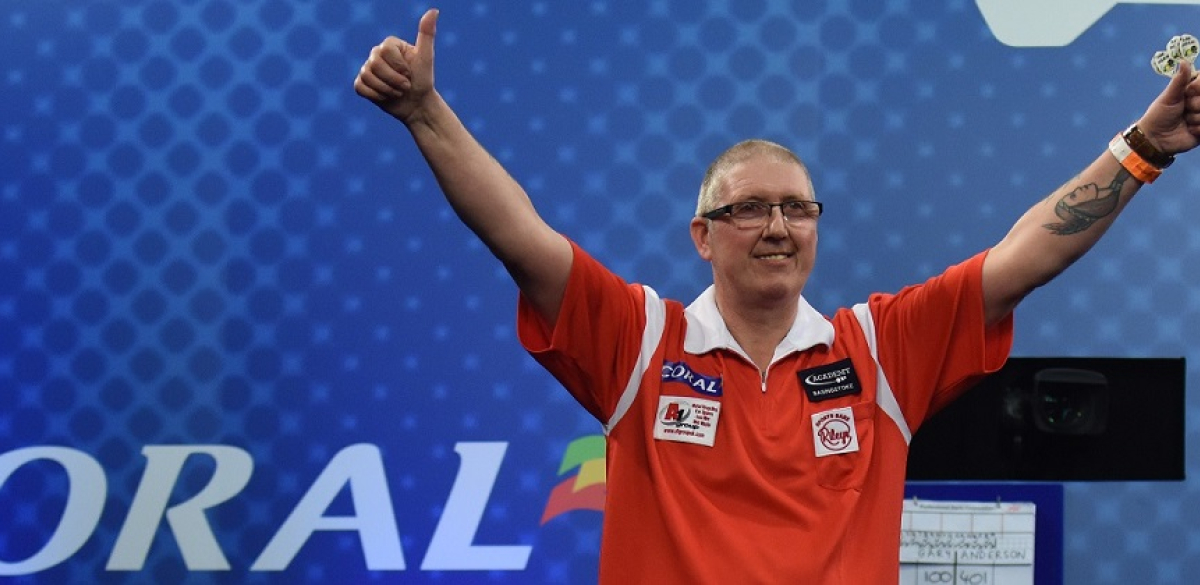 PAUL HOGAN was amongst nine Rileys Amateur Qualifiers to secure their places in the Coral UK Open on the second weekend of knockouts.
Hampshire-based Hogan won through to the last 16 of the UK Open in 2017 as the best-performing player from the 32 Rileys Amateur Qualifiers who competed at the Butlin's Minehead Resort.
The 54-year-old won through the Rileys South Benfleet qualifier to secure his place in a fifth successive UK Open.
Jason Mold won through the Rileys Norwich qualifier to secure his place in a fourth UK Open in five years, while Rileys Liverpool qualifier Mark Rice previously played in the 2016 event.
Rileys Twickenham qualifier Ian Jopling will be making his first UK Open appearance for nine years, having previously played in the 2008 and 2009 events before dropping off the circuit in 2013.
Rileys Nottingham qualifier Tony Mitchell previously qualified for the UK Open a decade ago, while Rileys Wolverhampton qualifier Liam Kelly was a qualifier for the 2012 UK Open.
Rileys Chorlton qualifier Andrew Johnson, Rileys Leicester qualifier Benjamin McClelland and Rileys Wolverhampton qualifier Mark Craddock are all making their debuts.
The Rileys Amateur Qualifiers continue on January 27 on the second of five weekends where amateur players can bid to win a UK Open spot.
The knockouts will be held in Rileys Sports Bars across the country, with Chester, Chorlton, Coventry, Greenock, Liverpool, London Victoria, Norwich, Nottingham, South Benfleet, Twickenham and Wolverhampton all staging two events.
Entry costs £7 per player per event, with the entry fee including a free drink. Entry can be made via www.rileys.co.uk/tournaments, or in person at the Rileys Sports Bars, with entries for each event closing at 5pm on the day before that specific knockout.
Players are permitted to enter more than one tournament. Players must be aged 16 or above to enter, and entry is not open to players who compete in the 2018 PDC Qualifying Schools. Full tourmament rules can be seen at www.rileys.co.uk/tournaments.
2018 Coral UK Open
Rileys Amateur Qualifiers
Saturday January 20
Greenock Q1 - Andrew Davidson
Sunday January 21
London Victoria Q1 (Two players qualify) - Michael Burgoine & Joe Davis
Saturday January 27
Chorlton Q1 - Andrew Johnson
Norwich Q1 - Jason Mold
Nottingham Q1 - Tony Mitchell
Twickenham Q1 - Ian Jopling
Wolverhampton Q1 (Two players qualify) - Mark Craddock, Liam Kelly
Sunday January 28
Leicester - Benjamin McClelland
Liverpool Q1 - Mark Rice
South Benfleet Q1 - Paul Hogan
Saturday February 3
Chester Q1
Harlow
Sheffield
Worcester
Sunday February 4
Chester Q2
Coventry Q1
Greenock Q2
Solihull
Saturday February 10
Chorlton Q2
Sunday February 11
Twickenham Q2 (moved from Feb 10)
Saturday February 17
Aberdeen
Coventry Q2
Liverpool Q2
Norwich Q2
Nottingham Q2
Sunday February 18
London Victoria Q2 (Two players qualify)
South Benfleet Q2
Wolverhampton Q2 (Two players qualify)