DARIUS LABANAUSKAS was a double winner on the second weekend of the 2018 PDC Nordic & Baltic season in Vilnius, Lithuania.
Labanauskas claimed victory in both PDCNB tournaments held in his home country as well as qualifying for the Austrian Darts Open (ET4) during a successful weekend.
He overcame Cor Dekker in a deciding leg in the Event Three final, after also seeing off experienced Dane Per Laursen in the semi-finals.
The Lithuanian also went to a deciding leg in Sunday's Event Four final as he edged out Sweden's Daniel Larsson 6-5, having also overcome Madars Razma and Magnus Caris in the latter stages.
Latvia's Madars Razma qualified for May's European Darts Grand Prix in Sindelfingen, while Sweden's Johan Engstrom will make his European Tour debut in the Dutch Darts Masters in Zwolle.
The next PDCNB weekend will be held from May 25-27 at the Hotel Tallukka in Vaasky, Finland, with two Pro Tour events accompanied by the PDCNB Qualifiers for European Tour Events Seven, Nine and Ten.
The year will also see Copenhagen host the Danissh Darts Open (ET8) from June 22-24, with qualifying events being held on June 21. For tickets, visit www.pdc-europe.tv.
For more information about the PDCNB, visit www.pdc-nordic.tv.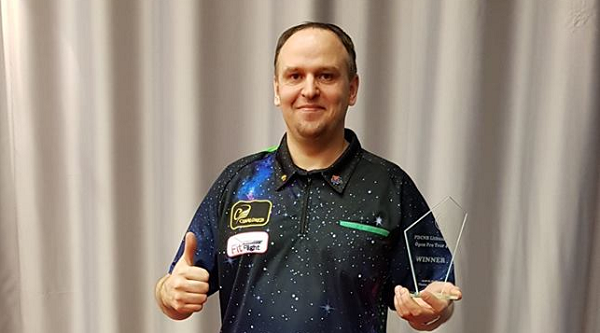 Pro Tour Event Three
Quarter-Finals
Per Laursen 6-3 Daniel Larsson
Darius Labanauskas 6-2 Minduagas Barauskas
Johan Engstrom 6-4 Kim Viljanen
Cor Dekker 6-3 Nicolai Rasmussen
Semi-Finals
Darius Labanauskas 6-2 Per Laursen
Cor Dekker 6-5 Johan Engstrom
Final
Darius Labanauskas 6-5 Cor Dekker
Pro Tour Event Four
Quarter-Finals
Darius Labanauskas 6-2 Madars Razma
Magnus Caris 6-1 Pauli Finnila
Daniel Larsson 6-4 Steen Lysen
Marko Kantele 6-0 Oskar Lukasiak
Semi-Finals
Darius Labanauskas 6-3 Magnus Caris
Daniel Larsson 6-4 Marko Kantele
Final
Darius Labanauskas 6-5 Daniel Larsson