MICHAEL VAN GERWEN, Peter Wright, Raymond van Barneveld and Adrian Lewis all crashed out of the Coral UK Open on the opening day as the 2018 tournament began at the Butlin's Minehead Resort.
The £350,000 tournament has been forced to be held behind closed doors in Minehead with the effects of Storm Emma preventing Butlin's from opening the complex to the general public, but lived up to its reputation with some huge shocks on day one.
World number one Van Gerwen, a two-time UK Open winner and the odds-on pre-tournament favourite, came unstuck as Dutch rival Jeffrey de Zwaan produced the biggest win of his career in a 10-8 success.
Van Gerwen led 5-4 in the middle of a tight match, but De Zwaan took three of the next four to regain the advantage before closing out the win.
"I can't believe it, I think I'm still dreaming," said De Zwaan. "It's one of the biggest wins of my career but I've played really well for a few months."
Reigning UK Open champion Wright was knocked out by teenager Nathan Rafferty, who is making his debut in a televised tournament.
The 18-year-old from Coalisland followed up a 6-3 defeat of Rileys Amateur Qualifier Jason Mold in round two with the biggest win of his career to overcome the world number two in a decider.
Wright - who claimed his maiden TV title in Minehead 12 months ago - hit back from deficits of 3-1 and 6-4 to lead 7-6 and 9-8, but Rafferty took the final two legs to complete a remarkable win.
"I'm over the moon," said Rafferty, an apprentice electrician. "The aim was to get five legs so it's a good feeling to beat someone who won it last year."
2014 UK Open champion Adrian Lewis exited on the opening night as he lost 10-5 to Dirk van Duijvenbode, who followed up his 6-4 second round win over 2017 semi-finalist Alan Norris by claiming another big-name victim.
Two-time winner Raymond van Barneveld survived six missed match darts from TV debutant Mike Norton before claiming a 6-5 second round win, only to then lose out 10-4 to Mervyn King in the last 64.
2012 champion Robert Thornton also went out with a 10-8 defeat to David Pallett, leaving 2008 and 2011 winner James Wade as the only former champion remaining in the field going into Saturday's fourth round after the left-hander's 10-6 win over Simon Stevenson.
World Champion Rob Cross, who was a Rileys Amateur Qualifier at the 2016 UK Open, had to fight from 2-0, 5-3, 6-4 and 7-5 down before battling past former World Youth Championship finalist Nathan Aspinall with a 10-8 win.
2010 UK Open finalist Gary Anderson produced a classy opening to his challenge by reeling off seven successive legs to break a three-all deadlock with Robert Rickwood, landing four ton-plus checkouts on his way to a 10-7 win.
2017 UK Open runner-up Gerwyn Price defeated James Wilson and Alex Roy - the ever-present who came through the Rileys Amateur Qualifiers - as he won through to the last 32.
Basingstoke-based delivery driver Paul Hogan was the best-performing Rileys Amateur Qualifier for a second successive year, as he defeated Darren Brown and Paul Nicholson to win through to the last 32.
The other three Rileys Amateur Qualifiers who won through to the third round, Harry Ward, David Airey and Darryl Pilgrim, all saw their runs in Minehead ended with losses to Chris Dobey, Jason Lowe and Steve West respectively.
Germany's Martin Schindler overcame a travel nightmare to compete in the tournament before booking his spot in the fourth round with a 10-7 win over Ryan Harrington.
Berlin's Schindler had two flights to the UK cancelled on Thursday before jetting into London Gatwick on Friday morning and getting a taxi to Minehead in time to compete.
Harrington - the son of former world number one Rod - had defeated Richie Burnett and Danny Noppert to reach the third round, but saw the young German take victory.
"It's the worst trouble I've had travelling and I was up at 4.30 in the morning to get here, but I'm glad I did," said Schindler.
"I'm so happy to be here and I had nothing to lose. I'll sleep very well tonight."
Reigning World Grand Prix champion Daryl Gurney had seen Jelle Klaasen come from 7-4 down to lead 9-7 before the Dutchman's missed match darts allowed the world number five back in to snatch victory.
Premier League leader Michael Smith was a 10-5 winner against former World Championship finalist Kirk Shepherd, while Ian White claimed a 10-7 victory over Simon Whitlock.
Three-time World Champion John Part won three matches - and lost just four legs in the process - as defeats of John Morris, Paul Whitworth and David Evans put him into the last 32 in his best run in a TV event for over five years.
Australian duo Kyle Anderson and Corey Cadby overcame Vincent van der Voort and Michael Rasztovits respectively, while Belgium's Kim Huybrechts overcame German debutant Gabriel Clemens 10-8.
Dutch duo Jermaine Wattimena and Ron Meulenkamp overcame Steve West and Dave Prins, while Polish debutant Krzysztof Ratajski won 10-7 against Darren Webster and Robert Owen was a 10-2 winner in the all-Welsh tie with World Championship semi-finalist Jamie Lewis.
Former World Youth Champion Keegan Brown overcame Joe Cullen 10-8, while Matthew Edgar overcame John Henderson 10-4 and Ricky Evans was a 10-6 winner over emerging youngster Luke Humphries.
Young left-hander Ryan Meikle knocked out world number seven Dave Chisnall 10-6, following up wins over Mickey Mansell and Mark Craddock with a memorable result to reach the fourth round.
Stephen Bunting overcame Justin Pipe 10-3, while Jonny Clayton - the runner-up in November's Players Championship Finals in Minehead - was a 10-6 winner over Michael Barnard.
Former UK Open finalists Terry Jenkins and Mark Walsh were first round victims, while 2013 runner-up Andy Hamilton lost out to Wattimena in round two alongside New Zealand's Cody Harris and Spanish duo Toni Alcinas and Jose Justicia.
In total, 11 of the 128 players withdrew from the tournament after being unable to travel to Minehead for the three-day, ITV4-televised event.
Saturday sees a double session take place in Minehead, with the afternoon's third round headlined by Cross' tie with Kyle Anderson and Gurney's meeting with Huybrechts.
Gary Anderson's tie with quick-throwing Ricky Evans and Cadby's meeting with German youngster Martin Schindler will also be held on the Main Stage.
Play on Saturday afternoon will also feature games across four further boards in the "Centre Stage" area of the Butlin's Minehead Resort, as players bid to win spot's in the last 16, which will take place in the evening session.
The tournament then concludes on Sunday, with the quarter-finals in the afternoon and the semi-finals and final in the evening session.
The UK Open will be broadcast from March 2-4 live on ITV4 and worldwide through the PDC's series of international broadcast partners, with coverage centred on the Main Stage.
However, with the multi-board format of the opening two days seeing multiple matches in action at once, fans worldwide will be able to follow progress from across the Butlin's Minehead Resort.
The latest action from Stages Three-Eight, which will feature matches over the first four rounds on Friday and Saturday, can be followed with the new live scoring provided by DartConnect through tv.dartconnect.com.
2018 Coral UK Open
Friday March 2
Afternoon Session
First Round
Paul Nicholson 6-5 Terry Jenkins
Ryan Harrington 6-5 Richie Burnett
Lee Evans 6-3 Dimitri Van den Bergh
John Part 6-2 John Morris
Alex Roy 6-2 Mark Walsh
Michael Burgoine Bye (Andrew Davidson withdrew)
Rene Eidams 6-4 Andrew Johnson
Michael Barnard Bye (Scott Robertson withdrew)
Bradley Brooks 6-4 Chris Quantock
Benito van de Pas 6-5 Cristo Reyes
Andrew Pullen Bye (Mark Rice withdrew)
Michael Rasztovits 6-3 Simon Tate
Luke Humphries 6-0 Liam Kelly
Robert Rickwood Bye (Rene Berndt withdrew)
Dirk van Duijvenbode Bye (Mick McGowan withdrew)
Harry Ward 6-0 Daniel Lee
Kirk Shepherd 6-4 Adam Hunt
Ryan Meikle 6-5 Mickey Mansell
Darryl Pilgrim 6-2 Ian Jopling
Joe Davis 6-5 Dan Read
David Airey 6-4 Benjamin McClelland
Martin Biggs Bye (Chris Lacey withdrew)
Ricky Evans 6-1 Andreas Hajiminia
Cody Harris 6-1 Tony Mitchell
Mark Craddock Bye (Craig Winstanley withdrew)
Andy Hamilton Bye (William O'Connor withdrew)
Paul Whitworth 6-3 Martin Atkins
Paul Hogan 6-5 Darren Brown
Ron Meulenkamp 6-4 Andy Hibbert
George Killington 6-4 Andy Jenkins
Jason Mold 6-5 Prakash Jiwa
John Scott 6-4 Darren Johnson
Second Round
Alex Roy 6-4 Toni Alcinas
Gerwyn Price 6-2 James Wilson
Dirk van Duijvenbode 6-4 Alan Norris
Raymond van Barneveld 6-5 Mike Norton
Vincent van der Voort 6-3 Martin Biggs
Paul Nicholson 6-5 Richard North
David Evans 6-4 Benito van de Pas
Chris Dobey 6-5 Lee Evans
Paul Hogan Bye (John Goldie withdrew)
Ryan Harrington 6-3 Danny Noppert
David Airey 6-1 Stuart Kellett
Dave Chisnall 6-2 Rene Eidams
Kirk Shepherd 6-3 Vincent Kamphuis
Nathan Rafferty 6-3 Jason Mold
Robert Owen 6-4 Michael Burgoine
Jermaine Wattimena 6-0 Andy Hamilton
Luke Humphries 6-3 Wayne Jones
Stephen Bunting 6-2 Bradley Brooks
Joe Cullen 6-2 Jose Justicia
Keegan Brown 6-3 George Killington
Gabriel Clemens 6-0 Andrew Gilding
Jason Lowe 6-4 John Scott
Nathan Aspinall 6-3 Andrew Pullen
Ricky Evans 6-2 Carl Wilkinson
Michael Barnard 6-2 Cody Harris
Ron Meulenkamp 6-1 Joe Davis
John Part 6-0 Paul Whitworth
Harry Ward 6-1 Ted Evetts
Michael Rasztovits Bye (Maik Langendorf withdrew)
Ryan Meikle 6-4 Mark Craddock
Robert Rickwood 6-0 James Richardson
Darryl Pilgrim 6-4 Geert Nentjes
Third Round
Rob Cross 10-8 Nathan Aspinall
Mervyn King 10-4 Raymond van Barneveld
Jeffrey de Zwaan 10-8 Michael van Gerwen
Gary Anderson 10-3 Robert Rickwood
Jason Lowe 10-3 David Airey
John Part 10-2 David Evans
David Pallett 10-8 Robert Thornton
Ricky Evans 10-6 Luke Humphries
Kyle Anderson 10-7 Vincent van der Voort
Jermaine Wattimena 10-8 Steve Beaton
Robert Owen 10-2 Jamie Lewis
Kim Huybrechts 10-8 Gabriel Clemens
Steve West 10-9 Darryl Pilgrim
Keegan Brown 10-8 Joe Cullen
Krzysztof Ratajski 10-7 Darren Webster
James Wade 10-6 Simon Stevenson
Nathan Rafferty 10-9 Peter Wright
Chris Dobey 10-2 Harry Ward
Corey Cadby 10-5 Michael Rasztovits
Matthew Edgar 10-4 John Henderson
Paul Hogan 10-6 Paul Nicholson
Michael Smith 10-5 Kirk Shepherd
Ian White 10-7 Simon Whitlock
Daryl Gurney 10-9 Jelle Klaasen
Martin Schindler 10-7 Ryan Harrington
Dirk van Duijvenbode 10-5 Adrian Lewis
Gerwyn Price 10-6 Alex Roy
Stephen Bunting 10-3 Justin Pipe
Ryan Meikle 10-6 Dave Chisnall
Jonny Clayton 10-6 Michael Barnard
Ron Meulenkamp 10-4 Dave Prins
Bye - Jamie Hughes
With Zoran Lerchbacher (ranked 13th on UK Open Order of Merit) withdrawing, there were 63 players in the third round draw, meaning that one player received a Bye.
Fourth Round
Main Stage - Red's
Daryl Gurney v Kim Huybrechts
Gary Anderson v Ricky Evans
Rob Cross v Kyle Anderson
Corey Cadby v Martin Schindler
Board Three
Chris Dobey v Jason Lowe
Mervyn King v Jonny Clayton
Ryan Meikle v Michael Smith
Board Four
John Part v Ron Meulenkamp
Robert Owen v Nathan Rafferty
David Pallett v James Wade
Board Five
Steve West v Matthew Edgar
Keegan Brown v Krzysztof Ratajski
Dirk van Duijvenbode v Gerwyn Price
Board Six
Jamie Hughes v Ian White
Stephen Bunting v Jermaine Wattimena
Paul Hogan v Jeffrey de Zwaan
Withdrawals from the event
Rene Berndt
Andrew Davidson
John Goldie
Chris Lacey
Maik Langendorf
Zoran Lerchbacher
Mick McGowan
William O'Connor
Mark Rice
Scott Robertson
Craig Winstanley
Butlin's Statement Issued 10am Friday March 2
Due to the unprecedented extreme weather conditions, we have regretfully decided to not allow guests to attend this weekend's PDC Coral UK Open at our resort in Minehead, Somerset, for safety reasons – however, the tournament will take place behind closed doors and be broadcast on ITV4 as scheduled.
We have also decided to cancel our 90's Reloaded weekend at our resort in Skegness, Lincolnshire, for the same safety reasons.
Guests already on our resort can be assured that their accommodation will be available to them until it is safe to travel home. Any guests who have not started their journey for either of these breaks are urged NOT to do so. If you are already en route, please be aware that our Minehead and Skegness resorts cannot accept any more guests, so we would ask you to turn around and head home when it is safe to do so.
Our Soul Weekender at our Bognor Regis resort is continuing as planned.
Thank you so much for your understanding.
The Butlin's Team
Friday Afternoon Photos - copyright Chris Dean/PDC
Paul Nicholson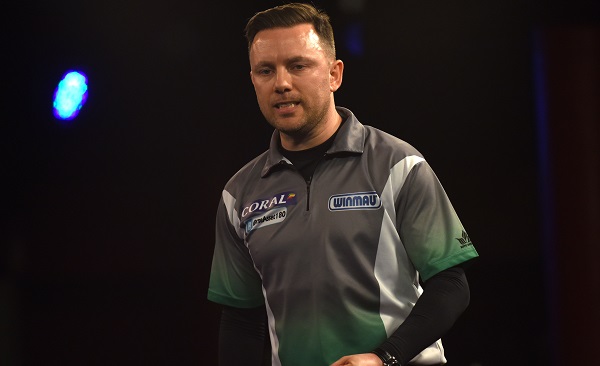 Terry Jenkins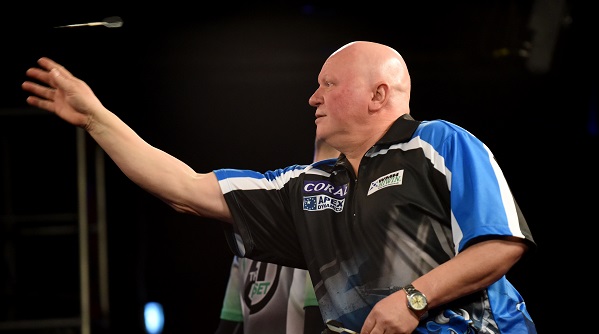 Richie Burnett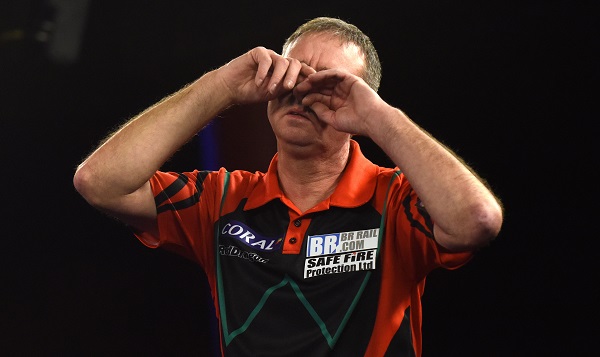 Ryan Harrington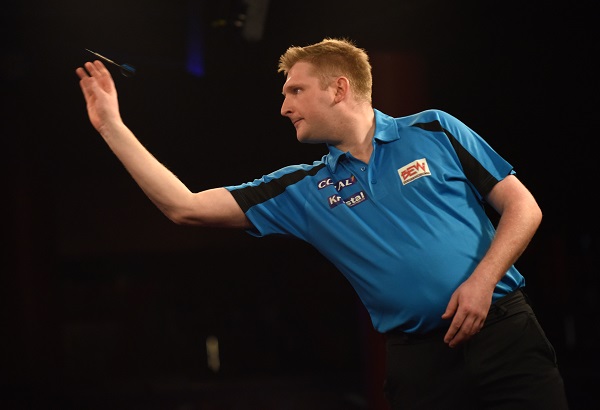 Lee Evans & Dimitri Van den Bergh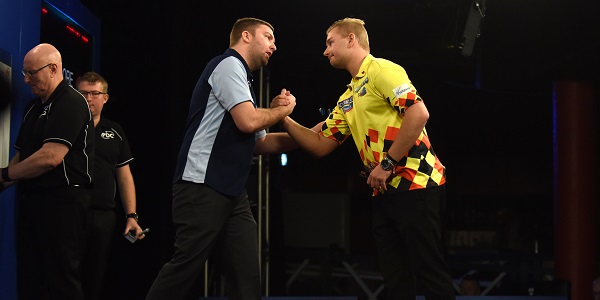 John Part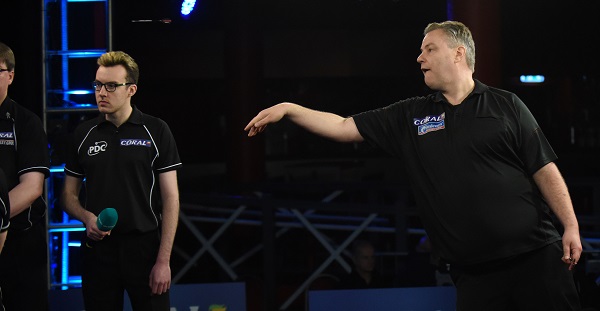 Benito van de Pas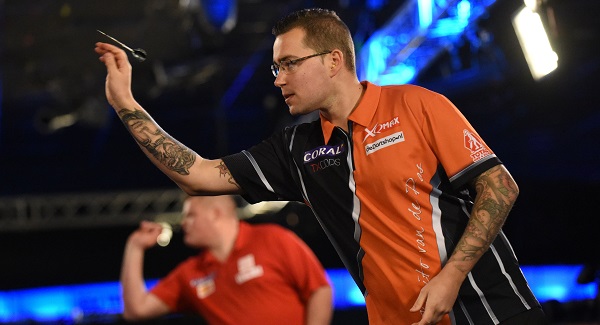 Cristo Reyes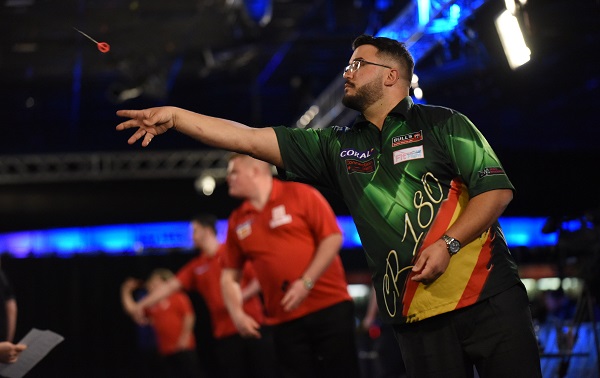 Richard North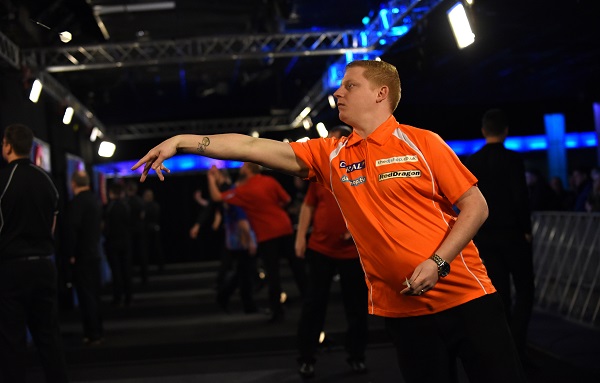 Russ Bray with the DartConnect scoring system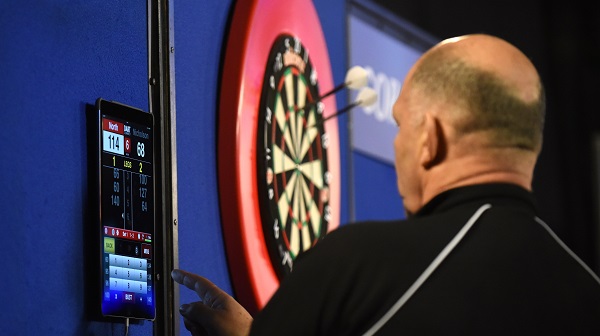 Third Round Draw