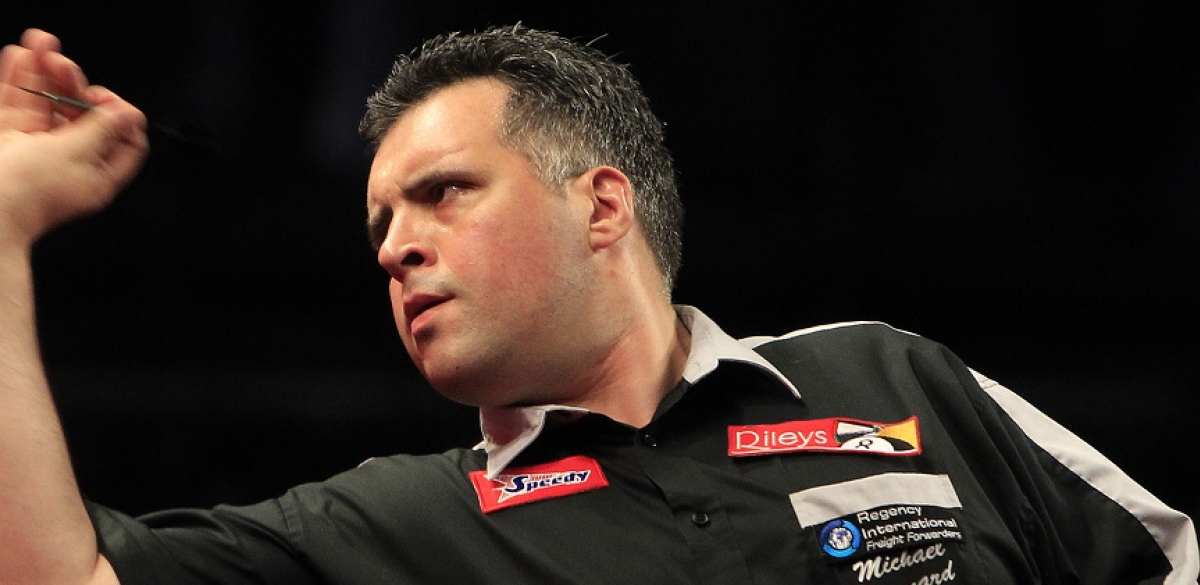 JOHN DAVEY and Michael Barnard shared the victories as the second weekend of the PDC Unicorn Challenge Tour began with a double-header at Arena MK in Milton Keynes on Saturday.
Welsh newcomer Davey, a 36-year-old from Aberdare, only joined the PDC circuit in January but took victory in only his fifth tournament.
He produced some impressive displays as he scooped the £2,000 title with eight victories, with only Polish star Krzysztof Ratajski taking Davey to a deciding leg.
After a 5-2 opening win over Colin Littlecott, Davey whitewashed Jamie Kelling and then defeated Rohit Rabadia 5-1, Michael Barnard 5-3, Michael Dawson 5-1 and Lee Evans 5-2, in their quarter-final.
Having edged past Ratajski in the semi-finals, Davey then whitewashed Adrian Gray in the final to complete a memorable triumph.
Gray's run to the final came a week after the 37-year-old completed the Hastings half-marathon - raising funds for Parkinson's UK - as he produced his best performance in a PDC event since October 2012.
He overcame Charlie Jackson, Martin Lukeman, Dennis Smith, Scott Dale, Matt Padgett and Frantisek Humpula as he reached a first PDC final, securing £1,000 in prize money.
Czech Republic thrower Humpula joined Ratajski in the semi-finals, while youngster Jarred Cole - who has stepped up from the Junior Darts Corporation circuit this year - followed up his appearance in a Challenge Tour final in January with a quarter-final in Event Five.
Saturday's second event saw Barnard, twice a finalist on the opening weekend of the Challenge Tour, finally secure his first PDC title - 15 years after joining the circuit.
The 41-year-old from Essex began the event with a 5-2 win over experienced Andy Jenkins, before whitewashing Coni Singh Nagi in the second round.
He then overcame Andy Boulton 5-3, came through a deciding leg against Steven Kirkby and Ratajski, defeated Richie Corner 5-3 and Robert Rickwood 5-1 to reach the final.
There, he averaged 104 in a superb display against Jason Lowe to pick up the £2,000 title and finally taste glory in a PDC event.
Lowe's run to the final saw him surpass his run to the Event Three semi-finals in January, as he saw off Adam Smith-Neale, Scott Dale, Jesus Noguera Perea, Ryan Murray, Dennis Smith and Adam Huckvale.
Rickwood, a Challenge Tour event winner in 2017, was unable to pick up his second title as he lost out in the semi-finals alongside Huckvale.
Veteran star Dennis Smith, who lost his Tour Card at the end of last year, reached his first PDC quarter-final since the 2013 Austrian Darts Open before losing to Lowe
He was joined in the last eight by four-time Development Tour event winner Mike De Decker, two-time Challenge Tour event winner Richie Corner and recent UK Open qualifier Dave Prins.
The PDC Unicorn Challenge Tour weekend concludes on Sunday with Event Seven and Event Eight for PDPA Associate Members on Sunday, with a further £20,000 in prize money on offer across the two events.
See full results in the MATCH CENTRE at this link.
PDC Unicorn Challenge Tour
Event Five
Last 16
Frantisek Humpula 5-4 Greg Ritchie
Adam Huckvale 5-2 Matthew Dennant
Matt Padgett 5-1 Mick Todd
Adrian Gray 5-2 Scott Dale
John Davey 5-1 Michael Dawson
Lee Evans 5-2 Dan Read
Krzysztof Ratajski 5-3 Simon Preston
Jarred Cole 5-3 Rusty-Jake Rodriguez
Quarter-Finals
Frantisek Humpula 5-2 Adam Huckvale
Adrian Gray 5-2 Matt Padgett
John Davey 5-2 Lee Evans
Krzysztof Ratajski 5-2 Jarred Cole
Semi-Finals
Adrian Gray 5-2 Frantisek Humpula
John Davey 5-4 Krzysztof Ratajski
Final
John Davey 5-0 Adrian Gray
Event Six
Last 16
Dennis Smith 5-2 Robert Smith
Jason Lowe 5-0 Ryan Murray
Adam Huckvale 5-1 Wes Newton
Mike De Decker 5-3 Simon Tate
Richie Corner 5-3 Jeff Smith
Michael Barnard 5-4 Krzysztof Ratajski
Dave Prins 5-4 Jarred Cole
Robert Rickwood 5-2 Stuart Kellett
Quarter-Finals
Jason Lowe 5-3 Dennis Smith
Adam Huckvale 5-2 Mike De Decker
Michael Barnard 5-3 Richie Corner
Robert Rickwood 5-4 Dave Prins
Semi-Finals
Jason Lowe 5-3 Adam Huckvale
Michael Barnard 5-1 Robert Rickwood
Final
Michael Barnard 5-2 Jason Lowe