THE legendary Paul Lim continues to smash records and turn heads in his 64th year.
A dart player's professional career often ends only when the player decides to move on to other pursuits.
While there are few professional footballers or tennis players whose careers extend into their 40s, the career of a professional dart player may continue for many decades - and even improve in quality.
Raymond van Barneveld, aged 51, recorded his highest ever three-dart average at the Betway World Cup of Darts this past weekend.
Phil Taylor reached the final of the 2018 William Hill World Championship at the age of 57 with performances that recalled his most dominant years in the sport.
Even Aleksandr Oreshkin, aged 55 and with his unique throwing motion, set a national record TV average and was the force behind Russia's upset victory over Australia at the 2017 World Cup.
Somethings really do get better with age | Paul Lim defeats the World Champion, Rob Cross#LoveTheDarts pic.twitter.com/p7Yp6uQWGY

— PDC Darts (@OfficialPDC) June 2, 2018
But no story is more remarkable, and no career resurgence more extraordinary, than that of the 64-year-old Paul Lim.
The Singapore Slinger has risen to prominence once more, some 28 years after the nine-dart finish that made him an instantly recognisable figure in the sport.
Reflecting on Lim's past exploits seems beside the point when he is on the verge of eclipsing those achievements in the present day.
A dart at double 12 in the 2018 World Championship, which would have made him the only player to record a perfect leg of darts in both the BDO and PDC World Championships were it not a few millimetres off target, was all that separated him from (perhaps) the greatest moment in darts history.
The Singapore ace has participated in 22 World Championships, dating back to 1982, and has won professional tournaments in four different decades.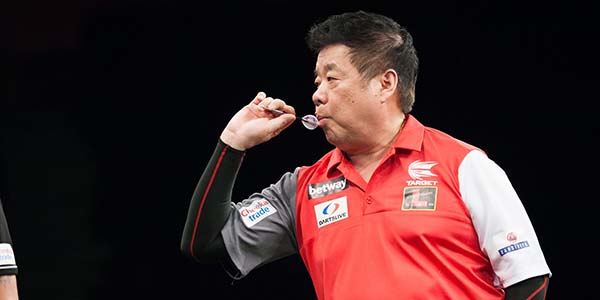 However, in 2018 he is playing darts at a level which presents the PDC's top young players – some less than half the age of Lim - with a serious challenge.
Lim's tournament average of 94.10 in the 2018 World Cup was the tenth highest of any individual participating in the tournament – seven of the nine players with a higher average were ranked in the top 16 in the world on the PDC Order of Merit.
That tournament average was buoyed by an impressive 4-2 defeat of reigning World Champion Rob Cross.
The Singaporean legend broke his own record TV average for all of Asia (set at the 2017 World Cup), thwarting an excellent effort in its own right from Cross, who put forward one of the highest losing averages of his career.
Coming one year after Lim averaged 98 in a doubles match to eliminate number one seeds Scotland, his contribution of seizing a point from England nearly made another massive upset possible.
The nine-dart attempt at the Alexandra Palace last December was only one aspect of a triumphant return to form at the World Championship for a player who had been absent from the tournament for 11 years between 2002 and 2013.
The reaction from the fans inside Ally Pally says it all...

That was so close to incredible history from Paul Lim! #LoveTheDarts #WHDarts pic.twitter.com/IM3v2Nmg8a

— PDC Darts (@OfficialPDC) December 22, 2017
Despite losing his composure after missing double 12 and losing the leg, Lim fought back two legs later, throwing a 10-darter and denying Gary Anderson a chance to finish in 11 darts.
Having missed a match dart to eliminate Mark Webster the week before and surrendering a 2-0 lead in legs in the second set, Lim responded by sweeping the deciding set, using checkouts of 80, 89 and 114 to deny his Welsh opponent a chance to attempt a finish.
Lim seemed astonished to learn after his first day at the Alexandra Palace that he had thrown 10 maximums, and indeed that rate of 0.375 three-treble visits per leg, along with 40% overall accuracy on the trebles.
His mid-90s average put him in the statistical vicinity of the World Championship's seeded players.
From where does a 64-year old dart player summon up the ambition and resolve to beat the best players in the world?
Passion and mental strength have more than compensated for any gradual weakening of Paul Lim's throwing arm, and he credits relentless work on his game for his success.
"No one knows how much I love this game, I will play darts when I cannot sleep," Lim remarked during a World Championship post-match interview.
When Lim, who does not hold a PDC tour card, disappears temporarily from the PDC spotlight, he remains devoted to the game, playing on the PDC Asian Tour or in various soft-tip tournaments.
His work in the world of electronic darts has helped to make the game widely popular across East Asia, and Lim is quick to insist that there is really no great difference between the two styles, soft-tip and steel-tip, having excelled in both disciplines.
Any observer of professional darts in the 1980s quickly became acquainted with the calibre of the 30-year-old Lim's talent.
But while so many of his rivals disappeared from the competitive arena in subsequent years, Lim has remained a beloved fixture of the sport and a dangerous competitor in his own right, decade after decade.
His exploits over the course of just three tournaments have demonstrated that there are no limits for Lim, and that his many fans around the globe have every reason to expect something extraordinary every time his smiling face is seen on the TV screen.